Instant Pot Vortex Plus Broccoli Parmesan — Everyone loves a good broccoli casserole, but why not try something new this year? Broccoli Parmesan will be your new favorite dish. This recipe is easy and full of flavor!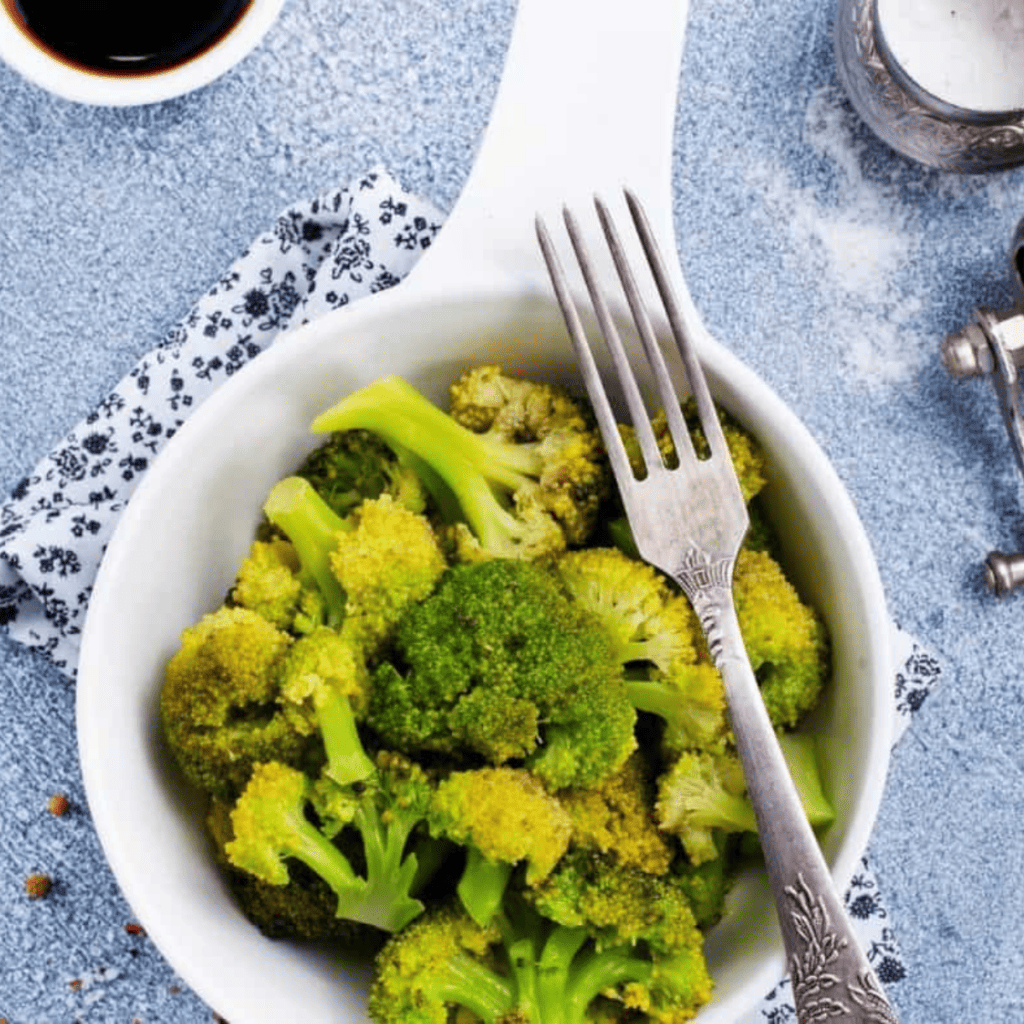 I am excited to share my experience with Instant Pot Vortex Plus. I love cooking, and the new features of this model will make it easier for me to prep food in a fraction of the time. It is perfect for when you want dinner ready in 30 minutes or less!
The air fryer makes chicken wings crispy and juicy in no time, but have you tried roasting vegetables? This recipe will blow your mind, perfectly roasted broccoli!
This broccoli is cooked perfectly with an understandably garlicky flavor that will be sure to satisfy any appetite!
The air fryer has fast become everyone's favorite cooking tool. It cooks up food in a fraction of time and cooks so much better!
Some of my favorite Air Fryer vegetable Recipes are AIR FRYER BEETS, AIR FRYER SPAGHETTI SQUASH, AIR FRYER HASSELBACK BACON, AND BLEU CHEESE POTATOES, and AIR FRYER ITALIAN STUFFED MUSHROOMS.
What is Broccoli Parmesan?
Broccoli Parmesan is a classic Italian dish made up of broccoli, cheese, and bread crumbs.
Broccoli is rich in vitamins A, C, K, and folate, essential for building healthy cells. It also provides fiber, so it's great for digestion. The cheese adds protein to the dish, while the bread crumbs provide carbohydrates. You can modify this recipe by adding different spices or vegetables like onion, garlic, or tomatoes.
Ingredients Needed For Instant Pot Vortex Plus Broccoli Parmesan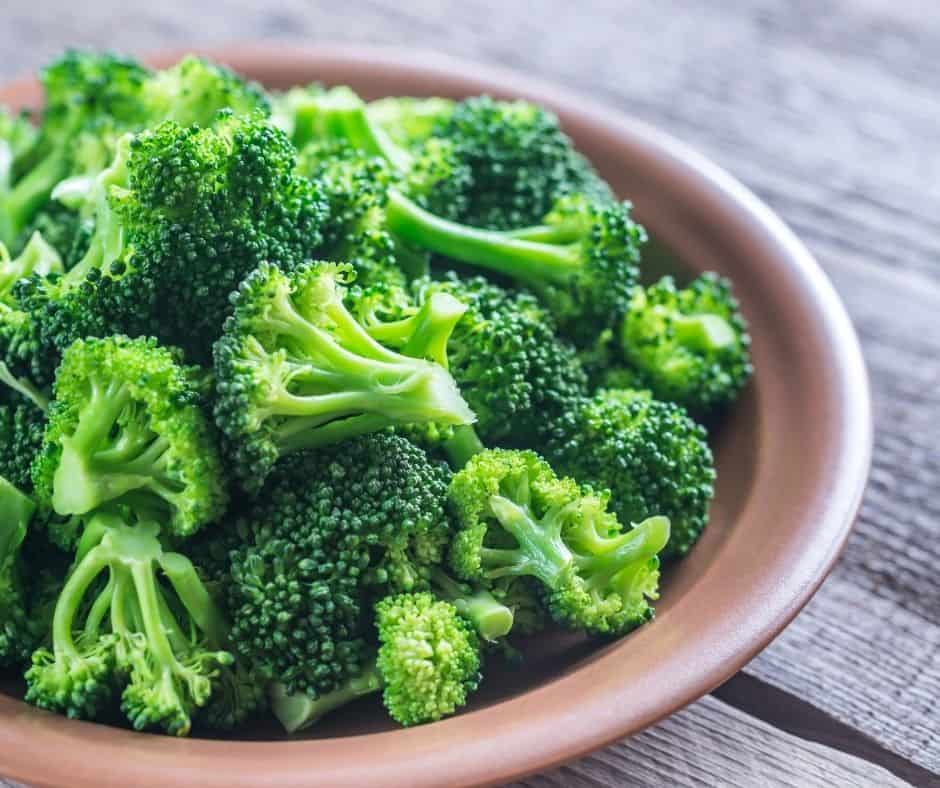 Broccoli Florets
Olive Oil
Minced Garlic
Parmesan Cheese
How To Make Instant Pot Vortex Plus Broccoli Parmesan
Cut the broccoli so you only have small florets. Put them into a bowl.
Mix the garlic, olive oil, and Parmesan cheese with the broccoli.
Set the pan into the oven and set the timer for 4 minutes at 350 degrees F. When the time is up, mix well, and return for another 2 minutes (same temperature)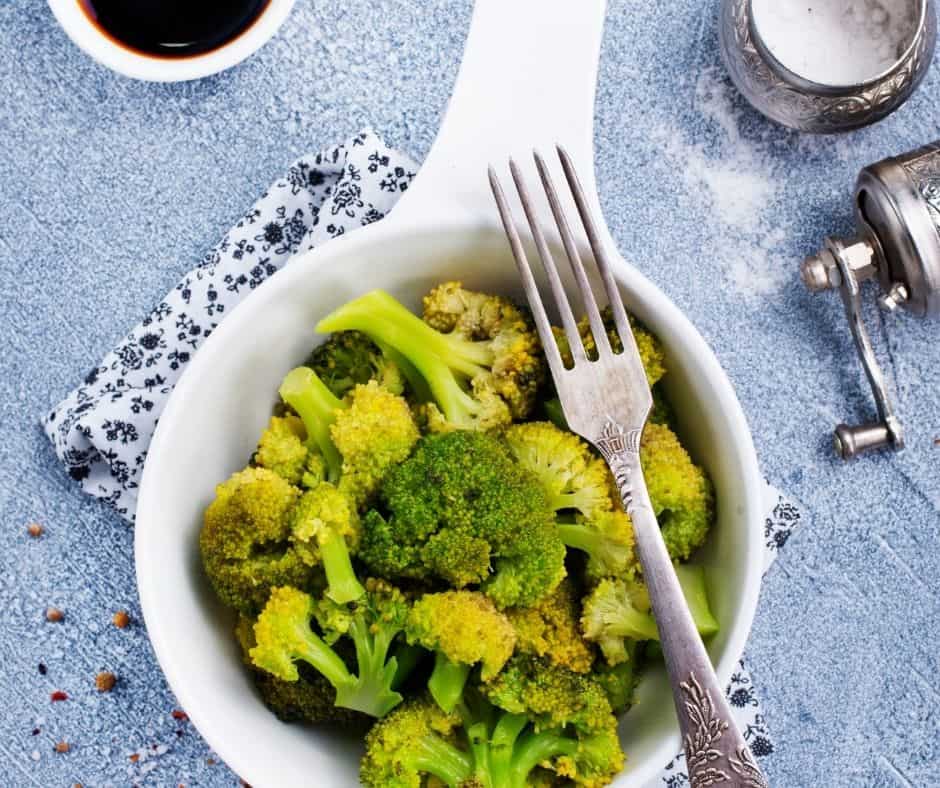 Tips for Roasting Broccoli In the Air Fryer:
Frozen vs. Fresh: You can use frozen, but you will not get the same roasted flavor. For best results, use fresh broccoli.
Breadcrumbs: For added crunch on top, add some breadcrumbs. Today, I went with a Gluten-Free, Keto, and Low-carb friendly recipe and eliminated the breadcrumbs, but you can add some if you wish.
Cheese: Today, I went with shredded parmesan, but you can use shaved as well. You can also use shredded mozzarella cheese to add even more Italian flavor to the dish.
How To Store:
Let the broccoli cool to room temperature, and then add any leftover Instant Pot Vortex Plus Broccoli Parmesan to an airtight container. Placed into the refrigerator, it will last for about 2 to 3 days.
To Reheat Broccoli In the Air Fryer:
To reheat in the air fryer, place the broccoli into the air fryer, and air fry at 330 degrees F, air fryer setting, until warmed through.
More Air Fryer Vegetable Recipes: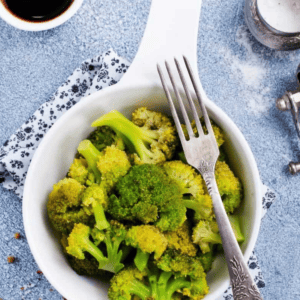 Instant Pot Vortex Plus Broccoli Parmesan
Description
A really easy and delicious way to serve up broccoli, roasted to perfection with garlic and Parmesan cheese, a genuinely excellent side dish.
Ingredients
1

pound

broccoli florets

2-3

tablespoons

olive oil

1-2

tablespoons

garlic

,

minced

1/4

cup

Parmesan cheese

,

grated
Instructions
Cut the broccoli so you only have small florets. Put them into a bowl.

Mix the garlic, olive oil, and Parmesan cheese with the broccoli.

Set the pan into the oven and set the timer for 4 minutes at 350 degrees F. When the time is up, mix well, and return for another 2 minutes (same temperature)
Equipment
Instant Pot Vortex Plus

Cooking Spray

Parchment Paper,

optional
Nutrition
Serving:
1
Serving
Calories:
128
kcal
Carbohydrates:
8
g
Protein:
6
g
Fat:
9
g
Saturated Fat:
2
g
Polyunsaturated Fat:
1
g
Monounsaturated Fat:
6
g
Cholesterol:
4
mg
Sodium:
138
mg
Potassium:
372
mg
Fiber:
3
g
Sugar:
2
g
Vitamin A:
755
IU
Vitamin C:
102
mg
Calcium:
131
mg
Iron:
1
mg