Air Fryer Honey BBQ Chicken Wings-Everyone, who owns an air fryer, has tried chicken wings. Chicken wings are awesome. They are great for a party, great for a snack, and perfect for a day of Football. They come out so good, they are restaurant quality, they are delicious, crispy, and just so juicy!
When they first came out, and even about 3 to 6 years ago, the craze was the first and original Buffalo Chicken Wings. Everyone had them, even fast-food restaurants started carrying them, and then all of a sudden, wing restaurants started popping up. Then there was everything from Garlic Parmesan to Taco Wings, and the list is endless.
My kids love them all, except for the really spicy ones. Well, my oldest likes spicy, and my youngest prefers mild. So, I always make two batches, one for each child, especially during the weekend, summer vacations, and holidays. I mean, they are so easy to make for a meal.
Air Fryer Honey BBQ Chicken Wings
If you end up making hot or even buffalo wings, I totally suggest that you pair it with Ranch of blue cheese dressing, which will cool down the mouth burn, that the wings give your guest or even you.
It's a funny thing, when I first got my air fryer, about four years ago, I realized that the chicken wings were less than a cost of a pound of boneless skinless chicken breasts: fast forward four years, and the advent of the new cooking appliance, the Air Fryer. The chicken wings cost more than a pound of boneless breast of chicken.
When Did Buffalo Chicken Wings Become Popular
In the 1950s, when the famous Buffalo Chicken Wings were invented, you couldn't give away the chicken wings; homemakers used them to make stock or broth. Once the famous Buffalo chicken wings were invented, they became a new chicken piece to be sold off.
Chicken wings are one of the best appetizers during any party or tailgating party. They go great with all sorts of sporting events, from football to baseball.
How To Serve Up Honey BBQ Wings
Grab some napkins and pair wings with ranch dressing, more of your homemade wing sauce. Etc. Or you can even throw in some veggies to go next to it, like a classic buffalo chicken wing. The sauce alone on the wings taste amazing, and a lot of times, that is all you need. But, if you like ranch, give it a try dipping!
Preparing chicken wings are actually quite easy. Here are a few tips:
The amount that you should plan on serving per person is about 5-10, depending on if it's an appetizer (5) or the main course (10)
Thawed wings air fry better than frozen wings, but you can thaw them quickly by placing them in a bowl of cold water on the counter for about four hours.
Cutting your wings is easy. You need to find the joints; there are two cuts that you will need to make into the wing to separate it.
Always season your chicken wings with salt and pepper while they are in the basket.
Now, let's talk about separating the parts of a chicken wing because it's more complicated than one would think. There are actually three parts to every chicken wing, the Drumette, Winette (Flat), and the Tip.
Three Parts To Every Wing:
There are actually three parts to every chicken wing.
Tip-Typically we trash this or use it to make chicken broth or stock. It is the bony part of the wing. The tips are too small to serve; there is one bone in the center.
Wingette-This is also known as the flat, and it resembles a flat (hence the name) piece of meat, located between the drumette and the tip.
Drumette-This resembles a miniature drumstick (hence the name)
If you buy your chicken wings frozen, they are usually separated. You will only receive the wingettes and drumettes; the tips are not included.
To Separate A Chicken Wing:
Locate the joints; there are two: One connecting the wingtip to the wingette and =another connecting the wingette to the drumette.
Use a large knife or kitchen shears to cut through the chicken wing.
It would help if you cut deep since you are cutting through bones and cartilage.
How To Make Honey Barbecue
You will mix honey, bbq sauce, salt, and pepper and cook it on the stove as directed in the recipe card. You will then brush your wings when they are close to done and pop the wings back into the air fryer. As the wings heat up with the homemade sauce, you will find it creates that perfect sticky texture.
Finger licking good for sure! If you don't want to make the homemade sauce, you can use store-bought. It will alter the flavor, of course, a bit but still be a delicious
How To Make The Sauce Stick To The Chicken Wings
If you are having a hard time getting the sauce to stick to the wings, try this trick, coat the wrings, and then return them to the air fryer and air fry for another 3 to 5 minutes.
How To Keep The Chicken Wings Crispy
If you have a hard time getting crispy wings to try this trick after applying the flour and baking soda, coat them with olive oil. You should see no flour or baking powder.
Can You Use Frozen Wings?
Yes, frozen wings are a great and budget-friendly option for this recipe.  I do have a hard time breading the wings while they are frozen.
If you use frozen wings in this recipe, remove the wings from the air fryer basket when they are half cooked, and then bread them. Return to the air fryer basket, and continue with the recipe.
How to Know When Chicken Is Done
However you cook the chicken wings, they need to reach an internal temperature of at least 165 degrees F. I suggest using a meat thermometer. (affiliate link)
If you do not own a meat thermometer, you want to ensure the chicken has no pink meat. Also, you want to look at the juice to ensure it runs clear. If in doubt, I always recommend cooking longer to be on the safe side. A meat thermometer, though, is the best way to check.
How to Make Honey BBQ Wings in the Oven
Season the chicken wings with salt and pepper, coat with baking powder and flour.
Spread the chicken wings over a baking sheet.
Bake at 350 degrees F for 20 minutes, and then flip the wings.
Continue to bake for an additional 15 to20 minutes.
In a small bowl, mix the honey and bbq sauce.
Using a pair of tongs, place the chicken wings into the sauce mixture.
Once the wings are coated, add back to the oven for another 5-7 minutes.
Expert Tips
Fresh | Make sure to use fresh chicken, not frozen. If you use frozen, you will find you can have uneven cooking, where some chicken pieces don't fully cook, and other pieces might overcook.
To Season Or Not To Season | If you want, you can sprinkle your chicken with salt and pepper before cooking it. It will help allow more flavor into your chicken without overpowering the honey bbq sauce.
Sauce | If you want you to make these as naked wings, you then do part honey barbeque, and the other half say with a buffalo wing sauce. Feel free to do different flavors. Just leave space between each wing, so they don't take on the others' flavor, and they get evenly cooked.
Cook with Sauce On | Making sure you brush your wings then cook them a bit longer is critical. This will take the sauce from a classic sauce to a sticky glaze on the wings. It is one step I highly recommend not skipping.
If you enjoy wings, I have a few more to try out.
Naked Wings | Naked wings are a simple chicken wing that isn't covered in a glaze. Great for those who don't want a ton of flavor or heat when you sink your teeth into them.
Honey Roasted Turkey Wings | Have you had a turkey wing? If you haven't, you have to try these out. This is a tasty sweet, and savory wing that will be a treat.
Honey Mustard Wings | Whip up a batch or two of these honey mustard wings. It is a fun twist to a wing. If you are a fan of chicken wings, give this recipe a try for something different.
Don't Forget To Pin–
Print
Air Fryer-Honey BBQ Chicken Wings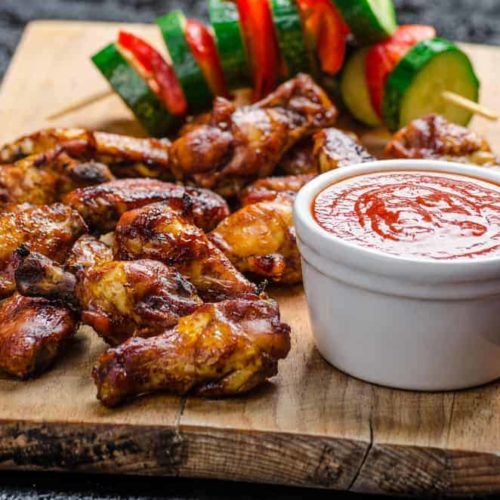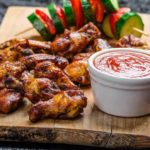 Author: ForkToSpoon.com
Prep Time:

10

Cook Time:

35

Total Time:

45

Yield:

6

servings

1

x
Category:

Main Course

Method:

Air Fryer

Cuisine:

American
Scale
Ingredients
12

Chicken wings

1 teaspoon

baking powder

1 teaspoon

of salt

1 teaspoon

of pepper

1/2 cup

of flour

1/2 cup

of barbecue sauce

1/2 cup

of honey
Instructions
Preheat the air fryer to 350 degrees Fahrenheit
Then put your wings into a bowl, and pour the baking powder, flour, salt, and pepper on them. Then coat them on all sides with the flour.
Then put your wings into the air fryer, cook them for 12 minutes and then flip and do another 12 minutes.
Meanwhile, pour the honey and BBQ sauce into a bowl, and mix.
When the wings are done, place them in the BBQ Sauce and Honey mixture and coat them.
Keywords: frozen honey bbq wings in air fryer frozen bbq chicken wings in air fryer tyson honey bbq wings in air fryer frozen bbq wings in air fryer air fryer chicken wings bbq chicken breast air fryer recipes air fryer honey bbq chicken wings frozen air fryer chicken wings recipe