Air Fryer Honey Garlic Chicken Wings —This Honey Garlic Chicken Wings Air Fryer Recipe results in juicy finger-licking wings. Cooked in a homemade sauce that is perfectly sweet and savory, these honey-glazed chicken wings are incredible!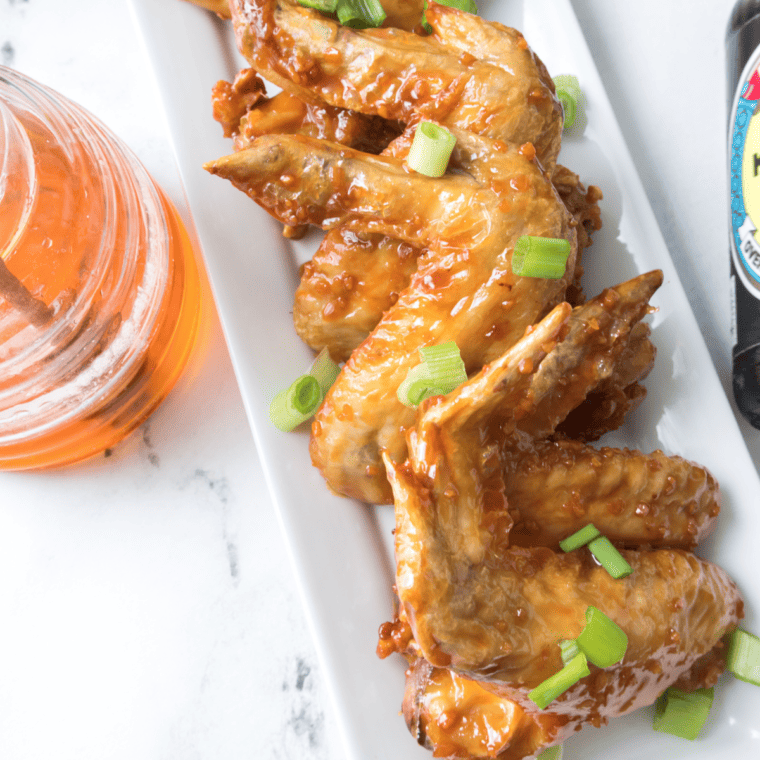 Air Fryer Honey Garlic Chicken Wings Recipe
These honey-glazed chicken wings are my favorite in the air fryer ever! They are amazingly flavorful and so easy to do. My entire family loves them, and they make a speedy lunch or dinner. Today, I will give you my foolproof air-fried honey garlic chicken wings recipe!!​
Wings are one of the most popular things to make in the air fryer, and they are practically effortless, with just a few steps.
These make a great addition to any tailgating, family get-together, or even a lazy Sunday afternoon watching football on the TV. Be sure to try my Coco Cola Wings, Habanero Agave Wings, and Air Fryer Jerk Chicken Wings too!
Why You'll Love These Honey Garlic Chicken Wings Air Fryer
Fast prep time!
Great for an appetizer or main dish
Easy party food
Quick wing recipe
Finger licking good
Watch Our New Video Air Fried Honey Garlic Wings
Ingredients Needed For Air Fryer Honey Garlic Chicken Wings
Are you looking for an easy yet delicious way to cook tasty chicken wings? Then you're lucky because air fryer honey garlic chicken wings are incredibly simple and scrumptious! You only need a handful of savory and sweet ingredients, which can all be found at your local store.
Best of all, cooking time is minimal, so it can easily be enjoyed after a long day at work or during game night with friends. Not sure where to start? Keep reading for everything you need to know about how to make this irresistible treat!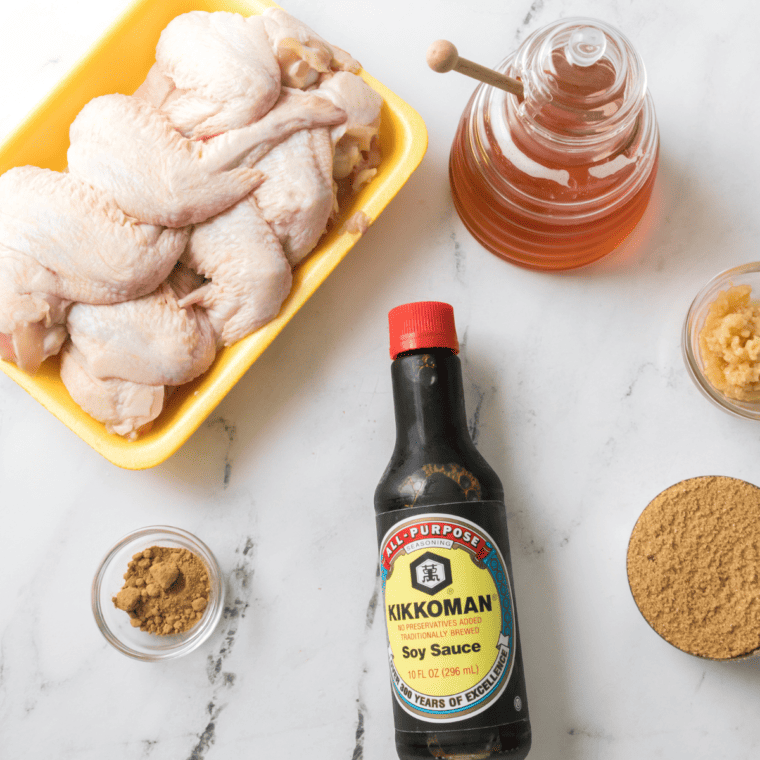 Remember the step-by-step directions and detailed ingredient list are below in the printable recipe card at the bottom of the post, as well as the nutritional information.
Chicken Wings: The star of this dish, chicken wings are flavorful and have a great combination of skin, meat, and bone, which becomes incredibly crispy and juicy when air-fried.
Honey: This natural sweetener will give the wings a sticky sweetness, creating a balance with the savory and garlicky elements of the marinade.
Garlic: The aromatic powerhouse of this dish, garlic infuses the chicken with its distinctive and pungent flavor. Fresh garlic is preferable for a stronger and more authentic taste.
Soy Sauce: This adds saltiness and depth to the marinade, enhancing the overall flavor profile of the chicken wings.
Fresh Ginger: Ginger introduces a slightly spicy and zesty flavor that complements the honey's sweetness and the garlic's richness; you can also use ground ginger.
Sesame Oil: A little goes a long way. Sesame oil imparts a nutty aroma and flavor, elevating the overall taste of the wings.
Red Pepper Flakes: For those who like a touch of heat, red pepper flakes add a spicy kick without overpowering the sweet and savory components.
Kosher Salt: While soy sauce adds saltiness, a pinch of salt can help balance and enhance flavors. However, be cautious not to over-salt since soy sauce is inherently salty.
Black Pepper: Freshly ground black pepper introduces a subtle heat and aromatic depth to the chicken wings.
Green Onions: Chopped green onions add a fresh contrast to the richly glazed wings, both in flavor and color.
Sesame Seeds: A sprinkle of sesame seeds gives the dish a pleasant crunch and elevates its visual appeal.
Combining these ingredients results in chicken wings that are a perfect blend of sweet, salty, spicy, and garlicky flavors, creating a dish that's sure to be a hit at any gathering or a special treat for a cozy night in.
How To Cook Honey Garlic Chicken Wings In Air Fryer
If you love chicken wings and want something different and extra delicious, you're in the right place! Today, we're talking about one of my favorite recipes: honey garlic chicken wings cooked in an air fryer. This recipe is incredibly tasty and easy to make – perfect for busy weeknights, game day snacks, or any other occasion.
Plus, there's no need to fire up your oven! Just whip out that trusty air fryer and get ready for some seriously flavorful wings with a hint of sweetness that will have everyone asking for more. Keep reading to find out how to make them right – trust me, it's worth the effort!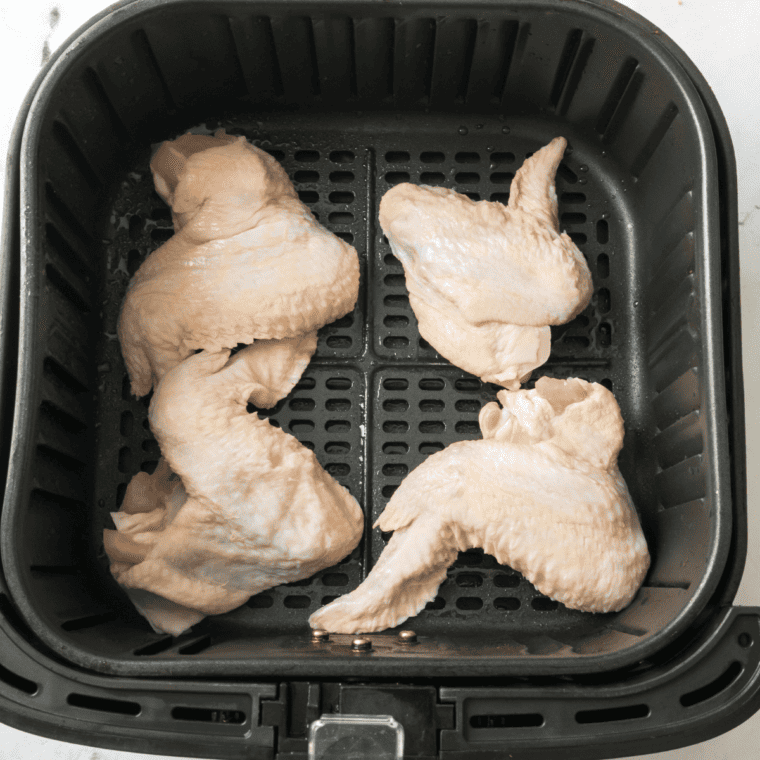 Preparation
Clean the chicken wings by rinsing them under cold water. Pat them dry with paper towels to remove excess moisture. This is crucial for achieving crispy wings.
Mix the honey, minced garlic, soy sauce, grated ginger, sesame oil, red pepper flakes, salt, and black pepper to create the marinade in a large mixing bowl.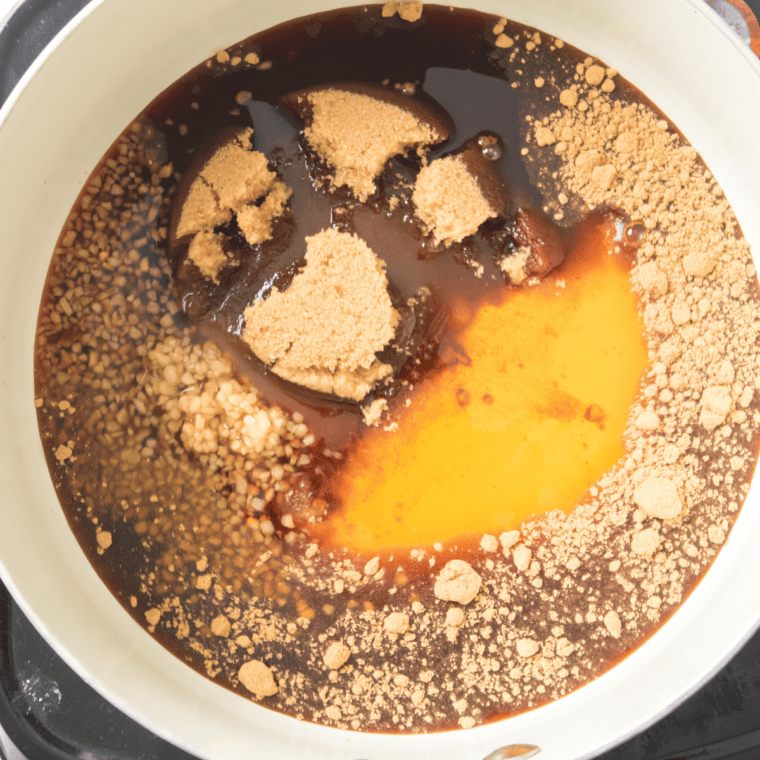 Marinate the Wings
Place the chicken wings in a large zip-top bag or a bowl. Pour the marinade over the wings, ensuring each wing is well-coated. Seal the bag or cover the bowl and refrigerate for 30 minutes to marinate. For best results, marinate for 2 to 4 hours.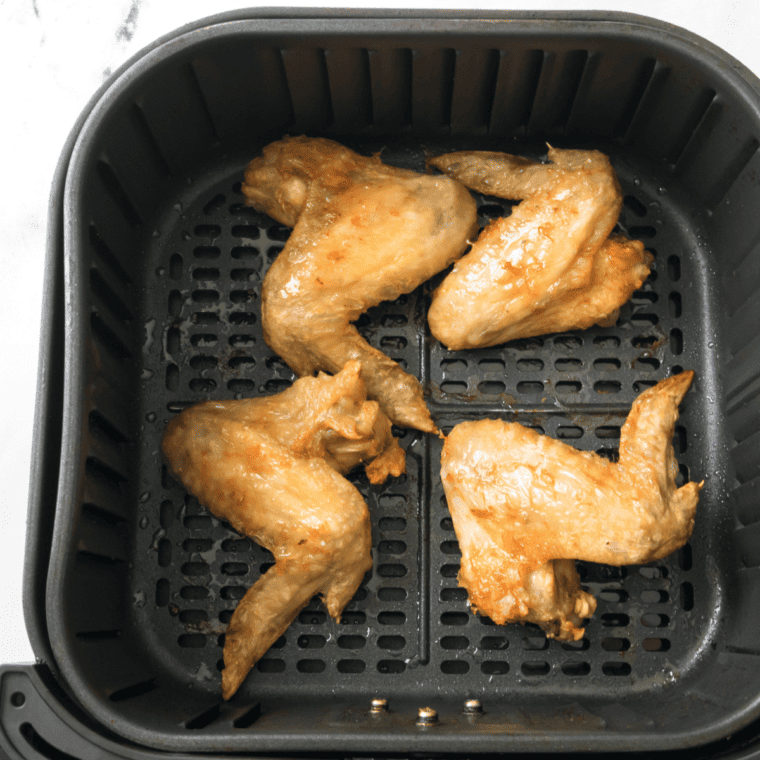 Preheat the Air Fryer
Preheat your air fryer to 380 degrees F (190°C) for 3-5 minutes. This ensures even cooking right from the start. Remove the chicken wings from the marinade, letting the excess drip off. Place the wings in a single layer in the air fryer basket, ensuring they are not touching. You may need to cook in batches depending on the size of your air fryer.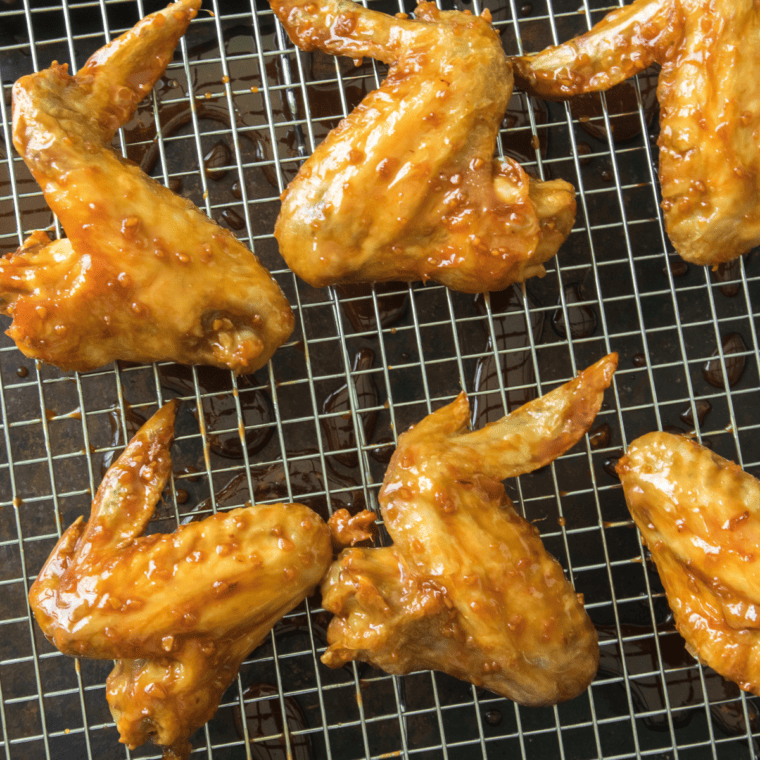 Air Fry
Set the cook time for 24-28 minutes, flipping or shaking the basket halfway through. This ensures even cooking and crisping on all sides. Remove when the internal temperature of the chicken wings reaches 165 degrees F by using a meat thermometer or instant-read thermometer. The cooking time will vary based on your air fryer.
Prepare the honey garlic sauce
Pour the leftover marinade into a small saucepan. Bring the marinade to a boil over medium heat and let it simmer until it thickens into a glaze, about 5-7 minutes.
Serving
Once the wings are cooked, remove them from the air fryer and place them in a large bowl. Pour the thickened glaze over the wings and toss to coat evenly.
Transfer the glazed wings to a serving plate. Garnish with chopped green onions and sesame seeds if desired.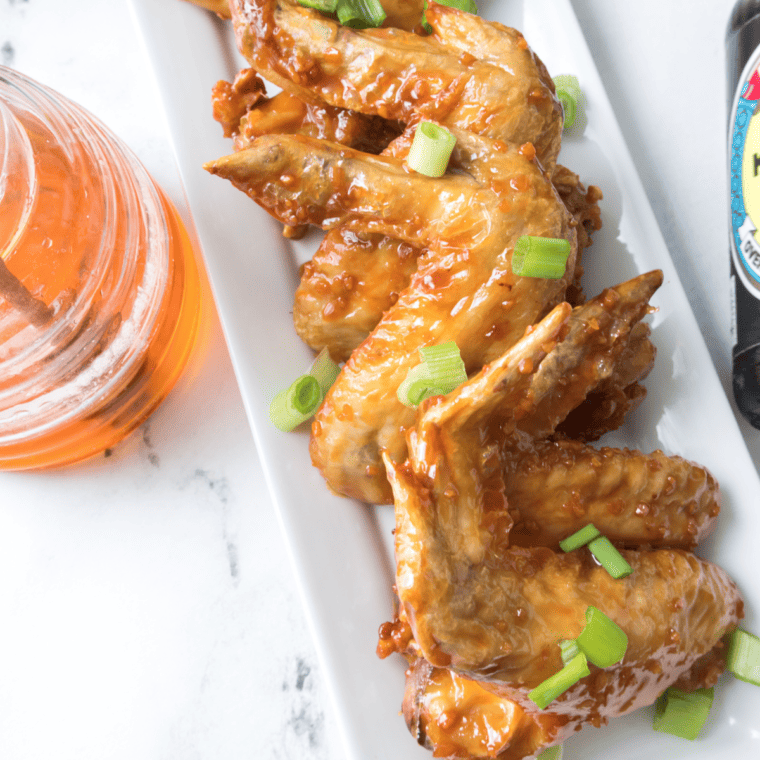 Enjoy the crispy, sticky, and flavorful honey garlic chicken wings while hot! Serve with extra sauce or toasted sesame seeds.
Using the air fryer method, you'll achieve wings with the crispy texture of deep-frying but less oil and mess. Combining honey and garlic provides a savory and sweet profile that's hard to resist.
Pro Tips For Cooking Honey Garlic Chicken Wings In Air Fryer
Ensuring your honey garlic chicken wings turn out perfectly in the air fryer requires a mix of techniques and a few professional pointers. Here are some pro tips to elevate your wing game:
Ensure Dry Wings: Before marinating, pat the chicken wings dry thoroughly with paper towels. Removing excess moisture helps achieve a crispier finish in the air fryer.
Marinating Time: While a short marinate can impart flavor, letting the wings marinate for several hours, or even overnight, will deeply infuse them with the honey-garlic mixture.
Avoid Overcrowding: Ensure the wings are placed in a single layer with space between each piece in the air fryer. Overcrowding can lead to uneven cooking and less crispy wings.
Save the Marinade: Always boil the leftover marinade before using it as a glaze to ensure any contaminants from the raw chicken are killed.
Temperature Monitoring: If your air fryer runs hot, keep a close eye on the wings to prevent them from burning. The sugars in the honey can caramelize quickly.
Tossing Midway: Shaking the basket or turning the wings halfway through the cooking process is essential to ensure even cooking and browning on all sides.
Fresh Garlic: While bottled minced garlic can save time, using fresh garlic cloves offers a more robust and authentic flavor.
Glazing Right: To avoid making your crispy wings soggy, ensure the glaze is thick enough to cling to the wings without being too watery.
Serving Tips: Serve the wings immediately after glazing to maintain their crispy texture. If you have dips or additional sauces, serve them on the side.
Experiment with Heat: If you enjoy a spicier kick, add more red pepper flakes, smoked paprika, garlic powder, or a dash of hot sauce to the marinade.
Cleaning Tip: The air fryer basket can get sticky from the honey in the marinade. To make cleaning easier, lightly spray the basket with a non-stick cooking spray before adding the wings.
Following these pro tips will ensure a mouthwatering result and simplify the cooking process, making it easier and more enjoyable to whip up this delightful dish.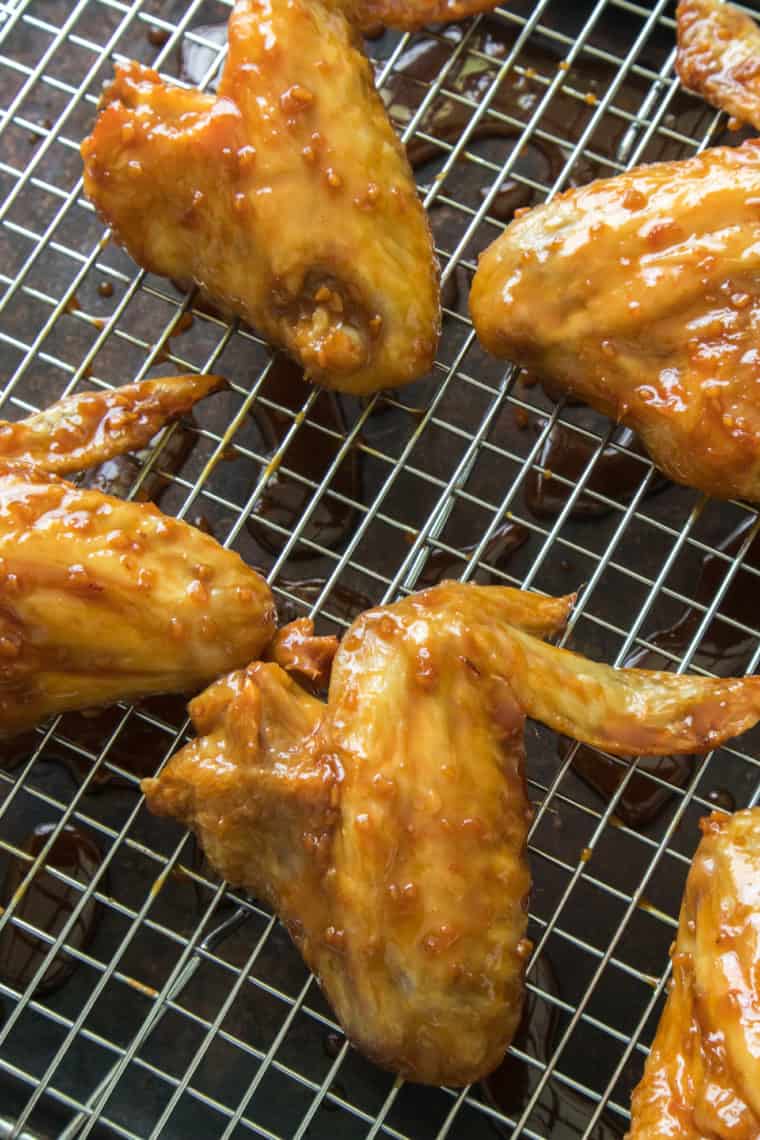 FAQ About Air Fryer Chicken Wings Recipe
Do I need to use fresh wings, or can I use frozen wings?
You can use both fresh chicken wings and frozen chicken wings. If using frozen, ensure they are fully thawed and patted dry before marinating.
How can I make the wings even crispier?
Increasing the air fryer's temperature for 3-4 minutes can add extra crispness. Additionally, ensuring the wings are dry before marinating and not overcrowding the air fryer basket can help achieve crispier results.
Can I double the recipe?
Yes, but depending on the size of your air fryer, you may need to cook the wings in multiple batches to prevent overcrowding and ensure even cooking.
What other sauces or dips pair well with these wings?
While the honey garlic glaze is flavorful, you can serve the wings with blue cheese dressing, ranch dressing, or spicy mayo for added variety.
Is there an alternative to honey for this recipe?
Maple syrup or agave nectar can be used as substitutes for honey, but they will slightly alter the flavor profile.
How long should I marinate the wings for optimal flavor?
While a minimum of 30 minutes is recommended, marinating the wings for 2 to 4 hours or overnight will infuse them with a deeper flavor.
How do I store leftover honey garlic chicken wings?
Store any leftovers in an airtight container in the refrigerator for up to 3 days. For best results, reheat in the air fryer to maintain crispness.
Can I use chicken drumettes or chicken drumsticks instead?
Absolutely! Adjust the cooking time as needed since drumettes and drumsticks are typically larger than wingettes.
Do I need to preheat my air fryer?
While some air fryer models may not require preheating, doing so can lead to more consistent results and ensure the cooking time is accurate.
Can I make this recipe less sweet?
Yes, you can reduce the honey or balance the sweetness by adding more soy sauce or a splash of apple cider vinegar to the marinade.
How to make crispy air fryer chicken wings?
You can coat your wings with corn starch or potato starch for a crispy batch of honey garlic chicken wings air-fried.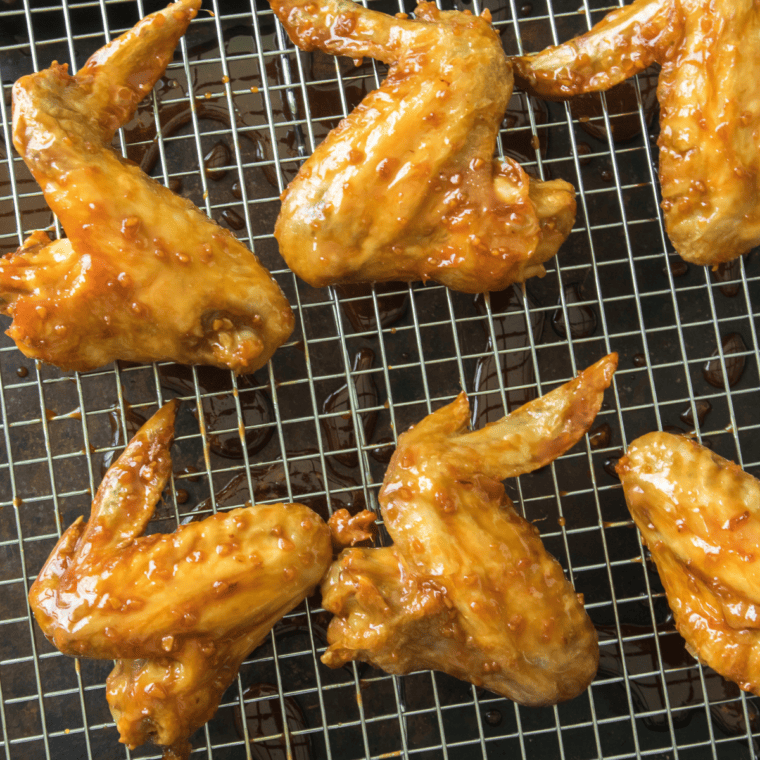 More Air Fryer Recipes
​
The Air Fryer Crispy Honey Garlic Chicken Wings are a triumph in melding flavors and textures. This dish promises a symphony of taste in every bite by uniting the rich sweetness of honey with the robust allure of garlic and then crisping it to perfection in the air fryer.
Air Fryer Chicken is not just a recipe; it's an experience of savoring the simplicity of ingredients and the magic of air frying. Whether served at a party, game night, or a quiet dinner, these wings are a testament to the fact that sometimes, the most delightful flavors are just an air fry away. Enjoy the crunch, savor the flavor, and let every bite take you on a flavorful journey!
Don't Forget To Pin!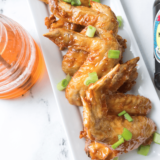 Air Fryer Honey Garlic Chicken Wings
Description
This Air Fryer Honey Garlic Chicken Wings Recipe results in juicy wings that are finger licking good. Cooked in a homemade sauce that is perfectly sweet and savory, these honey glazed chicken wings are incredible!
Ingredients
1/2

pound

chicken wings

1/2

cup

soy sauce

1/2

cup

brown sugar

2

teaspoons

garlic

,

minced

2

teaspoons

ground ginger

1/2

cup

honey

3

tablespoons

cornstarch

,

optional, to thicken sauce
Instructions
Place the chicken wings in the air fryer for 15 minutes at 400 Fareinghent.

Then flip them and cook for another 15 minutes.

Then prepare the sauce in a saucepan, add your soy sauce, garlic, ginger, brown sugar, honey and stir until heated through.

If you would like a heavier sauce, mix in the cornstarch. Mix well, and remove from heat.

When the chicken wings are done, add them to the sauce and coat all sides.
Equipment
Air Fryer

Parhcment Paper,

optional
Nutrition
Serving:
1
Serving
Calories:
231
kcal
Carbohydrates:
47
g
Protein:
6
g
Fat:
3
g
Saturated Fat:
1
g
Polyunsaturated Fat:
1
g
Monounsaturated Fat:
1
g
Trans Fat:
0.04
g
Cholesterol:
16
mg
Sodium:
1102
mg
Potassium:
125
mg
Fiber:
0.4
g
Sugar:
41
g
Vitamin A:
30
IU
Vitamin C:
1
mg
Calcium:
26
mg
Iron:
1
mg