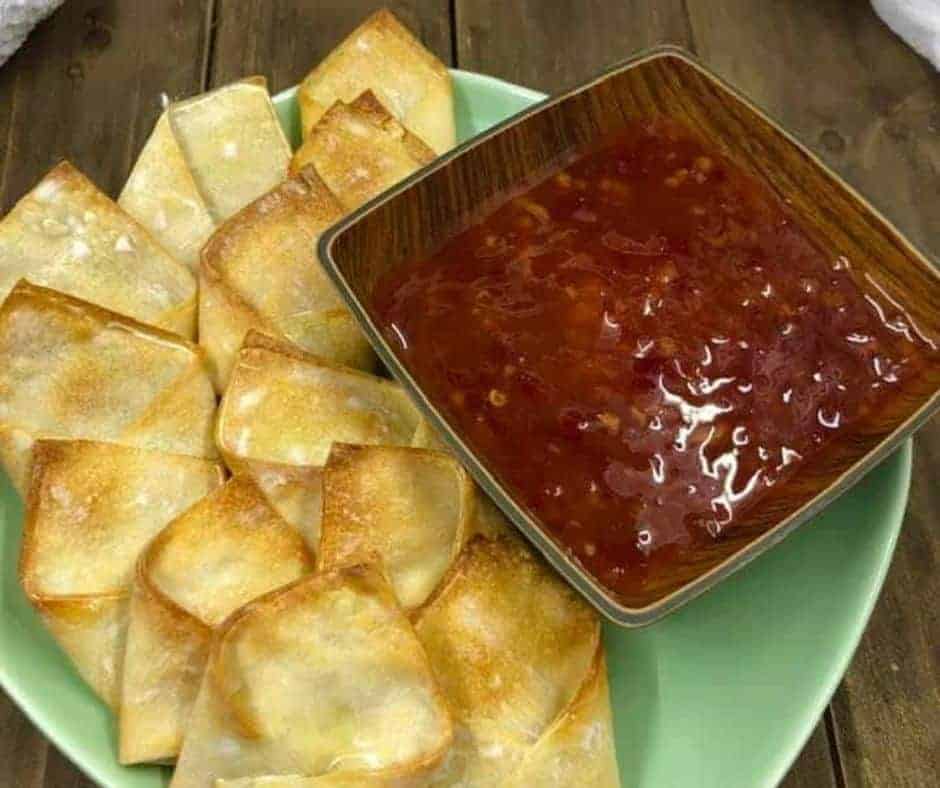 Air Fryer Copycat Panda Express Cream Cheese Rangoon is amazing! If you are looking for a great Air Fry Copycat of the popular appetizer, this is one of the best!  They are super simple to make and absolutely delicious!
The first Rangoon went so viral, and my kids had so much fun making them, we looked for something to use the rest of the wonton wrappers with, and my son suggested we try to copy his favorite Rangoon, which happens to be the famous Panda Express Cream Cheese Rangoon.
This is a great appetizer for vegans, vegetarians, and anyone who doesn't like crab meat. It's easy to make and fille with flavor. It will become one of your new favorite Air Fryer Recipes.
Looking for more Air Fryer Copycat Recipes? Some of my favorites are AIR FRYER COPYCAT MCDONALD'S FRENCH FRIES, INSTANT POT CHICKEN, AND GNOCCHI SOUP (OLIVE GARDEN COPYCAT), AIR FRYER COPYCAT KFC SPICY CHICKEN SANDWICH and AIR FRYER COPYCAT KRISPY KREME DONUTS.
Like the original, they are filled with creamy cream cheese filling with mixed sliced green onions, and then wrapped in a wonton wrapper. 
Today, I used garlic & herb cream cheese, which would make for an excellent Rangoon, without all of the other stuff! With so many cream cheeses available, they would also make a great filling for any Rangoon. 
Ingredients Needed For Air Fryer Copycat Panda Express Cream Cheese Rangoon
Wonton Wrappers
Cream Cheese
Minced Scallions
Garlic Powder
Cooking Spray or Olive Oil
How To Make Air Fryer Copycat Panda Express Cream Cheese Rangoon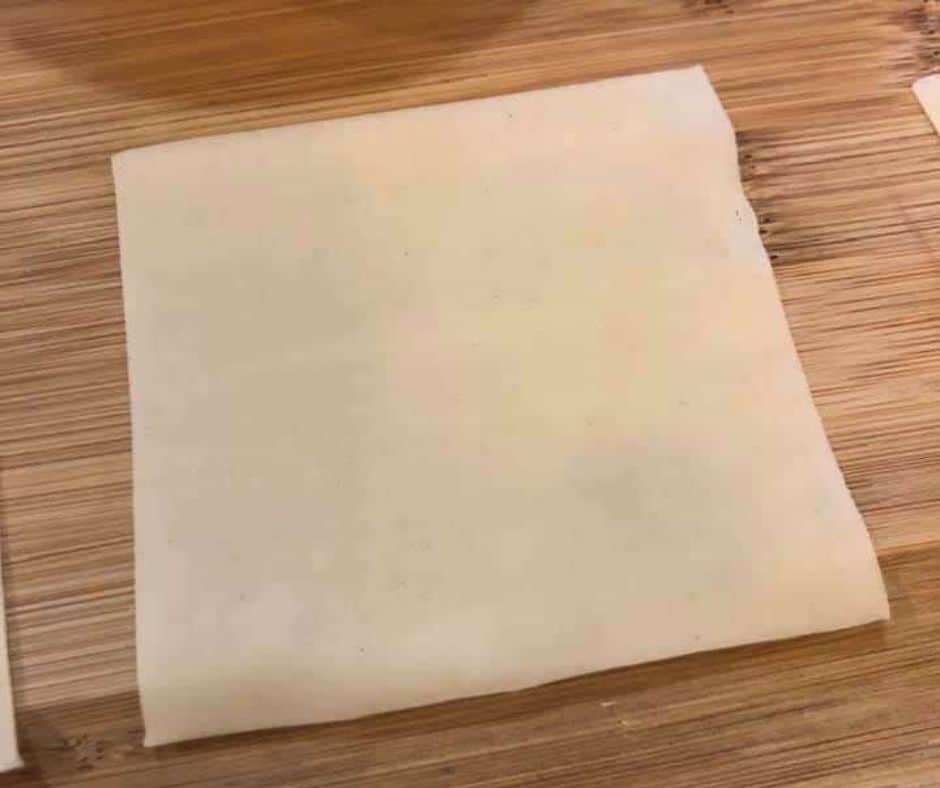 On a flat surface, lay down a wonton wrapper.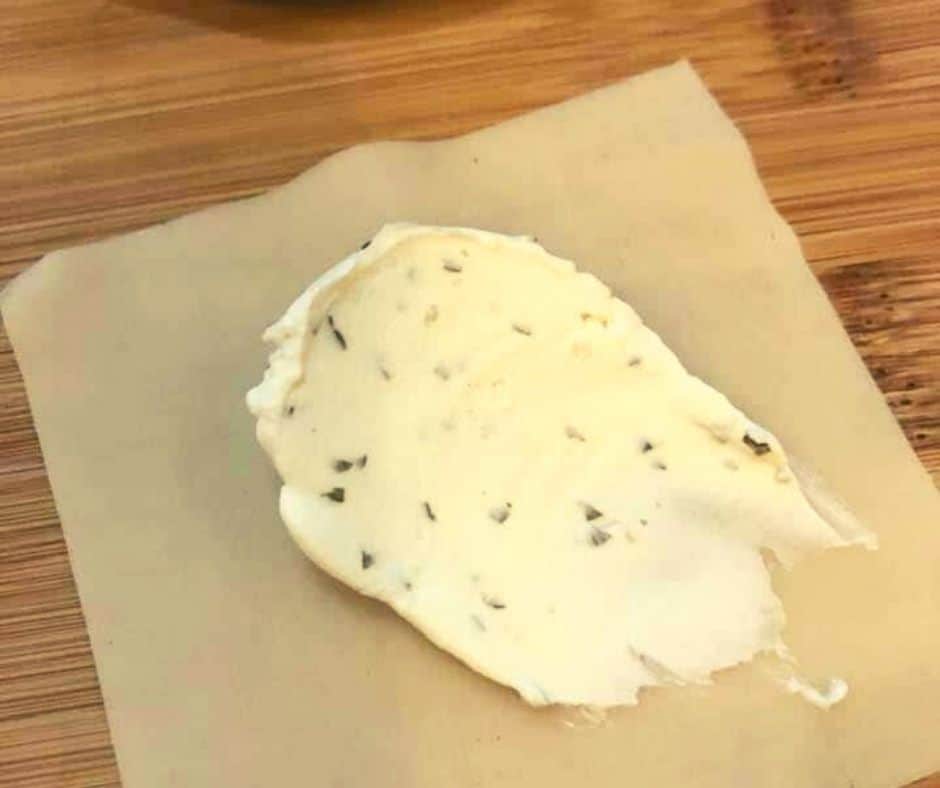 Added a generous mixture of cream cheese, minced scallions, and some spices (see exact recipe below)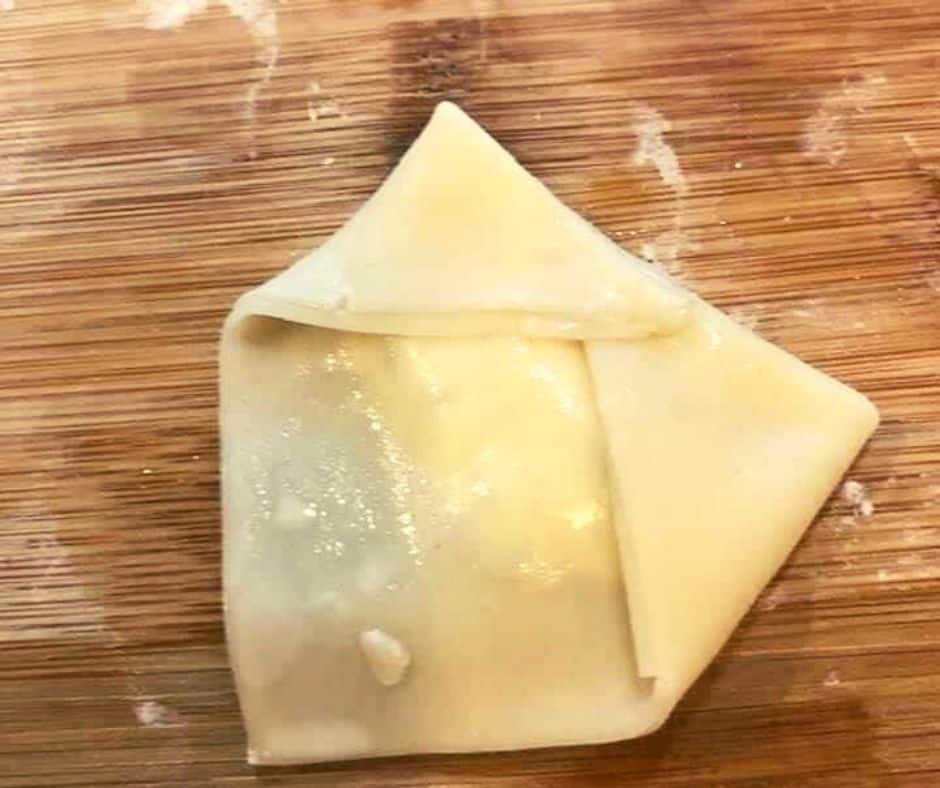 Today we decided to fold them like envelopes, which I found out, are so much easier to crisp up in the air fryer and so much easier to fold. (highly recommend this way)
Place them on the air fryer tray or in the basket. Whether you use the basket or tray, make sure they aren't crowded, and generously spray with olive oil, which will help you get a nice crispy outside.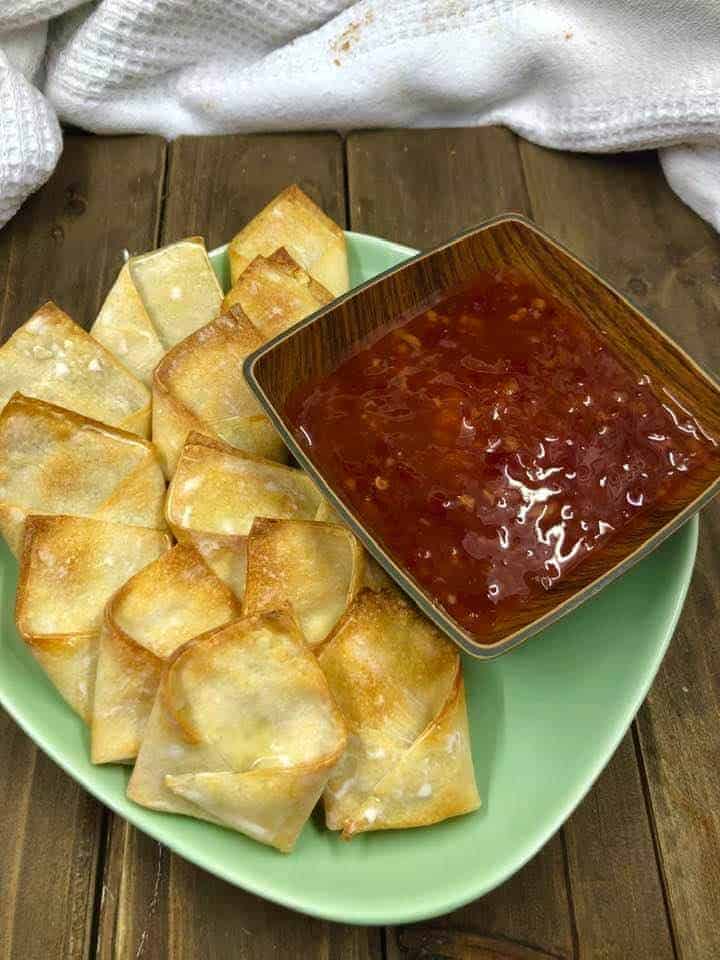 What Type of cooking oil is best for Rangoons?
I sprayed mine with olive oil spray, which will help them crisp up. You can use any high-heat oil that you want. Some of my recommendations are olive oil, avocado oil, or grapeseed oil.
Please do not use any aerosol spray pumps, as they will cause the coating to come off of your Air Fryer.
Sauces for Air Fryer Copycat Panda Express Cream Cheese Rangoon
When you got to Panda Express, they are usually served with a sweet and sour sauce. You can either make your own, or there are several ones available. Some of my favorites are: (affiliate links included)
What is in Panda Express Rangoons?
The traditional filling is cream cheese (room temperature) that has been mixed with sliced green onions and garlic powder. 
They are typically deep-fried, but we made a healthier version by using the Air Fryer.  
Do Panda Express' cream cheese Rangoons contain crab?
No, they do not have any crab. Great for anyone who is a vegan or vegetarian since there is no seafood.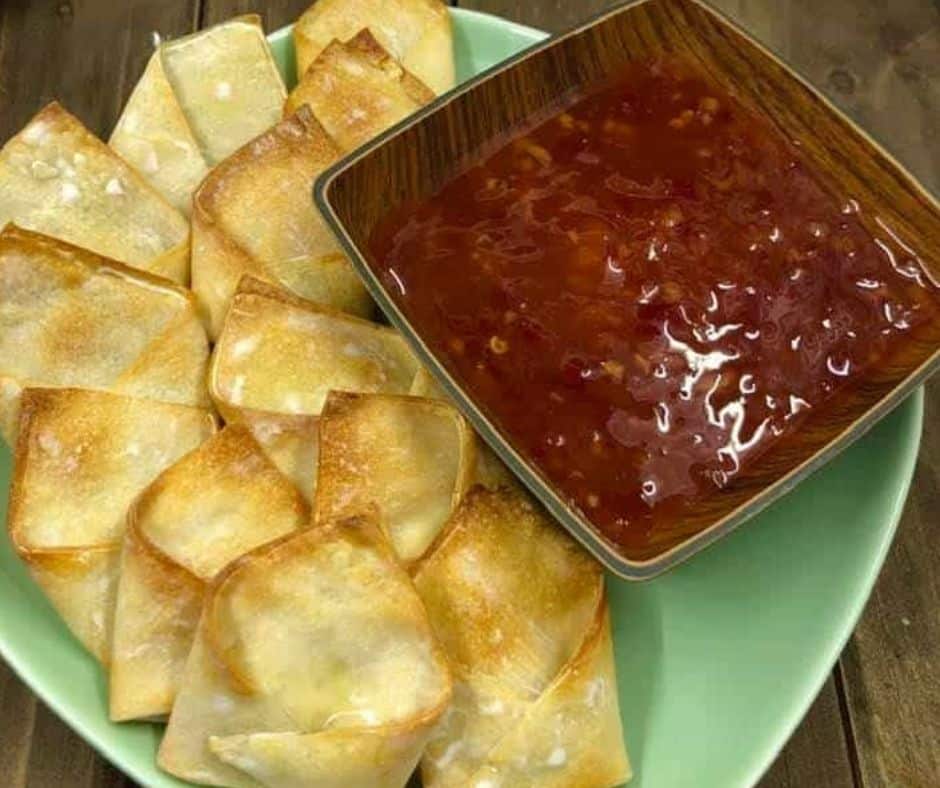 Are wontons and Rangoons the same thing?
Both wontons and Rangoons are made with a wonton wrapper. But they are really an American invention. 
If you were to go to China and order a batch of Rangoons, you would be given a plate full of wonton wrappers full of boiled meat.
How do I fold the wonton wrappers for Rangoons?
There are several ways to fold a Rangoon up; today, I used a style called the pocketbook style, which is great if you make several as it's quicker and easier. 
Other options, including the traditional ones, are easy. I watched a YouTube video before I made my first one. 
Can I make these ahead of time?
These are a great and easy appetizer to air fry up ahead of time since they stay warm for a long time. You can also toss them back into the air fryer to reheat. 
How To Store Air Fryer Copycat Panda Express Cream Cheese Rangoon
If you have any leftovers, let them cool to room temperature, and then place them into an airtight container. Place the container into the refrigerator. They will last about 2 to 3 days.
If you want to reheat them, place them into the air fryer basket and spry with cooking spray, air fry for 3 to 5 minutes at 350 degrees F, air fryer setting.
How To Freeze 
These make for a great freezer-friendly snack. You can double, triple this recipe, then let them cool to room temperature, and then place on a parchment-lined baking sheet. 
Pop the baking sheet into the freezer, and freeze until the Air Fryer Copycat Panda Express Cream Cheese Rangoon are frozen solid. 
Remove from the freezer and place the frozen Air Fryer Copycat Panda Express Cream Cheese Rangoon into a freezer-friendly container or a freezer bag. 
To Reheat them: Place the frozen Rangoons into the Air Fryer Basket, and air fry for 4-6 minutes at 400 degrees F, air fryer setting.
Don't Forget To Pin—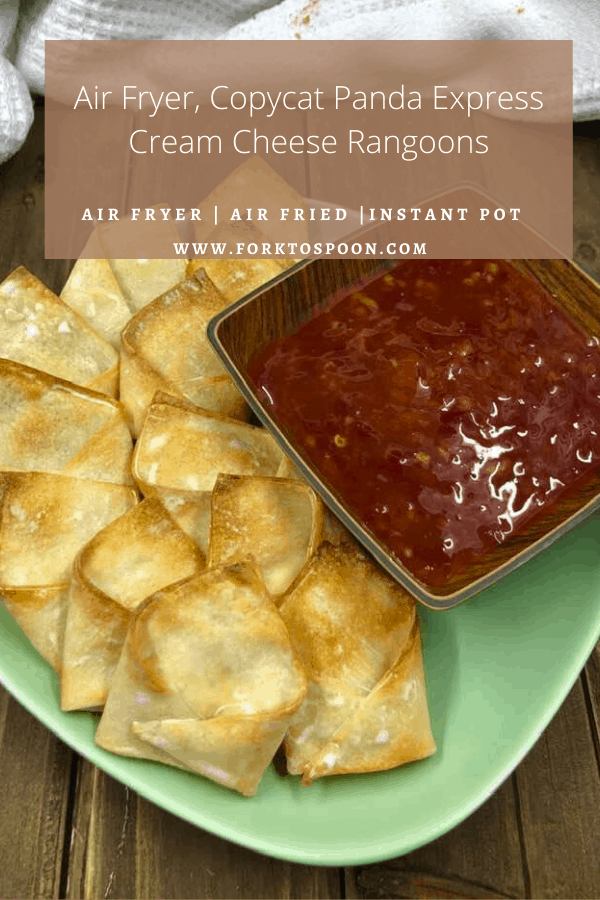 Yield: 24 Servings
Air Fryer Copycat Panda Express Cream Cheese Rangoon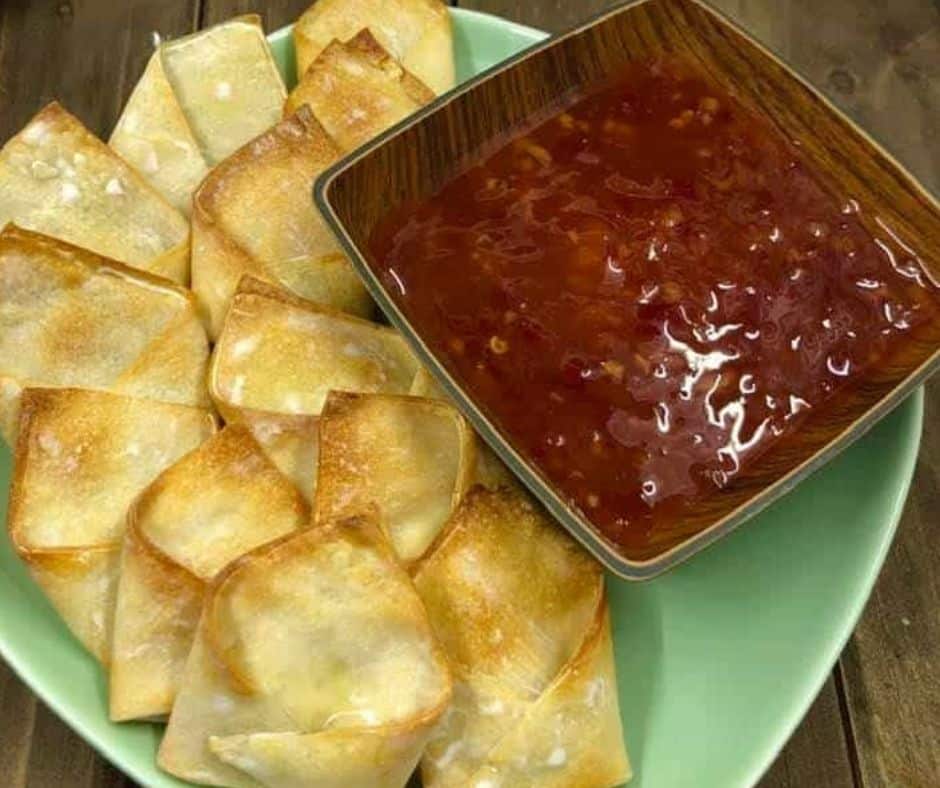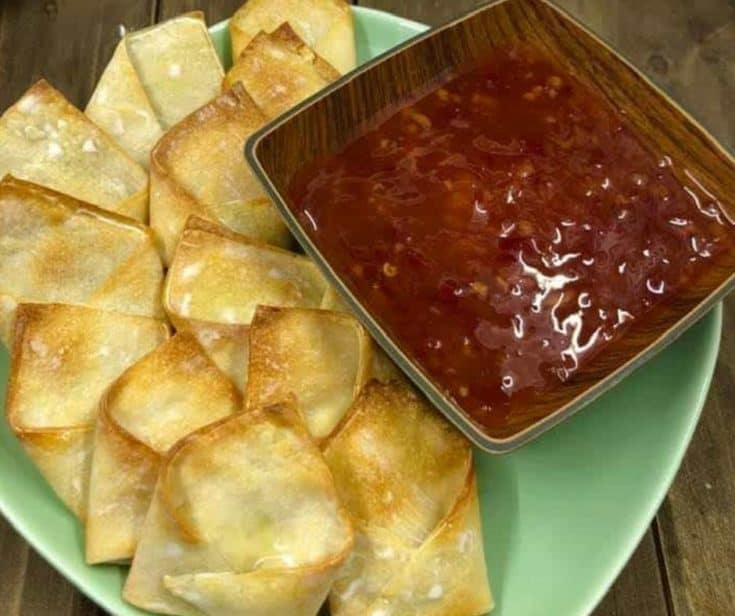 These are so easy and fun to make. Today I am making copycat Panda Express Cream Cheese Rangoon, so easy, with just a few ingredients.
Ingredients
1 package wonton wrappers
8 ounces room temperature cream cheese I used garlic cream cheese
2 tablespoons minced scallions
1 teaspoon garlic powder
olive oil
Optional: Sweet and Sour Sauce for Dipping
Instructions
Start by making your filling. Blend the cream cheese, scallions, and garlic powder in a small mixing bowl.
Put a tablespoon of filling in the middle of the wonton wrapper.
Today, we folded them in an envelope, per the picture
Set in the air fryer tray or basket, rub the outside with the olive oil (outside only), and set the temperature for 300 degrees F for 7 minutes.
Plate, serve and enjoy!
.
Nutrition Information:
Yield:
24
Serving Size:
1
Amount Per Serving:
Calories:

46
Total Fat:

4g
Saturated Fat:

2g
Trans Fat:

0g
Unsaturated Fat:

2g
Cholesterol:

11mg
Sodium:

41mg
Carbohydrates:

2g
Fiber:

0g
Sugar:

1g
Protein:

1g