Can you use Pam in air fryer? It's one of the most asked questions I come across when it comes to using this convenient kitchen appliance. Almost every air fryer manufacturer recommends against it, and here's why!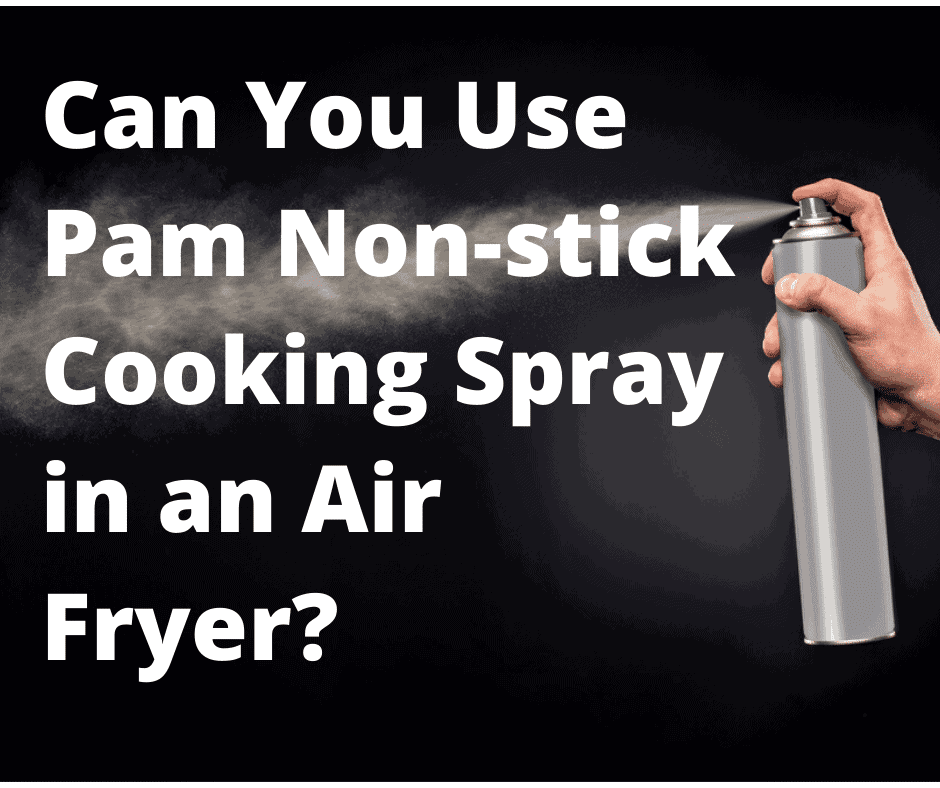 Can You Use Pam in Air Fryer?
The short answer is no, you shouldn't use an aerosol oil like Pam non-stick cooking spray in your air fryer. But, let's back things up for a second.
The first question that you need to ask yourself is: Why can't I use Pam in my air fryer?
And, to answer that question you first need to understand how aerosol oils work. Let's get started!
How do Aerosols Oils Work?
They work like most aerosol cans do.
So, what's really in those cans of spray oil that line the baking aisle in the cooking aisle? Well, aerosol oil is really a combination of a variety of different things, here is the breakdown:
Chemical Oil – Something that resembles oil
Lecithin – A fat substance that helps to emulsify the oil.
The propellant – This could be anything from food-grade alcohol, nitrous oxide, carbon dioxide, and/or propane. It helps your spray from clogging in the nozzle, which is important.
Why You Shouldn't Use Aerosol Oil Spray for Air Fryer
Of all of the ingredients listed above (present in most spray oils), the one you have to be most wary of is the propellant. It will damage and erode the nonstick coating of your air fryer basket.
What happens over time is that your air fryer basket will start to flake and the food will start to contain little particles of the basket. And no one wants to think they are eating metal, right?
The good news is that you can use a spray oil for air fryer, as long as it's a nonaerosol bottle!
The Best Cooking Spray for Air Fryer
Below you'll find my favorite options for an air fryer oil spray. No matter which one you choose, I definitely recommend that you buy a refillable olive oil mister!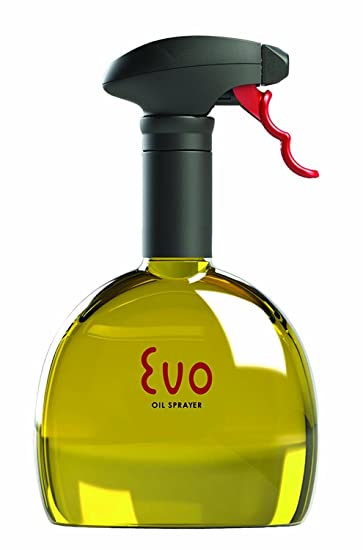 My top choice for a spray oil for air fryer is this EVO oil mister. I've had mine for over 2 and a half years. It's a bit on the expensive side, but it works really well.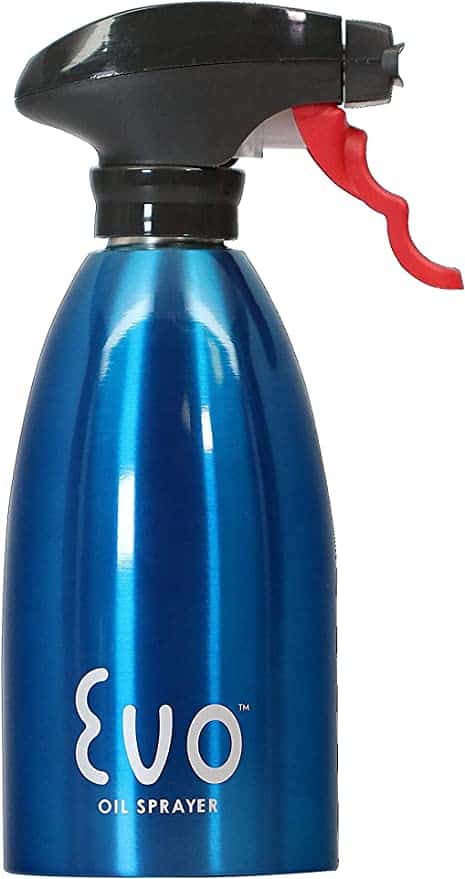 This is another oil mister from EVO, and it would be my second choice. I have had one in the past, and it's easy to use. Plus, it's a bit less expensive. It's also one of the best cooking spray for air fryer options for older adults who have arthritis. It's easy to hold and spray.
This option is expensive for a non-refillable bottle in my opinion, but it's very convenient and doesn't have any propellants.
Can I Spray Pam on Food Before Air Frying?
You should never use an aerosol like Pam on your air fryer basket as it will damage the coating. That said, if you're working from a recipe that needs a bit of extra oil (like French fries), you can spray Pam directly on the food. My advice is to stick with one of the oil spray for air fryer options on the list above.
What is the Best Oil to Spray in Air Fryer?
Olive oil is the best oil spray for air fryer. Other good options include:
Canola oil
Grapeseed oil
Avocado oil
When determining whether or not to use a given cooking spray for air fryer, it's important to keep the smoke point in mind. The smoke point is the temperature the oil can be heated before it begins to burn or "smoke."
I suggest looking online to figure out the smoke point of whatever oil you'd like to use before adding it to one of the spray bottles for air fryer that are linked above. Better safe than sorry!
How do You Keep Food From Sticking in an Air Fryer?
With all of this talk about air fryer oil spray and wondering can you use Pam in air fryer, you may be wondering how to prevent food from sticking to your favorite kitchen appliance.
Remember that you can use a nonaerosol cooking spray if needed. You can also add a bit of oil directly to the food. The most important thing is to avoid spray bottles with propellants.
More Air Fryer Tips: