Air Fryer Apple Breakfast Cookies — The smell of apples and cinnamon fills the kitchen. You prepare a batch of apple breakfast cookies with your air fryer. The fresh-baked smell reminds you that it is time for fall baking! They are also quick to make, which makes them an excellent choice for busy mornings. These cookies will be perfect with your morning coffee or tea!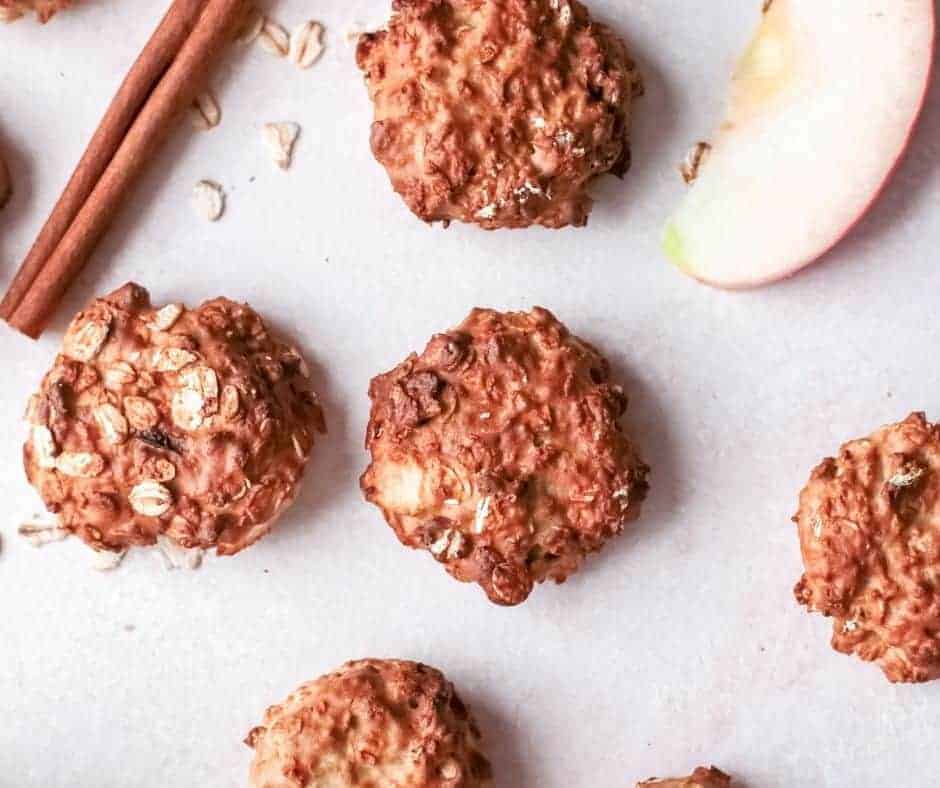 Air Fryer Apple Breakfast Cookies are so good! This is the perfect recipe for a great breakfast on a fall day!
There is nothing better than a plate of these cookies! And with only a few ingredients, you can cook these up anytime! My kids just got home from apple picking, and I was looking for something wonderful to do with them, and this breakfast was the perfect treat!
If you love a great healthy breakfast recipe, this is the recipe for you! They only take about 12 minutes to perfectly crisp up in the Air Fryer.
And since these are cookies, they travel ideally. So, make a batch and pack a package for the kids to bring to school as a healthy breakfast. Or surprise them by packing them in their lunchbox. Either way, they're a delicious and healthy treat!
If you have not baked in the Air Fryer yet, this is a great recipe to start with, and nothing is quicker or better than Air Fryer Cookies!
Some of my other favorite Air Fryer Cookie Recipes are AIR FRYER CHOCOLATE CHIP COOKIES, AIR FRYER COPYCAT DOUBLETREE COOKIES, AIR FRYER 2 INGREDIENT OREO MUG CAKE, and EASY AND DELICIOUS COOKIE MUG CAKE RECIPE MADE IN MINUTES.
Ingredients Needed For Air Fryer Apple Breakfast Cookies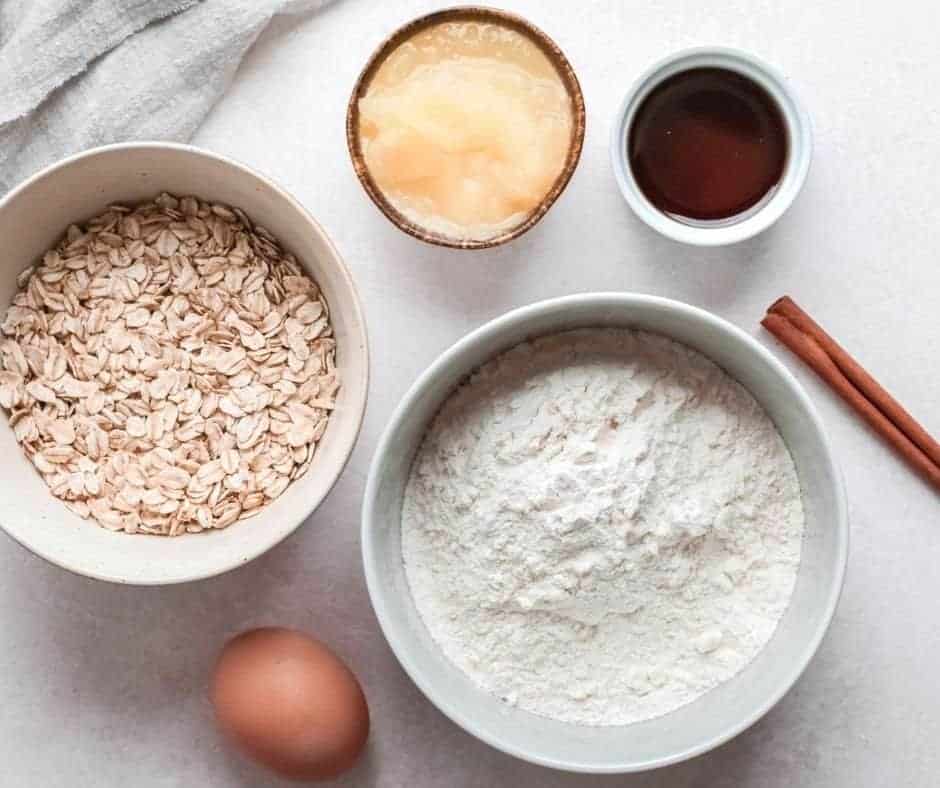 All-Purpose Flour
Old Fashioned Oats
Ground Cinnamon
Maple Syrup
Applesauce
Egg
How To Make Air Fryer Apple Breakfast Cookies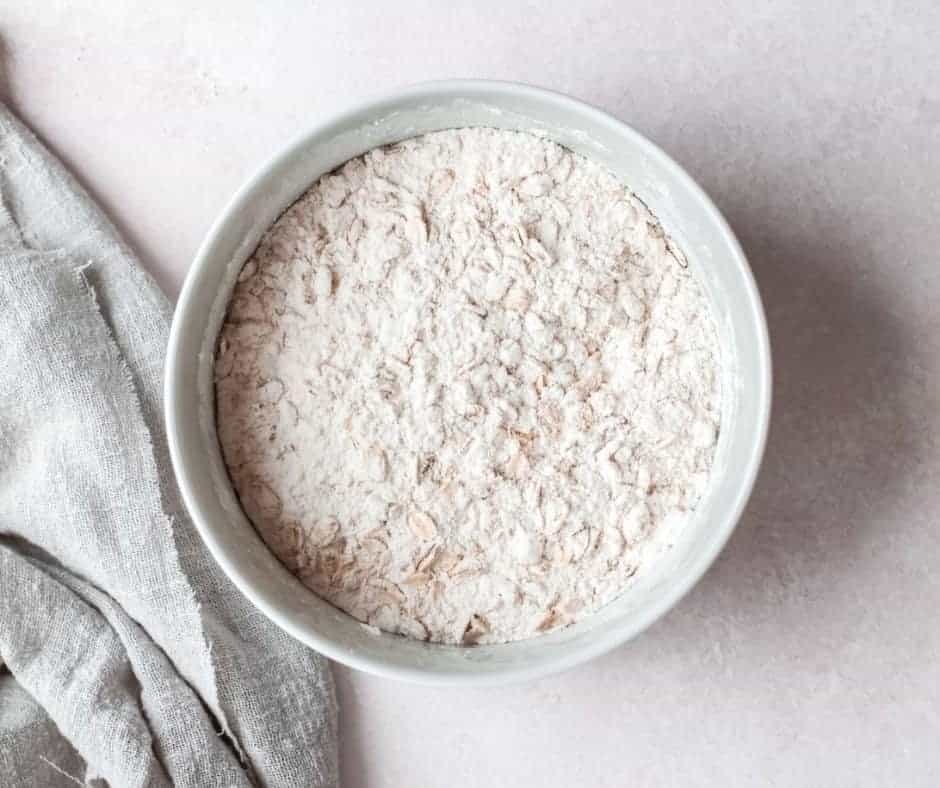 In a bowl, whisk the flour, oats, and cinnamon.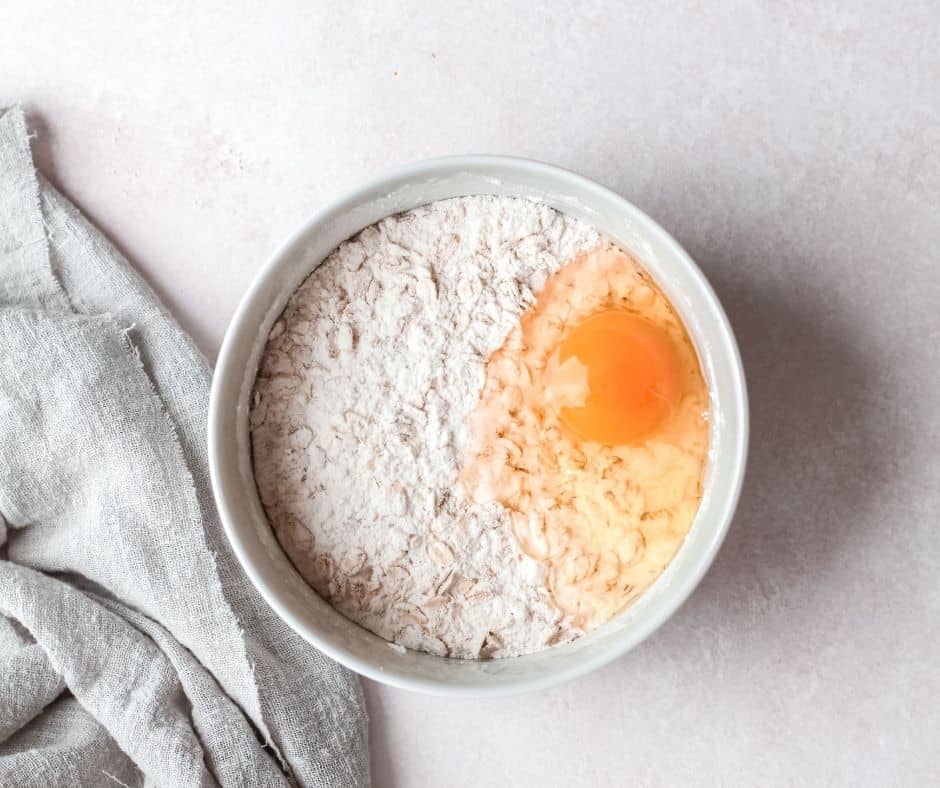 Add the egg, maple syrup, and applesauce and stir to combine. The dough should be thick but scoopable.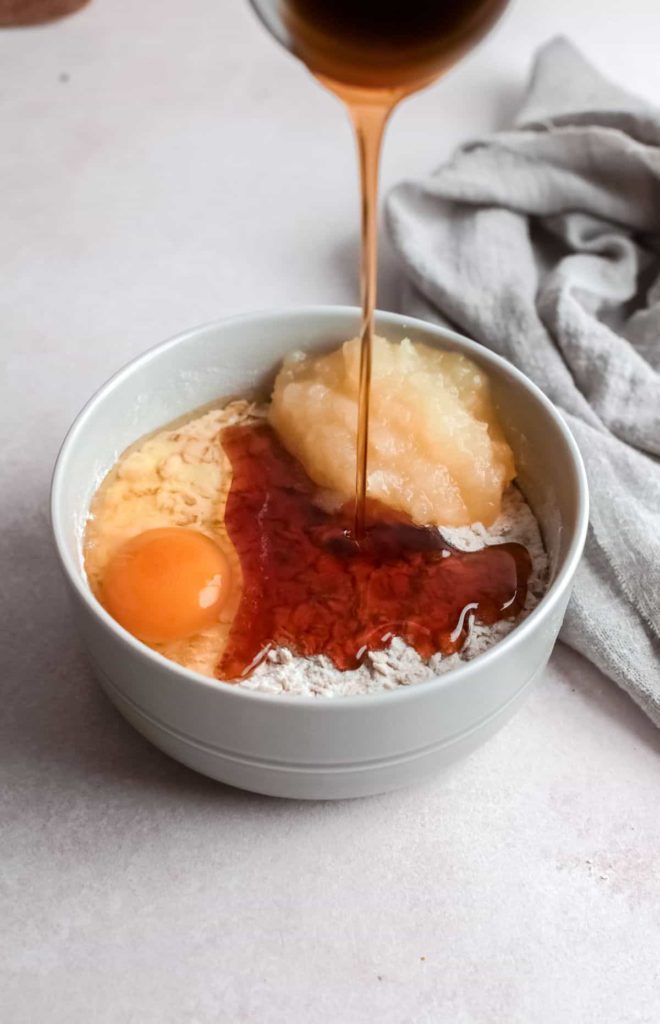 With the help of a cookie scoop, shape the cookies.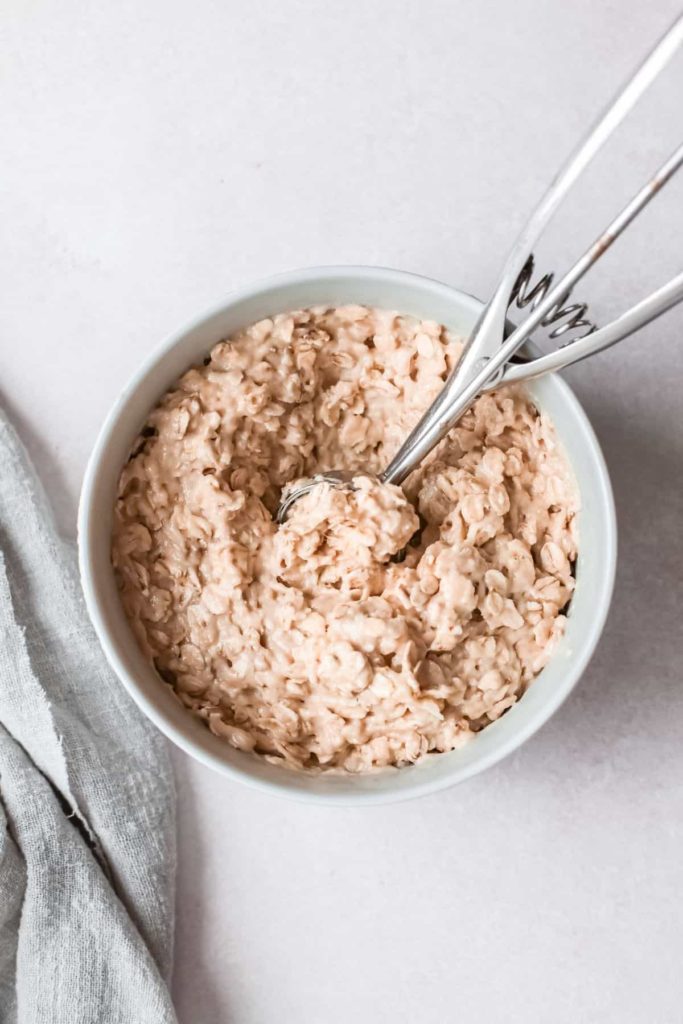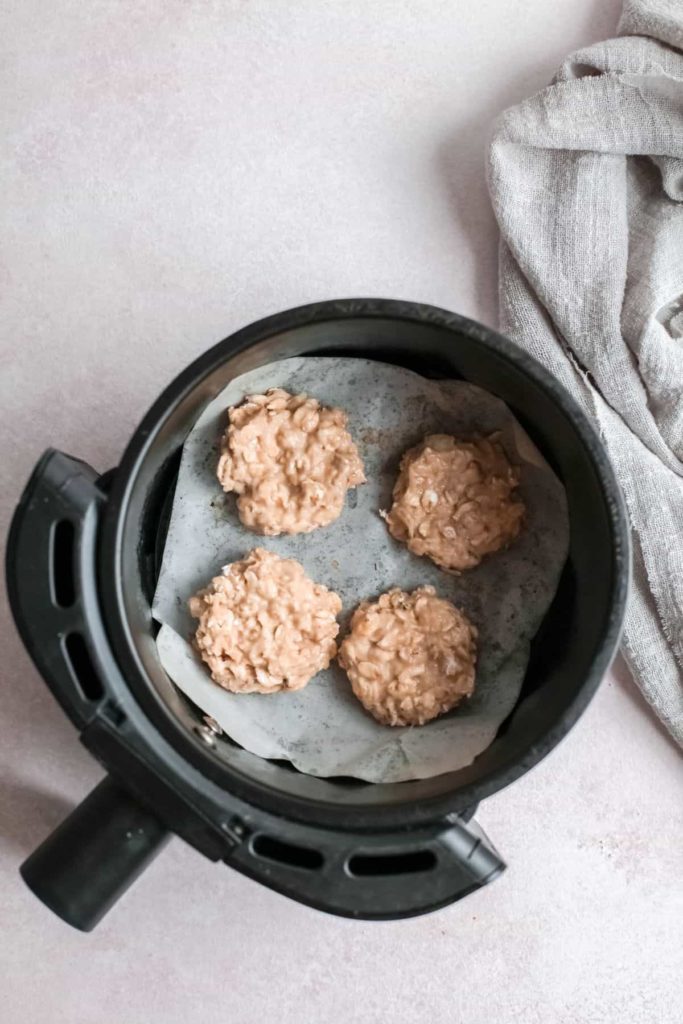 Line the air fryer basket with parchment paper. Place the cookies inside the basket, around four at a time.
Air fry at 350 degrees F, air fryer setting, for 10 to 12 minutes.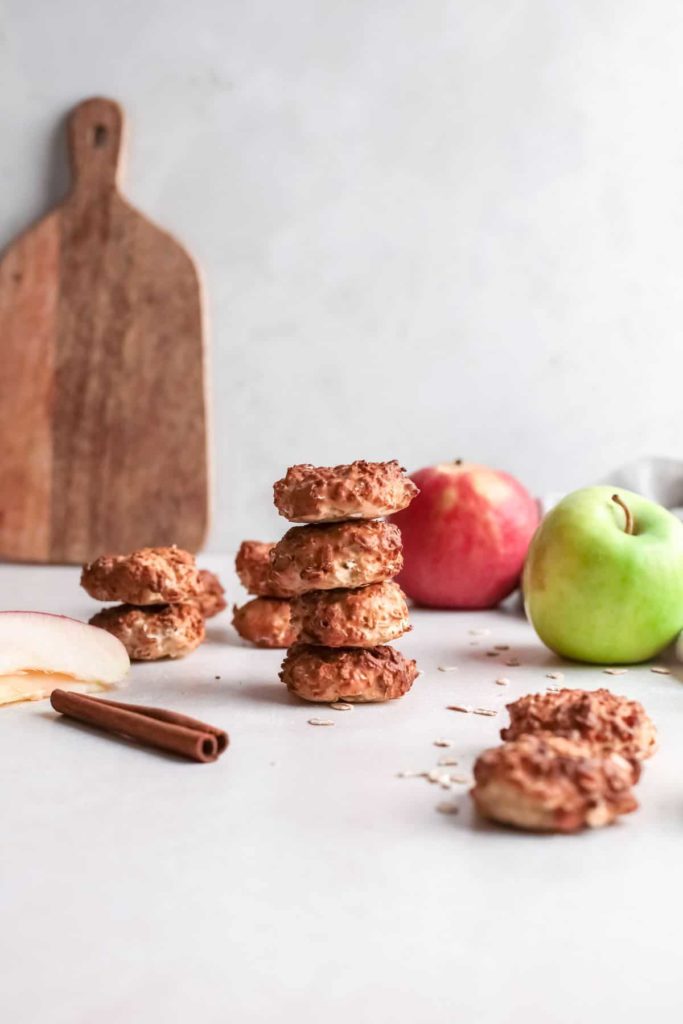 Pro Tips
This recipe will work in any Air Fryer Basket or Oven Model. I have also cooked breakfast cookies in my Ninja Foodi, Instant Pot Crisp Lid, and Mealthy Air Fryer. The cooking time will vary by a few minutes, but the recipe is the same.
You must line your Air Fryer Basket with parchment paper to keep the cookie dough from falling through the holes in the basket.
Watch your cookies as they cook up; each air fryer's cooking time will differ.
Feel free to add some diced apples to the batter! Add some raisins, pecans, and other of your favorite mix-ins!
What do you eat with breakfast cookies?
This is an easy breakfast that you can eat since they are very filling and has protein from eggs and oatmeal.
But you can also easily do these with a bowl of fruit, a cup of yogurt, or even a batch of Air Fryer Hard Boiled Eggs! Make this a great breakfast treat for your entire family. Served with a batch of hot chocolate and coffee (for the adults)
Are oatmeal cookies good for breakfast?
Think of it this way: you wouldn't scoff at a bowl of oatmeal. This recipe bakes the oatmeal up. It's so good, healthy, and delicious!
You have a balanced breakfast right in your Air Fryer Apple Breakfast Cookies since you have the protein from the egg and apples for your fruit. Served with flour and oats, you have starches. This recipe will keep you full until it's lunchtime!
Making Apple Breakfast Cookies Gluten-Free
This is an easy recipe to switch out for gluten-free ingredients, and the recipe will be the same.
Use gluten-free flour and rolled oats; the recipe will work the same.
How To Store Air Fryer Apple Breakfast Cookies
This is a great recipe to make ahead of time since they store very well. Let them cool to room temperature, and then place them into a plastic bag or airtight container.
Place them onto the counter, and they will stay crispy for about 2 to 3 days.
How To Freeze
This is a great make-ahead breakfast idea that works so well. The cookies are directed below, then let them cool to room temperature. Place the cookies into a freezer bag or freezer-safe container.
They will last for about 1 to 2 months.
You can either let them defrost in the refrigerator overnight or on the counter. You can also pack these frozen in your child's lunchbox, and they will be thawed by lunchtime!
More Air Fryer Breakfast Recipes
Don't Forget To Pin: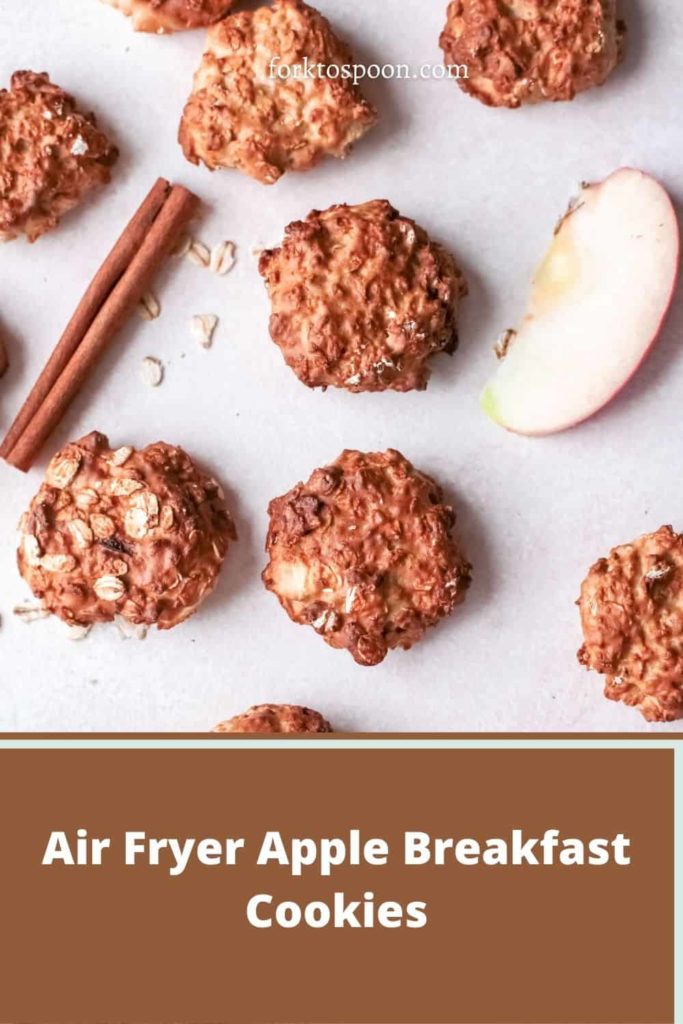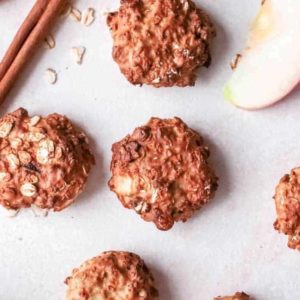 Air Fryer Apple Breakfast Cookies
Description
These apple breakfast cookies are a healthy and filling breakfast! Made in the air fryer, they are slightly crunchy on the outside and soft on the inside.
Ingredients
1

cup

all-purpose flour

3/4

cup

old-fashioned rolled oats

1

tablespoon

ground cinnamon

1/4

cup

maple syrup

1/2

cup

unsweetened applesauce

1

large

egg
Instructions
In a bowl, whisk the flour, oats, and cinnamon. Add the egg, maple syrup, and applesauce and stir to combine. The dough should be thick but scoopable.

With the help of a cookie scoop, shape the cookies.

Line the air fryer basket with parchment paper. Place the cookies inside the basket, around 4 at a time.

Air fry at 350 degrees F, air fryer setting, for 10 to 12 minutes
Equipment
Air Fryer

Parchment Paper,

optional

Cooking Spray
Nutrition
Serving:
1
Serving
Calories:
261
kcal
Carbohydrates:
53
g
Protein:
7
g
Fat:
3
g
Saturated Fat:
1
g
Polyunsaturated Fat:
1
g
Monounsaturated Fat:
1
g
Trans Fat:
0.01
g
Cholesterol:
47
mg
Sodium:
22
mg
Potassium:
182
mg
Fiber:
4
g
Sugar:
15
g
Vitamin A:
82
IU
Vitamin C:
0.4
mg
Calcium:
63
mg
Iron:
3
mg