---
Crispy Air Fryer Breakfast Burritos —Get ready to elevate your breakfast game with our irresistible Crispy Air Fryer Breakfast Burritos. In this tantalizing recipe, we'll show you how to create the ultimate morning indulgence – golden and crispy on the outside, packed with savory fillings on the inside.
Whether you're making these for a leisurely weekend brunch or meal-prepping for busy weekdays, these breakfast burritos are sure to become a family favorite. Let's dive into the world of crispy, flavorful morning perfection!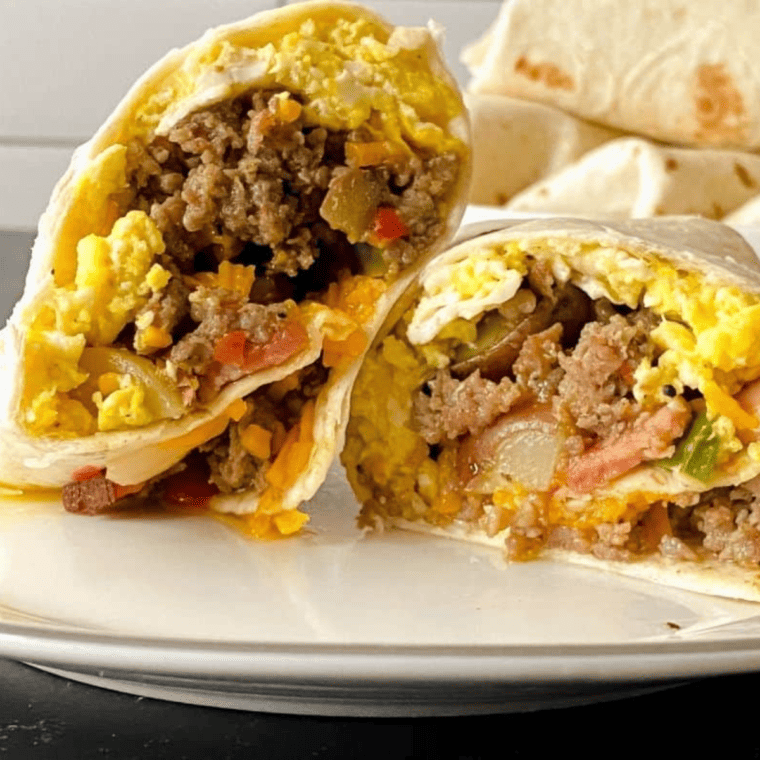 Can you make a homemade breakfast burrito in air fryer?
You can make delicious homemade breakfast burritos in the air fryer. Below is the perfect recipe for busy mornings: serve with Air Fryer Tater Tots or some breakfast sausage for a quick breakfast!
With only a few minutes of prep time, you can easily make this part of your weekly meal prep; just be sure to wrap them tightly in saran wrap before freezing.
If you are looking for even more Air Fryer Breakfast Recipes, some of my favorites are AIR FRYER BEST CHERRY TURNOVERS, AIR FRYER BREAKFAST CASSEROLE, AIR FRYER APPLE CHEDDAR BACON SCONES, and AIR FRYER CHOCOLATE CROISSANTS.
What do you need to make air fryer breakfast burritos?
Crafting mouthwatering Air Fryer Breakfast Burritos starts with assembling the perfect ingredients. In this guide, we'll explore the essential components needed to create these crispy, satisfying morning delights that are sure to become a family favorite. Let's dive into what you'll need for the ultimate breakfast experience!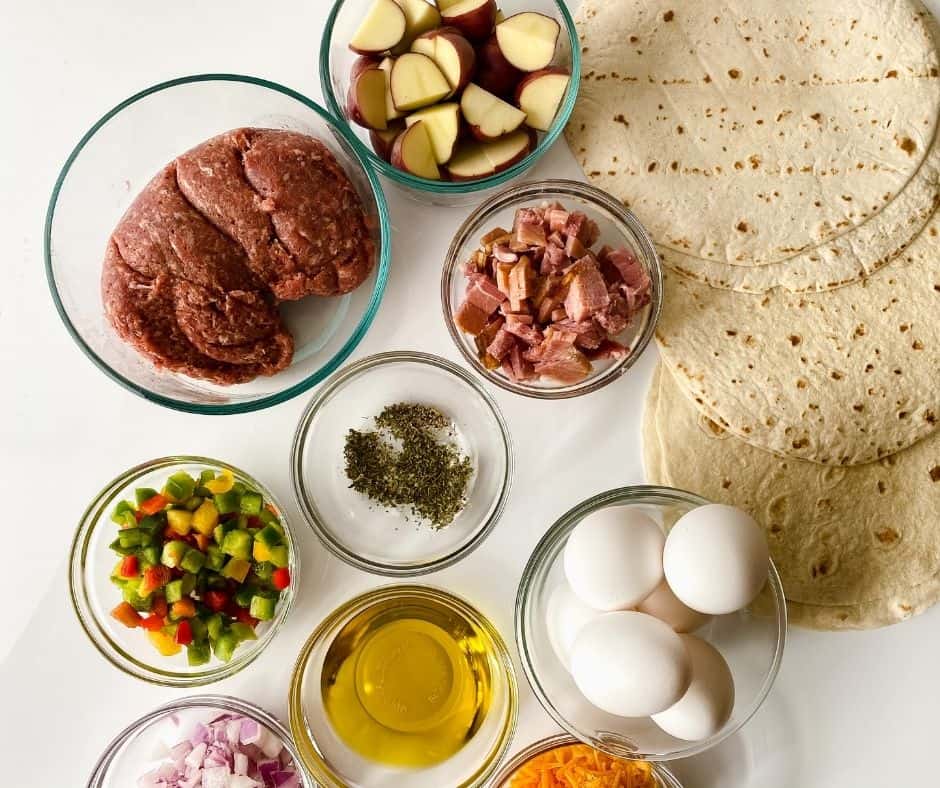 Remember the step-by-step directions and detailed ingredient list are below in the printable recipe card at the end of this post, as well as the nutritional information.​
Large Eggs: You'll need large eggs to create the fluffy and savory scrambled egg-filling cornerstone of breakfast burritos.
Milk: A small amount of milk adds creaminess and helps make the scrambled eggs tender and flavorful.
Kosher Salt and Black Pepper: These seasonings are essential for enhancing the eggs' taste and other burritos' ingredients.
Corn Tortillas or Flour Tortilla: Large flour tortillas serve as the outer wrap, providing the perfect vessel for holding all the delicious breakfast fillings.
Shredded Cheese: Choose your favorite cheese variety (cheddar cheese, Monterey Jack, etc.) to add gooey, melty goodness to the burrito.
Cooked Breakfast Meat: Whether it's breakfast sausage, crispy bacon, or diced ham, cooked breakfast meat contributes savory flavors and protein.
Bell Peppers: Diced bell peppers add a colorful and crunchy element to the burritos and a mild, sweet flavor.
Onions: Diced onions offer a savory and aromatic touch, enhancing the overall taste of the burrito.
Tomatoes: Diced tomatoes provide a juicy and fresh element, balancing the richness of the other ingredients.
Cooking Spray: A light cooking spray in the air fryer helps prevent the burritos from sticking and ensures a crispy exterior.
These ingredients combine to create the ultimate Air Fryer Breakfast Burritos, bursting with flavor and texture.
How do you make air fryer breakfast burritos?
Indulge in the ultimate morning treat with our step-by-step guide on how to make crispy and satisfying Air Fryer Breakfast Burritos.
Packed with your favorite breakfast fillings and perfectly cooked to crispy perfection, these delicious burritos are the perfect way to kickstart your day.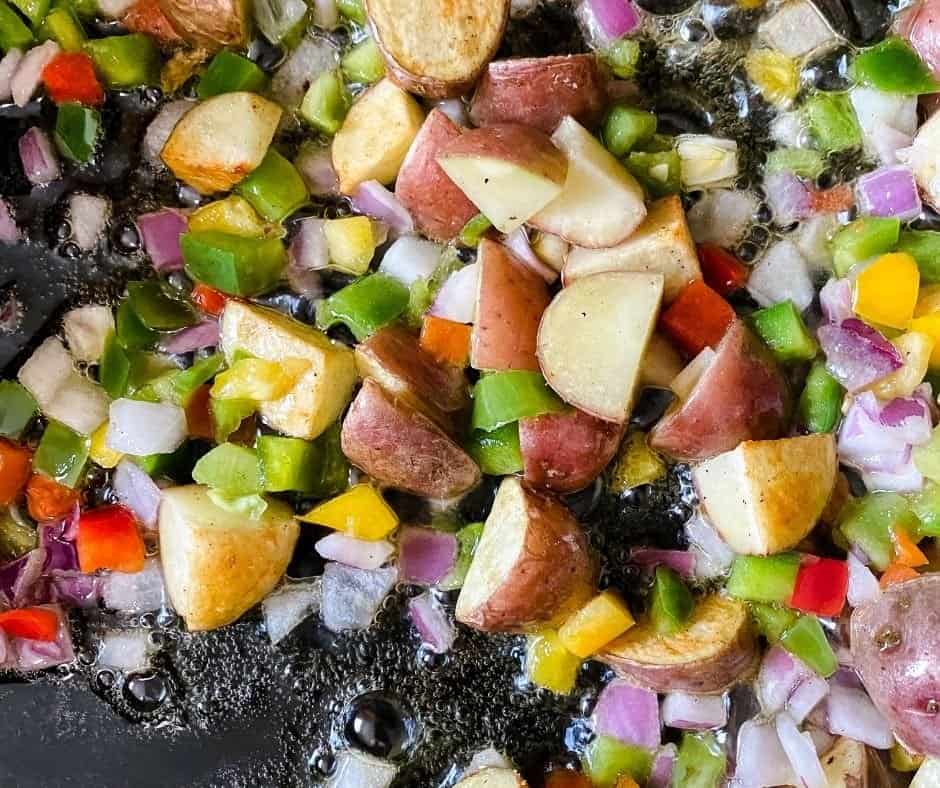 Prepare the Egg Mixture:
Whisk together the eggs, milk, salt, and pepper in a large mixing bowl until well combined.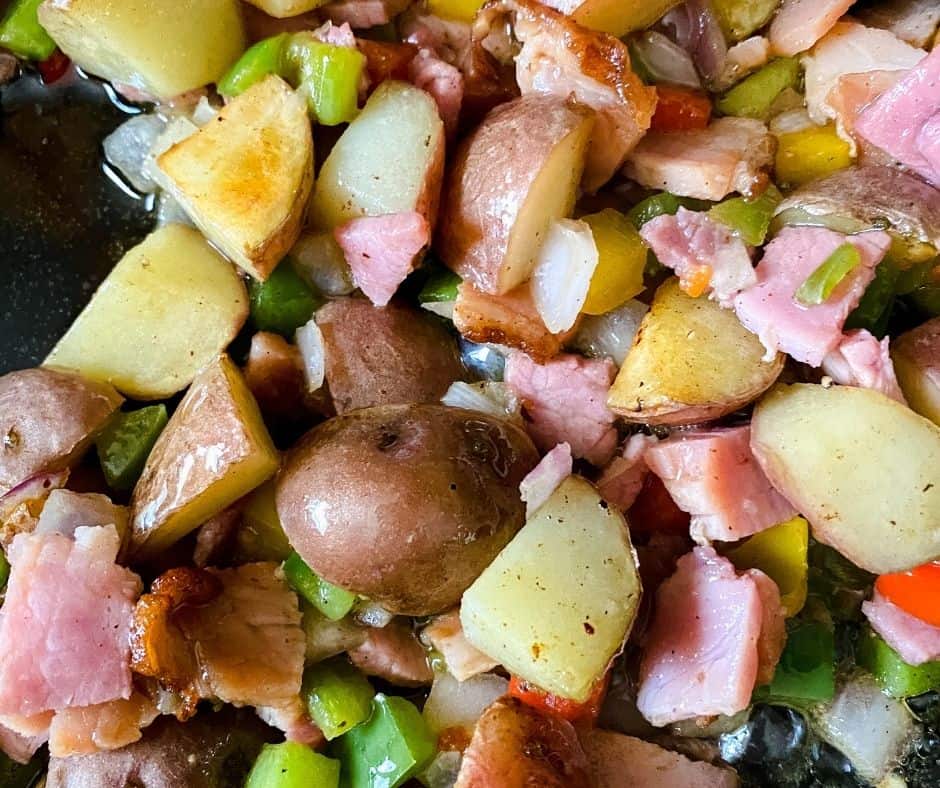 Cook the Eggs:
Heat a non-stick large skillet over medium-high heat and add olive oil or butter.
Pour the egg mixture into the skillet and cook, stirring gently, until the eggs are just set but still slightly runny. Remove from heat; they will continue cooking from residual heat.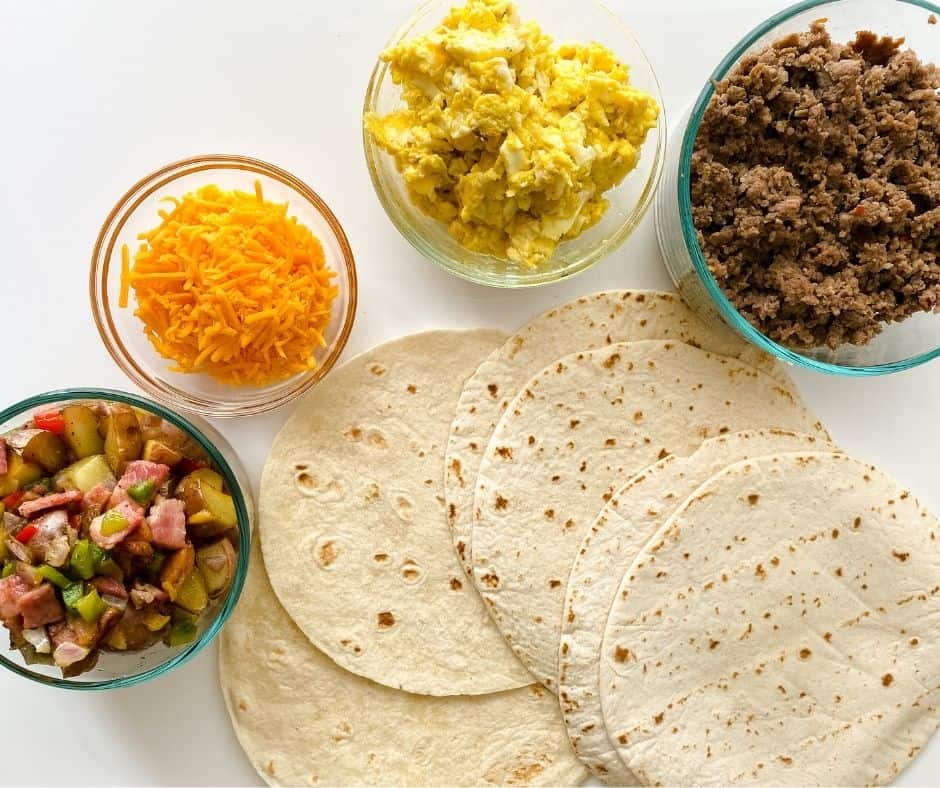 Assemble the Burritos:
Lay out a tortilla and place some cooked eggs in the center.
Add a portion of shredded cheese, cooked breakfast meat, diced bell peppers, onions, and tomatoes to the eggs.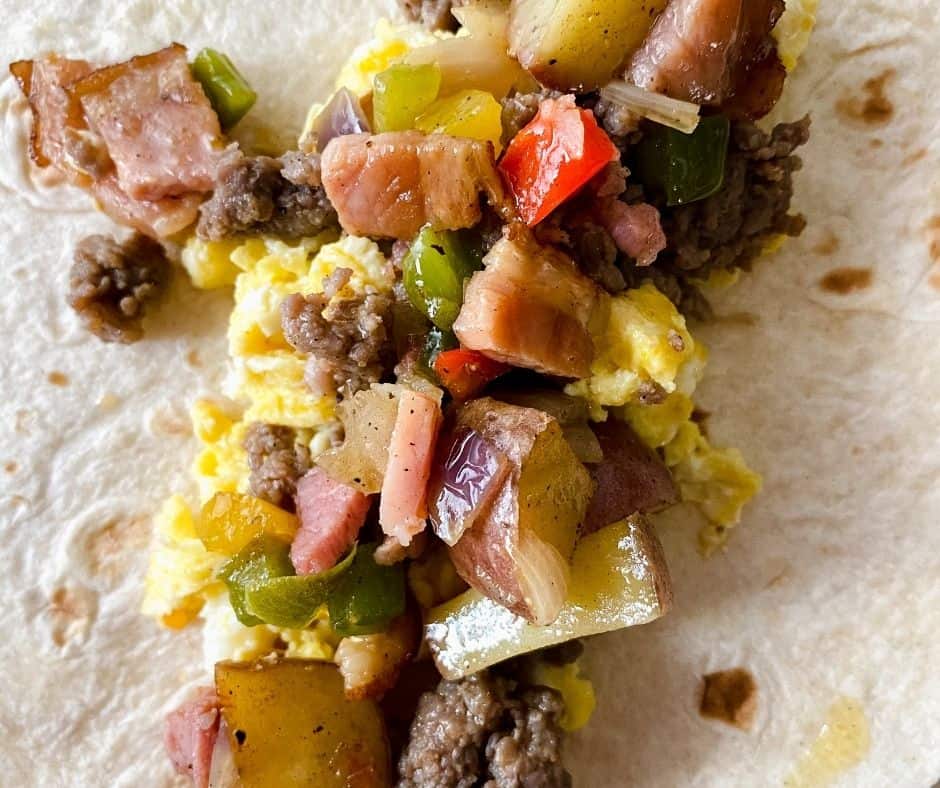 Fold and Roll:
Fold the sides of the tortilla inward, then roll it up from the bottom, creating a burrito shape.
Preheat the Air Fryer:
Preheat your air fryer to 350 degrees F (175°C) for 3-5 minutes.
Air Fry the Burritos:
Lightly spray the air fryer basket or tray with cooking spray to prevent sticking.
Place the assembled breakfast burritos seam-side down in the preheated air fryer basket, leaving a little space between them.
Set the cook time for 5-7 minutes, flipping the burritos halfway through until they are crispy and golden brown.
Serve:
Let the burritos cool for a minute or two before serving. Enjoy them with your favorite toppings, such as salsa, sour cream, or avocado slices.
These Air Fryer Crispy Breakfast Burritos are a delightful way to start your day with a crispy, savory treat that is ready in no time. Enjoy your homemade breakfast burritos!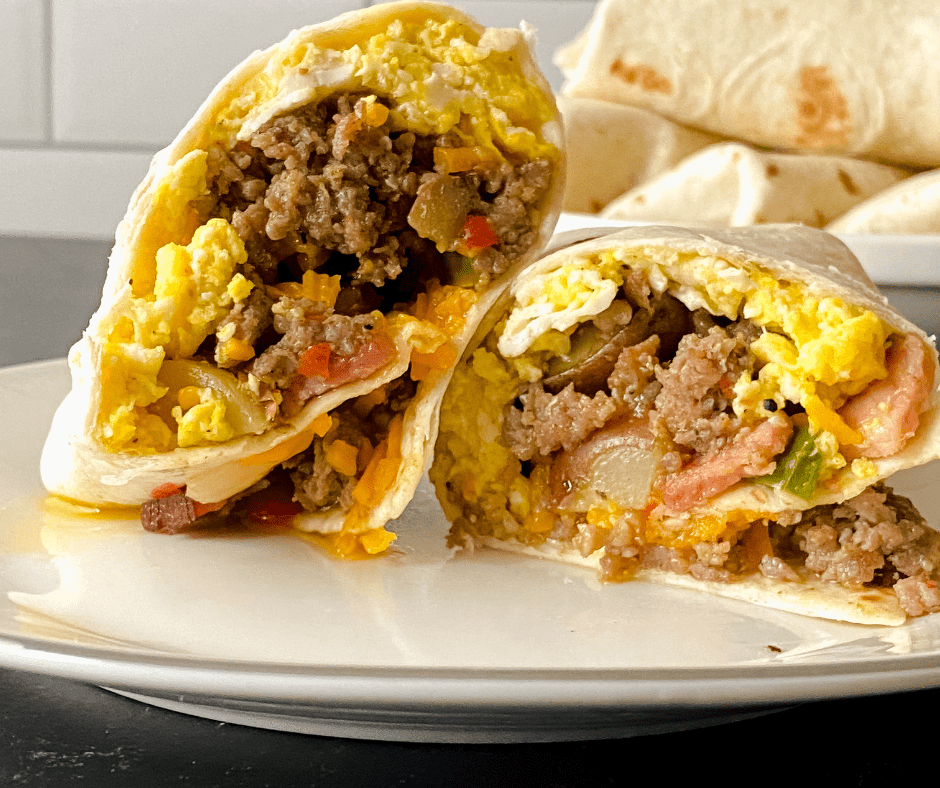 Pro Tips
To make your Air Fryer Breakfast Burritos even more delicious and perfectly crispy, consider these pro tips:
Customize Fillings: Tailor the burritos to your taste by adding ingredients like diced jalapeños, green bell peppers, mushrooms, spinach, or black beans. Be creative and use your favorite breakfast ingredients.
Warm Tortillas: Heat the tortillas briefly in the air fryer or microwave before assembling the burritos. This makes them more pliable and prevents cracking when rolling.
Use Parchment Paper: Place a small piece of parchment paper under each burrito in the air fryer basket to prevent sticking and make cleanup easier.
Don't Overstuff: While packing the burritos with fillings is tempting, avoid overstuffing to ensure they roll and cook evenly. Aim for a balanced amount of ingredients.
Prevent Overcooking: Be mindful not to overcook the eggs during the initial stovetop cooking. They should be slightly runny when removed from the heat, as they will continue to cook in the air fryer.
Experiment with Cheese: Try different cheese varieties for unique flavors. Pepperjack, Swiss, or feta can provide exciting twists.
Keep Toppings Fresh: If you use toppings like avocado slices or fresh herbs, add them just before serving to keep them fresh and vibrant.
Batch Cooking: Make a larger batch of burritos and freeze the extras individually for a quick and convenient breakfast option on busy mornings.
By following these pro tips, you'll master the art of making Air Fryer Breakfast Burritos that are not only delicious but also beautifully crispy on the outside and filled with your favorite morning flavors. Enjoy your breakfast creations!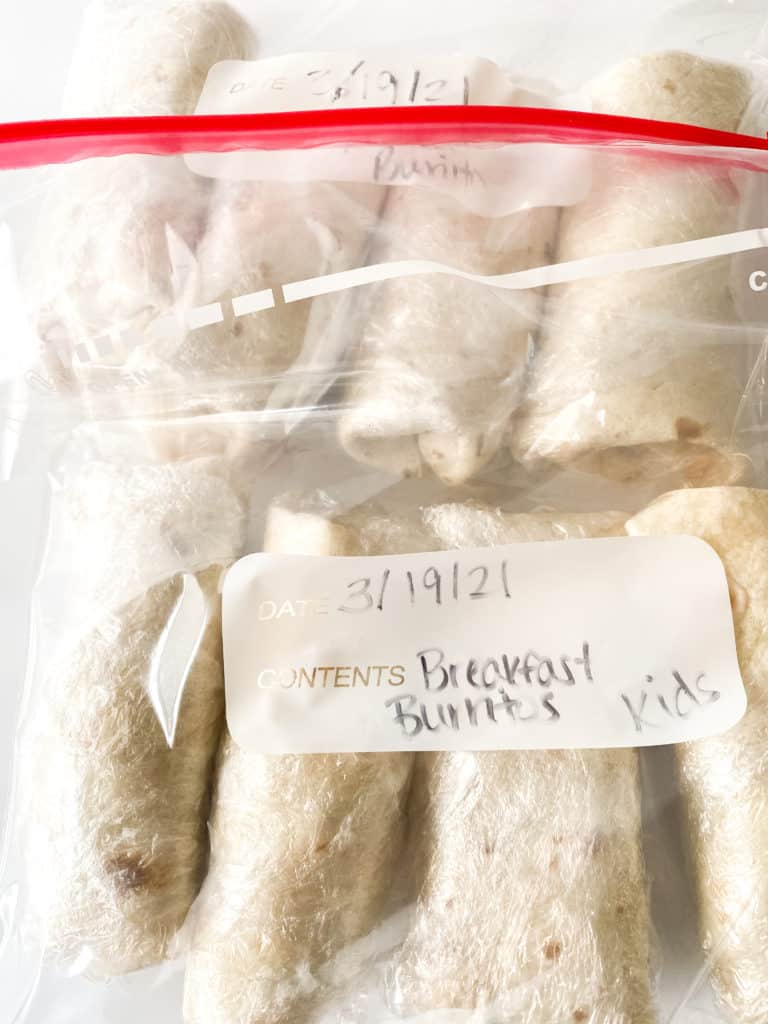 What Are Some Great Fillings For Perfect Breakfast Burrito
Creating the perfect breakfast burrito is all about selecting a combination of flavorful fillings that suit your taste. Here are some great fillings to consider for your breakfast burrito:
Scrambled Eggs: Fluffy and seasoned scrambled eggs are a classic base for any breakfast burrito.
Breakfast Meat: Options include cooked breakfast sausage, crispy bacon, diced ham, or even chorizo for a spicy kick.
Cheese: Choose your favorite cheese, such as cheddar, Monterey Jack, Swiss, or pepper jack, and add a generous sprinkle for melty goodness.
Vegetables: Sautéed or grilled veggies like bell peppers, onions, mushrooms, and spinach add freshness and texture.
Potatoes: Roasted or diced breakfast potatoes provide a satisfying, hearty element to your burrito.
Avocado or Guacamole: Creamy avocado slices or homemade guacamole add a delightful richness.
Salsa: Fresh salsa, pico de gallo, or hot sauce can add a burst of flavor and a touch of heat.
Black Beans or Refried Beans: For extra protein and texture, consider adding a layer of black beans or refried beans.
Fresh Herbs: Fresh cilantro, parsley, or chives can lend a burst of color and freshness.
Sour Cream: A dollop of sour cream on top or mixed into the fillings provides creaminess and tang.
Spices and Seasonings: Customize your burrito with spices like cumin, chili powder, paprika, or hot pepper flakes for added flavor.
Sliced Jalapeños: If you like a spicy kick, add some sliced jalapeños or pickled jalapeños.
Diced Tomatoes: Fresh or roasted diced tomatoes can bring a juicy element to your burrito.
Hot Breakfast Sauce: Consider using a breakfast sauce like hollandaise or a creamy chipotle sauce for a unique twist.
Remember, the key to a perfect breakfast burrito is balancing flavors and textures to your liking. Mix and match these fillings to create a burrito that suits your breakfast cravings.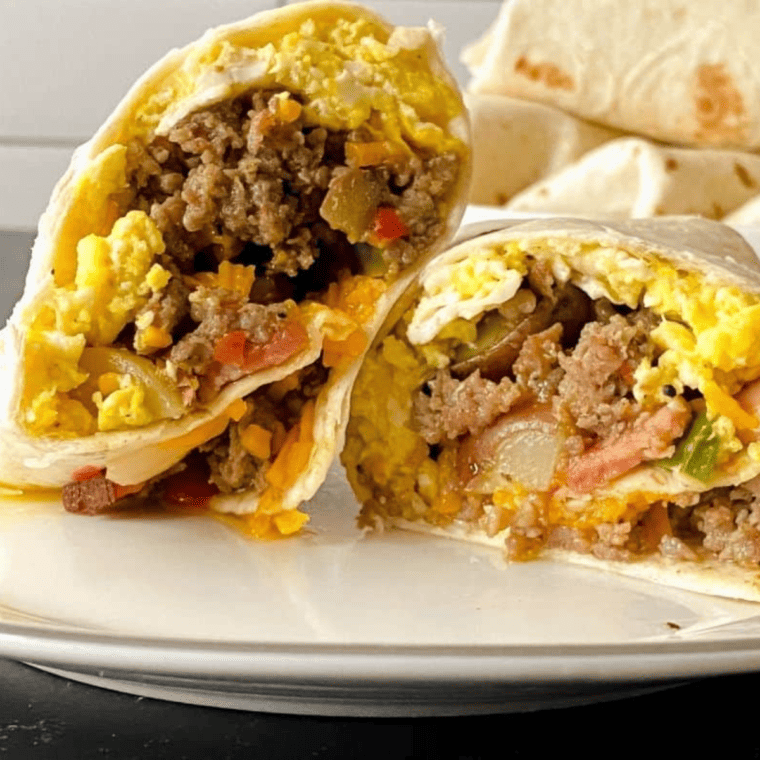 Can I make breakfast burritos in advance and reheat them in the air fryer?
Yes, you can make breakfast burritos in advance, wrap them tightly in foil or plastic wrap, and store them in the refrigerator. When ready to enjoy, reheat them in the air fryer for a few minutes until they are hot and crispy.
Can I use whole wheat or spinach tortillas for a healthier option?
Absolutely! You can choose whole wheat or spinach tortillas for a healthier twist on breakfast burritos. These options add extra fiber and nutrients to your meal.
Can I make vegetarian breakfast burritos in the air fryer?
Yes, you can create delicious vegetarian breakfast burritos by omitting the meat and adding ingredients like sautéed mushrooms, spinach, diced tomatoes, or black beans for protein.
How do I prevent the tortillas from getting too soggy in the air fryer?
To prevent tortillas from getting soggy, avoid overfilling the burritos with liquid-rich ingredients like salsa. Also, make sure the burritos are tightly wrapped to seal in moisture.
Can I make breakfast burritos gluten-free?
Certainly! Look for gluten-free tortillas, and ensure that all the ingredients you use are gluten-free, including seasonings and fillings.
What are some recommended dipping sauces for breakfast burritos?
Popular dipping options include salsa, hot sauce, sour cream, and guacamole. Choose your favorite to enhance the flavor of your burrito.
How do I store leftover breakfast burritos?
To store leftover breakfast burritos, wrap them tightly in tin foil or plastic wrap or place them in an airtight container and refrigerate for 2-3 days. You can also freeze them for more extended storage.
Can I cook freezer breakfast burritos in the air fryer?
Yes, you can cook a frozen breakfast burrito in the air fryer. Preheat the air fryer and cook the food directly from frozen, adding a few extra minutes to the cooking time.
More Air Fryer Recipe
If you love this breakfast burrito air fryer, check out some of these other Air Fryer recipes to fill your morning with delight!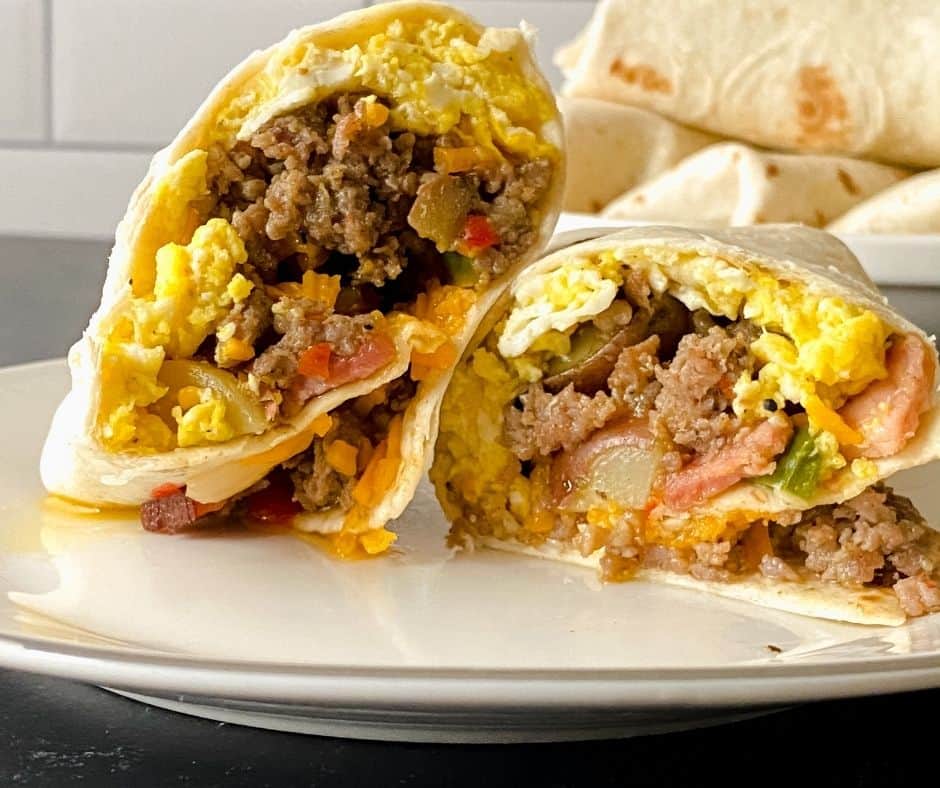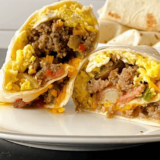 Air Fryer Breakfast Burrito
Description
Air Fryer Loaded Breakfast Burrito is a quick and easy (but delicious) breakfast made in the Air Fryer, and they are truly amazing!
Ingredients
12

Tortillas

14

ounces

Ground sausage

1

cup

bacon

,

or use cooked ham, or cooked ground chicken

2

cups

red or gold potatoes

,

chopped

1/2

cup

red onions

1/2

cup

bell peppers

,

green, red, or yellow diced peppers

6-8

large

eggs

1/2

teaspoon

kosher salt

1/2

teaspoon

black pepper

1/2

teaspoon

garlic powder

1

teaspoon

Italian seasoning

2

cups

cheddar cheese

,

shredded

2

tablespoons

butter

,

unsalted

2

tablespoons

olive oil
Instructions
Melt 2 tbsp butter with 3 tbsp olive oil over medium heat. Add potatoes and cook about 7-8 mins before adding in onions and peppers. Sauté for an additional 3-4 mins. Remove from heat and set aside.

Cook proteins, drain and set aside.

Scramble eggs, seasoning lightly with salt and pepper.

Start by adding the eggs to the center of the tortilla.

Lightly mash down with the back of a spoon to hold the rest of the ingredients.

Add your proteins, followed by the sautéed potatoes and veggies, and top with cheese.

Roll the burrito tightly.

Place the filled burritos into the air fryer basket and spray with cooking spray or brush with melted butter. Air Fry for 5-6 minutes at 330 degrees F, air fryer setting.
Equipment
Air Fryer,

Air Fryer Basket or Air Fryer Oven

Cooking Spray

Parchment Paper,

optional
Notes
Storing, freezing, and reheating Air Fryer Breakfast Burritos is a convenient way to enjoy a quick and delicious breakfast. Here's how to do it:
Storing Breakfast Burritos:
Refrigeration: If you plan to consume the burritos within a few days, you can store them in the refrigerator. Wrap each burrito individually in aluminum foil, plastic wrap, or parchment paper to keep them fresh. Place them in an airtight container or resealable plastic bags.
Freezer: If you want to keep breakfast burritos for an extended period, prepare and assemble them, but don't cook them in the air fryer. Wrap each uncooked burrito tightly in plastic wrap or aluminum foil. Place the wrapped burritos in a freezer-safe bag or airtight container.
Freezing Breakfast Burritos:
Prepare and Assemble: Assemble your breakfast burritos with your chosen fillings and ingredients, making sure not to overstuff them. Allow them to cool to room temperature.
Wrap Tightly: Wrap each burrito tightly in plastic wrap or aluminum foil to prevent freezer burn and maintain freshness.
Label and Date: Use a marker to label each wrapped burrito with its contents and the date of preparation. This helps you keep track of what's in the freezer and ensures you consume them within a reasonable time frame (usually 2-3 months).
Store in Freezer: Place the wrapped burritos in a freezer-safe bag or airtight container to keep them organized in the freezer.
Reheating Breakfast Burritos:
From the Refrigerator: To reheat a refrigerated breakfast burrito, simply remove the wrapping and place it in the air fryer. Air fry at 350°F (175°C) for about 3-5 minutes, turning occasionally, until it's heated through and crispy.
From the Freezer: For frozen breakfast burritos, remove the wrapping and place them directly in the preheated air fryer. Air fry at 350°F (175°C) for about 10-12 minutes, flipping them occasionally, until they are heated through and the exterior is crispy.
Microwave Option: As an alternative, you can microwave the burritos from the refrigerator for about 1-2 minutes or from the freezer for 3-4 minutes. However, the air fryer method will yield a crisper texture.
Enjoy your perfectly stored, frozen, and reheated Air Fryer Breakfast Burritos with the convenience of a delicious homemade breakfast any time you crave it!
Nutrition
Serving:
1
Serving
Calories:
457
kcal
Carbohydrates:
23
g
Protein:
18
g
Fat:
32
g
Saturated Fat:
12
g
Polyunsaturated Fat:
4
g
Monounsaturated Fat:
12
g
Trans Fat:
0.2
g
Cholesterol:
154
mg
Sodium:
835
mg
Potassium:
383
mg
Fiber:
2
g
Sugar:
2
g
Vitamin A:
613
IU
Vitamin C:
16
mg
Calcium:
205
mg
Iron:
2
mg
Don't Forget To Pin Air Fryer Breakfast Wrap!