Air Fryer Fruity Pebbles French Toast — Who doesn't love a good breakfast? And this French toast is perfect for a lazy weekend morning. All you need is an air fryer and some Fruity Pebbles cereal. The little bits of cereal add a fun crunch to the French toast, and it's all coated in a sweet and creamy glaze. So good!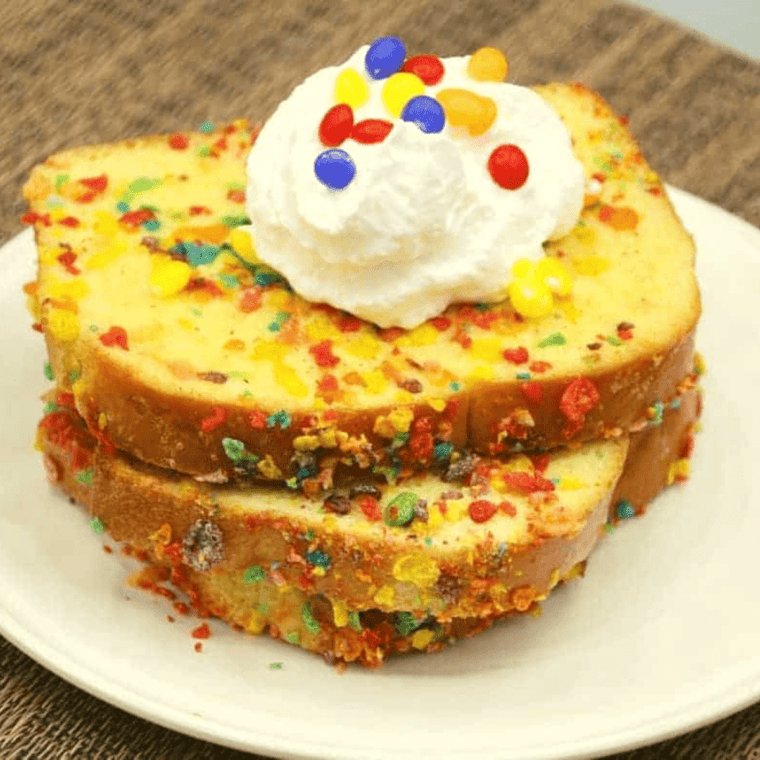 The kids are home for another snow day, so I had some leftover Fruity Pebbles from my Air Fryer Fruity Pebble Donuts, and I thought, why not? It's fun, and it is a great and easy way to spice up breakfast. So, today I bring you my version of Air Fryer Fruity Pebbles French Toast.
If you have not made Air Fryer French Toast, it is one of my family's favorites, and with the air fryer, it is so easy to make. Air Fryer French Toast is quick and easy to make, and it freezes well. So, stop buying the Frozen French Toast Sticks or Toast and make a huge batch of homemade air fryer French toast.
Today's batch is made almost the same way, but I added an extra layer of flavor by using crushed Fruity Pebbles and then air-fried them up.
Of course, since one of my sons wanted pancake syrup, this is his version.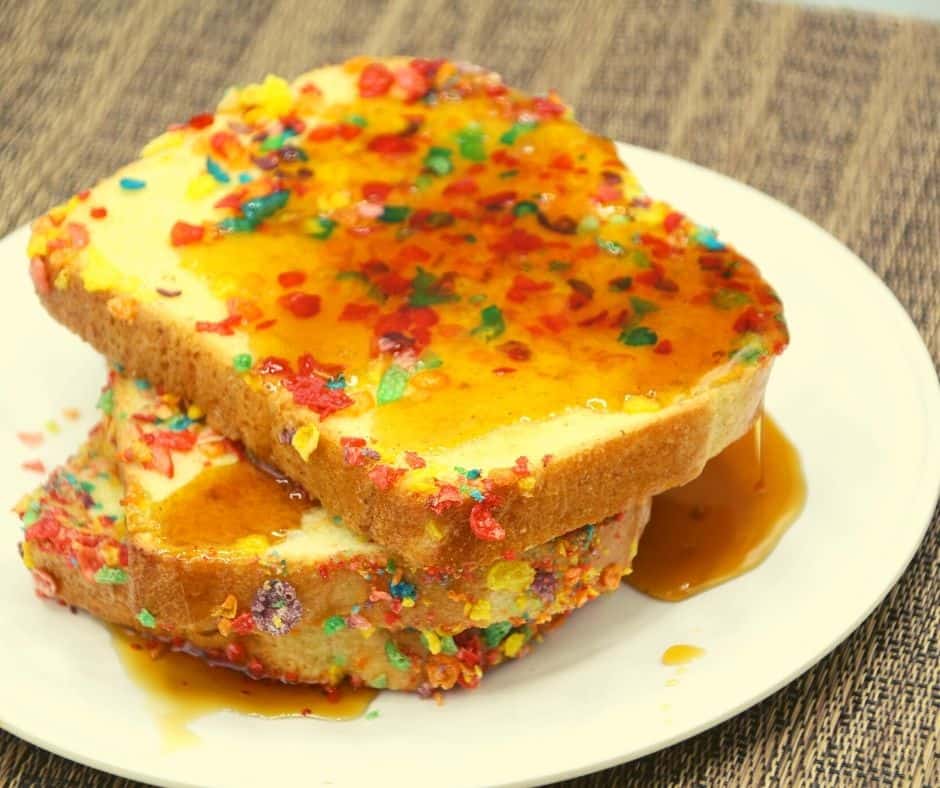 I love making something special for the kids on the weekend. Since they don't have to wake up early for school or cyber school, it gives me time to make a leisurely breakfast. If you are looking for easier air fryer breakfast recipes, check out my Air Fryer French Toast Recipe or even my Air Fryer Pancake Recipe.
The Best Fruity Pebbles French Toast Recipe

Dive into a vibrant and flavorful fusion of childhood favorites with The Best Fruity Pebbles French Toast Recipe! This delightful twist on the classic French toast takes breakfast indulgence to a new, colorful level. By pairing the creamy, eggy richness of traditional French toast with the whimsical crunch and taste of Fruity Pebbles, this recipe promises a sensory experience that's both nostalgic and refreshingly innovative.
This Fruity Pebbles French Toast is a guaranteed crowd-pleaser with everyone asking for seconds; perfect for Sunday brunches, special occasions, or simply when you're looking to infuse some fun into your morning.
Ingredients Needed For Air Fryer Fruity Pebbles French Toast
Prepare for a culinary adventure that marries nostalgic flavors with modern cooking techniques! The Ingredients for Air Fryer Fruity Pebbles French Toast are a harmonious blend of classic French toast staples and the vibrant charm of Fruity Pebbles.
Each ingredient plays a pivotal role in ensuring your breakfast plate is not just visually captivating but also a tantalizing treat for the taste buds. Gather these components and prepare to craft a morning masterpiece that's both delightful and memorable. Let's unveil the key players in this delicious symphony!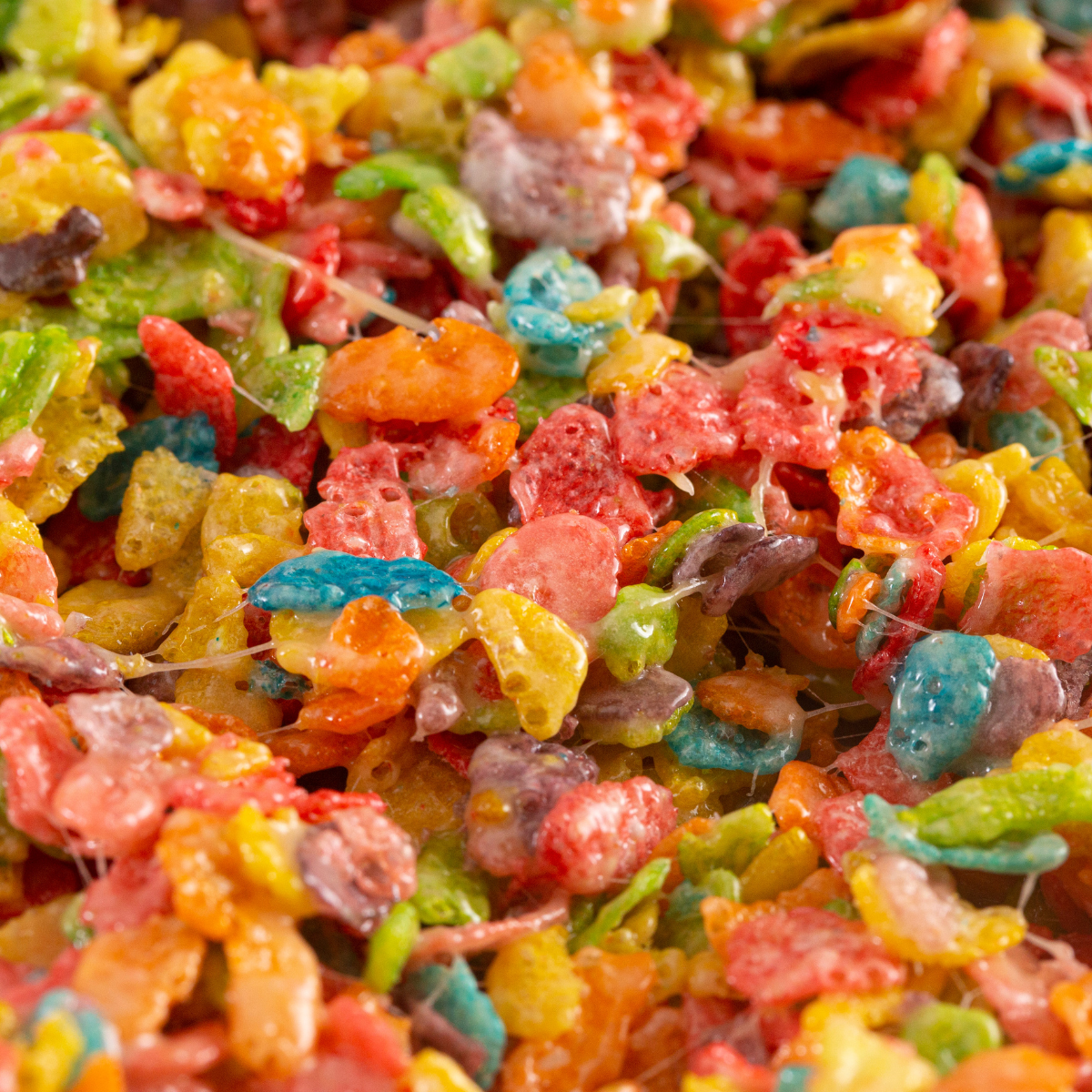 Remember the step-by-step directions and detailed ingredient list is below in the printable recipe card, at the bottom of the post, and the nutritional information.
Eggs: You can also use an egg alternative.
Half and Half: You can also use any dairy alternative, such as almond, oat, or lactose-free milk.
Granulated Sugar: You can switch out Splenda for a low-sugar option.
Ground Cinnamon: Adds some great flavor!
Crushed Fruity Pebbles; The key is to crush your Fruity Pebbles.
Bread: See my notes below on the best bread for your French Toast.
Cooking Spray
How To Make Air Fryer Fruity Pebbles French Toast
Elevate your breakfast game with a playful twist on a timeless favorite: the Air Fryer Fruity Pebbles French Toast! Merging the airy crispness achieved by an air fryer with the zesty burst of Fruity Pebbles, this recipe is a symphony of textures and flavors. Whether reminiscing about childhood breakfasts or introducing this vibrant cereal to a new generation, this innovative approach ensures every bite is a joyous celebration. Ready to dazzle your mornings with a splash of color and taste? Let's embark on this delightful culinary journey together!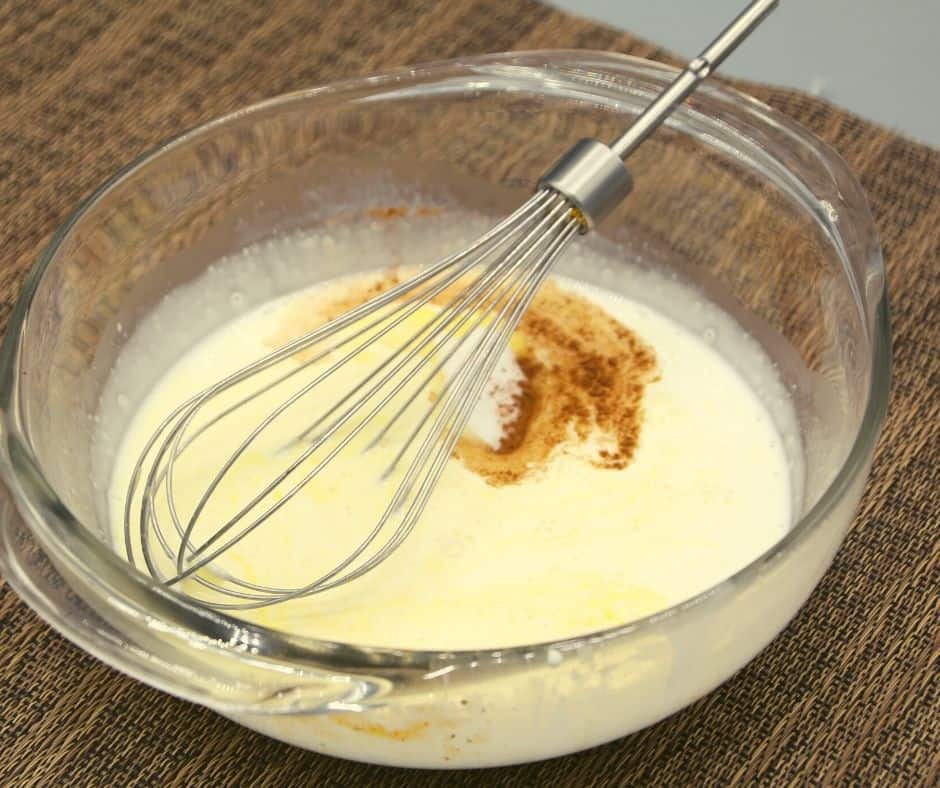 Mix the eggs, half and half, sugar, and ground cinnamon in a medium-sized bowl. Mix well until well combined.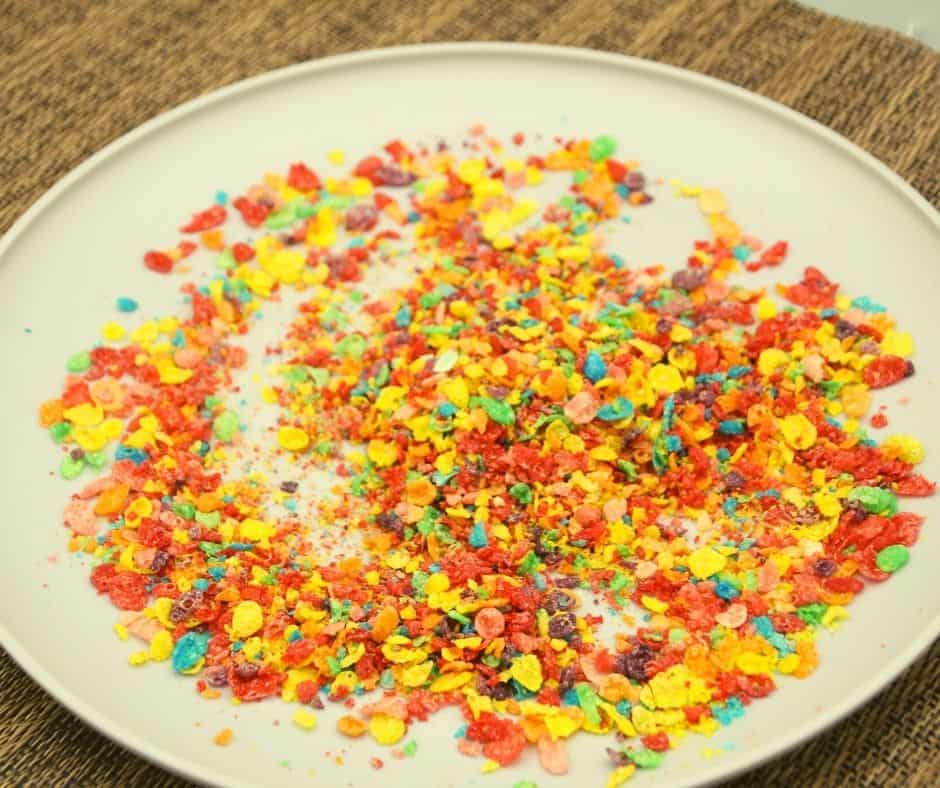 In a large bowl, add the crushed Fruity Pebbles.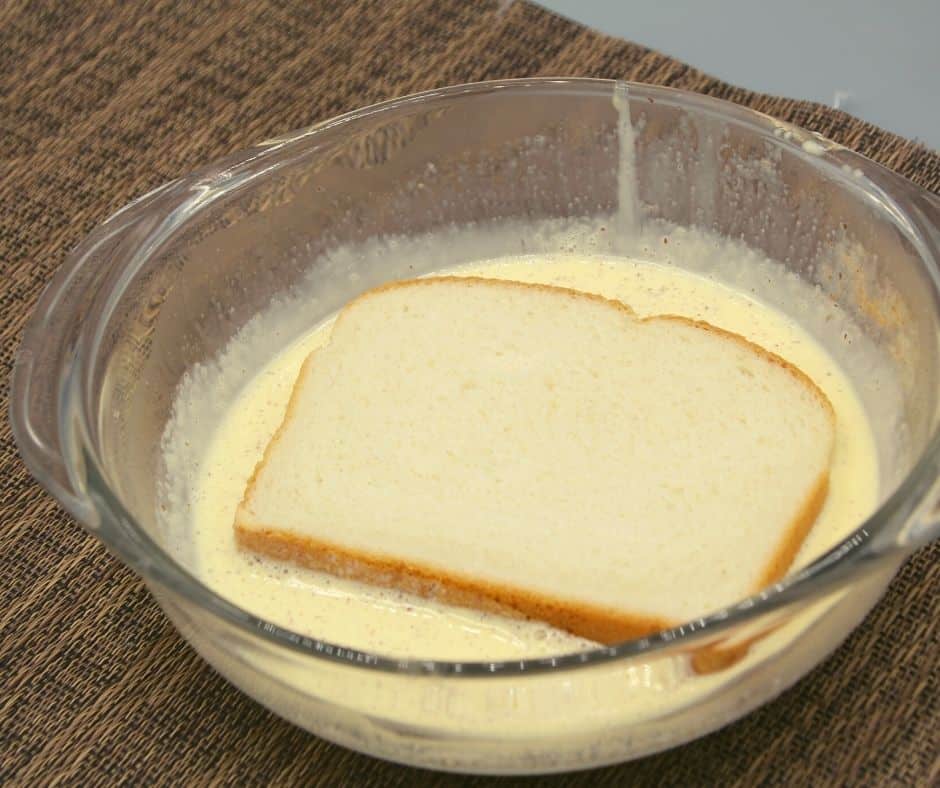 Add your bread to the egg mixture, letting it soak for about 30 seconds on each side.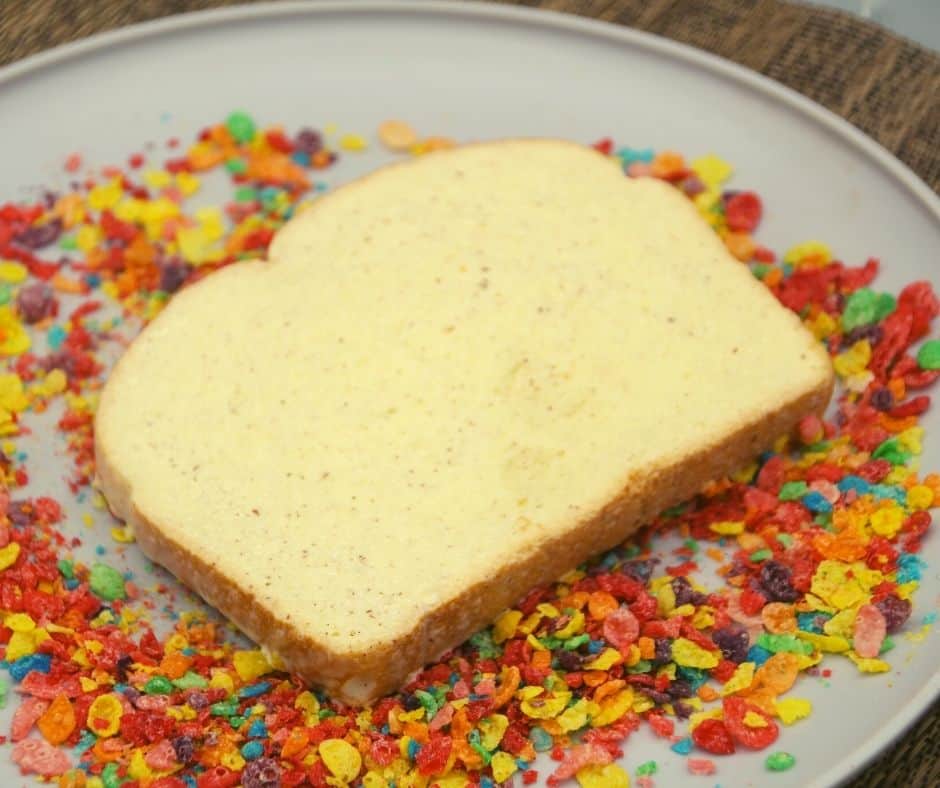 Then place the soaked bread into the Fruity Pebbles mixture. Use your hands to press the mixture on.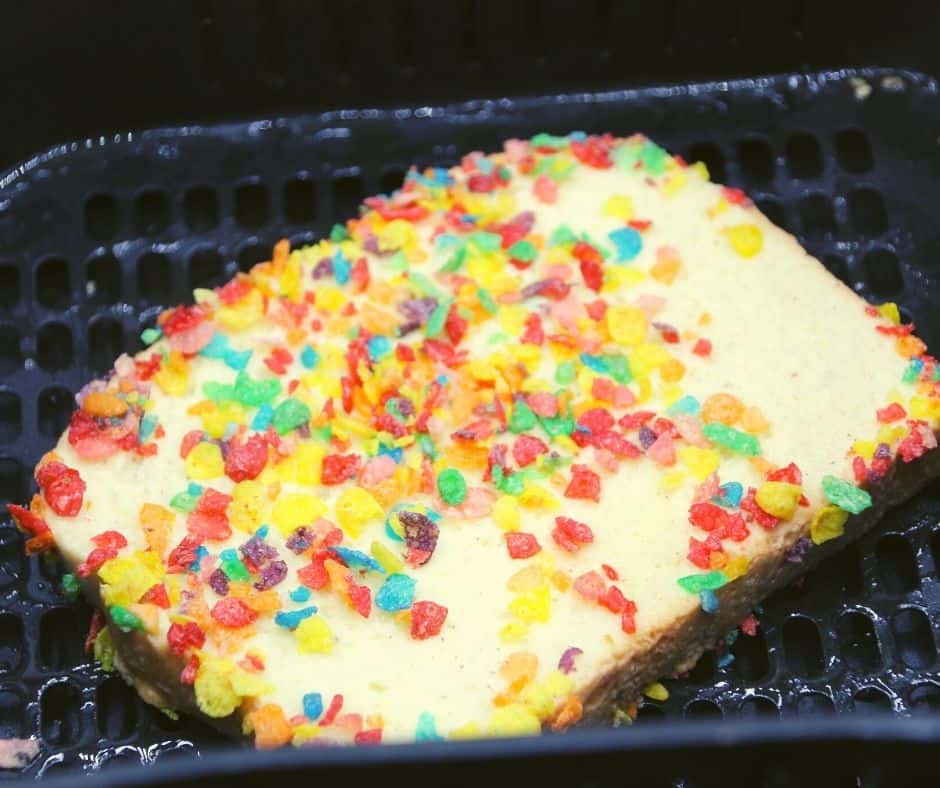 Spray your air fryer basket with cooking spray, and as you coat the French Toast, place them into the basket. Be careful not to crowd the basket. Set the temperature to 320 degrees F, air fryer setting for 3 minutes, then flip the French Toast, and air fry for another 3-5 minutes until done.
Pro Tips For Making Fruity Pebble French Toast
Making Fruity Pebble French Toast is both fun and rewarding, but a few pro tips can take your dish from good to great. Here are some expert suggestions:
Consistent Coating: Press the Fruity Pebbles onto the soaked bread slices firmly but gently to ensure even flavor and texture. This helps in achieving a consistent, crunchy crust.
Egg Mixture: Whisk your egg mixture thoroughly, ensuring the eggs, milk, and any added spices blend seamlessly. A uniform mixture gives the toast its classic custardy texture.
Soaking Time: Avoid soaking your bread slices too long to prevent sogginess. Aim for a quick dip so the bread absorbs the liquid but remains firm enough to handle.
Air Fryer Preheat: Just like an oven, preheat your air fryer for a few minutes before adding the French toast. This ensures even cooking and a perfectly crispy exterior.
Space Them Out: When placing the bread slices in the air fryer, ensure they're not overlapping or touching. This allows for even air circulation and ensures each piece gets a uniformly crispy coating.
Adjust Sweetness: Given that Fruity Pebbles are sweet, consider adjusting the added sugar or syrup amount to avoid an overly sugary outcome.
Best Bread: Opt for thicker slices of day-old bread, like brioche or challah, which hold up well during soaking and have a rich flavor that complements the Fruity Pebbles.
Serving: Serve with a light dusting of powdered sugar, a dollop of whipped cream, or some fresh berries to balance out the sweetness and add a gourmet touch.
Flavor Enhancements: Consider adding a drop of vanilla extract or a pinch of cinnamon to your egg mixture for an extra depth of flavor.
Storing & Reheating: If you have leftovers, store them in an airtight container in the fridge. Reheat in the air fryer or oven to retain crispiness, rather than microwaving, which might make them soggy.
With these tips, you're all set to create a breakfast that's as delightful in taste as it is in appearance! Enjoy your colorful culinary creation!
FAQs
Can You Air Fry Cereal?
Yes, you can air fry cereal, though the reasons and results vary based on the type of cereal and your desired outcome:
Crisping Up Stale Cereal: If your cereal has gone a bit stale or soft, a quick session in the air fryer can help rejuvenate its crunch. Spread the cereal in a single layer in the air fryer basket and cook at a low temperature (around 300°F or 150°C) for just a few minutes. Keep a close eye on it to ensure it doesn't burn.
Adding Flavor: To enhance their flavor, some people enjoy roasting cereals with a light glaze of honey, maple syrup, or butter. In this case, toss the cereal lightly in your chosen glaze, spread it in the air fryer, and cook at a low temperature until it reaches your desired level of crispness.
Making Mixes: You can make snack mixes using an air fryer. Mix cereals with nuts, pretzels, and other snacks, then season or glaze them before air frying for a unique treat.
Caution with Lightweight Cereals: Lightweight cereals, like puffed rice or wheat, can get blown around in an air fryer if it's particularly powerful. In such cases, it's advisable to use perforated parchment paper or a fine mesh to keep the cereal in place.
Remember, air frying is a dry cooking method, so there's no need to add oil unless it's part of a specific recipe for flavoring. Always monitor closely, as the cereals can go from perfectly crispy to burnt quickly due to their small size and low moisture content.
Can I use a different cereal instead of Fruity Pebbles?

Absolutely! While Fruity Pebbles offer a unique flavor and colorful appearance, you can experiment with other cereals based on your preference. Cinnamon Toast Crunch, Cocoa Pebbles, or crushed Corn Flakes can be great alternatives.
---
Why use day-old bread for French toast?

Day-old bread, especially thicker slices like brioche or challah, tends to absorb the egg mixture better without becoming too soggy. Fresh bread can sometimes fall apart when soaked.
---
Can I make this recipe without an air fryer?

Yes, you can. While the air fryer provides a distinct crispiness, you can also use a regular oven or stovetop skillet. Adjust cooking times and temperatures accordingly.
---
How can I make my French toast even crispier?

Preheating your air fryer and ensuring that the bread slices aren't touching or overlapping allows for even air circulation. Also, avoid soaking the bread for too long in the egg mixture.
---
How long can I store leftover Fruity Pebble French Toast?

Leftovers can be stored in an airtight container in the refrigerator for up to two days. For best results, reheat in the air fryer or oven to regain crispiness.
---
Is there a vegan alternative for this recipe?
Absolutely! Use plant-based milk instead of regular milk and a vegan egg substitute for the egg mixture. Ensure the bread and Fruity Pebbles you're using are vegan-friendly.
---
Can I add toppings to my French toast?

Of course! While the Fruity Pebbles provide a burst of flavor and color, you can further enhance your French toast with toppings like whipped cream, fresh berries, a drizzle of chocolate or caramel sauce, or even a light sprinkle of powdered sugar.
---
Can I freeze the French toast for later?

Yes, once cooled, place the slices in a single layer on a baking sheet and freeze. Once frozen, transfer them to a zip-top bag and store them for up to a month. Reheat directly from the freezer in the air fryer or oven.
---
Is this recipe kid-friendly?

Absolutely! The colorful appearance and delightful taste of Fruity Pebbles make this a hit with kids. However, always ensure it's served at a temperature safe for children.
What Is The Best Bread For Fruity Pebbles French Toast?
I usually use whatever I have on hand. Regular sandwich bread works, but I highly recommend Texas Toast for a great breakfast experience. It comes out great in the air fryer, light and fluffy.
If you are looking for a real treat, Texas Toast makes an amazing French Toast. They are thicker than regular bread and make an excellent treat for the entire family.
More Air Fryer Recipes
If you loved our Fruity Pebbles French Toast recipe in Air Fryer, you will love some of these recipes!
Don't Forget To Pin: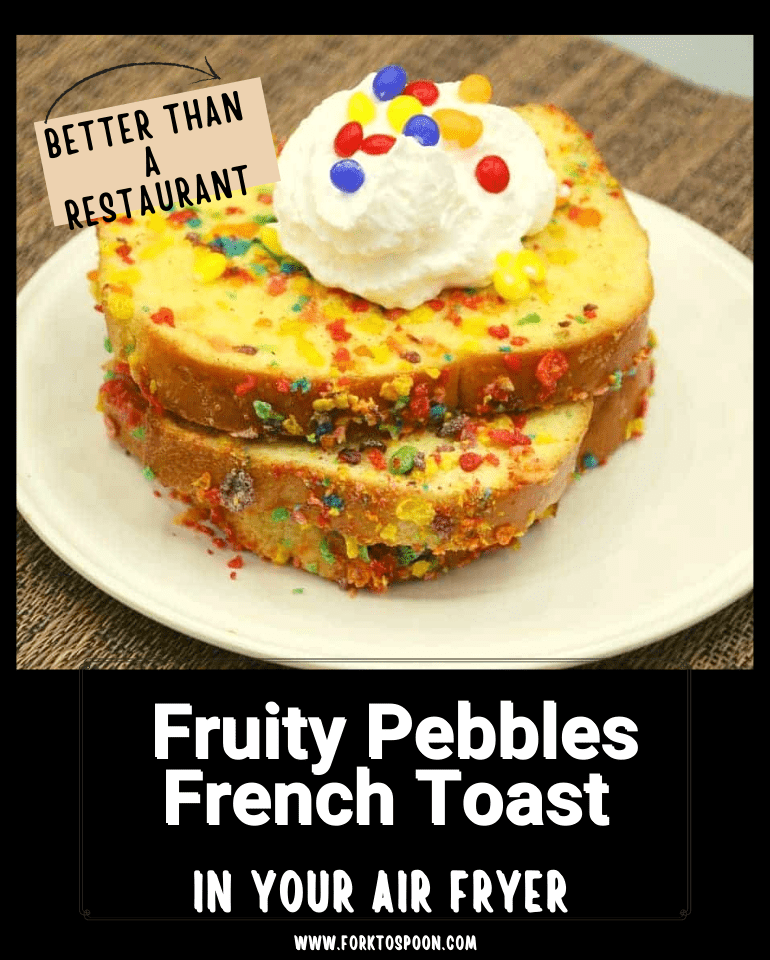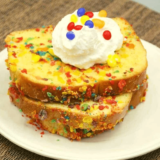 Air Fryer Fruity Pebbles French Toast
Description
Who doesn't love a good breakfast? And this French toast is perfect for a lazy weekend morning. All you need is an air fryer and some Fruity Pebbles cereal. The little bits of cereal add a fun crunch to the French toast, and it's all coated in a sweet and creamy glaze. So good!
Ingredients
4

slices

bread

2

large

eggs

1/2

cup

half and half

2

teaspoons

granulated sugar

1

teaspoon

ground cinnamon

1

cup

Fruity Pebbles

,

crushed
Serve With: Whipped Cream or Maple Syrup
Instructions
In a medium-sized bowl, mix the eggs, half and half, sugar, and ground cinnamon. Mix well until well combined.

In a large bowl, add the crushed Fruity Pebbles.

Add your bread to the egg mixture, letting it soak for about 30 seconds on each side.

Then place the soaked bread into the Fruity Pebbles mixture. Use your hands to press the mixture on.

Spray your air fryer basket with cooking spray, and as you coat the French Toast, place them into the basket. Be careful not to crowd the basket. Set the temperature to 320 degrees F, air fryer setting for 3 minutes, then flip the French Toast, and air fry for another 3-5 minutes, until done
Equipment
Air Fryer

Cooking Spray

Parchment Paper,

optional
Nutrition
Serving:
1
Serving
Calories:
402
kcal
Carbohydrates:
52
g
Protein:
15
g
Fat:
15
g
Saturated Fat:
7
g
Polyunsaturated Fat:
2
g
Monounsaturated Fat:
4
g
Trans Fat:
0.1
g
Cholesterol:
207
mg
Sodium:
479
mg
Potassium:
247
mg
Fiber:
3
g
Sugar:
17
g
Vitamin A:
988
IU
Vitamin C:
5
mg
Calcium:
177
mg
Iron:
4
mg