Air Fryer Chocolate Croissants — Gone are the days of waiting for your oven to preheat or worrying about uneven baking.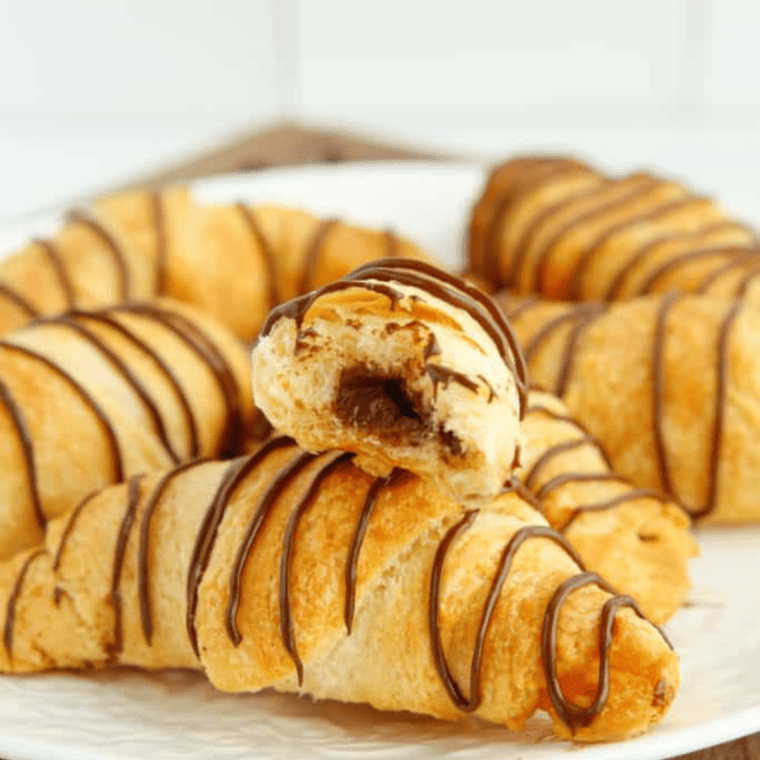 The air fryer offers a quick and efficient way to achieve perfectly golden, crispy croissants with a sumptuously melted chocolate center. Whether you're looking for a decadent breakfast option, a sweet snack to accompany your afternoon coffee, or an easy dessert to impress your guests, these air fryer chocolate croissants are your go-to solution.
If you are looking for even more Air Fryer Snack Recipes, some of my favorites are AIR FRYER CHOCOLATE CHIP GRANOLA, AIR FRYER SWEET POTATO CHIPS, AIR FRYER BLOOMING ONION, and AIR FRYER BUTTERMILK CHICKEN TENDERS.
Join me as we step into the world of hassle-free, scrumptious baking. Let's prepare to fill our kitchens with the irresistible buttery pastry and melting chocolate aroma!
Pain Au Chocolat are amazing in the air fryer; they are so good! If you love Trader Joe's Croissants or Air Fryer Pepperidge Farm Croissants, you will love this sweet treat, and it all starts with a can of crescent rolls.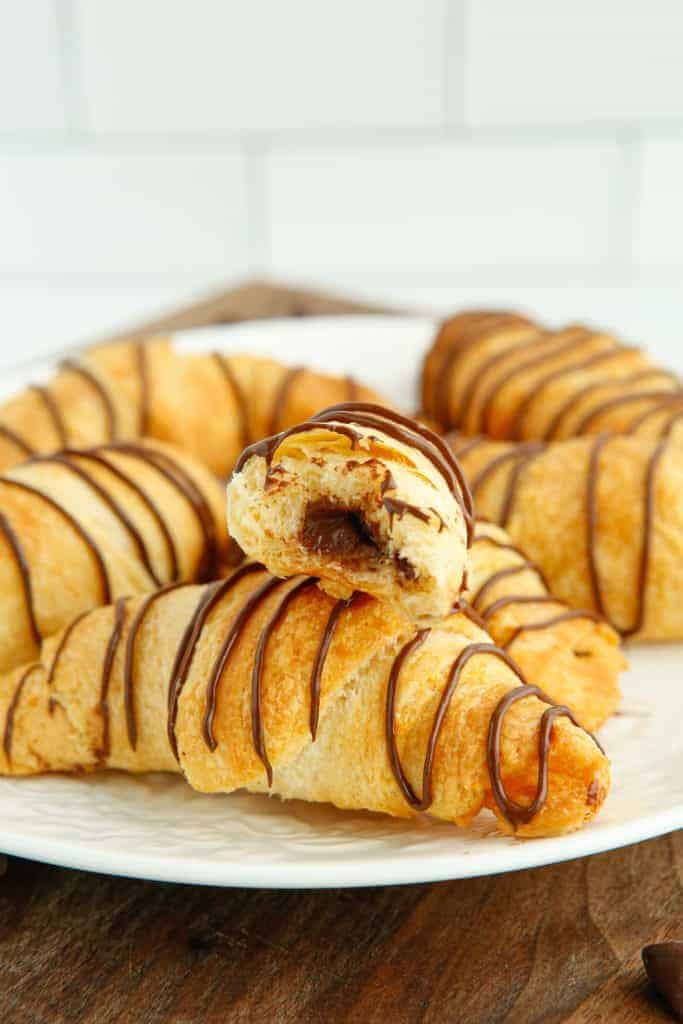 Why You Will Love Homemade Chocolate Croissants
Homemade chocolate croissants, especially when made with the convenience of an air fryer, offer a host of delightful reasons to fall in love with them. Here's why they are bound to become a cherished treat in your recipe collection:
Exceptional Freshness and Flavor: There's nothing quite like the taste of a freshly baked chocolate croissant. The warmth of the pastry, combined with the melting chocolate, offers a sensory experience far superior to anything store-bought.
Perfect Texture: By making them at home, especially using an air fryer, you get croissants with the ideal balance of a crispy, golden exterior, and a soft, flaky interior. The direct heat of the air fryer ensures even cooking, giving you that perfect texture every time.
Customizable Chocolate Choices: When you make chocolate croissants at home, you can choose your favorite type of chocolate – dark, milk, semi-sweet, or even flavored chocolates like orange or mint for a unique twist.
Satisfaction of Homemade Baking: Baking something as delightful as a chocolate croissant from scratch has a unique joy and satisfaction. It's not just about the end product but also the pleasure and accomplishment you feel in baking.
Control Over Ingredients: Homemade baking allows you to control the quality of the ingredients. You can opt for high-quality butter, organic flour, and artisan chocolate to ensure your croissants are made with the best available components.
Perfect for Any Occasion: Chocolate croissants are versatile – ideal for a luxurious breakfast, a delightful brunch addition, a sweet snack, or a dessert spread. They suit any mood and occasion.
Cost-Effective Indulgence: Making croissants at home can be more economical than buying them from a bakery, especially catering to a family or a group of friends.
Fun to Make with Family or Friends: Making croissants can be a fun and engaging activity to do with family or friends, turning baking into a social event.
Convenience and Speed with an Air Fryer: Using an air fryer speeds up the process significantly compared to traditional oven baking. It's a quick and convenient way to enjoy freshly baked goods without an oven's long preheating time and energy usage.
Impressive Culinary Feat: Also, homemade chocolate croissants will impress anyone who tastes them. There's something about homemade pastries that always feels a little bit special.
In summary, homemade chocolate croissants are not just delicious; they're a journey into the world of gourmet baking right from your kitchen, offering freshness, customization, and the pure joy of baking.
Ingredients Needed For Air Fryer Chocolate Croissants
Embark on a delightful culinary journey with the simple yet luxurious treat of Air Fryer Chocolate Croissants.
This French Pastry recipe combines the airy, buttery layers of traditional croissants with the rich allure of melted chocolate; all brought together in the convenience of your air fryer. Here are the key ingredients you'll need to create this heavenly pastry: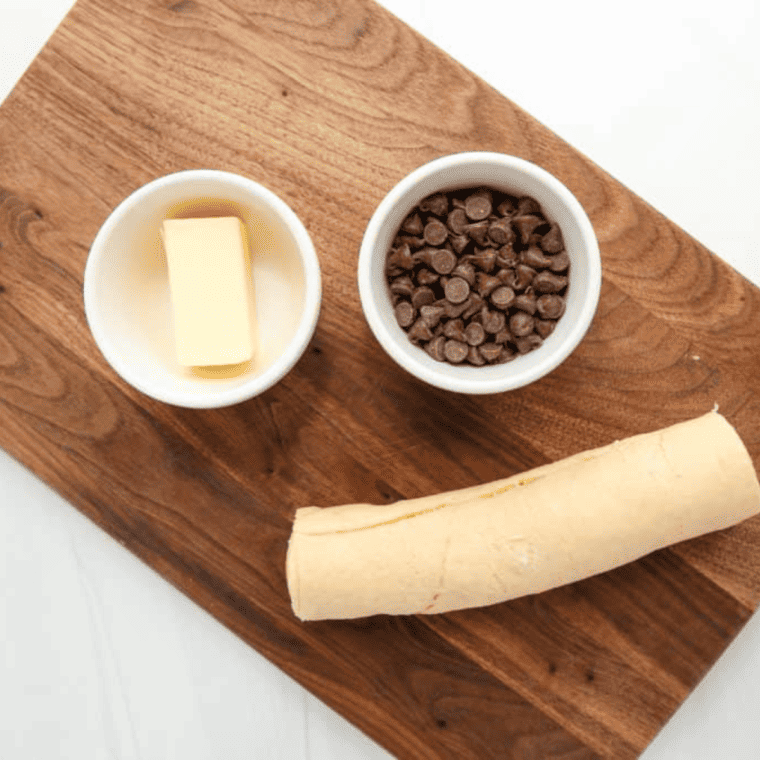 ​Remember the step-by-step directions and detailed ingredient list are below, in the printable recipe card at the bottom of the post, as well as the nutritional information.​
Crescent Dough: The foundation of your treat, the crescent dough can be homemade or store-bought. It should be light and airy to achieve those classic, flaky layers.
Chocolate Bars or Chips: Choose high-quality chocolate for a rich and indulgent filling. You can opt for dark, milk, or semi-sweet based on your preference.
Egg (for egg wash): Beaten egg brushed over the croissants before baking gives them a beautiful golden sheen and helps to achieve a crispy crust.
Powdered Sugar (optional): A light dusting of powdered sugar before serving adds a touch of elegance and a mild, sweet finish.
Butter (if using homemade dough): Essential for making homemade croissant dough, butter adds richness and creates the tender, flaky layers that croissants are famous for.
Each ingredient is crucial in bringing together the magical experience of biting into a warm, chocolate-filled croissant straight from your air fryer. Let's gather these ingredients and start our baking adventure!
How to Make Easy Chocolate Croissants In Air Fryer
Making chocolate croissants in an air fryer is surprisingly simple and fast. Here's a straightforward recipe to help you create this delicious treat quickly. This method is perfect for a quick breakfast, a delightful snack, or a sweet addition to your brunch table.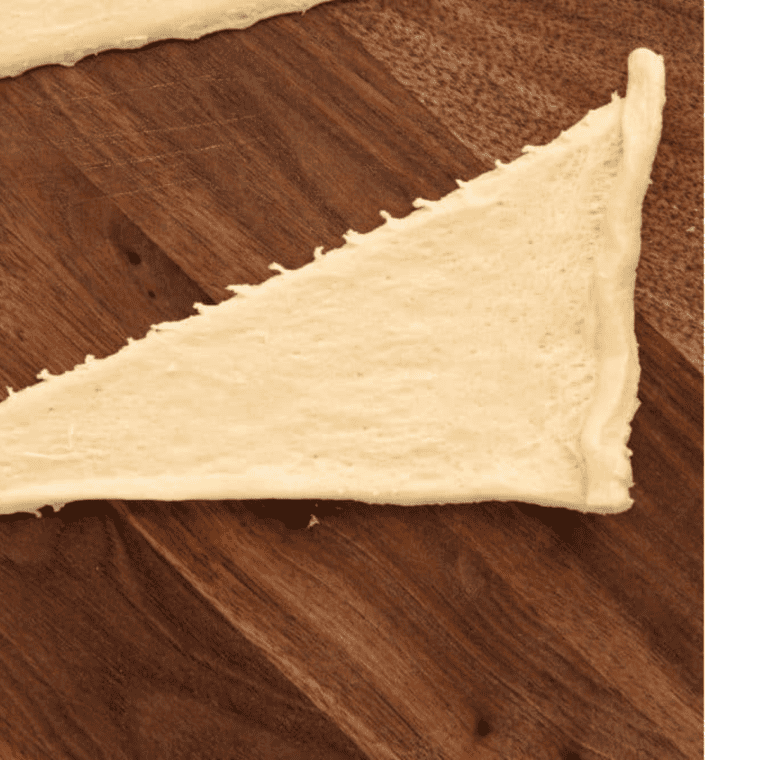 Preparation:
Start by laying out your croissant dough on a clean surface. Unroll and separate the triangles if you're using a pre-rolled dough. Roll it out and cut it into triangles if it's homemade dough.
Preheat your air fryer to 320 degrees F (160°C). This temperature allows the croissants to cook thoroughly without burning.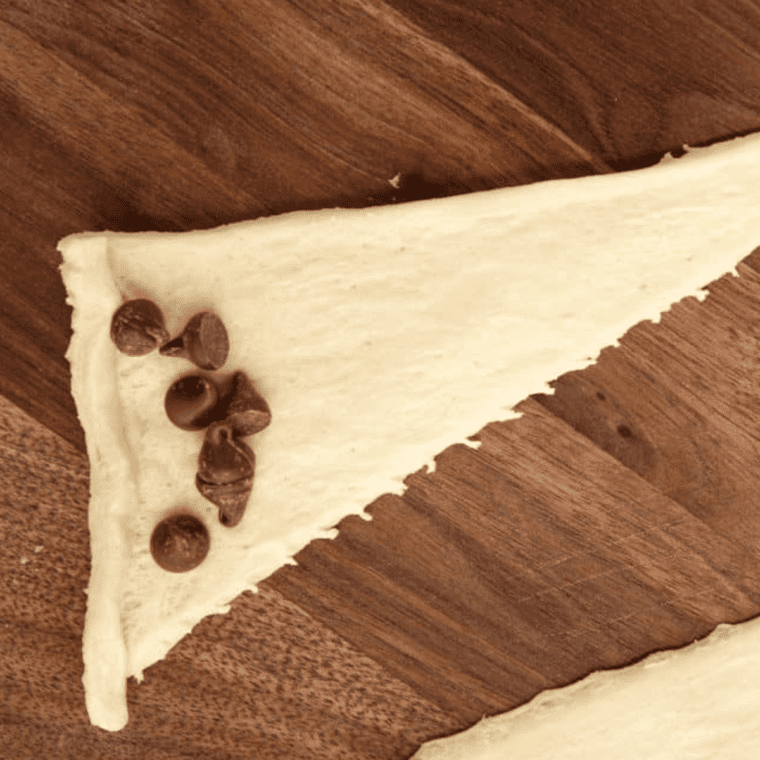 Add Chocolate:
Place a small amount of chocolate at the broader end of each dough triangle. You can use a few chocolate chips or a small piece of a chocolate bar, depending on your preference.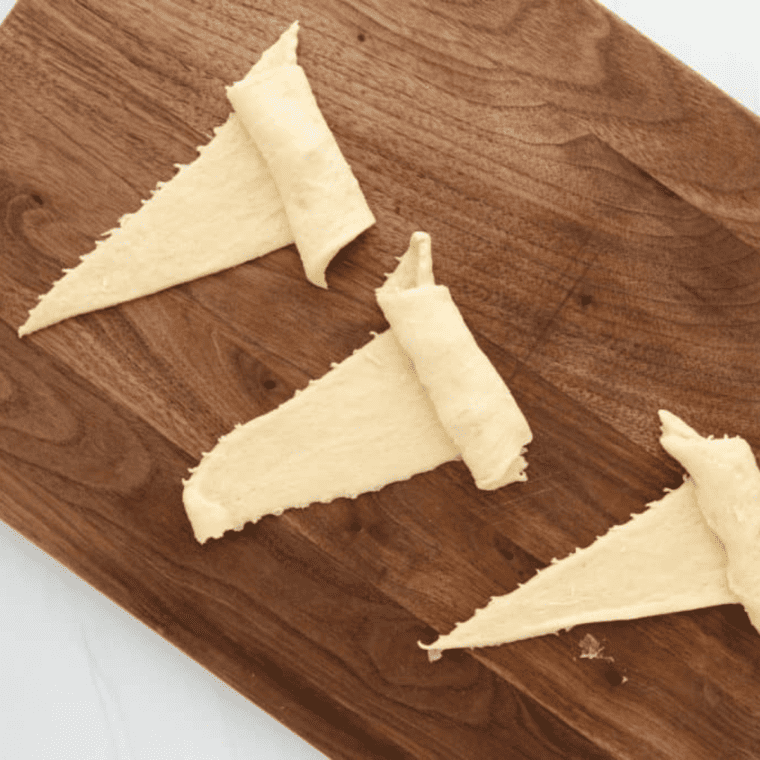 Roll the Croissants:
Carefully roll the dough from the chocolate-loaded wider end towards the pointed end. Roll it tightly enough to keep the chocolate enclosed but not so tight that the dough tears.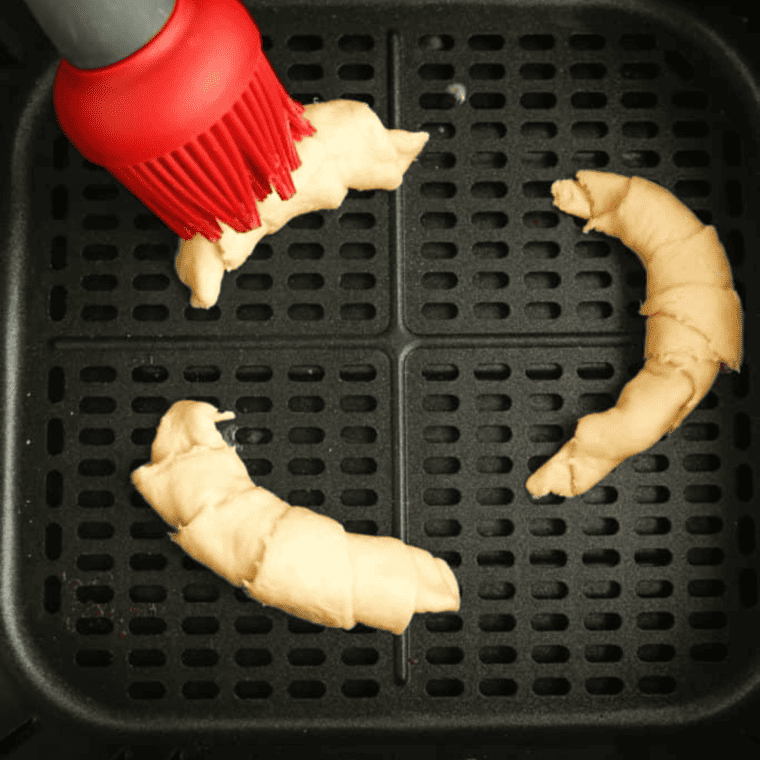 Egg Wash (Optional):
Beat an egg in a small bowl. Lightly brush the top of each croissant with the egg wash using a pastry brush. This step gives the rolled croissant a golden, shiny finish.
Air Fry:
Spray the bake with nonstick cooking spray, or line the air fryer basket with parchment paper. Place the unbaked croissants in the air fryer basket, leaving space between each for air circulation. Depending on the size of your air fryer, you might need to cook them in batches.
Set cook time for 8-10 minutes or until the croissants are puffed up and golden brown. Keep an eye on them, as air fryer temperatures can vary.
Serving:
Once done, let the croissants cool for a few minutes, as the chocolate inside will be very hot.
Optionally, dust the top of the croissants with powdered sugar or drizzle with chocolate sauce, for a sweet, decorative touch.
Enjoy:
Serve warm for a deliciously melty chocolate experience.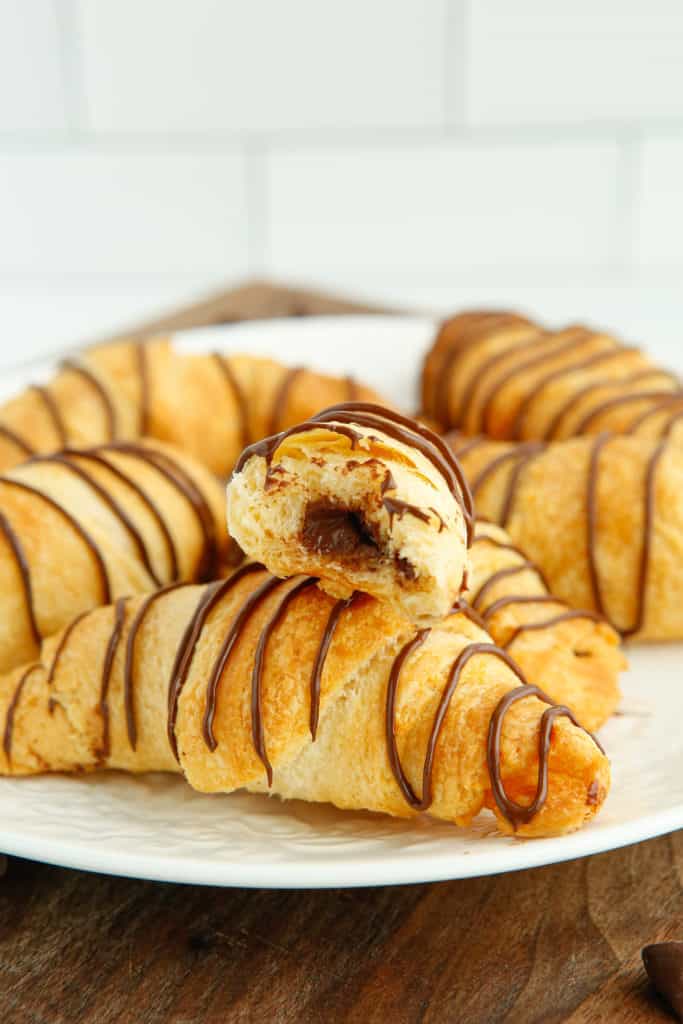 Pro Tips
Creating chocolate croissants in an air fryer can be delightful and straightforward. Here are some pro tips to ensure your air fryer chocolate croissants turn out perfectly every time:
Pre-Made Dough Quality: Choose a high-quality brand if you're using pre-made croissant dough. The better the dough, the flakier and tastier your croissants will be.
Chocolate Choice: Use good quality chocolate for the filling. This can be any type of chocolate chip or a piece of a chocolate bar. The type of chocolate (dark, milk, or semi-sweet) will significantly affect the flavor, so choose according to your preference.
Avoid Overcrowding: Place the croissants in the air fryer basket in a single layer with some space between each. Overcrowding can lead to uneven cooking and croissants that are not adequately crisped.
Temperature Check: Air fryers can vary in terms of how they heat. Finding the perfect temperature and timing for your specific model might take a batch or two. Starting at a lower temperature, around 320°F (160°C), is a good rule of thumb.
Monitoring: Keep an eye on the croissants, especially the first time you make them. Air fryers cook quickly; cooking times can vary since every appliance differs slightly.
Egg Wash for a Golden Finish: Brushing the croissants with a beaten egg before cooking will give them a beautiful golden sheen. A light brush with plant-based milk can also work if you prefer a vegan option.
Perfect Roll: Start at the wider end and roll towards the narrower point when rolling your croissants. Ensure the chocolate is securely enclosed to prevent it from leaking out during cooking.
Preheating the Air Fryer: Some air fryer models benefit from preheating. If yours has this feature, a quick preheat can lead to more even cooking.
Let Them Rest: After cooking, let the croissants rest for a few minutes, as the chocolate inside will be extremely hot and can cause burns.
Serving and Storage: These are best served warm, but if you have leftovers, store them in an airtight container. You can reheat them in the air fryer for a few minutes to return the crispness.
Adjusting for Size: If you make mini croissants, adjust the cooking time downward, as they will cook faster.
Clean Air Fryer Basket: Ensure your air fryer basket is clean and lightly greased to prevent sticking, though most modern air fryers have non-stick surfaces.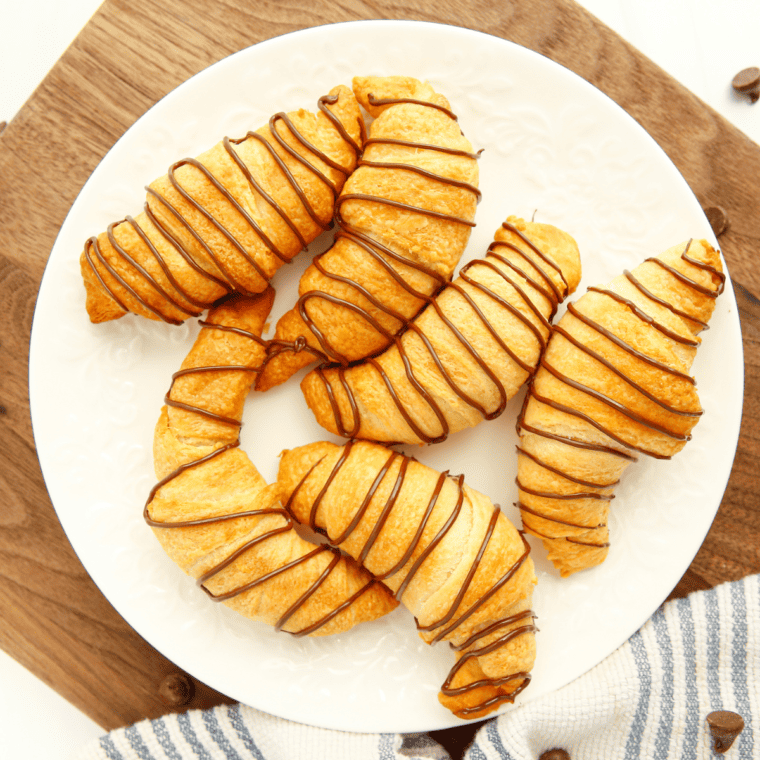 How To Bake Chocolate Criossnats In Oven or Toaster Oven
Baking chocolate croissants in a conventional oven is a delightful way to create a warm, flaky, chocolate-filled pastry. Here's a simple guide to help you make these delicious treats from scratch or with pre-made dough:
Prepare the Dough: If you're using homemade dough, prepare it in advance, as it needs proof. For store-bought dough, roll it out and cut it into triangles.
Preheat the Oven: Preheat your oven to 375°F (190°C). This temperature is ideal for baking croissants, allowing them to puff up and turn golden brown without burning.
Add the Chocolate: Place a small piece of chocolate or a few chocolate chips at the wide end of each dough triangle.
Roll the Croissants: Roll the dough from the wide end (where the chocolate is) towards the pointed end. Make sure the chocolate is completely enclosed in the dough.
Egg Wash: Beat an egg and lightly brush it over the top and sides of each croissant. This gives them a beautiful golden color and helps achieve a crispy crust.
Bake: Line a baking sheet with parchment paper and place the croissants on it, leaving enough space between each for expansion. Bake in the preheated oven for about 15-20 minutes or until they are puffed up and have a deep golden brown color.
Cool and Serve: Let the croissants cool slightly before serving, as the chocolate inside will be hot.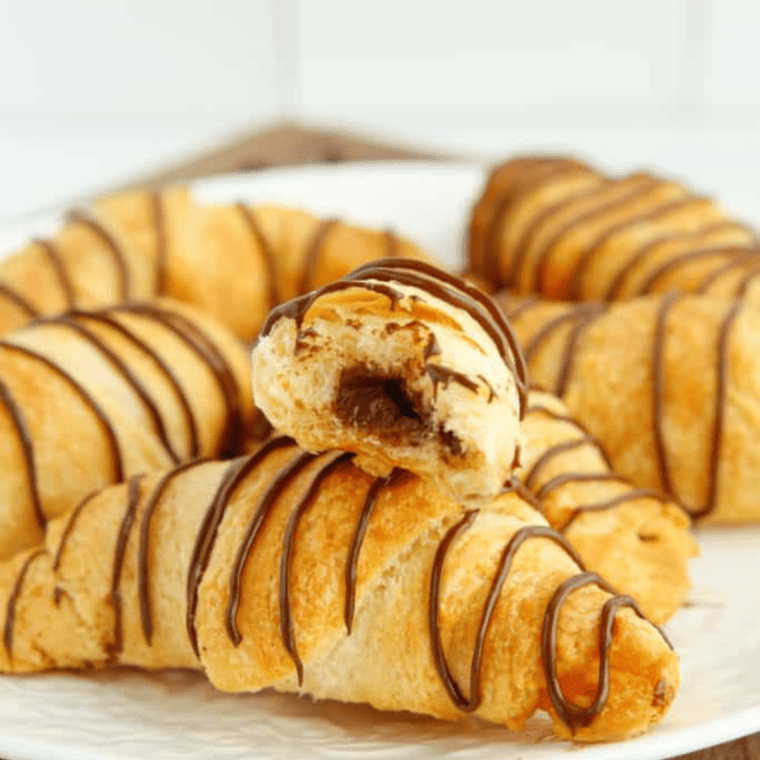 FAQ's​
Can I use store-bought dough for air fryer chocolate croissants?
Absolutely. Store-bought croissant dough, crescent roll dough, or even puff pastry works well and can save time. Roll out the dough, add chocolate, and follow the air frying instructions.
What type of chocolate is best for air fryer chocolate croissants?
You can use any chocolate you prefer – dark, milk, or semi-sweet. Chocolate chips or a small piece of chocolate bar both work well. The key is to use high-quality chocolate for the best flavor.
How do I prevent the chocolate from leaking out?
Make sure the chocolate is placed towards the base of the dough triangle and roll the dough tightly to encase the chocolate completely. Also, avoid overfilling with too much chocolate.
What temperature should I set my air fryer to?
The best air fryer temperature is 320°F (160°C) is typically ideal. This allows the croissants to cook through and become golden without burning.
How long does it take to cook chocolate croissants in an air fryer?
It usually takes about 8-10 minutes, but this can vary depending on your air fryer model and the size of your croissants. It's good to start checking around the 6-minute mark.
Do I need to preheat my air fryer?
Some air fryers benefit from preheating, while others don't require it. Check your air fryer's manual for guidance. If unsure, a quick preheat for a few minutes can help ensure even cooking.
Can I make chocolate croissants ahead of time?
Yes, you can prepare the croissants and store them in the refrigerator before cooking. However, it's best to air fry them just before serving for the freshest taste and best texture. They are perfect for serving your morning coffee and are always best fresh, but they last the next day.
How do I store leftover chocolate croissants?
Keep any leftovers in an airtight container at room temperature for a day or two. You can reheat them in the air fryer for a few minutes to restore crispness.
Can I use puff pastry instead of croissant dough?
Yes, puff pastry can be used as an alternative. The texture will be slightly different but still delicious.
What's the best way to serve air fryer chocolate croissants?
They are best served warm when the chocolate is still melty. You can also dust them with powdered sugar for extra sweetness and an excellent presentation.
Can I add other fillings to my chocolate croissants?
Certainly! Feel free to add a teaspoon of almond paste, a dollop of Nutella, or even a sprinkle of cinnamon with the chocolate for different flavor profiles.
Why are my croissants not flaky?
This could be due to the dough not being cold enough when it goes into the air fryer or the air fryer being too hot. Ensuring your dough is chilled, and your air fryer is set to the right temperature can help achieve flakiness.​
More Air Fryer Recipes
Don't Forget To Pin!
Air Fryer Chocolate Croissants
Description
This is such a great and easy recipe for any day of the week. My kids love these at night for a quick and sweet treat. Made in minutes with the help of your air fryer!
Ingredients
8

ounces

Pillsbury Crescent rolls

1/2

cup

chocolate chips

2

tablespoons

butter

,

melted
Instructions
Unroll and separate crescent roll dough into individual triangle pieces.

Sprinkle a row of chocolate chips across one edge of a triangle piece.

Roll the triangle dough up and pinch the seams together.

Repeat with the remaining triangles (you will have chocolate chips leftover for the drizzle after cooking).

Brush both sides of the rolled-up croissants with melted butter and place several croissants into the tray of your air fryer.

Cook at 320 degrees F, air fryer setting, for 6-7 minutes, turning halfway through.

Remove from the tray and allow to cool down. Repeat with remaining croissants.

Meanwhile, melt the remaining chocolate chips in the microwave, stirring at 20-30 second intervals until melted through.

Drizzle the melted chocolate across the cooled croissants and serve. Enjoy!
Equipment
Air Fryer

Cooking Spray

Parchment Paper
Notes
Croissants will store best wrapped in individual food storage bags in the refrigerator for up to one week. To warm, place in the microwave for 10-15 seconds.
If storing at room temperature, discard leftovers after 2 days.
Nutrition
Serving:
1
Serving
Calories:
151
kcal
Carbohydrates:
20
g
Protein:
2
g
Fat:
7
g
Saturated Fat:
4
g
Polyunsaturated Fat:
0.1
g
Monounsaturated Fat:
1
g
Trans Fat:
0.1
g
Cholesterol:
8
mg
Sodium:
139
mg
Potassium:
33
mg
Fiber:
0.4
g
Sugar:
8
g
Vitamin A:
87
IU
Calcium:
11
mg
Iron:
4
mg