Air Fryer Ham and Cheese Egg Bites — Nothing beats the morning more than an easy breakfast recipe! My kids loved these; they are easy to make in the air fryer. They are also KETO and Low-Carb friendly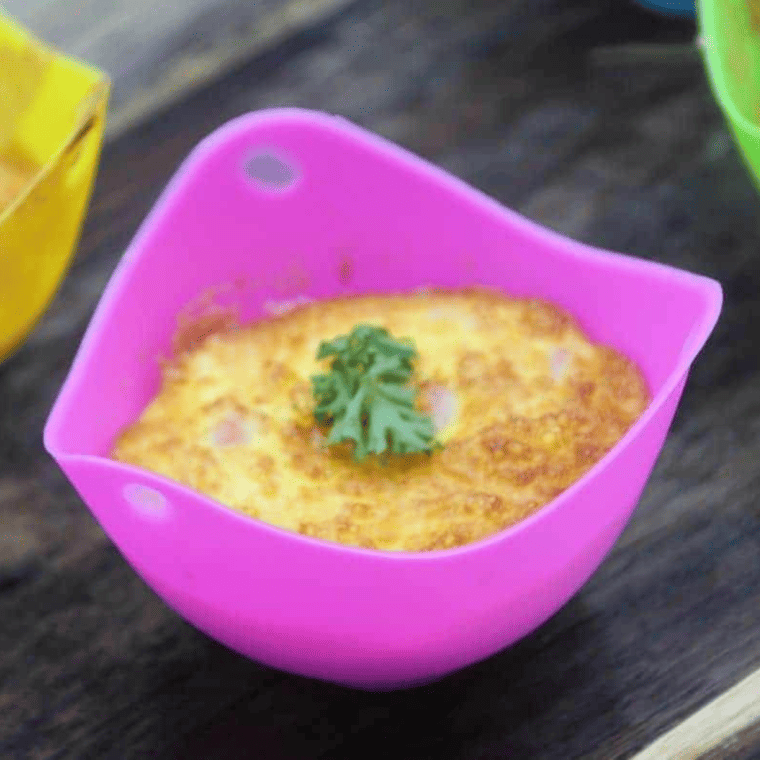 Easy Air Fryer Egg Bites With Ham And Cheese
Elevate your breakfast game with these scrumptious Air Fryer Egg Bites! Infused with savory ham and melty cheese, these egg bites are not only a treat to your taste buds but also a breeze to make.
Say goodbye to tedious morning routines and hello to a gourmet breakfast experience right from the comfort of your kitchen. Dive into this easy recipe and discover how the air fryer transforms simple ingredients into a delightful morning feast. ​
Why You Will Love Ham and Cheese Bites
​These homemade egg bites filled with cheese and ham are easy to make. I picked up the newest (at the time of the post) item for air fryers and was dying to try it out. I came up with this: you can change the filling for anything, but I just made my air fryer ham and cheese omelet.
Everyone loves an excellent egg bite; I mean, Starbucks Sous sells millions every week, so I thought, why not make a homemade version? If you are looking for any other Air Fryer Breakfast Recipes, I have everything from Air Fryer Chocolate Chip Scones to Air Fryer Scrambled Eggs.
Ingredients Needed For Air Fryer Ham and Egg Bites

Whip up a delectable breakfast treat with just a handful of ingredients! Dive into this guide to discover the essential components to create mouthwatering Air Fryer Ham and Egg Bites.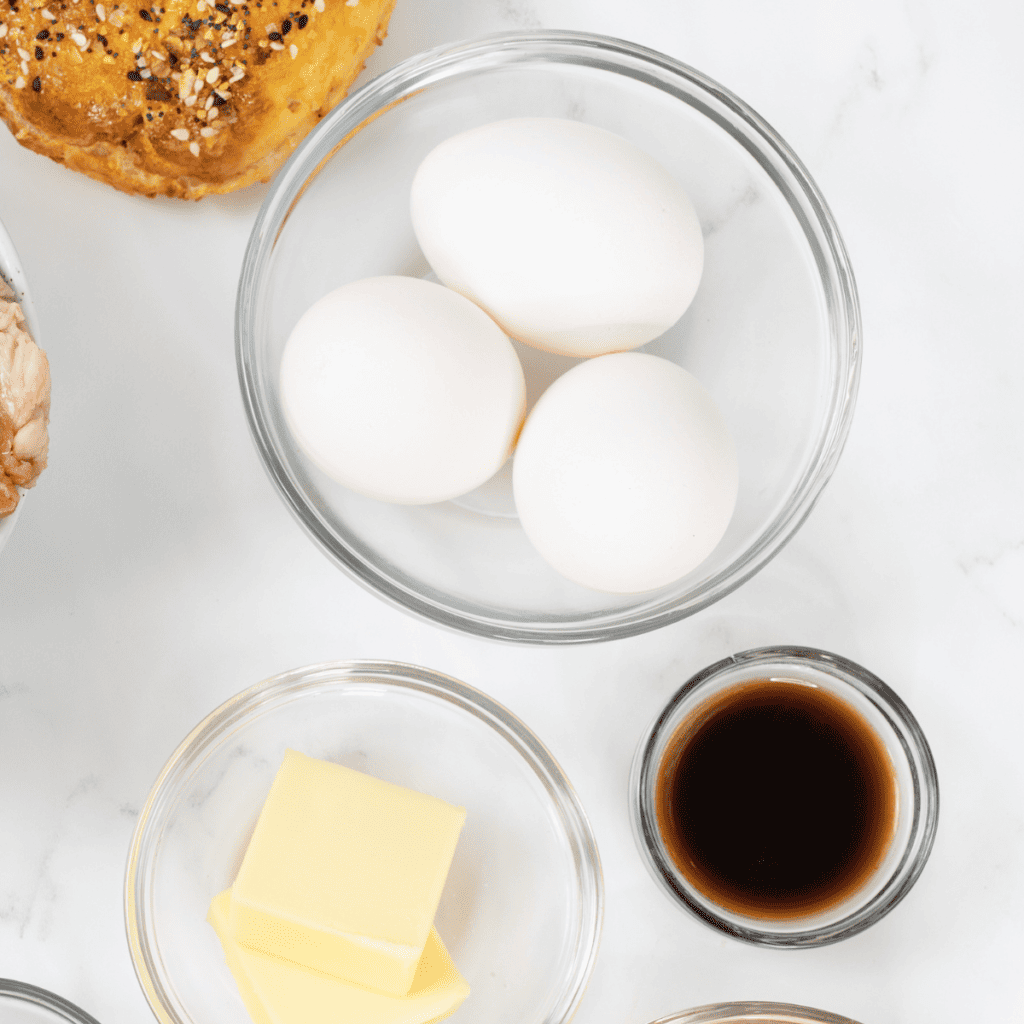 Remember the step-by-step directions and detailed ingredients list are below in the printable recipe card at the bottom of the post, as well as the nutritional information. ​
Eggs: The main star of the dish is that eggs provide a protein-rich base, ensuring your bites are filling and nutritious. Their velvety texture, when cooked in the air fryer, is unmatched.
Ham: Adding a savory depth, ham introduces a delightful contrast to the mildness of eggs. Opt for thinly sliced deli ham or diced ham for an even flavor distribution. This is a great recipe for leftover ham.
Cheese: Melted to perfection, cheese lends creaminess and richness to the egg bites. Whether you prefer cheddar cheese, Swiss cheese, or pepper jack, cheese is the ingredient that ties everything together.
Heavy Cream or Milk: This ingredient ensures that your egg bites have a smooth, creamy consistency. It lightens the egg mixture, making your bites fluffy and soft.
Salt and Pepper: Essential seasonings to bring out the flavors of the other ingredients. A little sprinkle can enhance the overall taste profile of your egg bites.
Green Onions or Chives: These provide a subtle crunch and a fresh, oniony zest. Not only do they add color, but they also elevate the flavor profile.
Red Bell Pepper (Optional): For those who like a hint of sweetness and an extra crunch, diced bell pepper can be an excellent addition.
Spices (Optional): Ingredients like paprika, garlic powder, or cayenne (chili powder) can be added for an extra flavor, tailoring the dish to your preference.
Serving: Serve with your favorite dipping sauce, Dijon mustard, or melted butter.
How To Cook Ham and Egg Bites In Air Fryer
Indulge in a breakfast revolution with the Air Fryer Ham and Egg Bites! These bite-sized delights, packed with savory ham and creamy cheese, are incredibly delicious and convenient for on-the-go mornings.
Let's embark on a culinary journey and learn the secrets to achieving a perfectly fluffy and flavorful bite, all with the magic of the air fryer.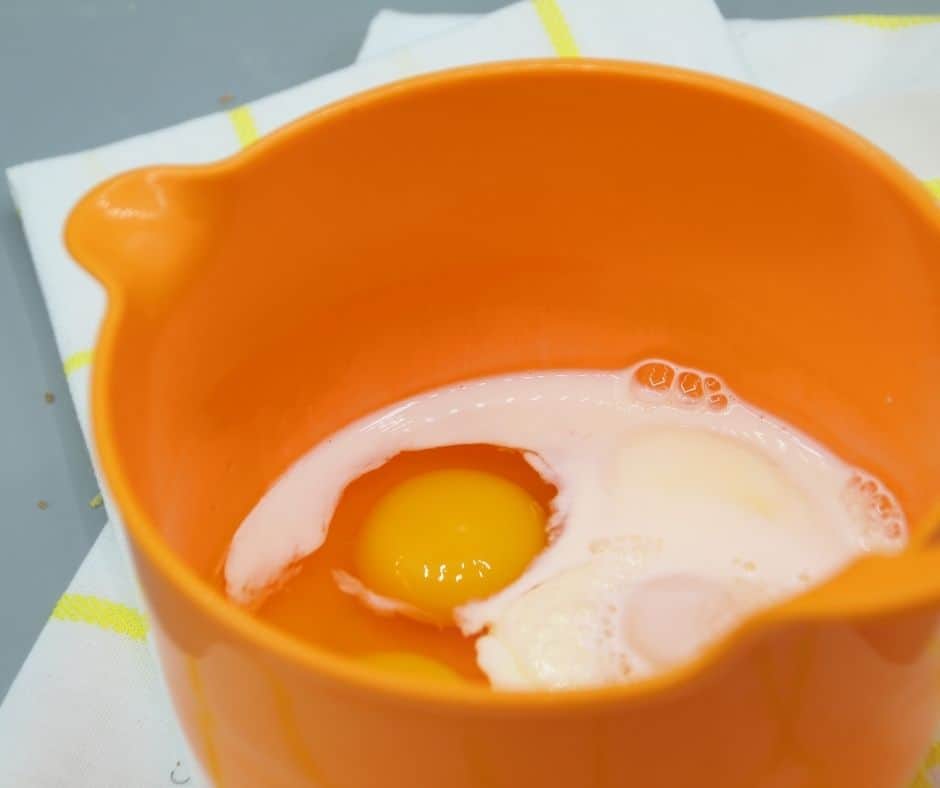 Preparation: In a mixing bowl, whisk together the eggs, heavy cream or milk, salt, and pepper. Ensure it's well combined.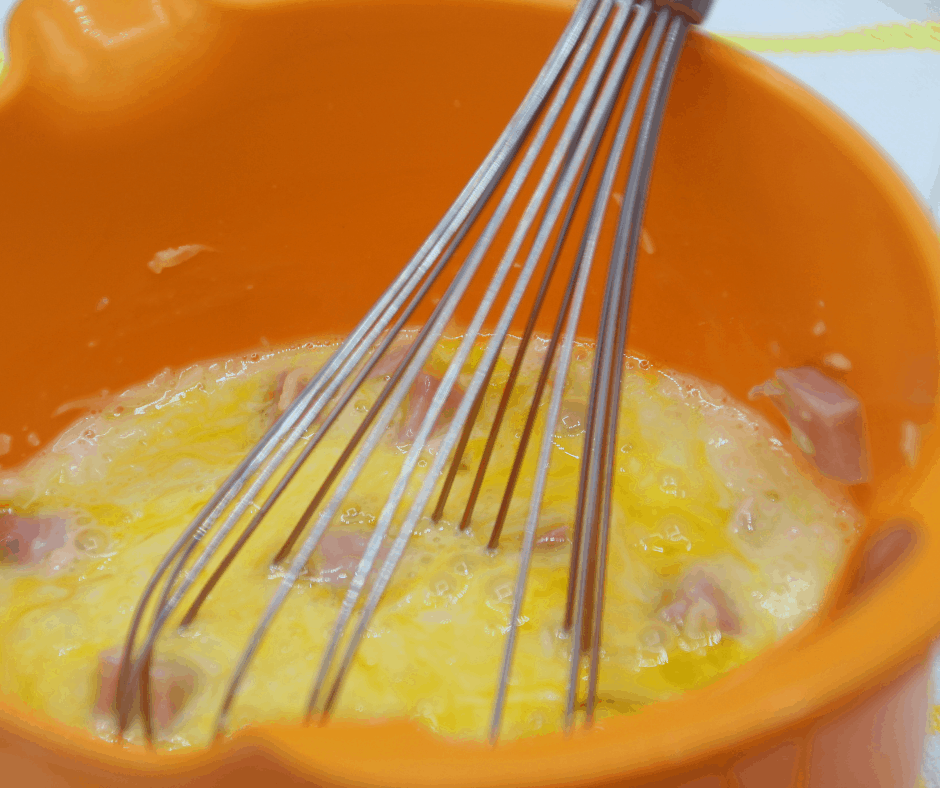 Add Mix-ins: Place ham, shredded cheese, green onions or chives, and red bell pepper (if using). If you add spices, sprinkle them in now and mix well.
Preheat: Set your air fryer to 300 degrees F (150 degrees C) and allow it to preheat for 1-2 minutes.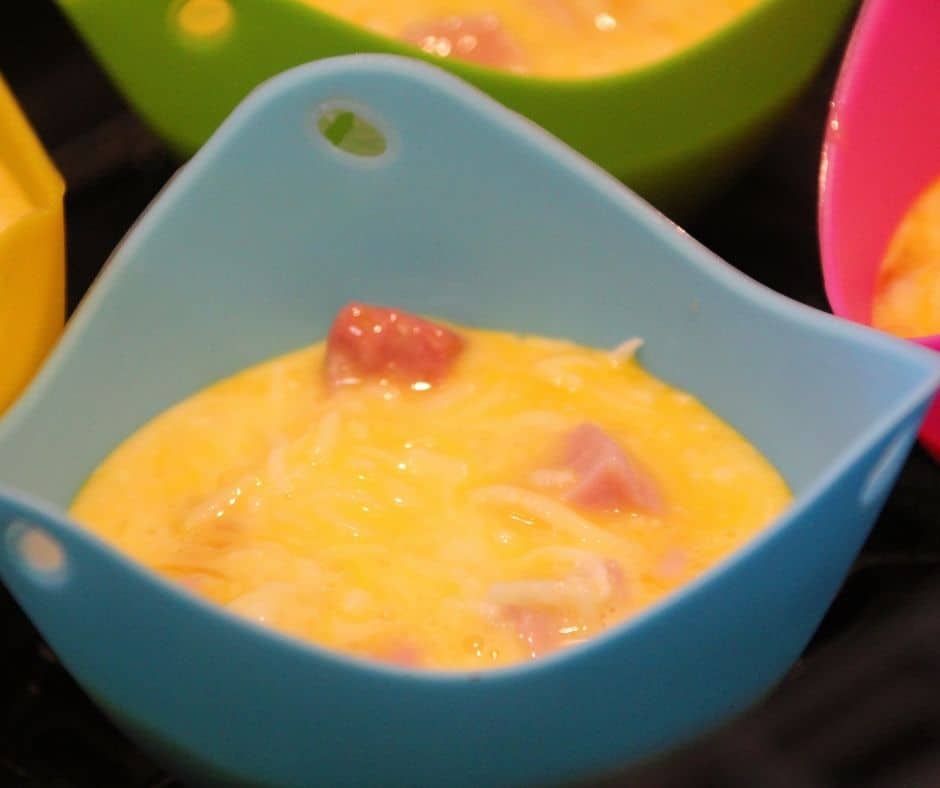 Pour into Molds: If you have silicone molds or oven-safe mini containers, pour the egg mixture into them, filling each about ¾ full to allow the eggs to rise.
Cook: Place the filled molds into the air fryer basket or on the air fryer tray, ensuring they don't touch each other. Set cook time for 12-15 minutes or until the center of the egg bites is set and not runny. The cooking time may vary depending on the size of your molds and the specific air fryer model, so keep an eye on them during the cooking process.
Serve and Enjoy: Once cooked, carefully remove the egg bites from the molds. If desired, serve them warm, garnished with additional chopped chives or a sprinkle of cheese.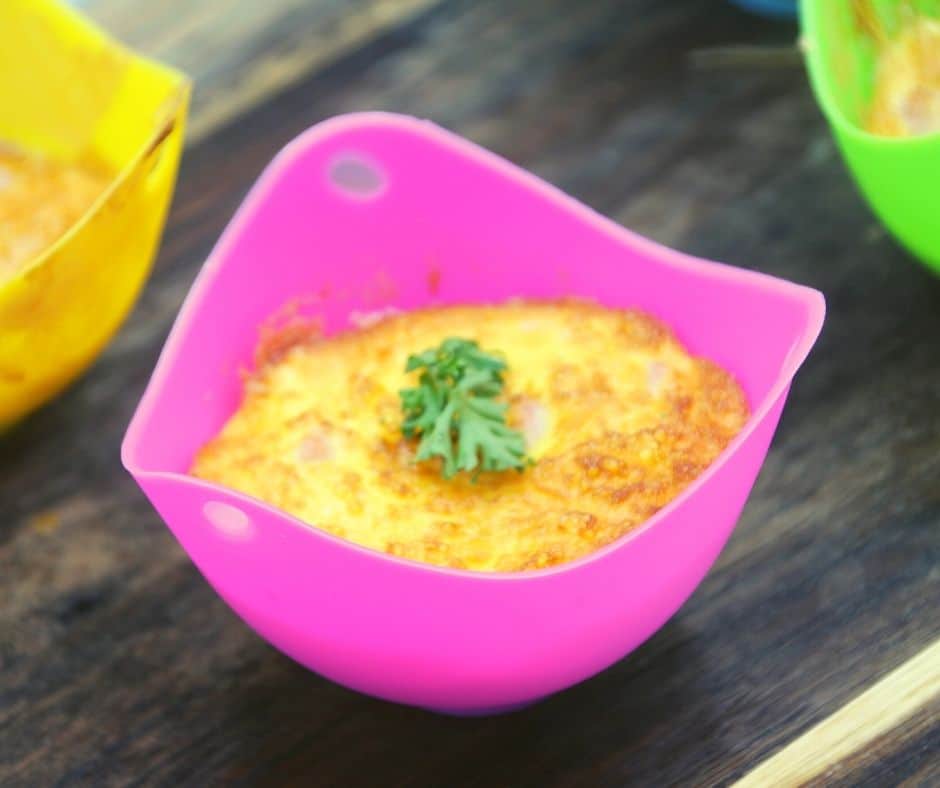 Pro Tips
Here are some professional tips to ensure your Air Fryer Ham and Egg Bites come out perfectly every time:
Silicone Molds: Consider investing in silicone molds, silicone cups, or cupcake molds specifically designed for air fryers. They make the process easier, and the egg bites pop out seamlessly.
Avoid Overfilling: Always fill your molds or containers about ¾ full to allow the eggs to rise without overflowing.
Consistency is Key: For uniformly cooked egg bites, ensure your diced ham, veggies, and other add-ins are chopped to a consistent, small size.
Preheating: Like an oven, preheating your air fryer ensures even cooking right from the start.
Temperature Watch: Cooking at a lower temperature ensures the egg bites cook evenly without the outsides getting too browned before the insides are done.
Rotation: If you're cooking multiple batches or if your air fryer cooks unevenly, consider rotating the position of the molds halfway through the cooking time for even results.
Seasoning: Be cautious with added salt, especially if your ham and cheese are salty. Taste your mixture before adding any extra! Add garlic salt, bagel seasoning, poppy seeds, onion powder, Worcestershire sauce, and Italian seasoning for additional flavor.
Rest Time: After cooking, the egg bites rest for a minute or two. They'll continue to firm up a bit as they cool.
Variations: Feel free to experiment with other ingredients like sautéed mushrooms, cooked spinach, or even different cheeses for variety.
Reheating: These egg bites reheat wonderfully. Pop them back in the air fryer for a few minutes to regain that fresh-cooked texture without overcooking them.
By following these pro tips, you're well on your way to mastering the art of making Air Fryer Ham and Egg Bites.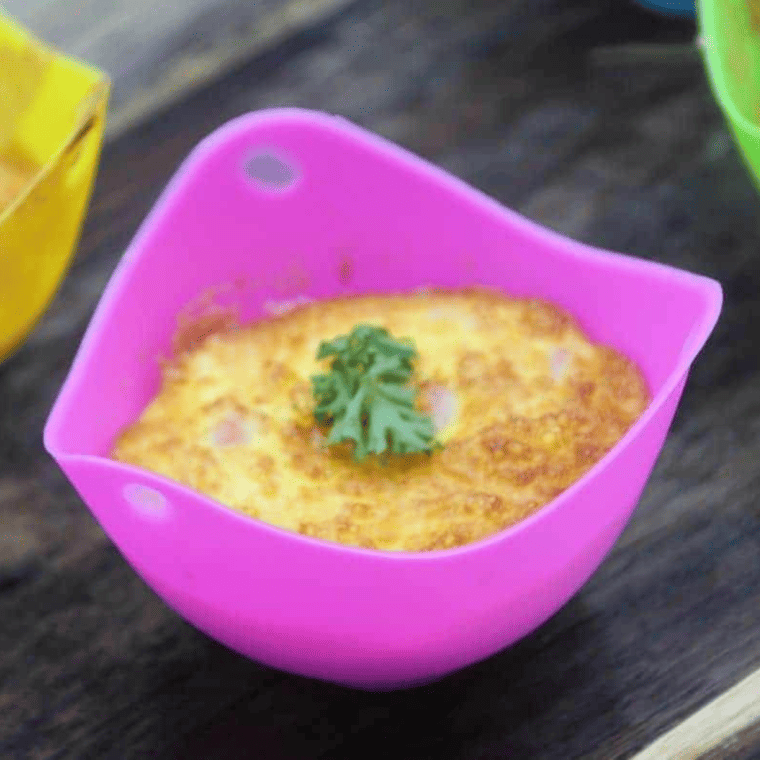 ​
Can I use different meats other than ham?
Absolutely! Cooked bacon, sausage, or even turkey can be great alternatives to ham. Just ensure they are diced into small pieces.
I don't have an air fryer. Can I bake these in the oven?
Yes, you can! You would typically bake egg bites at 350°F (175°C) for 20-25 minutes or until the center is set in a regular oven.
Can I make these egg bites vegetarian?
Of course! Omit the ham and add in some veggies like bell peppers, mushrooms, or spinach.
How long can I store these egg bites in the refrigerator?
These egg bites can be stored in an airtight container in the refrigerator for up to 4 days.
Can I freeze the egg bites?
Yes, they freeze well. Once cooled, place them in a freezer-safe container or bag. They can be stored for up to 2 months. Thaw overnight in the refrigerator before reheating.
How do I reheat frozen egg bites?
For best results, thaw the egg bites in the fridge overnight and then reheat in the air fryer for a couple of minutes. Alternatively, you can microwave them, but the air fryer will retain their texture better.
My egg bites stuck to the mold. What went wrong?
Silicone molds work best for preventing sticking. If using other types of molds, consider lightly greasing them before adding your egg mixture.
Can I use egg whites only for a lower-calorie version?
Certainly! You can replace whole eggs with egg whites. Typically, two egg whites replace one whole egg.
Why did my egg bites puff up and then deflate?
It's natural for the egg bites to rise a bit due to the steam created during cooking and then deflate slightly as they cool. This shouldn't impact the taste or texture.
How can I make the egg bites dairy-free?
You can replace regular milk or cream with almond milk, soy milk, or another dairy-free alternative. For cheese, there are many dairy-free cheese brands available that melt well.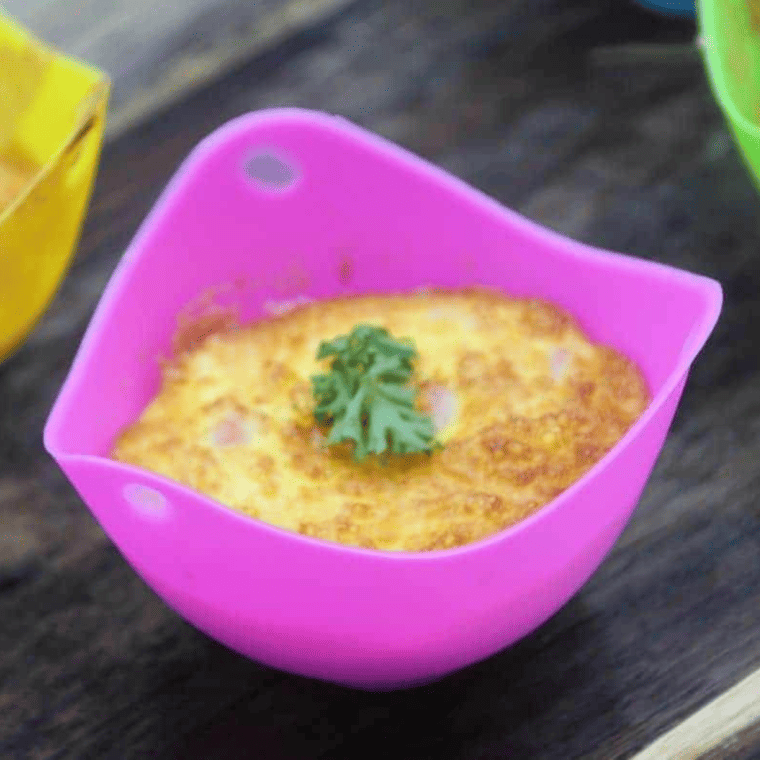 More Air Fryer Recipes
Equipment Used (Egg Molds For Air Fryer)

Egg Poacher Cooker Silicone Egg Poaching Cup Multi-Purpose Poached Egg Maker for Microwave Stovetop Kitchen Tools Pack of 4
Don't Forget To Pin!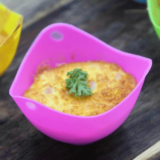 Air Fryer Ham and Cheese Bites
Description
This is the perfect breakfast bite, easily prepared in the air fryer. I love a great ham and cheese omelet, so I made my version via egg cups today.
Ingredients
4

large

eggs

1/4

cup

milk

1

teaspoon

salt

1/2

teaspoon

black pepper

1/2

cup

diced ham

,

cooked

1/4

cup

Swiss cheese

,

shredded
Instructions
In a small mixing bowl, mix the eggs, milk, salt, and black pepper. Mix well until the eggs are frothy.

Whisk in the diced ham and Swiss Cheese.

Spray the egg molds with non-sticking cooking spray, and then pour the egg mixture into the cups, filling about 2/3 the way full.

Set into the air fryer for 5-8 minutes at 350 degrees F, air fryer setting.

Check to make sure they are fully cooked before removing them.
Equipment
Air Fryer

Ramekins,

or oven-safe dish

Cooking Spray

Parchment Paper,

optional
Notes
How To Store, Freeze, and Reheat Air Fryer Ham and Cheese Bites
Storing:
Cool Down: Before storing, allow the ham and cheese bites to cool completely at room temperature. This will prevent them from becoming soggy from the steam.
Refrigeration: Transfer the bites into an airtight container. Layer them with parchment paper in between to prevent sticking. They can be refrigerated for up to 4 days.
Freezing:
Flash Freezing: Once the ham and cheese bites have completely cooled, place them on a baking sheet in a single layer, ensuring they are not touching. Place the sheet in the freezer for about 1-2 hours, or until they are frozen solid.
Storage: Transfer the flash-frozen bites into a freezer-safe bag or container. Label the bag with the date and contents. They can be frozen for up to 2 months for the best quality.
Reheating:
From the Refrigerator: If the bites are stored in the refrigerator, place them back into the air fryer at 350°F (175°C) for 2-3 minutes, or until warmed through.
From the Freezer: There's no need to thaw the bites. Place the frozen ham and cheese bites directly into the air fryer. Air fry at 350°F (175°C) for 4-5 minutes or until they are heated thoroughly.
Remember, when reheating in the air fryer, it's crucial not to overcrowd the basket. Depending on the size of your air fryer, you might need to reheat the bites in batches. This ensures that they warm up evenly and retain their crispy texture. Enjoy your delicious bites, whether they're freshly made or reheated!
Nutrition
Serving:
1
Serving
Calories:
123
kcal
Carbohydrates:
2
g
Protein:
11
g
Fat:
8
g
Saturated Fat:
3
g
Polyunsaturated Fat:
1
g
Monounsaturated Fat:
2
g
Trans Fat:
0.02
g
Cholesterol:
202
mg
Sodium:
856
mg
Potassium:
100
mg
Fiber:
0.1
g
Sugar:
1
g
Vitamin A:
352
IU
Calcium:
108
mg
Iron:
1
mg