Air Fryer Homemade French Toast Sticks — If you have been looking for a quick breakfast for busy mornings that don't require a long cooking time but is still a family favorite, this is the best recipe!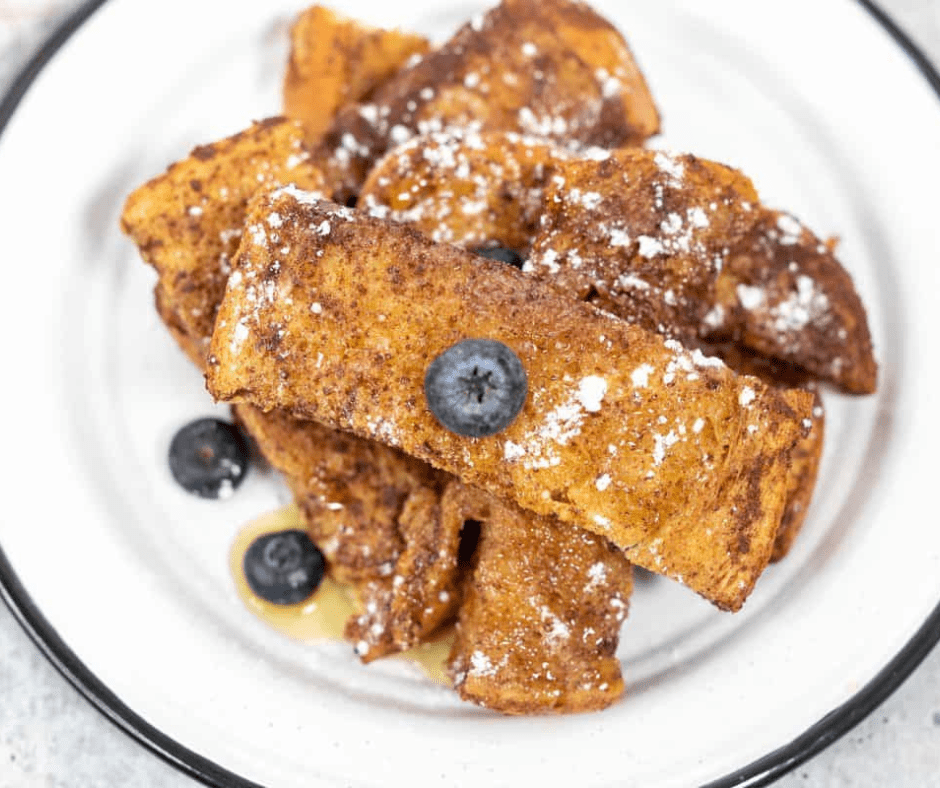 The Best Air Fryer Homemade French Toast Sticks Recipe

The air fryer emerges as the unsung hero in the modern culinary world where convenience meets gourmet. And when it comes to transforming classic breakfast dishes into crunchy delights, this appliance does wonders. Enter the realm of Air Fryer Homemade French Toast Sticks — a perfect blend of traditional flavors and a crispy twist. These golden-brown wonders promise a delectable start to your mornings and redefine the essence of comfort food. If biting into a warm, fluffy center encased in a crunchy exterior excites you, this recipe is your new breakfast anthem. Dive in and discover the magic of making the best French Toast Sticks, all in the comfort of your kitchen!
If you are looking for a foolproof recipe for air fryer frozen french toast sticks, check out this recipe, it's fantastic and perfect; when you need an easy breakfast recipe!
Why Cook Homemade French Toast Sticks In Air Fryer
Cooking homemade French Toast Sticks in an air fryer offers many advantages that elevate this breakfast staple. Here's why you might consider this method:
Healthier Alternative: Air frying uses significantly less oil than traditional frying methods. This means you get that crispy exterior and tender interior without the extra calories and fats associated with deep frying.
Crispier Texture: The circulating hot air in an air fryer ensures that the French Toast Sticks are uniformly crispy on all sides. This gives you a delightful crunch with every bite.
Less Mess: Anyone who has tried traditional frying knows it can get messy. With air frying, there's no splattering oil, meaning a cleaner kitchen and quicker cleanup.
Consistent Results: The controlled environment of an air fryer provides consistent temperature, ensuring even cooking every time. You're less likely to end up with burnt or undercooked sections.
Speed and Convenience: Air fryers typically cook food faster than ovens. Plus, there's no need to wait for them to preheat for a long time, making them perfect for quick breakfast preparations.
Flavor Retention: Since minimal oil is used, your ingredients' authentic flavors shine through. The essence of the bread, custard mixture, and any added flavors remains untainted by excess oil.
Versatility: While you have your air fryer out for French Toast Sticks, you can also use it for various other dishes, from appetizers to desserts, making it a versatile kitchen appliance.
Safety: With no open flames or hot oil, air fryers are generally safer to use, especially for novice cooks or when kids want to join in the cooking fun.
Energy Efficiency: Air fryers use less energy than traditional ovens. So, not only are you cooking faster, but you're also saving on energy costs.
Space-Saving: Especially for those with smaller kitchens or limited countertop space, air fryers can be a boon. They compactly provide the functions of multiple kitchen appliances.
Incorporating the air fryer into your breakfast routine, especially for dishes like French Toast Sticks, offers a modern, efficient, and delicious approach to a beloved classic.
If you want some other great Air Fryer French Toast Recipes, here are my favorites, AIR FRYER STRAWBERRY CROISSANT FRENCH TOAST, AIR FRYER PUMPKIN FRENCH TOAST, AIR FRYER CINNAMON FRENCH TOAST, AIR FRYER FRENCH TOAST, AND SAUSAGE ROLL-UPS.
Ingredients Needed For French Toast Sticks Air Fryer
Crafting the perfect French Toast Stick using an air fryer requires combining classic ingredients and a touch of innovation. Before embarking on this breakfast adventure, ensuring you have everything at your fingertips is essential. Each ingredient is pivotal, from the rich, absorbent bread that forms the foundation to the spices that elevate the flavor.
Whether you're a seasoned chef or a home cook eager to impress, gathering the right components is the first step to creating a memorable dish. Let's delve into the ingredients you'll need to turn your Air Fryer French Toast Stick dreams into a crispy, golden reality.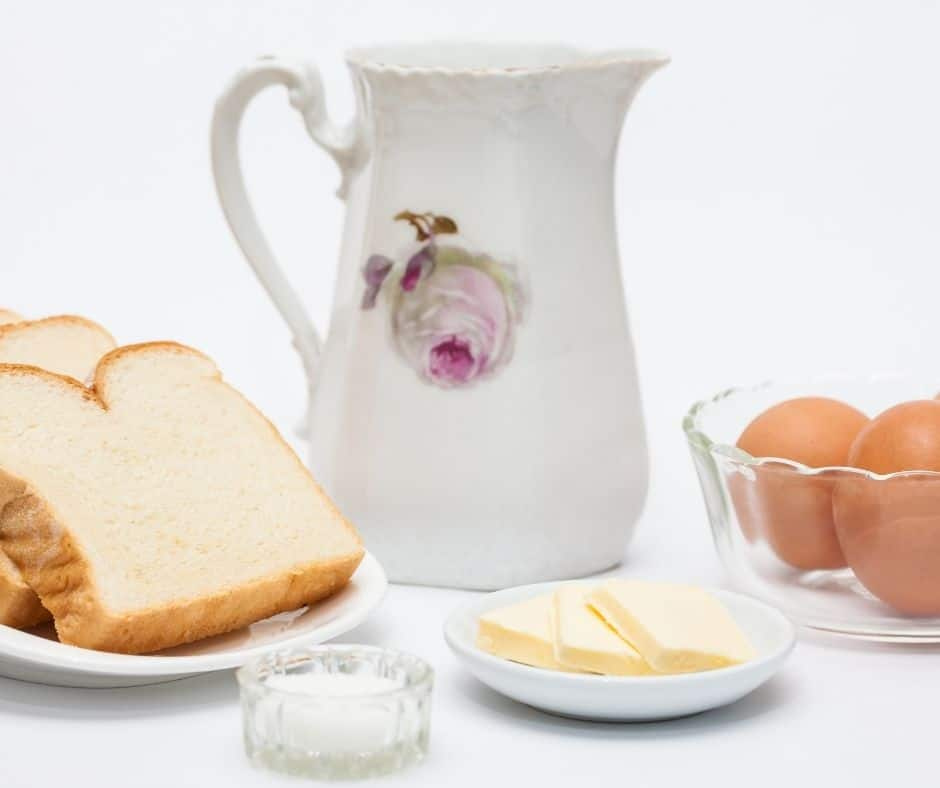 Remember the step-by-step instructions are below in the printable recipe card at the bottom of the page, as well as the nutritional information.
Bread: You can use a variety of bread, from whole grain, hearty bread, and brioche bread, but remember, stale bread is best for not getting soggy French toast.
Eggs: Use large room-temperature eggs.
Milk: You can also use almond milk, whole milk, heavy cream, or coconut milk.
Brown Sugar: Adds a great cinnamon-sugar coating.
Vanilla: Use pure vanilla extract for the best flavor.
Honey: Adds some sweetness.
Ground Cinnamon: Great way to season the French toast.
Nutmeg: Adds some flavor!
How To Make Easy Air Fryer French Toast Sticks
The air fryer has revolutionized home cooking, turning intricate recipes into effortless endeavors. Regarding a breakfast staple like French Toast Sticks, this marvelous device offers a fresh perspective, melding convenience with gourmet flavor. Imagine achieving that enviable balance of a crisp exterior and a soft, custard-like center without the mess of deep frying or the patience required for stovetop cooking. If this sounds like your kind of breakfast magic, then buckle up! We're about to venture into the simple yet rewarding process of crafting Easy Air Fryer French Toast Sticks that will leave your taste buds dancing in delight.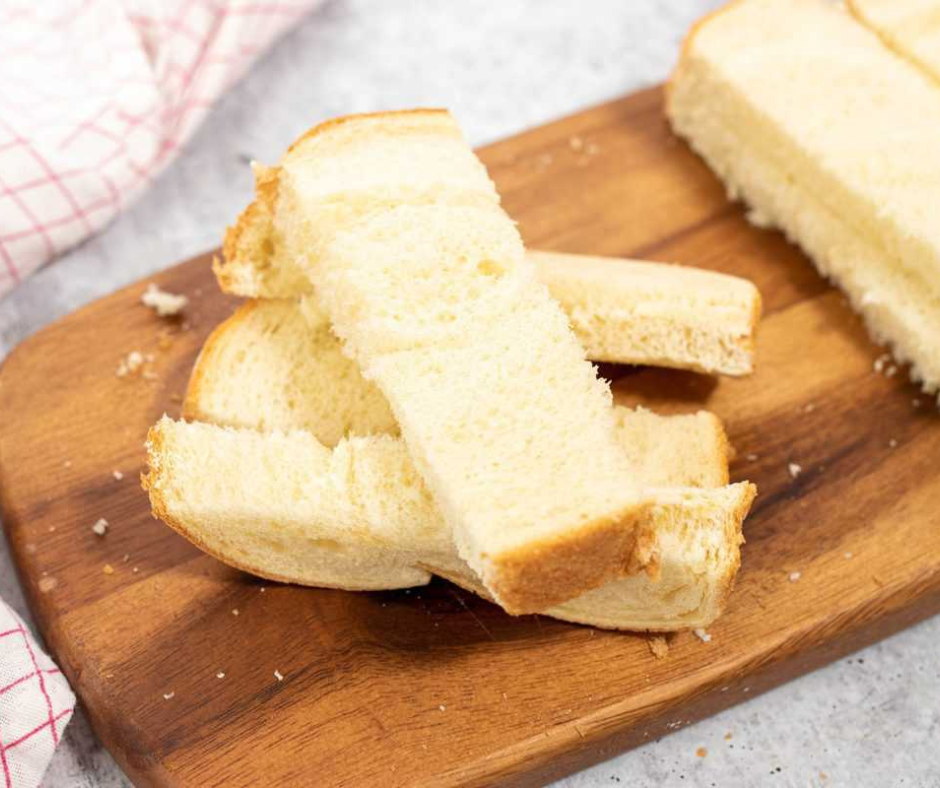 Step One: Prepare The Bread Slices
Using a sharp serrated knife, take a piece of bread and slice the bread; each slice of bread should give you four pieces.
Step Two: Prepare The French Toast Batter
In a shallow bowl, mix the eggs, milk, brown sugar, honey, vanilla, cinnamon, and nutmeg, beating until the eggs are broken up and everything is mixed well. Dip bread sticks into the egg mixture and shake to remove excess.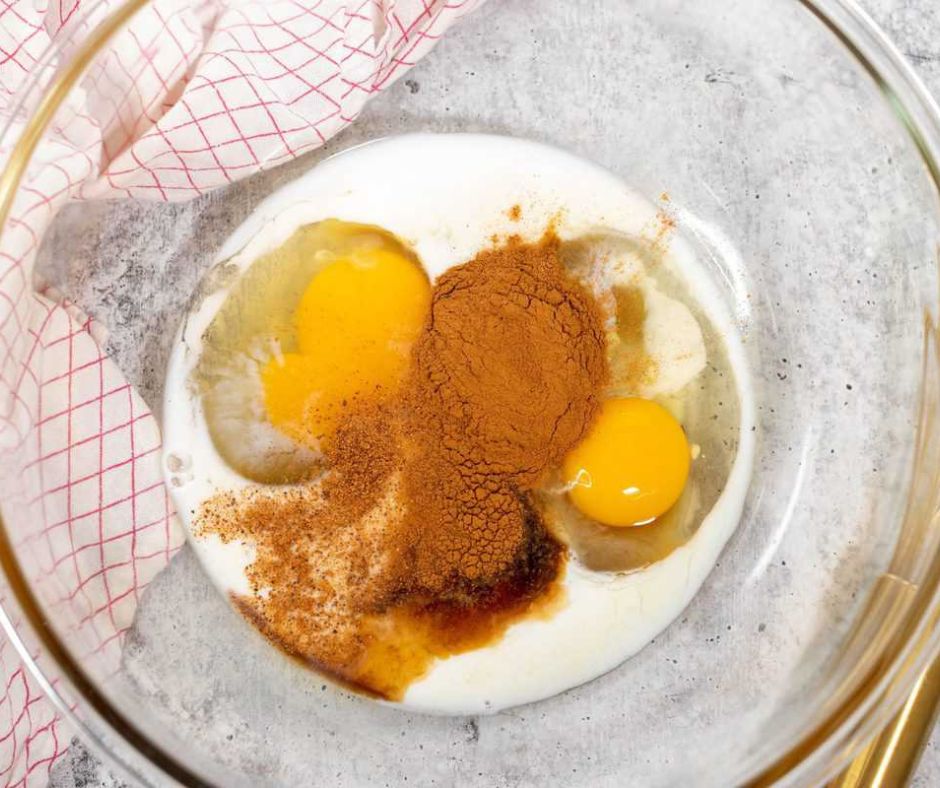 As you do, place sticks in your Air Fryer Basket in a single layer, careful not to crowd the basket. You can either line your basket with parchment paper or spray it with olive oil spray., or cooking spray.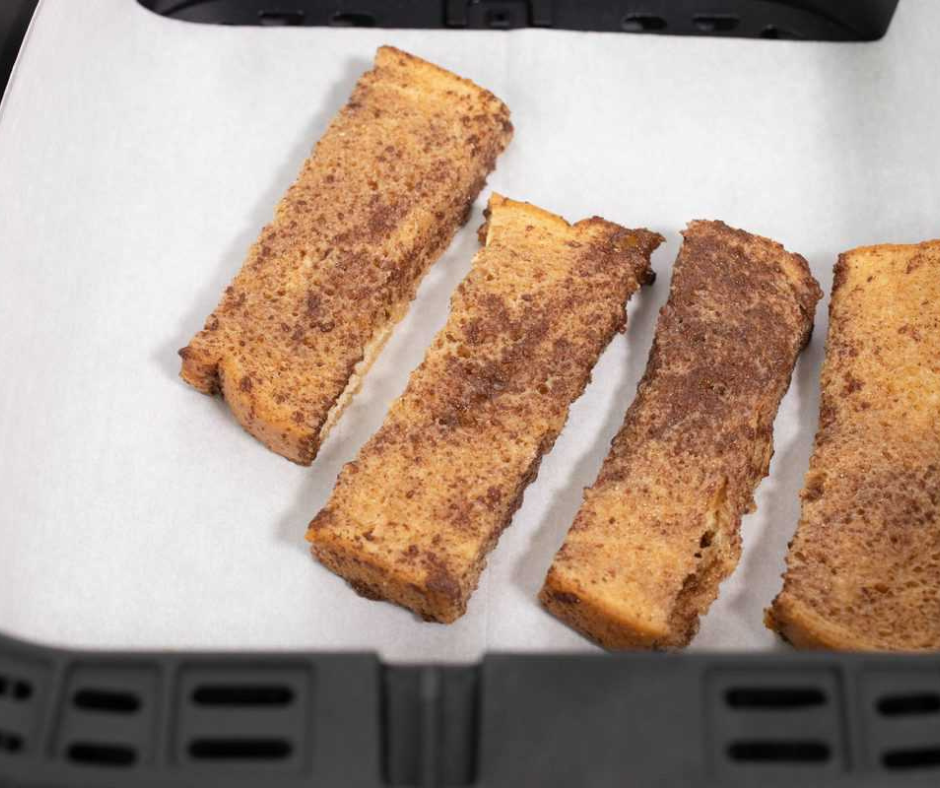 How Long To Cook French Toast Sticks In An Air Fryer:
(You can use a parchment paper liner if you want to cut down on the mess) Air Fry for a 2-minute cook time at 320 degrees F, air fryer setting. Then flip them over and do another 3 minutes. (5 minutes total time)
Serve with maple syrup or a dusting of cinnamon sugar!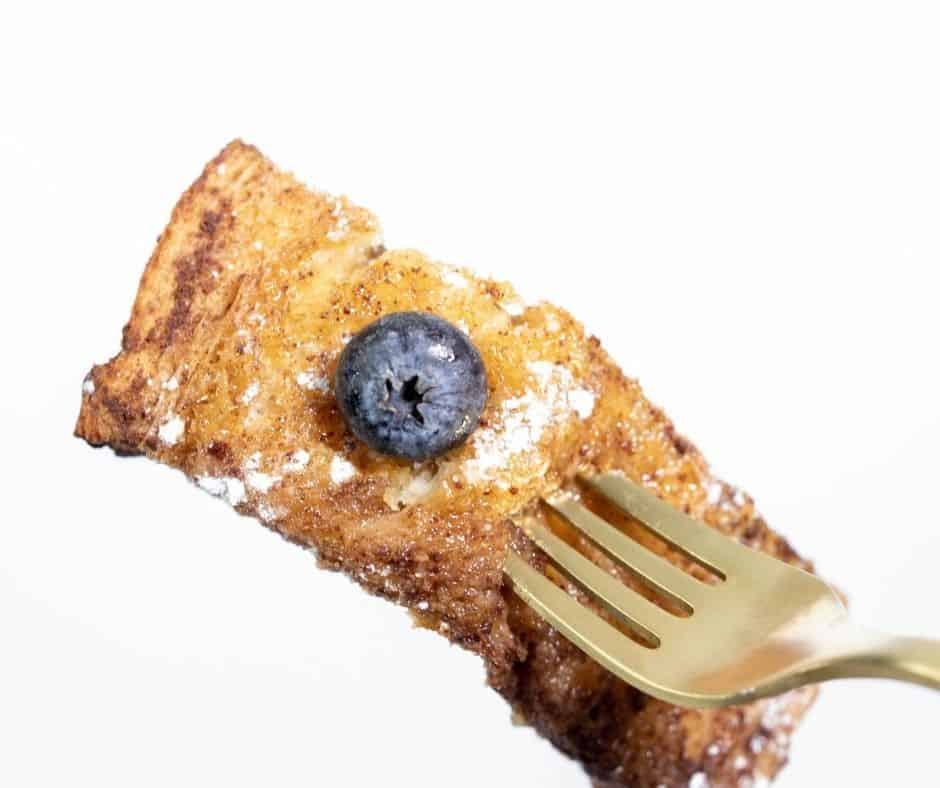 Pro Tips For The Best Air Fryer French Toast Stick Recipe
Crafting the perfect Air Fryer French Toast Stick is more than just following a recipe; mastering the nuances that make a difference. Here are some expert pointers to ensure your breakfast treat stands out:
Choice of Bread: While stale bread is best for French toast, you can use any bread; some great options are thick-cut, slightly stale bread like Texas toast or challah. Stale bread absorbs the custard mix better without turning soggy.
Thorough Dipping: Ensure each bread stick is well-coated with the egg mixture, but don't let it soak for too long, as it might get overly soggy.
Single Layer is Best: Avoid stacking the sticks in the air fryer. Cook them in a single layer to ensure even cooking and crispy results.
Shaking Matters: Halfway through the cooking process, gently shake the basket or use tongs to turn the sticks. This ensures an even color and crispness.
Preheat the Air Fryer: While some might skip this step, preheating ensures that your French Toast Sticks start cooking immediately upon placement, leading to consistent results.
Serve Hot: For the best experience, serve your French Toast Sticks right out of the air fryer. This ensures they remain crispy and warm.
Garnishing and Toppings: Get creative! Drizzle with maple syrup, sprinkle powdered sugar, confectioners' sugar, or add a dollop of whipped cream. Fresh berries or a side of bacon can also enhance the dish.
Mind the Size: When cutting your bread into sticks, ensure they are of uniform size. This helps in even cooking.
Add Flavor to the Egg Mixture: A dash of vanilla extract or a sprinkle of cinnamon can elevate the overall flavor profile of your French Toast Sticks.
Check for Doneness: While the exterior might look golden and crispy, ensure the insides are cooked by breaking one stick open after the initial cooking time. If it's too soggy, give it an extra minute or two.
Armed with these pro tips and enthusiasm, your Air Fryer French Toast Sticks will be a crowd-pleaser!
Can I use any type of bread for the French Toast Sticks?
Ideally, thick and slightly stale breads like Texas toast, challah, or brioche work best. They absorb the custard mix without becoming overly soggy and maintain their structure during cooking. I often use sandwich bread or leftover French bread.
How long can I store leftover Air Fryer French Toast Sticks?
Leftovers can be stored in the refrigerator for up to two days in an airtight container. For longer storage, you can freeze them for up to a month. Reheat in the air fryer to retain crispiness.
Why are my French Toast Sticks soggy?
This could be due to over-soaking in the egg mixture or not cooking them long enough. Ensure you dip the bread just enough to coat and not oversaturate.
Do I need to add oil or butter to the air fryer?
No, one of the benefits of the air fryer is the ability to cook with minimal to no oil. However, a light spray can enhance crispiness if desired.
Can I make a vegan version of this recipe?
Absolutely! Replace regular milk with plant-based milk and use a vegan egg substitute for the egg mixture.
How do I prevent the French Toast Sticks from sticking to the basket?
Ensure the basket is clean and free from residue. You can also lightly spray it with cooking spray or use parchment liners made for air fryers.
Can I double the recipe?
You can prepare a larger quantity of the egg mixture, but cook the sticks in batches to ensure even cooking and prevent overcrowding.
Do I need to flip the French Toast Sticks during cooking?
It's a good practice to turn them halfway through to ensure even browning on all sides.
Can I add flavors to the batter?
Absolutely! Feel free to experiment by adding flavors like vanilla extract, nutmeg, or even a dash of orange zest to the egg mixture.
Why is preheating the air fryer necessary?
Preheating ensures the French Toast Sticks begin cooking immediately, leading to a consistent texture and color.
What to serve with air fryer french toast sticks?
Serve with air fryer bacon, fresh fruit, or even air fryer sausage.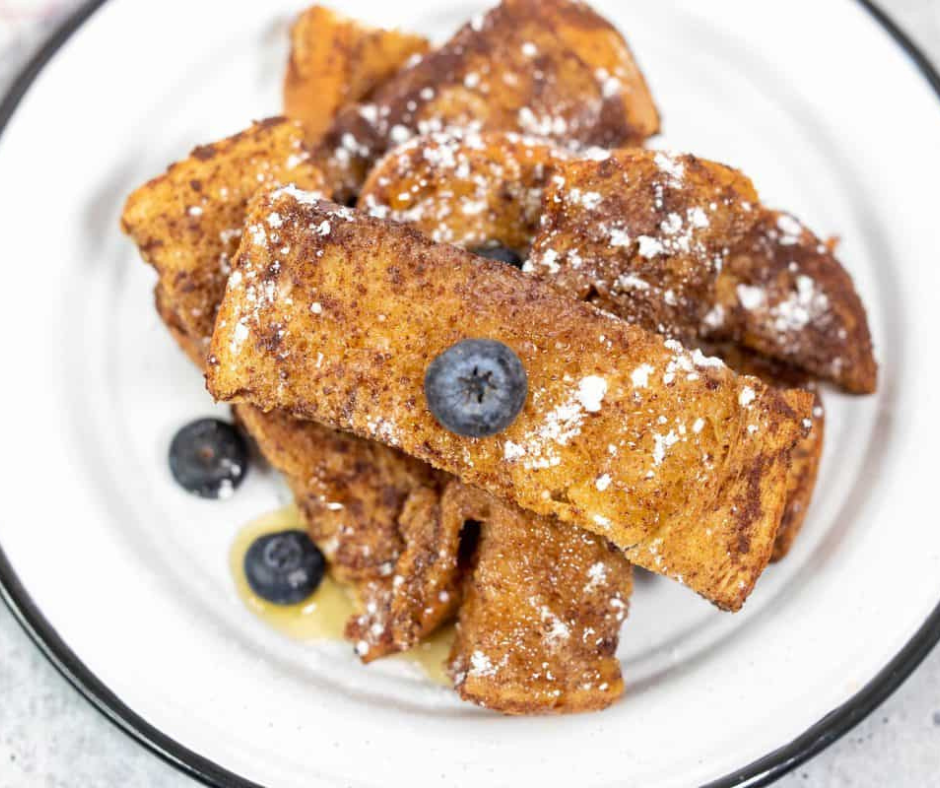 What Air Fryer Can You Use?
You can use anything from the Phillips XL Digital Air Fryer, the Ninja Foodi, the Instant Pot Vortx, or even the Instant Pot Crips Lid by Instant Pot.
Favorite Toppings
The best french toast is all about the toppings, serve with cinnamon-sugar mixture, powdered sugar, fresh fruit, confectioners' sugar, or even plain. They make for a great weekday breakfast!
Easy Air Fryer Recipes
These are great options for those who want something sweet but do not want to spend too much time in the kitchen. Air fryer french toast sticks are an easy and convenient way to make French toast, and people of all ages can enjoy them. If you are looking for a quick and tasty breakfast or snack, then air fryer French toast sticks are definitely worth trying. They make for a quick breakfast!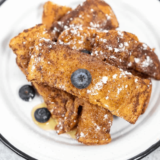 Air Fryer French Toast Sticks
Description
This is one of my kid's favorite breakfasts, they are easy to make, and my kids really enjoy dipping them into warm maple syrup.
Ingredients
4

slices

bread

2

large

eggs

1/4

cup

milk

1/4

cup

brown sugar

1

teaspoon

vanilla extract

1

tablespoon

honey

1

tablespoon

ground cinnamon

1/2

teaspoon

ground nutmeg
Instructions
Slice each bread slice into 4 pieces.

In a small bowl, mix the eggs, milk, brown sugar, honey, vanilla, cinnamon, and nutmeg, beating until the eggs are broken up, and everything is mixed well.

Then dip each french toast stick into the mixture and then shake to get the excess off. As you do, line them up in your Air Fryer Basket.

You can use parchment paper if you want to cut down on the mess)

Air Fryer for 2 minutes at 320 degrees F. Then flip them over and do another 3 minutes.
Equipment
Air Fryer

Cooking Spray

Parchment Paper Liner,

optional
Nutrition
Serving:
1
Serving
Calories:
398
kcal
Carbohydrates:
68
g
Protein:
14
g
Fat:
8
g
Saturated Fat:
3
g
Polyunsaturated Fat:
2
g
Monounsaturated Fat:
2
g
Trans Fat:
0.04
g
Cholesterol:
190
mg
Sodium:
356
mg
Potassium:
258
mg
Fiber:
4
g
Sugar:
41
g
Vitamin A:
333
IU
Vitamin C:
0.3
mg
Calcium:
200
mg
Iron:
3
mg