This morning, I made French Toasts, actually, I made several batches of it. remember I have teenage boys! (LOL)
This is one of the easiest breakfast recipes, that I have found for French Toast.
The batter is rich and creates a nice and light batter, that when I combined it with air frying, it came out nice and fluffy.
This is one of the most popular recipes in American when ordering at a restaurant, in France, they serve it for dessert, which is called "Lost Bread" or Pain Perdu.
The French are mainly credited with creating French Toast, but upon further research, they really created it in Belgium.
Back in medieval times the soldiers would take the old bread and soak it in egg and milk, to make it edible.
Before preservatives in America and around the world, the bread did not say long; it was a great way to use up day-old bread.
This is also a great way to use your imagination, as everything goes with French Toast, berries, stuffed, etc..
Any type of bread works for French toast, you can use white bread, whole wheat, rye bread, French Bread, brioche, and croissants. A typical holiday breakfast would be for a French Bread Casserole, so I am hoping to make one in the coming weeks because it really makes for a wonderful breakfast on either Thanksgiving or Christmas mornings. I am working on making homemade French Toast Bites because my kids have fallen in love with the Frozen version.
Here are some other great recipes, 
Air Fryer French Toast Casserole
Air Fryer French Toast Bites
Frozen French Toast in the Air Fryer
Cooking Frozen French Toast Sticks In the Air Fryer
(How To Make Frozen French Toast Sticks In Air Fryer, How Long to cook frozen French toast sticks in the air fryer)
Here are some tips for getting perfect French Toast every time:
The perfect thickness of the bread you will use for your French Toast, the thickness should be between 1/2″ and 1″ thick.
As mentioned above, you can use any type of bread, but the dried the bread the better, therefore day-old bread really works, it soaks up the liquid perfectly.
All French toast batter includes eggs and milk, whole milk works best, as it is thicker.
Remember to season the batter, so grab your favorite spice and mix it in.
Tips for Air Frying French Toast in the Air Fryer:
Make sure that the entire piece of bread has liquid on it, AKA the batter.
Spray the soaked bread with non-stick cooking spray. The more spray you put on the less it will stick.
I use a pan, only because I can spray the pan, with non-stick cooking spray, this way, you put the soaked bread on top of a greased pan; it is easier to flip, and it does not stick to the air fryer basket.
Don't forget to use tongs to flip the French Toast, halfway through.
I hardly preheat the oven but, for French Toast, I preheat the air fryer to 350 degrees F. (but check each recipe, as they are all different)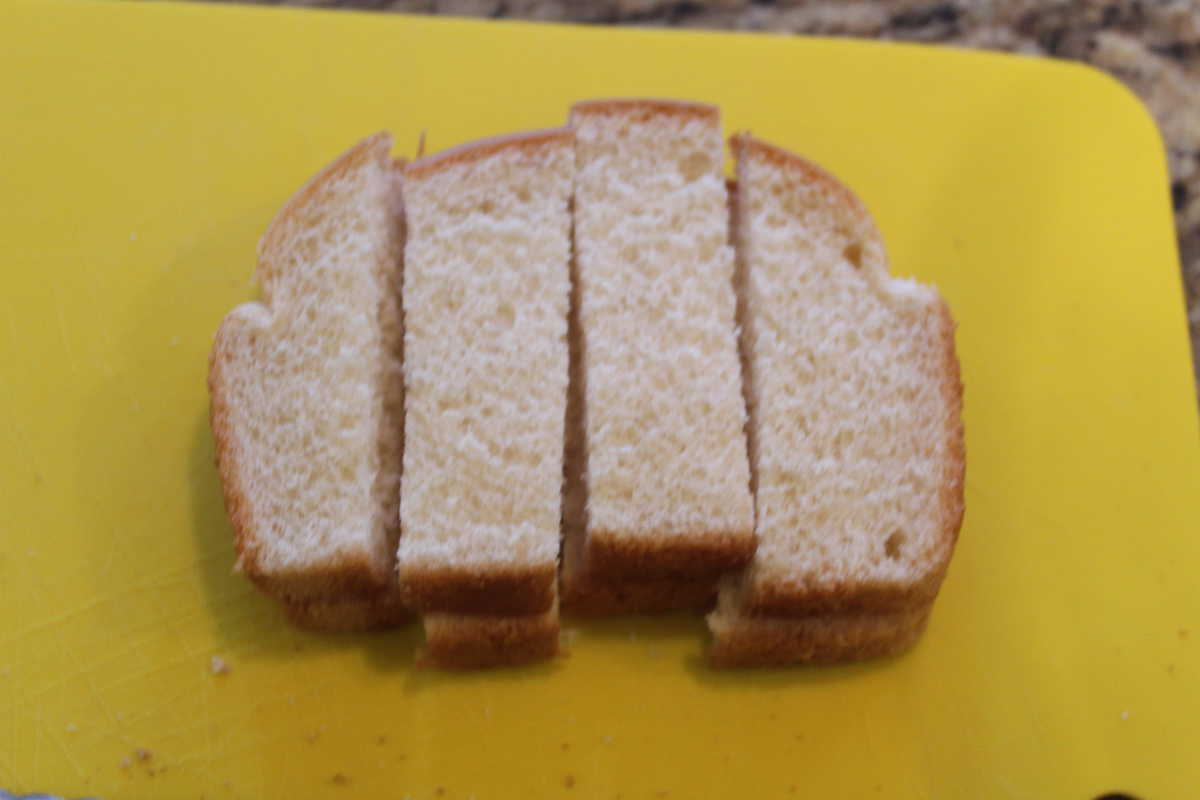 Cut your bread into 4 ths.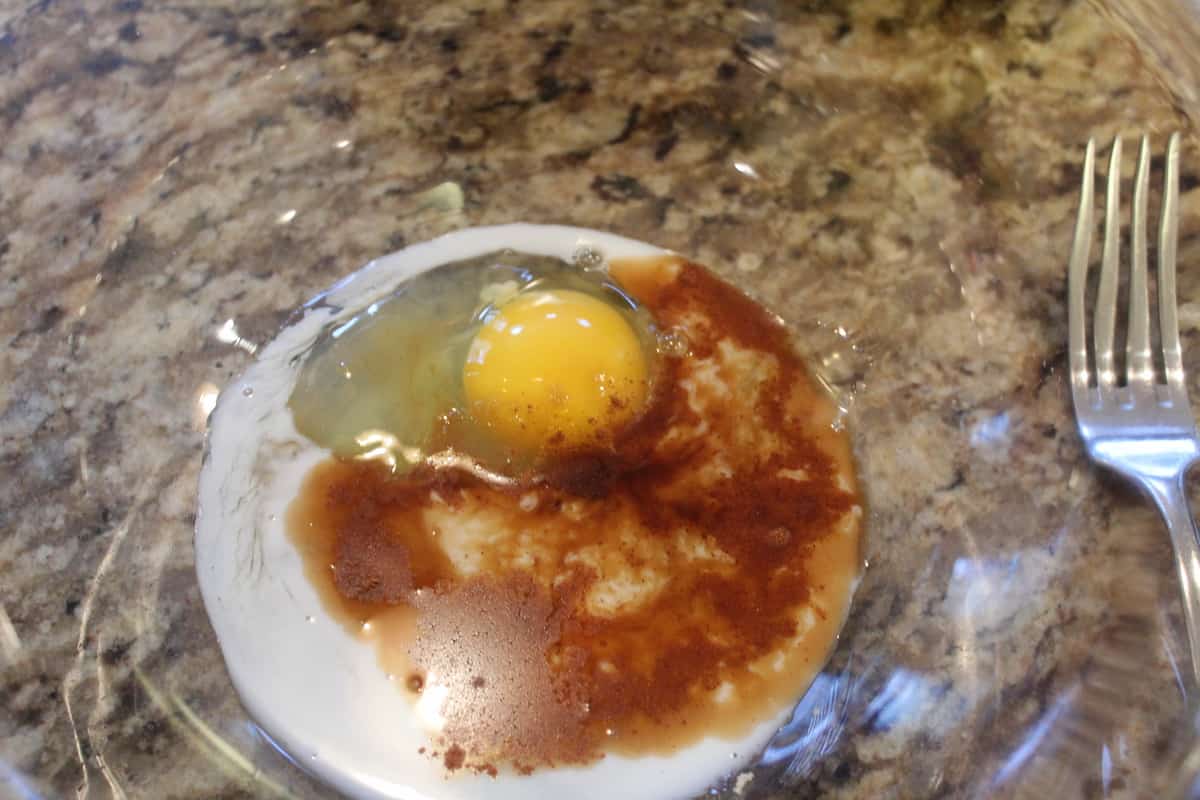 Add all of your ingredients to a bowl,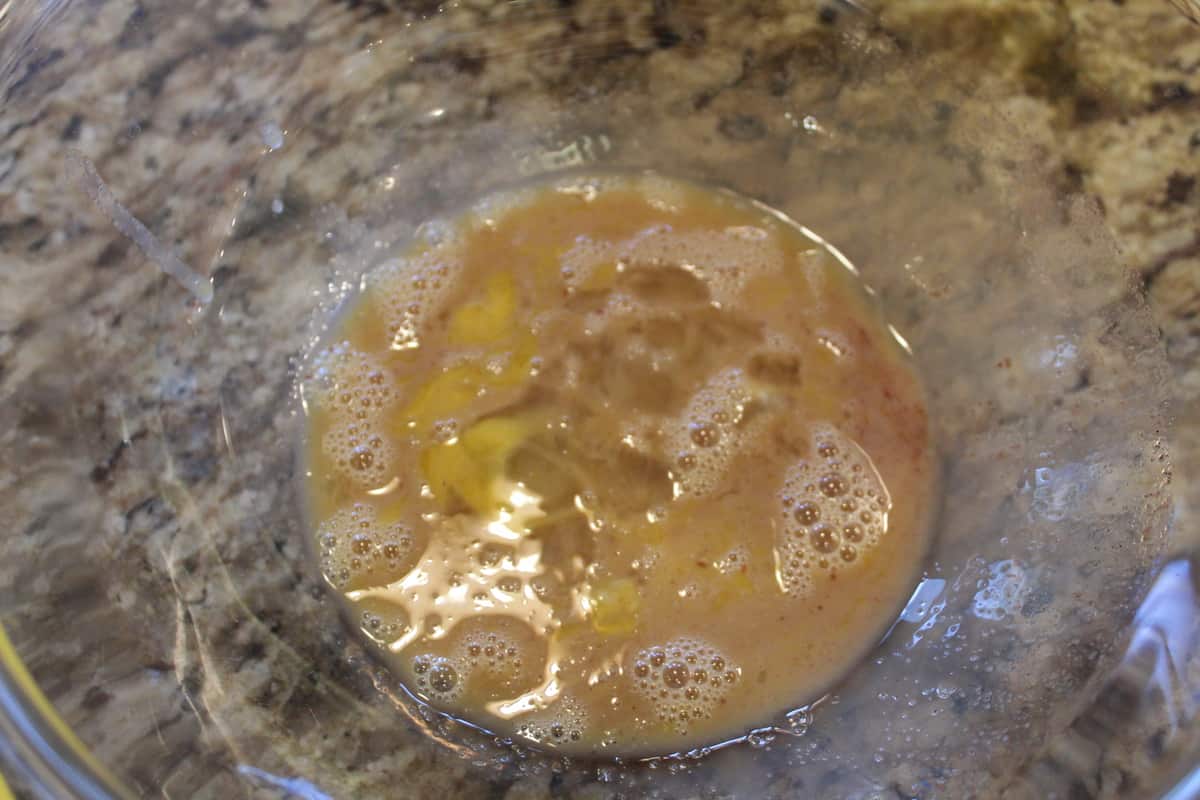 Mix well, you will notice that the smell is awesome, cinnamon and vanilla,  I don't have a picture of me dipping them in, since my hands were dirty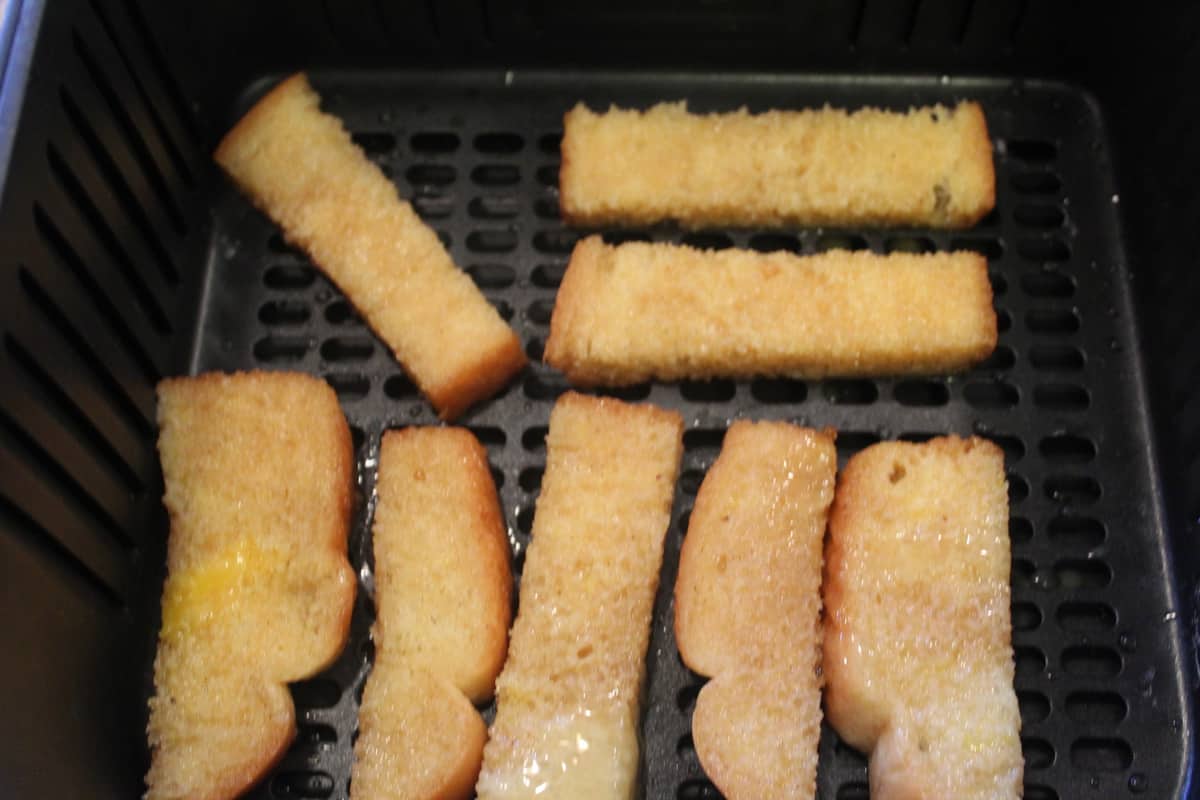 Lay them in, mine stuck a bit, so I wish I used parchment paper.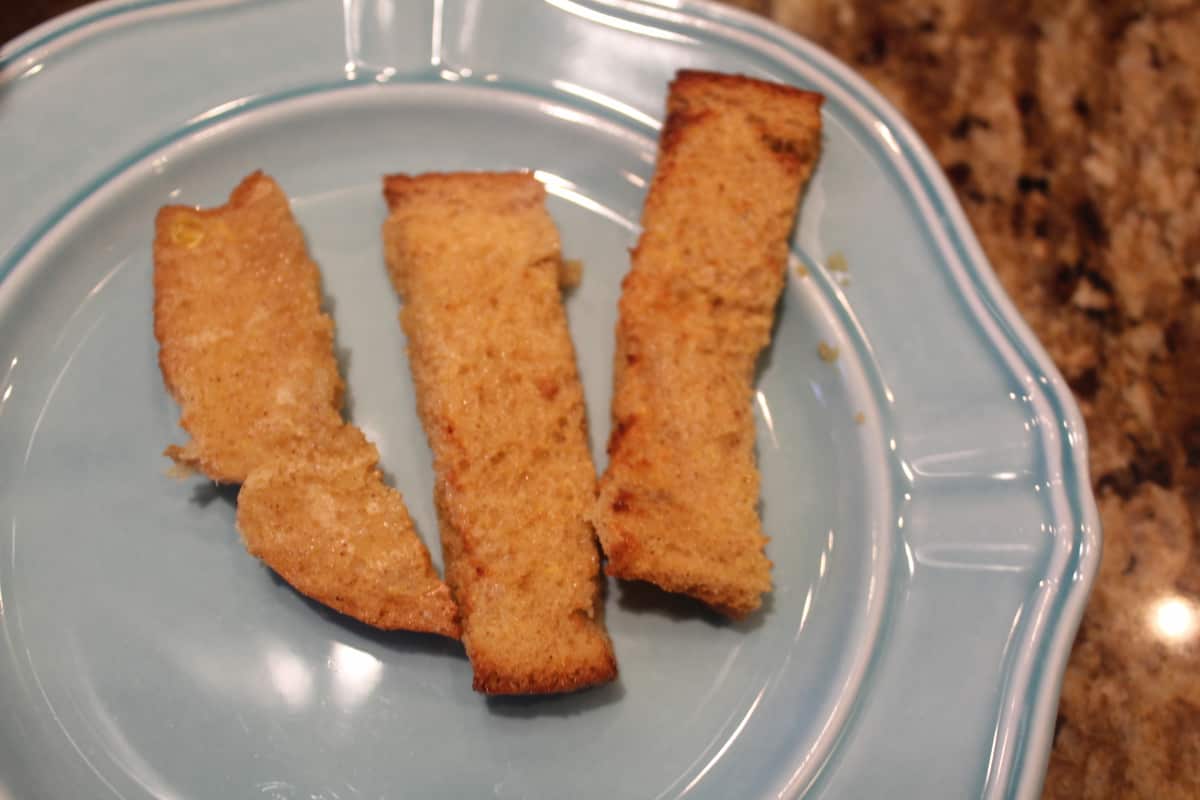 Delicious after 5 minutes at 320 degrees F.
Secura Air Fryer: This is MY first air fryer, I have had it since (Amazon tells me I ordered it on August 23, 2017), It is a fabulous machine, and I always recommend it to my Facebook group, when they are on sale because it works. And to be honest, once you get into the air fryer world, you want another one for side dishes (and, I'm so hoping that is true and not just me)

Omni Air Fryer, By Instant Pot: This is my newest addition and I am in love. There are a lot of things I love about this, but the main ones are that I can make a LOT of food for my family, and since I have 2 teenage boys, I really need the same. Also, this was my first air fryer oven, so I am loving making cookies, pancakes and other food that needed a flat surface.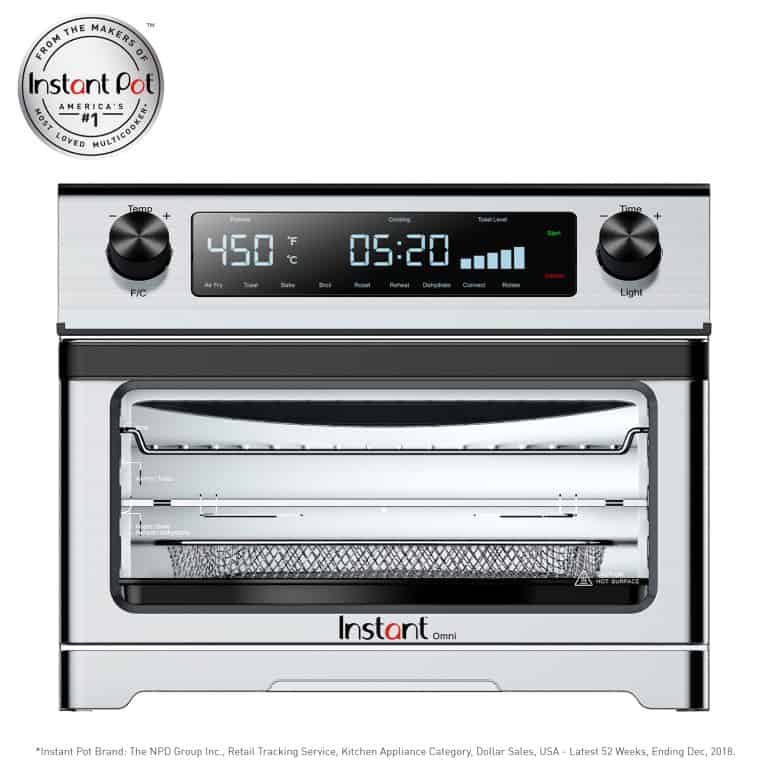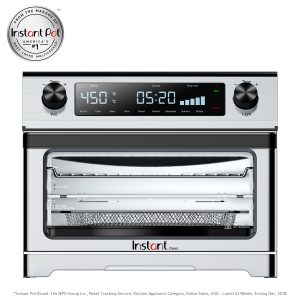 Don't Forget To Pin–
Print
Air Fryer-Light and Fluffy French Toast Sticks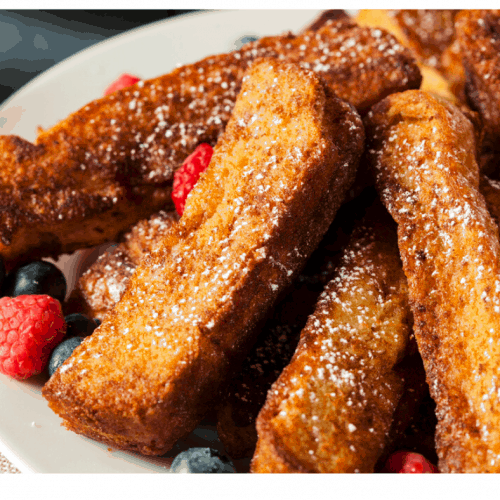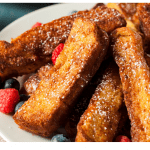 This is one of my kid's favorite breakfast, they are so easy to make and my kids really enjoy dipping them into warm maple syrup.
Author: ForkToSpoon.com
Prep Time:

10

Cook Time:

5

Total Time:

15

Yield:

4

servings

1

x
Category:

Breakfast

Method:

Air Fryer

Cuisine:

American
Scale
Ingredients
4

slices of bread

2

eggs

¼ cup

of milk

¼ cup

of brown sugar

1 teaspoon

of vanilla

1 tablespoon

of honey

1 tablespoon

of cinnamon

1/2 teaspoon

of nutmeg
Instructions
Slice each bread slice into 4 pieces.
In a small bowl mix together the eggs, milk, brown sugar, honey, vanilla, cinnamon, and nutmeg, beat until the eggs are broken up and everything is mixed well.
Then dip each french toast stick into the mixture and then shake to get the excess off, as you do, line them up in your Air Fryer Basket.
(You can use parchment paper if you want to cut down on the mess)
Air Fryer for 2 minutes at 320 degrees F. Then flip them over and do another 3 minutes.
Serve with maple syrup and enjoy!
Keywords: frozen french toast sticks air fryer cooking frozen french toast sticks in air fryer how to make frozen french toast sticks in air fryer how long to cook frozen french toast sticks in air fryer frozen french toast in air fryer can you air fry frozen french toast sticks how do you cook frozen french toast sticks in the air fryer farm rich french toast sticks in air fryer