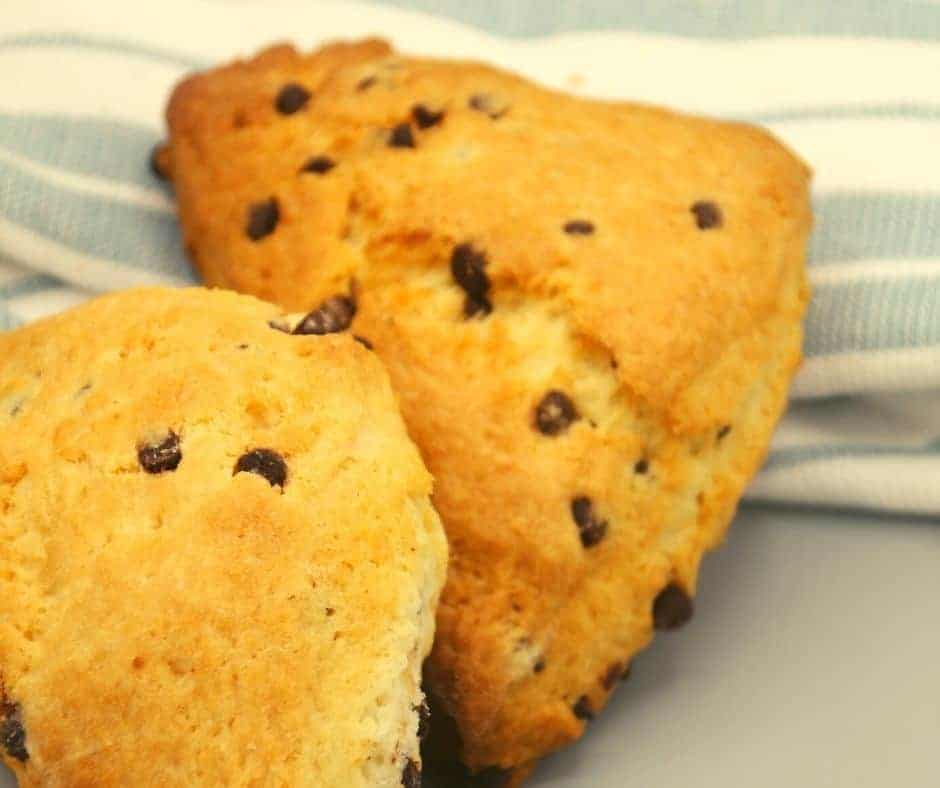 This is one of my favorite breakfast's that I have made in the air fryer. Air Fryer Homemade Chocolate Chip Scones are one of the easiest scones I have ever made in my life, and they are one of the tastiest.
If you are looking for an amazing breakfast that the entire family loves. I would highly recommend these. They are sweet, chocolatey, and buttery and make the perfect scone for breakfast.
Chocolate Chip scones are really popular with kids. Who doesn't love chocolate in the morning, especially with a hot cup of coffee or a cold glass of chocolate milk?
If you are looking for even more Air Fryer Scone Recipes, some of my favorites are AIR FRYER ZUCCHINI BACON CHEDDAR SCONES, AIR FRYER EASY, GINGERBREAD SCONES.
What Are Scones?
Scones are a British treat, that the English eat with a hot cup of tea. They are typically served with Lemon Curd, Clotted Cream, or Jam.
This British treat has made its way across the ocean, and we have adapted it into our own Breakfast. Several Chain restaurants, like Panera, have these on their menu. We have adapted it and mixed it in several varieties, including raspberry, chocolate chips, and blueberries.
Ingredients For Air Fryer Homemade Chocolate Chip Scones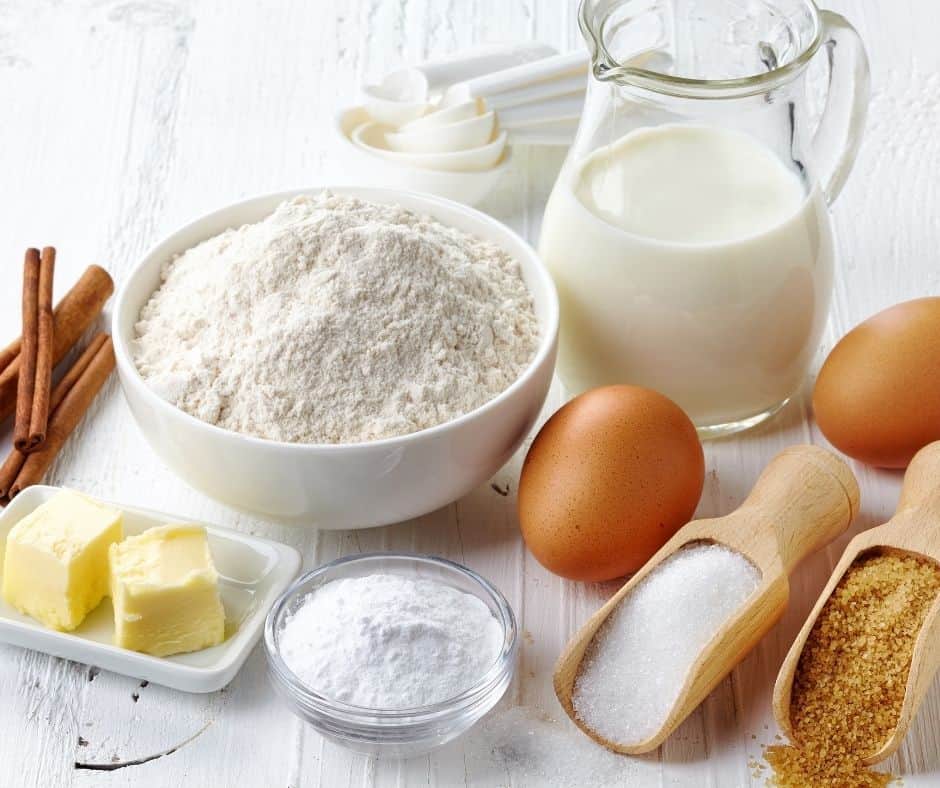 All-purpose flour is free to switch out for whole-wheat or gluten-free, although the change of flour may alter the texture.
Salt

Granulated S

ugar
Baking powder

Butter, cold or frozen

Heavy cream

E

ggs
Vanilla extract

M

ini chocolate chips
How to Make Air Fryer Chocolate Chip Scones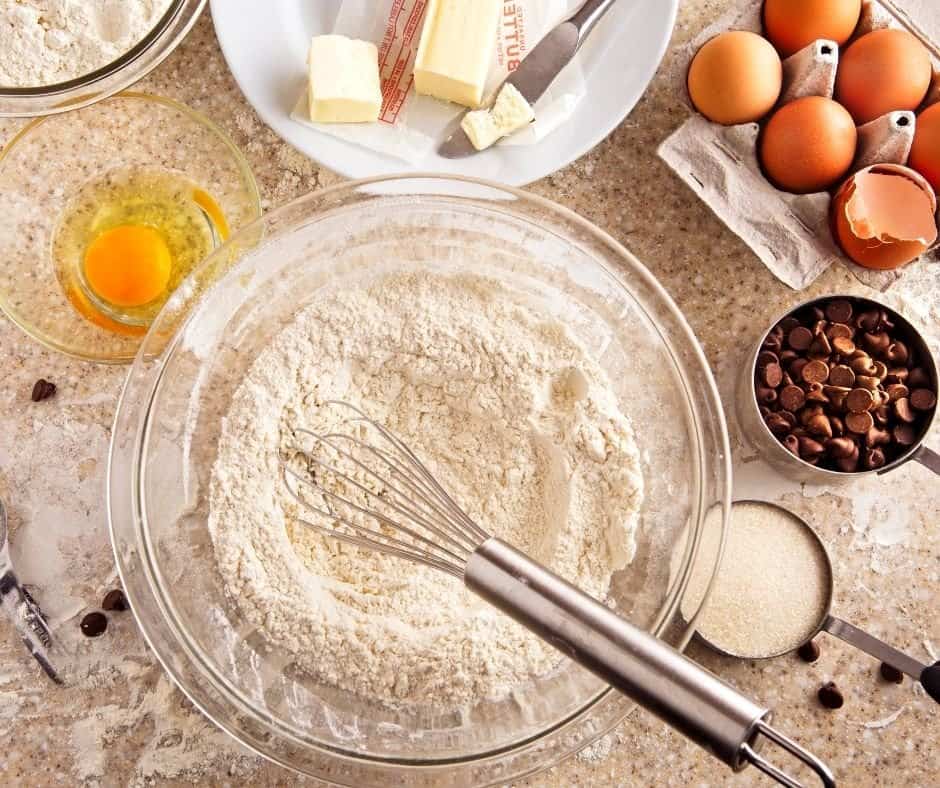 In a large mixing bowl, mix the flour, salt, sugar, and baking powder. Then mix in the butter, eggs, heavy cream, and vanilla extract. Mix well.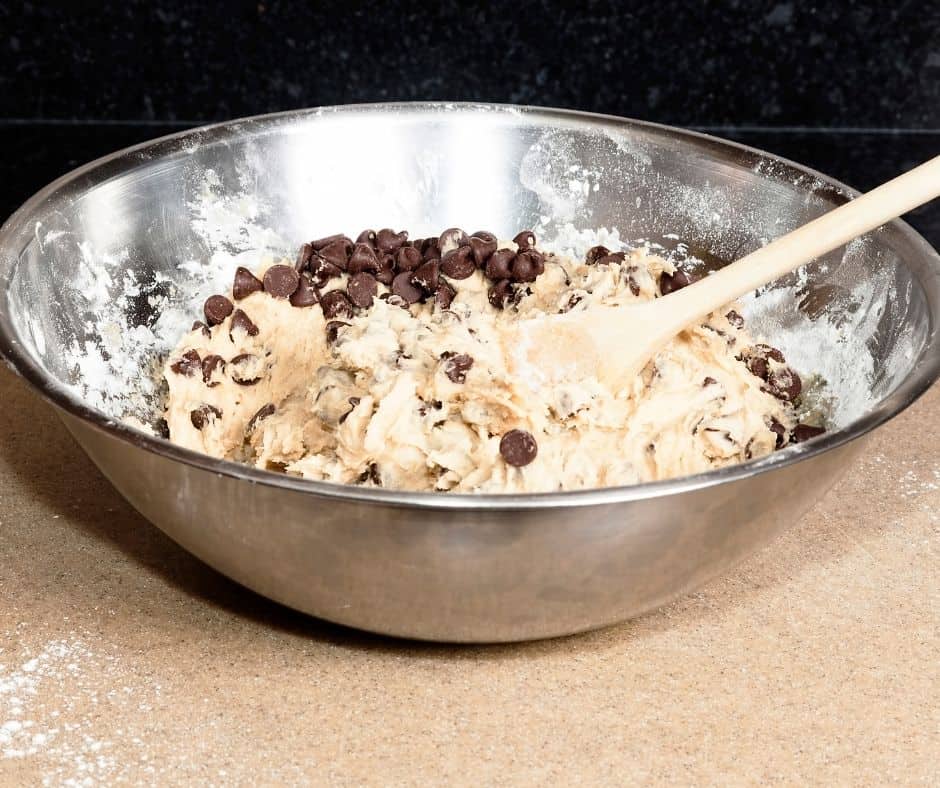 Fold in the chocolate chips, mix well until they are well distributed. Generously spray your scone pan (either one you are using) with olive oil.
Fill the pan with the batter. Make sure to get the corners; press well.
Set the pan or the scone silicone molds into the air fryer, and set the temperature to 320 degrees F (air fryer setting) for 12 minutes. Note: The exact time is used for a guide. The actual time will depend on the air fryer model and wattage you own. Make sure they are fully cooked before you pop them out.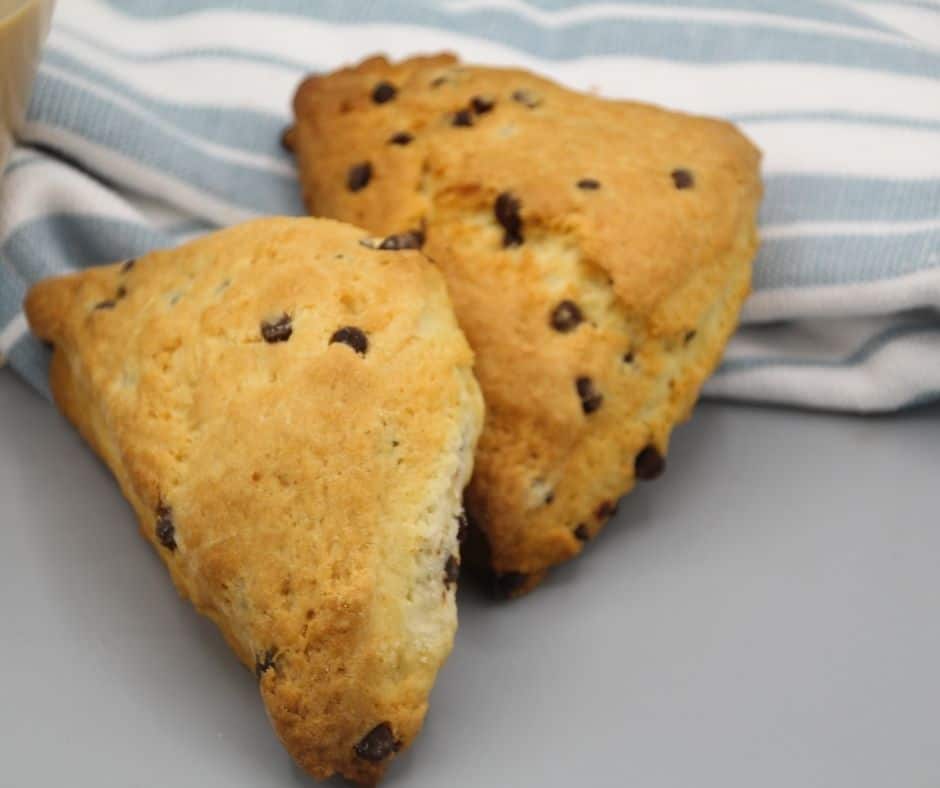 Tips To Get the Best Scones:
The key to a great and flaky scone is not to overmix the dough. Once everything is well-incorporated, stop mixing.
Overworking and overmixing the dough will lead to the tough dough, which will lead to dry scones. As you mix, the gluten is released, and if you keep on mixing, you are adding more and more gluten to your scone dough.
How to Store & Freeze Scones:
The best way to store uneaten scones after baking is to wrap them up with saran wrap and store them in either the pantry or refrigerator.
To freeze unbaked scones. Cut them into wedges, wrap up the individual scones tightly, and then place them into the freezer. Then to make them in the air fryer from frozen, add about 4 more minutes as the time in the bottom recipe.
If you freeze after air frying, just let the scones come to room temperature, and then place in an airtight container, or wrap them in saran wrap. They will stay in the freezer for about 1 month. To use, remove it from the freezer and place it in the refrigerator or leave it on the counter to come to room temperature.
Can I Make Them The Day Before?
Yes, I often make a batch of Scones the night before and then wrap them tightly for breakfast the next morning. They are a great item to make ahead.
Just remember to keep them wrapped up, so they stay as fresh as they can be. Either wrap them in saran wrap or place them into an airtight container.
Are Scones Hard?
If you over-bake or air fry them, they will be hard. But a great and perfectly cooked scone is tender and flaky. The scone's outside should not dry.
If the outside is hard and dried out, that is a clear sign that you have over-baked or over air-fried them. As soon as your toothpick comes out in the middle, remove them from the air fryer. Cooking them any longer will lead to a dried-out and hard scone.
Air Fryer Safe Scone Pans and Recommendations (affiliate links included)
And it came just like above. Same color and everything. Then I took out my trusty kitchen shears—
For a larger air fryer, I have used (as in this recipe)
Some Other Great Air Fryer Breakfast Recipes-
Don't Forget To Pin-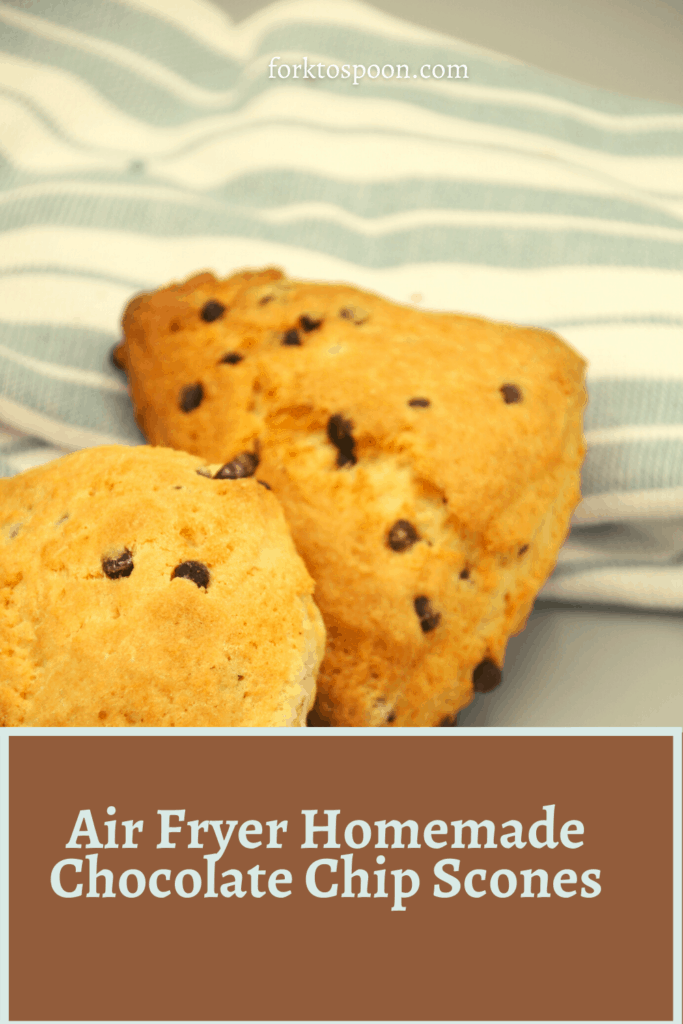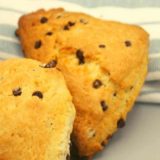 Air Fryer Homemade Chocolate Chip Scones
Description
These are a copycat recipe from King Arthur's Bakery. I was lucky enough to live and take classes at the actual King Arthur's Bakery, and my kids loved almost everything they made. You can find the original on the website. Today, I adapted the recipe for the air fryer.
Ingredients
2 1/2

cups

all-purpose flour

1

teaspoon

kosher salt

1/4

cup

granulated sugar

2

teaspoons

baking powder

6

tablespoons

butter

,

diced into 1-inch pieces

3/4

cup

heavy cream

2

large

eggs

2

teaspoons

vanilla extract

2

cups

mini chocolate chips
Instructions
In a large mixing bowl, mix the flour, salt, sugar, and baking powder.

Then mix in the butter, eggs, heavy cream, and vanilla extract.

Fold in the chocolate chips, mix well until they are well distributed.

Generously spray your scone pan (either one you are using) with olive oil.

Fill the pan with the batter. Make sure to get the corners. Press well.

Set the pan or the scone silicone molds into the air fryer, and set the temperature to 320 degrees F (air fryer setting) for 12 minutes. The exact time is used for a guide. The actual time will depend on the air fryer model and wattage you own. Make sure they are fully cooked before you pop them out
Equipment
Air Fryer

Parchment Paper,

Olive Oil Spray
Nutrition
Serving:
1
g
Calories:
565
kcal
Carbohydrates:
68
g
Protein:
8
g
Fat:
29
g
Saturated Fat:
17
g
Polyunsaturated Fat:
1
g
Monounsaturated Fat:
5
g
Trans Fat:
0.4
g
Cholesterol:
101
mg
Sodium:
520
mg
Potassium:
85
mg
Fiber:
2
g
Sugar:
35
g
Vitamin A:
759
IU
Vitamin C:
0.4
mg
Calcium:
141
mg
Iron:
3
mg