These Frozen Chicken Patties in the Air Fryer are served on a toasted bun topped with cheese, lettuce, tomatoes, pickles, and all your favorite toppings. This chicken patty sandwich is a fast and easy way to make dinner in under 15 minutes!
Fried chicken sandwiches for dinner, coming right up!
Cooking frozen chicken patties in the air fryer is a foolproof way to make them perfectly crispy every time! Plus, they taste amazing too.
You know I love an easy dinner. I like to take these chicken patties in the air fryer and put them on hamburger buns. Then load them with a bunch of my family's favorite toppings. Using an air fryer to cook chicken patties is an excellent alternative to making them in the deep fryer.
You can also make Chicken Nuggets (Chick-Fil-A Copycat) and Classic Chicken Tenders in the air fryer!
Why You'll Love Frozen Chicken Patties In The Air Fryer
Quick
Easy to customize
Minimal effort
Family Friendly
Delicious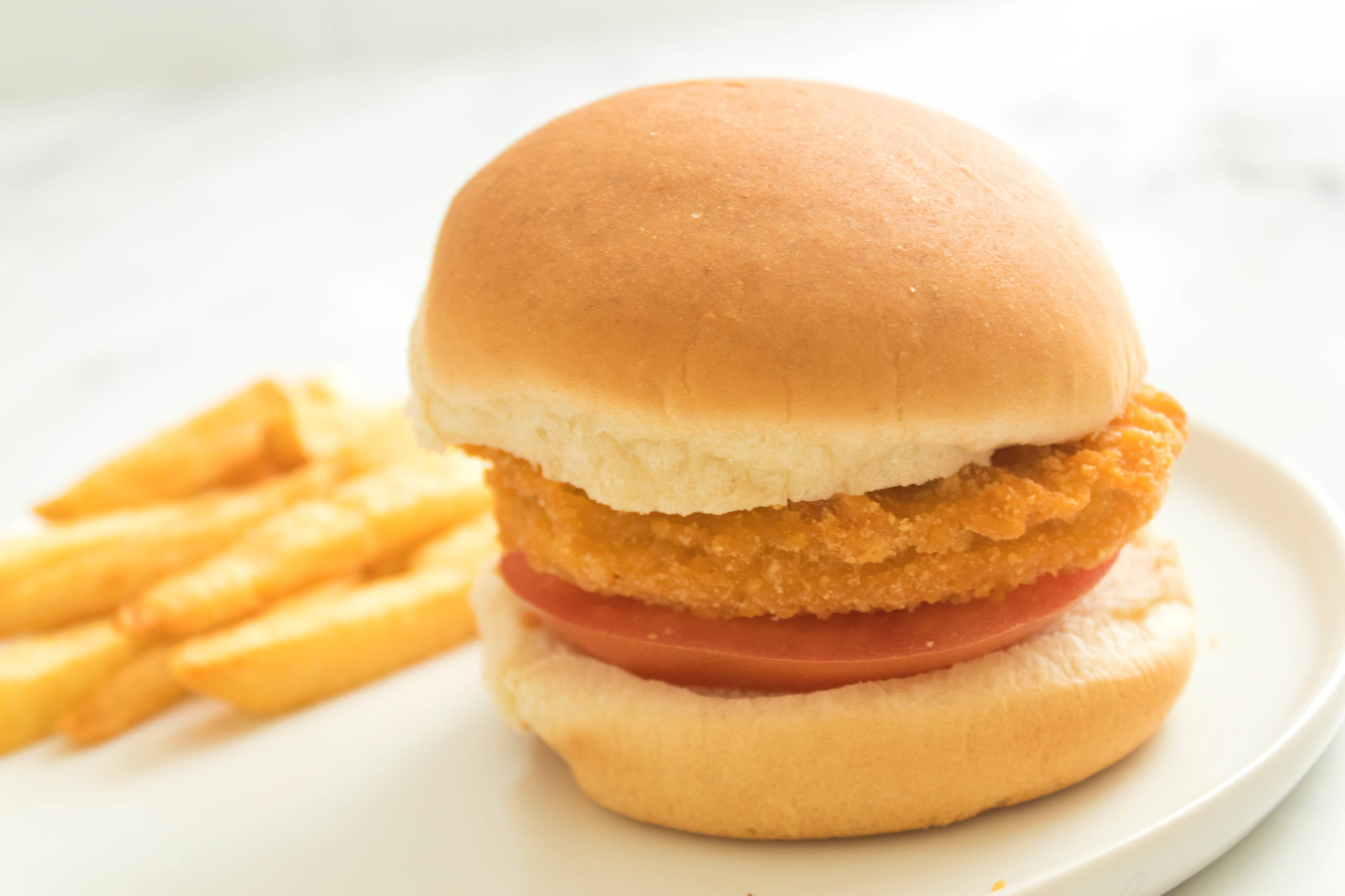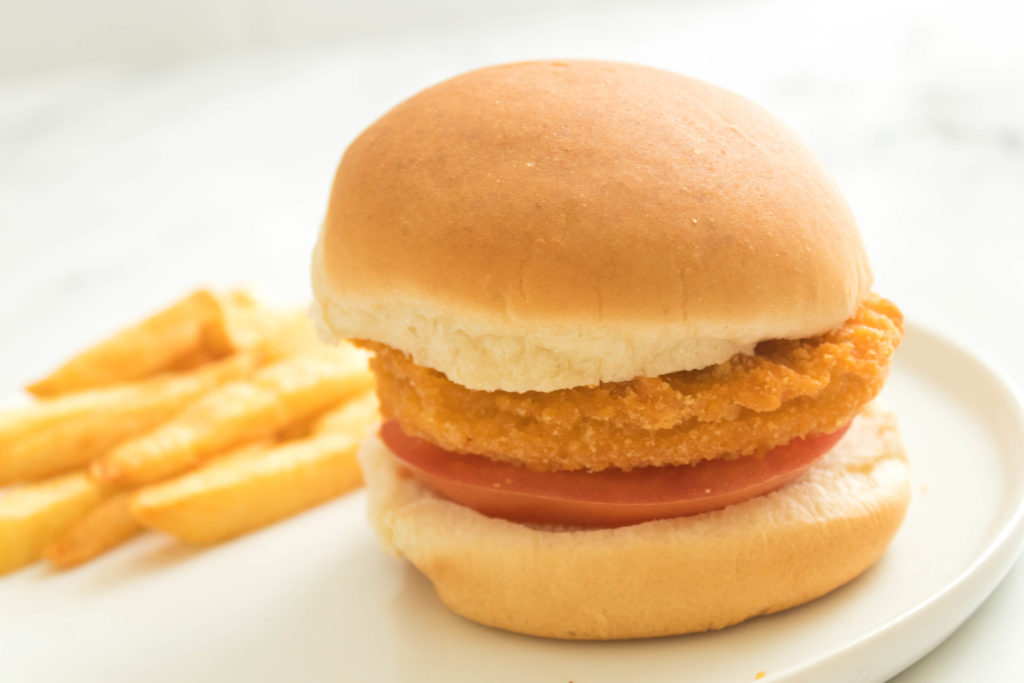 What are frozen chicken patties?
Chicken patties can come in different versions. Usually, they are made from ground chicken and other seasonings formed into a patty shape, like a hamburger, then breaded and fried. Some also come as whole chicken breasts that have also been breaded and fried.
Usually, frozen chicken patties come pre-cooked, and you just have to heat them up. Be sure to check your package, though. If your chicken patties are raw, this will increase cooking time!
Chicken patties can come breaded or un-breaded. They will both cook up at about the same time.
Best Frozen Chicken Patties
Honestly, any kind of frozen chicken patties you buy will taste delicious when you cook them in the air fryer. I will share some of my favorite brands and stores with you.
Tyson Chicken Patties
Perdue Chicken Patties
Trader Joe's
I think the best-chicken patties are Tyson brand!
Aldi has a version of chicken breast fillets in a red bag that is a great copycat version of Chick-Fil-A. I'm not even kidding – they really do taste as delicious as the Chick-Fil-A patties.
You can also use homemade chicken patties that have been frozen!
Tip: Always check the dates on the bags. Homemade chicken patties will stay fresh in the freezer for up to 6 months.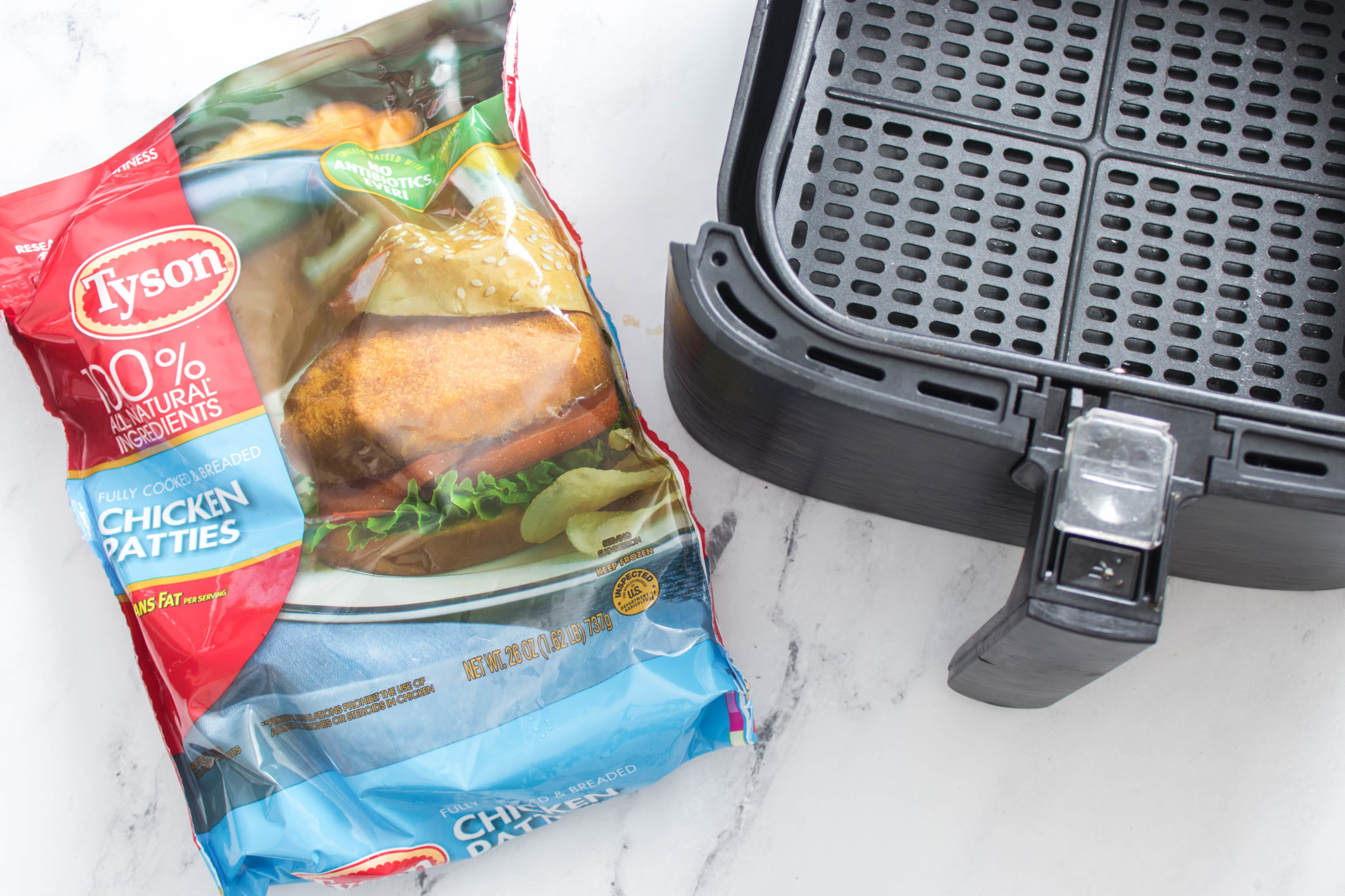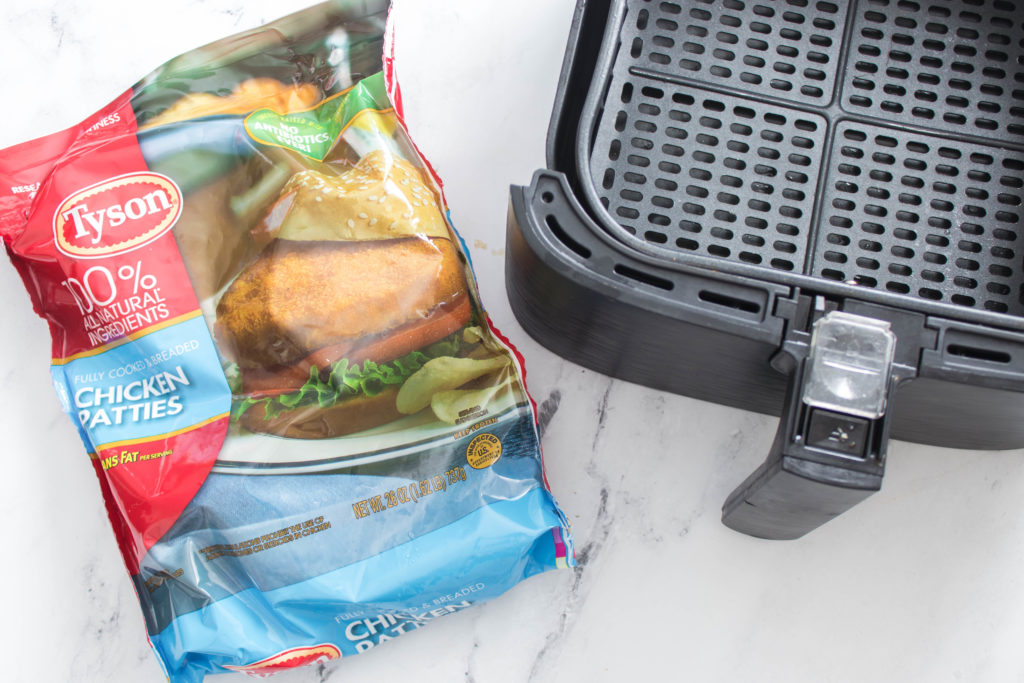 How To Cook Frozen Chicken Patties In The Air Fryer
Step 1: Preheat the air fryer
Start by preheating your air fryer to 400 degrees F on the air fryer setting for 5 minutes.
Step 2: Add chicken patties
Place chicken patties in the air fryer drawer or basket in a single layer.
Air fry for 7-9 minutes, flipping halfway through the cooking process. Patties are done when they are warmed throughout, crispy, and golden brown.
Note: If your patties are not pre-cooked, you will need more cook time. Check the packaging before you start.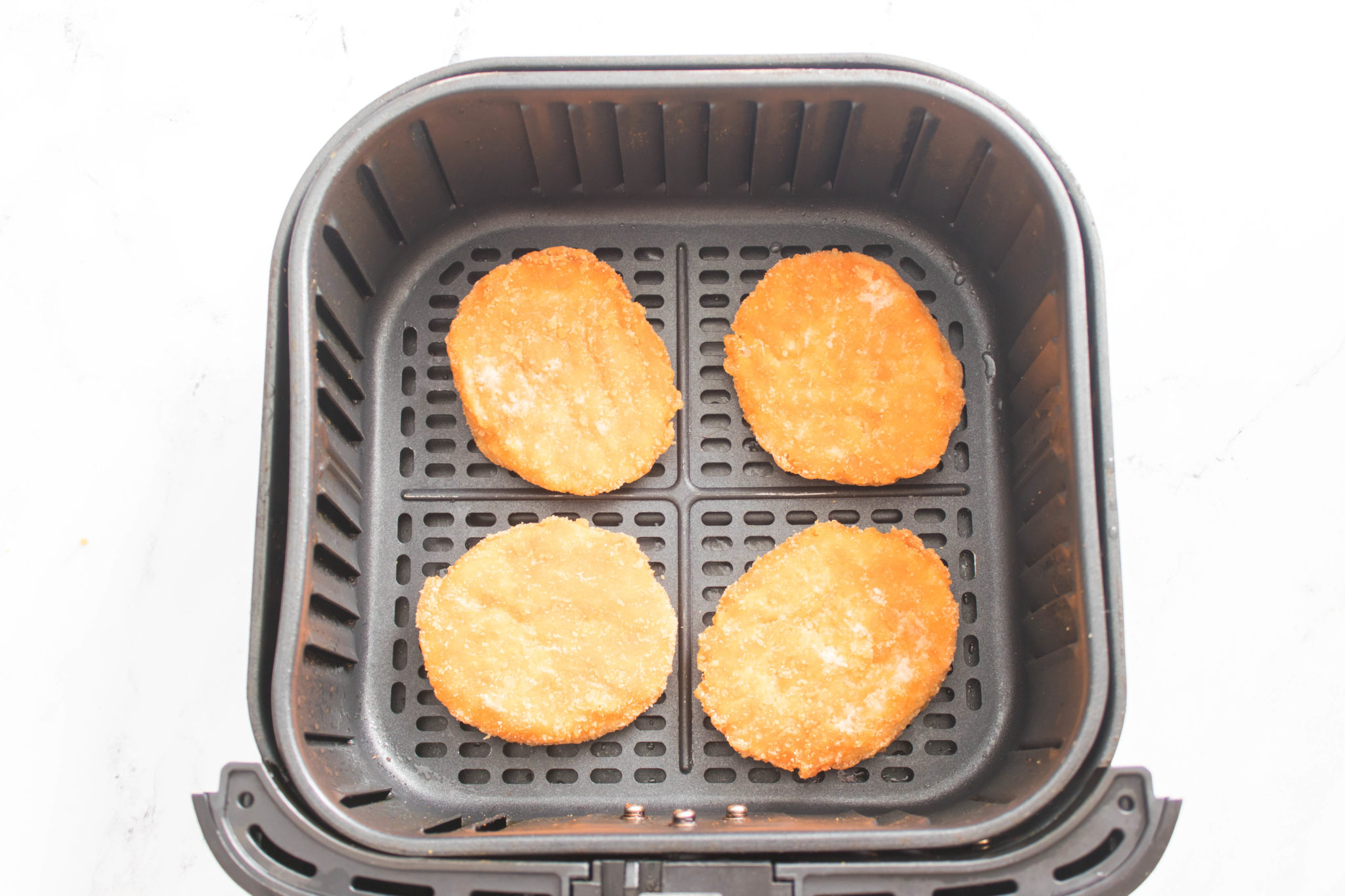 Step 3: Serve
Remove your crispy patties carefully, as they will be hot. I like to use tongs for this.
You can also toast the bun in the air fryer by putting it in the basket and cooking for 1 minute until your desired level of toastiness.
Add toppings and serve the air fryer chicken patty sandwich and enjoy!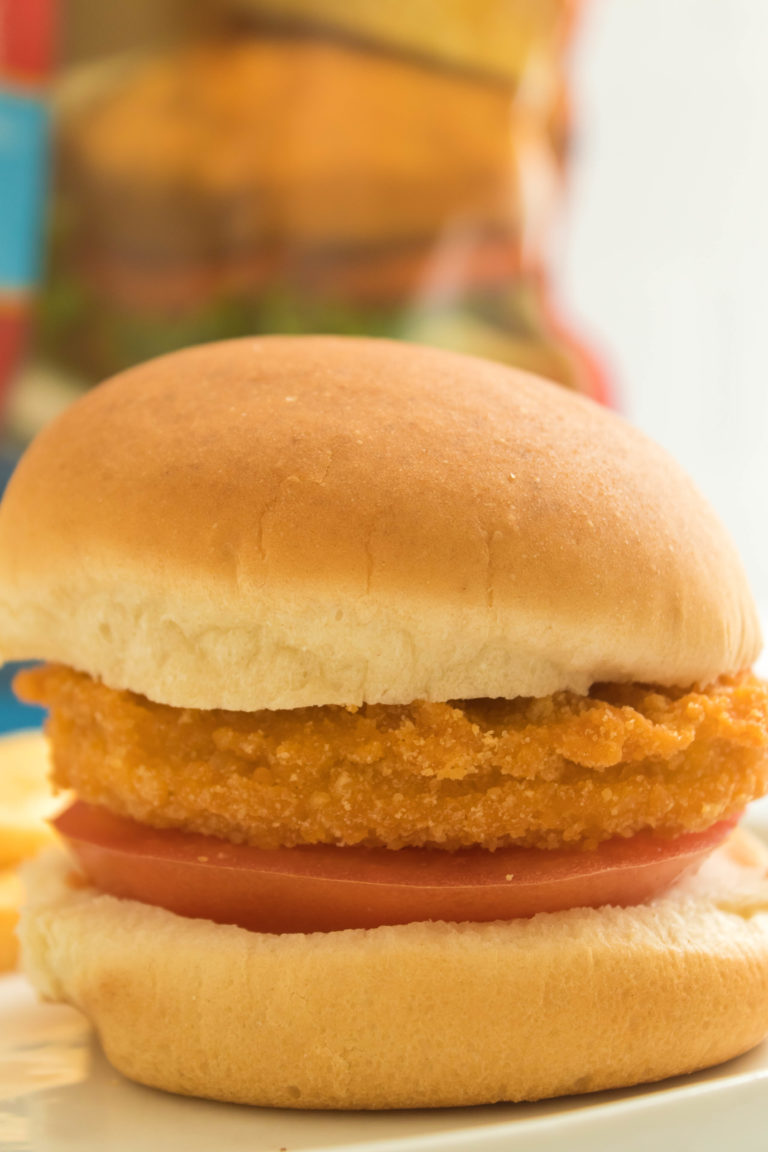 Chicken Patty Sandwich Toppings
What are the best homemade chicken sandwich toppings? Here are my top ideas! Be creative and use your favorites.
Buns – You will need hamburger buns, brioche buns, or bread slices, and your favorite toppings. You can even use naan or your favorite wraps — even lettuce wraps!
Cheese – For chicken, I think a slice of either American cheese or sharp cheddar cheese tastes the best.
Veggies – My favorite vegetables to use on a chicken sandwich are lettuce, tomatoes, and pickles.
Sauces – Don't forget the condiments and sauces! Most people like mayonnaise on their chicken sandwiches.
Bacon – Did you know you can also make bacon in the air fryer? Check out how in this Crispy Air Fryer Bacon post. Then, add a few slices to your chicken sandwich.
Chicken Sandwich Sauces
These are my favorite sauce recipes for chicken sandwiches.
Check out these other popular air fryer recipes.
Chicken Patties Cooking Tips
As easy as the air fryer is, I still have a few tips that will help you along the way.
Do Not Thaw The Chicken First – For the best results, add the chicken patties directly to the air fryer without thawing them. When you do this, they cook better and the chicken patties get crispier on the outside.
Adjust The Cooking Times As-Needed – Check the package to see if your frozen patties are pre-cooked or not. This will affect the cooking time. If your patties are pre-cooked, you can air fry them for a shorter time.
Use An Instant-Read Food Thermometer – The best way to tell if your chicken is fully cooked is to use an instant-read food thermometer. The internal temperature should be at least 165 degrees F.
Work in batches – Never crowd the air fryer basket! Instead, work in batches until you have cooked as many as you need.
What To Serve with An Air Fryer Frozen Chicken Patty
You can always go with the classic side for a hamburger, french fries, or tater tots! Here are some other ideas for side dishes to go along with your chicken breast patties:
FAQs
If you are looking for even more Air Fryer Frozen Food Recipes, some of my favorites are:
Print
Don't Forget To Pin: