If you're a fan of traditional Chinese flavors, then look no further than this traditional sweet-and-sour sauce recipe. Made with a combination of vinegar and sugar, this tangy sauce brings the perfect balance of sweet and sour to any dish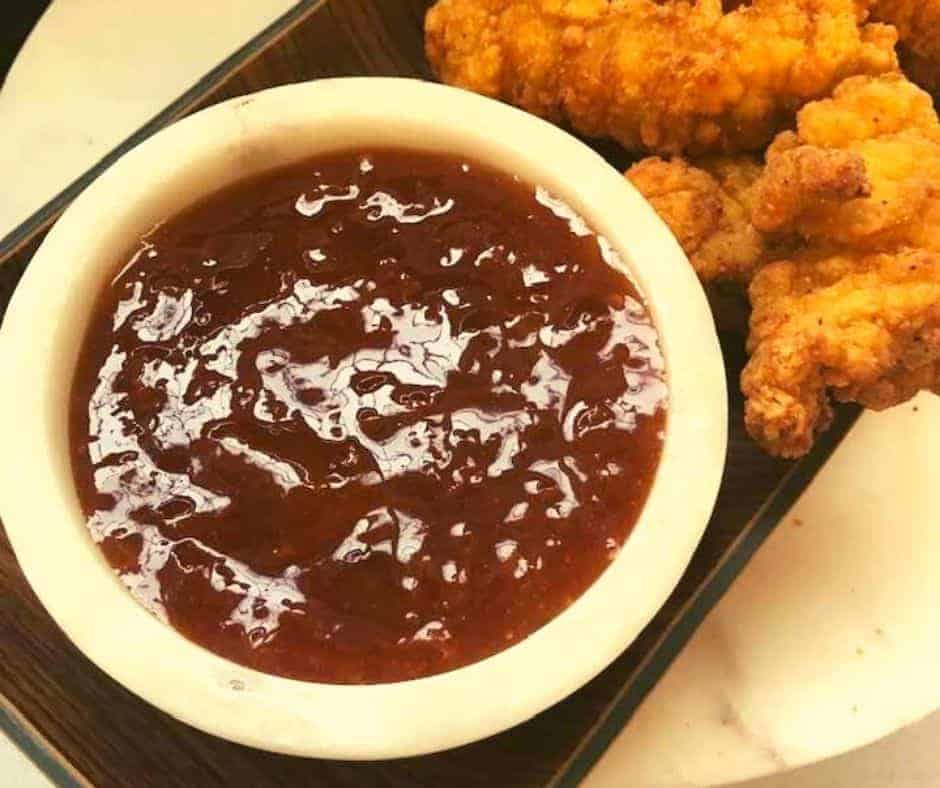 Have you ever eaten sweet and sour chicken or pork? If so, you've tasted a dish that is popular in Chinese cuisine. The sweet and sour sauce is typically made with vinegar, sugar, ketchup, and soy sauce. It's a delicious and tangy dipping sauce that can be used on many different types of dishes. Today, I'm going to share with you my recipe for traditional Chinese sweet and sour sauce. Let's get started!
What Is Sweet and Sour Sauce
The sweet and sour sauce is a common condiment in Asian cuisine, particularly in Chinese dishes. The combination of sweet and tangy flavors pairs well with deep-fried foods, like egg rolls, chicken, or shrimp. What sets sweet and sour sauce apart from other Asian sauces is its thick texture, typically created by combining sugar, vinegar, and cornstarch. The specific ingredients can vary based on the recipe or taste preference, but common additions include ketchup, soy sauce, garlic, ginger, and pineapple juice. This versatile sauce can be used as a dipping sauce or added to stir-fry dishes for an extra kick of flavor. Next time you're enjoying a dish at a Chinese food restaurant, try experimenting with sweet and sour sauce for an added burst of flavor.
This is one of my favorite Chinese sauces, and it's so easy to make with only a few pantry ingredients! It will taste as you got it at your local Chinese restaurant!
If you have been looking for a good homemade sauce, to serve with some of your homemade Southeast Asian cuisines, this is one of the best! It's an authentic sweet-and-sour sauce!
Ingredients Needed For Sweet And Sour Sauce
The sweet and sour sauce is a delicious addition to many dishes, but have you ever wondered what goes into it? While there can be variations in ingredients, You can find all of the ingredients at your local grocery store (The ingredients and quantities are included below in the recipe card)
Apricot Preserves: Adds sweet flavors to the sauce.
Ketchup Use any of your favorite ketchup brands, you can opt for healthier ketchup without corn syrup.
Rice Vinegar: Add some zest.
Soy Sauce: Adds the sour taste. You can also use light soy sauce or dark soy sauce.
How To Make Sweet and Sour Sauce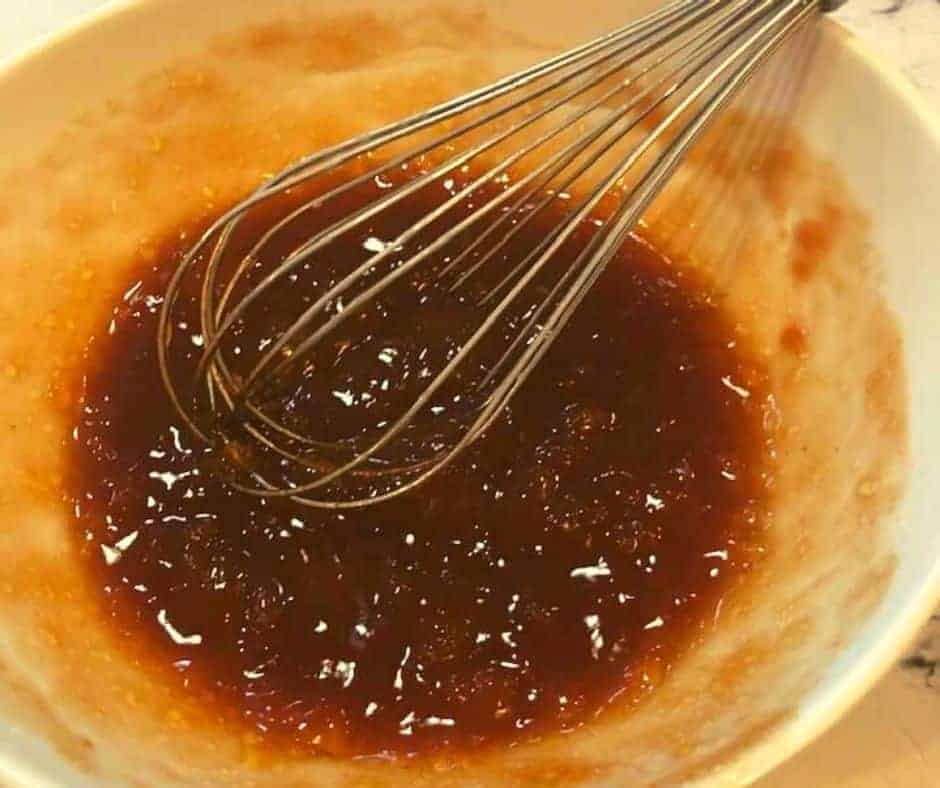 In a small bowl add all of the ingredients. Mix well, until smooth. Cover and refrigerate before serving. If you want to thin your sauce out you can add some teriyaki sauce, orange juice, white vinegar, lemon juice, or a little water, (or even chili sauce if you want a little kick) until you get a perfect consistency
How To Use Sweet and Sour Sauce
The sweet and sour sauce is a versatile condiment that can elevate a variety of dishes. It pairs perfectly with crispy fried tofu or tempura vegetables, adding a touch of tanginess to the dish. For a quick and easy weeknight meal, toss your favorite protein or veggies in some sweet and sour sauce and serve over rice or noodles.
It also makes for a delicious marinade for meats – just mix with equal parts oil, soy sauce, and Rice Wine vinegar, then let your protein sit in the mixture overnight before grilling or roasting. The possibilities are endless with sweet and sour sauce – get creative and try it on anything from pizza to salads, crab rangoons, to meatballs! Remember to adjust the amount you use based on preference – add a little at a time until you reach the perfect balance of sweet and sour.
Some other suggestions for this Sauce:
Air Fryer Sweet and Sour Pork Dish
How To Store Sweet and Sour Sauce
When it comes to storing sweet and sour sauce, the key is to keep it in a cool, dry place. The fridge is the best option, but make sure that you always seal or cover the jar or container tightly before putting it in. If you have leftovers after using some of the sauce, transfer them into a smaller airtight container before refrigerating.
This will prevent contamination and help prolong its freshness. You can also freeze the sweet and sour sauce for up to six months, but make sure to label it with the date of freezing. When thawing frozen sauce, remember to transfer it into the fridge before use to ensure proper food safety. Enjoy your sweet and sour sauce – just don't forget to store it properly!
More Recipes For Delicious Sauce (Homemade Sauces)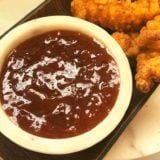 Sweet and Sour Sauce
Description
Sweet and Sour Dipping Sauce the perfect dipping sauce for homemade or frozen chicken tenders. Chicken Tenders or Nuggets, whatever you call them, they are my kid's favorite. And they are not alone.
Ingredients
1/2

cup

apricot preserves

2

tablespoons

ketchup

1

tablespoon

rice vinegar

1

tablespoon

soy sauce
Instructions
Add all of the ingredients into a small mixing bowl.

Cover and refrigerate before serving.
Nutrition
Serving:
1
g
Calories:
41
kcal
Carbohydrates:
11
g
Protein:
0.4
g
Fat:
0.04
g
Saturated Fat:
0.001
g
Polyunsaturated Fat:
0.003
g
Sodium:
166
mg
Potassium:
27
mg
Fiber:
0.1
g
Sugar:
7
g
Vitamin A:
50
IU
Vitamin C:
1
mg
Calcium:
4
mg
Iron:
0.1
mg