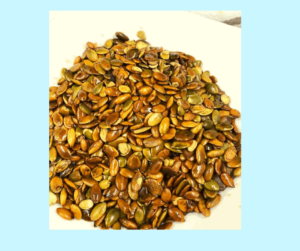 Yummy, I just ate a handful of these, are they came out of the air fryer, nice warm and salty, awesome. If you have not tried air frying any type of peanuts, you are missing out. They are absolutely fabulous.
This month and next month it is all about pumpkins on my website, ForkToSpoon.com, so I thought why not have a really classic fall classic, roasted pumpkin seeds, whether you get them directly out of the pumpkin or you buy them at the local grocery store.
Roasting peanuts is just plain awesome, you start with a peanut in its natural sense and elevate the flavor, to the next level.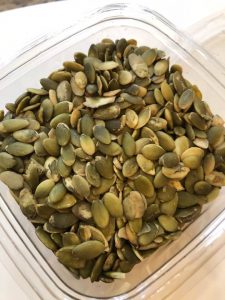 It all started with this container that I purchased, as I need some for another recipe.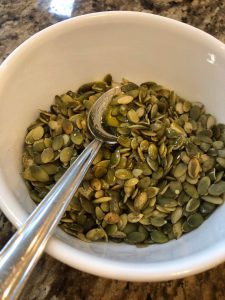 Then I added some to a small bowl, mixed in some olive oil.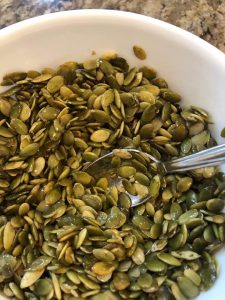 And some spices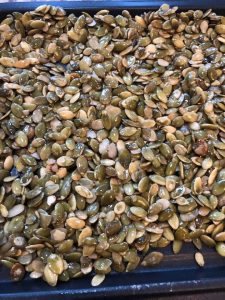 Spread them out an even layer, since items in the air fryer tend to cook better, that way.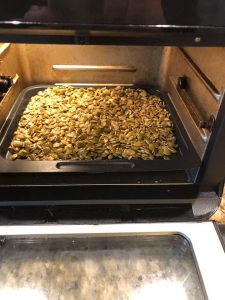 Placed them into the air fryer oven and constantly opened it up, and moved them around with my hand spatula (wood)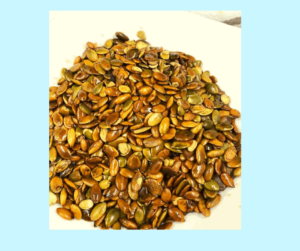 After 30 minutes! Tasty and delicious
Air Fryer, Roasted Pumpkin Seeds
These are an amazing snack, either you get them directly from your carved pumpkin (fresh) or purchase them at a store.
Ingredients
1

cup

pumpkin seeds

2

teaspoon

olvie oil

1

teaspoon

salt
Instructions
Start by purchasing them, make sure that they are UNROASTED

In a small bowl, mix the cup of pumpkin seeds, and the olive oil, toss to coat.

Mix in the salt. Feel free to add other spices

Place in a single layer, in the air fryer basket or tray

Set in the oven for 30 minutes, mixing about every 5 minutes. So they all get evenly roasted. if you have a basket air fryer, just keep on shaking the basket.