Air Fryer Edamame — Are you looking for a simple, healthy snack that you can whip up in minutes and is super delicious? Look no further than this air fryer edamame recipe! Not only is it easy to make, but it's also a great source of plant-based protein.
Edamame, or immature soybeans, are a delicious and highly nutritious snack. The good news is that they can now be enjoyed with an air fryer! Air frying edamame means you can enjoy them with all their original health benefits but with a crispy texture on the outside.
They are amazingly roasted if you have not roasted up a batch yet. The roasting brings out the edamame flavor; you don't need anything else for taste.
I loved how the pods got charred as I air-fried them. It added a lot of flavor to the dish. If you are unfamiliar with Edamame, here are some basic facts about them. Edamame is green soybeans that are usually an appetizer in Japanese restaurants.
If you are looking for more Air Fryer Vegetable Recipes, my favorites are AIR FRYER WEIGHT WATCHERS ASPARAGUS, AIR FRYER WEIGHT WATCHERS SWEET POTATOES, AIR FRYER WEIGHT WATCHERS STUFFED JALAPENOS, and AIR FRYER THE BEST BUFFALO CAULIFLOWER BITES.
What Are Edamame
All Edamame is a Japanese word for immature soybeans. The Japanese word edamame means stem beans. The name derived over time, as they used to be sold with the stems still attached.
Edamame is an immature or young soybeans that are harvested while still green soybeans and have a soft texture. They are commonly used in Japanese cuisine and are often served as a snack or appetizer. Edamame is high in protein, fiber, and various vitamins and minerals, making them a nutritious food choice.
They are also a good source of plant-based protein, which makes them a popular food among vegetarians and vegans. Edamame is typically sold frozen and can be easily prepared by boiling or steaming them in their pods. Once cooked, the pods can be lightly salted and eaten as a snack, or the beans can be removed from the pods and used in various dishes, such as salads, stir-fries, and soups.
Why Are They So Nutritious?
They are nutritious, and that is why they are so popular. They are a great source of protein and rich in fiber, antioxidants, and Vitamin K. Soybeans are also very low in carbs, which are great for people on a low-carb or KETO Friendly diet.
These attributes were found to reduce the risk of heart disease and lower cholesterol. They have also been shown to reduce the risk of cancer.
This, of course, makes a wonderful healthy snack, and is perfect for an afternoon snack.
What Type of Edamame Can I Use?
Edamame, or green soybeans, is a popular snack in many parts of the world. They can be steamed and served with salt on top, but if you're looking for more variety, there are some other options that you can use to give your Edamame new flavors.
Different types of Edamame include shelled Edamame, which is when the Edamame has been removed from the pod, frozen Edamame, or even fresh Edamame.
Both Costo and Trader Joe's sell frozen Edamame that is ready for your to roast to perfection!
Can You Roast Edamame In Air Fryer
Yes, roasting edamame in an air fryer is a quick and easy way to enjoy this healthy and great source of protein, a low-calorie snack that can easily be cooked in the air fryer.
Ingredients For Easy Air Fryer Edamame Recipe
Are you searching for a healthy snack that's easy to make on busy days? Look no further than edamame – a type of immature soybean with an irresistible flavor! Roasting edamame in an air fryer brings out its nutty taste and makes for a crunchy yet tender treat.
From selecting the perfect ingredients to setting up your air fryer, this guide will walk you through creating delicious roasted fresh edamame right at home!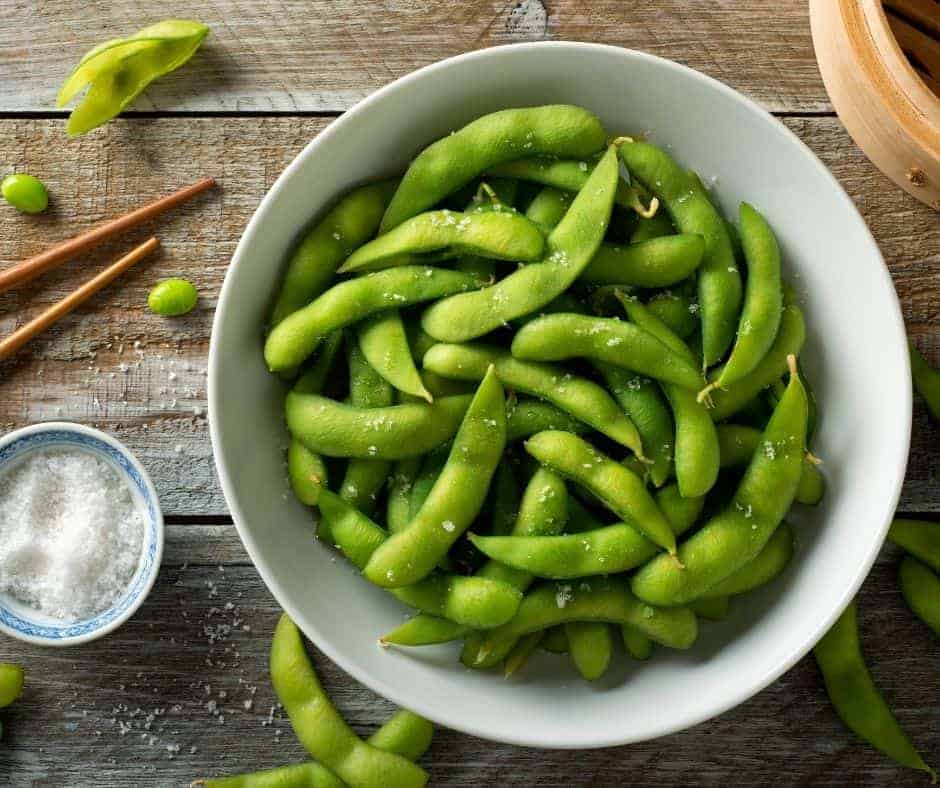 Remember the step-by-step directions are below in the printable recipe card at the bottom of the page, as well as the nutritional information.
Edamame Pods: Fresh or frozen edamame beans
Oil: Use extra-virgin olive oil, sesame oil, avocado oil, or
Seasonings: Kosher Salt and Black Pepper
How To Roast Edamame In Air Fryer
Tired of pre-packaged snacks and ready-made snacks? Well, here comes the exciting news– you can easily make delicious, crunchy roasted edamame in your own kitchen using an air fryer! Edamame is a popular snack with amino acids, fiber, iron, and more vitamins (vitamin K) & minerals.
Whether you're looking for something healthy to include in your snacking routine or want some tasty tidbits to share with friends on movie night, roasting edamame in an air fryer is a fun way to enjoy this superfood! Below, we will talk about all the steps needed to roast perfect edamame, even if you are starting out with learning how to use an air fryer. Get ready because it's time for us to dive into the amazing world of homemade roasted edamame.
Step One: Season your edamame
Place the frozen Edamame in the air fryer basket in a single layer, spray the frozen Edamame with olive oil, and season with salt and pepper.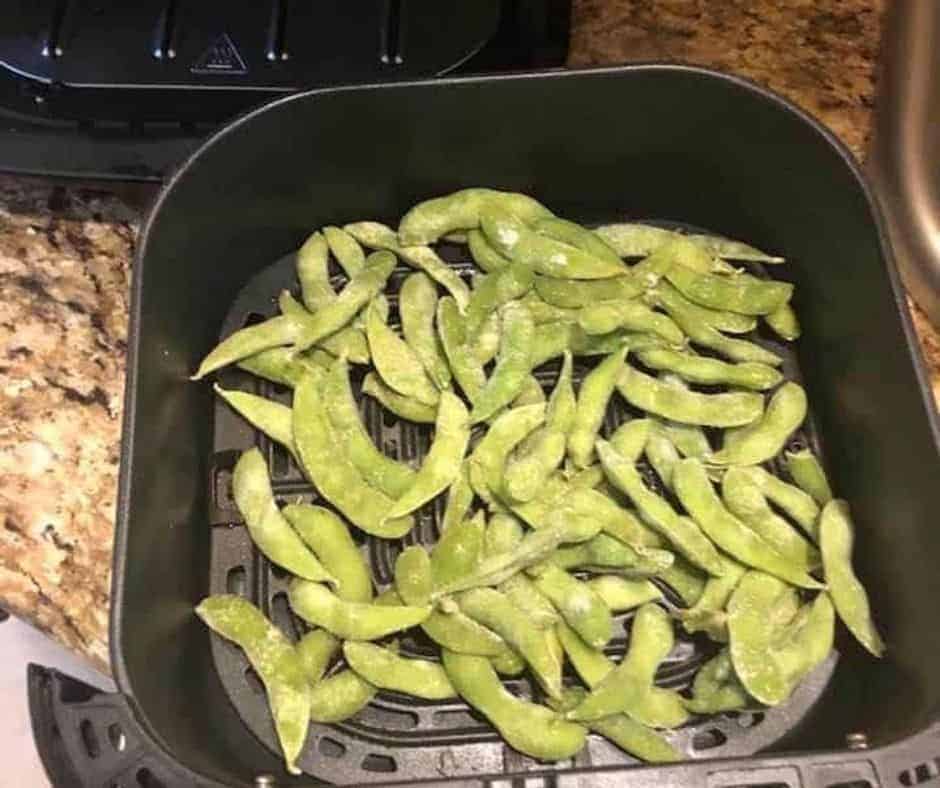 Step Two: Air Frying Edamame
Set the temperature to 390 degrees F using the air fryer setting, and set the cooking time for 10-12 minutes, shaking the basket halfway during the cooking process.
Step Three: Serving
Serve with sesame seeds and a dash of red chili powder right before serving.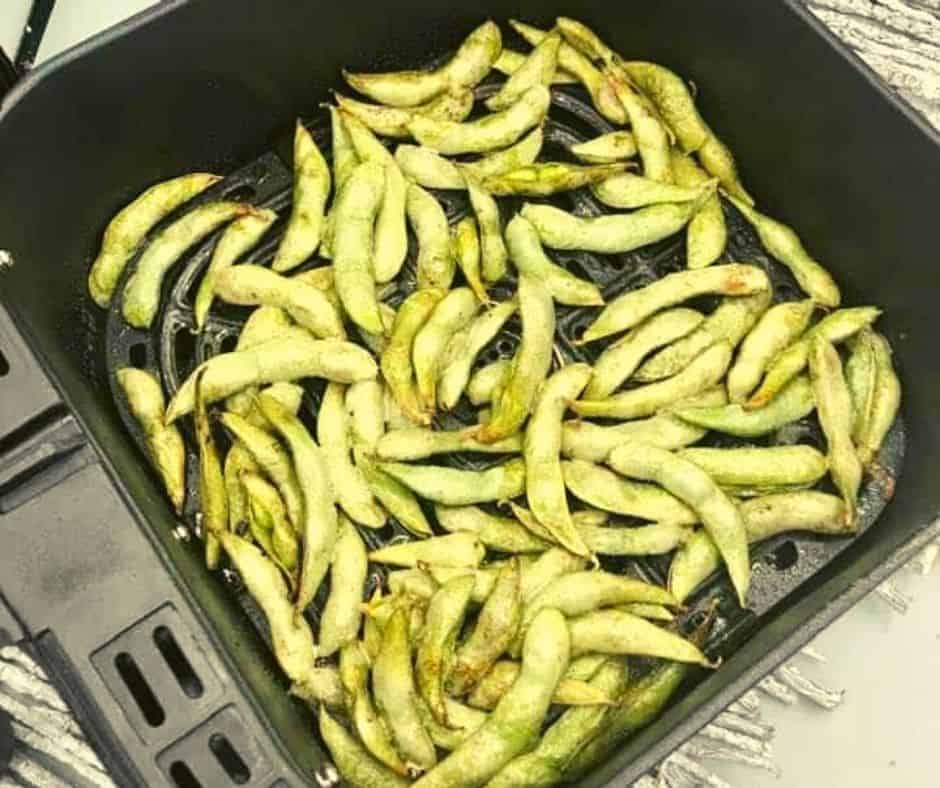 Pro Tips:
Coating: A little oil coating will help your Edamame cook up, ideally. So for best results, toss them in a light rub.
Seasonings: You can use any herbs that you want. Some great ones are wasabi powder, garlic powder, and even onion powder. Experiment until you find a spice blend that you love. Coating these with seasoning will give a lot of flavor to the outside pod. This makes for a tasty air fryer snack.
Shake: For best results, shake the basket frequently during cooking. So they all cook up perfectly!
Can I Air Fry Shelled Edamame?
Yes, that would work. Follow the directions in the recipe below; substitute the frozen Edamame for the shelled variety!
What To Serve With Edamame?

Edamame is a delicious, creamy, light green soybean that goes well with many meals. Edamame also has a good amount of protein and fiber, which makes it an all-around healthy food. It's best to serve Edamame as soon as it's cooked because the texture changes quickly once it cools down. Try serving Edamame with rice or couscous for a complete meal!
How To Roast Edamame In The Oven:
If you are looking for an easy way to make Edamame in the oven, look no further! Roasting edamame is a simple process that can be done with minimal ingredients. It's also a great alternative if you don't have access to a grill or are too cold outside. So let's get started on how to roast your Edamame at home!
Yes, preheat the oven to 375 degrees F, and they bake for about 14 to 20 minutes! Use a pair of tongs and flip them frequently during cooking to get a great batch!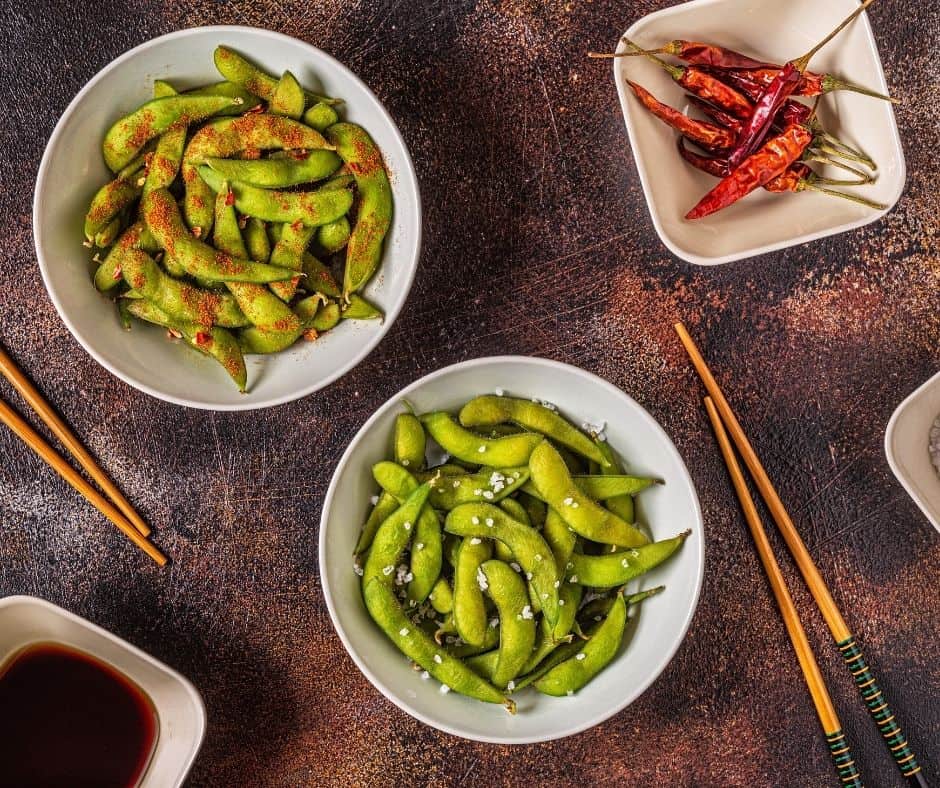 How To Cook Frozen Edamame in the Air Fryer
If you're looking for an easy and delicious snack, look no further than frozen Edamame. This green soybean is an excellent source of protein that can be enjoyed as a healthy side dish or appetizer. You can enjoy the tasty treat in your air fryer with just one simple step! You can find frozen edamame in most grocery stores in the freezer section.

1. Place your frozen Edamame in a large bowl, then add olive oil, salt, and pepper to coat.
2. Pour your Edamame into the air fryer basket and set the temperature to 390 degrees F, air fryer setting, for 10 minutes.
3. Shake the basket frequently during the cooking process.
Frequently Asked Questions
Do I need to thaw the edamame before air frying it?
No, you can air fry frozen edamame directly in the air fryer without thawing.
How long should I air fry edamame?
The cooking time for edamame in an air fryer will depend on the temperature, size of the edamame, and the desired level of doneness. Generally, you can air fry edamame at 390°F for 8-15 minutes or until the edamame is crispy and golden brown, shaking the basket occasionally to ensure even cooking.
What kind of seasoning should I use for air frying edamame?
Edamame can be seasoned with various spices and herbs, such as garlic powder, Italian seasoning, sea salt, red pepper flakes, lemon juice, chili flakes, curry powder, onion powder, chili powder, paprika, or sesame seeds. You can also sprinkle the edamame with salt and pepper to taste.
Can I air fry fresh edamame?
Yes, you can air fry fresh edamame as well. However, fresh edamame will cook faster than frozen edamame, so keep an eye on it and adjust the cooking time accordingly. It will be cooked in a matter of minutes.
What are some ways to serve air fried edamame?
Air fried edamame makes a great snack or quick appetizer, or you can add it to salads, stir-fries, or soups for extra protein and texture. This is a very popular snack and is served as an appetizer in most United State Japanese restaurants and sushi restaurants.
More Air Fryer Recipes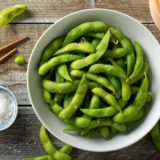 Air Fryer Roasted Edamame
Description
Air Fryer Roasted Edamame — I am a frequent cook, and I love trying new ways to prepare my favorite dishes. Recently, I was introduced to the Air Fryer Roasted Edamame recipe by one of my friends. This has become one of my go-to recipes for snacks or appetizers because it is so easy and delicious! The best part about this recipe is that you only need a few ingredients, two of which are salt and pepper! It's always lovely when recipes are quick and easy without compromising on taste. Give this recipe a try next time you're looking for an air fryer roast edamame dish!
Ingredients
2

cups

frozen edamame

2

tablespoons

olive oil

,

1

1

teaspoon

salt

1/4

teaspoon

black pepepr
Instructions
Place the frozen edamame in the air fryer basket.

Spray the frozen edamame with olive oil, season with salt and pepper.

Set the temperature to 390 degrees F, air fryer setting for 5 minutes. After 5 minutes, either use tongs or shake the basket. Air fry for another 5 minutes.
Nutrition
Serving:
1
Serving
Calories:
152
kcal
Carbohydrates:
10
g
Protein:
7
g
Fat:
9
g
Saturated Fat:
1
g
Polyunsaturated Fat:
1
g
Monounsaturated Fat:
5
g
Sodium:
582
mg
Potassium:
336
mg
Fiber:
3
g
Sugar:
2
g
Vitamin A:
1
IU
Calcium:
62
mg
Iron:
2
mg
Don't Forget To Pin: