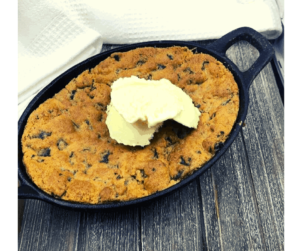 If you are looking to make individual cookies, I will give you some advice, you need to get some parchment paper. It's really a lifesaver when you are making cookies. You can find that here, on Amazon. I think some Walmarts do sell them as well. The best part of these is that you can cut them to any size that you want, and since I use 3 air fryers, I only had to buy one package, and they fit all three.
I do spray the parchment paper with non-stick cooking spray since if you didn't the cookies would stick to the paper, and after they were done the cooking you wouldn't be able to get them off (I tried and failed 2x before I came to that conclusion)
Here are some great tips for making the perfect cookie, in or out of the air fryer:
Always read the recipe before you start. This way you ensure that you have all of the ingredients.
Assemble all of the tools that you will need before you start. Once you start making cookies, your hands will get nice and gooey.
Use the correct pans, making cookies on different pans, required different cookies times and temperatures. This should be noted on the recipe.
The tips for making cookies in the air fryer is to know your machine. I always put 2 cookies in to start, because every machine is different, the cookies will be done in two different machines at different times. So, I start with two cookies and then use 320 degrees F, as a starting point. Since, I want my food to be moist, soft and delicious. I usually start all of my baking at that temperature. Today, I used the 350 degrees F, because last time I made cookies, that is what I found working with my machine. BUT again every machine is different, so you have to experiment. But once you find the point you should write it down on a piece of paper and stick it to your refrigerator.
Kitchen Items Used: (Note: Affiliate links are included in this post)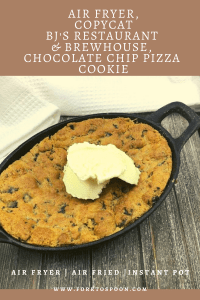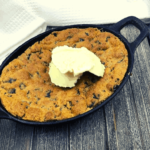 Air Fryer, Copycat BJ's Restaurant & Brewhouse, Chocolate Chip Pizza Cookie
One of the easiest and tastiest desserts, just mix it in, pour it into a skillet, any size that will fit your air fryer, and you get a great copycat dessert in a matter of minutes.
Servings
:
2
skillet cookies
Ingredients
2

cups

all purpose flour

1

teaspoon

baking soda

1

teaspoon

salt

1 1/2

cups

room temperature butter

1/4

cup

sugar

1

cup

brown sugar

2

large

eggs

2

teaspoon

vanilla extract

11

ounces

chocolate chunks
Instructions
In a large mixing bowl, mix together the flour, baking soda, salt, butter, sugar, brown sugar, eggs, and vanilla extract.

Then add the chocolate chunks.

Then spray your cast iron pan with olive oil, pour the prepared dough into the pan. How many pans you need will depend on how big your pan is, I used two, you may get several small cookies from it, if you have a basket-type air fryer, just continue until you use up the dough.

Set into the air fryer at 350 degrees F, for 5 minutes, after 5 minutes check and see if the dough is cooked (the exact time will depend on the type of air fryer and how big your skillet is) cook until cooked through.

Plate, serve and enjoy! Top it off with vanilla ice cream for a huge treat for the family!