Air Fryer Crab Legs are ready in minutes and rival any seafood restaurant! Sprinkle with Old Bay or Cajun seasoning and serve with butter or lemon wedges.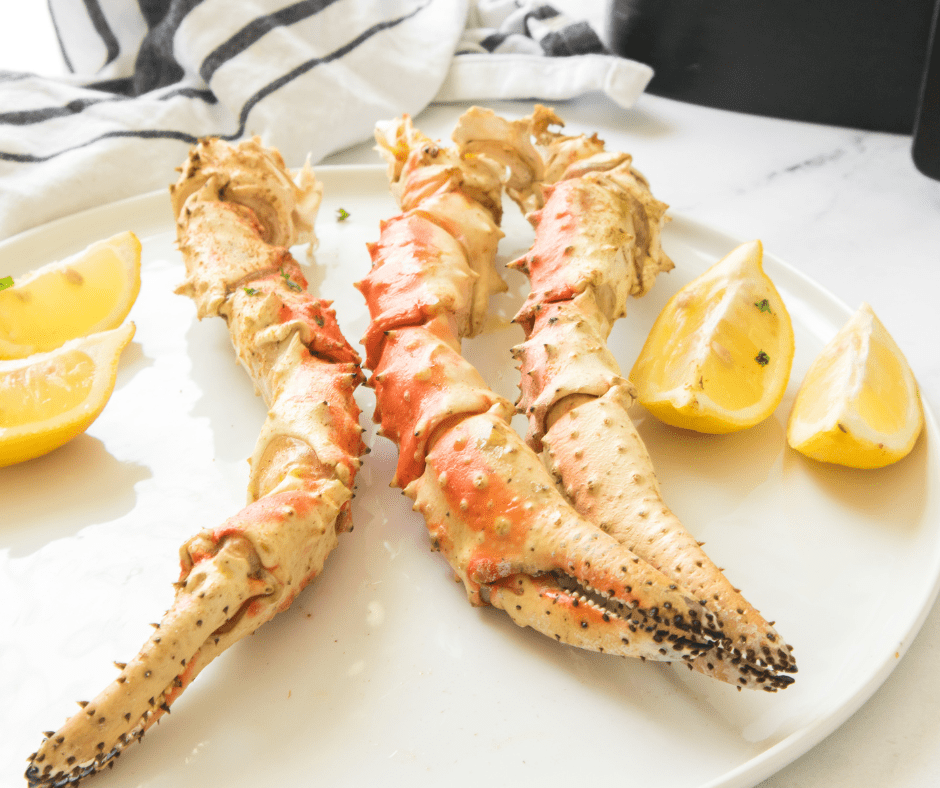 My love for seafood is no secret, and the only thing better than freshly caught fish? Fish cooked in an air fryer! I like to sprinkle on some Old Bay Seasoning before I air fry crab legs and – bam! They are packed with flavor and done within minutes of starting up your appliance. No more greasy fried food thanks to this wonderful device!
If you love all things seafood, some of the best Air Fryer Seafood Recipes are AIR FRYER BOURBON GLAZED SALMON, AIR FRYER SCALLOPS WITH GARLIC PESTO SAUCE, CHILE LIME AIR FRYER SALMON, and AIR FRYER SHRIMP ON THE BARBIE (OUTBACK COPYCAT RECIPE).
Air Fryer Crab Legs
This fried crab leg recipe could not be easier — a few spices, some olive oil, and a nice portion of crab legs. Within minutes, you and your family can sit down to a mouthwatering Cajun Air Fryer Crab Legs feast!
If you have never had fried crab legs, they are effortless to cook and feature a lot of great flavors. I serve them with melted butter for dipping.
I don't know why everyone is always making their crab legs by boiling them on the stove. It's so time-consuming and laborious! You can have tender, succulent crab meat with just minutes of work when you use an air fryer instead.
Why You'll Love Fried Snow Crab Legs
Cook from fresh or frozen
Ready in 10 minutes
Family-friendly
Use your favorite seasoning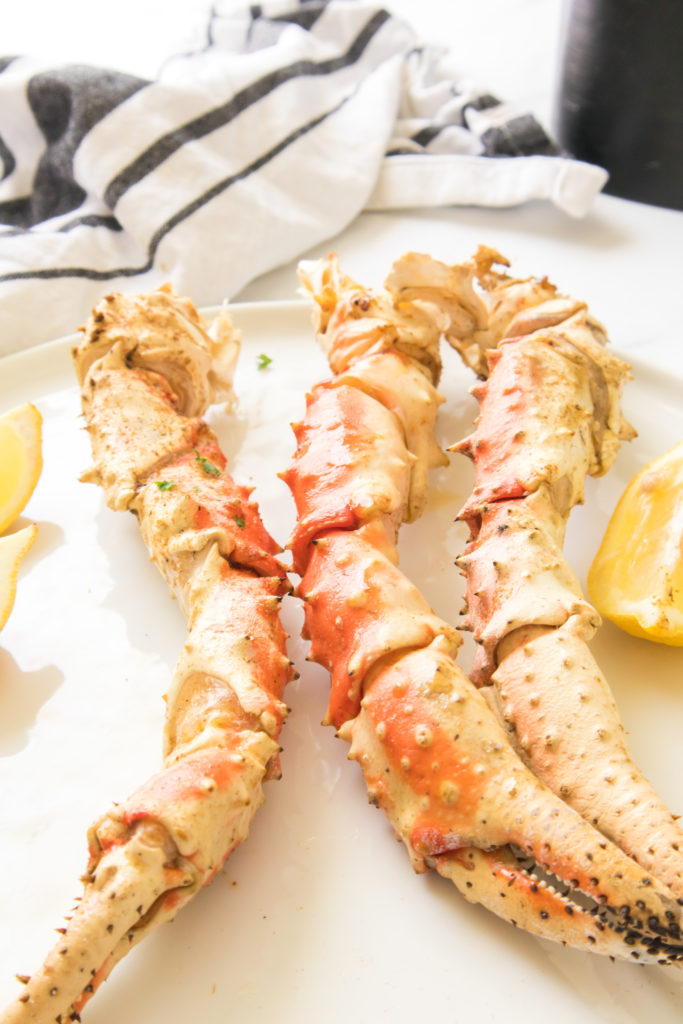 Ingredients Needed to Air Fry Crab Legs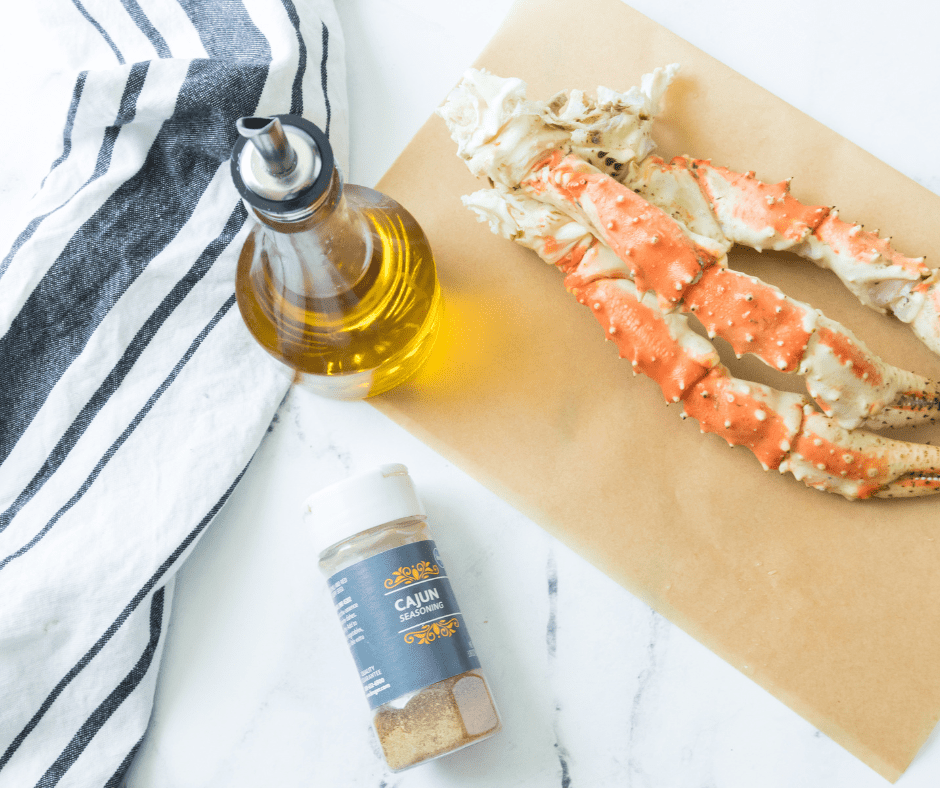 How To Make Air Fried Crab Legs
There are two different types of crab legs you can purchase — snow crab and king crab.
I used snow crab for this fried crab leg recipe because they will easily fit in the basket and are available nearly year-round. On the other hand, king crab legs are quite large and require a special tool to crack because of the pricky spikes covering the shell.
Step 1: Prep the crab legs
Rinse the shellfish with water and give them a light scrub to remove any dirt or debris. Pat dry, then toss with olive oil and your choice of seasoning until well coated.
Step 2: Cook
Transfer to the air fryer and air fry crab legs for about 3 to 5 minutes at 350 degrees F (air fryer setting).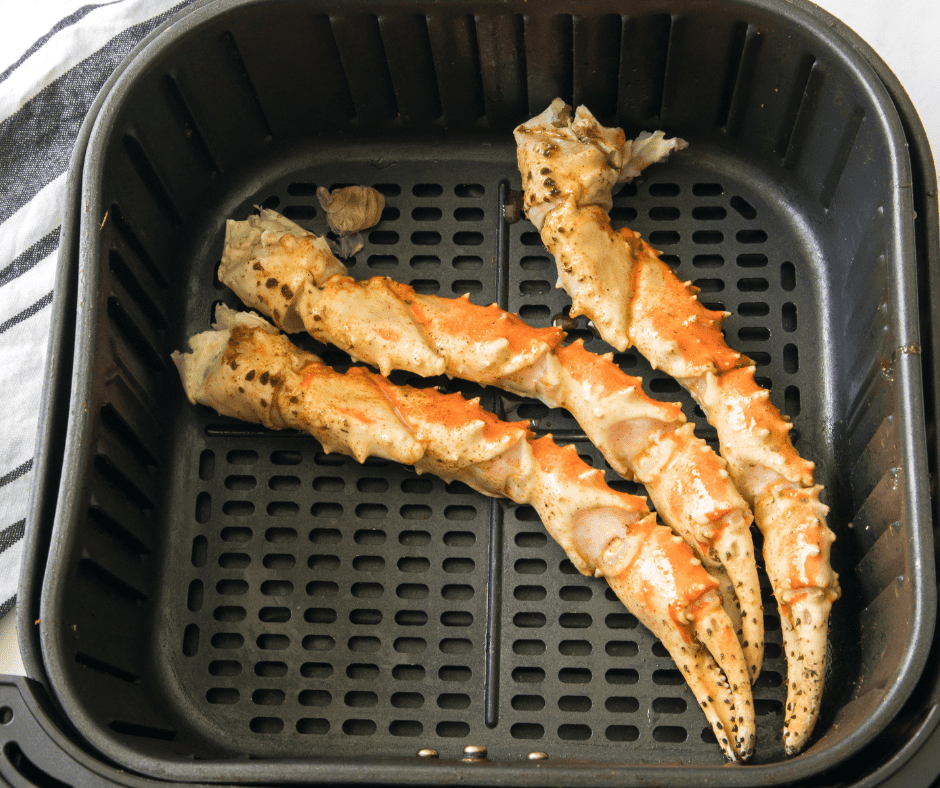 Storage and Reheating
Leftover air fryer crab legs can be refrigerated for 3 to 5 days in a sealed container.
To reheat, simply air fry crab legs for a couple of minutes until the meat is warmed through. Or, crack the shells first and warm the meat in the microwave or on the stove.
What to Serve with Fried Crab Legs?
I usually serve fried snow crab legs with a side of melted butter. My husband likes his with a shake or two of Old Bay Seasoning and lemon wedges.
This also makes for a fantastic holiday appetizer! It's a fun food to eat, and guests will enjoy chatting around the table.
Want to add a few side dishes? Try savory starches and veggies or a simple coleslaw. Here are some of my favorites to turn air-fried crab legs into a full meal: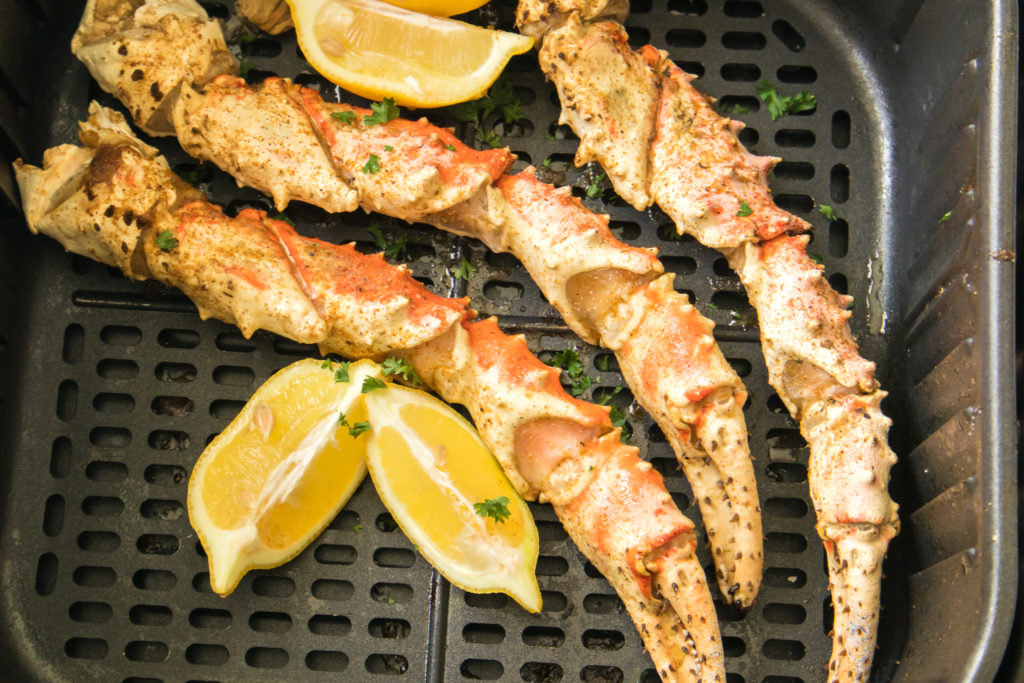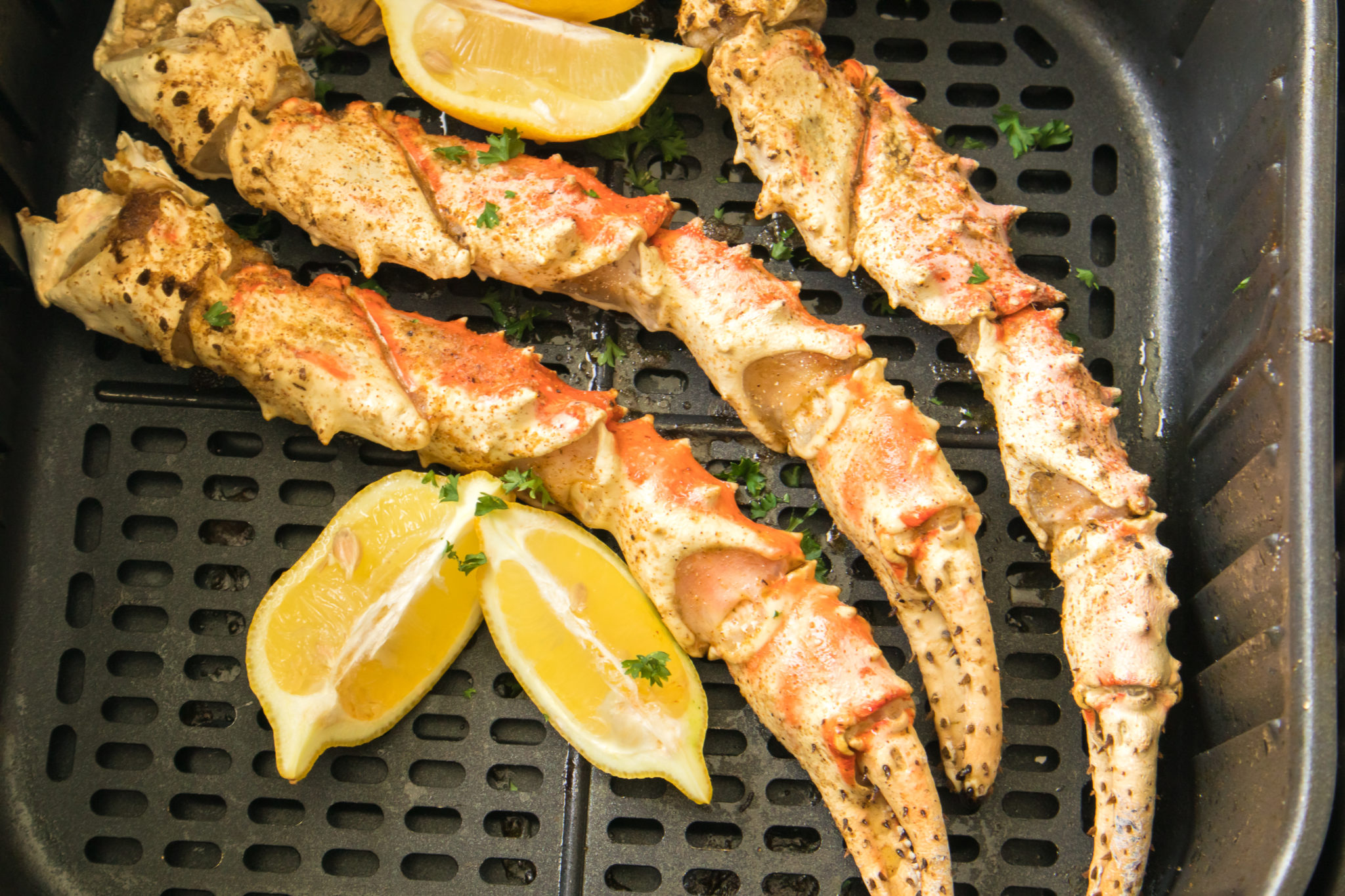 Can You Overcook Crab Legs?
Unfortunately, yes. If they have an orange or red color, like most of what you can buy from a store, then they've already been cooked and just need to be heated. Avoid overcooking or the meat will be tough and rubbery.
What Do Snow Crab Legs Taste Like?
Fried snow crab legs are sweet like lobster meat with a hint of briny flavor. The meat is perfectly tender and juicy and tastes especially delicious when dipped in melted butter. Add your favorite seafood spice blend to air fryer crab legs for one tasty bite!
Can You Air Fry Crab Legs from Frozen?
Yes! Follow the fried crab leg recipe as directed, adding a few extra minutes to the cooking time. About 5-7 minutes total should be enough for fried snow crab legs.
You can also defrost crab legs in the refrigerator or under cold running water before cooking. It just depends on how much time and effort you have to spend!
More Air Fryer Seafood Recipes: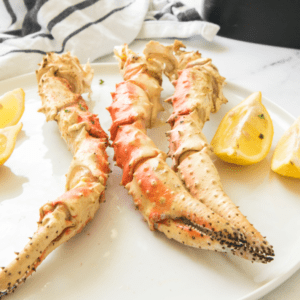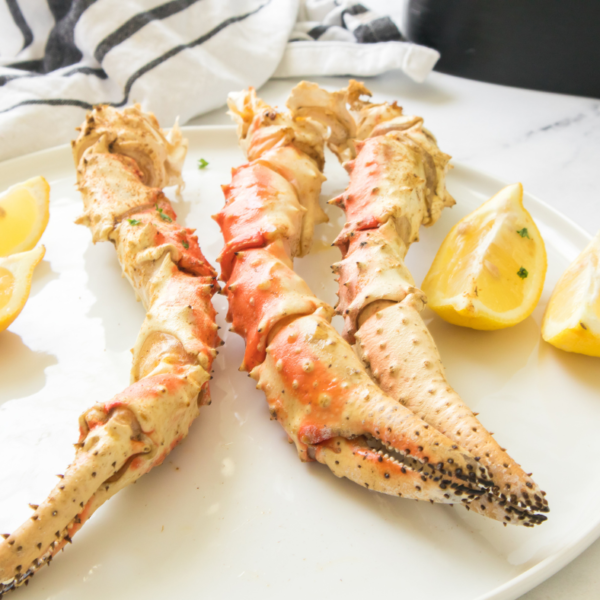 Air Fryer Crab Legs
Description
Air Fryer Crab Legs are ready in minutes and rival any seafood restaurant! Sprinkle with Old Bay or Cajun seasoning and serve with butter or lemon wedges.
Ingredients
1

cluster

Snow Crab Legs

,

fresh

2

tablespoons

olive oil

1

tablespoon

cajun seasoning
Optional
melted butter

old bay seasoning

lemon wedges
Instructions
In a large bowl, mix the crab legs, olive oil, and cajun seasoning.

Transfer to the air fryer and air fry for about 3 to 5 minutes at 350 degrees F. (air fryer setting)
Nutrition
Calories:
67
kcal
Carbohydrates:
1
g
Protein:
0.3
g
Fat:
7
g
Saturated Fat:
1
g
Polyunsaturated Fat:
1
g
Monounsaturated Fat:
5
g
Cholesterol:
0.1
mg
Sodium:
3
mg
Potassium:
40
mg
Fiber:
1
g
Sugar:
0.2
g
Vitamin A:
862
IU
Vitamin C:
0.03
mg
Calcium:
4
mg
Iron:
0.4
mg
Don't Forget To Pin: