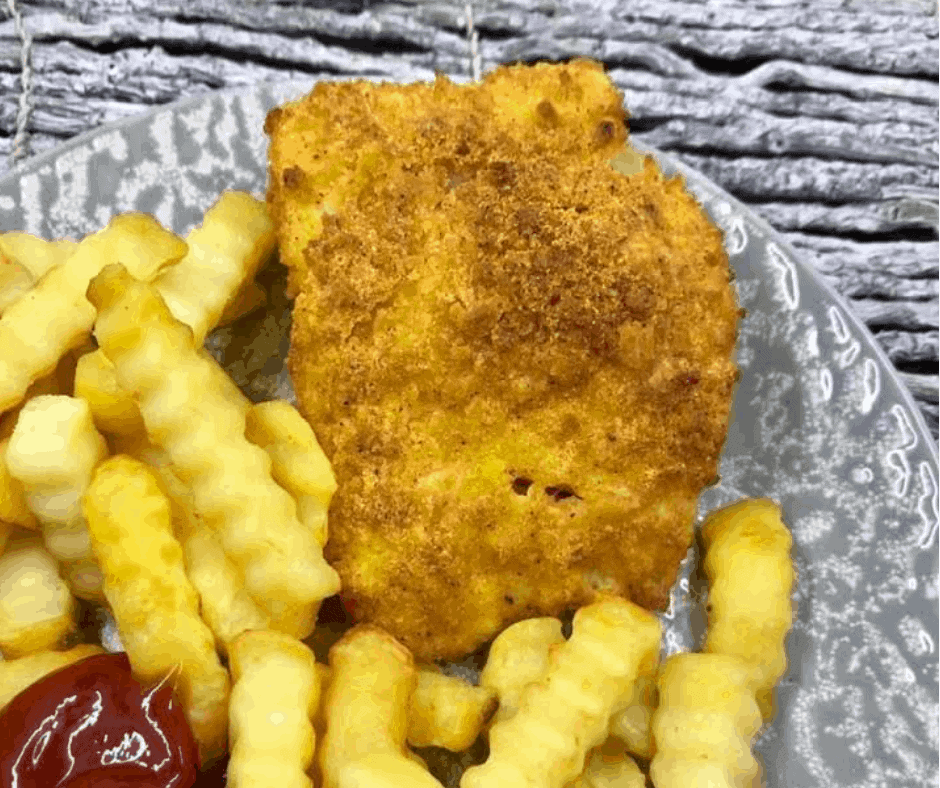 Being from Boston, my uncles were all fishermen. Therefore, I was treated to a LOT of seafood, over the years. There was absolutely nothing better than my uncles dropping off the days' catch to my mom, who would almost make something amazing. I remember my uncle's dropping off baby lobsters because no one would buy them, now we all know them as chicken lobsters, and if they were free, there would be a line around the block, to get them.
My husband grew up as a good old midwestern boy, but he vacationed every year at Cape Cod, where he ate his share of great seafood.
When I moved to Ohio after we got married, I noticed that the seafood was different, they didn't have lobsters, they had crab legs, and I literally remember going through the supermarket and saying, what are those? They just looked like something that came from outer space. Instead of cod, they ate salmon. I have never had salmon, so it was an acquired taste, my mother in law made the best salmon that I have ever had. I will probably be making it in the next couple of weeks, as we finish up Lent. She served it with a creamy dill dip, that even my son would eat (granted he would eat it without the salmon, but he would finish his bowl, LOL).
Seafood is important, it's a great source of protein without a lot of fat. It hits most of the marks, gluten-free, low carb, and other diets.
Today, I am bringing you Tilapia, a widely distributed white fish. I did not grow up eating it, so I had to search for how to prepare it. First, it is a farmed fish, it can not be found in the wild, it has a lot of protein and Omega 3 fatty assets. It is a very controversial fish, I know this, because of everyone posts it on my air fryer group, people all go up in arms. But it's a recipe, and you don't have to eat it, so I don't get involved in the controversy. I'm just a food blogger, not an activist.
I did use this very nice fish fry, that I snagged on Amazon when it was the Deal of the Day, it's a great buy and it will go a long way.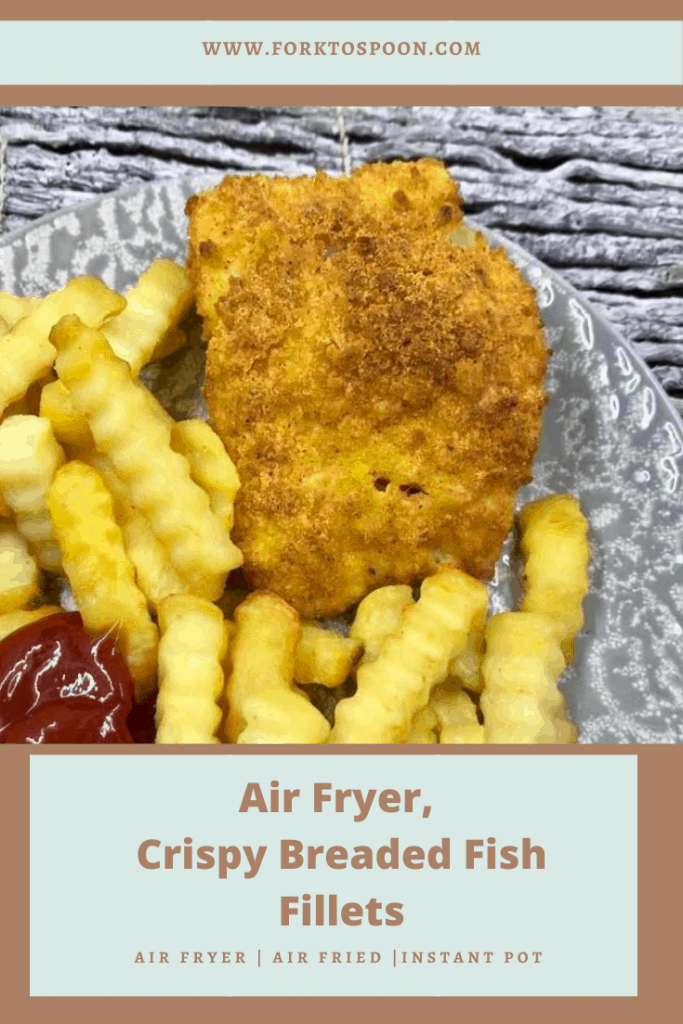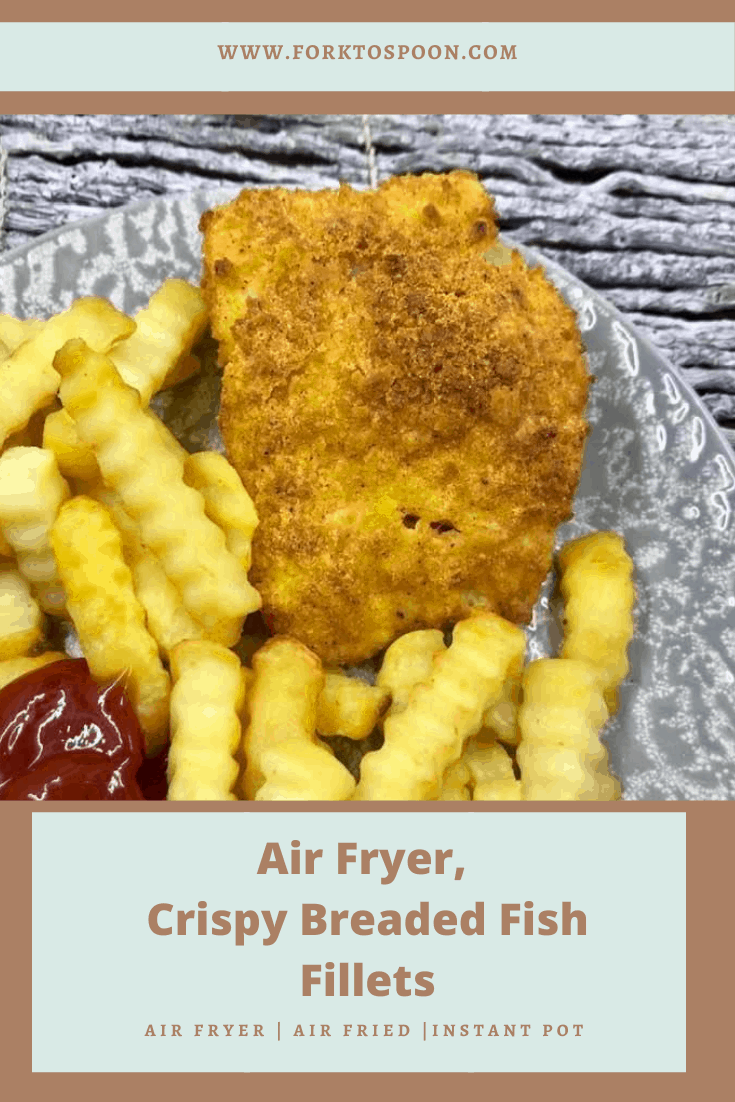 Print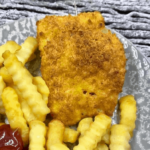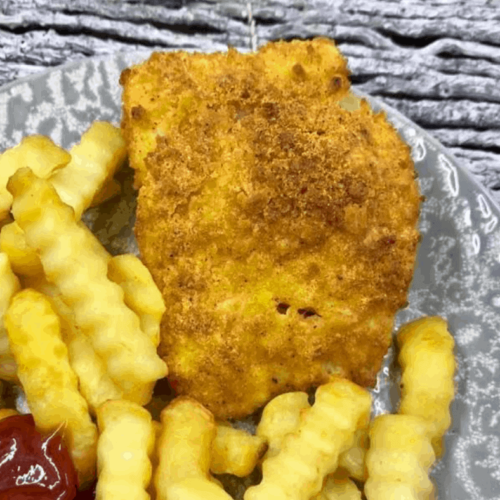 Air Fryer, Crispy Breaded Fish Fillets
Author:

ForkToSpoon.com

Prep Time:

10

Cook Time:

10

Total Time:

20

Yield:

2

servings

1

x

Category:

Main Course

Method:

Air Fryer

Cuisine:

American
---
Description
This is a really easy fish recipe, you can use it on any white fish, today I used it on cod, but it works just as well on haddock, bass, grouper, pollock, and halibut.  It is a crispy coating, almost like a typical fried chicken.
---
2

pieces of white fish, about, 1.5 pounds

1 tablespoon

olive oil

1 cup

bread crumbs

1 teaspoon

paprika

1 teaspoon

salt

1 teaspoon

garlic powder

1 teaspoon

onion powder

1/2 teaspoon

black pepper
---
Instructions
Start by mixing the breadcrumbs, add bread crumbs, paprika, salt, garlic powder, onion powder, and black pepper to a small mixing bowl. Mix well.
With your hands or a pastry brush, spread the olive oil over the fish.
Then dip your coated fish into the bread crumb mixture.
As you coat the fish, place them in a greased air fryer basket or a greased air fryer tray.
When you finish breading your fish, spray GENEROUSLY with olive oil spray. This helps the fish crisp up.
Set the tray or basket into the air fryer at 350 degrees F, for 8-12 minutes, Flip, about halfway through,  and spray again with olive oil, and continue air frying.
Once your fish flakes easily, remove.
Serve with tartar sauce and/or lemon wedges.
---