Being from Boston, my uncles were all fishermen. Therefore, I was treated to an abundance of seafood, over the years. There was really nothing better than my uncles dropping off the days' catch to my mom, who would almost make something unbelievable. I look back at my uncle's dropping off baby lobsters because no one would purchase them, now we all recognize them as chicken lobsters, and if they were free, there would be a line around the block, to obtain them.
This is the perfect shirt for any shrimp lover!

My husband grew up as a respectable midwestern boy, but he vacationed every summer in Cape Cod, where he devoured his share of great seafood.
When I moved to Ohio after we became married, I recognized that the seafood was strange; they didn't have lobsters; They had crab legs, and I literally remember passing through the grocery store and saying, to myself, what are those? They just looked like something that came from outer space. Instead of cod, they sold salmon. I have never had salmon, so it was an acquired taste, my mother-in-law prepared the finest salmon that I have ever had. I will probably make it in the next couple of weeks, as we finish up Lent. She served it with a creamy dill dip, that even my son would eat (granted he would eat, the sauce without the salmon.)
Seafood is important, it's an excellent source of protein without a lot of fat. It touches most of the marks, gluten-free, low carb, and other diets.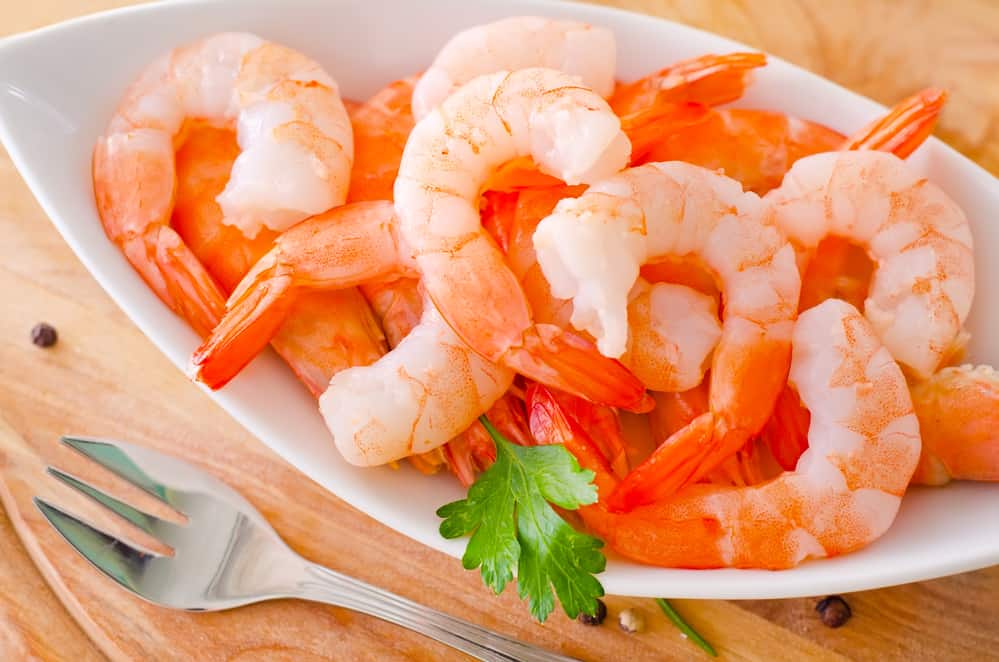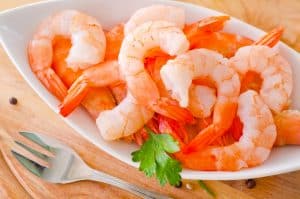 Here are some hints when buying shrimp at the grocery store:
1. Know your size of the shrimp: In the United States shrimp are sold by the size, which is the count per pound.  The shrimp's size is measured by the number of shrimp it takes to make 1 pound.  You will often see other markings on a shrimp bag, with a U10, so it takes less than 10 shrimp to make 1 pound. Sometimes they also have terms such as medium, or jumbo, which are also on the bag
The common counts are:
U-10 (Under 10)–Extra Colossal
U-12 (Under 12) Super Colossal
13/15-Colossal
16/20-Extra Jumbo
26/30-Extra Large
31/35-Large
41/50-Medium
51/60-Small
61/70-Extra Small
2. The freshness of the Shrimp: Freshness of shrimp is important, they are highly perishable, and for safety reasons, you should always purchase fresh shrimp.  One key when purchasing shrimp is that there should be no smell. Rotton shrimp smells a lot like ammonia, which means the shrimp has spoiled. Any sign of slime, avoid as it is a sign of rotten shrimp. Black spots also show that the shrimp is not fresh, they call this melanosis, which means that the shrimp is old. (Think about an apple turning brown)
Buying Fresh Shrimp vs. Frozen Shrimp
In your seafood department, most shrimp is actually frozen or has been frozen, and the seafood counter just thawed if for you. Since you can easily thaw your own shrimp at home, I consider it safer (since you don't know how long they have been in the seafood case) to purchase frozen.
Shrimp is frozen in two ways, block and IQF, IQF means that it has individually quick frozen.  About 90% of the shrimp frozen in supermarkets are IQF, they tend to have better flavor and texture.
For best results with any shrimp dish, all shrimp should be defrosted before cooking. Since, all you need to do, is place the frozen shrimp in a bowl of cold water, they should be defrosted within a matter of minutes. If you are looking for a faster method, put your shrimp into a large bowl, filled with cold water and have the faucet run, directly into the bowl. Once the shrimp is defrosted the shrimp will be more translucent and pliable.

Tails, Heads, and Shells:
They sell shrimp in a variety of ways, including head-on, tails on, and shell on, here is a breakdown on the different types sold in the United States.
Shell-on shrimp: This just means that the shell is still on the shrimp.
EZ-Peel Shrimp: They have already removed the head of the shrimp, the shrimp is split and deveined. This type of shrimp is generally more expensive since they did the work for you.
Pre-Peeled Shrimp:  These are already peeled for you and they are ready to go with any recipe. There is no prep that you need to do.
What Does Devein Mean?
Every shrimp has a vein. The vein of the shrimp refers to the shrimp's digestive tract. It is not dangerous to eat, but typically it is removed. To remove the vein, you simply make a small cut and remove it.  The cut should run between the heat to the tail, to remove it.  They also sell this cool tool, called a shrimp deveiner, if you will do a lot of shrimp, or eat a lot of shrimp, I would highly recommend one.
My Recommendations for Air Fryers, which is a very common question, I receive. Here are my three favorites, at the time of the post.
GoWise Air Fryer, I think this is the best model to get you into the air fryer world, it doesn't mean that you are going to stick with it, but it's a solid machine, large enough for a chicken and inexpensive enough that you can upgrade later, and use it for sides.

Secura Air Fryer: This is MY first air fryer, I have had it since (Amazon tells me I ordered it on August 23, 2017), It is a fabulous machine, and I always recommend it to my Facebook group, when they are on sale because it works. And to be honest, once you get into the air fryer world, you want another one for side dishes (and, I'm so hoping that is true and not just me)

Omni Air Fryer, By Instant Pot: This is my newest addition and I am in love. There are a lot of things I love about this, but the main ones are that I can make a LOT of food for my family, and since I have 2 teenage boys, I really need the same. Also, this was my first air fryer oven, so I am loving making cookies, pancakes and other food that needed a flat surface.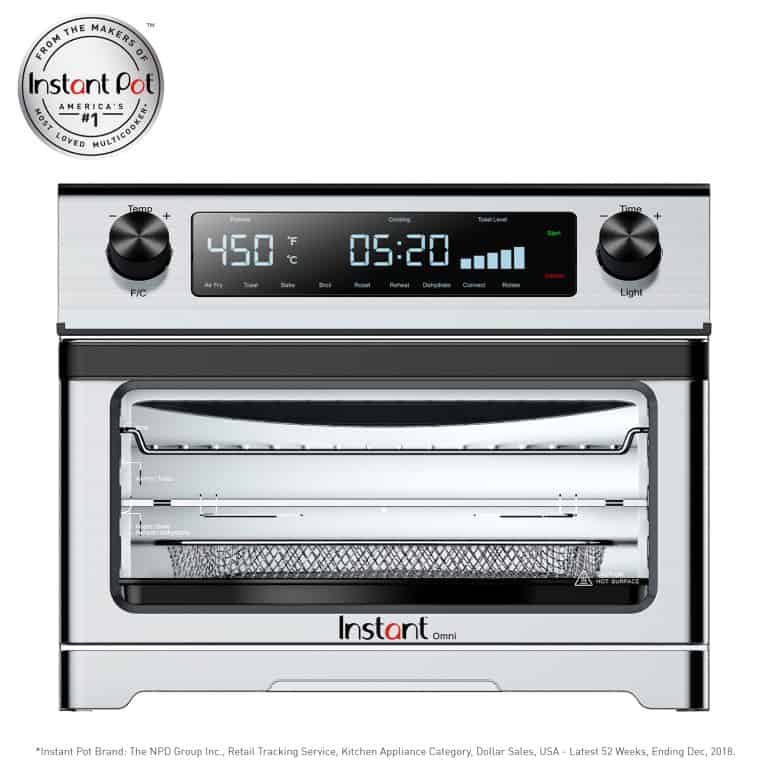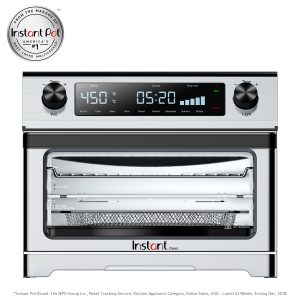 Don't Forget To Pin–
Print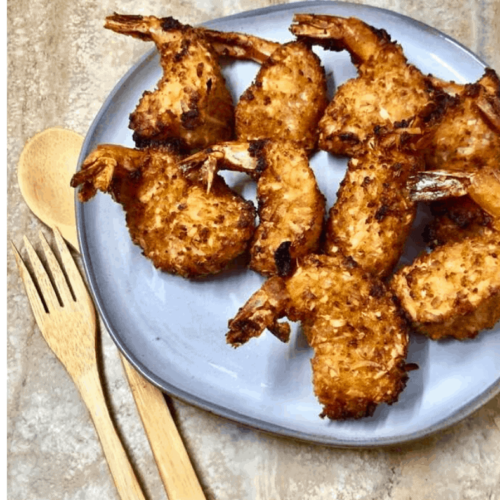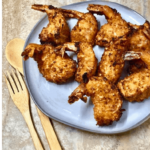 Air Fryer, Easy Coconut Shrimp
Author:

ForkToSpoon.com

Prep Time:

5

Cook Time:

10

Total Time:

15

Yield:

4

servings

1

x

Category:

Seafood

Method:

Air Fryer

Cuisine:

American
---
Description
This is really a perfect air fryer recipe. The air fryer crisps the coconut to perfection, all while the shrimp remains juicy and delicious. This is a family-friendly meal, and a great appetizer.
---
1/3 cup

flour *all-purpose

1 teaspoon

salt

1/2 teaspoon

black pepper

2

eggs

1 cup

Panko bread crumbs

1

pound large shrimp
---
Instructions
In a small mixing bowl, mix together the flour, salt and black eppper.
In another small mixing bowl, beat the eggs, until they are frothy.
In the last mixing bowl, add the panko and shredded coconut. (mix to combine)
Then dip the shrimp into the flour mixture, then the mixture and finally the coconut mixture.
As you coat them, shake off the excess.
Place the breaded coconut into either a greased air fryer basket or tray.
GENEROUSLY spray the breaded shrimp with olive oil.
Set the temperaure to 390 degrees F, (air fryer setting) for 5 minutes, after 5 minutes, flip the shrimp, spray again generously with olive oil.
Plate, serve and enjoy!
---
Keywords: air fryer frozen coconut shrimp how to cook frozen coconut shrimp in air fryer air fryer coconut shrimp with pina colada dip air fryer coconut shrimp keto gluten free coconut shrimp air fryer air fryer coconut shrimp delish air fryer coconut shrimp paleo how long to cook frozen coconut shrimp in air fryer