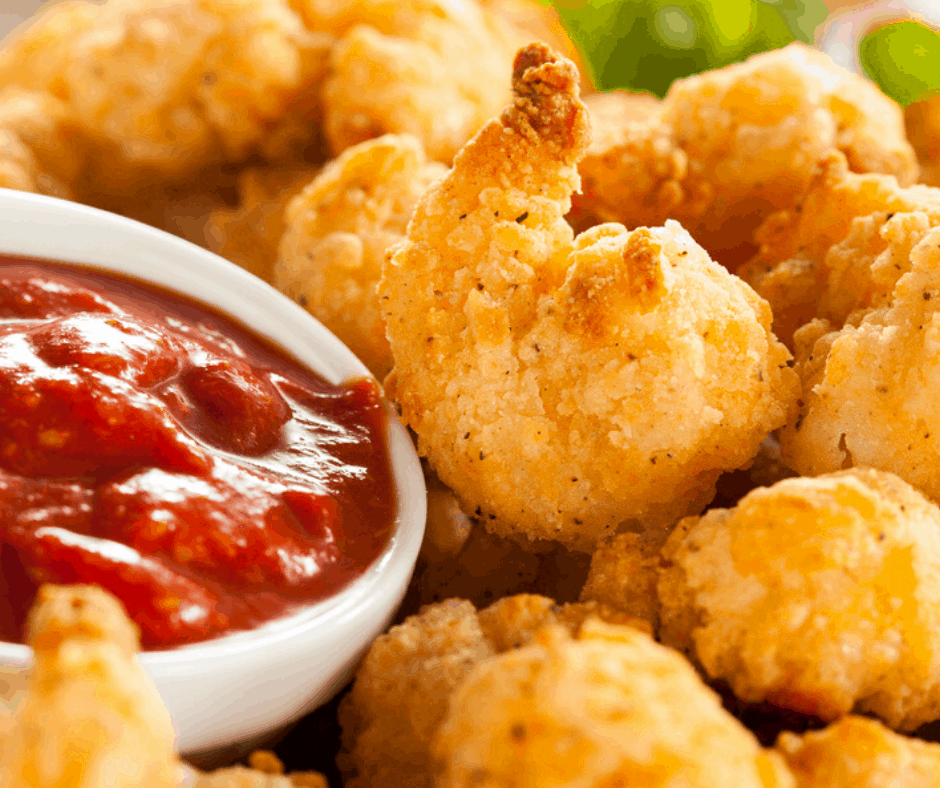 This was one of my first recipes for shrimp. It was so, so good; I got hooked to my air fryer. Now, this has become a weekly meal at our house. So, here is my easy recipe for Air Fryer Breaded Shrimp. My kids call this popcorn shrimp, whatever you call it, it is delicious when prepared in the air fryer.
This is a great recipe for crispy fried shrimp in the air fryer, which is done in less than 15 minutes from start to finish. If you are looking for an air fryer crispy fried shrimp, this is the recipe for you, perfectly golden brown and crispy.
If you love shrimp, I have so many recipes for you to try; here are some of my favorite, Air Fryer Honey Garlic Shrimp and Air Fryer Spicy New Orleans Shimp.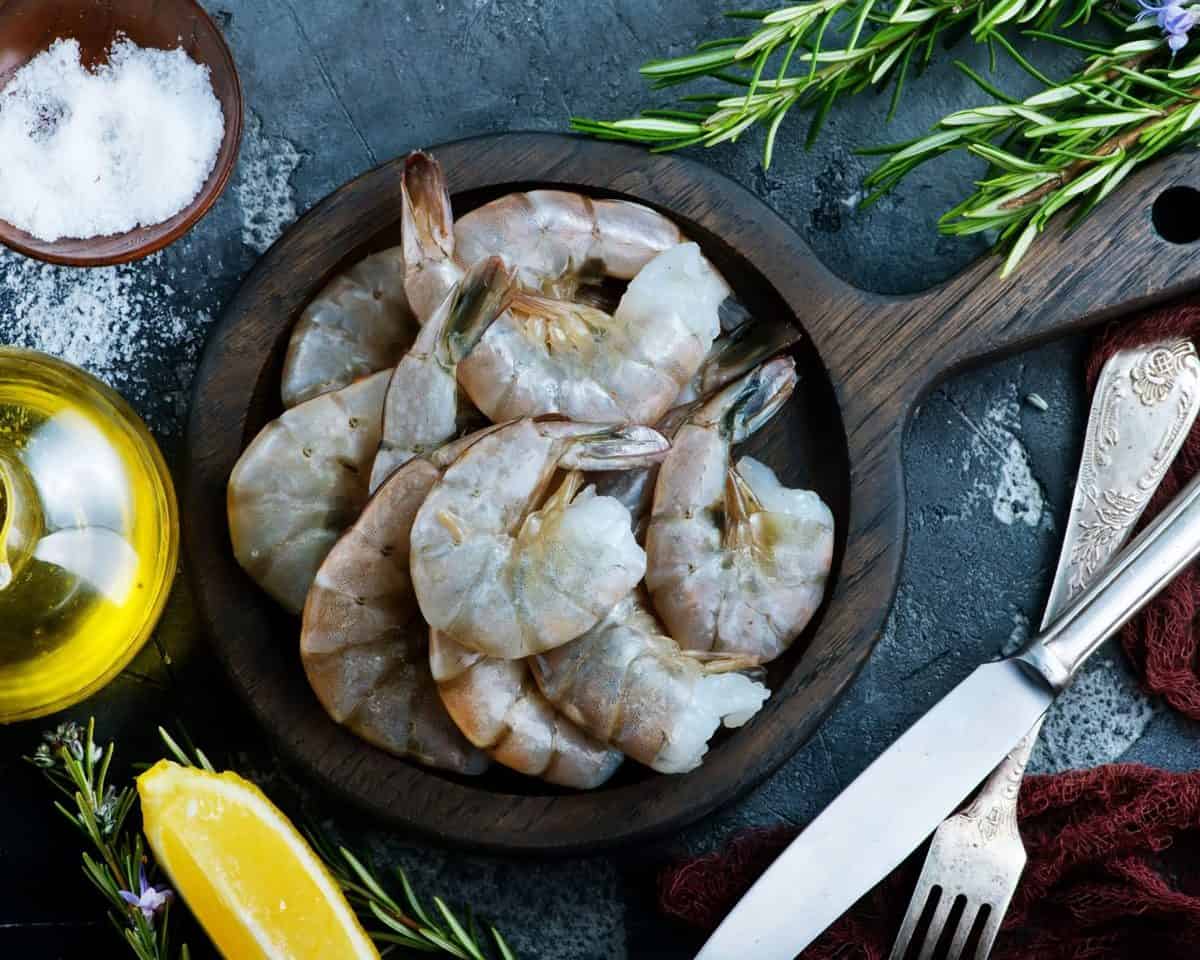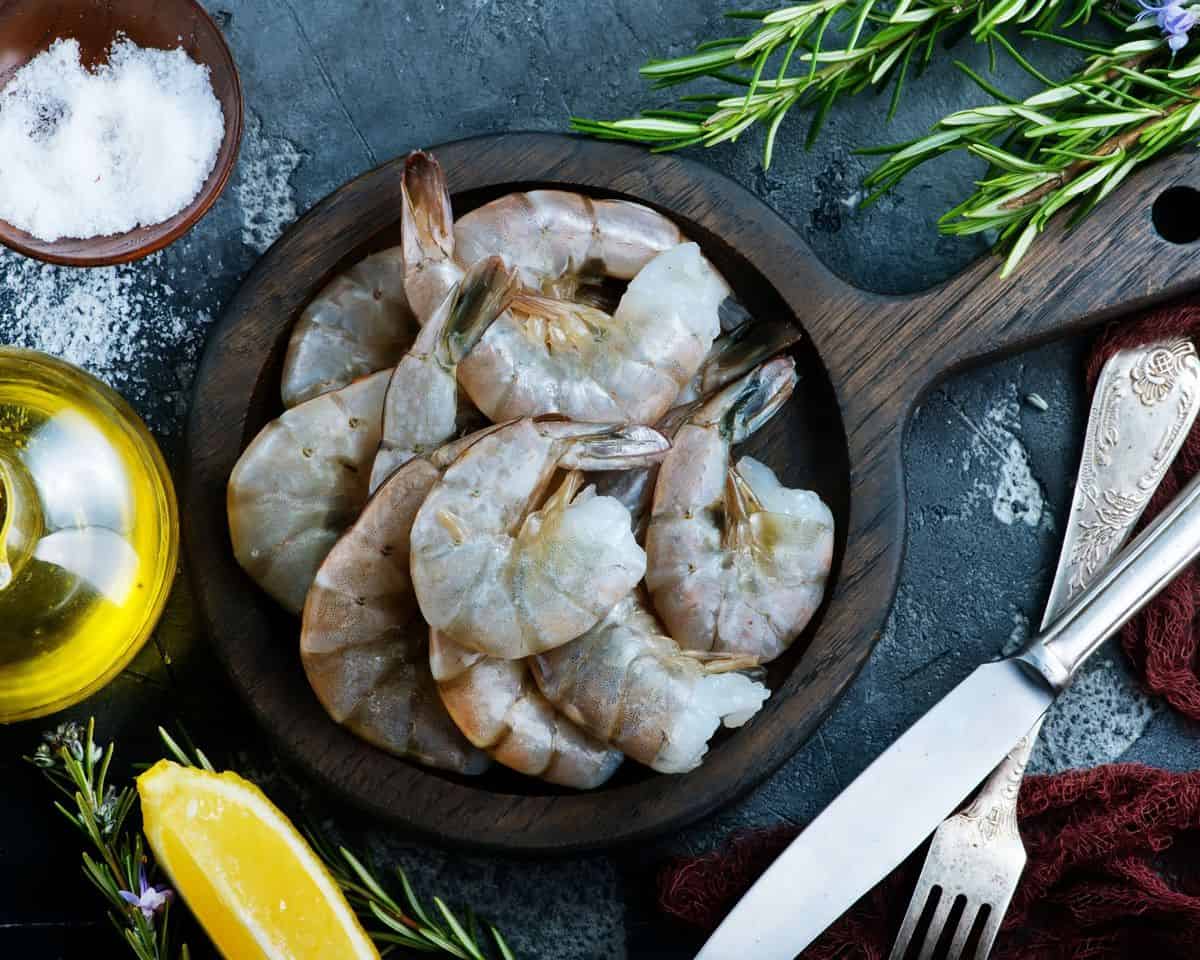 How To Make Air Fryer Crispy Fried Shrimp
The Ingredients Used in Today's Recipe–
Shrimp
Eggs
Panko Bread Crumbs
Onion
Fresh Ginger
Garlic Powder
Black Pepper
The Simple Steps,
Preheat your air fryer to 350 degrees F, air fryer setting. If you do not have a preheat button, turn your air fryer on for 5 minutes at 350 degrees F.
Then in one bowl, beat the eggs,
In another bowl, add the panko, onions, and spices.
Then dip the shrimp in the eggs, shaking off the excess egg.
Then dredge into the panko breadcrumb mixture.
To get them crispy, spray the panko bread crumb mixture with olive oil.
Air fry for 5 minutes, then flip (spray again) and air fry for another 5 minutes.
Plate, serve, and enjoy!
What Type of Shrimp Should I Use?
When you go through a grocery store, there are so many shrimp choices. I typically purchase IQF (which means that it was individually frozen) with the heads already removed but the peel still on.
Choosing The Size of the Shrimp:
All shrimp are measured by the number of shrimp it would take to make up one pound.
SmalL: 51 or greater
Medium: 36 to 50
Large: 26 to 40
Jumbo: 16 to 25
Colossal: Fewer than 15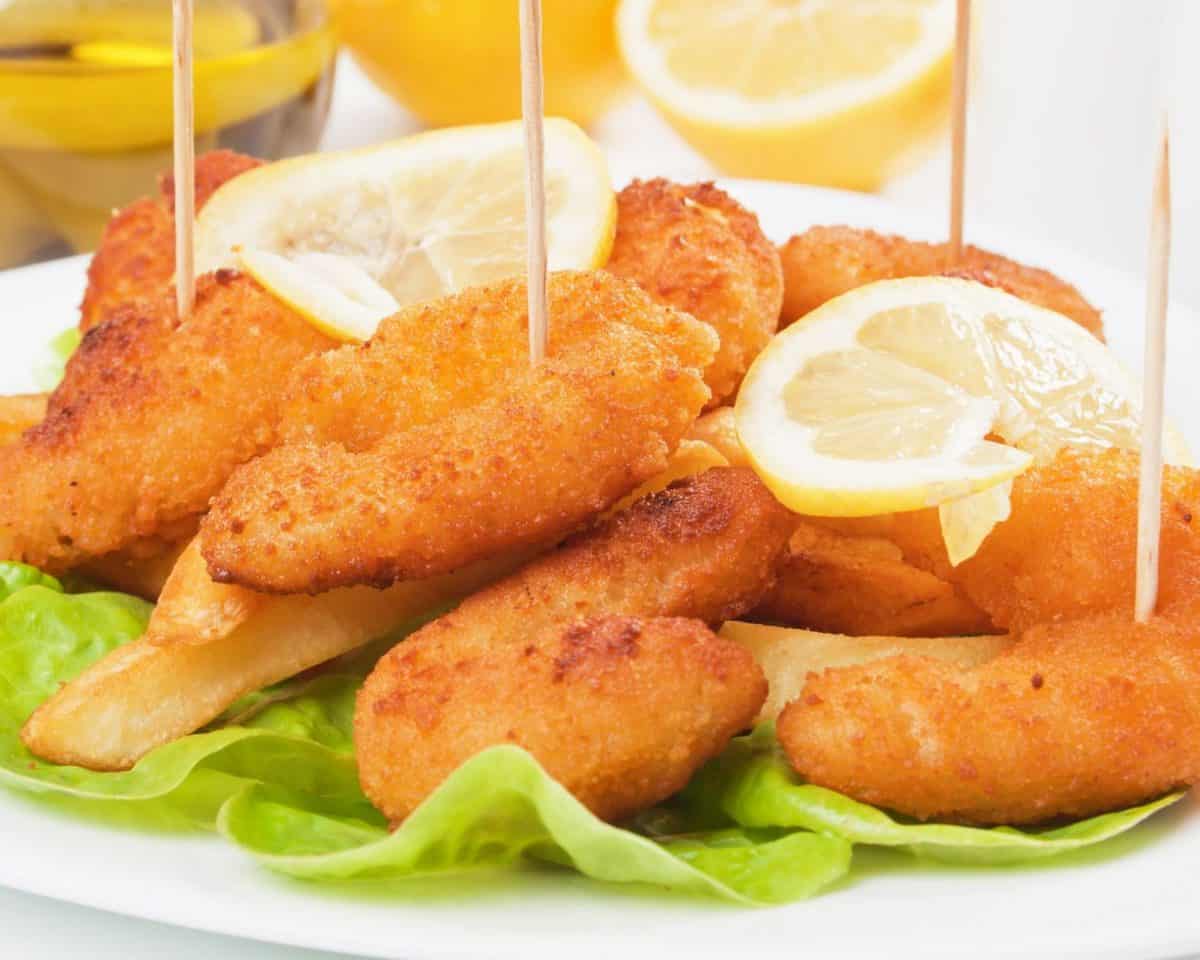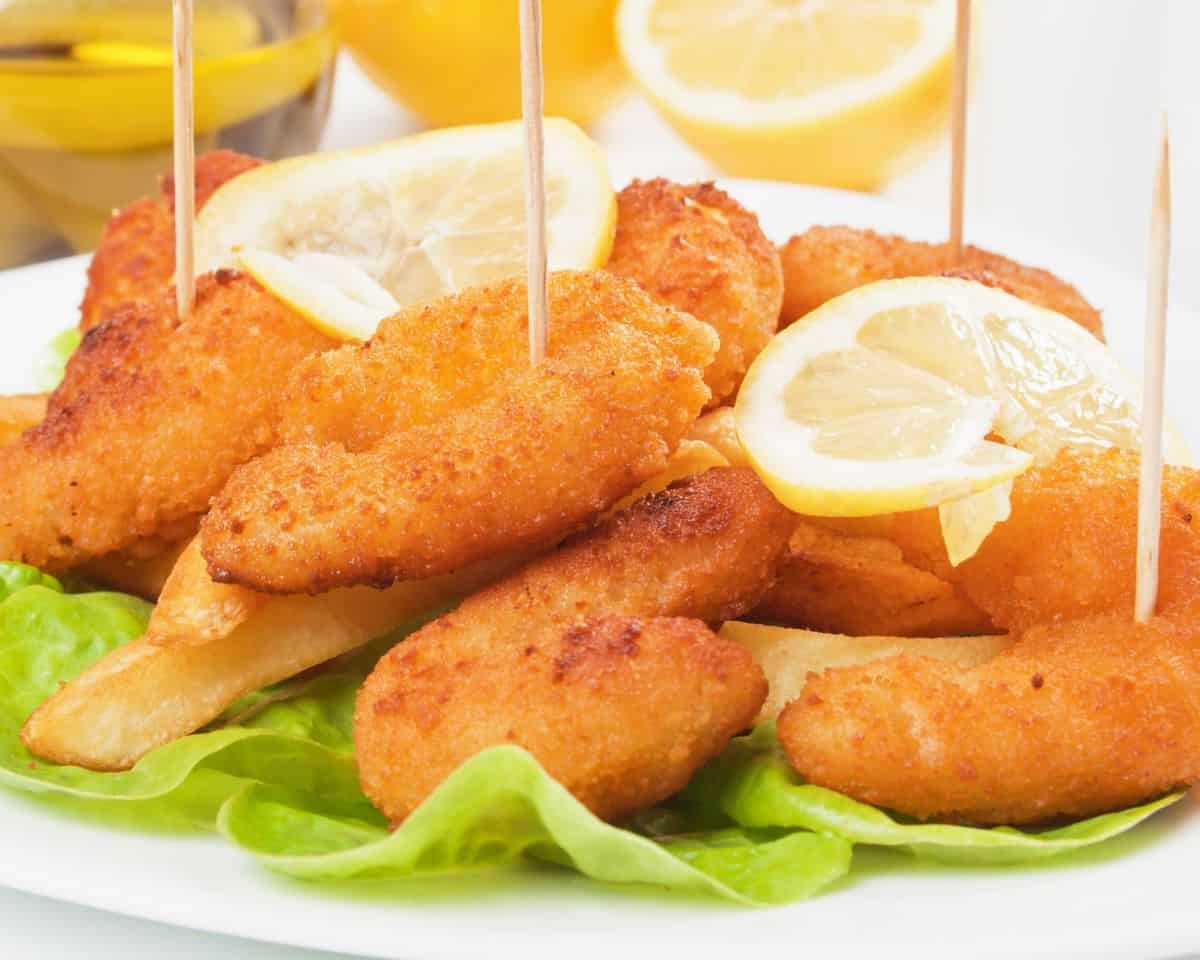 Some Questions To Common Questions Asked, About This Recipe
Can You Use Frozen Shrimp?
For this recipe, since you are beading it, it's tough to use frozen shrimp. The best one to use is fresh shrimp, as it is easier to bread the shrimp.
Do You Keep The Tails On?
I love keeping the tails on, especially if I am serving these to my children. It is so much easier for them to eat.
How Long Do You Cook Frozen Breaded Shrimp in an Air Fryer? How Long Do You Air Fry Seapack Shrimp?
To cook frozen shrimp, preheat your air fryer to 400 degrees F, and air fry for about 10 to 12 minutes, air fryer setting.
For best results, do not crowd the basket and shake the basket several times during the cooking process.
How long do you air Fry SeaPack shrimp?
Set the air fryer to 390 degrees F, and air fry in a single layer in the air fryer basket. Set the time for 8 to 12 minutes, shaking the air fryer basket several times during the cooking process.
How do you air fry frozen breaded butterfly shrimp?
Start by preheating the air fryer to 380° F. Then, place the frozen butterfly shrimp in a single layer in the air fryer basket. Cook the shrimp for 5 to 6 minutes, turning halfway to ensure they cook evenly; frequently shake during the cooking process.
Can you air fry frozen breaded shrimp?
Start by removing the contents of the package, and then add to the air fryer basket. Set the temperature to 400 degrees F for 10-12 minutes.
How To Thaw Frozen Shrimp.
This recipe uses thawed shrimp. There are two ways to thaw shrimp; the first is to take it out in the morning and place it in the refrigerator. The second way is to put the frozen shrimp in a bowl of water.
Some Tips on How To Make Breaded Shrimp in the Air Fryer:
The shrimp is best served warm.
I usually serve this shrimp with cocktail sauce, my kids love them with marinara sauce, and my husband likes it with lemon juice.
I like to leave the tails because they are easier for everyone to eat, especially if you are serving them as an appetizer.
Some Tips on How To Store Leftovers:
If you have any leftovers, simply let them cool down to room temperature, and then place them in an airtight container. They will keep for about 3 to 4 days.
To reheat in the air fryer, give them a spray of olive oil, and then air fry for about 2-4 minutes, at 330 degrees F.
Some Other Great Air Fryer Seafood Recipes-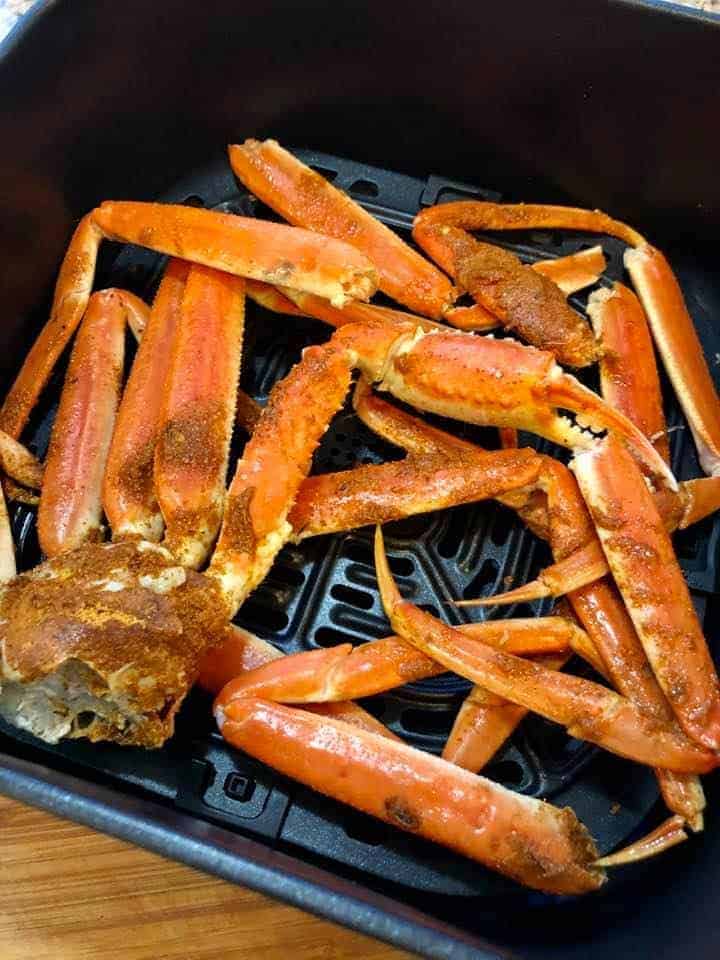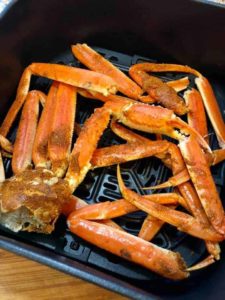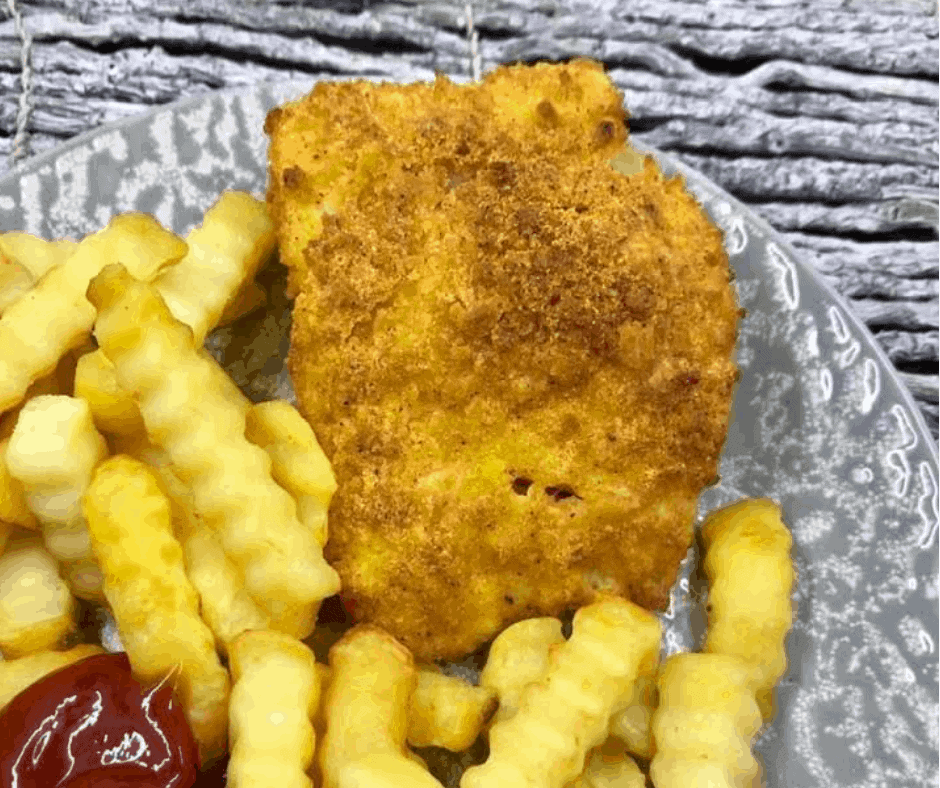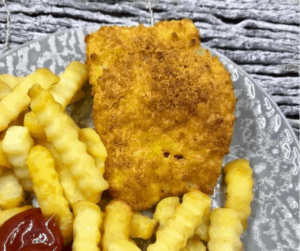 SOME HELPFUL PRODUCTS USED IN MAKING SHRIMP,
Disclosure: Some of the links below are affiliate links. At no cost to you, I will earn a commission if you click through and make a purchase.
Don't' Forget to Pin–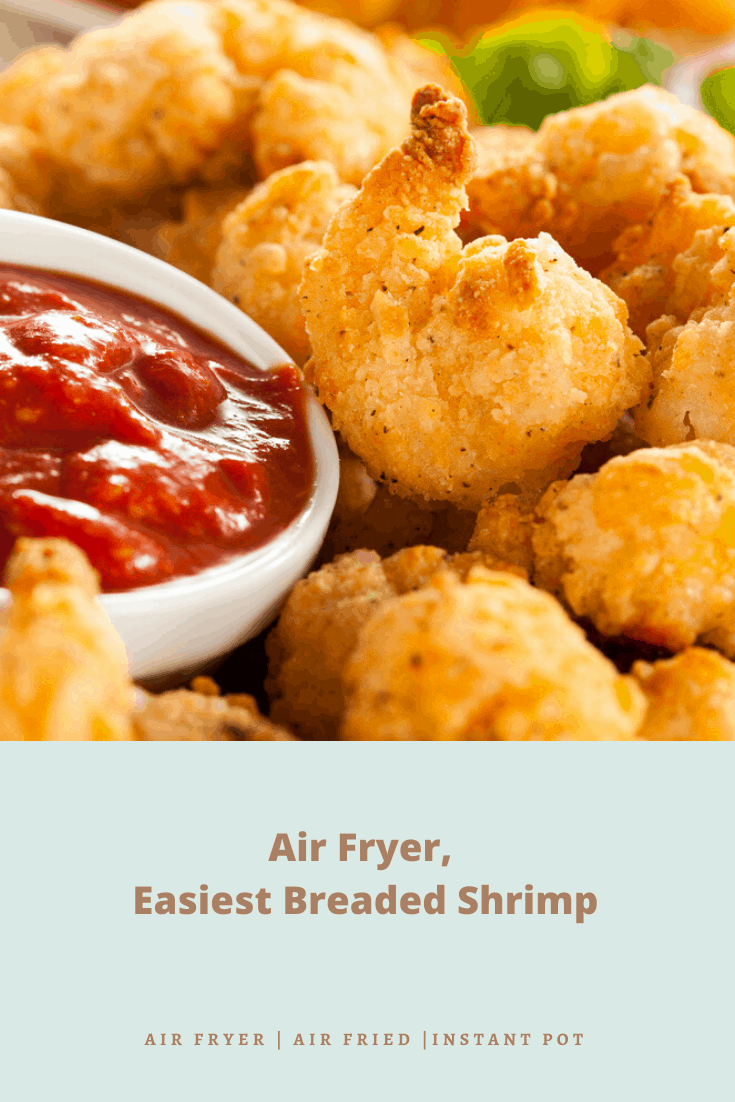 Print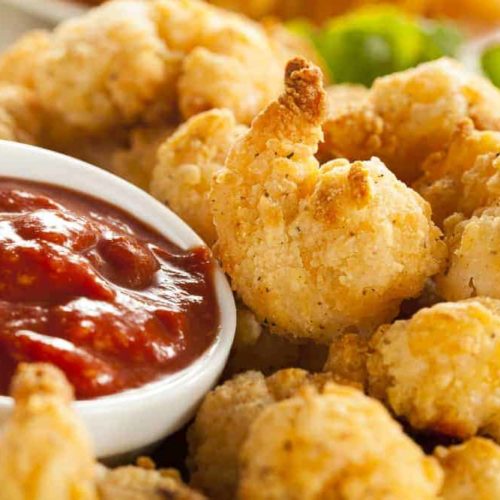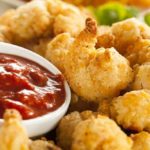 Air Fryer, Easiest Breaded Shrimp
Author:

ForkToSpoon.com

Prep Time:

10

Cook Time:

10

Total Time:

30

Yield:

6

servings

1

x

Category:

Seafood

Method:

Air Fryer

Cuisine:

American
---
Description
These are a great and tasty meal or a quick appetizer or lunch for the entire family. Everyone loves these!
---
1

pound of shrimp, peeled and deveined

2

eggs

1/2 cup

of panko

1/2 cup

of onion, peeled and diced

1 teaspoon

of ginger

1 teaspoon

of garlic powder

1 teaspoon

of black pepper
---
Instructions
Preheat your air fryer to 350 degrees.
Then in one bowl, beat the eggs, in another bowl add the panko, onions, and spices
Then dip the shrimp in the eggs, then the panko bowl
Air fry for 5 minutes, then flip and then air fryer for another 5 minutes
---
Keywords: how to cook frozen breaded shrimp in air fryer air fryer shrimp no breading cooking frozen breaded shrimp in air fryer air fryer shrimp old bay air fryer shrimp keto how long to cook frozen shrimp in air fryer air fryer shrimp scampi ninja foodi air fryer shrimp