Air Fryer Cinnamon Sugar Donuts – a fun and easy way to start any morning, and with only a few ingredients, you can have a great breakfast treat for your entire family!
Are you looking for a new dessert recipe to make this holiday season? With the help of this blog post, you can learn how to make cinnamon sugar donuts at home. These delicious treats are perfect for breakfast or as an after-dinner snack.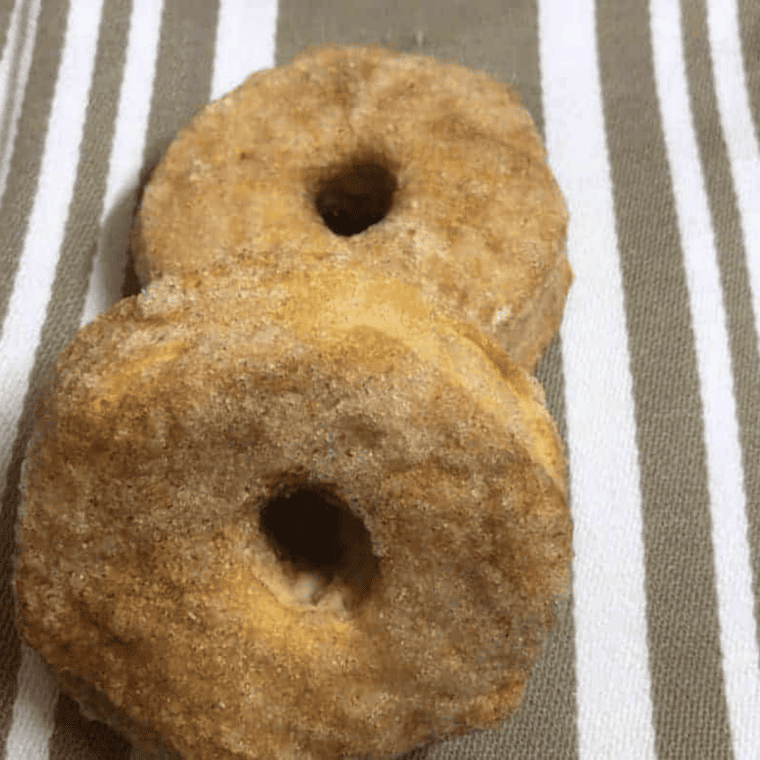 You may think, "But I don't have an air fryer." Don't worry. These cinnamon sugar donuts can also be made in the oven or baked in the oven. This recipe is so easy, and the Air Fryer Cinnamon Sugar Donuts is amazing!
There is nothing better than baking in the Air Fryer, and this is a great recipe to start with. The air fryer is perfect for baking since the hot air circulates the food, creating your donuts to be cooked up deliciously!
I have made thousands of donuts over the years, from Biscuit Donuts like these to homemade donuts! They all come out amazing! Check out some of my favorite Air Fryer Donut Recipes, such as AIR FRYER BAKED VANILLA DONUTS, AIR FRYER NUTELLA DONUTS, AIR FRYER APPLE FRITTERS, and AIR FRYER MAPLE FROSTED DONUTS.
Air Fryer Canned Biscuit Donuts
making process. Using canned biscuits as the base, this ingenious method simplifies the donut-making experience, making it accessible to even novice bakers. The air fryer technique eliminates the need for deep frying, offering a healthier alternative while achieving a delightful crispness and golden brown finish. The result is light, fluffy donuts with a delectably tender interior and a perfectly crispy exterior.
The process starts with canned biscuit dough, readily available at most grocery stores, shaped into donuts and donut holes. These dough pieces are then placed in an air fryer, cooking rapidly, puffing up to create that characteristic donut texture. After air frying, the possibilities for customization are endless. These donuts can be coated with cinnamon sugar, glazed with powdered sugar and milk, or even topped with chocolate or vanilla frosting and sprinkles. The simplicity and versatility of Air Fryer Canned Biscuit Donuts make them an excellent option for a quick dessert, a fun family cooking activity, or a special treat to accompany your morning coffee or tea.
Ingredients Needed For Air Fryer Cinnamon Sugar Donuts
Indulge in a quick and delicious treat with Air Fryer Cinnamon Sugar Donuts, a perfect blend of simplicity and sweetness. This easy-to-make recipe transforms ordinary ingredients into delightful, warm donuts coated in a fragrant cinnamon sugar mix. Perfect for a cozy morning, an afternoon snack, or a sweet dessert, these donuts will satisfy your cravings with minimal effort. Here are the ingredients you'll need: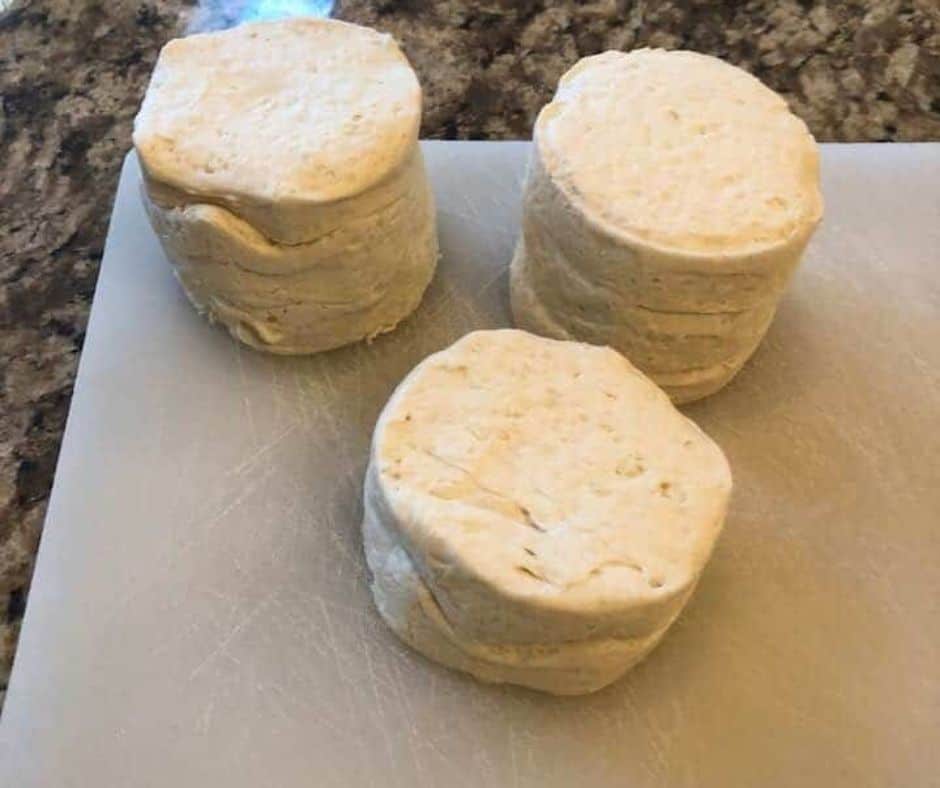 Remember the step-by-step directions and detailed ingredient list are below, in the printable recipe card at the bottom of the post, as well as the nutrient information.​
Canned Biscuit Dough: The base of your donuts, this convenient option saves time and effort, providing a soft and fluffy texture that crisps up beautifully in the air fryer.
Butter: Melted butter coats the donuts after air frying, helping the cinnamon sugar mixture adhere perfectly to the donuts.
Granulated Sugar: Forms the sweet base of the coating, giving the donuts their classic sugary crust.
Ground Cinnamon: Mixed with sugar, cinnamon adds a warm, spiced flavor that is quintessential to these donuts, making them irresistibly aromatic.
These simple ingredients come together to create Air Fryer Cinnamon Sugar Donuts.
How To Make Air Fryer Cinnamon Sugar Donuts
Making Air Fryer Cinnamon Sugar Donuts is a quick and delightful way to satisfy your sweet tooth for a quick snack. Here are the step-by-step instructions to make these tasty treats.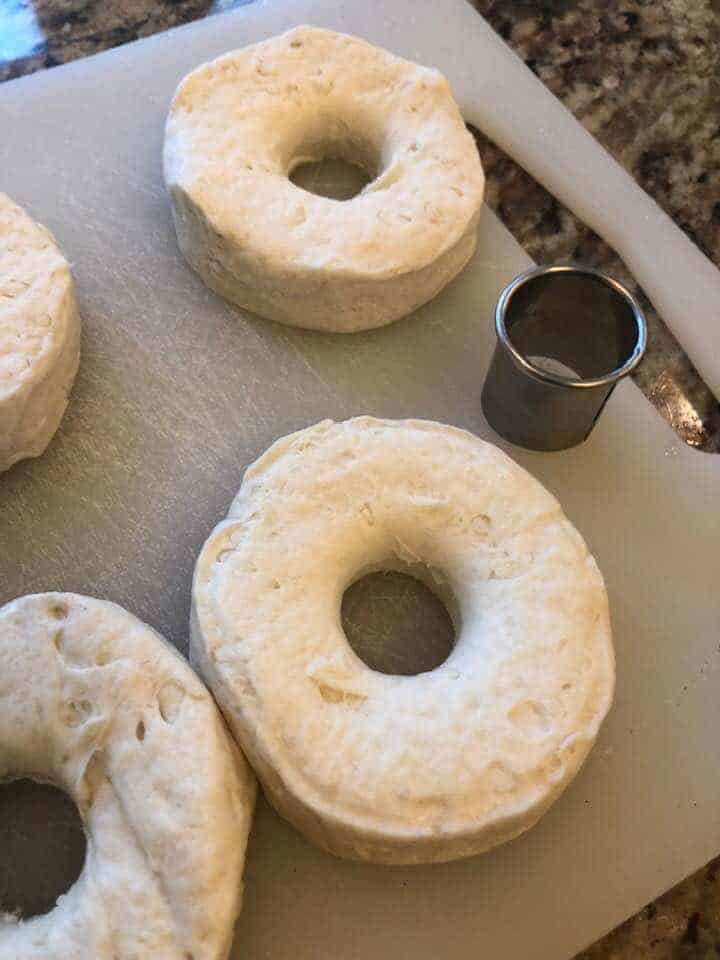 Prepare the Donuts:
Open the can of biscuits and separate the biscuits.
Use a small round cookie cutter, donut cutter, or bottle cap to cut out the center of each biscuit, forming donut shapes and donut holes. For added flavor, you can melt butter in a large bowl, dip the donuts into melted butter, or use a pastry brush to brush the biscuit dough with butter.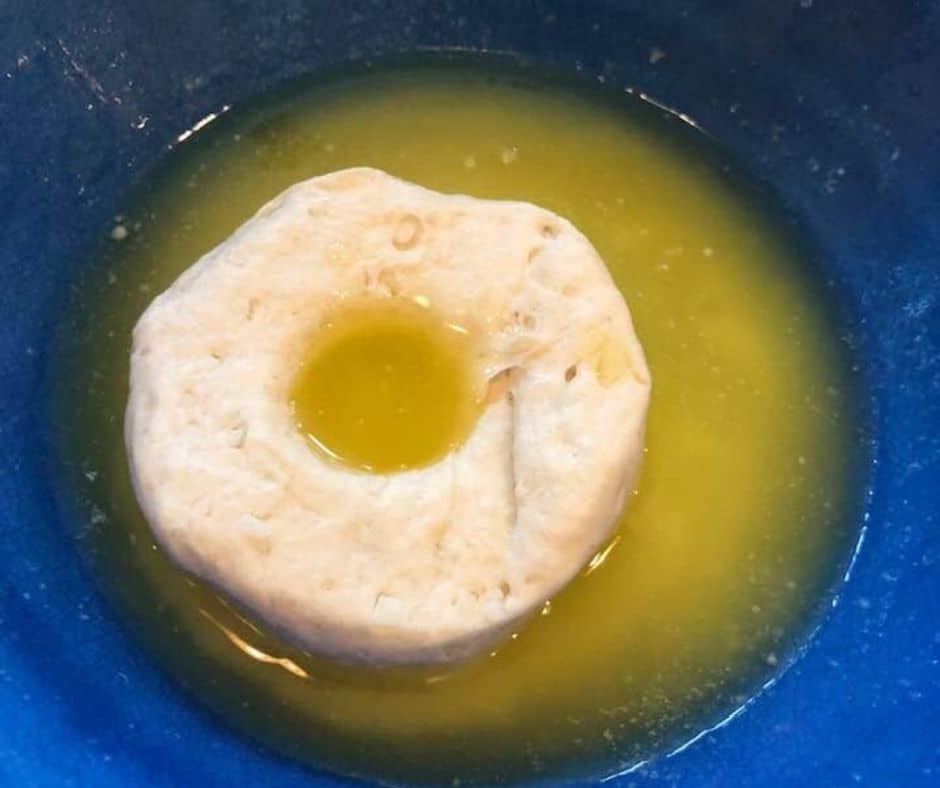 Preheat the Air Fryer:
Preheat your air fryer to 360 degrees F (180°C). This helps in achieving an even cooking and a golden-brown finish.
Air Fry the Donuts:
Spray the air fryer basket with nonstick cooking spray, or line your basket of your air fryer with air fryer parchment paper (after preheating). Place the donuts in a single layer in the air fryer basket, ensuring they are not touching. You may need to cook them in batches, depending on the size of your air fryer.
Air fry for about 4-5 minutes, then flip and continue to air fry for another 3-5 minutes until golden brown and puffed up.
Prepare Cinnamon Sugar Coating:
In a shallow dish, mix granulated sugar and ground cinnamon.
Melt butter in another bowl.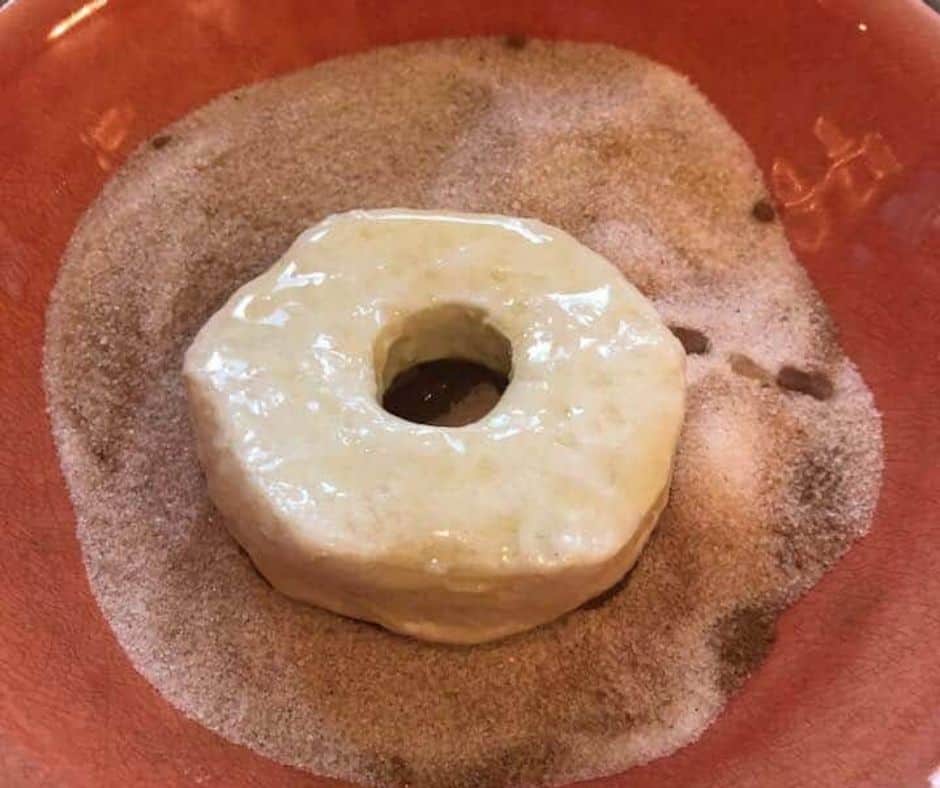 Coat the Donuts:
Once the donuts are done, brush them with melted butter and immediately toss them in the cinnamon sugar mixture until they are fully coated.
Serve:
Enjoy the donuts warm for the best taste and texture.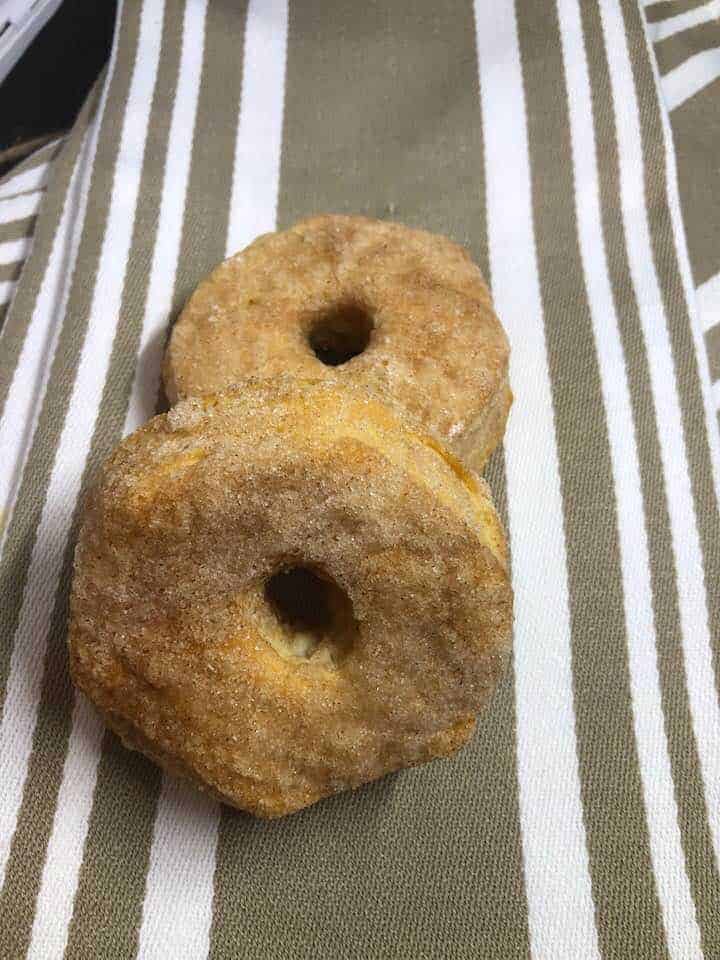 Pro Tips Cinnamon Sugar Air Fryer Donuts
To elevate your Air Fryer Cinnamon Sugar Donuts to perfection, consider these pro tips:
Quality of Dough: Opt for a high-quality canned biscuit dough for the best results. The dough should be fresh and not expired for optimal rise and flavor.
Even Thickness: Aim for an even thickness to ensure uniform cooking when shaping your donuts. Uneven donuts might lead to some parts being overcooked or undercooked.
Preheating the Air Fryer: Always preheat your air fryer before cooking. This ensures that the donuts start cooking immediately and helps achieve an even golden-brown color.
Avoid Overcrowding: Cook the donuts in batches if necessary. Overcrowding can restrict air flow, leading to uneven cooking and less crispy donuts.
Flipping Carefully: Halfway through cooking, flip the donuts gently to ensure they brown evenly on both sides.
Monitoring the Cooking: Keep an eye on the donuts as they cook, as cooking times vary between air fryer models. They should be golden brown and puffed up when done.
Coating While Warm: Coat the donuts in cinnamon sugar while they are still warm. The heat helps the sugar mixture to stick better, creating a deliciously sweet crust.
Serving Immediately: Air fryer donuts are best enjoyed fresh. Serve them warm for the most satisfying texture and flavor.
Experiment with Toppings: Feel free to experiment with different coatings and toppings. From powdered sugar to vanilla glaze and sprinkles, there are many ways to customize your donuts.
Storage and Reheating: If you have leftovers, store them in an airtight container. Reheat briefly in the air fryer to revive their crispiness before serving.
By following these tips, you'll create Air Fryer Cinnamon Sugar Donuts that are not just a treat to eat but also a joy to make, perfect for any occasion or just a sweet everyday snack.
​
FAQ's
Can I make these donuts without an air fryer?
Yes, you can bake them in a regular oven, though the texture might differ slightly. The air fryer provides a unique crispness that mimics deep frying.
Do I need to use canned biscuit dough?
Premade Biscuit Dough is a quick and convenient option, but you can make donuts from scratch using a homemade dough recipe.
How do I prevent the donuts from sticking to the air fryer basket?
Lightly grease the air fryer basket with cooking spray or use parchment paper with holes to prevent sticking.
Can I use different toppings besides cinnamon sugar?
Absolutely! Feel free to experiment with chocolate glaze, powdered sugar, or even chocolate and sprinkles.
How long do I air fry the donuts?
Typically, the cooking time is about 4-5 minutes on each side at 360°F, but this can vary based on your air fryer model and the size of the donuts.
Can I make these donuts ahead of time?
These donuts are best enjoyed fresh. However, you can prepare the dough shapes ahead of time and refrigerate them until ready to air fry. The leftover dough does not store well. For best results, wrap the donuts in plastic wrap, which will be good for the next day.
How can I store leftover donuts?
Store them in an airtight container at room temperature for up to two days. Reheat them briefly in the air fryer to refresh their texture.
Is it possible to make these donuts gluten-free?
Yes, use a gluten-free canned biscuit dough or a gluten-free donut dough recipe for a similar result.
Can I make these donuts vegan?
Look for a vegan-friendly canned biscuit dough and use plant-based butter for a vegan version.
How do I know when the donuts are done?
The donuts should be golden brown and puffed up. A toothpick inserted into the donut should come out clean.
More Air Fryer Recipes
Don't Forget To Pin!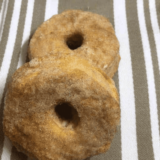 Air Fryer Cinnamon Sugar Donuts
Description
Air Fryer Cinnamon Sugar Donuts – are such a fun and easy way to start any morning, and with only a few ingredients, you can have a great breakfast treat for your entire family!
Ingredients
8

count

Pillsbury Biscuits

1/4

cup

butter

,

melted

1/4

cup

granulated sugar

4

tablespoons

ground cinnamon
Instructions
Start by getting your biscuits out of the container.

Use your biscuit cutter or a bottle cap, and cut the center of the biscuit out. Repeat until all of the biscuits are done

Spray your basket or air fryer tray with either non-stick cooking spray or olive oil spray.

Soak your biscuit in butter for about 30 seconds to 1 minute.

Mix the sugar and cinnamon and then coat it in the cinnamon and sugar mix

Place your donuts either on the tray or in the basket. SEt the temperature to 330 degrees F, air fryer setting, for 5 to 8 minutes.

Plate, serve and enjoy! Eat them while they are hot.
Equipment
Air Fryer,

Basket or Oven-Style

Parchment Paper,

or Cooking Spray

Biscuit Cutter
Nutrition
Serving:
1
Serving
Calories:
88
kcal
Carbohydrates:
10
g
Protein:
0.3
g
Fat:
6
g
Saturated Fat:
4
g
Polyunsaturated Fat:
0.3
g
Monounsaturated Fat:
2
g
Trans Fat:
0.2
g
Cholesterol:
15
mg
Sodium:
55
mg
Potassium:
21
mg
Fiber:
2
g
Sugar:
6
g
Vitamin A:
189
IU
Vitamin C:
0.2
mg
Calcium:
42
mg
Iron:
0.4
mg