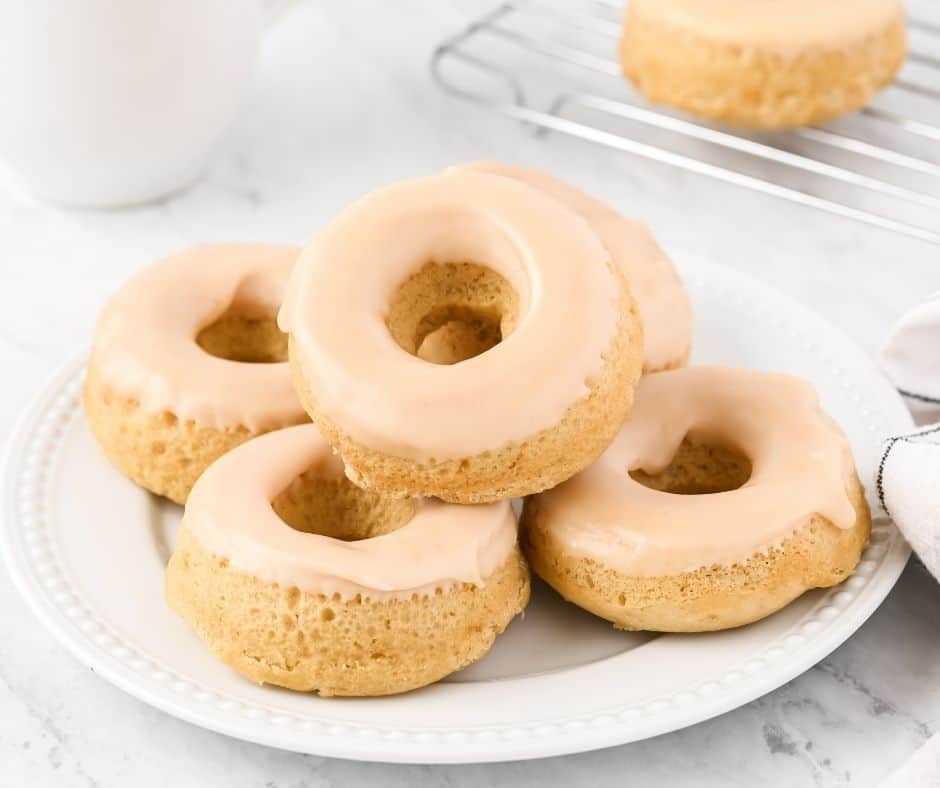 Air Fryer Maple Frosted Donuts are so good! I love these donuts. They are light, they are airy, and they are delicious!
And the icing on top really makes all of the difference. If you love maple syrup, you will love these donuts!
They make an amazing breakfast or dessert! They are so sweet and pair lovely with a hot cup of coffee.
If you love a homemade, freshly baked donut, this might become one of your favorites; there is nothing better than a hot baked donut, which can bake in minutes with the help of the air fryer! Mere minutes!
The result is a great donut that will literally melt in your mouth!
If you become donut obsessed like me, some of my favorite Air Fryer Donut Recipes are AIR FRYER GLAZED BISCUIT DONUTS. AIR FRYER BANANA DONUTS, and AIR FRYER RASPBERRY LEMON DONUTS.
Ingredients Needed For Air Fryer Maple Frosted Donuts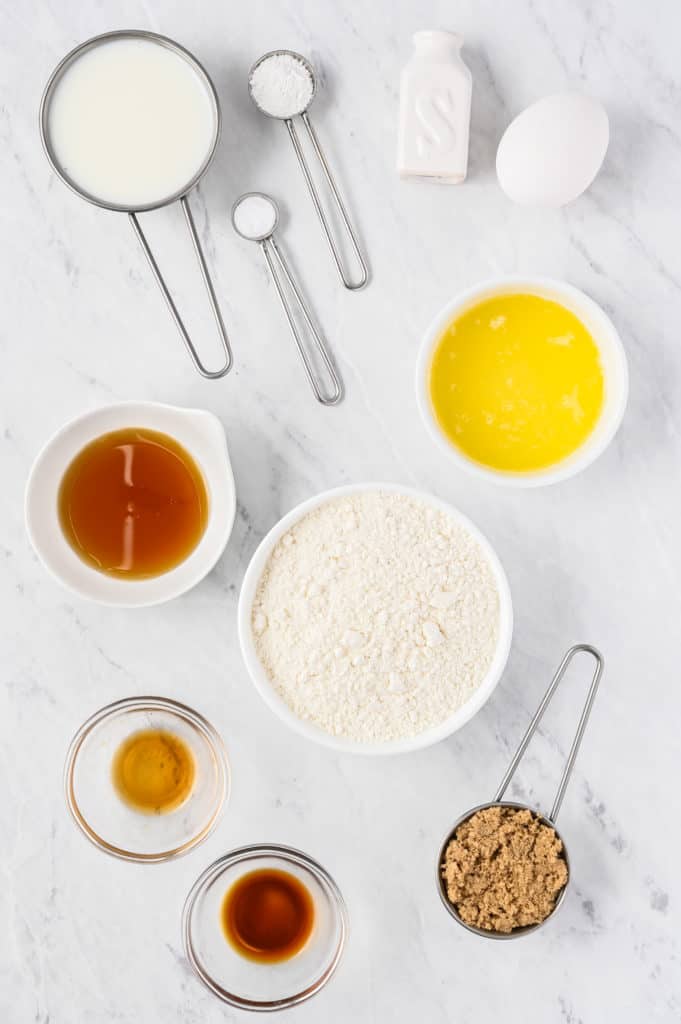 All-Purpose Flour
Salt
Baking Powder
Baking Soda
Brown Sugar
Butter
Egg
Pure Vanilla Extract
Maple Extract
Buttermilk
Maple Syrup
Powdered Sugar
Milk
How To Make Air Fryer Maple Frosted Donuts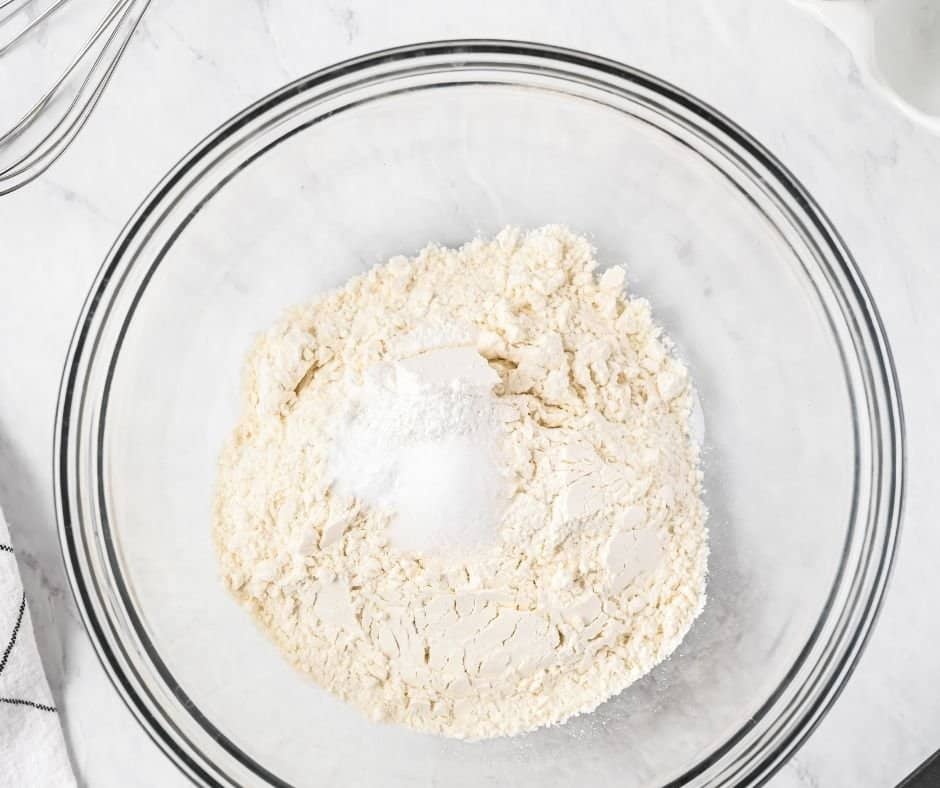 Spray the donut pan with non-stick spray and set it aside. Add the flour, salt, baking powder, and baking soda to a large mixing bowl and use a whisk to mix them.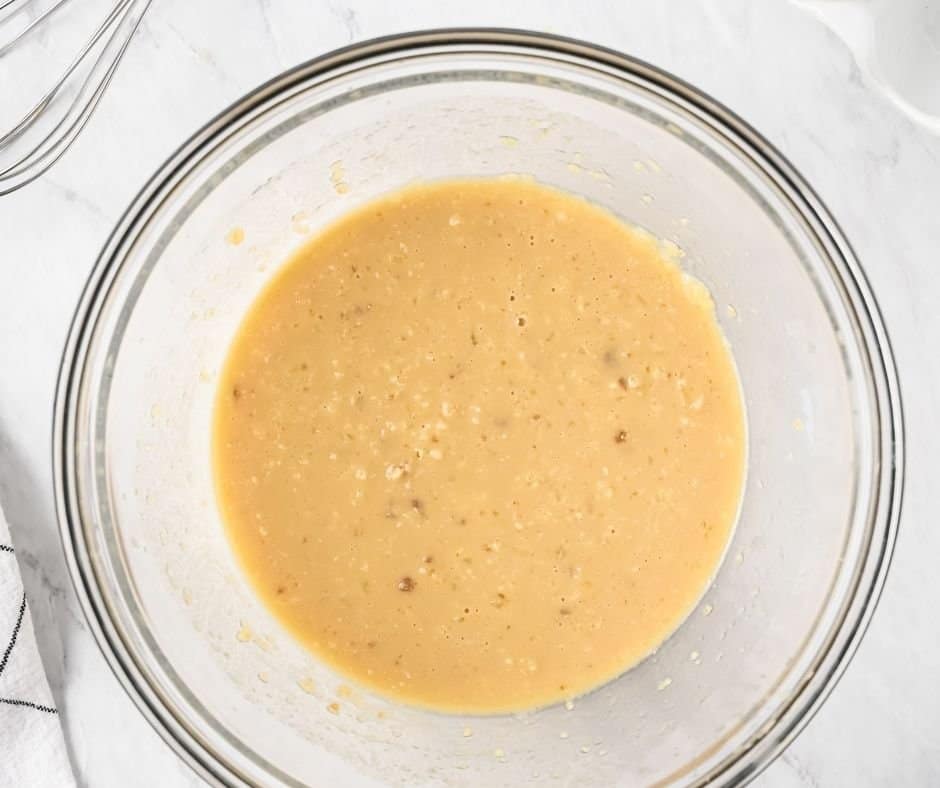 In a second mixing bowl, add the sugar, butter, egg, vanilla and maple extracts, buttermilk, and maple syrup. Whisk to combine.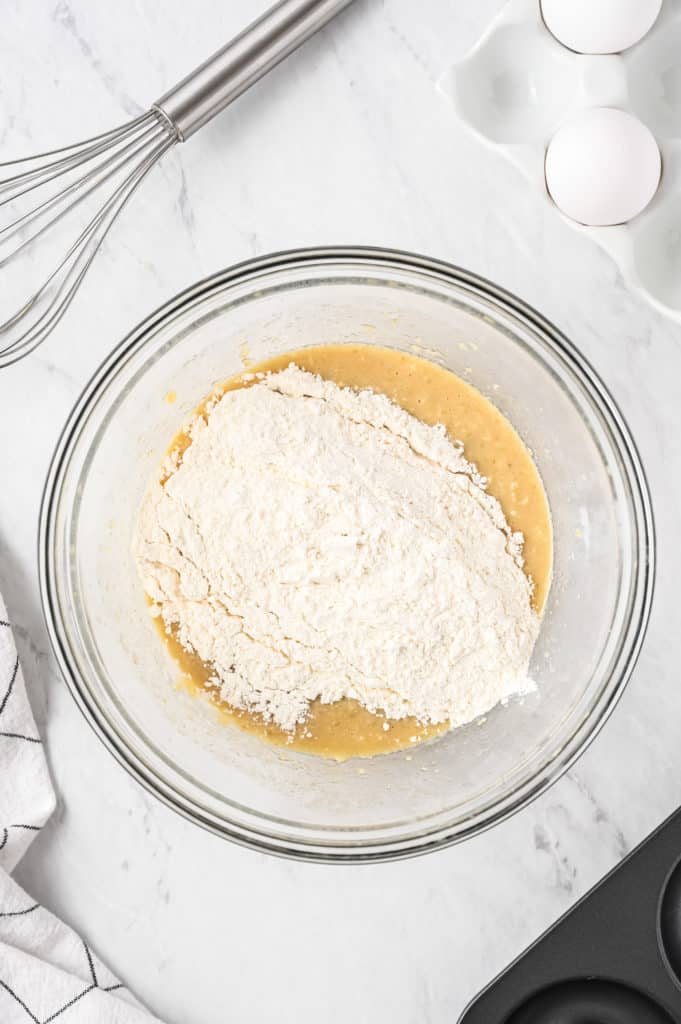 Add the wet ingredients to the dry and mix until there are no streaks of flour and the two are just combined (it may be slightly lumpy – that's ok!).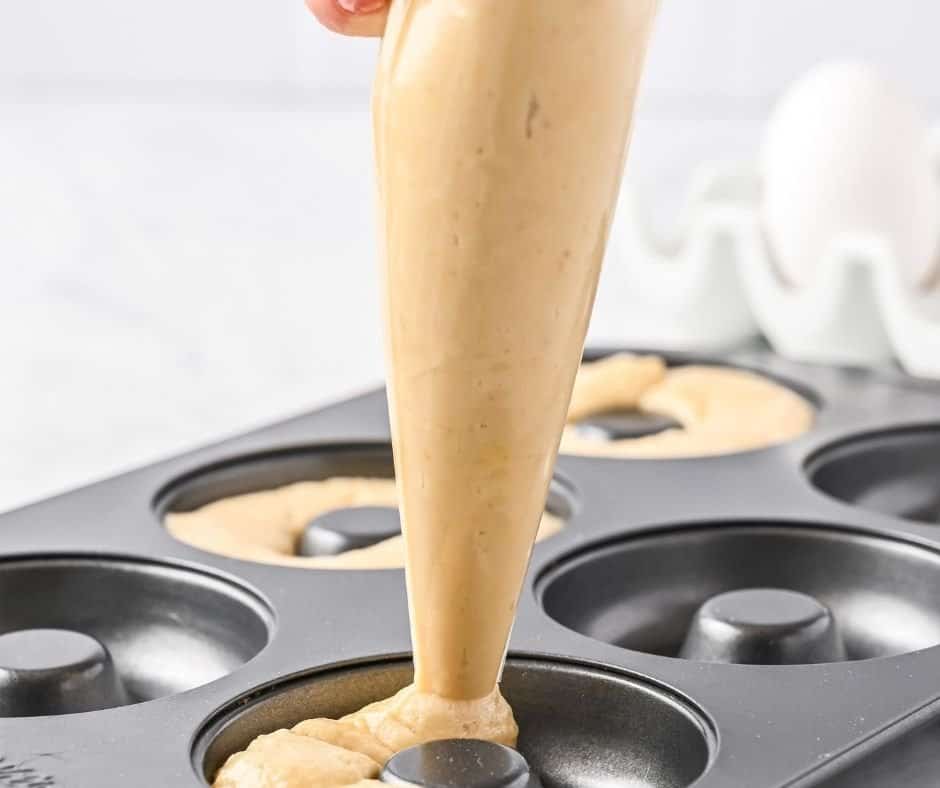 Piping the batter equally into the six donut cavities. You can use a piping bag with a large tip, or the end cut off, or snip the corner of a plastic bag.
Set the pan into the air fryer, at 320 degrees F, air fryer setting, and air fry for 10 to 12 minutes, or until the donut springs back when gently pressed with a finger. Turn out the donuts onto a wire rack.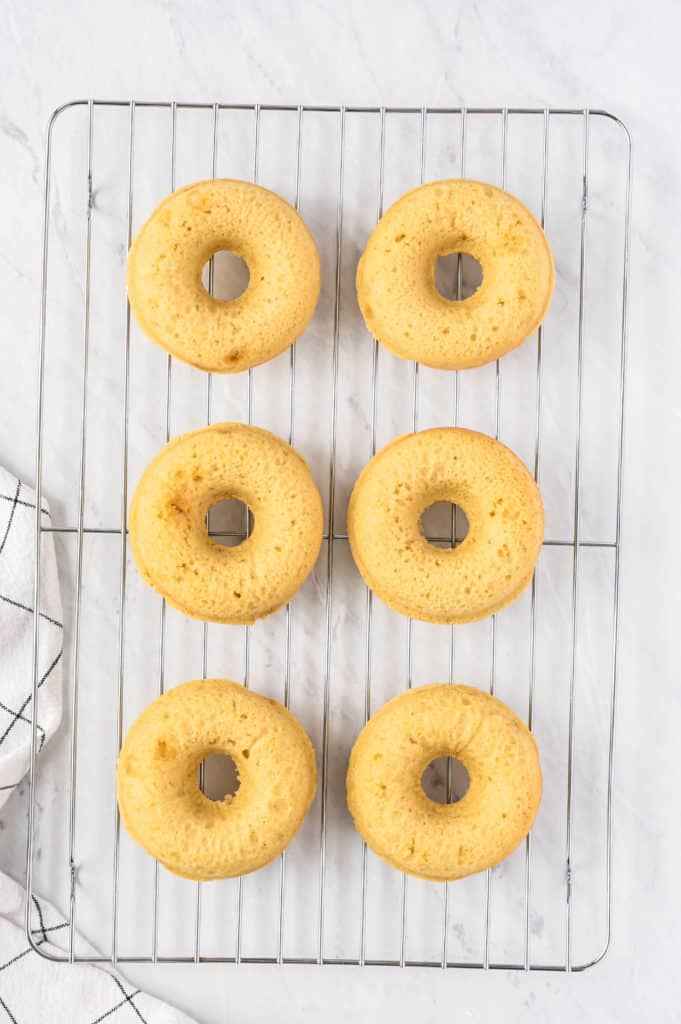 To prepare the glaze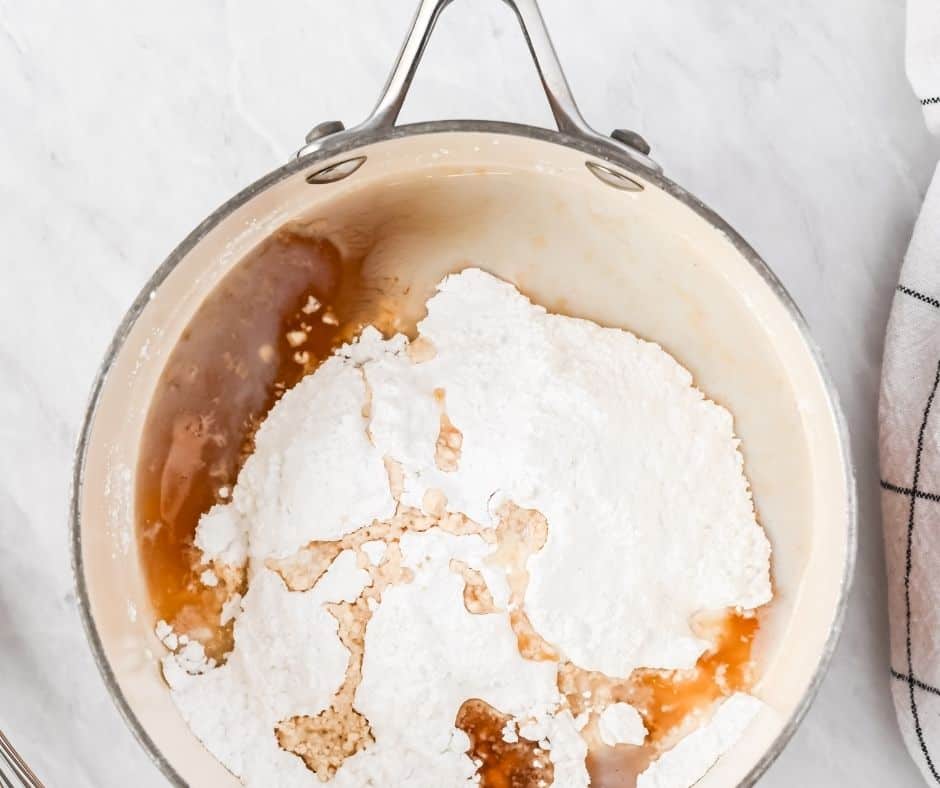 Add the confectioner's sugar, milk, maple syrup, and maple extract to a medium saucepan. Whisk constantly over medium heat until all ingredients combine. Once mixed, turn off heat but leave the pan on the burner, whisking the glaze occasionally to keep liquid. **
While the donuts are warm but cool enough to handle, dip one half of the donut, top side down, into the glaze.** Turn the donut right side up and place on a wire rack to finish cooling and for the glaze to set. ****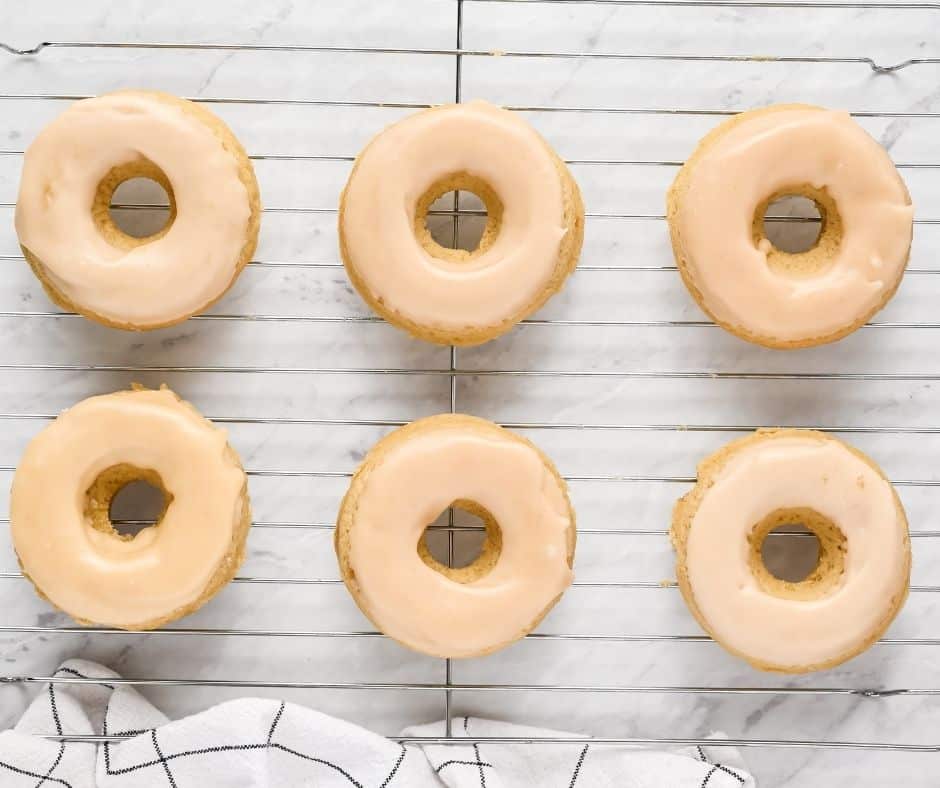 How To Store The Donuts:
These donuts are best served immediately but will last two to three days stored in an airtight container.
Why is there buttermilk in the recipe? What can I substitute for it?
The acidity in the buttermilk reacts with baking powder and soda, producing a light, soft texture.
If you don't have buttermilk on hand, but have milk, add ½ tablespoon lemon juice or distilled white vinegar to a measuring cup and fill with enough milk to create a ½ cup mixture. Let it sit for 5 minutes before use.
Why do I have to heat the glaze? Can't I just whisk the ingredients together in a bowl?
Yes and no. Dipping the donuts into heated glaze results in an even, glossy glaze, whereas dipping the donuts into a cold glaze can produce a patchy spread. Although they will taste the same, the application of a heated glaze is much smoother and uniform than dipping into a cold one.
For a thick layer of glaze, double-dip! Wait for the first coat of glaze to slightly harden (about 1 minute) and then re-dip the donut into the glaze. (The donuts pictured have been double-dipped).
What Donut Pans Can I Use in The Air Fryer?
While you might have a donut pan in your pantry, you may need to purchase a new one to fit in your air fryer basket or oven. I have used these Air Fryer Safe Donut Pans in several air fryer models, including the Ninja Foodi, Instant Pot Vortex, and Emeril's 360. You will need to purchase a silicone mold for an air fryer basket model and then cut it to shape.
Some of my favorite Air Fryer Donut Pans are; (affiliate links included)
Wilton 6-Cavity Doughnut Baking Pan, Makes Individual Full-Sized 3 3/4″ Donuts or Baked Treats, Non-Stick and Dishwasher Safe

3-Pack Silicone Donut Baking Pan of 100% Nonstick Silicone. BPA Free Mold Sheet Tray. Makes Perfect 3 Inch Donuts. Tray Measures 10×7 Inches. Easy Clean.
Some Other Great Air Fryer Donut Recipes:
Don't Forget To Pin: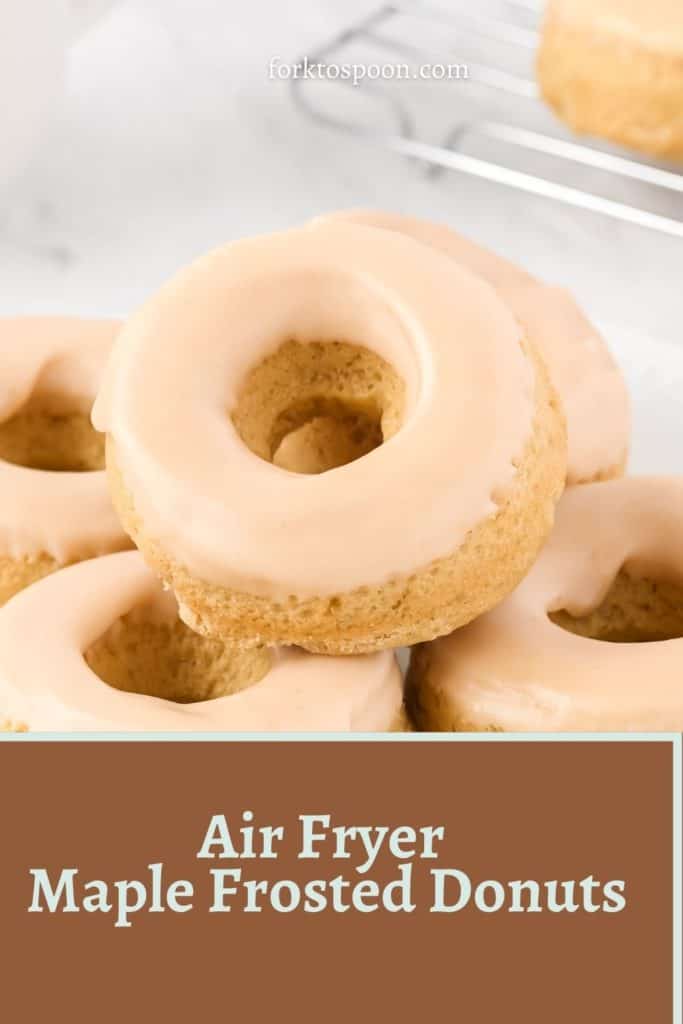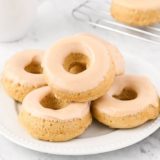 Air Fryer Maple Frosted Donuts
Description
Air Fryer Maple Frosted Donuts are so good! I love these donuts. They are light, they are airy, and they are delicious!
Ingredients
Donuts:
1

cup

all-purpose flour

1/2

teaspoon

kosher salt

1

teaspoon

baking powder

1/4

teaspoon

baking soda

1/4

cup

light brown sugar

2

tablespoons

Unsalted butter, melted

1

medium

egg

1

teaspoon

vanilla extract

1

teaspoon

maple extract

1/2

cup

buttermilk

2

tablespoons

maple syrup
For the Glaze:
1

cup

confectioners sugar

1

tablespoon

milk

2

tablespoon

maple syrup

1

teaspoon

maple extract
Instructions
Spray the donut pan with non-stick spray and set it aside.

Add the flour, salt, baking powder, and baking soda to a large mixing bowl and use a whisk to mix them.

In a second mixing bowl, add the sugar, butter, egg, vanilla and maple extracts, buttermilk, and maple syrup. Whisk to combine.

Add the wet ingredients to the dry and mix until there are no streaks of flour and the two are just combined (it may be slightly lumpy – that's ok!).

Piping the batter equally into the six donut cavities. You can use a piping bag with a large tip, or the end cut off, or snip the corner of a plastic bag.

Set the pan into the air fryer, at 320 degrees F, air fryer setting, and air fry for 10 to 12 minutes, or until the donut springs back when gently pressed with a finger. Turn out the donuts onto a wire rack.

Add the confectioner's sugar, milk, maple syrup, and maple extract to a medium saucepan. Whisk constantly over medium heat until all ingredients combine. Once mixed, turn off heat but leave the pan on the burner, whisking the glaze occasionally to keep liquid. **

While the donuts are warm but cool enough to handle, dip one half of the donut, top side down, into the glaze.** Turn the donut right side up and place on a wire rack to finish cooling and for the glaze to set. ****
Equipment
Air Fryer

Cooking Spray
Nutrition
Serving:
1
Serving
Calories:
207
kcal
Carbohydrates:
56
g
Protein:
4
g
Fat:
5
g
Saturated Fat:
1
g
Polyunsaturated Fat:
1
g
Monounsaturated Fat:
2
g
Trans Fat:
0.003
g
Cholesterol:
30
mg
Sodium:
391
mg
Potassium:
108
mg
Fiber:
1
g
Sugar:
18
g
Vitamin A:
244
IU
Vitamin C:
0.01
mg
Calcium:
96
mg
Iron:
1
mg