Air Fryer Apple Fritters — Looking for a delicious and easy dessert? Look no further than these Air Fryer Apple Fritters! These fritters are perfect for a quick and easy snack or dessert. The best part is that they're made with fresh apples, so they're healthy and delicious. Give this recipe a try today! There is nothing better on a Saturday morning than a plate of great apple fritters.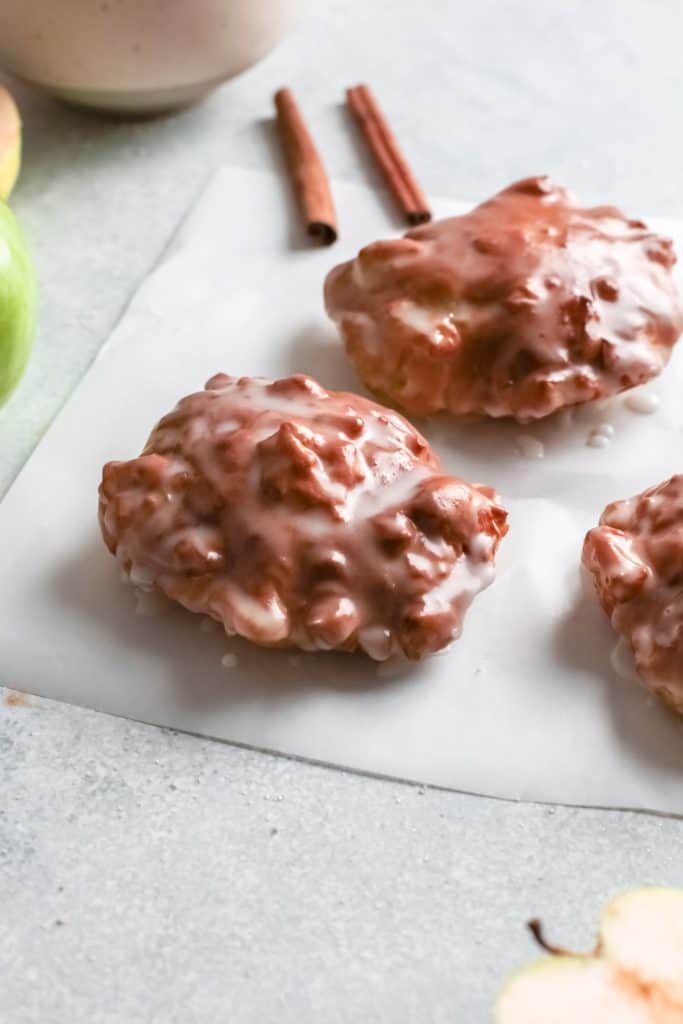 Air Fryer Apple Fritters –Everyone loves apples, especially as the fall weather starts to sneak upon us. I love using fresh apples in almost everything.
There is something magical about the aroma of diced apples, melted butter, and ground cinnamon filling your kitchen. Today, I present to you Air Fryer Apple Fritters.
These pair really well as a fall afternoon snack with a cup of hot cider or a hot cup of coffee.
These are so simple that they make a perfect afternoon snack. Next week, I will make the homemade version, so stay tuned if you are looking for those.
So, if you never heard of an apple fritter or even a fritter before, here is some great information, which will acquaint you with the fritter.
If you are looking for even more Air Fryer Apple Desserts, some of my favorites are AIR FRYER APPLE PIE BOMBS, AIR FRYER APPLE CHEDDAR BACON SCONES, AIR FRYER APPLE PIE EGG ROLLS, and AIR FRYER BAKED APPLES.
What Exactly Is An Apple Fritter?
A classic apple fritter is typically a stuffed dough with some fruit add-ins and then deep-fried in oil. They are really popular as fried doughnuts in the south. Fritters are typically served with a glaze. They make a mean breakfast in the South with a hot cup of coffee. While traditional apple fritters are baked, these are air fried, and they are a great sweet treat! You will get a crispy exterior, while the inside is full of apple flavor!
The Best Air Fryer Apple Fritter Recipe
If you're looking for an easy air fryer recipe that is sure to please, look no further than this apple fritter recipe. With just a few simple ingredients, you can have delicious apple fritters in no time! Plus, the air fryer cooks them evenly and perfectly every time. So what are you waiting for? Give this recipe a try today!
Can You Make Apple Fritters In An Air Fryer?
Yes! You most certainly can, and if you have not baked in the air fryer, you will never get a more delicious dessert, breakfast, or baked good as when you bake it in the Air Fryer!
Baked Goods Come Out truly Amazing!
Why You Will Love Apple Fritter Air Fryer
Do you love fried foods but don't want unhealthy fats? If so, an air fryer is perfect for you! Today we're sharing our recipe for apple fritters made in the air fryer. These little indulgences are crispy on the outside and fluffy on the inside and will quickly become a new favorite! Plus, they're easy to make and only require a few simple ingredients. We think you'll love them just as much as we do!
So, if you have a sweet tooth and have been looking for an easy air fryer apple fritters recipe, this is the one for you!
Ingredients Needed For Air Fryer Apple Fritters
The Air Fryer Apple Fritters recipe is a great way to use up those extra apples from your backyard orchard. This easy recipe only requires a few basic ingredients, and the end result is a delicious, guilt-free snack! Plus, the air fryer cooks them up perfectly without any added oil. Give this recipe a try today! Remember the detailed ingredients are below in the printable recipe card, as well as the nutritional information.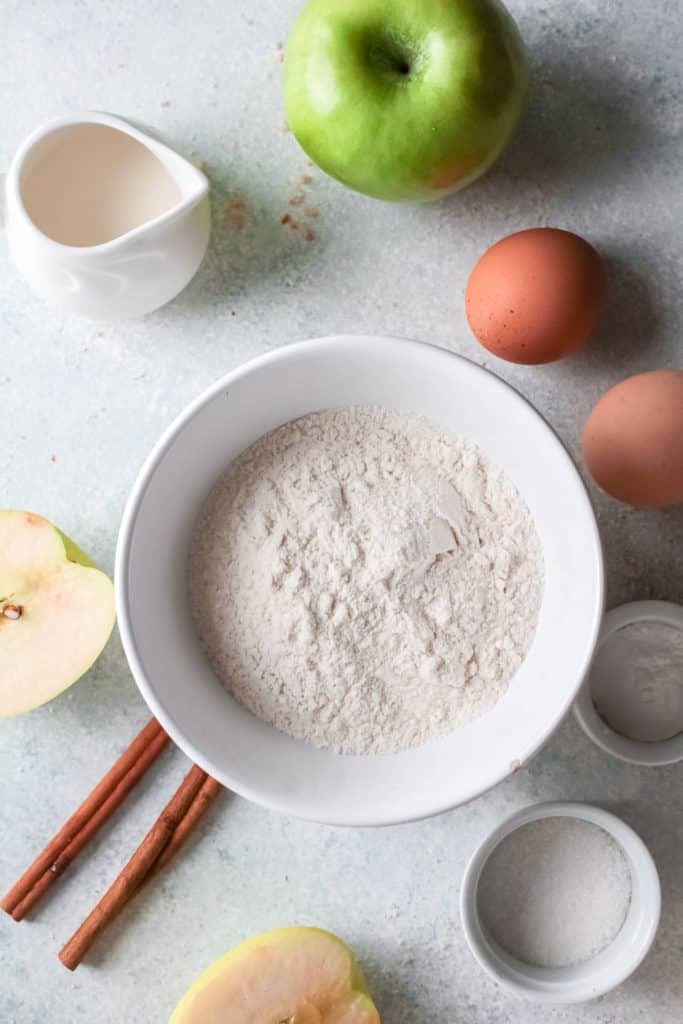 All-Purpose Flour: If you want to make these gluten-free, you can use all-purpose gluten-free flour, you can also use whole wheat flour.
Granulated Sugar: You can also use a sugar substitute, or you can use brown sugar, for a sweeter apple fritter.
Baking Powder: Make sure it's fresh, for best results.
Ground Cinnamon
Milk: You can also substitute it with buttermilk, Greek yogurt, or sour cream.
Eggs:: Use large eggs, at room temperature
Sweet Apples
Cooking Spray
How To Cook Apple Fritters In The Air Fryer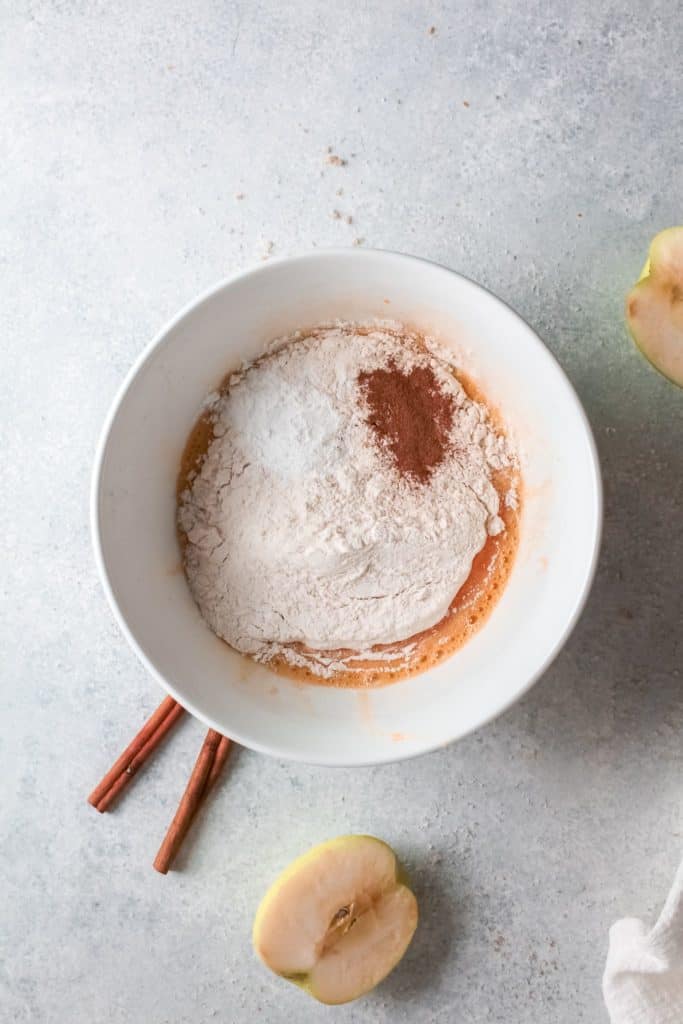 In a bowl beat the eggs and sugar together. Add the flour, baking powder, and cinnamon, and with the help of a spatula stir until incorporated.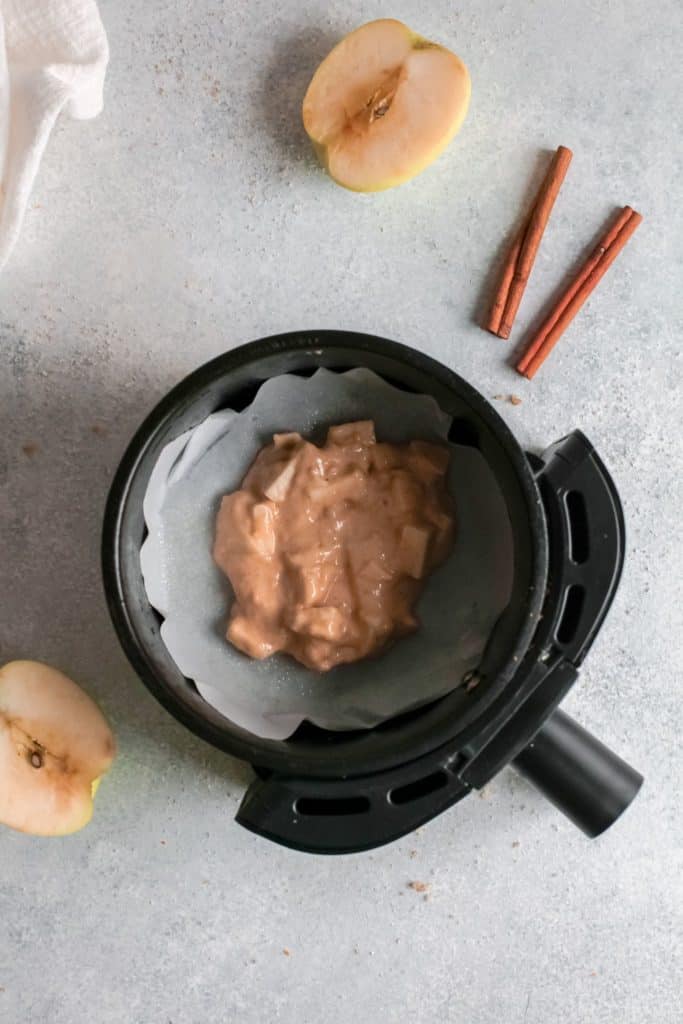 Slowly, pour the milk, mixing well until the batter is thick but spreadable. Add the apple and fold it into the dough.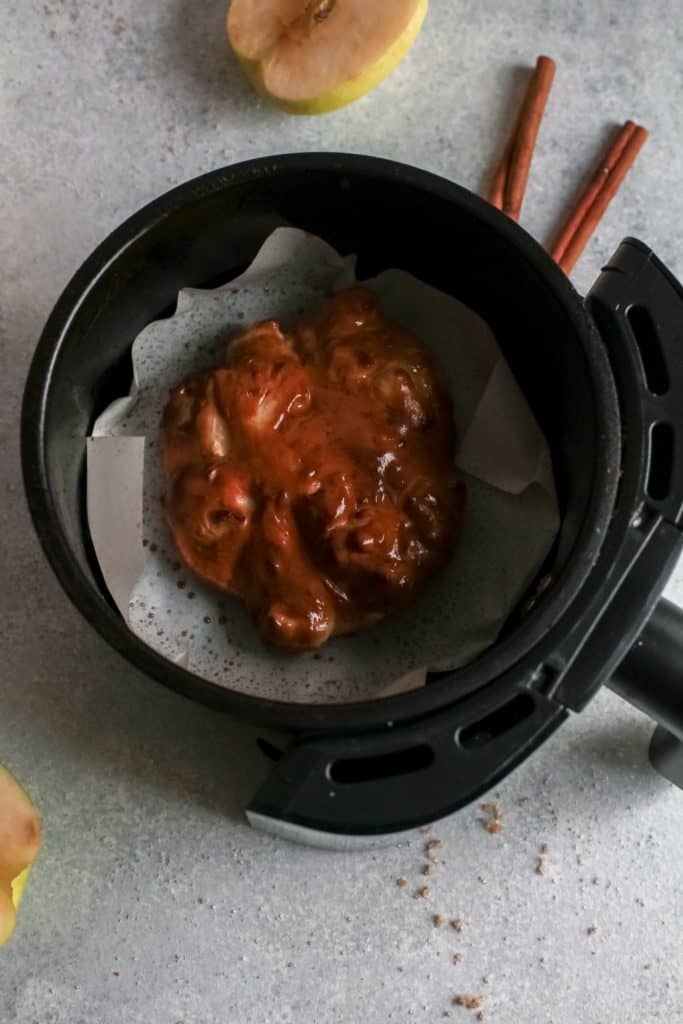 Line the air fryer with parchment paper and scoop around ⅓ cup of dough into it. Spray with butter cooking spray. Air fry at 350 degrees for 10 minutes or until golden brown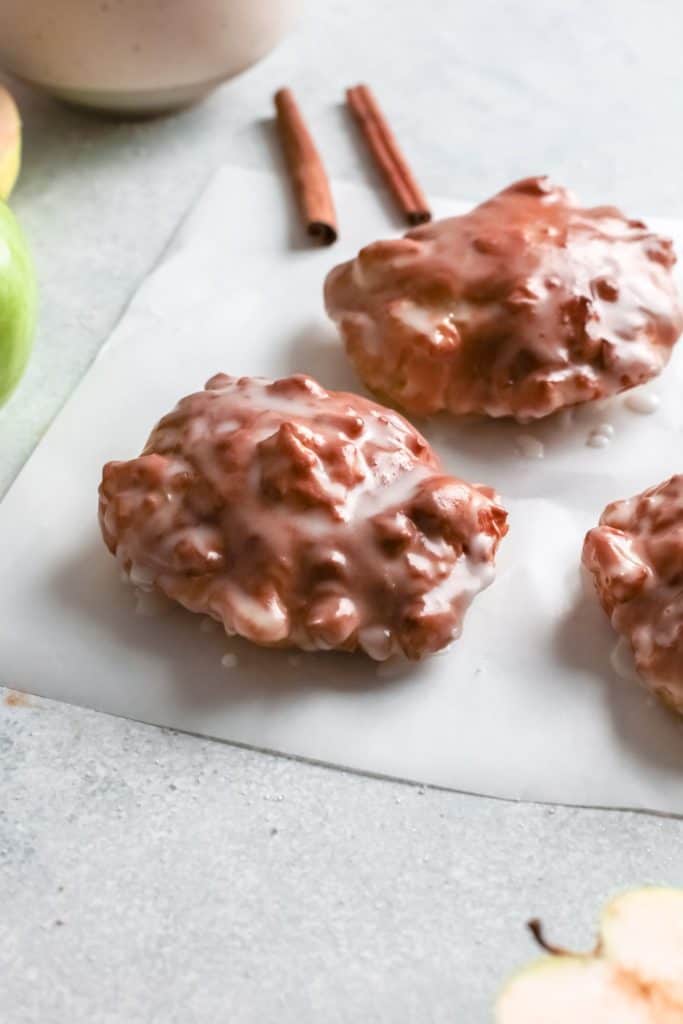 Pro Tips For The Best Fritters In Air Fryer
I have made this recipe several times over the years in different air fryer models, baskets and ovens. The recipe will work the same. I have made the Air Fryer Apple Fritters in the Air Fryer Ninja Foodi, Instant Pot Votex, GoWise, PowerXl, and other air fryer basket and oven models. The recipe will work the same. The time may vary by a few minutes. Remember the cooking times will vary based on the different brand of air fryer. But remove the fritters when they are a deep golden brown color.
The most important ingredient for this recipe is the apples. You really want a lot of apples in the apple fritter. I used one apple, but if you want to add more, that's fine.
Feel free to add even more spice, especially for those fall days. Add some ground cinnamon, ground nutmeg, and even pumpkin spice.
Let the apple fritters cool slightly before serving.
For a topping, you can add ground cinnamon and sugar in a bowl and coat the apple fritters in it, or drizzle it with simple powdered sugar and milk icing. I love the combination of the warm cinnamon topping, on tops of the fritters!
Apple Cider: For a sweeter air fryer version of this warm apple fritter, you can use a little bit of apple cider, or add a dash of lemon juice.
How Do You Get Crispy Healthy Air Fryer Apple Fritters
I like a great apple fritter which is a bit crisper than other pastries that I make. As they cook more, you will notice that they are crispier and less like a soft pastry. So, the longer that you cook (air fry) them, the crispier they will get.
It really depends if you are going for a crisp Air Fryer Apple Fritters or a soft and warm pastry. But the longer you cook it, the crispier the pastry will end up.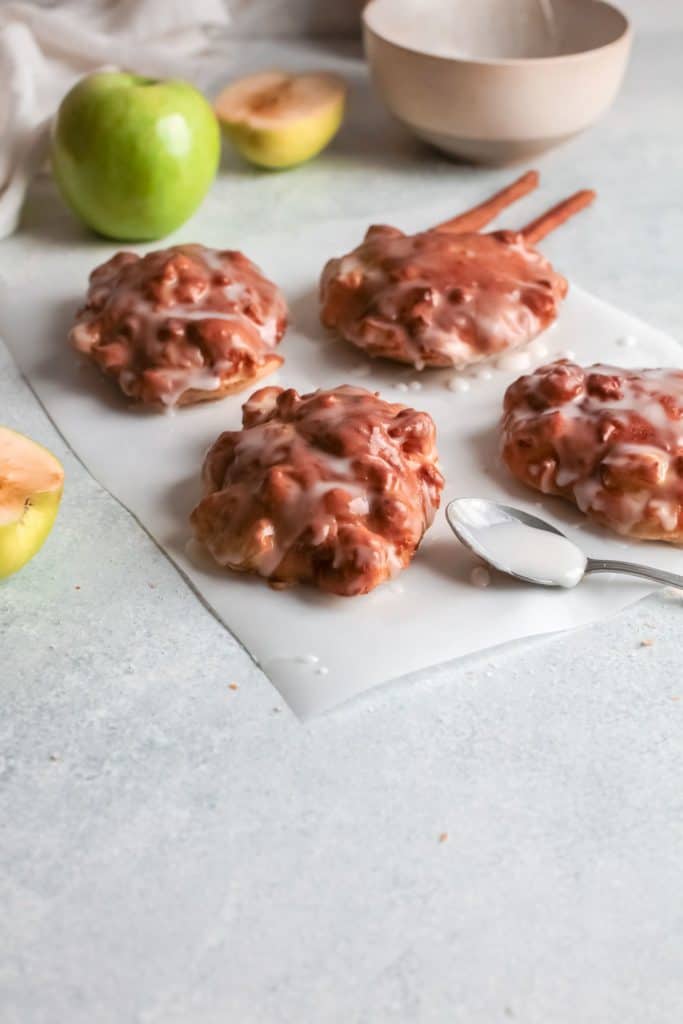 What Are The Best Apples For Air-Fried Apple Fritters
This is a great recipe for after anytime you bring the family apple picking since you really can use any apple, perfect for apple season.
You are looking for tender apples for this recipe, no mushy apples; otherwise, your dough will turn out mushy. Some types of apples that work well for this recipe are Granny Smith apples, honey crisp, Red Delicious, Gala, Fuji, or even Honeycrisp apples.
How To Make Ahead Of Time and Store
I love eating warm Air Fryer Apple Fritters with my morning coffee, but you can make these ahead of time and then reheat them in the microwave or Air Fryer right before serving.
If you have any leftovers, place them into an airtight container and keep them at room temperature for 1-2 days. Place them into the refrigerator for any longer, where they will last for about 3 to 4 days. As they get older, they will start to dry out.
Optional Brown Sugar Glaze
If you want to make a sweet brown butter glaze to put on top of the apple fritters, you can certainly do so, In a medium bowl mix together 1/2 cup brown sugar, 1/4 cup confectioner's sugar,4 tablespoons butter, 3 tablespoons milk (or skim milk), and 1/2 teaspoon vanilla extract. Mix all together in a small bowl. Drizzle on top of the fritters while they are warm. Then let it cool on a wire rack or cooling rack.
How To Serve Apple Fritters
You can easily serve this classic apple dessert with either ice cream, a sweet glaze, apple pie filling, or as-is. I love serving them as an air fryer dessert, and it's the perfect fruit dessert and a true game changer.
Check Out Some Of My Other Favorite Air Fryer Apple Recipes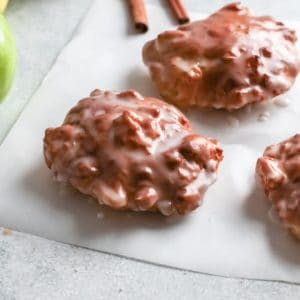 Air Fryer Apple Fritters
Description
Part donut, part apple pie these apple fritters are the perfect way to use leftover apples. Made in the air fryer they are also a healthier, easier, and faster alternative to the traditional fritters
Ingredients
2

large

eggs

1/4

cup

granulated sugar

1 1/4

cup

flour

2

tablespoons

baking powder

1/4

cup

milk

1

tablespoon

ground cinnamon

2

medium

apples

,

apples, peeled, cored, seeded and chopped into small piece
Instructions
In a bowl beat the eggs and sugar together. Add the flour, baking powder andcinnamon and with the help of a spatula stir until incorporated.

Slowly, pour the milk, mixing well until the batter is thick but spreadable.

Add the apple and fold into the dough.

Line the air fryer with parchment paper and scoop around ⅓ cup dough into it. Spray withbutter cooking spray. Air fry at 350 degrees for 10 minutes or until golden brown
Equipment
Air Fryer

Parchment Paper

butter cooking spray
Notes
They are deliciously glazed! Prepare a simple glaze by whisking 1 cup of confectioners sugar with 1 Tsp vanilla and 4 Tbsp water. Then glaze the fritters while they are cooled down
Nutrition
Serving:
1
g
Calories:
145
kcal
Carbohydrates:
29
g
Protein:
4
g
Fat:
2
g
Saturated Fat:
1
g
Polyunsaturated Fat:
0.4
g
Monounsaturated Fat:
1
g
Trans Fat:
0.01
g
Cholesterol:
47
mg
Sodium:
340
mg
Potassium:
103
mg
Fiber:
2
g
Sugar:
11
g
Vitamin A:
107
IU
Vitamin C:
2
mg
Calcium:
208
mg
Iron:
2
mg