Air Fryer Pineapple is the perfect summer treat. It's sweet, juicy, and tender. The best part? No oven is required! Let me show you how to air fry pineapple so you can indulge in this sweet treat.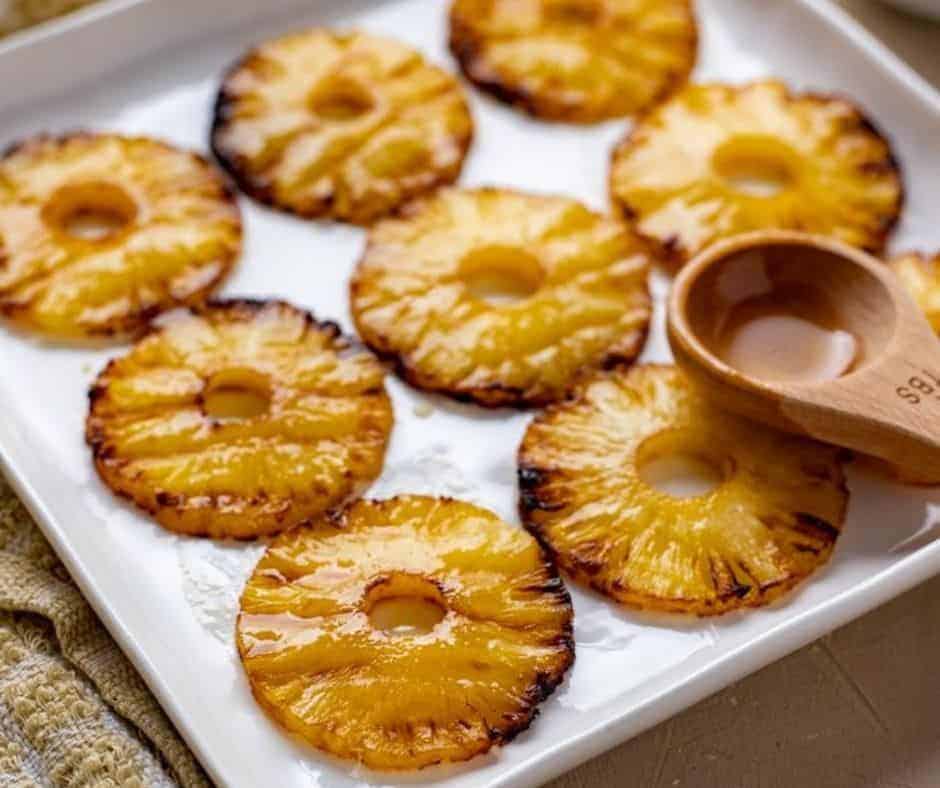 Pineapple In Air Fryer
Air Fried Pineapple is a great sweet treat that you can make for yourself and your family! Easy and absolutely delicious! Great for parties or for an easy after-dinner dessert.
These air fryer pineapple rings have a simple glaze on top of it. YUM! Made with a couple of pantry staples: melted butter and honey.
Making air fryer pineapple rings can be done any time of year, and you don't even have to break out the grill! WINNING!
If you love pineapple, be sure to try out my Pineapple Salsa, Air Fryer Bacon Wrapped Pineapple, and Air Fryer Rum Soaked Pineapple too. They are a great addition to your holiday table, special occasion, or just a delicious treat! That the whole family will love!
Why You'll Love Air Fryer Pineapple
Sweet & delicious
Family favorite
Great any season
Ideal party food
Cooks in minutes
How To Pick A Ripe Pineapple
Go for yellow. Choose a fresh pineapple that has a lot of yellow coloring all over it.
Green leaves are important. The leaves should be a bright green color and not brown or orange.
Smell the pineapple. You should notice a subtle sweet smell to the pineapple. If it doesn't smell the fruit and you notice it has a vinegar scent, then it's time to skip that one!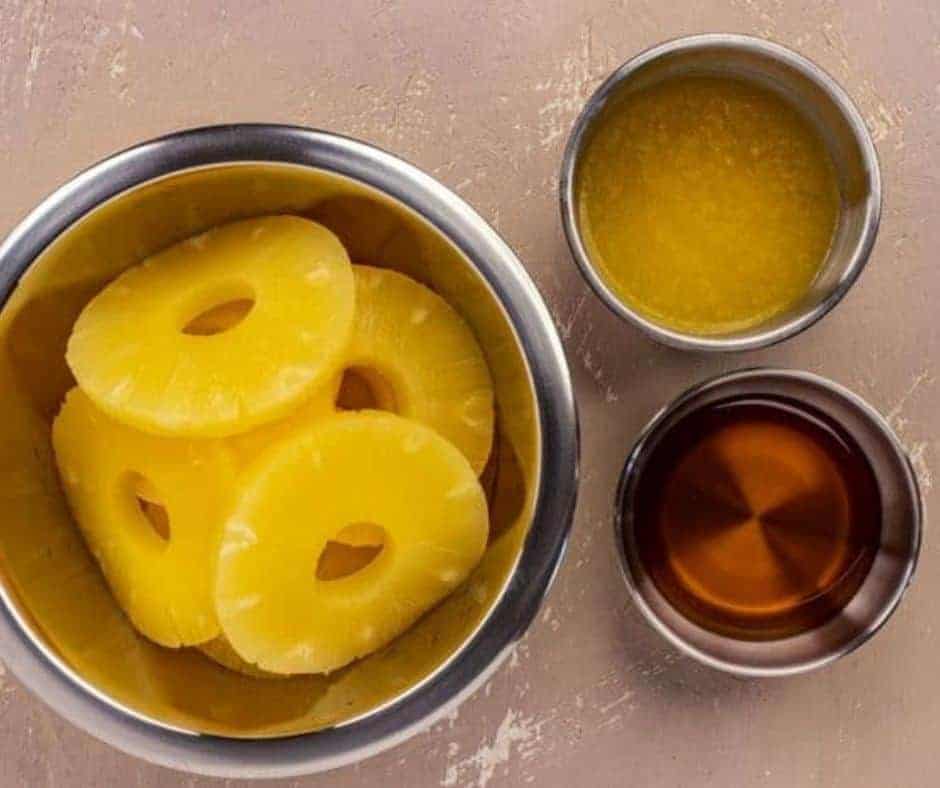 Ingredients Needed For Air Fryer Grilled Pineapple
When you air fry pineapple, you'll be glad to know you only need simple ingredients! Remember to keep on scrolling for a printable recipe card, at the bottom of this page, as well as the nutritional information.
Pineapple
Butter
Honey
Serving: With a scoop of ice cream, Caramel Sauce, or maple syrup!
How To Cut A Pineapple
Pineapples are considered tropical fruit because they grow in warm, sub-tropical areas. The center of the pineapple is edible, but not all parts are good for eating. It is important to remove the core and stem before using the flesh, you can remove the steam with a pineapple corer. With minimal effort, you can dice your pineapple, for a delicious dessert.
Use a sharp knife to cut your pineapple into chunks, rings, or pieces.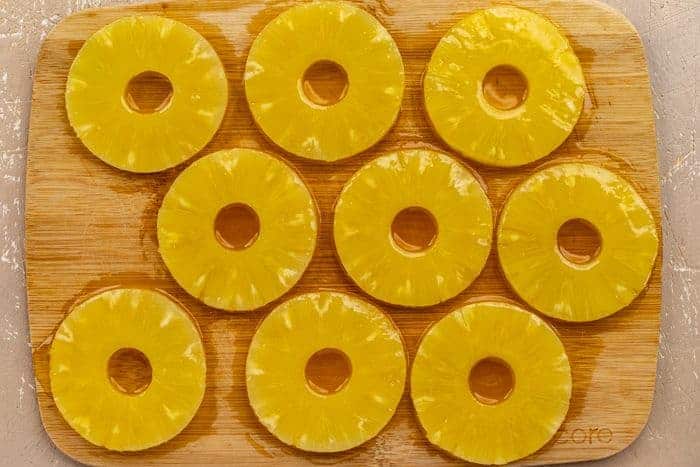 How To Make Air Fried Pineapple
Step 1: Make the sauce
In a small bowl, combine 4 tablespoons of melted butter with 2 tablespoons of honey. Brush the mixture on the pineapple rings.
Step 2: Air fry pineapple
Place the pineapple in the air fryer, in a single layer, and set the temperature to 250 degrees F for 5 minutes. To get that roasted flavor, increase the temperature to 400 degrees F and cook for another 5 minutes.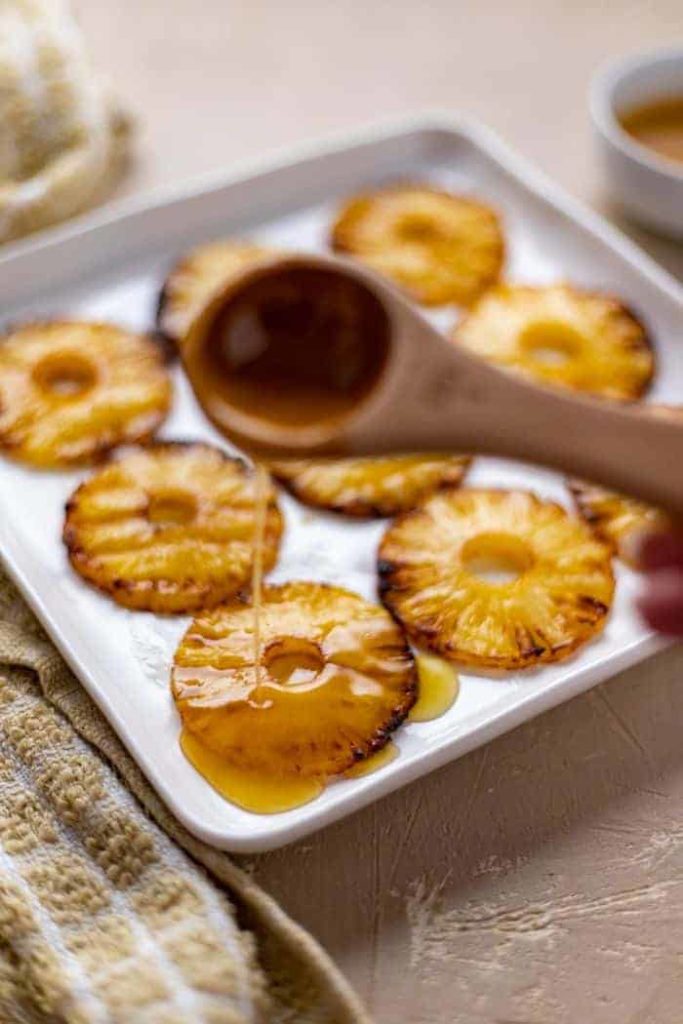 Pro Tips:
Use a pastry brush. What makes this air fried pineapple stand out is the sauce! Using a pastry brush to add the sauce will give you plenty of flavors, and it's easier to spread evenly.
For best results, spray your air fryer basket with cooking spray before adding your pineapple to the air fryer basket.
Canned or fresh both work. It doesn't matter if you cut the pineapple rings yourself or if you use canned. Both work well.
Serve with a dish of ice cream for a real treat.
Recipe Variations:
Spices: Add some spice by adding a few dashes of chili powder or cayenne powder into the honey and butter mixture.
Coconut Juice: Brush some coconut juice on top of the pineapple before air frying it up.
Air Fryer Pineapple Brown Sugar: Serve with brown sugar right before serving, the brown sugar pineapple brings out the sweetness of the fruit.
Air Fryer Pineapple Chunks: Use chunks of fresh or store-bought pineapple chunks!
Air Fried Pineapple FAQs
Are Pineapples Good For You?
Yes! Pineapples contain bromelain, an enzyme that helps with digestion, which is why they're so good for you. Some studies show that eating pineapples may help to relieve symptoms associated with osteoarthritis or rheumatoid arthritis by reducing inflammation in the body.
The biggest thing to consider is what you put on the pineapple and what you serve it with. Adding lots of sugar or serving it with ice cream is going to increase the calories as well.
Other Glazes For This Pineapple In Air Fryer
There are so many ways that you can dress up this air fried pineapple glaze. Another way to serve pineapple is what we refer to as Brazilian Grilled Pineapple. It is prepared the same way as this pineapple an air fryer recipe. Replace the honey with brown sugar and ground cinnamon, mix with melted butter in a bowl, then brush over the pineapple.
The cooking time and directions will not change.
Can You Reheat Grilled Pineapple?
Yes, if you want to heat up some leftover pineapple, toss it back into the air fryer and heat it until warmed through.
For best results, brush the pineapples with some melted butter before air frying!
What to Serve with Grilled Pineapple:
This air fryer recipe goes with almost anything! My kids love eating it as a quick snack, and I love serving it alongside these meals:
Can I use canned pineapple?
Sure! Just drain any liquid off of the pineapple rings and follow the rest of the steps. We usually prefer fresh when they are in season, but canned pineapple allows us to make it all year round.
How To Store Cooked Pineapple
Cooked pineapple is a delicious and healthy addition to any meal. However, if it's not stored properly, it can quickly go bad. Here are some tips on how to store cooked pineapple so that you can enjoy it for as long as possible. Let the cooked pineapple cool to room temperature, then place it into an as sealed container, or airtight container. This great side dish will last for 2-3 days.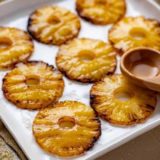 Air Fryer Pineapple
Description
Air Fryer Pineapple is the perfect summer treat. It's sweet, juicy, and tender. The best part? No oven is required! Let me show you how to air fry pineapple so you can indulge in this sweet treat.
Ingredients
1

pineapple

,

cored or not-cored, sliced into 1/2 inch rings, or pineapple chunks

4

tablespoons

butter

,

unsalted, melted

2

tablespoons

honey
Instructions
In a small bowl, mix the melted butter and honey.

Brush the mixture onto the sliced pineapple.

Set the temperature to 250 degrees F for 5 minutes, air fryer setting, and then to get the roasted pineapple flavor, increase the temperature to 400 degrees F, air fryer setting, for 5 minutes.

Brush with the honey and butter right before serving.
Nutrition
Serving:
1
g
Calories:
245
kcal
Carbohydrates:
38
g
Protein:
1
g
Fat:
12
g
Saturated Fat:
7
g
Polyunsaturated Fat:
1
g
Monounsaturated Fat:
3
g
Trans Fat:
0.5
g
Cholesterol:
30
mg
Sodium:
93
mg
Potassium:
255
mg
Fiber:
3
g
Sugar:
31
g
Vitamin A:
481
IU
Vitamin C:
108
mg
Calcium:
33
mg
Iron:
1
mg