Air Fryer Chicken and Broccoli is an easy and healthy lunch or dinner. And you know what? It is amazing and totally simple. This is one of my favorites if you want a quick and easy Air Fryer Stir Fry.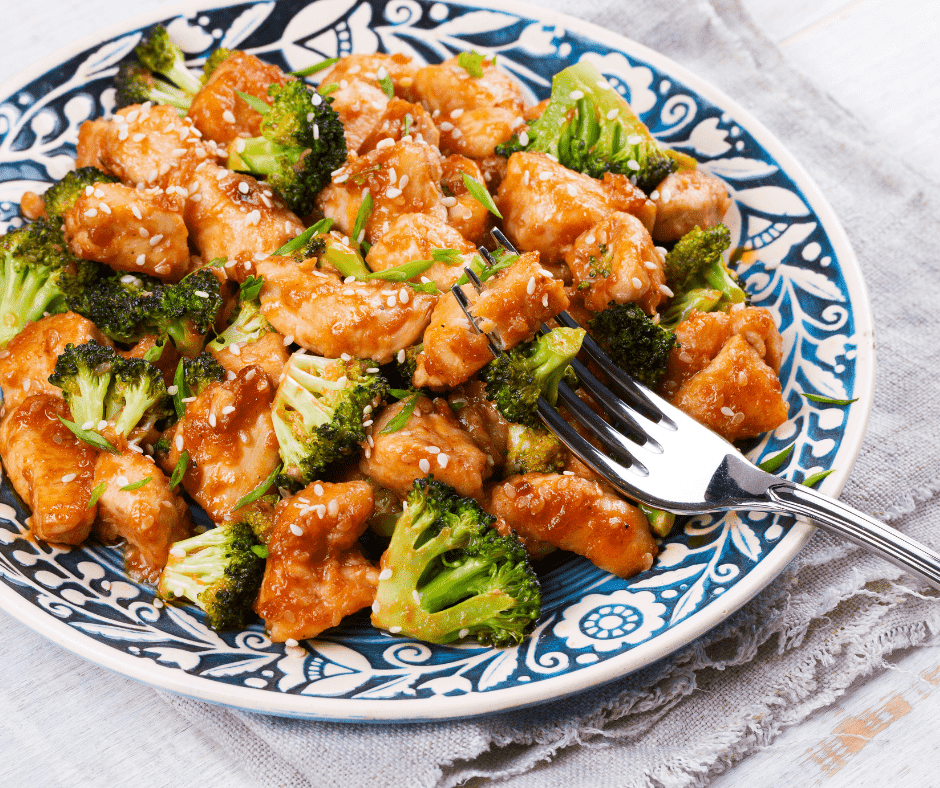 Introducing: The Best Chicken and Broccoli Air Fryer Recipe!​
We all have those days when we crave a wholesome dish and easy to whip up. Say hello to our Chicken and Broccoli Air Fryer recipe! Not only does this dish bring together the succulent flavors of chicken with the nutritious crunch of broccoli, but using the air fryer also ensures it's healthier, with the crispiness we all adore, minus the excess oils.
Perfect for a midweek dinner or when you're trying to impress without the stress, this recipe will soon become a staple in your kitchen repertoire. Keep reading to discover how to achieve this deliciousness in your air fryer!
Stay hungry, and let's dive in!
If you are looking for some of my other great and easy chicken recipes, a few of my favorites are Air Fryer Chicken Yakitori, Air Fryer Flamin' Hot Chicken, and one of the simplest, Air Fryer Shake N' Bake Style Fried Chicken.
Ingredients Needed For Chicken and Broccoli Air Fryer
Introducing your next go-to meal: Chicken and Broccoli in the Air Fryer! With a few simple ingredients, you can have this healthy meal, perfect for meal prep! Dive into this delectably crispy duo that promises both flavor and health.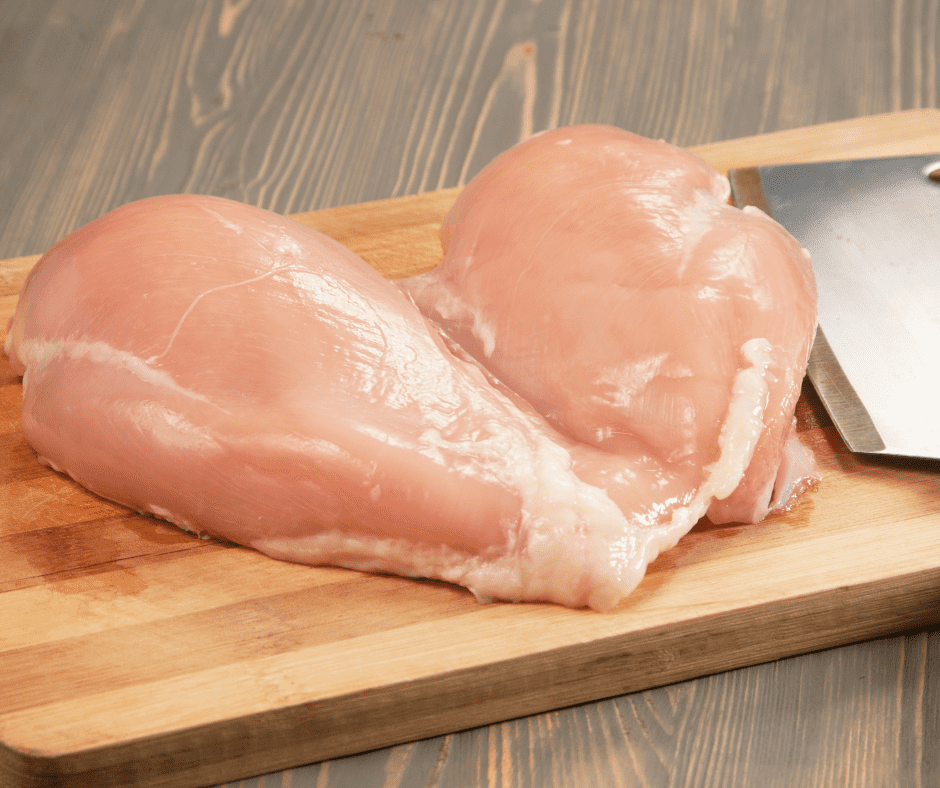 Remember the step-by-step directions and detailed ingredient list are below in the printable recipe card at the bottom of the post, as well as the nutritional information.
Chicken: The star of our dish, chicken brings in a rich protein source and succulent flavor. Use boneless skinless chicken thighs or boneless chicken chicken breasts.
Broccoli Florets: Not only does broccoli add a vibrant green touch, but it also packs our dish with essential vitamins and a delightful crunch.
Olive Oil: To give our ingredients a light coating, ensuring even cooking and a golden finish.
Seasonings: Enhance the natural flavors with your choice of herbs and spices, whether garlic powder, paprika, or just salt and pepper.
Lemon Zest: A touch of zesty freshness to elevate the dish and add a tangy twist!
How To Cook Air Fryer Broccoli and Chicken Stir Fry
The air fryer isn't just for crisping; it's a versatile tool that can also handle stir-fries! Here's a step-by-step guide to achieving a delicious Broccoli and Chicken Stir Fry using your air fryer: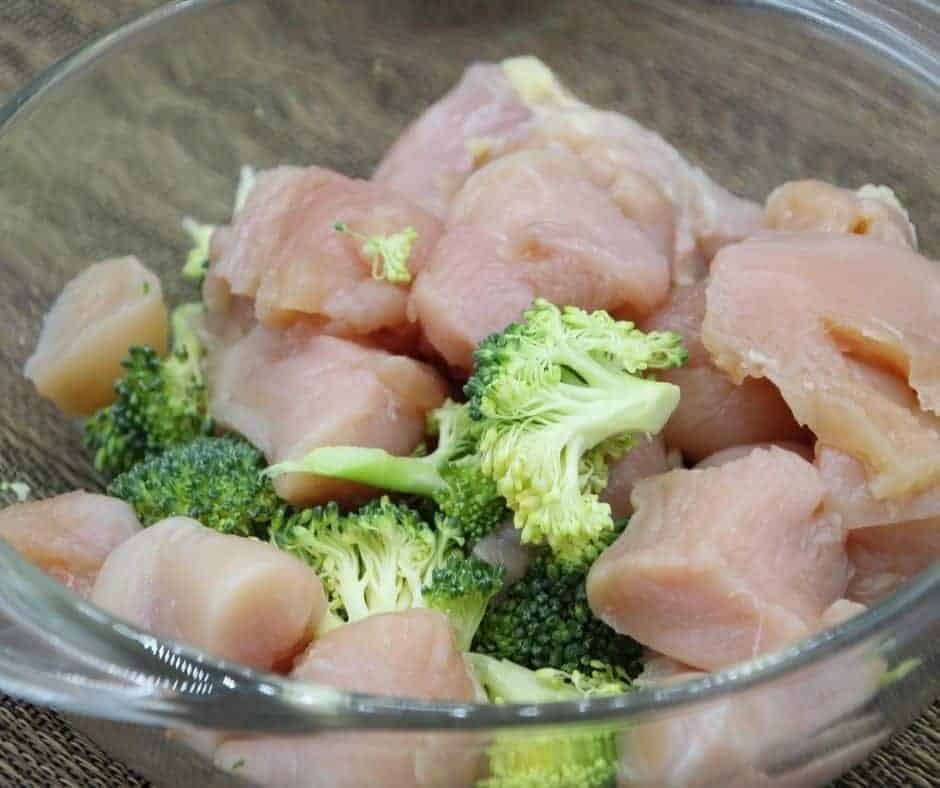 Marinating the Chicken:
In a large bowl, combine chicken, soy sauce, oyster sauce, hoisin sauce (if using), sesame oil, minced garlic, grated ginger, and a dash of Kosher salt and black pepper.
Mix well and let it marinate in the refrigerator for at least 30 minutes.
Preparing the Broccoli:
Toss broccoli florets in olive oil, ensuring they are lightly coated. This will help them roast nicely in the air fryer without drying out.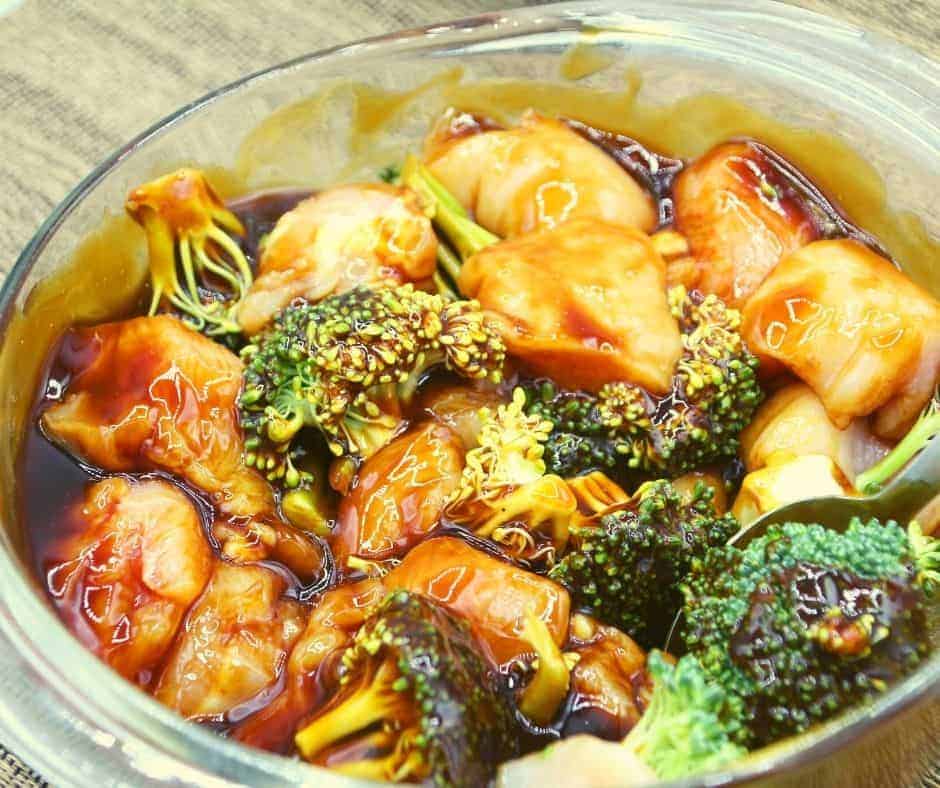 Air Frying:
Preheat your air fryer to 375 degrees F (190°C) for 3-5 minutes.
Start with the marinated chicken since it takes longer to cook. Spread it out in a single layer in the air fryer basket. Ensure the pieces are not touching. Air fry the chicken for about 8 minutes, shaking midway to ensure even cooking.
Add the broccoli to the basket with the partially cooked chicken. Set cook time for 7-10 minutes or until the chicken is fully cooked and the broccoli is tender, golden brown, with some crispy edges. The internal temperature of the chicken should reach 165 degrees F before removing it from the air fryer basket.
If using, add the red pepper flakes or bell peppers in the last 5 minutes of cooking for a touch of heat and color.
Serving:
Transfer the cooked chicken and broccoli stir fry to a serving dish. Garnish with sesame seeds and sliced green onions. Serve immediately with steamed rice or noodles on the side.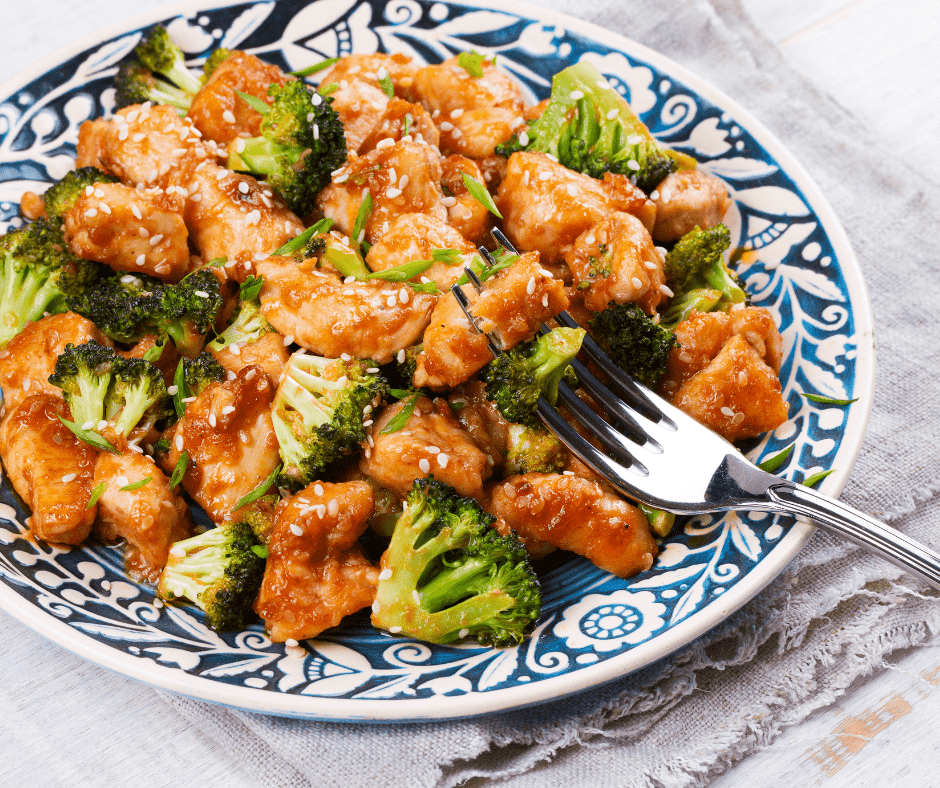 Pro Tips for Cooking Broccoli and Chicken in an Air Fryer
Even Sizes: To ensure even cooking, cut the chicken into consistent, bite-sized pieces and break the broccoli into similar-sized florets.
Don't Overcrowd: Overloading the air fryer basket can lead to uneven cooking. If necessary, cook in batches to ensure optimal air circulation and crispiness.
Dry Ingredients Well: If you've washed your broccoli or chicken, ensure they're thoroughly dried before adding any oil or marinade. Excess moisture can hinder the crisping process.
Marinate for Flavor: Chicken especially benefits from marination. Even a quick 30-minute marinate can significantly enhance the flavor.
Shake or Toss Midway: Halfway through cooking, shake the basket or use a spatula to turn the ingredients. This promotes even cooking and browning.
Check for Doneness: Use a meat thermometer to ensure the chicken reaches an internal temperature of 165°F (74°C). For broccoli, look for bright green florets with some crispy brown edges.
Season After Cooking: For an extra flavor boost, sprinkle some additional seasonings or salt after cooking, especially on the broccoli. The heat can help to activate the flavors.
Utilize High Smoke Point Oils: When cooking at high temperatures, use oils like avocado oil, grapeseed oil, or refined olive oil. These can withstand high heat without breaking down.
Reheat with Care: If you have leftovers, use the air fryer to reheat them. It will restore the crispiness much better than a microwave.
Stay Creative: Don't hesitate to experiment! You can add different spices and sauces or mix in other vegetables to keep things interesting and flavorful.
Remember, every air fryer model might differ slightly, so watch your food when you try a new recipe or technique. The cook time of your recipe will vary by air fryer.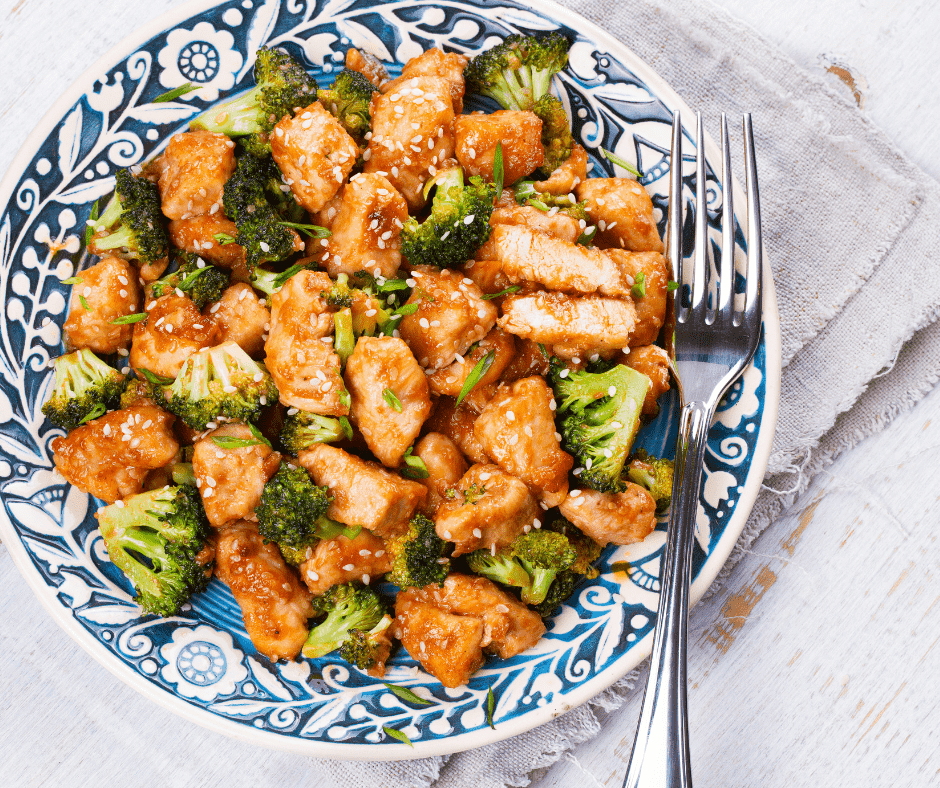 Do I need to preheat my air fryer before adding the chicken and broccoli? While some models recommend preheating, others don't. Preheating for a few minutes is a good practice for more consistent results.
How do I avoid the chicken from drying out in the air fryer? Marinate the chicken before cooking and avoid overcooking. A meat thermometer, or instant read thermometer, helps ensure the chicken is cooked just right without drying it out.
Can I use frozen broccoli or chicken for this method? Yes, you can use frozen ingredients, but you might need to adjust the cooking time. It's essential to ensure the chicken is cooked through.
My broccoli doesn't get crispy. Why? Ensure the broccoli is dry before adding oil or seasoning. Excess moisture can prevent crisping. Also, don't overcrowd the basket, as this can cause it to steam instead of fry.
Is cooking chicken and broccoli in an air fryer healthier than traditional frying? Yes, air frying uses significantly less oil than traditional frying, resulting in fewer calories and less fat in the finished dish.
Can I add other vegetables to the broccoli and chicken? Absolutely! Vegetables like bell peppers, snap peas, or carrots can be added. Just be aware of differing cooking times.
How do I clean my air fryer after cooking? Most air fryers have removable baskets that are dishwasher safe. If washing by hand, let it cool, then wash with warm soapy water. Ensure it's thoroughly dried before the next use.
The flavors are too bland for me. How can I enhance them? Feel free to customize! Add spices, herbs, or even a splash of sauce (like teriyaki or buffalo) after cooking to elevate the flavors.
How to store: Let any leftovers cool to room temperature, and then place the air fryer broccoli recipe into an airtight container, where it will be kept in the refrigerator for 3-4 days.
What to serve with broccoli chicken? You can serve with white rice, cauliflower rice, or brown rice, as a complete meal.
More Air Fryer Recipes
If you love a great easy chicken dinner, check out some of these easy dinner recipes!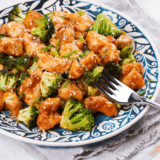 Air Fryer Chicken and Broccoli
Description
Air Fryer Chicken and Broccoli is such an easy and healthy lunch or dinner. And you know what, it is amazing and straightforward. This is one of my favorites if you are looking for a quick and easy Air Fryer Stir Fry.
Ingredients
1

pound

chicken breast

,

boneless, and skinless

1/2

pound

broccoli florets

2

tablespoons

oil

1

teaspoon

garlic powder

1

teaspoon

minced ginger or ginger powder

1

tablespoon

soy sauce

1

teaspoon

sesame seed oil

2

teaspoons

rice vinegar

1

teaspoon

salt

1/2

teaspoon

black pepper
Optional: Serve with salt, black pepper, and sesame seeds.
Instructions
In a large bowl, add the diced chicken and broccoli florets.

In a large bowl, add the vegetable oil, garlic powder, minced garlic, soy sauce, sesame oil, rice vinegar, salt, and black pepper. Mix well.

Add the sauce to the broccoli and chicken and mix well, so it's well coated. Add the stir fry to the air fryer basket, and set the temperature to 370 degrees F, air fryer setting for 10-15 minutes. Shake the basket frequently through the cooking process.

Add salt, black pepper, and sesame seeds before serving.
Equipment
Air Fryer

Cooking Spray

Parchment Paper,

Optional
Notes
Storing Cooked Chicken and Broccoli:
Cooling: Allow the chicken and broccoli to cool to room temperature.
Containers: Transfer to airtight containers to maintain freshness.
Refrigeration: Store in the refrigerator for up to 3-4 days.
---
Reheating Cooked Chicken and Broccoli:
Air Fryer:

Preheat the air fryer to 300°F (150°C).
Spread the chicken and broccoli in a single layer in the air fryer basket.
Reheat for 4-5 minutes or until warmed through, ensuring it doesn't overcook.

Oven:

Preheat the oven to 325°F (165°C).
Spread the chicken and broccoli on a baking sheet.
Heat for 10-15 minutes or until warmed through.

Microwave:

Place the chicken and broccoli in a microwave-safe dish.
Cover with a microwave-safe lid or plastic wrap, leaving a small vent for steam.
Heat at 50% power in 1-minute intervals, stirring between each interval until warmed through.
---
Freezing Cooked Chicken and Broccoli:
Cooling: Ensure the chicken and broccoli have cooled to room temperature.
Portioning: Divide into meal-sized portions for easier reheating later.
Wrapping: Use heavy-duty aluminum foil, freezer bags, or airtight freezer-safe containers.
Labeling: Label with the date and contents to track freezer life.
Freezing: Store in the freezer for up to 3 months.
---
Thawing and Reheating from Frozen:
Thawing: For best results, thaw in the refrigerator overnight.
Reheating: Follow the reheating guidelines above. If reheating directly from frozen, extend the reheating time.
---
Pro Tip: While you can freeze and reheat this dish, the texture of the broccoli might become softer after freezing. It's best enjoyed fresh, but if freezing is necessary, the flavors will still remain delicious!
Nutrition
Serving:
1
Serving
Calories:
227
kcal
Carbohydrates:
5
g
Protein:
26
g
Fat:
11
g
Saturated Fat:
1
g
Polyunsaturated Fat:
3
g
Monounsaturated Fat:
6
g
Trans Fat:
0.04
g
Cholesterol:
73
mg
Sodium:
984
mg
Potassium:
627
mg
Fiber:
2
g
Sugar:
1
g
Vitamin A:
389
IU
Vitamin C:
52
mg
Calcium:
36
mg
Iron:
1
mg