Air Fryer Jerk Chicken is a delicious, healthy way to enjoy chicken. The Air Fryer cooks the chicken perfectly, and the Jamaican jerk seasoning gives it a wonderfully spicy flavor. I like to serve my Air Fryer Jerk Chicken with white rice and steamed vegetables. It is a quick, easy, and healthy meal that the whole family will enjoy.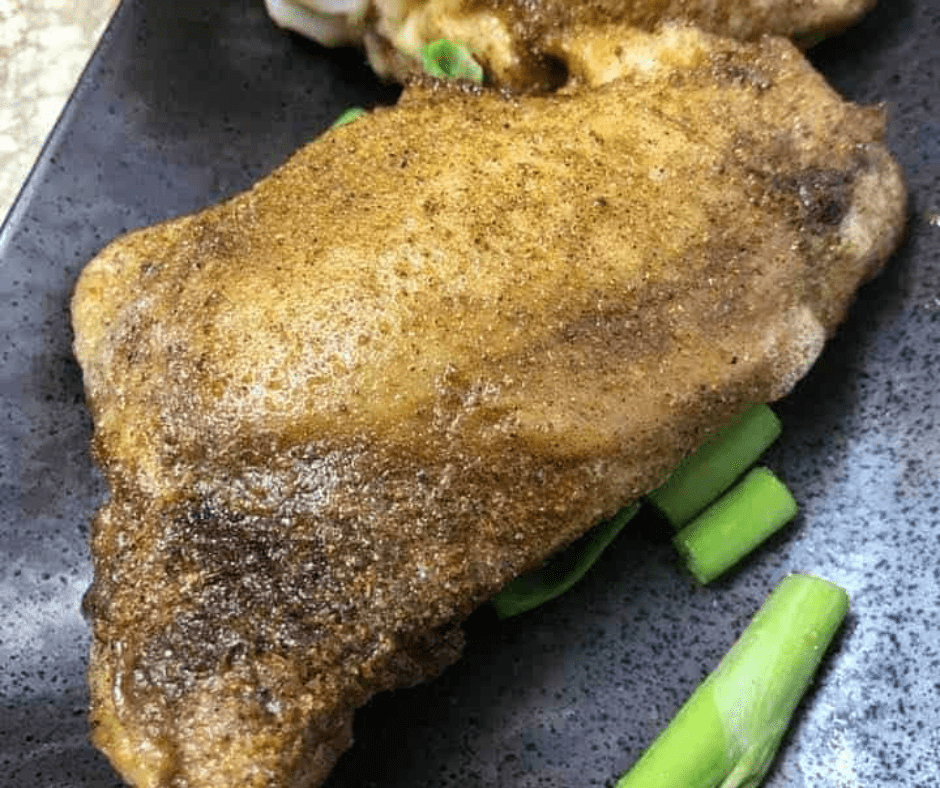 Air Fryer Jerk Chicken is a dish from the Caribbean that is typically made with chicken that has been marinated in a blend of spices, including allspice, ginger, cloves, and chili pepper. The chicken is then cooked in an air fryer, which gives it a crispy exterior without the need for oil. This dish is traditionally served with rice and beans, but it can also be enjoyed on its own or as part of a larger meal. Air Fryer Jerk Chicken is a delicious way to enjoy the flavors of the Caribbean, and it can be easily made at home with the help of an air fryer.
What Is Jerk Chicken?
It's a mouthwatering dish made with chicken that has been marinated in a special blend of spices and then grilled or smoked. The result is moist, flavorful chicken with a bit of a kick.
Jerk chicken originated in Jamaica, where it is still very popular. The word "jerk" comes from the Spanish word for dried, smoked meat, which Jamaica was introduced to by the Spanish settlers. Over time, the Jamaicans developed their own unique way of preparing jerk chicken, using a mixture of allspice, ginger, thyme, and other spices.
Today, jerk chicken is enjoyed all over the world. It's often served with rice and beans, as well as vegetables such as corn on the cob or fried plantains. And it can be made as mild or spicy as you like, depending on the amount of spice in the marinade. So if you're looking for something new and delicious to try, give jerk chicken a shot – you won't be disappointed!
Ingredients Needed For Air Fryer Jerk Chicken
If you're in the mood for some Jamaican jerk chicken, you might be tempted to head to your local restaurant. However, there's no need to leave home to enjoy this flavor-packed dish. With a few simple ingredients and an air fryer, you can easily prepare jerk chicken right in your own kitchen.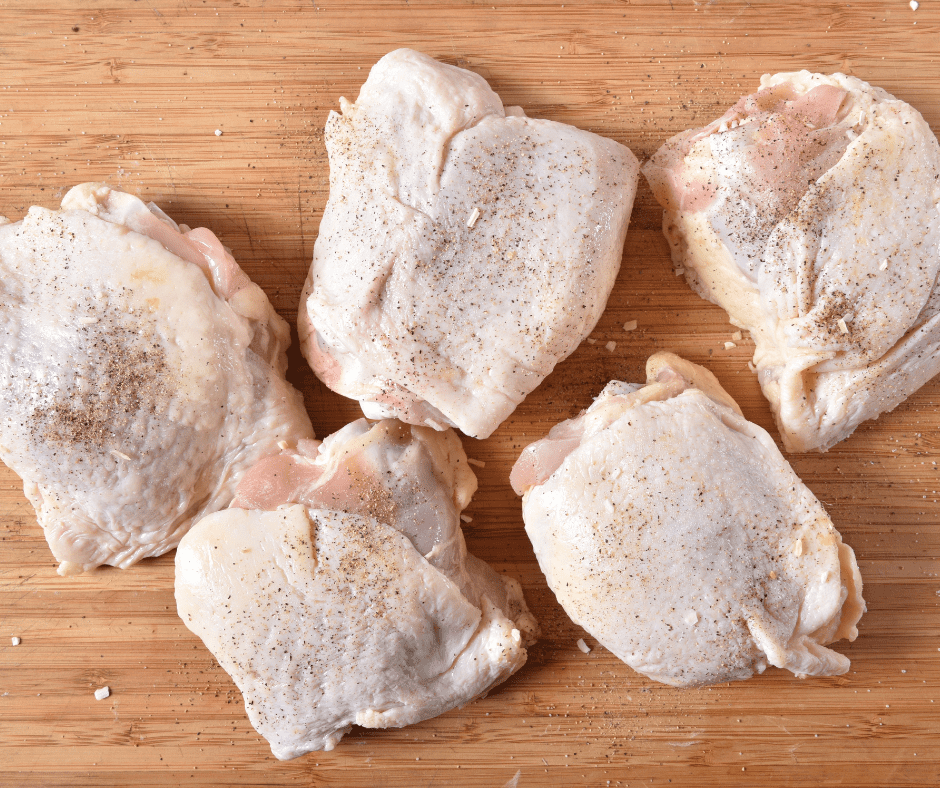 Chicken: You can use boneless, skinless chicken thighs, bone-in chicken thighs, chicken wings, chicken legs, or even chicken breast. Although the cooking time will change depending on the part of the chicken you are using, so remember to use a meat thermometer.
Jerk Seasoning: Homemade or Store bought
How To Cook Jerk Chicken In The Air Fryer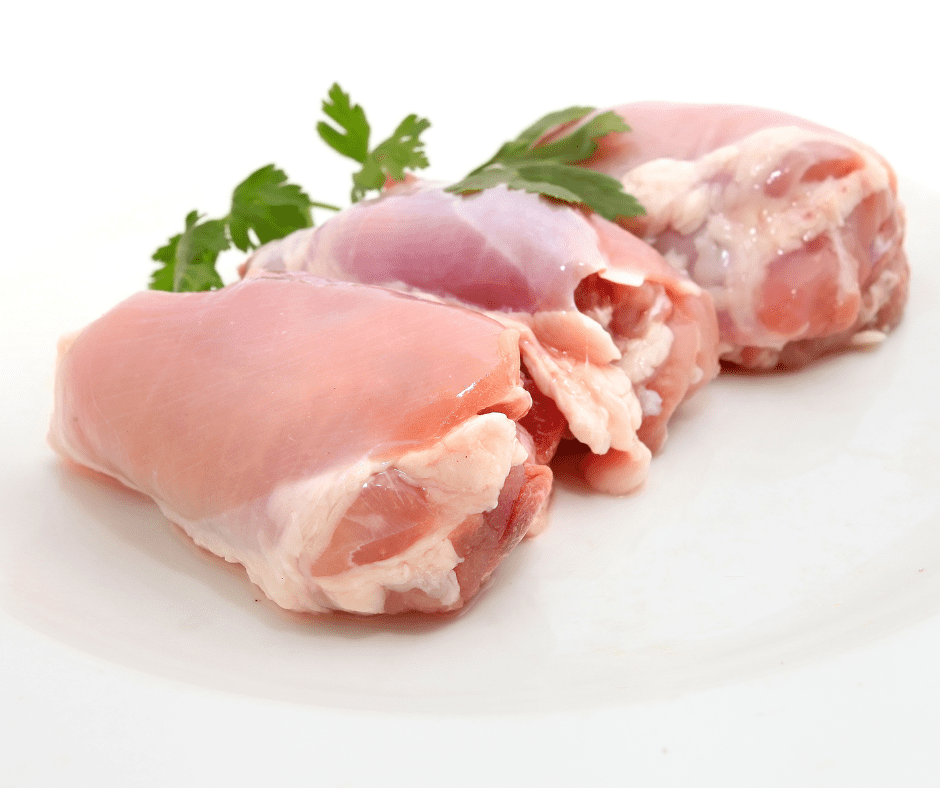 Start by removing the fat from the chicken thighs. (If using skinless, skip this step) Rub the spice over the chicken, both the back and front. Place the chicken thighs in the air fryer basket or on the air fryer tray. Place the basket in the air fryer or the slide the tray into the air fryer. Set the temperature to 350 degrees F, for 5 minutes. After 5 minutes spray the chicken with a generous mist of olive oil. and air fry for another 5 minutes. (MAKE sure you check the internal temperature of the chicken, before removing them, if they need more time, add a couple of minutes, EVERY air fryer is different)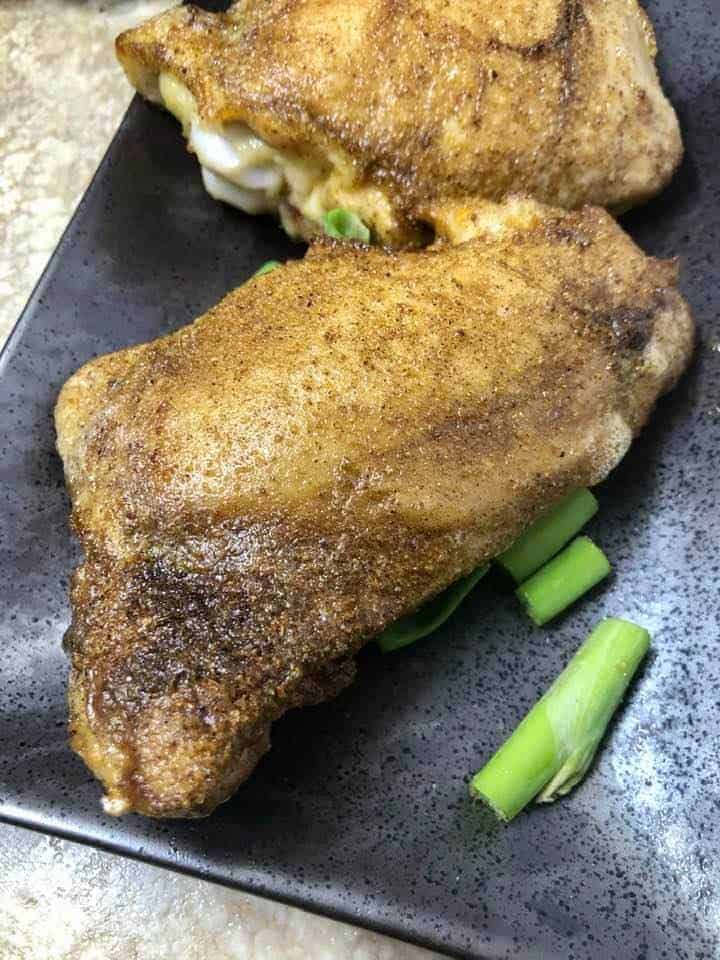 Tips For Making Jerk Chicken In Air Fryer
While Jerk Chicken is typically made on the grill, it can also be made in an air fryer with excellent results. Here are a few tips for making delicious Jerk Chicken in an air fryer.
The chicken should be marinated for at least four hours, or preferably overnight, in order to fully absorb the flavors of the spice blend.
When the chicken is done cooking, let it rest for a few minutes before serving hot with your favorite sides.
Frequently Asked Questions
What Is Jerk Seasoning
Jerk seasoning is a Jamaican spice blend that typically includes allspice, cloves, ginger, nutmeg, thyme, and scotch bonnet peppers. The exact ingredients and proportions vary depending on the recipe, but all of these spices work together to create a fragrant, flavorful seasoning that can be used on chicken, fish, pork, and vegetables. Jerk seasoning is usually made into a paste or marinade, which is then rubbed onto the meat before cooking. The result is a moist, juicy piece of meat with a spicy kick. For those who like it extra hot, jerk seasoning can also be used as a dipping sauce or condiment. No matter how you enjoy it, jerk seasoning is a delicious way to add some spice to your next meal.
What Type Of Chicken Can I Use For This Recipe
You can use any type of chicken for this recipe, but we recommend using skinless, boneless chicken thighs. This will help to keep the calories and fat content down. If you want to add some extra flavor, you can try using chicken thighs or drumsticks.
Just be sure to remove the skin before cooking. For a more festive dish, you can even use a whole roasted chicken. Just be sure to adjust the cooking time accordingly. No matter what type of chicken you use, this dish is sure to be a hit!
Can I Make This Recipe With Other Cuts Of Meat
Yes, you can use chicken wings, chicken drumsticks, chicken legs, or boneless, skinless chicken breast.
Sides To Serve With Jerk Chicken
Jerk Chicken can be served with anything from the classics like white rice and peas, to something a little more creative like mango salsa or plantain chips.
When planning your meal, consider whether you want to keep things traditional or get a little more creative. White rice and beans are classic sides that will soak up the jerk sauce and provide a hearty base for the meal. For something lighter, try a simple green salad or oven roasted sweet potatoes. If you're feeling adventurous, try mango salsa or plantain chips. No matter what you choose, jerk chicken is sure to be a hit!
Is Jerk Seasoning Spicy
Yes, jerk seasoning can be spicy. However, the level of spiciness will depend on the recipe that is used. Some recipes call for more peppers and spices, while others use more mild ingredients. So, if you are concerned about the spiciness of jerk seasoning, you may want to try a recipe that uses less peppers or spice.
More Air Fryer Chicken Recipes
Looking for more air fryer chicken recipes? You've come to the right place! Here are some of our favorites, all of which are sure to please your taste buds.
For a classic flavor, try our air fryer chicken thighs. These are marinated in a mixture of olive oil, garlic, and rosemary, then cooked to perfection in the air fryer. The result is moist, juicy chicken that's packed with flavor.
If you're looking for something a little bit spicy, try our air fryer Buffalo chicken wings. These wings are coated in a homemade Buffalo sauce, then cooked until crispy in the air fryer. They make an excellent appetizer or main dish.
For a healthy option, try our air fryer grilled chicken. This recipe uses lean chicken breast that's been marinated in a mixture of lemon juice and herbs, then grilled until cooked through. It makes a great main dish or can be served as an appetizer.
So there you have it – some of our favorite air fryer chicken recipes! We hope you enjoy them as much as we do.
Don't Forge To Pin: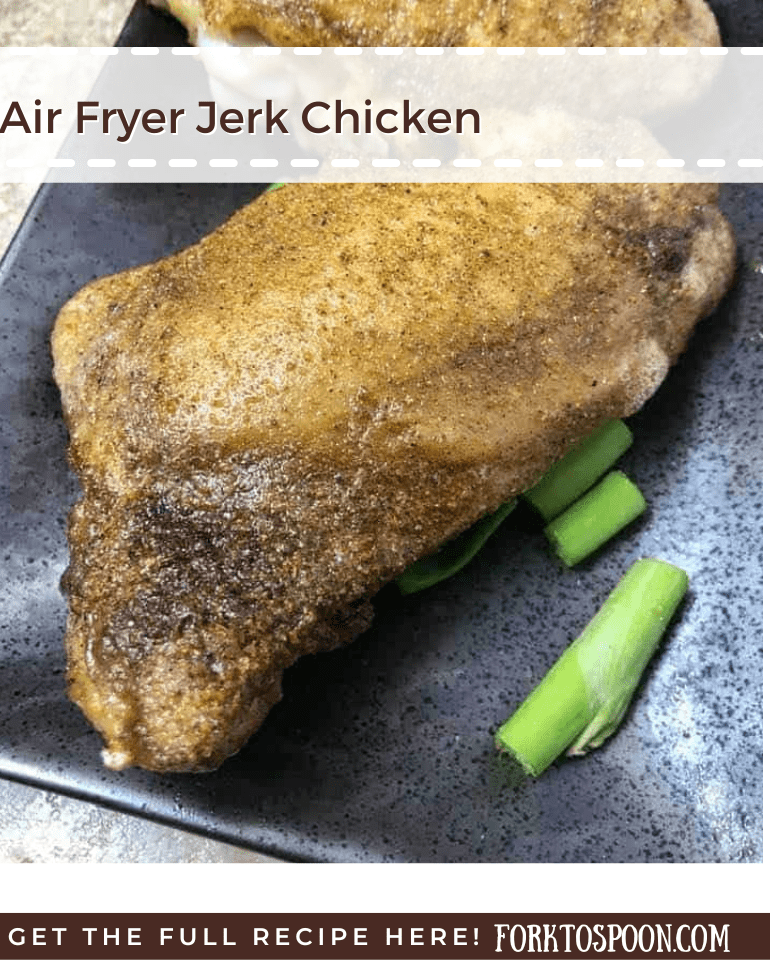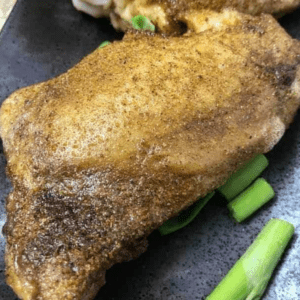 Air Fryer Jerk Chicken
Description
This is a really easy recipe, which is also a really budget friendly meals, since chicken thighs are usually on sale. They are also really good in the air fryer, since they retain the moisture. Family Favorite
Ingredients
4-6

skinless, boneless chicken thighs

2

tablespoons

jerk seasoning
Instructions
Start by removing the fat from the chicken thighs. (If using skinless, skip this step)

Rub the spice over the chicken, both the back and front.

Place the chicken thighs in the air fryer basket or on the air fryer tray.

Place the basket in the air fryer or the slide the tray into the air fryer.

Set the temperature to 350 degrees F, for 5 minutes. After 5 minutes spray the chicken with a generous mist of olive oil. and air fry for another 5 minutes. (MAKE sure you check the internal temperature of the chicken, before removing them, if they need more time, add a couple of minutes, EVERY air fryer is different)
Nutrition
Serving:
1
g
Calories:
97
kcal
Carbohydrates:
1
g
Protein:
15
g
Fat:
3
g
Saturated Fat:
1
g
Polyunsaturated Fat:
1
g
Monounsaturated Fat:
1
g
Trans Fat:
0.01
g
Cholesterol:
72
mg
Sodium:
111
mg
Potassium:
237
mg
Fiber:
1
g
Sugar:
0.2
g
Vitamin A:
809
IU
Vitamin C:
0.02
mg
Calcium:
16
mg
Iron:
1
mg