Air Fryer Cinnamon Roll Donuts –Are you looking for a twist on breakfast different from the usual cereal or toast?
Check out these cinnamon roll donuts made in an air fryer! You can make them as big or small as you want, and they are perfect for eating on the go. These are great for kids because they're quick and easy. Let me show you how to make them below!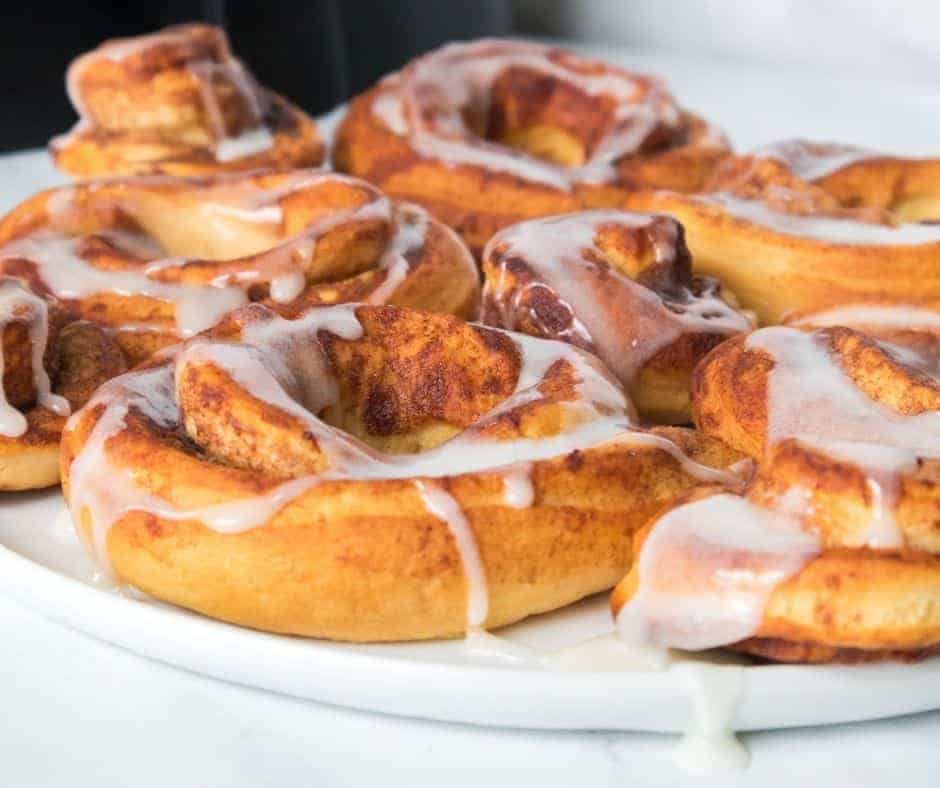 Donuts, donuts, and more donuts are everyone's favorite. Today, I made a simple batch of my childhood favorites, Air Fryer Cinnamon Roll Donuts.
They are quick and delicious and provide a leisurely, grab-and-go breakfast.
Homemade air-fried donuts are a unique, easy treat, and they will save you a ton of money on trips to the donut store.
Most people start air frying with a basic donut recipe, using biscuit dough available in the refrigerator section. (Check out my link to that; it's a great beginner recipe, so if you are looking for a great recipe, start with it, as you only need one ingredient) It's an excellent air-frying hack but doesn't give you the real donut experience. To get you to mix the dough, use yeast and let it rise. This way, you get a light donut.
If you are looking for homemade air fryer donut recipes, I have some great ones for the air fryer, including AIR FRYER EASY FUNFETTI CAKE MIX DONUTS, AIR FRYER RASPBERRY LEMON DONUTS, AIR FRYER COPYCAT KRISPY KREME DONUTS, and AIR FRYER CHURRO DONUTS.
Why You Will Love These Cinnamon Roll Donuts
You will absolutely love these Cinnamon Roll Donuts for several enticing reasons:
Ingredients Needed For Air Fryer Cinnamon Roll Donuts
Indulge in the delightful fusion of Air Fryer Cinnamon Roll Donuts, a treat that combines the ease of air frying with the irresistible flavors of a classic cinnamon roll. This recipe transforms simple ingredients into a mouth-watering dessert or breakfast option, offering the perfect blend of sweetness and spice with a tender, doughy texture. Here's what you'll need to create these scrumptious donuts: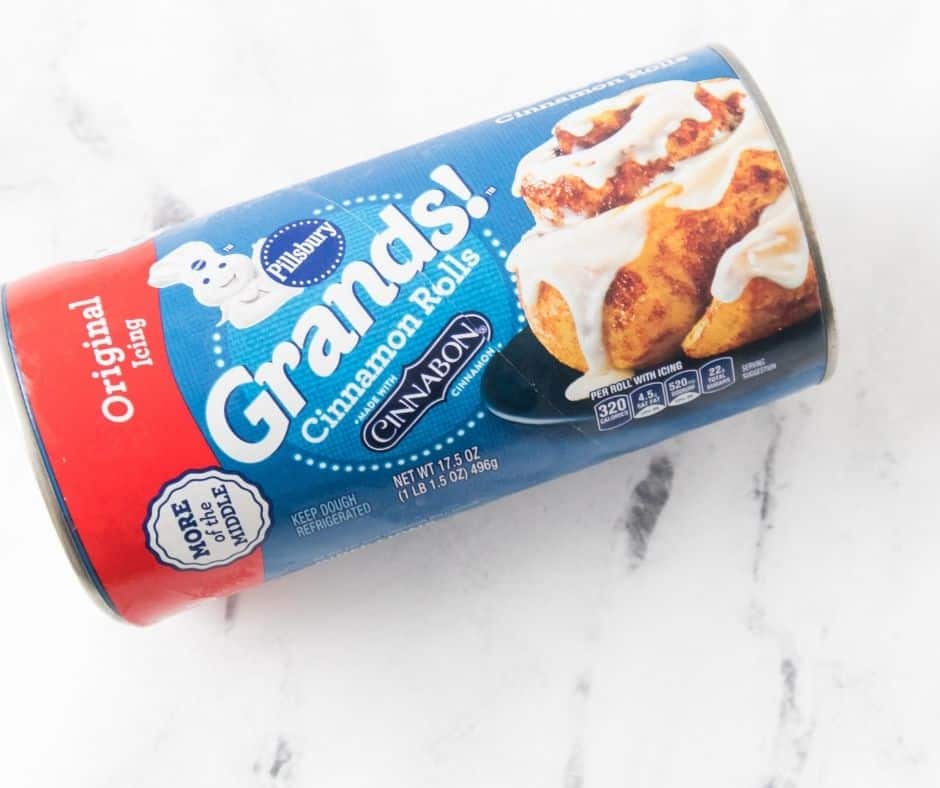 Remember the step-by-step directions and detailed ingredient list are below, in the printable recipe card at the bottom of the post, as well as the nutritional information.
Canned Cinnamon Rolls: This convenient ingredient provides the base for your donuts, offering a quick and easy way to enjoy the flavors of homemade cinnamon rolls without the extensive prep time.

Butter: Melted butter is brushed on the donuts before and after air frying, adding a rich flavor and helping the cinnamon sugar to adhere.

Cinnamon Sugar Mixture: A blend of cinnamon and sugar is used for coating the donuts, giving them their signature sweet and spicy flavor.

Cream Cheese Frosting: Often included with canned cinnamon rolls, this frosting adds a creamy, tangy finish that perfectly complements the sweet cinnamon flavor.

Vanilla Extract: Enhancing the frosting flavor, vanilla extract adds a subtle depth and aroma.

Milk (for Frosting): A little milk can be mixed into the frosting to achieve a smooth, drizzle-able consistency.
Each ingredient in Air Fryer Cinnamon Roll Donuts contributes to creating a delightful treat that's simple yet indulgent in taste, perfect for a special breakfast, a snack, or a sweet dessert.
How To Make Air Fryer Cinnamon Roll Donuts
Making Air Fryer Cinnamon Roll Donuts is a simple and delightful process. Here's how to create these sweet treats:
Step One: Prepare the Cinnamon Rolls
Open the can of cinnamon rolls and separate the individual rolls.
To create a donut shape, make a hole in the center of each roll. You can use a small cookie cutter, a bottle cap, or even the end of a wooden spoon.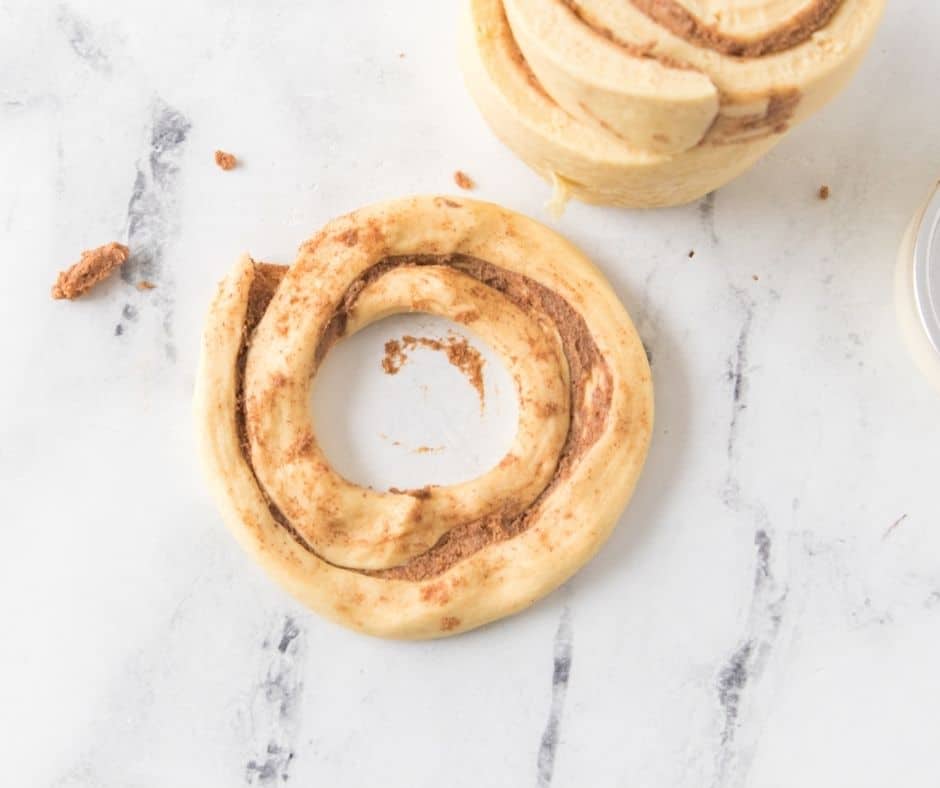 Step Two: Air Fry Donuts
Preheat your air fryer to 350°F (175°C). This helps the donuts cook evenly and become golden brown.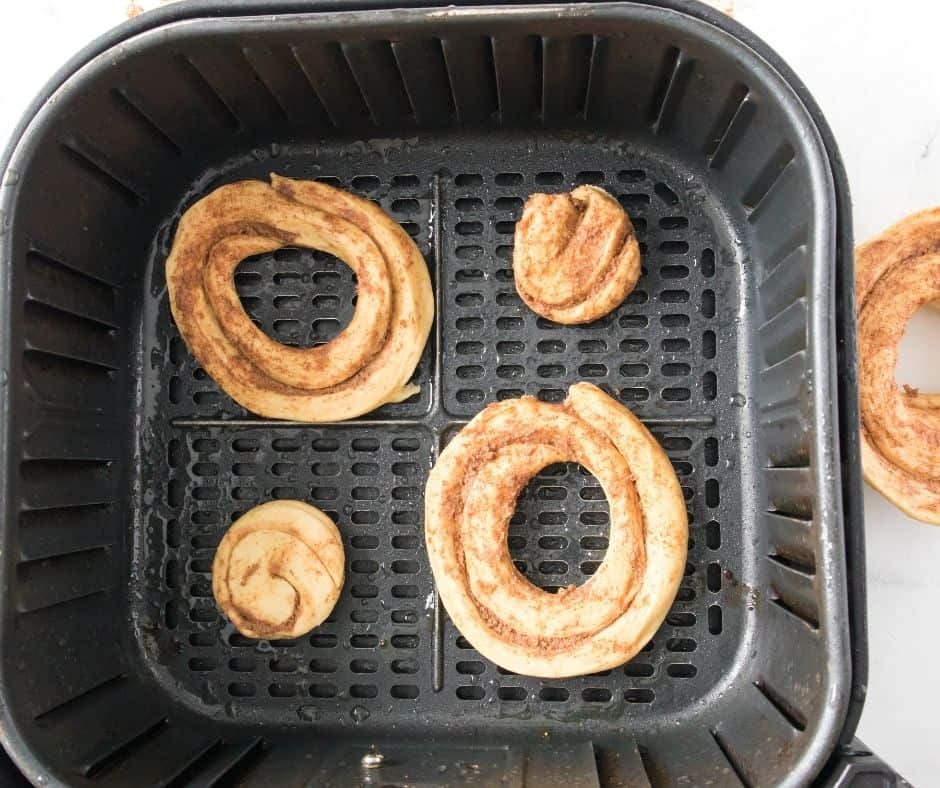 Step Three: Air Fry Your Cinnamon Roll Donuts
Place the cinnamon roll donuts in the air fryer basket in a single layer, ensuring they don't touch to allow for proper air circulation.
Cook for about 4-6 minutes, flip them, and continue to cook for another 4-6 minutes until golden brown and puffed up.
Immediately drizzle the icing on top of the cinnamon roll donut.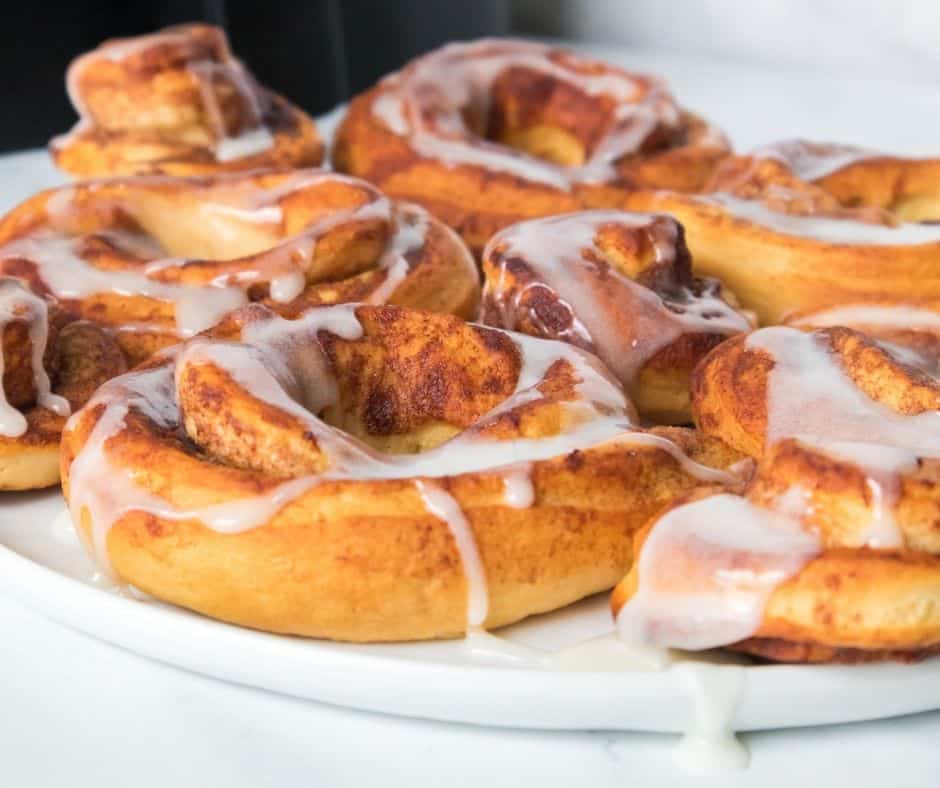 Recipe Variations
Experimenting with recipe variations can add delightful twists to your Air Fryer Cinnamon Roll Donuts. Here are some creative ideas to customize and enhance these sweet treats:
Chocolate Drizzle: Instead of the standard cream cheese frosting, try drizzling melted chocolate over the donuts for a rich and indulgent twist.

Maple Glaze: Mix powdered sugar with maple syrup for a sweet, autumn-inspired glaze. This pairs wonderfully with the cinnamon flavor.

Citrus Zest: Add orange or lemon zest to the cream cheese frosting for a refreshing citrus note that cuts through the sweetness.

Nut Topping: Sprinkle chopped pecans or walnuts over the frosted donuts for added crunch and a nutty flavor.

Caramel Drizzle: A drizzle of caramel sauce over the frosted donuts can create a decadent treat reminiscent of sticky cinnamon buns.

Spiced Sugar Coating: Mix your cinnamon sugar with a pinch of nutmeg or allspice for a deeper spice flavor.

Fruit Topping: Top the frosted donuts with fresh berries or a dollop of fruit preserves for a tart contrast to the sweet donut.

Espresso Frosting: Infuse the frosting with some espresso powder for a subtle coffee flavor that complements the cinnamon beautifully.

Vanilla Bean Frosting: Scrape a vanilla bean into the cream cheese frosting for an enhanced vanilla flavor and an elegant look.

Bacon Bits: For a savory twist, sprinkle crispy bacon bits over the donuts. The salty and sweet combination is irresistible.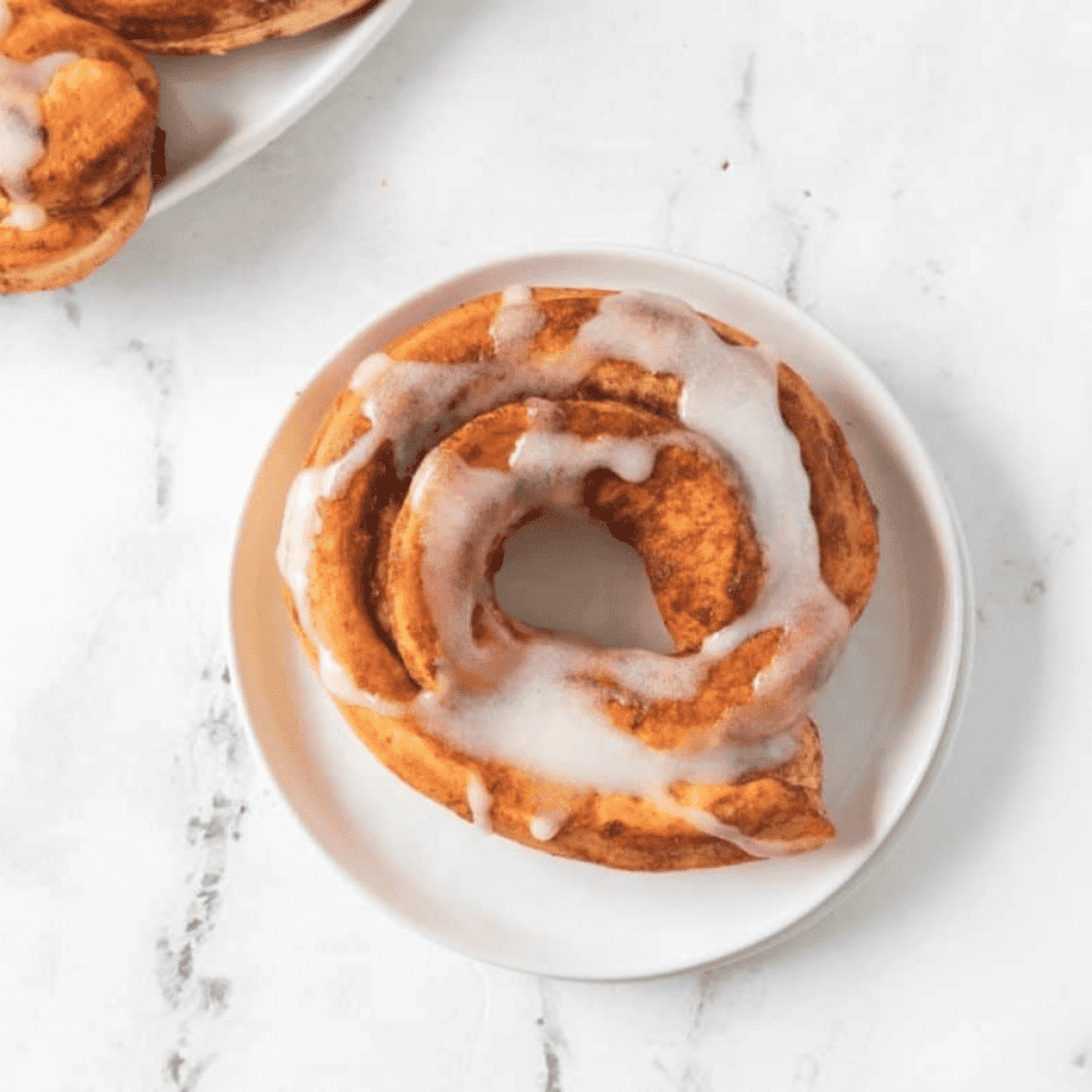 Pro Tips
To ensure your Air Fryer Cinnamon Roll Donuts turn out perfectly, here are some pro tips:
Even Cooking: To achieve an even cook, ensure the donuts are placed in a single layer in the air fryer basket. Avoid overlapping or crowding, as this can lead to uneven cooking.

Checking Doneness: Air fryer temperatures can vary, so start checking your donuts a bit early. They should be golden brown and have a slightly crisp exterior when done.

Cool Before Frosting: Allow the donuts to cool for a few minutes before applying the frosting. If they are too hot, the frosting may melt and run off.

Enhance the Frosting: For an extra flavor boost, you can add vanilla extract or citrus zest to the cream cheese frosting provided with the canned cinnamon rolls.

Creative Cutting: If you don't have a small round cutter for the donut holes, improvise with household items like a bottle cap or the wide end of a piping tip.

Customize Your Toppings: Feel free to get creative with toppings. In addition to traditional cinnamon sugar, consider using powdered sugar, glazes, or even chocolate chips.

Freshness Matters: Use fresh, canned cinnamon rolls for the best results. Older dough may not rise as well and can affect the texture of your donuts.

Serve Warm: These donuts are best enjoyed warm, straight out of the air fryer, when soft and slightly crisp outside.

Storage and Reheating: If you have leftovers, store them in an airtight container. Reheat briefly in the air fryer to restore their texture.

Safety First: Always be cautious when handling the air fryer basket, as it can get hot. Use oven mitts or a tool to remove the donuts safely.
These tips will help you make delicious Air Fryer Cinnamon Roll Donuts to delight anyone who tries them. Enjoy the process and the sweet rewards of your baking!
Can I use homemade dough instead of canned cinnamon rolls?
Yes, you can use homemade dough. Just ensure it's a similar consistency to canned dough for the best results in the air fryer.
How do I prevent the donuts from sticking to the air fryer basket?
Lightly grease the air fryer basket with cooking spray, or use parchment paper with holes in it to prevent sticking.
Can I make these donuts without an air fryer?
While designed for an air fryer, you can bake these in a conventional oven. The texture might be slightly different, but they will still be delicious.
How do I know when the donuts are done?
The donuts are done when they are golden brown and have a slightly crisp exterior. Start checking them a few minutes before the suggested cooking time ends.
Can I add different flavors to my donuts?
Absolutely! Feel free to experiment with different glazes, toppings, or spices in the dough for various flavors.
How long do these donuts last?
These donuts are best eaten fresh but can be stored in an airtight container at room temperature for up to 2 days.
Can these donuts be reheated?
Yes, you can briefly reheat them in the air fryer to restore their warmth and crispness.
Is it possible to make these donuts gluten-free?
For a gluten-free version, use a gluten-free canned biscuit or homemade gluten-free dough.
Can I prepare the dough in advance?
It's best to cook the dough immediately after shaping the donuts for the best texture, but you can prepare the dough and refrigerate it for a few hours if needed.
Can I double the recipe?
Yes, you can double the recipe. Just be sure to cook the donuts in batches to avoid overcrowding in the air fryer.
More Air Fryer Recipes
Don't Forget To Pin!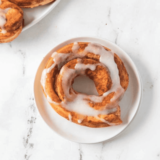 Air Fryer Cinnamon Roll Donuts
Description
Donuts, donuts, and more donuts are everyone's favorite. Today, I made a simple batch of one of my childhood favorites, Air Fryer Cinnamon Roll Donuts.
Ingredients
1

package

Cinnamon Rolls

Icing Packet

,

comes with cinnamon rolls
Instructions
Remove the Cinnamon Rolls From the Package and use your hand to flatten them.

Use your biscuit cutter and cut out the middle, and put the centers to the side.

Spray your air fryer basket with cooking spray. And place your cinnamon roll donuts in the basket. Set the temperature to 320 degrees F, and use the air fryer setting for 5 to 6 minutes.

Immediately drizzle the icing on top of the cinnamon roll donut.
Equipment
Air Fryer

Parchment Paper,

or Cooking Spray
Nutrition
Serving:
1
Serving
Calories:
107
kcal
Carbohydrates:
15
g
Protein:
1
g
Fat:
5
g
Saturated Fat:
2
g
Trans Fat:
0.3
g
Sodium:
220
mg
Sugar:
7
g
Iron:
0.5
mg