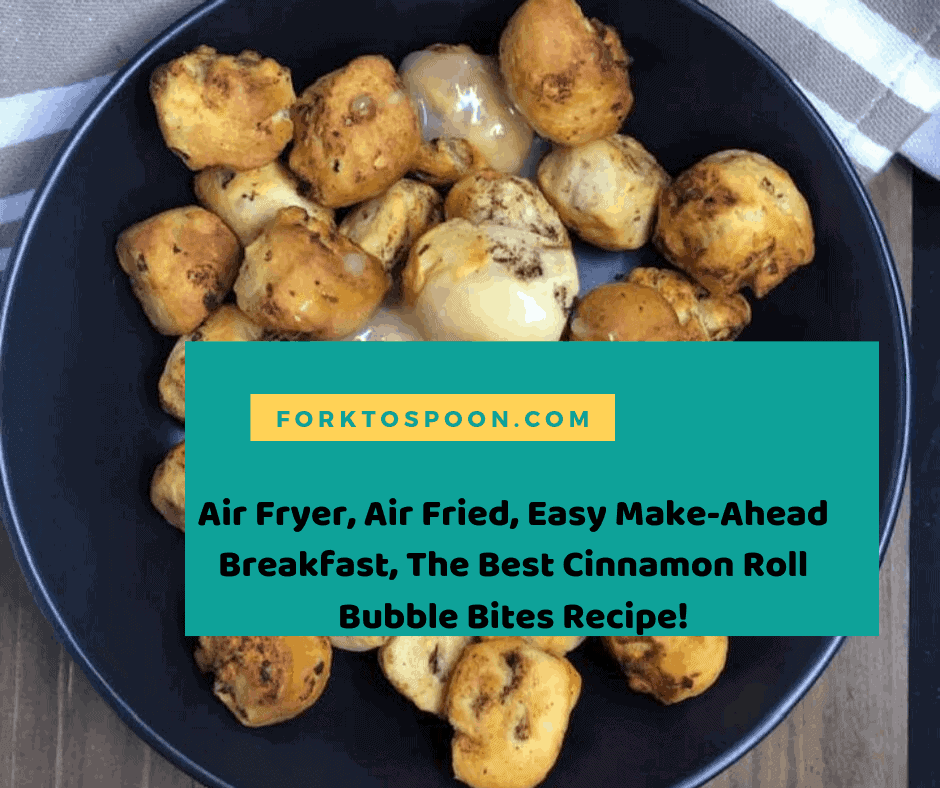 This was my kid's favorite breakfast this week. And to tell you the truth, I was just playing with them. I didn't expect them to come out perfect. And, who doesn't love Cinnamon Rolls?
You need One Ingredient
You need to literally pop them in and air fry. It's easy. It's also amazing. I love my Air Fryer
Making bread is easy, I used to make it a lot when my kids were little, and I had a fancy bread machine. Now, that I am armed with an air fryer, and I love to experiment, I tried this today and the results were amazing.
The house smelled wonderful, there is nothing like the smell of freshly baked bread coming from the air fryer. My kids always come running to grab a slice while they are nice and hot and the butter just melts into it. Can you picture it?  I told my son, Jason that I would work on making homemade butter in the coming weeks, so be on the lookout for that recipe. I promise you, it's easier than it sounds, it is so easy you won't believe it.
When I was a small child, my mother and grandmother would always bake bread, did I mention I am old? I come from an old-fashioned Italian household, where everything was made from scratch, so it's not surprising I went into the "food business."
Here are general baking tips that will help you with any baking project you undertake.
Review the recipe before you start, make sure you have all the ingredients, tools and supplies.
Usually, the recipe ingredients are in order, as they are mixed in, so start at the beginning of the recipe, and work yourself downwards.
If you need to soften the butter, take it out of the refrigerator before you start the recipe. (Same thing goes if you need soften cream cheese, etc.)
Cut anything you need, before starting the recipe, this way you can just dump your ingredients in as become needed.  Examples: cutting fruit, nuts, chocolate, etc.
Measure all the ingredients, make sure you have enough of each.
Prepare your pan, before cooking, the pans will depend on the recipe.
Check for doneness after each recipe, since each person's air fryer or Instant Pot (pressure cooker) will be different, it's very important that you check with a toothpick in the cake's center. If the cake comes out clean, remove the cake. If you need more time, I always add five to six minutes more and then check, re-do the five-six minutes, until the toothpick comes out clean. This is important since everyone's air fryer cooks differently, based on wattage and brand, always use the time in a baking recipe as an estimate.
I have been using my air fryer and experiment with different foods. so this is what I came up with.
Don't Forget to Pin—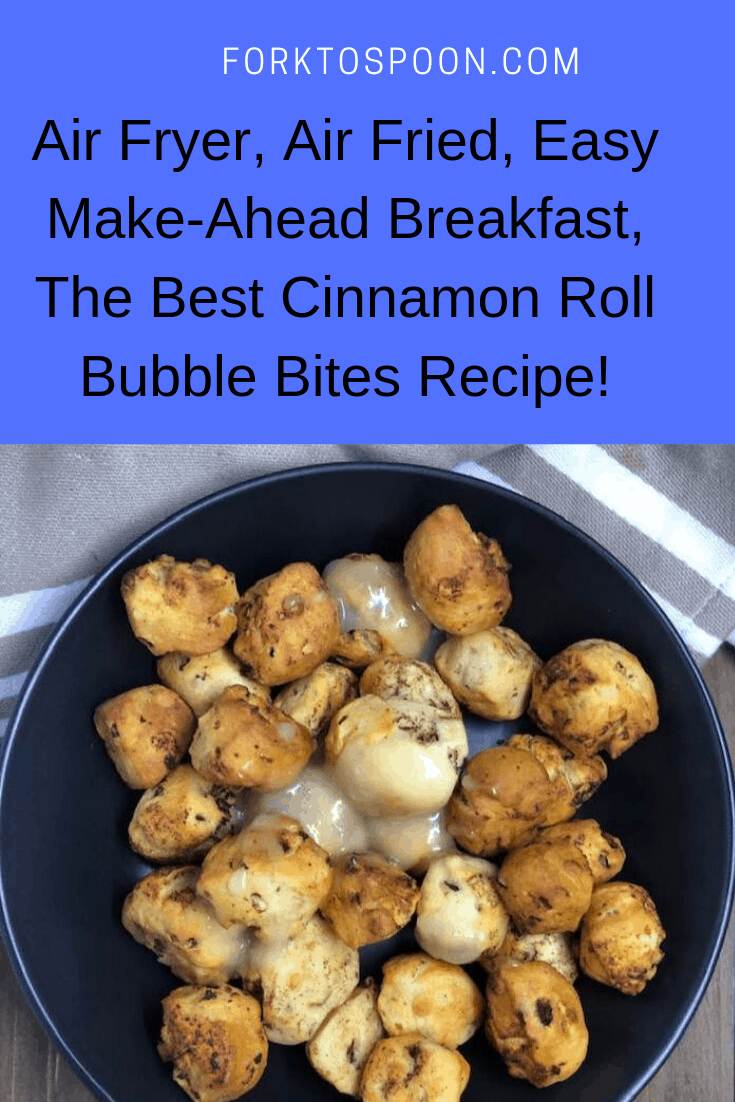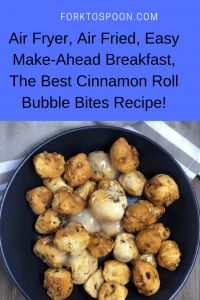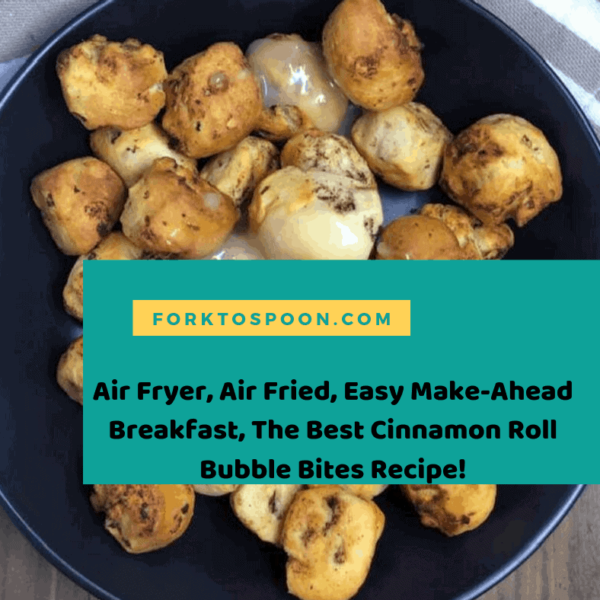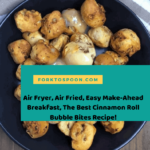 Air Fryer, Air Fried, Easy Make-Ahead Breakfast, The Best Cinnamon Roll Bubble Bites Recipe!
Easy and delicious, this recipe is great for back to school, Christmas and all family gatherings, these can be made ahead.
Ingredients
1

roll

cinnamon rolls (packaged, with icing)

2

tablespoons

milk
Instructions
Place your cinnamon rolls on a cutting board.

Start by cutting your cinnamon roll (1) into 4 pieces.

Roll them tightly into balls, the tighter and firmer you make them the less chance they will unroll during baking.

Spray your air fryer basket with non-stick cooking spray or olive oil spray, and then place them in the basket. Make sure they can roll around, so I did mine in 2 batches.

Set the timer for 3 minutes at 340 degrees F, then after the 3 minutes, shake the basket and set for another 3 minutes.

Meanwhile, make the icing, mix together the icing that came with the rolls with the milk, then microwave.

Plate them, as they come out of the air fryer.