Air Fryer Chocolate Chip Bagels — Air Fryer Chocolate Chip Bagels are a quick and easy way to make breakfast or dessert. The air fryer allows you to cook without using oil so that these bagels will be crispy and soft on the inside. Air frying also reduces cooking time by about half!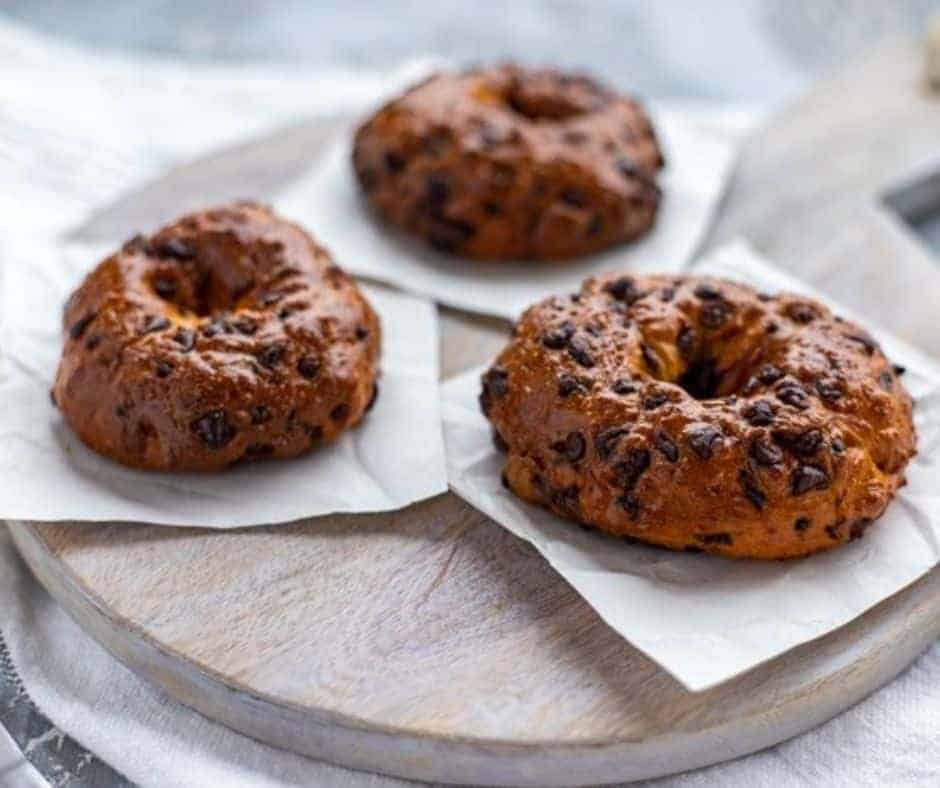 Check Out A Great and Easy Air Fryer Breakfast Recipe!
This was such a leisurely breakfast for the entire family, and they all loved them. The kids were over the moon that I was serving chocolate in the morning: today's Recipe, Easy Air Fryer Chocolate Chip Bagels.
This weekend, I will try to make homemade bagels in the air fryer, complete with yeast. But, today's version is super simple.
This is a great recipe, and it is done within minutes. I am not sure about the Weight Watcher Points since I added a LOT of chocolate chips! But it's an excellent recipe for homemade bagels without waiting for the dough to rise! Easy & delicious!
If you are looking for even more Air Fryer Bagel Recipes, some of my favorites are AIR FRYER KETO BAGELS, and AIR FRYER 2 INGREDIENT WEIGHT WATCHER FRIENDLY BAGELS, AIR FRYER, TOASTED COCONUT BAGELS, and AIR FRYER, HOMEMADE STRAWBERRY BAGELS.
Easy Air Fryer 4 Ingredient Bagels
You can make this family and kid-friendly batch of homemade Air Fryer Chocolate Chip Bagels with only four ingredients.
Although the traditional Weight Watcher's Recipe inspired this recipe, I deviated and added chocolate chips! Which also added a lot of taste but points as well. So, if you are looking for a WW-friendly recipe, you may want to omit the chocolate chips!
Ingredients Needed For Air Fryer Chocolate Chip Bagels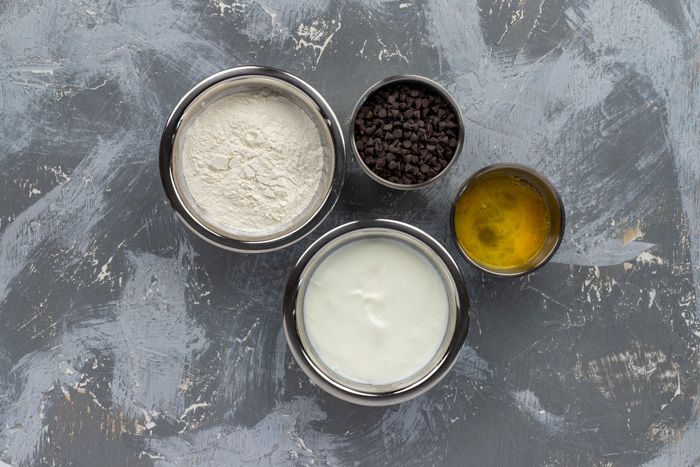 If you have not made these three ingredients (or more in this case) bagels, they are straightforward. They all start with the same essential ingredients,
Greek Yogurt
Self-Rising Flour
We don't count water as an ingredient for egg Wash (water and egg yolk).
Chocolate Chips
Today, we are adding some chocolate chips in for a treat. While I take them from Weight Watcher's Friendly to not WW friendly, they are a special treat, and the kids loved them. If you are on WW, remove the chocolate chips.
How To Make Air Fryer Chocolate Chip Bagels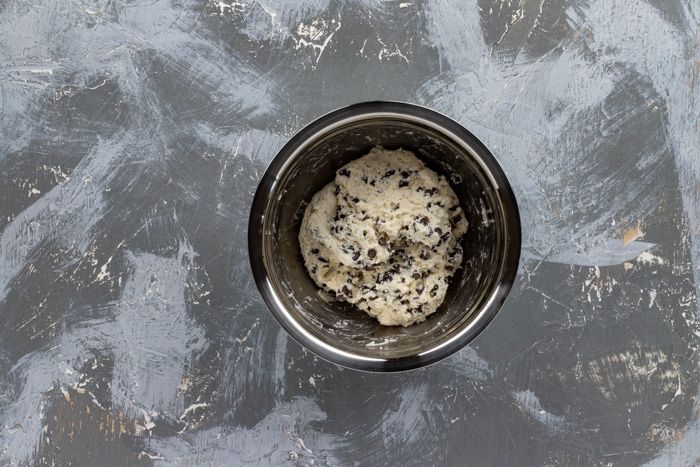 So, the directions are pretty straightforward; here they are, so you can easily make them in your air fryer. Combine the Greek yogurt and self-rising flour in a mixing bowl. Mix until the dough comes together.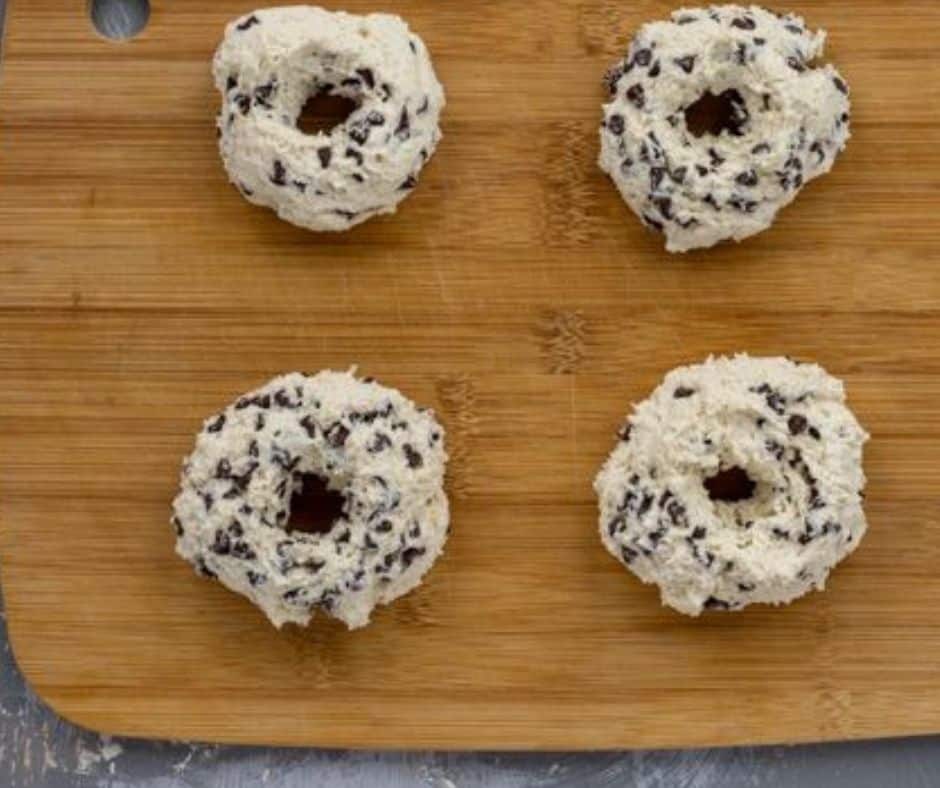 Fold in the chocolate chips, and mix until evenly distributed. Remove your dough from the mixer, and then cut it into four equal pieces. Next, I shape my dough into a ball and circle with my finger in the center.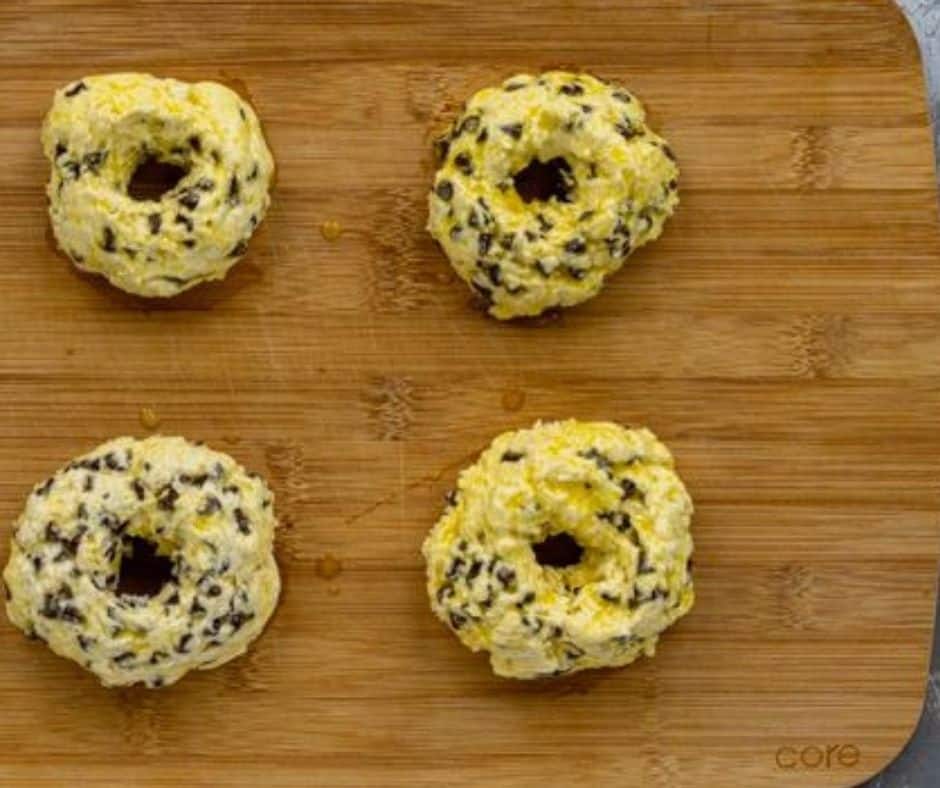 As you make them place them into a greased air fryer basket or on a greased air fryer tray. (sprayed with olive oil). Then brush the egg over the top of the bagels.
Set into the air fryer, and set the temperature to 350 degrees F, air fryer setting, for 8-11 minutes (time will depend on your air fryer)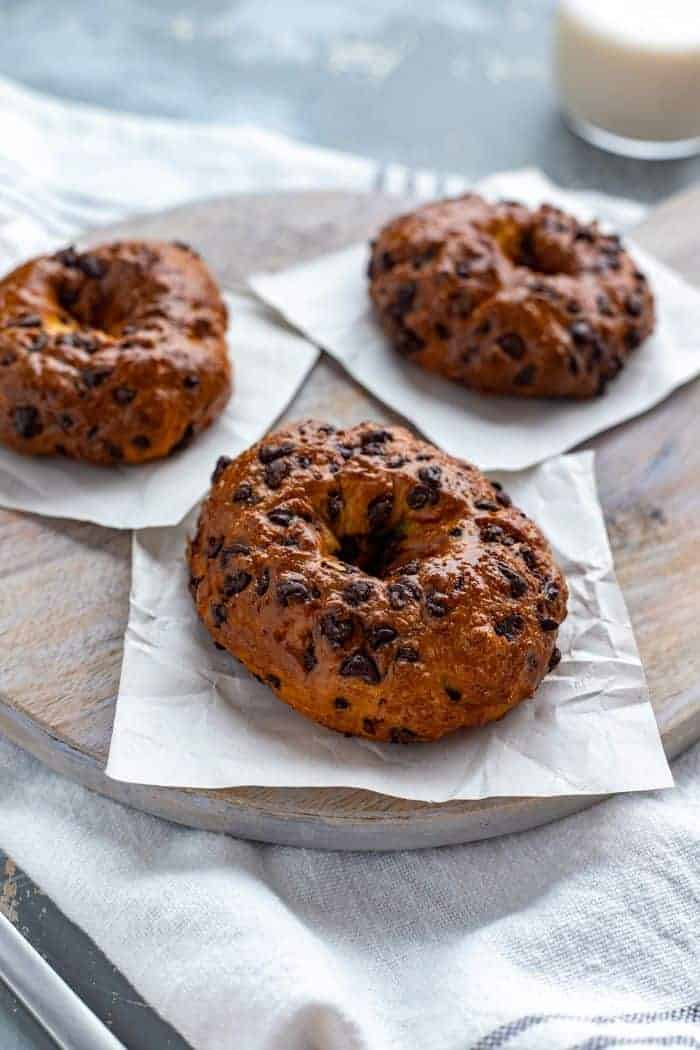 FAQ's:
Are These Weight Watcher Bagels?
Yes, this is the healthy version (not today, as we added chocolate chips), but the Greek Yogurt and Self-Rising Flour base is a typical WW bagel. I do not follow WW, so I don't know how many points this is. But I am sure that you do follow WW. So you could easily calculate calories and points.
What Is Self-Rising Flour?
Self-rising flour is just a combination of all-purpose flour, baking powder, and salt. This allows the bagels to rise without yeast.
How Do I Make My Self-Rising Flour?
It is effortless to make your own. To make 1 cup of self-rising flour, add these three ingredients together:
1 cup all-purpose flour
1 1/2 teaspoons baking powder
1/4 teaspoon salt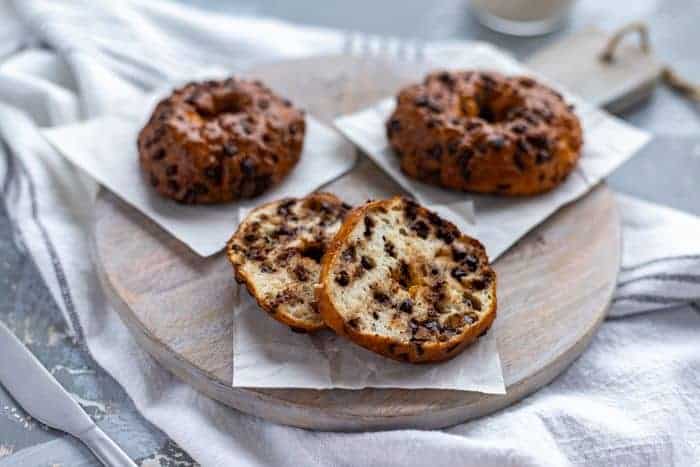 Can I Use Regular Yogurt For This Recipe?
No, Greek Yogurt is heavier than regular yogurt. However, you can substitute sour cream in the recipe. But please note the points, calories, and texture will change.
Can I Make These Bagels Ahead of Time?
Yes, if you want to prepare the dough and then place it in the refrigerator (remember to chill the dough until you are ready to air fry), This would be a great recipe if you want to make it the night before and then just air fry in the morning.
Can I Double This Recipe?
Yes, of course.
Can I Freeze These Bagels?
Yes, let them cool to room temperature, and then wrap them individually in saran wrap. They should last for about 3 to 4 weeks.
More Air Fryer Bagel Recipes:
Don't Forget To Pin: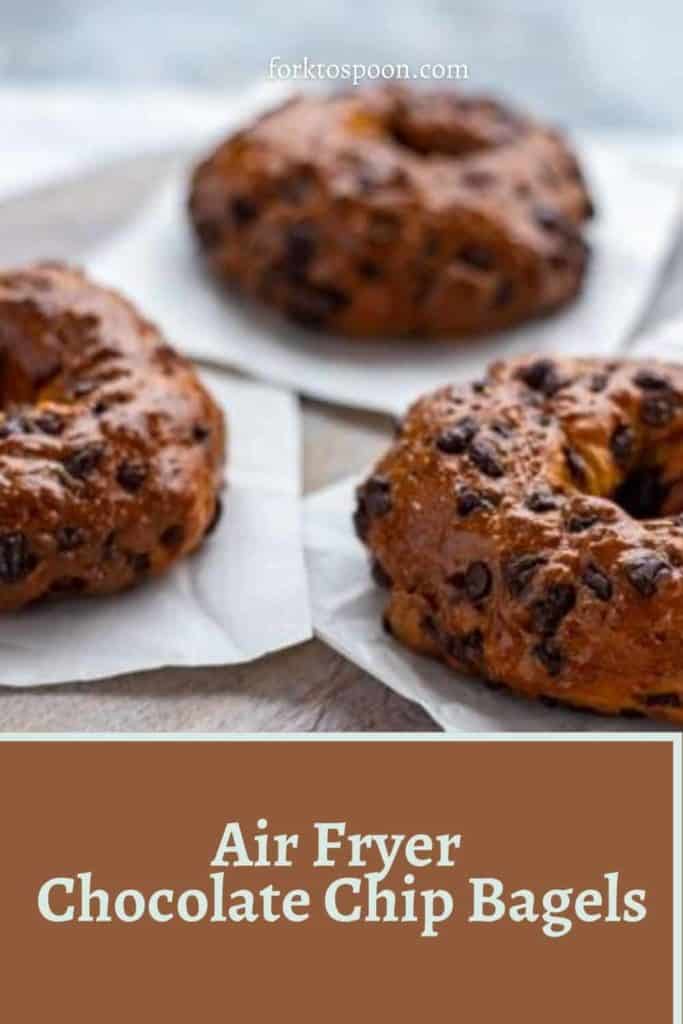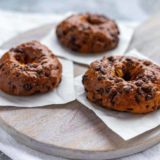 Air Fryer Chocolate Chip Bagels
Description
This has been all of the rage in the Air Fryer group. My kids really love chocolate chip bagels, so this morning I surprised them with a homemade, and there is nothing like a hot bagel with cream cheese.
Ingredients
1

cup

self-rising flour

1

cup

Greek yogurt

1/2

cup

mini chocolate chips

1

large

egg

,

(crack into a small bowl, and then beat it with a fork)
Instructions
Combine the Greek yogurt and self-rising flour in a mixing bowl.

Mix until the dough comes together.

Fold in the chocolate chips, mix until evenly distributed.

Remove your dough from the mixer, and then cut into 4 equal pieces. I shape my dough into a ball and then make a circle with my finger in the center.

As you make them place them into a greased air fryer basket or on a greased air fryer tray. (sprayed with olive oil). Then brush the egg over the top of the bagels.

Set into the air fryer, and set the temperature to 350 degrees F, air fryer setting, for 8-11 minutes (time will depend on your air fryer)
Equipment
Air Fryer

Parchment Paper,

or Cooking Spray
Nutrition
Serving:
1
g
Calories:
274
kcal
Carbohydrates:
40
g
Protein:
12
g
Fat:
7
g
Saturated Fat:
4
g
Polyunsaturated Fat:
0.5
g
Monounsaturated Fat:
1
g
Trans Fat:
0.1
g
Cholesterol:
52
mg
Sodium:
52
mg
Potassium:
119
mg
Fiber:
1
g
Sugar:
16
g
Vitamin A:
121
IU
Vitamin C:
0.1
mg
Calcium:
93
mg
Iron:
1
mg