Loaded Air Fryer Tater Tots — Get ready to elevate your snack game with our Loaded Air Fryer Tater Tots!
Imagine your favorite crispy, golden tater tots coming hot out of the air fryer, then loaded with all the mouth-watering toppings that scream indulgence. We're talking melted cheese, crispy bacon bits, a sour cream dollop, and fresh green onions.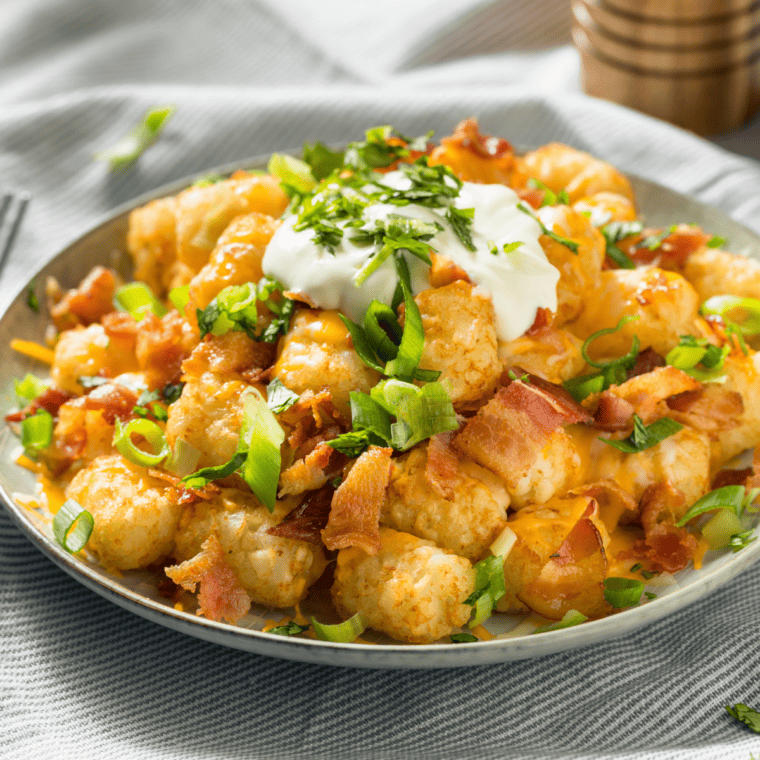 This dish is not just a snack; it's a mini celebration for your taste buds! Perfect for game day, family movie nights, or just when you're in the mood for something deliciously comforting. So, grab your air fryer, and let's create a snack that's sure to be a crowd-pleaser. Ready to turn ordinary tater tots into an extraordinary treat?
Best Air Fryer Loaded Crispy Air Fryer Tater Tots Recipe
Are you ready for a crispy, cheesy, irresistible snack or a fun side dish? Look no further than our Loaded Air Fryer Crispy Tater Tots recipe! We're taking the humble tater tot and giving it a gourmet makeover. Imagine perfectly air-fried tater tots, crisp on the outside and fluffy on the inside, then generously topped with melted cheese, crispy bacon, and a splash of tangy sour cream.
Finished with a sprinkle of green onions, these loaded tots are the ultimate comfort food treat. Whether hosting a casual get-together, gearing up for game day, or just treating yourself to a delicious snack, this recipe is a surefire way to satisfy those cravings. So, let's fire up the air fryer and get ready to indulge in the crunchiest, cheesiest, and most delightful tater tots.
If you are looking for even more Air Fryer Appetizer Recipes, some of my favorites are AIR FRYER DRY RUBBED CHICKEN WINGS, AIR FRYER BAKED BRIE, AIR FRYER POTATO WEDGES, and AIR FRYER GARLIC BREAD.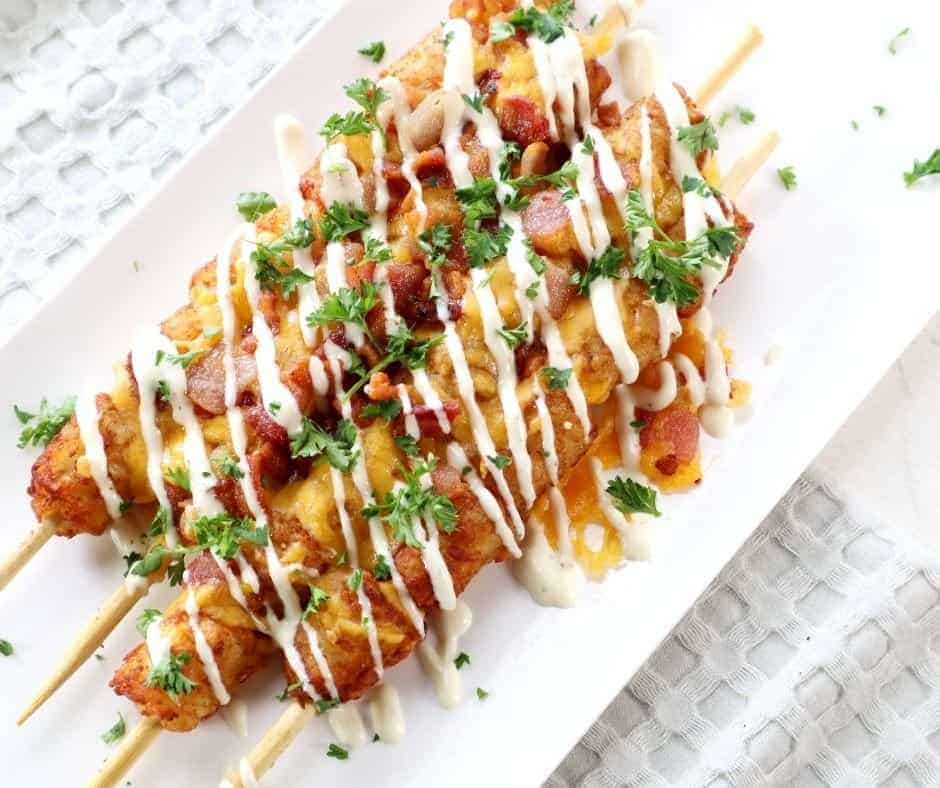 Why You Will Love This Recipe!
The Air Fryer Loaded Tater Tots recipe is a crowd-pleaser for many delicious reasons. Here's why you're going to love it:
Crispy Perfection: Each tater tot is cooked to crispy perfection thanks to the air fryer. You'll get that satisfying crunch with every bite, minus the excess oil of traditional frying.
Cheesy Goodness: Who doesn't love melted cheese? These tater tots are smothered in gooey, melted cheese, contrasting with the crispy exterior.
Customizable Toppings: The beauty of this recipe lies in its versatility. You can top these tater tots with your favorites, from bacon bits and sour cream to chives, jalapeños, or even chili – the endless possibilities!
Quick and Easy: This recipe is straightforward and can be whipped up quickly. It's perfect when you need a quick snack or have unexpected guests.
Great for Any Occasion: Whether it's a casual family night, a fun gathering with friends, or a festive game day, these loaded tater tots are always a hit.
Comfort Food at Its Best: Combining potatoes, cheese, and your choice of toppings, this dish is the epitome of comfort food. It's sure to bring a smile to everyone's face.
Healthier Alternative: Air frying is a healthier cooking method than deep frying. You'll enjoy all the flavor and texture of your favorite fried foods with significantly less oil.
Kid-Friendly: These loaded tater tots are not just for adults; kids love them, too! They're a fun and easy way to excite the little ones about mealtime.
By trying out this Air Fryer Loaded Tater Tots recipe, you're in for a treat that's as enjoyable to make as it is to eat. It's a simple, satisfying, and fun way to enjoy a classic snack.
Ingredients Needed For Air Fryer Loaded Tater Tots
Embark on a culinary adventure with our Air Fryer Loaded Tater Tots recipe, where each ingredient comes together to create a symphony of flavors and textures. Each component is crucial in transforming a simple snack into a delectable treat, from the crispy tots to the tantalizing toppings. Let's explore the key ingredients you'll need to whip up this crowd-pleaser:
Making Loaded Tater Tots in an air fryer is a simple and delicious way to enjoy a classic comfort food with a crispy twist. Here's a step-by-step guide to preparing this mouth-watering treat: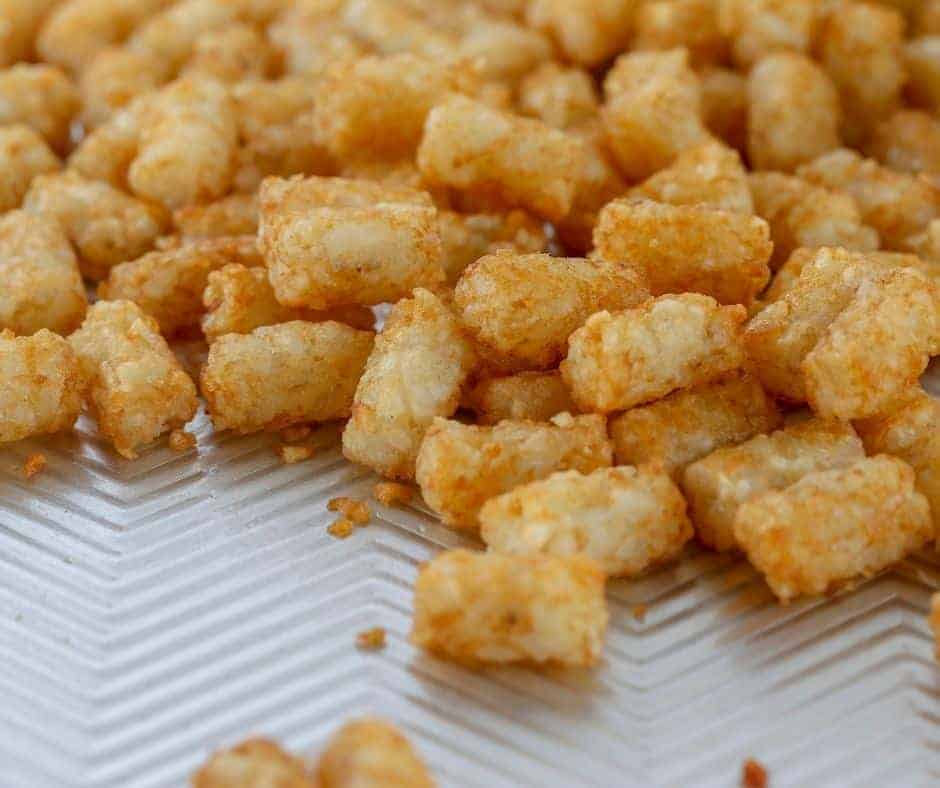 ​Remember the step-by-step directions and detailed ingredient list are below, in the printable recipe card at the bottom of the post, as well as the nutritional information.​
Tater Tots: The foundation of this dish, tater tots, are small, grated potatoes formed into bite-sized pieces. In the air fryer, they cook to a delightful crispness, making them the perfect base for our loaded toppings.
Cheddar Cheese: Generously sprinkled over the hot tater tots, cheddar cheese melts beautifully, adding a rich, creamy, comforting, and delicious layer.
Bacon: Cooked until crispy and then crumbled, bacon adds a salty, smoky crunch that pairs perfectly with the other ingredients, elevating the overall flavor profile.
Sour Cream: A dollop of sour cream on top of the loaded tater tots introduces a cool, tangy contrast to the warm, savory flavors, adding a creamy texture that's hard to resist.
Green Onions: Finely chopped green onions sprinkled over the top add a burst of color and a fresh, slightly sharp flavor that cuts through the richness of the other toppings.
Kosher Salt and Black Pepper: Simple yet essential, a sprinkle of salt and pepper enhances the natural flavors of the tater tots and toppings, balancing the dish beautifully.
Cooking Spray: A light coating of cooking spray on the air fryer basket ensures that the tater tots don't stick and allows them to achieve an even golden crispness.
How to Make Loaded Tater Tots In Air Fryer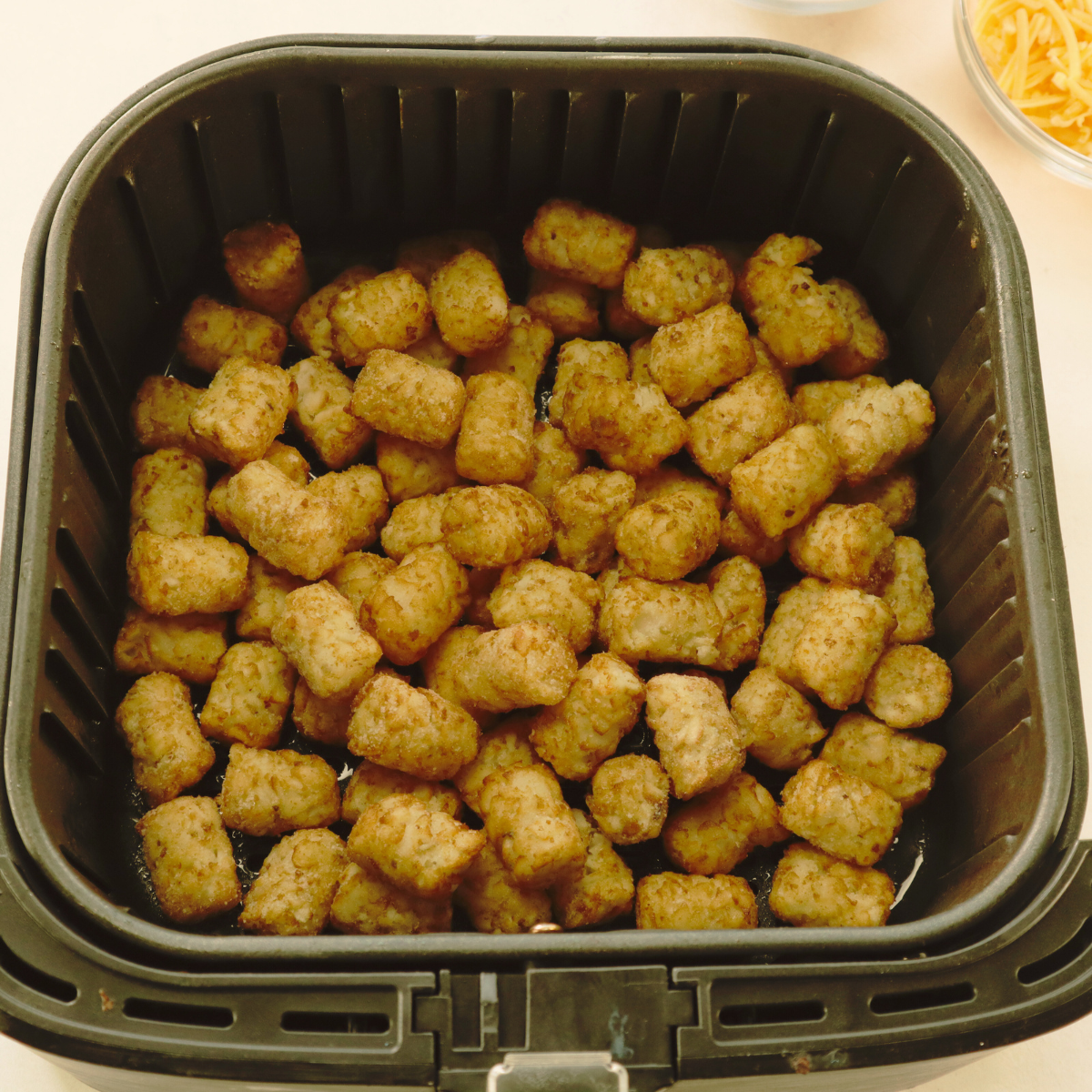 Preheat the Air Fryer:
Preheat your air fryer to 400 degrees F (200°C) for 3-5 minutes. This ensures that the tater tots will cook evenly and become crispy.
Prepare the Tater Tots:
Arrange the frozen tater tots in the air fryer basket in a single layer. It's important not to overcrowd the basket to allow for even cooking and crispiness. Lightly spray them with cooking spray.
Air Fry the Tater Tots:
Set cook time for 15-20 minutes. Halfway through the cooking time, shake the basket or use a spatula to turn the tots to ensure they cook evenly.
Add Cheese and Bacon:
Once the tater tots are crispy and golden brown, sprinkle shredded cheddar cheese and crumbled bacon on the top of the tots. You can do this in the air fryer basket itself.
Melt the Cheese:
Place the basket back in the air fryer for 1-2 minutes or until the cheese has melted.
Garnish and Serve:
Carefully remove the cooked tater tots from the air fryer and transfer them to a serving dish. Add a dollop of sour cream on top and garnish with chopped green onions—season with salt and pepper to taste. Serve immediately while they are hot and crispy for the best experience.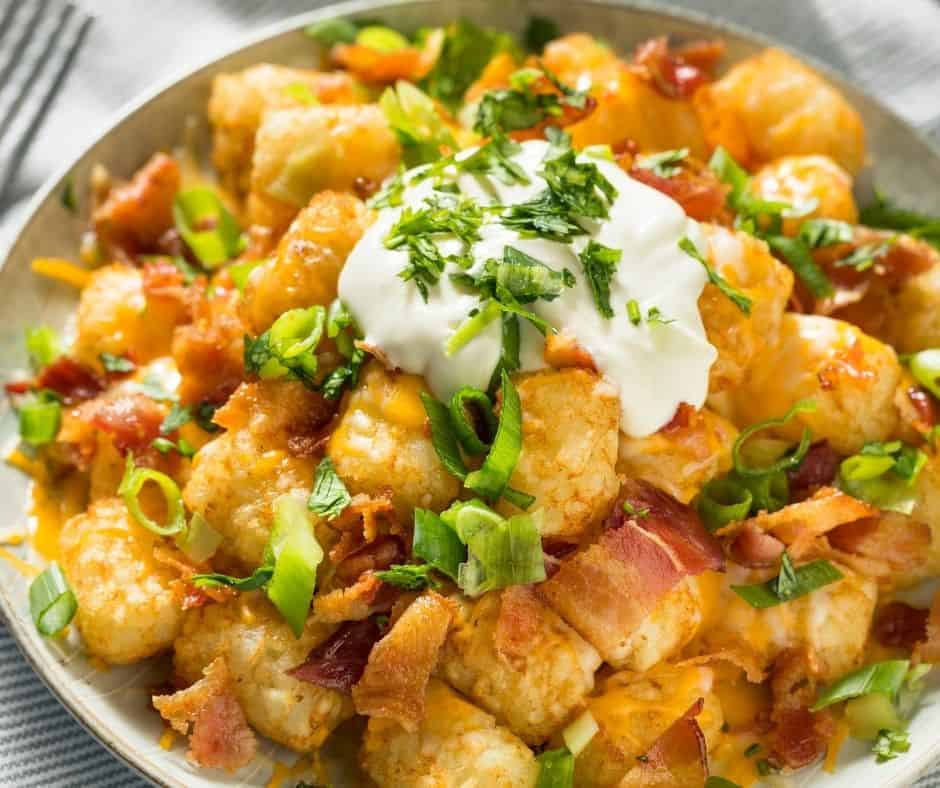 Recipe Variations
Experimenting with different toppings and flavors can turn your Air Fryer Loaded Tater Tots into a versatile and exciting dish. Here are some creative recipe variations to try:
Tex-Mex Style: Top your tater tots with shredded pepper jack cheese, diced jalapeños, and black beans. Garnish with sour cream, salsa, and a sprinkle of cilantro for a Tex-Mex twist.
Buffalo Chicken: Add buffalo chicken (shredded cooked chicken tossed in buffalo sauce) on top of the tater tots before adding the cheese. Finish with a drizzle of ranch or blue cheese dressing.
BBQ Pulled Pork: Top the tots with BBQ pulled pork and cheddar cheese. After melting the cheese, garnish with green onions and a drizzle of extra BBQ sauce.
Breakfast Tots: Make a breakfast version by adding scrambled eggs, crumbled sausage, and cheddar cheese. Top with a dollop of sour cream and chives.
Veggie Lovers: For a vegetarian option, top with sautéed mushrooms, bell peppers, onions, and tomatoes. Add mozzarella or vegan cheese and finish with fresh basil.
Cheeseburger Tots: Combine ground beef cooked with burger seasonings, diced pickles, and onions. Top with cheddar cheese and finish with a drizzle of ketchup and mustard.
Greek Style: After cooking the tater tots, add feta cheese, chopped Kalamata olives, diced cucumbers, and tomatoes. Garnish with tzatziki sauce and dill.
Italian Pesto: Top with mozzarella cheese, cherry tomatoes, and dollops of pesto. Add a sprinkle of Parmesan cheese and Italian herbs for an extra flavor.
Philly Cheesesteak: Add thinly sliced cooked steak, caramelized onions, and green peppers. Top with provolone cheese and melt to perfection.
Hawaiian Style: Combine ham cubes and pineapple tidbits on top of the tater tots, cover with mozzarella cheese, and garnish with green onions.
Each of these variations brings a unique flavor profile to the classic loaded tater tots, making them adaptable to different tastes and occasions. Feel free to get creative and mix and match ingredients based on what you love!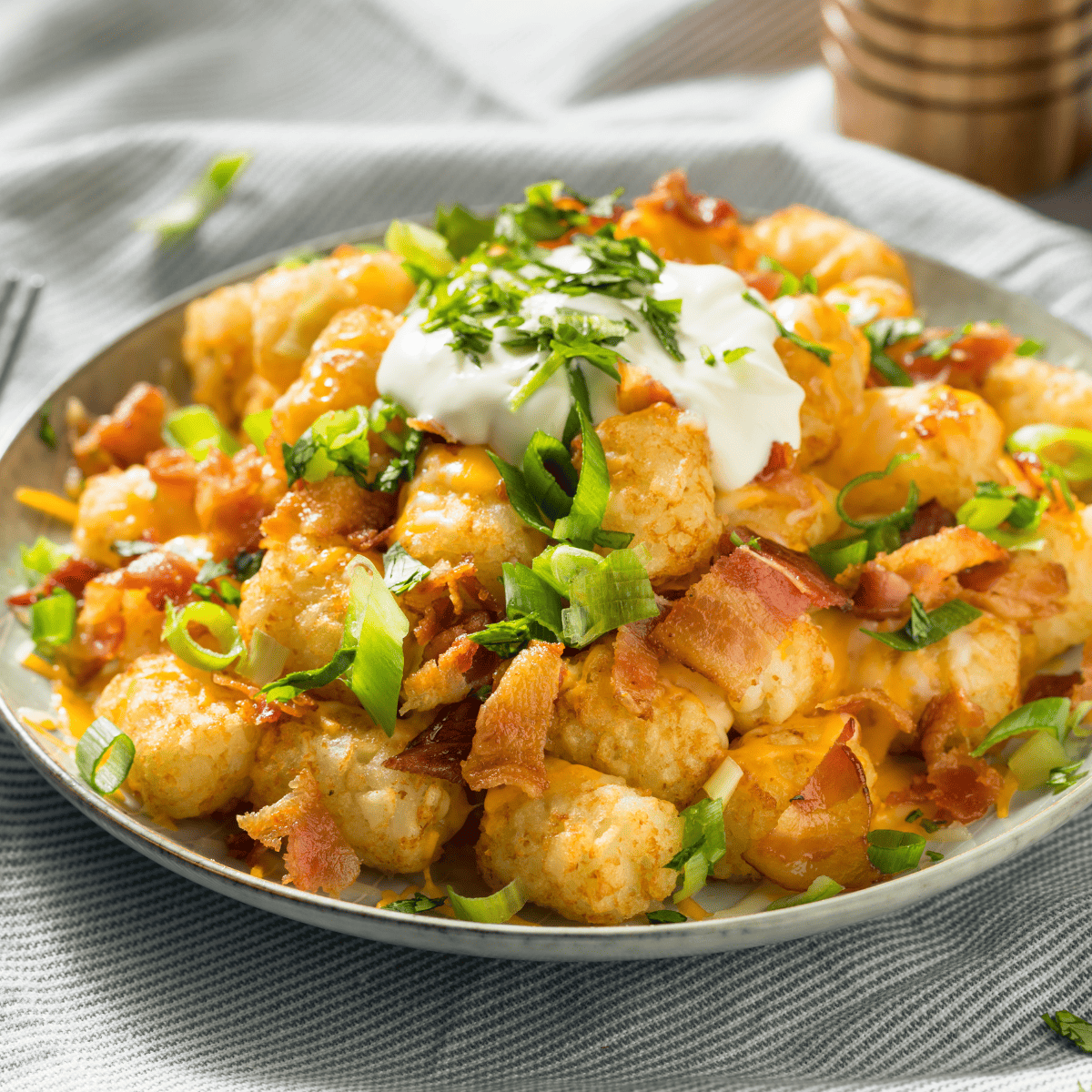 Pro Tips
Creating the perfect Air Fryer Loaded Tater Tots involves combining technique and creativity. Here are some professional tips to ensure your dish turns out delicious every time:
Preheat Your Air Fryer: Always preheat the air fryer before adding the tater tots. This helps them cook evenly and become crispy.
Don't Overcrowd the Basket: Cook the tater tots in a single layer and avoid overcrowding the basket. This ensures they all get evenly crispy. Cook in batches if necessary.
Shake or Turn Regularly: Halfway through the cooking time, shake the basket or turn the tots. This promotes even cooking and helps all sides get that desired golden crispiness.
Choose the Right Toppings: Use toppings that complement each other. Balance the flavors and textures for a harmonious blend – think about a mix of creamy, crunchy, salty, and fresh ingredients.
Add Toppings at the Right Time: Add cheese and other toppings only after the tater tots are fully cooked and crispy. Then, please return them to the air fryer long enough to melt the cheese.
Use Fresh Ingredients for Garnishing: Fresh herbs and garnishes like green onions or cilantro add a burst of flavor and color, enhancing the overall appeal of the dish.
Serve Immediately: Loaded tater tots are best enjoyed hot and crispy. Serve them immediately after cooking for the best texture and taste.
Experiment with Sauces: Dipping sauces can significantly elevate the dish. Offer a variety of sauces like ranch dressing, creamy queso, blue cheese dressing, or spicy ketchup for dipping.
Balance Your Flavors: If your toppings are very savory or spicy, consider adding a component with a hint of sweetness (like barbecue sauce, honey mustard, or a sprinkle of sweet paprika) to balance the flavors.
Mind the Cheese: Choose cheeses that melt well, like American cheese, cheddar, mozzarella, or pepper jack. Grate the cheese yourself for better melting.
Best Toppings For Tater Tot Nachos
Air Fryer Totchos, a delightful twist on traditional nachos using tater tots as a base, offer endless possibilities for toppings. Here are some of best delicious toppings to create a mouth-watering dish:
Shredded Cheese: A blend of cheeses like sharp cheddar cheese, Monterey Jack, or pepper jack melts beautifully and adds a rich, gooey texture. The key is to use a good melting cheese for that perfect cheesy pull.
Seasoned Ground Beef or Turkey: Cooked ground beef or turkey seasoned with taco spices adds a hearty and flavorful protein component to your air fryer totchos.
Sour Cream: A dollop of sour cream adds a tangy contrast to the warm and crispy tots, balancing the flavors beautifully.
Jalapeños: Sliced jalapeños bring a spicy kick to the dish, perfect for those who enjoy a bit of heat.
Guacamole or Avocado: Creamy guacamole or diced avocado adds a rich, buttery texture and a dose of healthy fats.
Salsa or Pico de Gallo: Fresh salsa or pico de gallo offers freshness and acidity, cutting through the richness of the other toppings.
Beans: Rinsed and drained black beans or refried beans are a great way to add fiber and protein, making your totchos more filling and nutritious.
Chopped Onions: Green or red onions provide a sharp, tangy flavor that complements the other toppings.
Bacon Bits: Crispy bacon bits add a smoky, savory crunch, taking the flavor profile to the next level.
Olives: Sliced black or green olives contribute a briny depth to the dish, offering a nice contrast in flavors.
Bell Peppers: Diced bell peppers in various colors add sweetness, crunch, and a vibrant visual appeal.
Hot Sauce or Buffalo Sauce: A drizzle of your favorite hot sauce or buffalo sauce can add an extra layer of spicy flavor for those who like it hot.
Cilantro: Freshly chopped cilantro adds a pop of color and a fresh herbal note to finish the dish.
Queso: Warm queso drizzled over the top can add an indulgent, creamy texture and cheesy flavor.
These toppings can be mixed and matched according to your taste preferences, creating a unique and delicious Air Fryer Totchos experience every time!
Faq's
FAQ's
What Are Loaded Tater Tots? Loaded tater tots are crispy tater tots served hot from the air fryer, topped with various ingredients like melted cheese, bacon, sour cream, and green onions, similar to loaded nachos. They are also known tochos.
Can I Make These with Frozen Tater Tots? Absolutely! This recipe works great with frozen tater tots. There's no need to thaw them; cook them directly in the air fryer.
How Long Should I Cook the Tater Tots in the Air Fryer? Cooking times can vary depending on your air fryer model, but generally, getting them crispy takes about 15-20 minutes at 400°F (200°C).
Can I Add Different Toppings? Yes, this recipe is quite versatile. Feel free to add toppings like diced tomatoes, jalapeños, or different types of cheese to suit your taste.
Are Air Fryer Loaded Tater Tots Healthy? While tater tots are comfort food, using an air fryer reduces the oil needed, making them a healthier alternative to deep-fried tots. Be mindful of the toppings to keep it healthier.
Can I Make These Ahead of Time? Tater tots are best served fresh for maximum crispiness. However, you can cook the tots beforehand and then reheat and add toppings before serving.
How Do I Store Leftovers? Store any leftover tater tots in an airtight container in the refrigerator. Reheat in the air fryer to bring back the crispiness before eating.
Can I Make These in an Oven? Yes, you can bake the tater tots in an oven if you don't have an air fryer. Place the frozen tater tots onto a baking sheet, spray the tops of the tater tots with oil spray, and cook at 400 degrees F for 12-15 minutes. Before adding your toppings, The texture might be slightly different, but they will still be delicious.
What's the Best Way to Reheat Them? Reheat leftovers in the air fryer to maintain crispiness. The microwave can make them soggy.
Can I Make These Gluten-Free? Yes, most tater tots are naturally gluten-free, but always check the packaging. Also, ensure that any added toppings are gluten-free.
More Air Fryer Recipes
Don't Forget To Pin!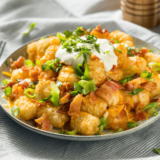 Air Fryer Loaded Tater Tots
Description
Air Fryer Loaded Tater Tots are amazing! They made for such a quick and easy (but fun) lunch, and who doesn't love a great hot plate of tater tots?
Ingredients
32

ounces

tater tots

,

frozen

1

teaspoon

olive oil

1

teaspoon

salt

,

to taste
Your Favorite Toppings, Cheese, Bacon, Sour Cream, Etc.
Instructions
Spread them in a single layer on the air fryer basket or tray.

Generously spray the Tater Tots with cooking spray.

Set the temperature to 400 degrees F (air fryer setting) for 5 minutes. After 5 minutes, flip (or toss if you are using an air fryer basket. Set the timer for another 5 minutes. Check the tots before removing them to make sure they are fully cooked.

Toss with salt before serving.

Then add the shredded cheddar cheese, sour cream, bacon, etc.

If you want the cheese to be melted in, return to the air fryer for a couple of minutes.
Equipment
Air Fryer

Cooking Spray

Parchment Paper,

optional
Nutrition
Serving:
1
Serving
Calories:
433
kcal
Carbohydrates:
59
g
Protein:
5
g
Fat:
22
g
Saturated Fat:
4
g
Polyunsaturated Fat:
8
g
Monounsaturated Fat:
9
g
Sodium:
1604
mg
Potassium:
590
mg
Fiber:
5
g
Sugar:
1
g
Vitamin A:
9
IU
Vitamin C:
16
mg
Calcium:
32
mg
Iron:
1
mg