Frozen Dino Nuggets In Air Fryer! Are you ready to take your taste buds on a delicious journey back in time? Air fryer dino nuggets are an exciting way to enjoy the classic childhood favorite, dino-shaped chicken nuggets!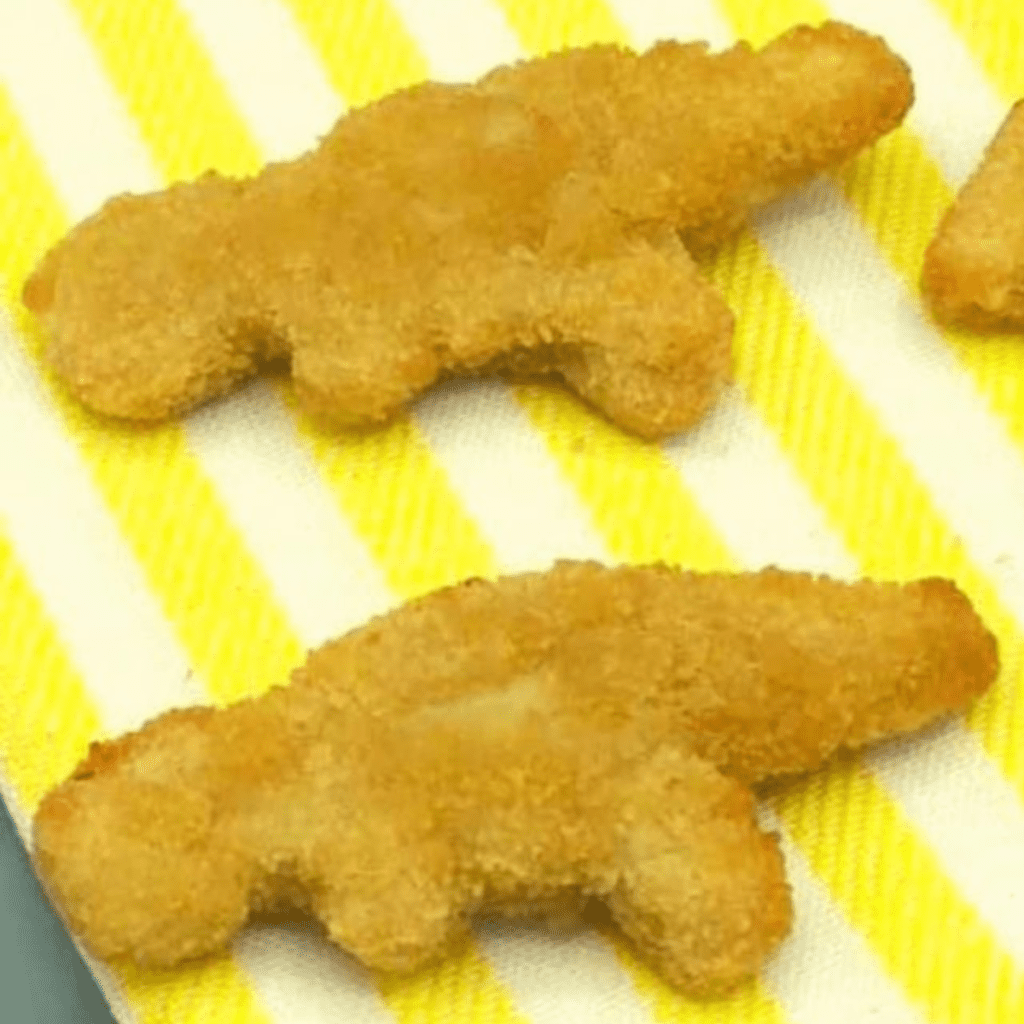 Not only do these crispy treats have that nostalgic crunch we all love; their modern twist makes them so much more fun. Imagine biting into perfectly cooked crispy chicken nuggets with a delightful golden-brown crust. This is not your ordinary frozen convenience food – air fryer dino nuggets offer both health and flavor advantages!
Frozen Dinosaurs Chicken Nuggets In Air Fryer
You can make delicious and crispy frozen dinosaur chicken nuggets in an air fryer, in minutes! There is nothing better than yummy dino nuggets, served with your favorite dipping sauce, and this will soon be your favorite way to cook dinosaur nuggets! The kids and family will love them, in less time than cooking in a conventional oven.
And of course, lunch becomes fun, especially for your picky eaters, serve with some Air Fyre French Fries, and you have a great lunch!
Ingredients Needed for Dino Chicken Nuggets
Dino Chicken Nuggets – they've been a favorite of kids and adults alike since they first hit the market. What makes these delicious nuggets so special? It's the shape, who doesn't love eating nuggets in the shape of dinosaurs or fun shapes, while they are eating? So forget about air fryer chicken nuggets, if you have a picky eater, they will love one of the best kid-approved meals in the air fryer!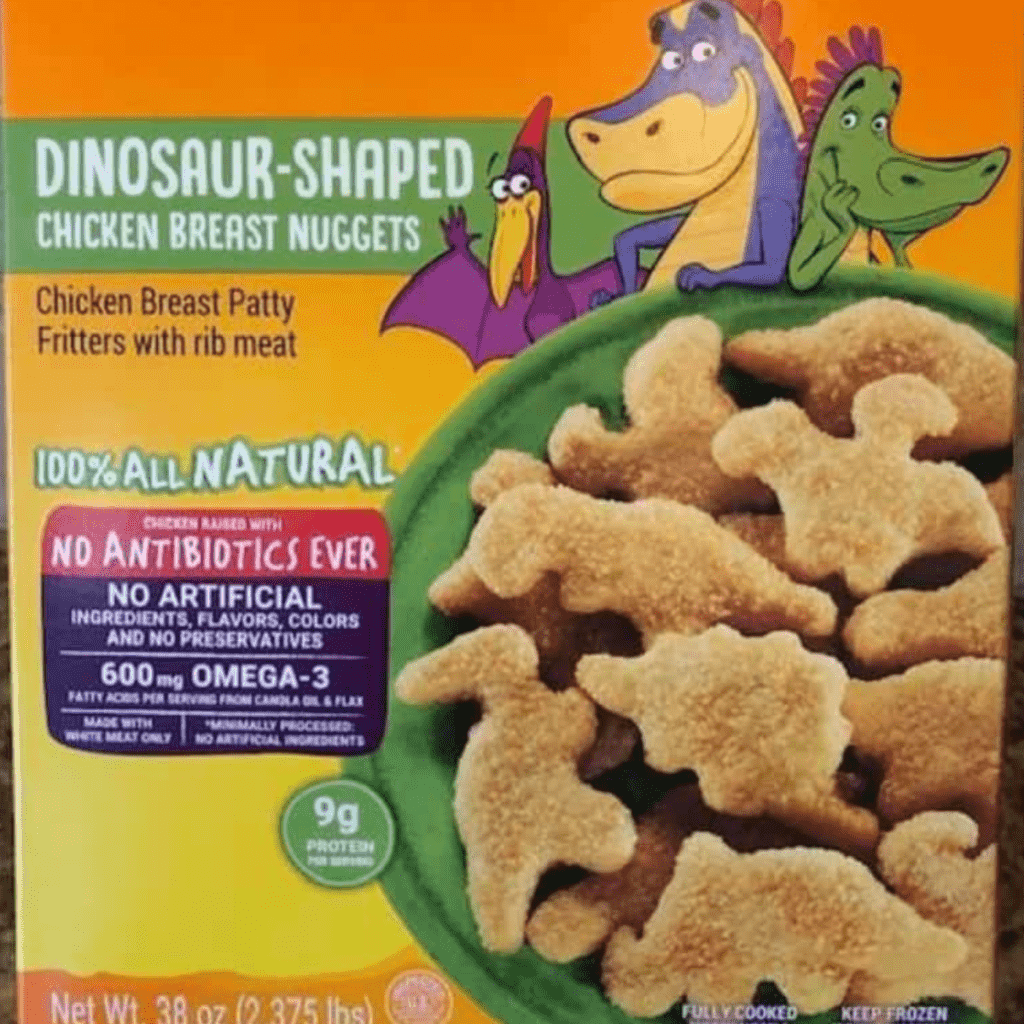 Remember the step-by-step directions below in the printable recipe card, at the bottom of this post, as well as the nutrition info.
Dinosaur Chicken Nuggets: Below, we went over the best brand of dino nuggets, and some of our favorites!
Dipping Sauce: Ketchup, Sweet and Sour Sauce, or even Copycat Chick Fil Sauce
How To Cook Dino Nuggets In Air Fryer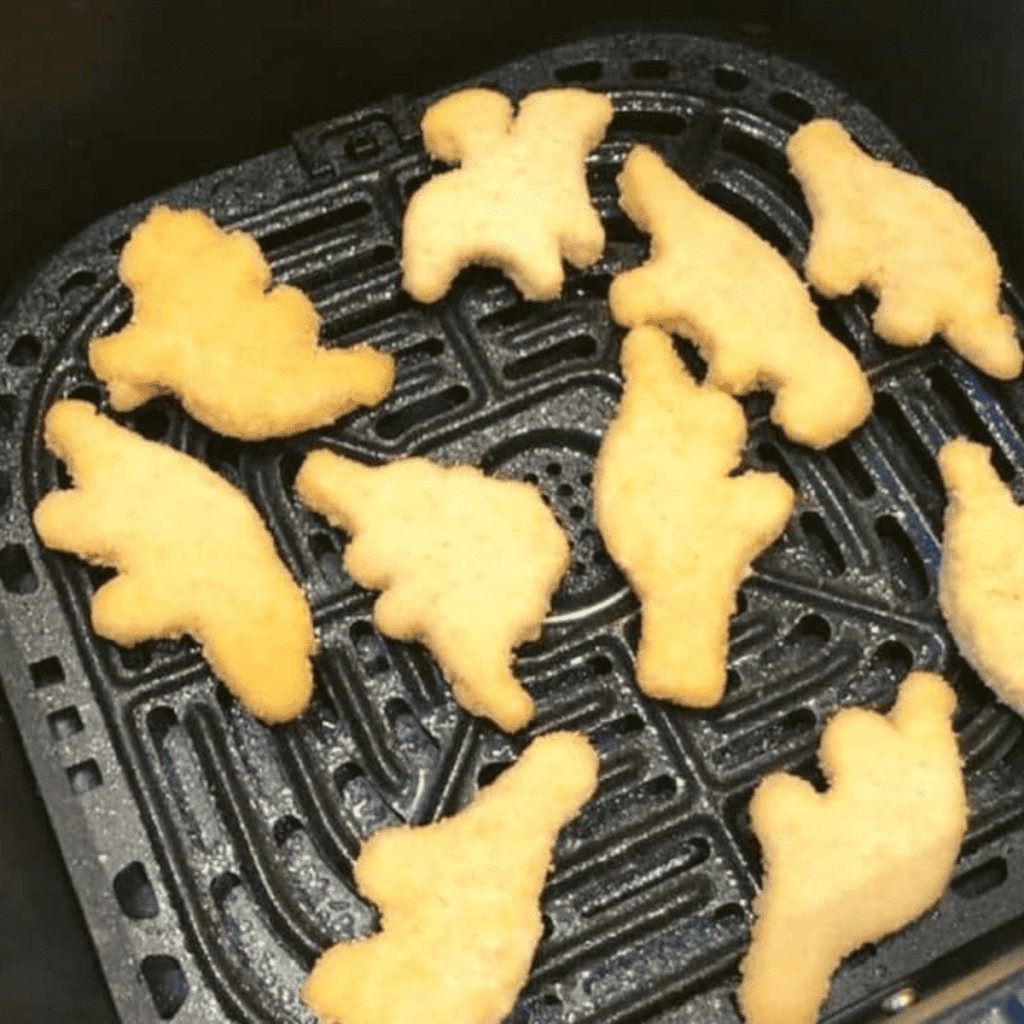 Step One: Add Frozen Chicken Nuggets
Add your frozen dino nuggets to the air fryer basket, in a single layer, and set the cooking time for 8-10 minutes, at 400 degrees f, using the air fryer setting. Shake your basket halfway during the cooking process. You do not have to add cooking spray for the crispy nuggets, you need no vegetable oil or other oils.
Step Two: Serving
Serve with your favorite dipping sauce!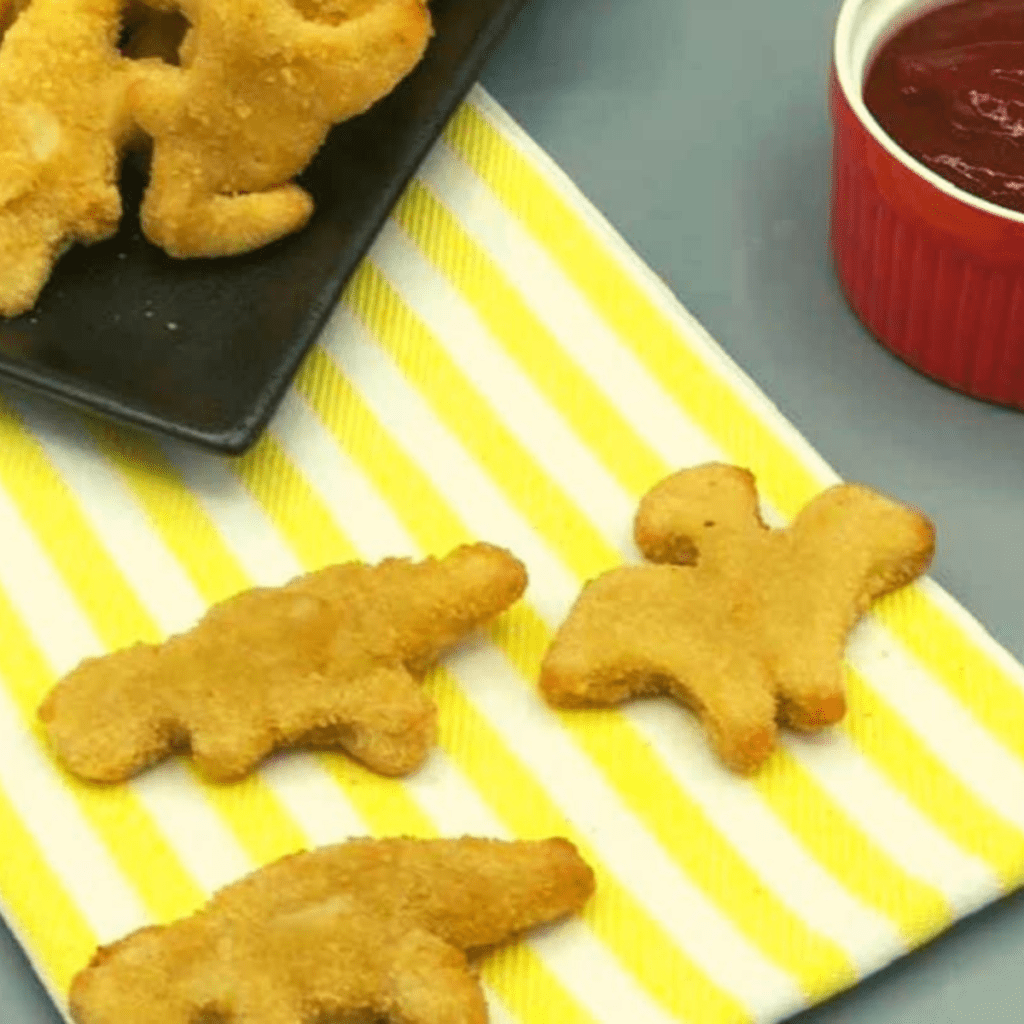 Pro Tips:
Preheating: You do not need to preheat your air fryer they will cook perfectly, they may take 1-2 minutes longer, but that will be dependent on your air fryer. Remember the air fryer will cook the second batch, faster than the first batch since the air fryer is already heated up.
Frozen: For best results, do not thaw your nuggets before air frying.
Overcrowding: For best results place your chicken nuggets into a single layer, leaving space around the nuggets, so the hot air can circulate around the nuggets, creating crispy chicken nuggets.
Why Reheating Frozen Dino Nuggets In Air Fryer
Reheating frozen nuggets in an air fryer is a great way to quickly and easily have a delicious snack or meal, on busy weeknights. Air frying reheats the food faster than microwaving, ensuring that the nuggets are crisp on the outside while staying juicy and tender inside.
The air fryer allows you to monitor how they get, so you can adjust the time or temperature as needed. Additionally, air frying helps to reduce fat and oil in the nuggets by using hot air circulation instead of submerging them in oil. This makes them much healthier than deep-frying and microwaving. All in all, reheating frozen dino nuggets in an air fryer is a great way to enjoy them without having to worry about unhealthy fats or soggy textures. Not only is it convenient and fast, but it can also give you the best-tasting nuggets possible in the shortest time possible, and of course easy clean up! So next time you're looking for a quick snack, try air frying your frozen dino nuggets and save both time and calories!
How To Store Leftover Dino Nuggets
Let the leftover dino nuggets cool to room temperature, and then place them into an airtight container or sealed container.
Best Dino Nuggets Brands
Some different brands, depending on your local grocery store offering, some I have tried are:
Tyson Fully Cooked Fun Nuggets
Tyson Dino Nuggets: Tyson Chicken Nuggets
Wellshire Chicken Dino Bites
Golden Platter Foods Gluten-Free Nuggets
John Soules Foods Brand
Perdue Farms Fun Shapes
How Long To Cook Dino Chicken Nuggets In Air Fryer
The average cook time to cook frozen dinosaur nuggets is 10-12 minutes. For best results use a meat thermometer and check the internal temperature of the dino nuggets, remove when the temperature reaches 165 degrees F. The heating time will vary from air fryer to air fryer.
Best Sides For Chicken Nuggets
When it comes to chicken nuggets, there are so many delicious sides that can be paired with them. From classic French fries and coleslaw to more unexpected dishes like mashed potatoes and macaroni and cheese, the possibilities are truly endless! Here's a look at some of the best sides for chicken nuggets
Some of my favorites are:
What Sauce Can I Serve with Air Fryer Frozen Chicken Nuggets?
My kids love a good dipping sauce. I think most kids (and some adults) love to dip their food. Here are some of my favorites:
Frequently Asked Questions
Why are Dino chicken nuggets so good?
Dino chicken nuggets are beloved by adults and children alike because they provide an easy-to-eat, delicious snack. The reason they are so popular is twofold: firstly, they offer a great source of protein and also taste great because of the combination of herbs and spices used in their coating. For those looking for healthy snacks, they are a great alternative to the more traditional, unhealthy fried foods. Moreover, they are also easy to prepare and cook in the oven or even in an air fryer! Another benefit of Dino chicken nuggets is that they contain fewer calories than other popular snacks such as chips and French fries. So if you're looking for a delicious and healthy snack that's easy to prepare and low in calories, Dino chicken nuggets are a great option!
Are dino nuggets real chicken, what are they made of?
The answer might surprise you! The majority of dinosaur-shaped nuggets are actually made of real white meat chicken or rib meat. . However, they are not just plain chicken – the meat is often mixed with other ingredients like water, wheat flour, corn starch, salt, and seasoning to give it that familiar nugget texture and flavor.
Are Costco Dinosaur nuggets healthy?
In general, Costco Dinosaur nuggets can be a reasonable snack or meal option if eaten in moderation and when part of a nutritious diet. The key is to look at the overall package of nutrition that comes from eating them
How many calories in Dino nuggets?
Depending on the brand and the size of the nuggets the average calories is between 150 to 200 calories.
More Easy Air Fryer Recipes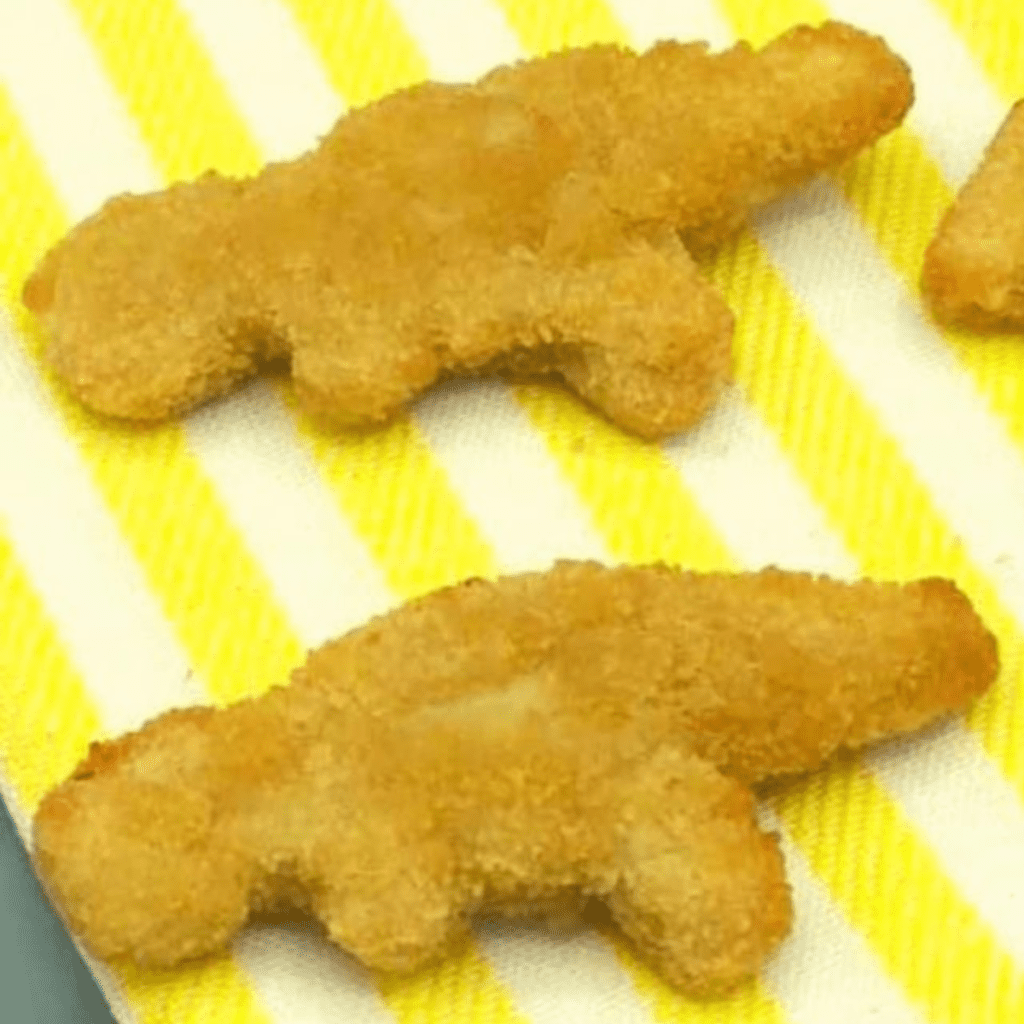 In conclusion, making frozen dino nuggets in the air fryer is an efficient and flavorful alternative to traditional frying methods. Not only does it save time and energy, but you can also be sure that your food will be cooked evenly on the inside and out. Because of this, it is a great option for busy households or those who are looking for a healthier alternative to deep-frying.
It may take a bit of practice to get used to the air fryer settings, but with the right technique, you can enjoy delicious kid-friendly meals quickly and easily. When it comes to frozen dino nuggets, getting creative with seasonings and trying new recipes can help bring exciting new flavors into your kitchen while providing a nutritious meal that everyone will enjoy.
Don't Forget To Follow Us Along on Social Media; Instagram, Facebook, and TikTok, and Join Our Facebook Page and group for all your Air Fryer Recipes and Tips!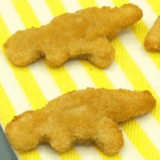 Frozen Dino Buddies Air Fryer
Description
Every child's favorite food, now made in an air fryer. With perfect results every time, they will be your new way of cooking up a plate of Air Fryer Frozen Dino Buddies.
Ingredients
24

frozen

Dino Buddies

,

or Frozen Dino Nuggets
Instructions
Add your frozen dino nuggets to the air fryer basket, in a single layer, and set the cooking time for 8-10 minutes, at 400 degrees f, using the air fryer setting.

Shake your basket halfway during the cooking process

Serve with your favorite dipping sauce!
Equipment
Air Fryer,

Air Fryer Basket or Air Fryer Oven
Nutrition
Serving:
1
g
Calories:
27
kcal
Protein:
2
g
Fat:
2
g
Saturated Fat:
1
g
Polyunsaturated Fat:
0.4
g
Monounsaturated Fat:
1
g
Trans Fat:
0.03
g
Cholesterol:
9
mg
Sodium:
9
mg
Potassium:
19
mg
Vitamin A:
18
IU
Vitamin C:
0.1
mg
Calcium:
1
mg
Iron:
0.1
mg