Are you a fan of Raising Cane's famous Dipping Sauce? Now you can have it at home with this easy copycat recipe.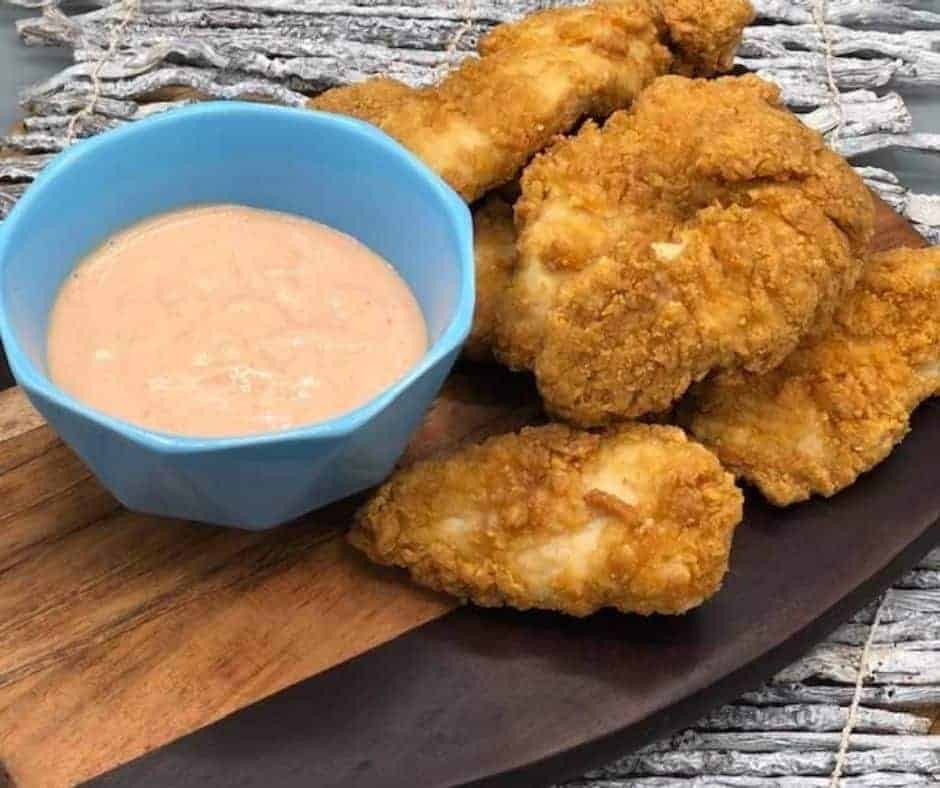 If you love Raising Cane's famous dipping sauce but can't always make the trip to their restaurant, this copycat recipe is for you. The combination of tangy mayonnaise, ketchup, and Worcestershire sauce provides a savory base, while minced garlic adds a spicy kick. A hint of sweetness comes from both mustard and brown sugar, creating an irresistible blend of flavors. Best of all, it only takes minutes to whip up at home. Serve with chicken tenders or as a dip for fries – either way, it's sure to be your new go-to sauce. Give it a try for your next meal and taste just how close it comes to the real thing.
What Is Raising Cane's Restaurant
Have you ever been to Raising Cane's Restaurant? If not, you're missing out on some delicious chicken strips meals. Very popular in the United States. Raising Cane's was founded in Baton Rouge, LA in 1996 by Todd Graves and now has locations all over the country. What sets Raising Cane's apart from other fast-food franchises is their focus on one item: homemade chicken tenders. They only use premium chicken tenders that are hand-breaded daily and cooked to crispy perfection.
Along with their famous chicken fingers, Raising Cane's also offers French fries and Texas toast as accompaniments with their meals. Their signature dipping sauce (Cane's dipping sauce) is a closely guarded secret, but it adds the perfect level of tanginess to each bite. So next time you're craving some crispy chicken tenders, definitely give Raising Cane's a try. You won't be disappointed.
What is Raising Cane's Sauce?
If you've ever had the pleasure of sinking your teeth into a crispy, juicy chicken finger from Raising Cane's, chances are you were also hooked on their famous sauce. What exactly is this addictive concoction? The chain has kept its recipe tightly under wraps, but it's believed to be made from a blend of mayonnaise and ketchup mixed with Worcestershire sauce and a few secret herbs and spices. While delicious on Cane's famous chicken fingers, Raising Cane's Sauce is also great for dipping fries or even spreading on a sandwich. It's so popular that fans have created a copycat recipe in an attempt to recreate it at home. However, nothing quite compares to the real deal – next time you visit Raising Cane's, make sure to ask for extra sauce on the side.
Cane's Sauce Ingredients
Cane's famous dipping sauce has been a fan-favorite for years, and the combination of ingredients creates a unique and delicious flavor. Best yet, most of these ingredients are probably in your cabinet, since they are pretty common ingredients. The full instructions are in the recipe card below:
Mayonnaise: Use regular mayo, you can also use homemade mayo or vegan mayonnaise.
Ketchup: Use any of your favorite brands, I love using Simply Heinze, which does not contain corn syrup, but you can use any that you have on hand.
Worchestershire Sauce: Adds some zing, and is really the key ingredient in this recipe.
Seasonings and Spices: Garlic Powder, Coarse Ground Black Pepper, and Kosher Salt.
How to Make Copycat Cane's Sauce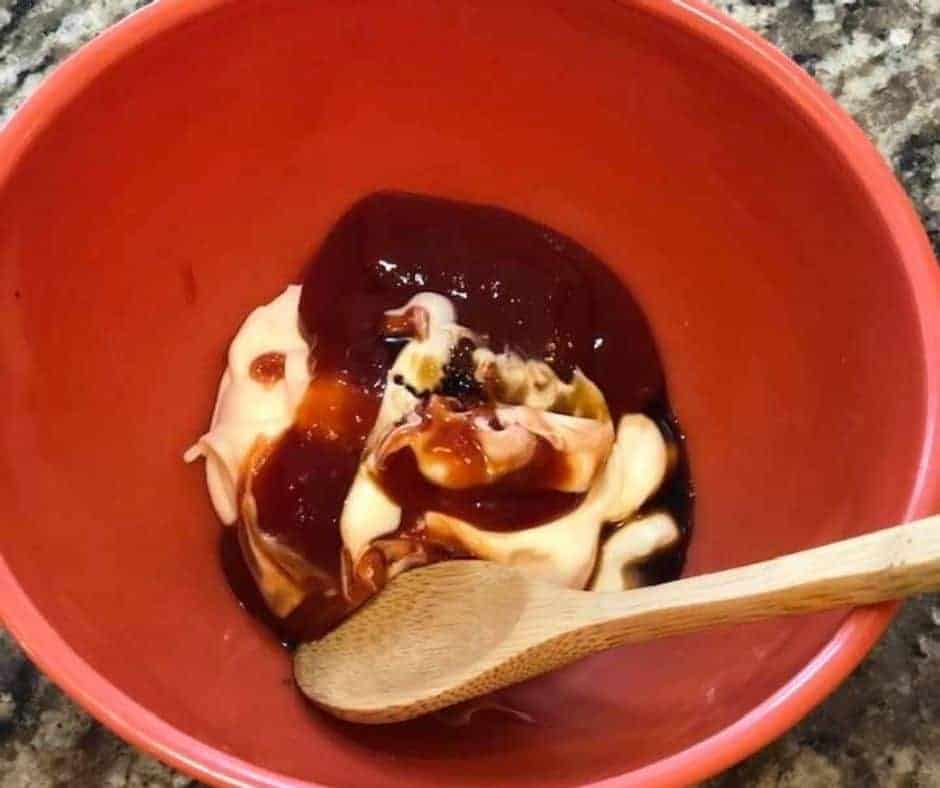 In a small bowl, add the mayo, ketchup, Worcestershire sauce, garlic pepper, black pepper, and salt. Mix well until smooth.
The Most Important Step: Refrigerate for about an hour before serving. Letting the sauce rest, really allows the bold flavor to come out!
Variations and Add-Ins
There are so many variations of this yummy sauce, some other variations:
Seasonings and Spices: Add some garlic salt, cayenne pepper, and onion powder, and for some extra kick use some Tony Chachere's Creole Seasoning
Add-ins: You can also add in some lemon juice, Dijon mustard, or even for a little bit of spice add some hot sauce!
Raising Cane's Sauce Uses
Raising Cane's sauce is beloved by many, but it doesn't just have to be used on chicken fingers. Its tangy, savory flavor can take any dish to the next level. Try using it as a marinade for meat or veggies before grilling. Mix it into mac and cheese for added taste, or use it as a dip for bread or veggies. It can also be used as a sandwich spread, adding a delicious twist to your usual lunch routine. Don't forget about Raising Cane's sauce in dessert-try drizzling it over ice cream or mixing it into brownie batter for a unique sweet and spicy treat. The possibilities are endless with Raising Cane's sauce, so get creative and enjoy!
Some of my favorite ways to use this amazing sauce:
What Does Raising Cane's Sauce Taste Like?
For those who have never had the pleasure of experiencing Raising Cane's sauce, let me paint a picture for you. This sweet and tangy condiment enhances any meal it graces with its presence. While it pairs particularly well with Cane's famous chicken fingers, it also adds a delicious kick to burgers, fries, and even salads.
Its bold flavor is a blend of Worcestershire sauce, mustard, horseradish, and secret spices that combine to create a one-of-a-kind taste sensation. So next time you're at Raising Cane's, don't be afraid to ask for extra sauce – trust me, you won't regret it.
How To Store Leftover Copycat Raising Cane's Sauce Recipe
One of the best parts about making copycat Raising Cane's sauce at home is that you can easily store leftovers for future meals. To ensure optimal freshness, place any unused sauce in an airtight container or mason jar and refrigerate for up to one week.
If you want to extend the shelf-life even further, transfer the sauce to a freezer-safe container or zip-top bag and freeze it for up to three months. When ready to use, thaw overnight in the fridge.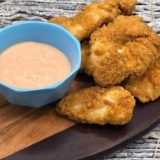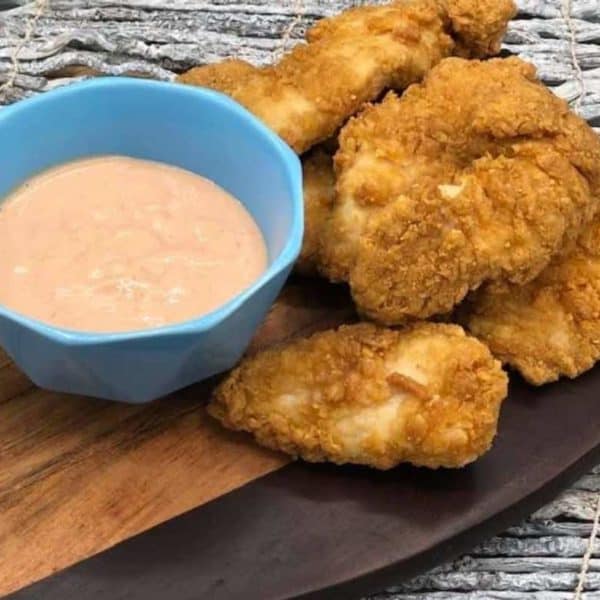 Raising Cane's Cane Sauce
Description
Raising Cane's Cane Sauce is one of my kid's favorite dipping sauces. It is tangy, creamy, and peppery all at the same time. As probably most kids do, my kids love to dip, so today, for lunch, I made chicken tenders and Raising Cane's Cane Sauce.
Ingredients
1

cup

mayo

1/2

cup

ketchup

1

teaspoon

Worcestershire Sauce

1

teaspoon

garlic powder

1

teaspoon

black pepper

1

teaspoon

salt
Instructions
In a small mixing bowl, add the mayo, ketchup, Worcestershire sauce, garlic pepper, black pepper, and salt.

Refrigerate for about an hour before serving.
Nutrition
Serving:
1
g
Calories:
208
kcal
Carbohydrates:
5
g
Protein:
1
g
Fat:
21
g
Saturated Fat:
3
g
Polyunsaturated Fat:
13
g
Monounsaturated Fat:
5
g
Trans Fat:
0.1
g
Cholesterol:
12
mg
Sodium:
615
mg
Potassium:
62
mg
Fiber:
0.1
g
Sugar:
3
g
Vitamin A:
97
IU
Vitamin C:
1
mg
Calcium:
7
mg
Iron:
0.2
mg