Are you a fan of Zaxby's sauce? If so, you're going to love this recipe for the famous sauce. This is the real deal—just like you can get at the restaurant. This recipe for Zaxby's Zax Sauce is a creamy blend of zesty spices with a hint of lemon juice.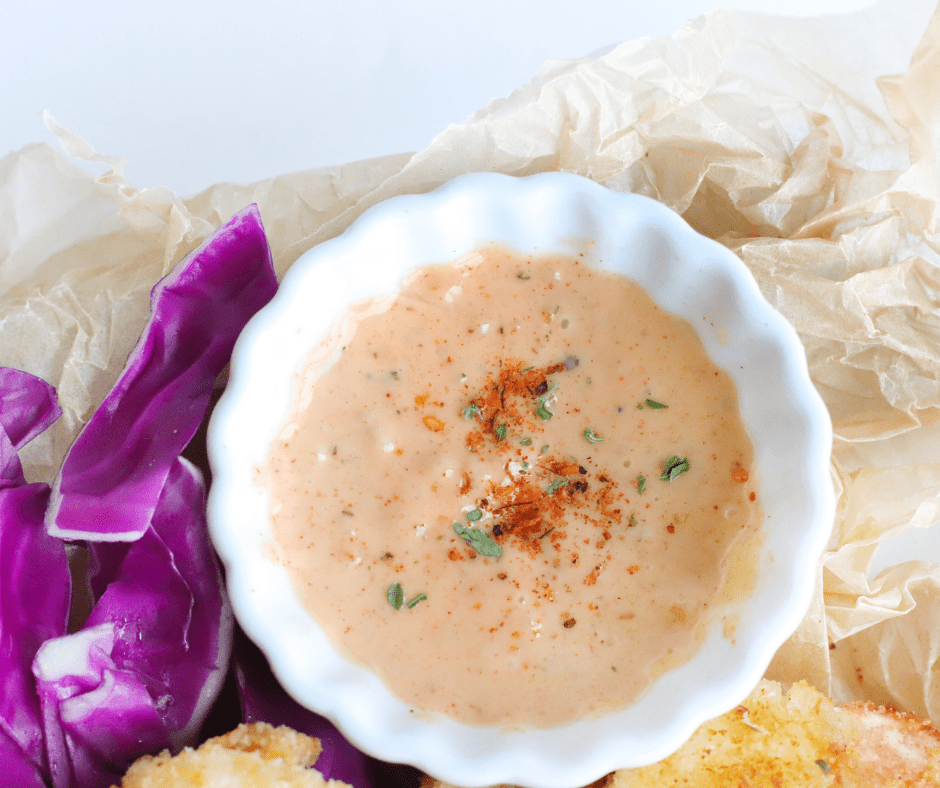 It's perfect for chicken fingers, chicken strips, onion rings, french fries, and more. You could even use it as a salad dressing! So don't wait – give this recipe a try today!
If you are looking for some other sauce recipes, my family's favorites are Fry Sauce and Bang Bang Sauce.
Why You'll Love This Copycat Zax Sauce Recipe
Only 6 ingredients
Takes less than 5 minutes to make
Creamy and full of flavor
Great for dipping or topping sandwiches and burgers
What Is Different Between Fry Sauce and Copycat Zax Sauce Recipe
The main difference between fry sauce and Zax Sauce is their ingredients. Fry sauce typically includes a combination of ketchup and mayonnaise.
At the same time, Zax Sauce is known for its unique blend of mayonnaise, mustard, Worcestershire sauce, garlic, and paprika.
Both sauces are often used as a condiment for french fries and onion rings.
Still, fry sauce is also popular in burger joints as an alternative to ketchup. Meanwhile, Zax Sauce is primarily found at the restaurant chain Zaxby's.
While both sauces add flavor and creaminess to fried snacks, the bolder taste of Zax Sauce might be preferred by those looking for something more adventurous than traditional fry sauce.
Ultimately, it comes down to personal preference when choosing between these two dipping sauces.
Zaxby's Sauce Ingredients
Mayo
Ketchup
Garlic salt
Salt
Worcestershire sauce
Black pepper
How to Make Zaxby's Restaurant Copycat Sauce
Step 1: Mix the ingredients
In a small bowl, mix all of the ingredients until smooth.
Step 2: Chill before serving
Cover and place into an airtight container.
Place into the refrigerator for at least 30 minutes.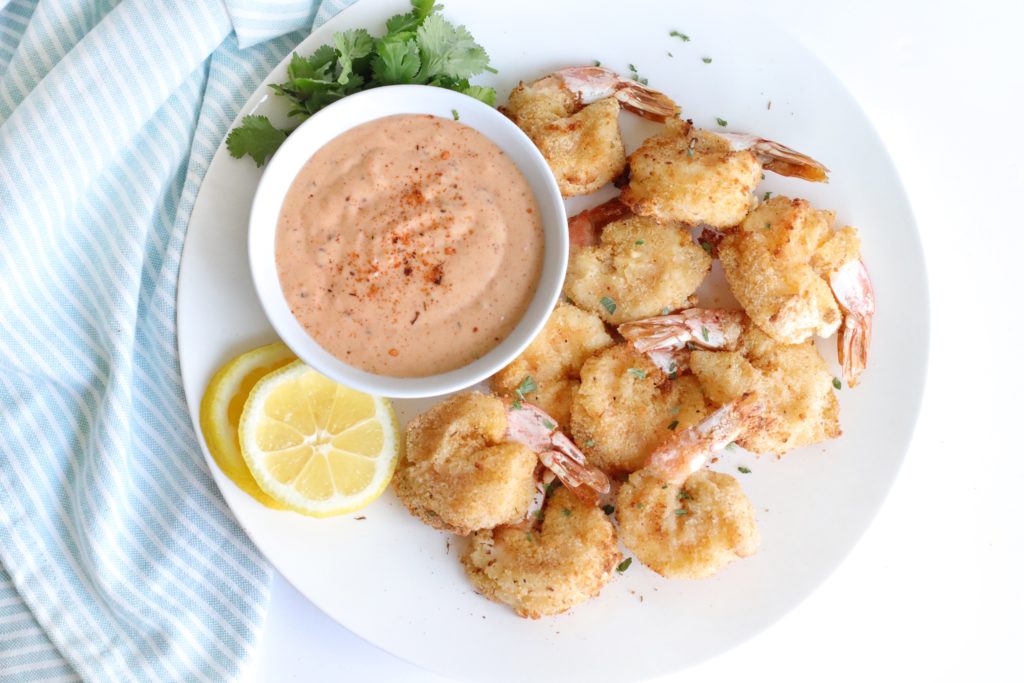 Pro Tips:
When making this sauce, remember to let it rest in the fridge before serving! This will allow more of its flavors and complexities to meld together.
A few hours should be enough time for you, and I love to make this copycat sauce up and then leave it in the refrigerator overnight. So, by the time I am ready to serve my Air Fryer Chicken Tenderloins .up, the kids have a great dipping sauce that is already prepared.
Variations:
Just like the Zax sauce, you can alter this in several ways. Some of my favorite changes are:
Spicy Version: Add some hot sauce, cayenne pepper, or red chili flakes. Some like lots of black pepper in the copycat recipes.
Sweet Version: Add maple syrup, granulated sugar, or even honey.
Zesty Version: Add some dried herbs, or even thyme, rosemary, Italian Seasoning, or Ranch Seasoning Mix.
How To Store:
Storage: For best results, make this recipe about 12 to 24 hours ahead of time, cover it tightly with plastic wrap, and place it into the refrigerator. It will last for about two weeks when kept in the fridge in a stored container.
Freezing: Because the ingredients do not freeze well, freezing is not recommended.
Some Common Questions Asked About This Recipe-
What is original Zaxby's sauce?
The edge of the tongue tingles when you taste Zaxby's original, an orangey-red concoction that tastes like a delicious tomato bisque from your favorite country French restaurant. Zaxby's version of Buffalo sauce is called Original; it has a mild amount of heat but has a distinct Tabasco tingling.
What is wimpy Zax sauce?
Wimpy sauce is a delicious, moderately hot sauce that is great for beginners to the Zaxby sauce lineup. It's a mouth-detonating blend of atom-splitting heat and significant flavor.
Are Cane's sauce and Zaxby's sauce the same?
The debate over the best sauce for chicken fingers has been ongoing for years, with fans of Famous Zax Sauce and Raising Cane Sauce both claiming their favorite as the ultimate dipping choice. So what sets these sauces apart?
While both are delicious options, they have different flavor profiles. Famous Zax Sauce has a tangy, spicy kick thanks to its prominent vinegar and hot pepper notes. On the other hand, Raising Cane Sauce has a sweeter taste with hints of garlic and onion.
So which one should you choose? Ultimately, it's all about personal preference. But one thing's for sure – either sauce will take your chicken finger experience to the next level. Happy dipping!
Both of their signature sauces will elevate your chicken sandwich, and this copycat version is no different!
What To Serve With Zax Sauce
If you're looking for the perfect sauce to serve with your next meal, look no further than Zax Sauce! This unique sauce is ideal for everything from chicken to seafood.
But what should you serve with it? Some of my favorite recipes to serve this copycat sauce with are: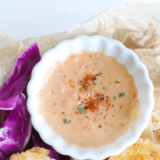 Copycat Zax Sauce
Description
We recently went on a road trip, and we were able to hit many restaurants that we usually don't go to. One of my kid's favorites was Zaxby's. I have never heard of it, and I was assuming it would be like another fast-food restaurant. My son tried the chicken finger and absolutely fell in love with Zax Sauce.
Ingredients
1/2

cup

mayonnaise

1/4

cup

ketchup

1

teaspoon

garlic salt

1/2

teaspoon

salt

1

teaspoon

Worcestershire sauce

1/2

teaspoon

black pepper
Instructions
In a small mixing bowl, mix all of the ingredients until smooth.

Cover and refrigerate for at least an hour.
Nutrition
Serving:
1
g
Calories:
207
kcal
Carbohydrates:
5
g
Protein:
1
g
Fat:
21
g
Saturated Fat:
3
g
Polyunsaturated Fat:
13
g
Monounsaturated Fat:
5
g
Trans Fat:
1
g
Cholesterol:
12
mg
Sodium:
1205
mg
Potassium:
63
mg
Fiber:
1
g
Sugar:
4
g
Vitamin A:
98
IU
Vitamin C:
1
mg
Calcium:
8
mg
Iron:
1
mg