Air Fryer Apple Cinnamon Bagels — What's not to love about a warm, fresh bagel with a delicious smear of cream cheese? Bagels are definitely a breakfast favorite, but they can be pretty heavy. Thankfully, there's a new way to make them that's much lighter – the air fryer! These Air Fryer Apple Cinnamon Bagels are delicious and easy to make. They're perfect for a weekend breakfast or brunch. Give them a try!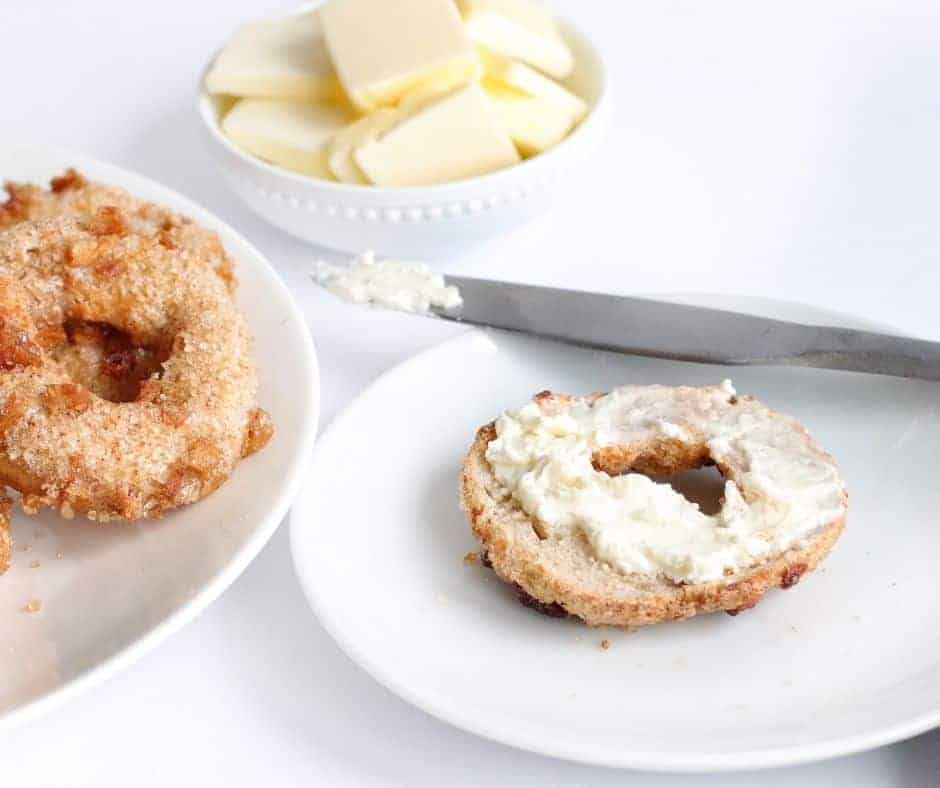 Air Fryer Apple Cinnamon Bagels are amazing, and they are the perfect treat for a lazy Saturday or Sunday fall day.
These bagels are amazing, and they have just the right seasonings that you fall in love with. I made them with a coating of apples, ground cinnamon, and raw sugar. This creates a kid-friendly breakfast.
My kids absolutely loved the coating for these bagels. And I loved that they are relatively healthy.
If you are looking for even more Homemade Air Fryer Bagel Recipes, some of my favorites are AIR FRYER KETO BAGELS, AIR FRYER 2 INGREDIENT WEIGHT WATCHER FRIENDLY BAGELS, AIR FRYER BLUEBERRY BAGELS and EASY AIR FRYER EVERYTHING BAGELS.
Air Fryer Apple Cinnamon Bagels
While you are not making traditional bagels, you are making a batch of homemade bagels in minutes. This is so much better than traditional dough, as you won't need to knead, wait for the dough to rise, and boil them.
All of the great taste without the hassle, what can be better?
Better yet, the air fryer does an amazing job at baking up this batch of Homemade Air Fryer Bagels.
Ingredients Needed For Apple Cinnamon Bagels
Are you in the mood for something different? Why not try a delicious apple cinnamon bagel? Bagels are a quick and easy breakfast or snack, and with this recipe, they're also healthy. All you need is some basic pantry ingredients and about 30 minutes of your time. So put on your aprons and let's get cooking!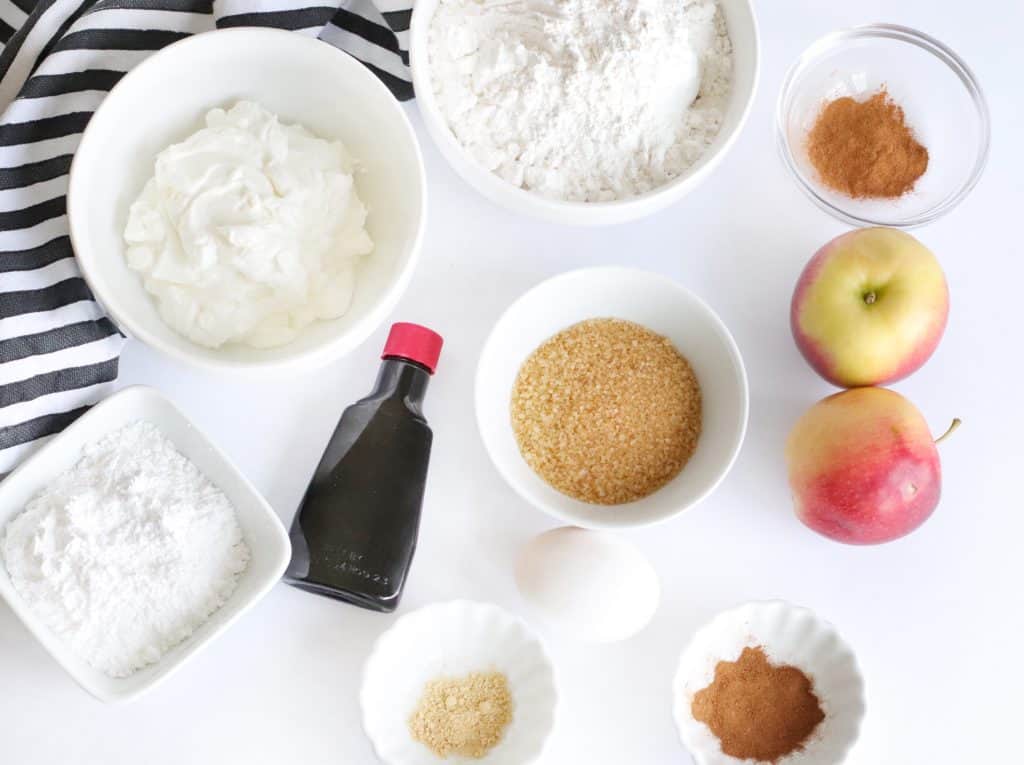 With a few pantry items and a few apples, you can make a great and healthy batch of homemade bagels. Flavored with apples and ground cinnamon. And the coating is amazing!
Self-Rising Flour
Greek Yogurt
Ground Cinnamon
Pure Vanilla Extract
Apple Pie Spice
Ground Ginger
Powdered Sugar
Apple
Raw Sugar
How To Make Air Fryer Apple Cinnamon Bagels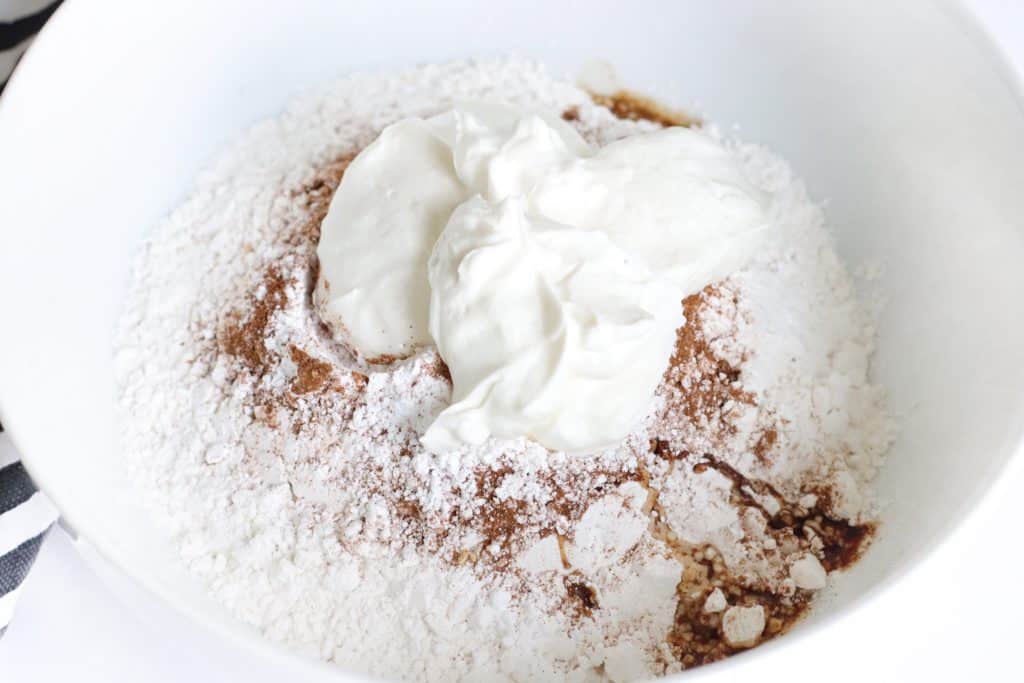 Combine the flour and the Greek yogurt in a large bowl. Add 1 Tsp of vanilla extract, apple pie spice, ground ginger, and confectioners sugar. Using your hands, knead the dough until it's fully mixed.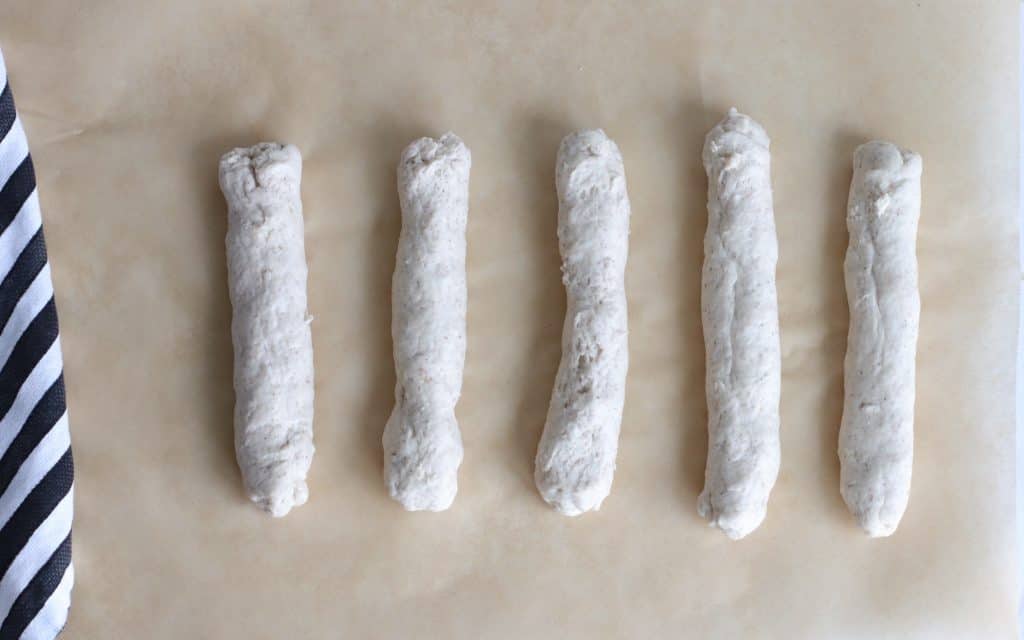 The dough should be a little sticky but, not too sticky that you can't form it into shapes.
Preheat the air fryer to 300 degrees on "Air Fry" mode. Line the AirFryer basket with a piece of parchment paper.
Shape dough into small cylinders that are about 4-6 inches long and about an inch thick. Then take each cylinder and stretch it, and form it into a circle.
Seal the dough into a circle by twisting it a little at the ends.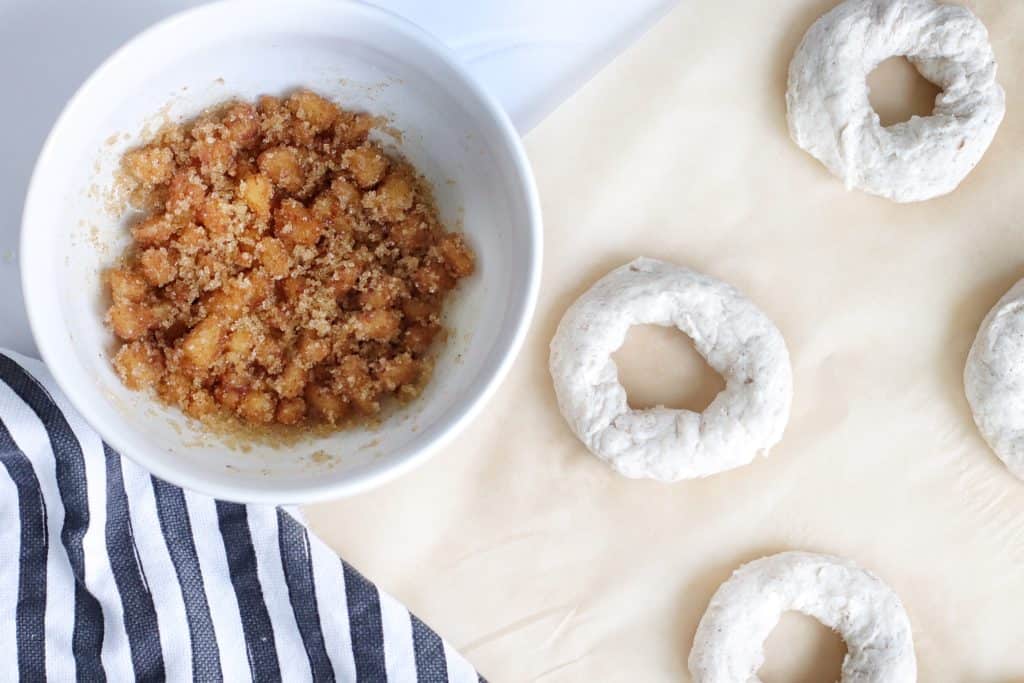 To prepare the apple topping, remove the skin from one apple and carefully chop the apple into small ½ inch pieces, discarding the core, stem, and seeds.
Place the chopped apple pieces into a bowl. Add a ½ Tsp of vanilla extract, 1 Tsp of cinnamon, and raw sugar. Combine all of the ingredients. Set aside.
Crack an egg in a bowl and add a Tbsp of water, mix well. This will be your egg wash.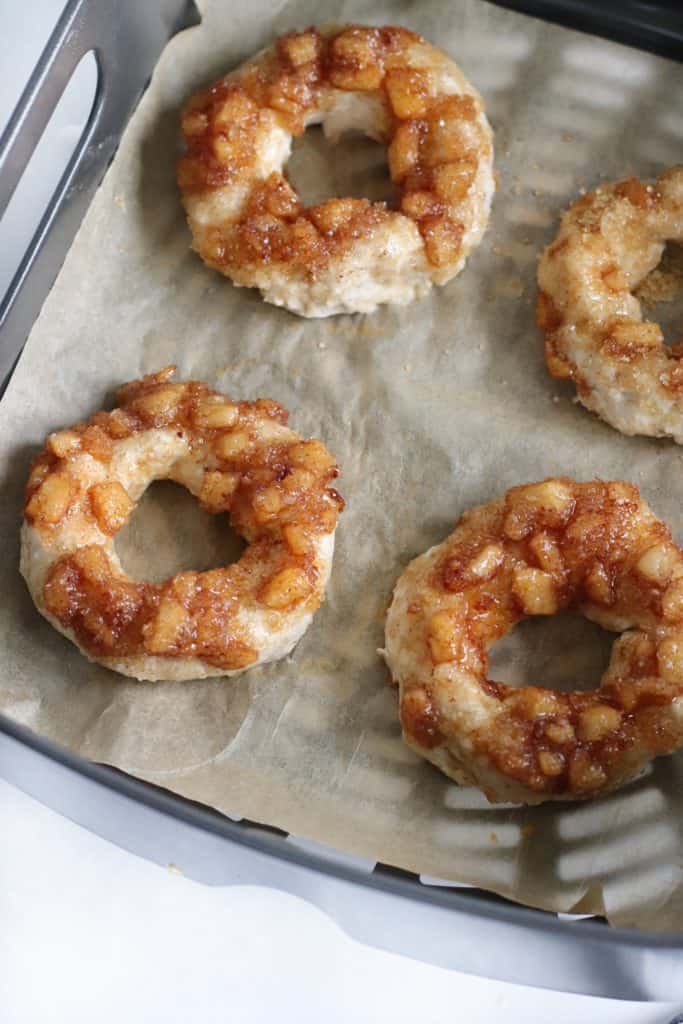 Place each finished bagel circle on to the parchment paper-lined basket. Leaving about an inch to an inch and a half of space between each bagel. (I was able to fit about 4 bagels each time. You'll probably need to do multiple batches.)
Paint the bagels with egg wash. Add about ½ Tbsp of topping to each bagel.
Cook the bagels for about 10 minutes.
Once bagels are fully cooked, remove them from the basket and place them on a cooling rack to cool for about eight minutes before serving.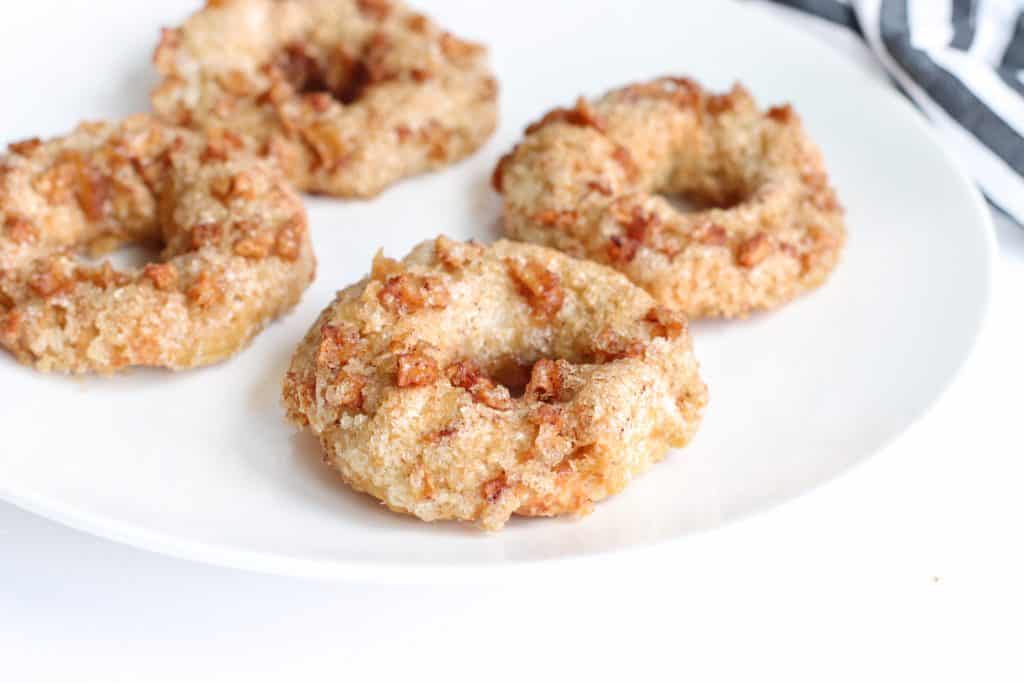 Some Pro Tips:
When making the dough, if it's too wet/sticky, gradually add more flour. If it's too dry, you can add more yogurt.
After cooking, be sure to allow bagels to cool before slicing. If you try to slice fresh bagels or bread while it's still warm, it will just smush. It's too soft and has to set.
Serve with butter or cream cheese. For an extra dose of apple, try this Apple Pie Cream Cheese: Mix 1 cup of cream cheese, 1 Tsp of vanilla extract, 1 Tsp of Granulated Sugar, and 1 Tsp of apple pie spice. It's quick and easy. If you have any extra cream cheese, you can store it in the fridge for 10-12 days.
Bagels can be kept on the counter for one day, in the fridge for 3-4 days, or in the freezer for up to a month.
How To Make Self-Rising Flour
Since most of us do not keep self-rising flour on hand, you can easily make it.
To make self-rising flour add 1 cup of all-purpose flour, 2 teaspoons of baking powder, and 1 teaspoon of kosher salt to a large bowl.
Mix well before using.
How To Make Air Fryer Gluten-Free Bagels
If you want to make these or any of my other bagel recipes with Gluten-Free Powder, use the recipe above for the self-rising flour, and follow the directions below. The recipe will be the same.
Some of my favorite Gluten-Free Flours are:
How To Make Air Fryer Dairy-Free Bagels

You can make this batch of bagels dairy-free with a few changes. I have had success with using Blue Diamond Almond Breeze Yogurt.

You will still need to get the Greek Yogurt, as it is thicker than regular Yogurt. Other readers have reported that they have succeeded in using either Oat Milk Yogurt or Cashew Milk Yogurt.

Greek Yogurt

For this recipe, we use Greek Yogurt. The reason that we do not use regular yogurt is that it's thicker than regular yogurt.

Greek Yogurt is strained, and most of the whey has been removed. This results in a thicker Yogurt.

I have had success with both Fage Greek Yogurt, Stonyfield Greek, and Chobani Greek Yogurt. In my recipe testing, I found that store-brand Greek Yogurt was more watery, which led to using more flour.

Using Flavored Greek Yogurt

A lot of readers ask me if they can use flavored yogurts in this recipe. You can use any Greek Yogurt that you find. I used Strawberry Greek Yogurt in a few of my recipes, and the results were amazing.

So, just experiment, and you will come up with some of your favorite flavor combinations.

What Is The Texture Of The Dough?

Another popular question. The measurements do need to be touched upon a bit since every Yogurt is slightly different.

You want a dough that it's not too sticky or too dry. I always add a tablespoon of flour or yogurt to get the right consistency.

How Long Will they Last In Fridge

These store really well in the refrigerator. So, if you have any leftovers, all you need to do is let them cool to room temperature. Then place them into an air-tight container.

Place the leftover bagels into the refrigerator they will last about 2 to 3 days.

How To Freeze

Another great option for a make-ahead air fryer breakfast would be to back a double or triple batch and then freeze the leftovers.

To freeze, allow the bagels to cool to room temperature and then place them on a baking sheet. Place the baking sheet into the freezer, and freeze until they're frozen solid. Take the bagels out of the freezer and place them into a freezer-safe container or freezer-safe bag.

They will last about 2 to 3 months.

How To Use Frozen Air Fryer Bagels

You can either take the frozen bagels out of the freezer and place them in the refrigerator until thawed, or you can place the frozen bagel directly into the air fryer basket and thaw it.

You can also use the microwave or toaster to reheat.

Can You Toast A Bagel In Air Fryer

Yes, when I started using my air fryer, I got rid of my toaster. You can place the bagel into the air fryer basket and air fry for a couple of minutes at 370 degrees F, air fryer setting.

More Air Fryer Bagel Recipes

Do you love air fryer bagels as much as we do? In case you're looking for some new and delicious recipes to try, we've gotcha covered! From savory to sweet, here are our favorite air fryer bagel recipes. Enjoy!

Don't Forget To Pin:

Air Fryer Apple Cinnamon Bagels

Description

Air Fryer Apple Cinnamon Bagels are amazing, and they are the perfect treat for a lazy Saturday or Sunday fall day.

Ingredients

Bagels:

2 1/4

cups

Self-Rising Flour

1

cup

Greek Yogurt

1/2

teaspoon

ground cinnamon

1

tablespoon

vanilla extract

1

tablespoon

apple pie spice

1/4

teaspoon

ground ginger

3

tablespoons

confectioners sugar

Topping:

1/4

teaspoon

vanilla extract

1

large

apple

1

tablespoon

ground cinnamon

1/4

cup

raw sugar

,

(or Turbinado Sugar)

Instructions

Combine the flour and the greek yogurt in a large bowl. Add 1 Tsp of vanilla extract, apple pie spice, ground ginger, and confectioners sugar. Using your hands, knead the dough until it's fully mixed.

The dough should be a little sticky but not too sticky that you can't form it into shapes.

To prepare the apple topping, remove the skin from one apple and carefully chop the apple into small ½ inch pieces, discarding the core, stem, and seeds.

Place the chopped apple pieces into a bowl. Add a ½ Tsp of vanilla extract, 1 Tsp of cinnamon, and raw sugar. Combine all of the ingredients. Set aside.

Crack an egg in a bowl and add a Tbsp of water. Mix well. This will be your egg wash.

Preheat the air fryer to 300 degrees on "Air Fry" mode. Line the AirFryer basket with a piece of parchment paper.

Shape dough into small cylinders that are about 4-6 inches long and about an inch thick. Then take each cylinder and stretch, and form it into a circle.

Seal the dough into a circle by twisting it a little at the ends.

Place each finished bagel circle onto the parchment paper-lined basket. Leaving about an inch to an inch and a half of space between each bagel. (I was able to fit about 4 bagels each time. You'll probably need to do multiple batches.)

Paint the bagels with egg wash. Add about ½ Tbsp of topping to each bagel.

Cook the bagels for about 10 minutes.

Once bagels are fully cooked, remove them from the basket and place them on a cooling rack to cool for about eight minutes before serving.

Notes

When making the dough, if it's too wet/sticky, gradually add more flour. If it's too dry, you can add more yogurt.

After cooking, be sure to allow bagels to cool before slicing. If you try to slice fresh bagels or bread while it's still warm, it will just smush; it's too soft and has to set.

Serve with butter or cream cheese. For an extra dose of apple, try this Apple Pie Cream Cheese: Mix 1 cup of cream cheese, 1 Tsp of vanilla extract, 1 Tsp of Granulated Sugar, and 1 Tsp of apple pie spice. It's quick and easy. Any extra cream cheese can be stored in the fridge for 10-12 days.

Bagels can be kept on the counter for one day, in the fridge for 3-4 days, or in the freezer for up to a month.

Nutrition

Serving:

1

g

Calories:

201

kcal

Carbohydrates:

41

g

Protein:

8

g

Fat:

1

g

Saturated Fat:

0.4

g

Polyunsaturated Fat:

0.4

g

Monounsaturated Fat:

0.3

g

Trans Fat:

0.004

g

Cholesterol:

25

mg

Sodium:

20

mg

Potassium:

124

mg

Fiber:

2

g

Sugar:

10

g

Vitamin A:

56

IU

Vitamin C:

2

mg

Calcium:

56

mg

Iron:

1

mg