Air Fryer Breakfast Frittata —Start your day with a flavorful and satisfying breakfast by making an Air Fryer Breakfast Frittata.
This versatile dish combines eggs with various ingredients to create a wholesome and customizable meal that's quick and easy to prepare in your air fryer.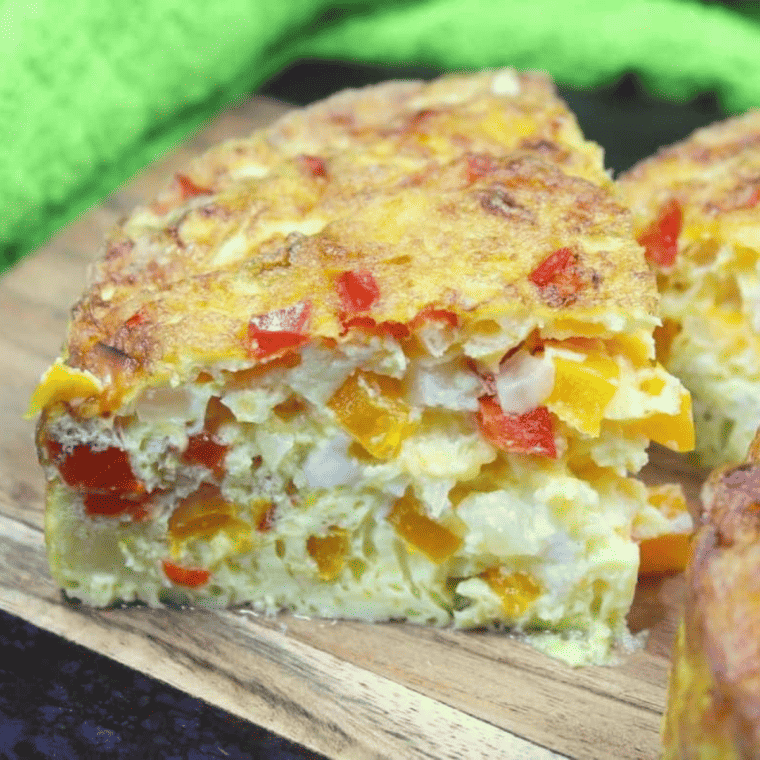 Whether you're a fan of classic ingredients like bacon, cheese, and vegetables or prefer a unique twist on your morning frittata, the air fryer is here to help you achieve a perfectly cooked and delicious breakfast option that will keep you energized throughout the day. Join us as we explore how to make this delightful breakfast treat using your air fryer's magic.
If you are looking for even more Air Fryer Egg Recipes, some of my favorites are AIR FRYER BLT WITH HARD-BOILED EGGS, AIR FRYER BREAKFAST EGG ROLLS, AIR FRYER CHORIZO EGG MUFFINS, and AIR FRYER FRIED EGG SANDWICH.
What Is A Breakfast Frittata
A breakfast frittata is a savory egg dish perfect for starting your day with a satisfying and nutritious meal. It's similar to an omelet or quiche but without the need for a crust. The word "frittata" comes from the Italian word "friggere," which means "to fry." This dish typically consists of beaten eggs mixed with various ingredients such as vegetables, cheese, meat, herbs, and seasonings. It's then cooked by frying in a skillet or baking in the oven until it sets and becomes fluffy.
Breakfast frittatas often include breakfast-themed ingredients like bacon, sausage, ham, or smoked salmon, along with vegetables like bell peppers, onions, spinach, or mushrooms. Cheese, such as cheddar, feta, or Swiss, is a common addition, adding richness and flavor.
Frittatas are incredibly versatile, and you can customize them to suit your taste preferences or use up ingredients you have on hand. They are an excellent option for feeding a crowd at breakfast or brunch, as they can be sliced into wedges and served warm or at room temperature.
With the convenience of an air fryer, making a breakfast frittata is even quicker and easier, ensuring that you have a hearty and delicious for the most important meal of the day.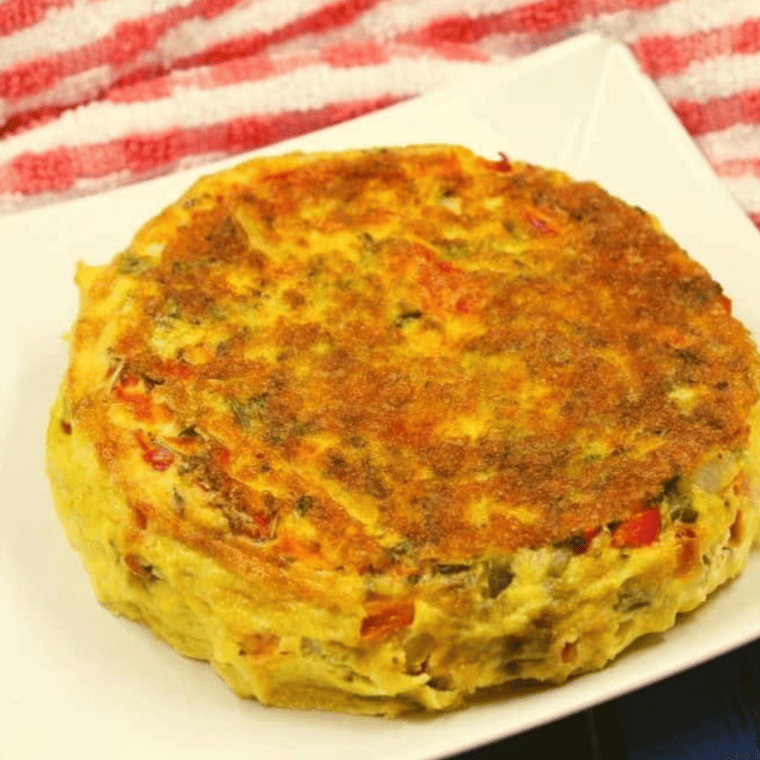 Why Cook This Air Fryer Breakfast Frittata Recipe
Cooking an Air Fryer Frittata offers several compelling reasons:
Speed and Efficiency: The air fryer's rapid hot air circulation cooks the frittata quickly and evenly, reducing cooking time compared to traditional oven methods.
Meal Prep: This is perfect for meal prep! Just cut your delicious air fryer frittata into individual portions and place them into an air-tight container for a week's worth of breakfast!
Crispy Exterior: The air fryer yields a perfectly crispy exterior on the frittata while maintaining a tender and fluffy interior.
No Stovetop Mess: With the air fryer, there's no need to use a stovetop skillet or worry about flipping the frittata. It's a fuss-free way to prepare this dish.
Customizable: You can easily customize your air fryer frittata with your favorite ingredients, making it a versatile and adaptable breakfast option.
Consistent Results: The air fryer's precise temperature control ensures consistent results when making a frittata.
Convenience: The air fryer is compact and easy to use, making it a convenient kitchen appliance for busy mornings.
Whether you're cooking for yourself, your family, or guests, an Air Fryer Breakfast Frittata is a delightful way to enjoy a wholesome and satisfying breakfast without the hassle and with the added benefit of a crispy exterior.
Ingredients Needed For Air Fryer Breakfast Frittata
These ingredients combine to create a delicious and visually appealing Air Fryer Frittata recipe. Feel free to customize the frittata by adding your favorite ingredients or substitutions to suit your taste.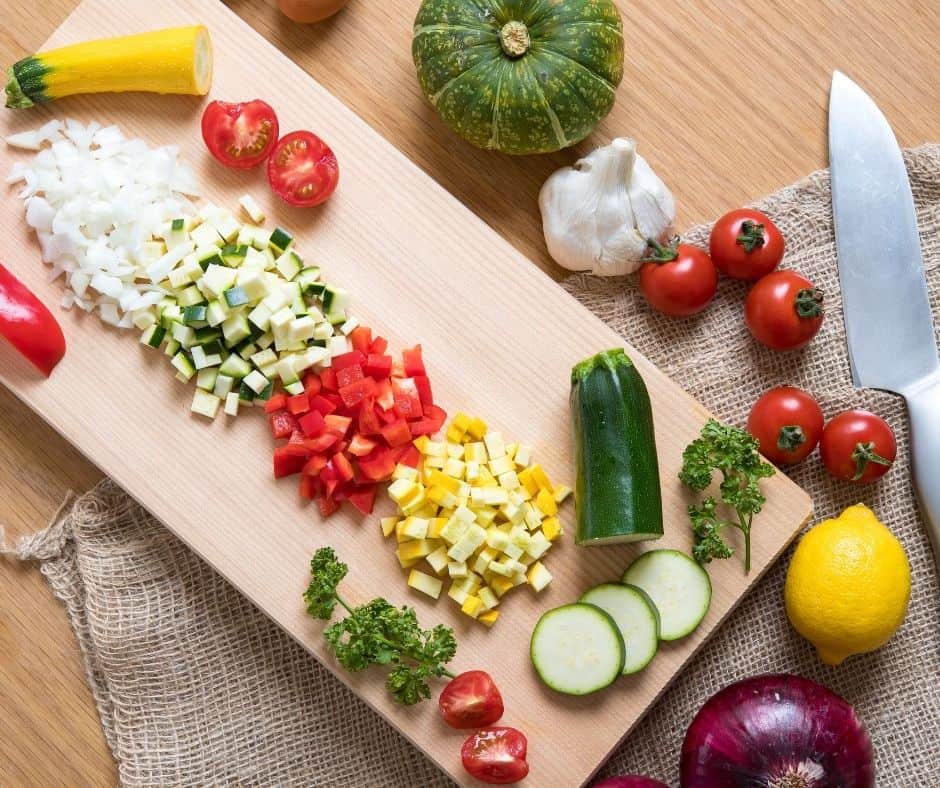 Remember the step-by-step directions and detailed ingredient list are below in the printable recipe card at the bottom of the post, as well as the nutritional information.
Eggs: Eggs are the star of the frittata, providing the base and structure for the dish while delivering a rich, creamy texture.
Milk: Milk is added to the beaten eggs to create a smoother and fluffier texture in the frittata.
Kosher Salt and Black Pepper: These common seasonings enhance the overall flavor of the frittata, providing a perfect balance of savory notes.
Bell Peppers: Bell peppers add a pop of color and a sweet, crisp texture to the frittata. You can choose from various colors, such as red, green, or yellow.
Onion: Onions contribute a mild, slightly sweet flavor and a pleasant crunch when sautéed. They complement the other ingredients beautifully.
Cooking Spray or Oil: A light coating of cooking spray or a small amount of oil prevents sticking and ensures easy removal from the air fryer basket.
How To Cook Breakfast Frittata In Air Fryer
This Air Fryer Breakfast Frittata is a perfect way to start your day with a protein-packed and flavorful meal that's quick to prepare and easy to customize with your favorite ingredients.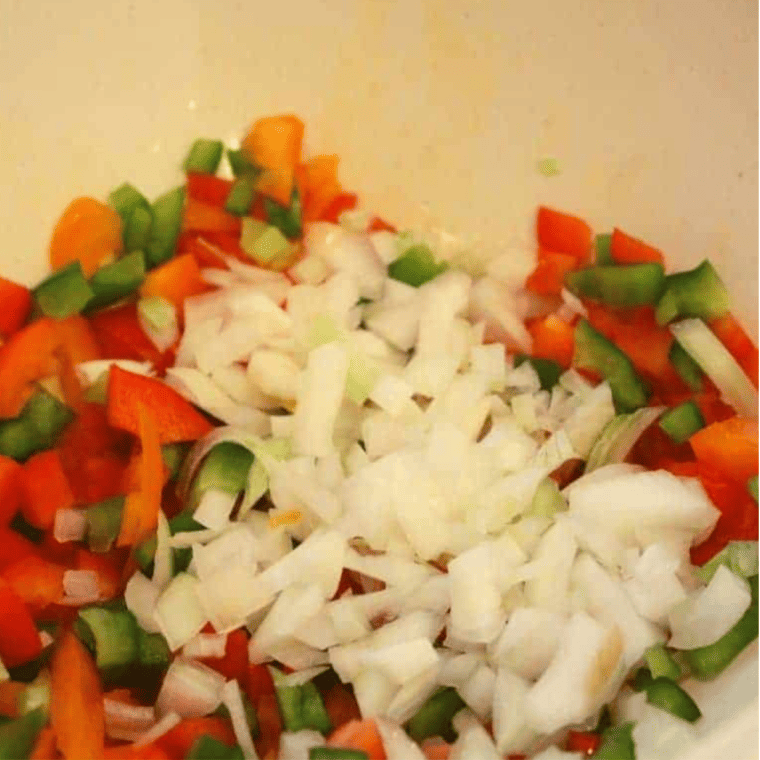 Preheat the Air Fryer: Preheat your air fryer to 350 degrees °F (175°C) for 2-3 minutes while you prepare the frittata ingredients.
Prepare the Egg Mixture:
In a large bowl, whisk together the eggs, milk, salt, and pepper until well combined. This forms the base of your frittata. Mix well, and then slowly fold the diced vegetables into a large mixing bowl.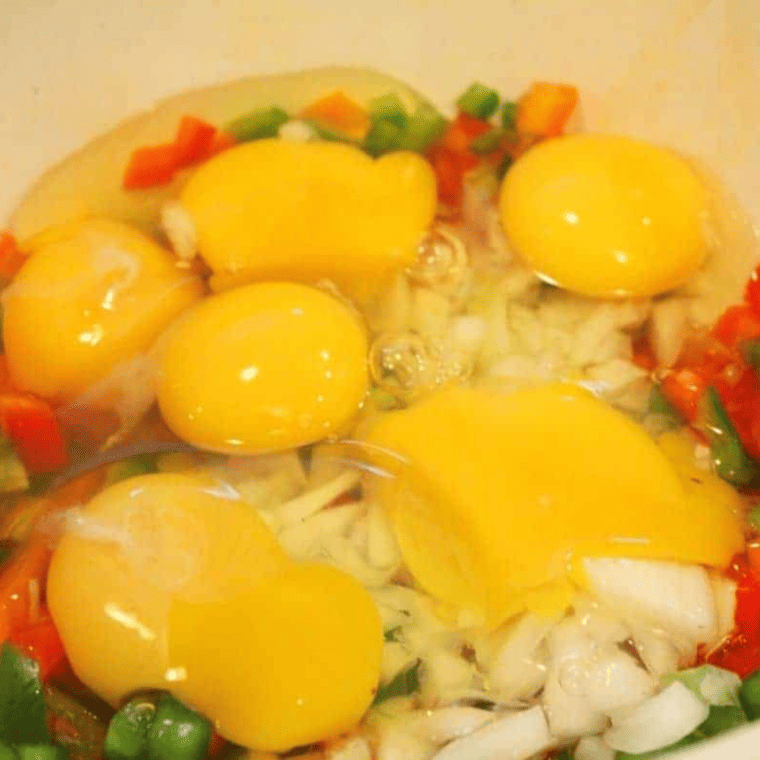 Add Other Ingredients:
Slowly pour in the milk and seasonings. Mix well. Spray a cake tin or baking pan with non-stick cooking spray or brush with olive oil, then pour the Frittata into the pan.
Air Fry:
Place the air fryer basket with the frittata into the preheated air fryer. Set the air fryer temperature to 350 degrees F, air fryer setting, and set cooking time for 12-15 minutes.
Note: Cooking times may vary depending on your air fryer model, so keep an eye on it.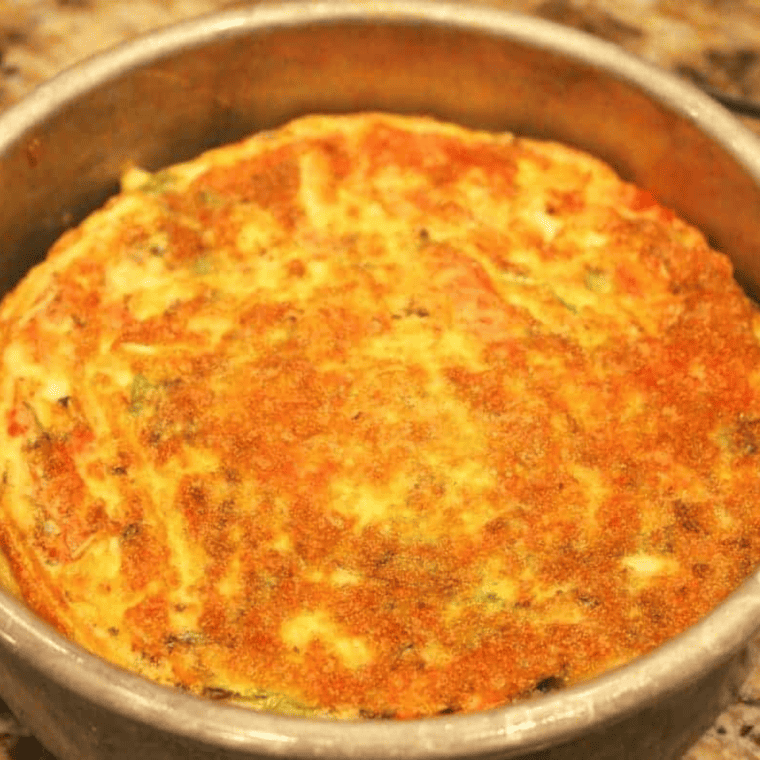 After serving, carefully remove the frittata from the air fryer basket and let it cool for a few minutes. Then, slice it into wedges or squares. Plate your Air Fryer Breakfast Frittata slices, garnish with fresh herbs if desired, and enjoy your delicious and fluffy breakfast!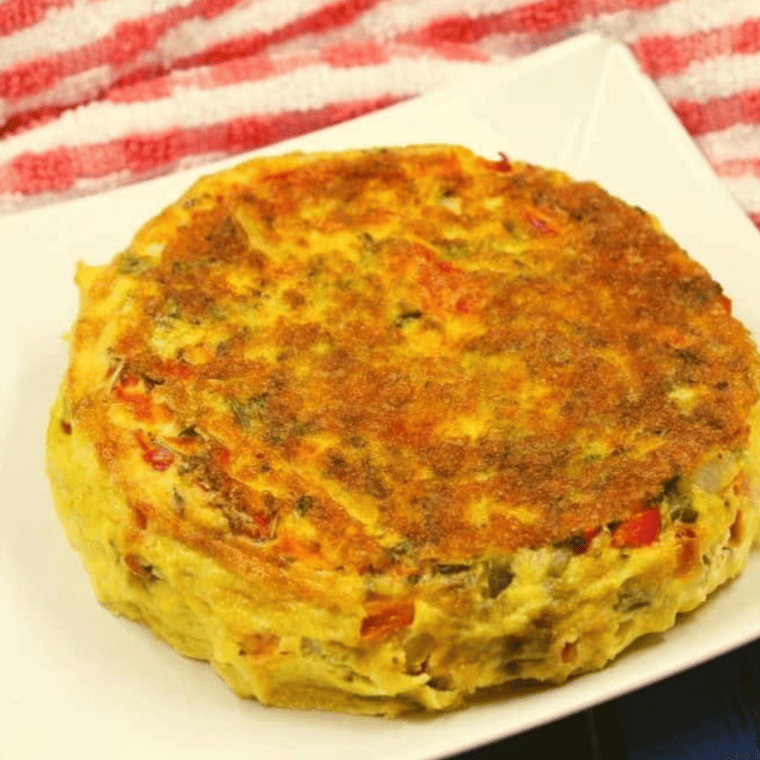 Pro Tips For Easy Frittata Air Fryer
Achieve the best results when making an Air Fryer Breakfast Frittata with these pro tips:
Use an Oven-Safe Dish: If your air fryer basket is not large enough for the frittata, consider using an oven-safe dish that fits inside the air fryer. This allows you to make larger frittatas without overfilling the basket.
Preheat the Air Fryer: Preheating the air fryer ensures even cooking and helps the frittata appropriately set.
Grease the Basket or Dish: Grease the air fryer basket or the oven-safe dish with cooking spray or a small amount of oil to prevent sticking and make it easier to remove the frittata.
Balance Ingredients: Distribute the fillings like vegetables, meat, and cheese evenly throughout the frittata mixture for a balanced flavor in every bite.
Control the Temperature: If you want a slightly softer and creamier frittata, cook it at a slightly lower temperature (around 325°F or 163°C) for a longer time. Experiment with cooking times and temperatures to achieve your desired level of doneness.
Add Fresh Herbs: Consider adding fresh herbs like parsley, garlic powder, basil, or chives to the egg mixture for added freshness and flavor.
Let It Rest: Allow the frittata to rest for a few minutes after removing it from the air fryer. This helps it set and makes it easier to slice.
Customize to Your Taste: Don't hesitate to personalize your frittata with your favorite ingredients; look for any fresh vegetables that are available at your grocery store or farmer's market, such as diced cherry tomatoes, green onions, spinach, sausage, or different types of cheese.
Double-check Doneness: Insert a toothpick or knife into the center of the frittata to check for doneness. It should come out clean when the frittata is fully cooked.
Serve with Sides: For a complete meal, pair your frittata with sides like toast, fresh fruit, hash browns, or a simple side salad to create a complete breakfast or brunch.
With these pro tips, your Air Fryer Delicious Breakfast Frittata will be perfectly cooked, flavorful, and tailored to your preferences. Enjoy your delicious and hassle-free breakfast!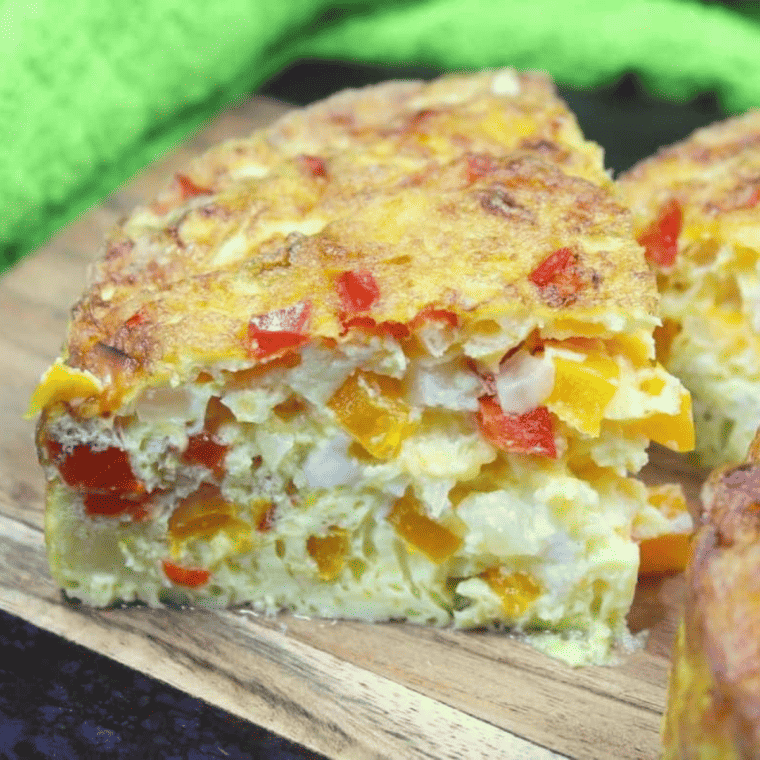 FAQ's
​Can I make a frittata with egg whites only?
Yes, you can make a frittata using egg whites only if you prefer a lower-cholesterol or lower-fat option. Use egg whites instead of whole eggs in the recipe.
Can I prepare the ingredients the night before and cook the frittata in the morning?
Yes, you can prepare the chopped vegetables and other ingredients the night before to save time in the morning. Please keep them in the refrigerator until you can assemble and cook the frittata.
How do I store leftover frittata?
Store any leftover frittata in an airtight container in the refrigerator. It can be reheated in the microwave or enjoyed cold as a quick and convenient breakfast or snack.
Can I freeze frittata for later use?
While you can freeze frittata, the texture may change slightly upon thawing. To freeze, wrap individual slices in plastic wrap or foil and place them in an airtight container or freezer bag. Label with the date and consume within a few months.
Can I make a vegetarian or vegan frittata in the air fryer?
Yes, you can create vegetarian or vegan versions of a frittata by omitting animal products and using plant-based alternatives like tofu or chickpea flour as an egg substitute. Customize your fillings with vegetables, vegan cheese, and plant-based proteins.
Can I make a sweet frittata in the air fryer?
Absolutely! Sweet frittatas are delightful, too. Swap out the savory ingredients for items like berries, cinnamon, sugar, and vanilla extract to create a sweet breakfast frittata.
Do I need to use a specific type of air fryer for this recipe?
No, this recipe can be adapted to work with different types and sizes of air fryers. Adjust the cooking time and temperature based on your specific air fryer model.
More Air Fryer Recipes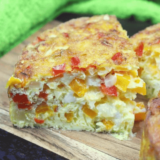 Air Fryer Breakfast Frittata
Description
Air Fryer Frittata is one of the greased air fryer breakfasts you can make. I loaded mine up with lots and lots of fresh vegetables, and it is a protein-rich meal, KETO friendly, and low-carb friendly. That will help you get going in the morning.
Ingredients
6

large

eggs

3

tablespoons

milk

1/2

cup

bell peppers

,

diced

1/4

cup

onions

,

diced

1

teaspoon

Italian seasoning

1

teaspoon

kosher salt

1/2

teaspoon

black pepper
Instructions
In a large mixing bowl, add your diced vegetables, then add your eggs, milk, Italian seasoning, salt, and black pepper.

Grease an air fryer-safe pan with olive oil or non-stick cooking spray.

Pour the egg mixture into the prepared pan.

Set the pan into the air fryer for 12-15 minutes at 350 degrees F, air fryer setting.

Check the frittata before removing them to make sure that the center is set.
Equipment
Air Fryer

Baking Pan

Cooking Spray
Nutrition
Serving:
1
Serving
Calories:
62
kcal
Carbohydrates:
2
g
Protein:
5
g
Fat:
4
g
Saturated Fat:
1
g
Polyunsaturated Fat:
1
g
Monounsaturated Fat:
1
g
Trans Fat:
0.01
g
Cholesterol:
140
mg
Sodium:
347
mg
Potassium:
92
mg
Fiber:
0.4
g
Sugar:
1
g
Vitamin A:
508
IU
Vitamin C:
12
mg
Calcium:
34
mg
Iron:
1
mg