Air Fryer Pecan Crusted Chicken — TThis chicken recipe takes your basic chicken breasts, adds a few simple ingredients, and creates a meal that the whole family will love. Using a simple pecan mixture, this is an easy recipe that you will come back to again and again.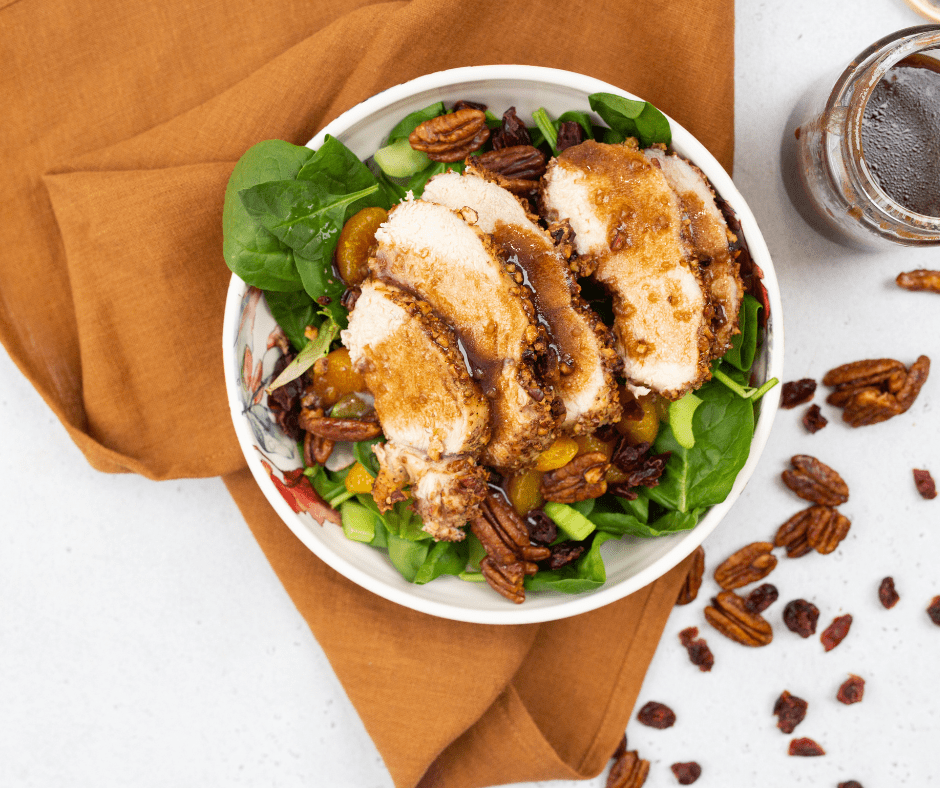 Do you love the crispy, crunchy texture of a good chicken crust? But hate how unhealthy it can be? Well, have no fear because, with an air fryer, you can create a delicious, healthy chicken crust that will satisfy your cravings!
This recipe for air fryer pecan-crusted chicken is easy to follow and produces a tasty result. So, give this recipe a try next time you're ready for something crispy!
There is nothing better than a simple and delicious meal! So if you have been looking for some great chicken dinner recipes that can be made in the air fryer, this is so good!
What Is Pecan Crusted Chicken Air Fryer
Pecan Crusted Chicken is a dish made by coating chicken breasts in a mixture of crushed pecans and seasonings, then baking them in the oven or air fryer.
The result is a delicious, crunchy chicken breast that is perfect for any occasion. Pecan Crusted Chicken can be served as part of the main course or as an appetizer at your next party. No matter how you serve it, this dish will surely be a hit with your guests!
Air Fryer Pecan Crusted Chicken Ingredients
This is one of my favorite recipes! You'll be surprised how juicy the chicken is while the coating remains nice and crunchy. Even the pickiest of eaters in my home get excited when they see air fryer pecan-crusted chicken on the menu.
Even better? The ingredients are ones I already have in my cupboard and the cooking time is around 10 minutes. So here is everything you need:  
garlic powder
onion powder
Italian seasoning
parmesan cheese
black pepper
Dijon mustard (yellow mustard works too)
crunchy pecans
chicken pieces (try chicken breasts or chicken cutlets to make crispy tenders)
How to make air fryer pecan crusted chicken
This chicken recipe is as simple as counting to three. In fact, it is so simple that it is only 3 steps! So whether you are cooking for your entire family or just for yourself, how awesome is that?
Step One: Place egg mixture in a small bowl and seasonings in a separate bowl
Step Two: Take your chicken and dip it completely into the egg mixture. Remove it and place it with the seasonings. Move the chicken around to ensure that the entire chicken is coated. 
Step Three: Place in the Air Fryer basket. Once full, bake your yummy chicken!
Tips and Tricks
This recipe is super easy. It's why I love it! Here are a few tips and tricks that I have picked up after making it so often these past few years
For a quick dinner, I love to serve this chicken with a side of Air Fryer Asparagus or, my favorite, butternut squash fries.
To reheat your chicken, place it in the air fryer for 3-5 minutes at 350 degrees.
If you need to cook a lot of chicken, I recommend making this recipe in the oven. That way, you can cook a lot of chicken at once. All you need to do is prepare the chicken as it is written on the recipe card, then cook it in the oven at 350 F for 20-25 minutes. Make sure the internal temperature of the chicken is at 160 F before serving.
If you don't have a food processor to blend your pecans, try placing them in a Ziploc bag and smashing them with a rolling pin or meat mallet. 
Use a paper towel and dry the chicken before coating it with the egg mixture. This will help all ingredients stick to the meat and create a more savory meal.
How do you store pecan crusted chicken?
With any leftovers, store your chicken in an airtight container in the fridge for up to 3 days. To prevent the crispy coating from becoming soggy, store it in a shallow dish in a single layer.
If you want to freeze your pecan-crusted chicken, make sure you allow the chicken to cool completely, then wrap it in aluminum foil before placing it in an airtight container. After that, you can leave it in the freezer for up to 2 months. After that, make sure to thaw your chicken in the fridge completely before reheating it.
Are there any substitutes for any food allergies?
Whenever you are serving a meal, it is important to keep in mind different food restrictions so that everyone can enjoy the food together. Here are a few options to substitute certain ingredients so the entire family can enjoy this yummy chicken meal.
For nut allergies, try a panko mixture or pork rinds- this is a great option for a keto diet.
For egg allergies, try an egg mixture substitute like aquafaba (the liquid that chickpeas are stored in)
Make clean-up a breeze
Due to the fact that this meal is one of the most loved in my family, I make this air fryer pecan chicken a lot. Here are a few tricks I have learned to spend less time tidying up after dinner
Ground pecans in a food processor to make an even pecan crust with fine crumbs
Keep the egg wash in a shallow bowl to prevent excessive dripping on your countertop.
Use a prepared baking shallow that has parchment paper on it to store below the wire rack. If you don't have parchment paper, a paper towel will work just fine.
Spray the air fryer basket or use tin foil on the bottom of the basket
Once the chicken is dipped in the egg, place it in a freezer bag with the seasoning and shake it up. This is one of the best ways to ensure an even coating around these crispy chicken tenders.
More Air Fryer Chicken Recipes
Looking for a chicken recipe that you can cook in your Ninja Foodi, Instant Pot Vortex, GoWise, Corsori, or PowerXL? Here are some of my favorites!
Don't Forget To Pin:
Air Fryer Pecan Crusted Chicken
Air Fryer Pecan Crusted Chicken is amazing! If you have been looking for The Best Air Fryer Pecan Chicken Recipes, this is, and with this recipe, you will have a delicious and healthy meal in minutes!
Keyword:
air Fried Pecan Crusted Chicken, Air Fryer Pecan Crusted Chicken
Ingredients
1

pound

chicken breast

cut into chicken breast, or tenderloins

1/2

cup

pecans

diced

1

teaspoon

garlic powder

1

teaspoon

salt

1/2

teaspoon

black pepper
Instructions
Layout your chicken onto a cutting board.

In a small bowl, mix the salt, black pepper, and garlic powder. Season your chicken generously.

Press the diced pecans onto the chicken breast. Use your hands to really push down the pecans.

Place the chicken into the air fryer basket, set the temperature to 370 degrees F, and cook for 8 to 12 minutes, or until the internal temperature of the chicken reaches 165 degrees F.
Recipe Video
Nutrition Facts
Air Fryer Pecan Crusted Chicken
Amount Per Serving (1 g)
Calories 218
Calories from Fat 108
% Daily Value*
Fat 12g18%
Cholesterol 73mg24%
Sodium 713mg31%
Potassium 483mg14%
Carbohydrates 2g1%
Protein 25g50%
Vitamin A 42IU1%
Vitamin C 2mg2%
Calcium 16mg2%
Iron 1mg6%
* Percent Daily Values are based on a 2000 calorie diet.