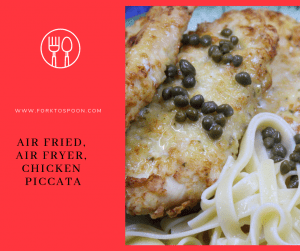 Here is a great recipe, which is a twist on the classic baked or fried chicken piccata, last year, I used the grill to make this chicken dish, and my kids loved it so much, I decided to try it in the air fryer.
Traditional Chicken Piccata is made with traditional Italian ingredients such as capers, lemon, and garlic. This recipe is extremely fast, as if you went to bake it you are looking at a cooking time of over 40 minutes, this recipe will have you a plate of chicken Piccata in 12 minutes. (Depending on the size of the chicken breasts)
The key ingredients in this recipe are:
The Chicken Breasts, which need to be pounded as flat as you can get them, use a mallet if you don't have one, pick one up because it's actually really fun.  It also tenderizes the meat and makes your chicken nice and flavorful.
Capers, capers are usually found in Mediterranean dishes, they add a salty, but vinegar addition to most recipes.  They are pickled flower buds, they come from the Capparis Spinosa bush. (Thanks to Wikipedia)

The sauce adds a great flavor to the chicken, along with the breading. My kids love it because it reminds them of a classic Italian chicken dish, but better, because they can have it at home. This chicken is moist, flavorful and has a great texture as well. My entire family devoured it, and it can be made ahead of time, just cover it with aluminum foil and keep it in the refrigerator, until ready to eat.
I purchased our air fryer last April, and then I purchased another air fryer in December, and yet, I just ordered another one this week. It has quickly become one of our favorite kitchen appliances, and it replaced my oven. The other day, I was dusting my oven, and I was thinking, when was the last time, I used this?
This is my favorite air fryer of all time, and I have a lot of choices in my kitchen.
The air fryer is nice and light and with very little oil, you too can get healthy, crisped dinners (chicken, etc). And, it saves you a ton of time, because it doesn't require you to wait for the oven to preheat, and the dishes quickly cook, compared to the oven.

Here are some tips for air frying chicken:
Seasoning your chicken is important.
Most chicken dishes can be rubbed and then set into the refrigerator ahead of time. So, when you come home from work/errands/kids, etc., you can just place it in the air fryer, spray it with olive oil spray and air fryer.
Spraying the chicken with olive oil spray is one of the keys. I spray the heck of out of, and I always get no white spots and tender (way juicy) chicken.
Always flip the chicken halfway, and then spray again. This way both sides are nice, light and tender.
Because eating uncooked chicken is unhealthy and can you sick, invest in a meat thermometer.
Kitchen Items Used: (Note: Affiliate links are included in this post)
Simple Living 5.8 Quart Air Fryer
J.A. Henckels 6-Inch High Carbon Stainless Steel Chef's Kitchen Knife
 Stainless Steel Measuring Cups, 5 Piece Set
Hudson Essentials Stainless Steel Measuring Cups Set-6 Piece Stackable Set with Spout
Anchor Glass Measuring Set–This is one of the handiest tools in the Kitchen 
OXO Good Grips 12 Inch Stainless-Steel Locking Tongs
Don't Forget to Pin: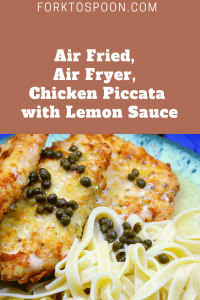 Air Fryer, Air Fried, Chicken PIccata with Lemon Sauce
Ingredients
2-4

boneless chicken breasts
Egg Mixture:
1

large egg, beaten

2

tablespoons

lemon juice

1

teaspoon

garlic powder
Flour Mixture:
1/2

cup

flour (all-purpose)

1/2

cup

grated Parmesan cheese

3

tablespoons

minced parsley

1

teaspoon

salt
Piccata Sauce:
2

tablespoons

butter

1/2

cup

chicken broth

2

tablespoons

lemon juice

2-4

tablespoon

capers, with juice
Instructions
I always start preparing my chicken, by trimming all of the white parts (fat) off the chicken, just use a sharp knife.

Start by using your mallet and pound your chicken until they are mostly flat. I wrap my chicken in saran wrap, which keeps the chicken in place, while you use the mallet to flatten the chicken.

Once the chicken is flattened, remove it from the saran wrap, and place on a cutting board. While you get the breading and egg mixture ready.

In one bowl, mix the egg, lemon juice, and garlic powder.

In another bowl, mix together the flour, Parmesan cheese, parsley, and salt.

Then dip your chicken into the flour mixture, then the egg mixture, and then the flour mixture.

As you coat the chicken place them in your air fryer.

Once you are all done coating your chicken, spray them with olive oil spray (the entire chicken breast, otherwise you will get white spots on your chicken)

Set the temperature for 370 degrees F, for 7 minutes.

After 7 minutes, flip and air fry for another 7 minutes.

When the time is up, make sure that the internal temperature reads at least: 165 degrees F.

Meanwhile, make the sauce:

In a small saucepan, melt the butter, add 3 tablespoons of lemon juice, and the chicken brother, boil until the sauce is hot.

Place the chicken breasts on a plate, drizzle the sauce over the chicken.