Air Fryer Chicken Chimichangas –I love to cook but often find myself short on time. Air fryer chicken chimichangas are the perfect solution because they're delicious and easy to make! You can have dinner ready in just 15 minutes with this recipe. Give it a try tonight!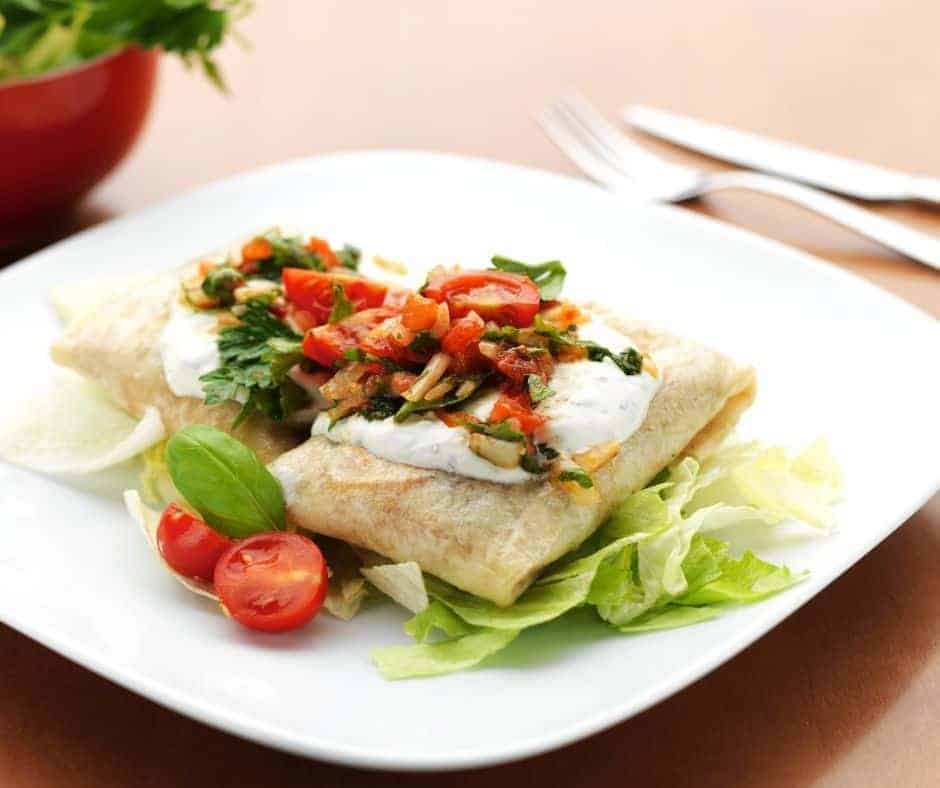 If you are looking for some great Air Fryer Chicken Recipes, some of my favorites are AIR FRYER CHICKEN, BROCCOLI, AND BELL PEPPER, AIR FRYER CHICKEN TIKKA MASALA, AIR FRYER KUNG PAO CHICKEN, and AIR FRYER CLASSIC CHICKEN TENDERS (TENDERLOINS).
What Are Chicken Chimichangas
Chimichangas –You have probably seen these at your favorite Mexican restaurant, and if you love Mexican food, you will love this chicken chimichanga recipe!
Chicken chimichangas are a popular Mexican-inspired dish made by filling a tortilla with a mixture of chicken, cheese, and sometimes beans or rice and then folding it into a rectangular package that is deep-fried until golden and crispy. Once fried, it's often topped with sauces, cheese, guacamole, sour cream, or salsa and served with sides like refried beans and rice.
Can You Make Chicken Chimichangas In Air Fryer?
Yes! Absolutely! An air fryer provides a healthier alternative to the traditional deep-frying method while achieving a delightfully crispy exterior. Below is an easy guide on how to make chicken chimichangas in an air fryer:
If you love the taste of a deep-fried burrito, you will love these! There is nothing better than air-fried chimichangas! It is one of my favorite simple meals you can make in the air fryer, served with your favorite toppings!
Ingredients Needed For Air Fryer Chicken Chimichangas
Diving into the world of air fryer cuisine introduces you to a realm where convenience meets gourmet, and our beloved Chicken Chimichangas are no exception. By harnessing the power of rapid air circulation, these delightful parcels turn irresistibly crispy without a drop of excessive oil.
But to truly elevate this dish to culinary stardom, you need the perfect ensemble of ingredients. Whether you're a seasoned cook or a newbie in the kitchen, our curated list ensures you have everything at your fingertips to craft the most mouth-watering Air Fryer Chicken Chimichangas. Let's unveil the magic behind the flavors!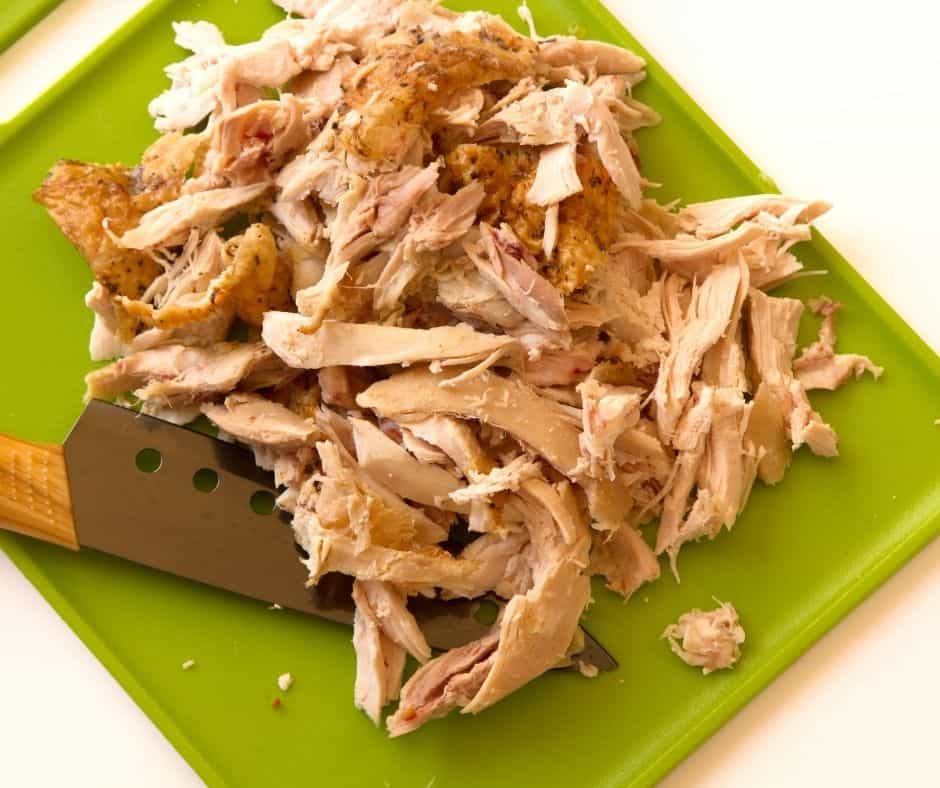 Remember that the step-by-step directions and detailed ingredient list are below in the printable recipe card at the bottom of the post, as well as the nutritional information.
Chicken Breast: This lean protein is the core of your chimichanga filling. Opt for boneless, skinless chicken breasts for ease of cooking and shredding.
Flour Tortillas: The vehicle for your delicious filling, a good-sized flour tortilla wraps snugly while holding all the ingredients inside. Ensure you choose large, pliable tortillas that can fold without tearing.
Refried Beans: A creamy and flavorful addition, refried beans bind the filling together and provide a rich, authentic taste. Black beans can be a great substitute if you prefer a lighter option.
Cheddar or Monterey Jack Cheese: Grated cheese melts within the chimichanga, creating a gooey, delightful center. Cheddar offers a sharp taste, while Monterey Jack lends a milder, buttery flavor.
Sautéed Onions and Bell Peppers: These veggies add a layer of sweetness and crunch to your chimichanga. Sautéing them beforehand ensures they're tender and flavorful.
Spices (Cumin, Chili Powder, Garlic Powder): The essence of any good chimichanga lies in its seasoning. These spices give the filling its characteristic warmth and depth.
Cooking Spray or Olive Oil: Essential for achieving that golden-brown finish, a light coating ensures your chimichanga crisps up beautifully in the air fryer. Olive oil can offer a richer taste while cooking spray is a lighter option.
Toppings (Sour Cream, Guacamole, Pico de Gallo, Green Chiles, Cream Cheese, etc.): These are the crowning jewels of your dish, adding freshness and tang. While optional, they elevate the chimichanga experience by providing contrasting flavors and textures.
How To Make Air Fryer Chimichangas
Welcome to the modern twist on a classic favorite! As the culinary world embraces healthier and more efficient cooking methods, the Air Fryer emerges as a game-changer, especially for dishes traditionally deep-fried to perfection. Enter the Chimichanga: a crispy, golden parcel filled with savory delights. Imagine achieving that delightful crunch and flavor with significantly less oil and fuss. If you're ready to reinvent this Mexican staple with a contemporary flair, our guide on making Air Fryer Chimichangas awaits. Let the fusion of tradition and innovation tantalize your taste buds!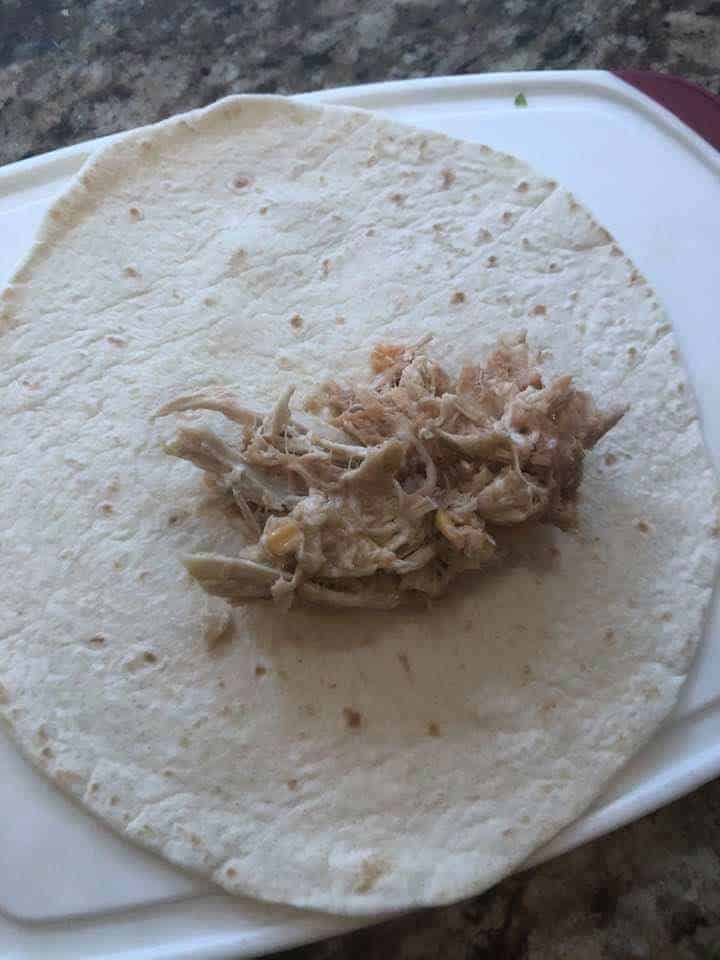 Step One: Prepare the Filling Ingredients
Combine the shredded chicken, beans, sautéed onions, bell peppers, cheese, and spices in a large mixing bowl. Mix well until all ingredients are evenly distributed.
Step Two: Fill the Tortillas
Lay out a flour tortilla on a flat surface.
Place a generous amount of the chicken mixture in the center of the tortilla.
Fold the sides of the tortilla inward, then fold the bottom over the filling and roll it up tightly. Ensure the filling is completely enclosed.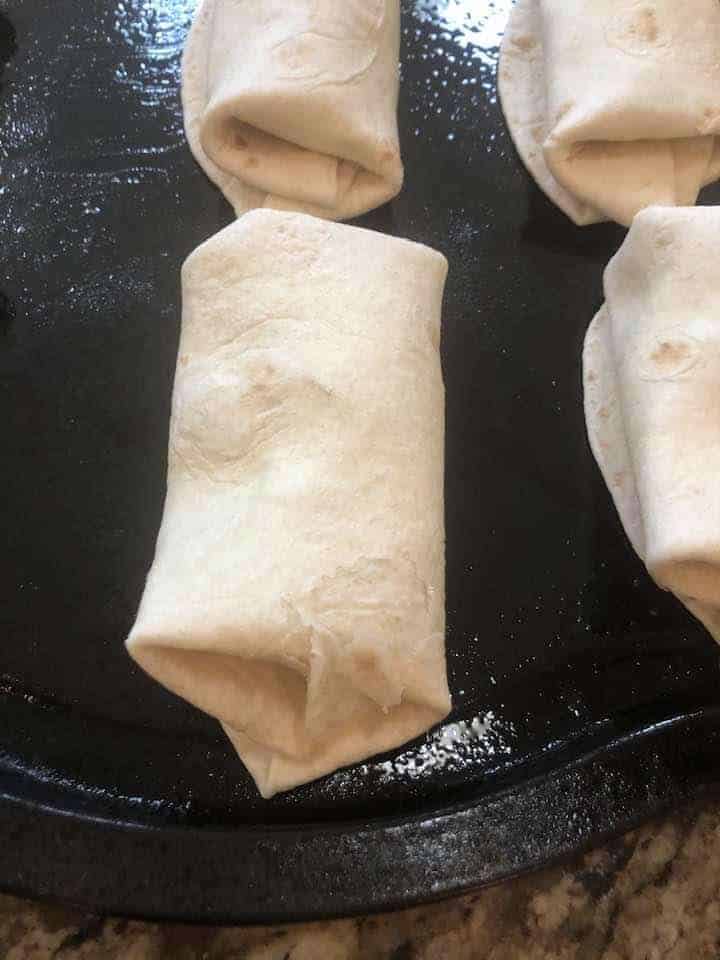 Step Three: Preheat Your Air Fryer
Preheat the air fryer to about 375 degrees F (190°C) for 3-5 minutes.
Step Four: Prepare Chimichangas for Air Frying
Lightly spray or brush the outside of the chimichangas with nonstick cooking spray or olive oil.
This will help achieve that golden-brown finish and crispy texture.
Step Five: Air Fry the Chimichangas
Carefully place the prepared chimichangas seam side down in the basket of air fryer in a single layer, ensuring they have enough space and aren't touching.
Set cook time for 8-10 minutes, turning them halfway through until golden brown and crispy.
Step Six: Serve
Once cooked, remove the chimichangas from the air fryer and place them on a serving plate.
Garnish with your choice of toppings like sour cream, guacamole, or pico de gallo. Serve with a side of salsa for added flavor.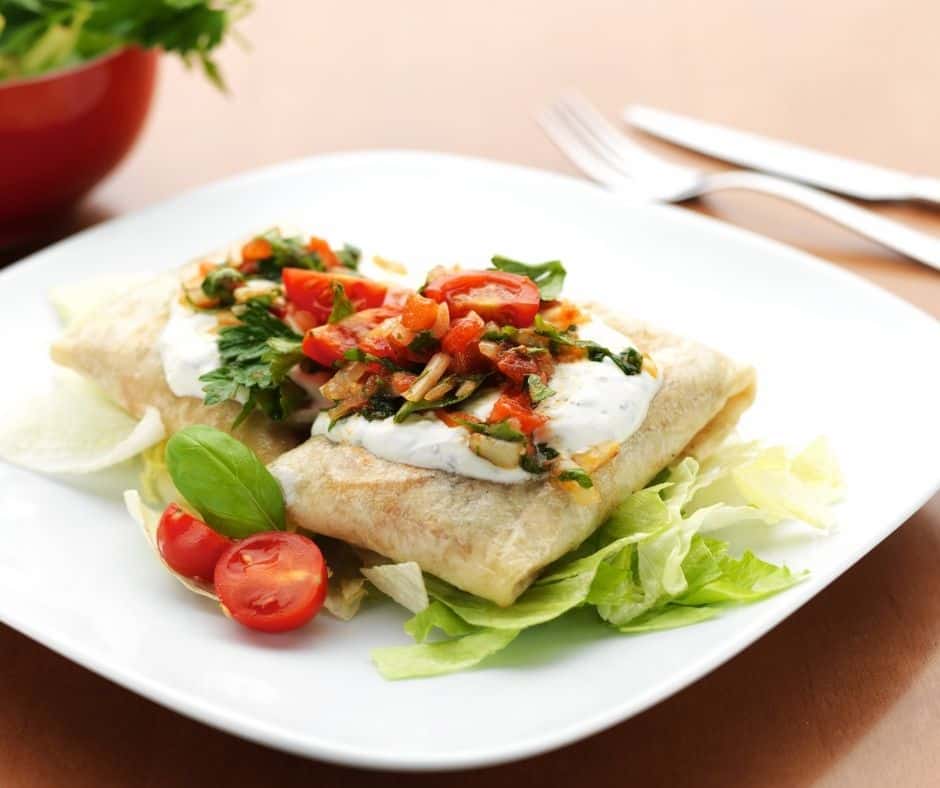 How do you reheat a chimichanga in an air fryer?
How do you heat a chimichanga in an air fryer? It's very easy, actually; place the chimichangas into the air fryer basket, set the temperature to 320 degrees F, air fryer setting, and cook for 4 to 6 minutes until the chimichanga is heated through.
Pro Tips For The Best Air Fryer Chimichanga Recipe
To perfect your Air Fryer Chimichanga, keeping some pro tips in mind is always beneficial. Here are some insights to ensure a restaurant-quality result every time:
Thoroughly Season Your Filling: Ensure your chicken or chosen protein is well-seasoned. This will be the heart of your chimichanga, so it needs to be flavorful. Taste your filling mixture before assembling.
Flour Tortilla Quality: Opt for high-quality tortillas that are soft and pliable. Tortillas that are too dry might crack or break when folding.
Warm Tortillas Before Filling: Slightly warming them in a microwave (wrapped in a damp paper towel) or on a skillet can make them more pliable and easier to roll without tearing.
Seam-side Down: Always place the chimichanga seam side down in the air fryer basket. This ensures it doesn't unfold during the cooking process.
Avoid Overstuffing: While adding a lot of filling is tempting, overstuffing can lead to bursting or uneven cooking.
Brush with Oil or Butter: Lightly brush your chimichangas with melted butter and garlic powder for a golden-brown finish. This gives a richer color and adds another layer of flavor.
Rotate or Flip for Even Crispiness: Midway through cooking, rotate or flip the chimichangas to ensure an evenly crisped exterior.
Presentation Matters: Once out of the air fryer, garnish with fresh herbs or accompaniments. This not only elevates the taste but also the dish's visual appeal.
Pair with Dips: Serving your chimichangas with various dips, like salsa, guacamole, or spicy mayo, can add different dimensions of flavor to every bite.
Rest Before Serving: Let your chimichangas rest for a few minutes after taking them out of the air fryer. This helps the juices redistribute and the exterior to firm up a bit more.
These pro tips will set you on a path to crafting a visually tantalizing and gastronomically satisfying chimichanga.
What To Serve With Chicken Chimicahng Recipe?
​Chicken chimichangas, with their crispy exterior and rich, savory filling, can be paired with various sides and accompaniments to create a full, satisfying meal. Here are some popular options to consider when serving chimichangas:
Mexican Rice: Often flavored with tomatoes, onions, and garlic, Mexican rice offers a fluffy and flavorful side that complements the textures of a chimichanga perfectly.
Refried Beans: Creamy and rich, refried beans are a delightful contrast to the crispy chimichanga and add a touch of authenticity to the meal.
Salsa, Pico de Gallo, or Guacamole: These fresh accompaniments add a flavor and can be used as a topping or a dip.
Sour Cream or Crema: A dollop of sour cream or Mexican crema can enhance the flavors by offering an excellent contrast to the spices.
Salads: A light, fresh salad like a corn salad, jicama slaw, or a simple lettuce and tomato salad can balance the richness of the chimichanga.
Queso Fundido: This melted cheese dip, often mixed with spicy chorizo, can be drizzled over the chimichanga or used as a dipping sauce.
Black or Pinto Beans: A simple bowl of seasoned black or pinto beans can be a great accompaniment if you prefer beans that aren't refried.
Tortilla Chips: Serve with a side of crispy tortilla chips and various dips (salsa, guacamole, or bean dip) for added crunch and variety.
Grilled Vegetables: Veggies like bell peppers, zucchini, and onions, seasoned and grilled, can add a smoky flavor and make the meal more substantial.
Coleslaw: A tangy, spicy Mexican-style coleslaw can add a refreshing touch, complementing the rich flavors of the chimichanga.
Margaritas or Mexican Beer: If you're looking for beverage pairings, a cool margarita or a bottle of Mexican beer can be a delightful choice.
Churros or Flan: For dessert, consider serving traditional Mexican sweets like churros (with chocolate dip) or a creamy flan.
When serving chimichangas, consider the balance of flavors and textures. A mix of creamy, crispy, spicy, and fresh components will ensure a well-rounded and satisfying meal.
Air Fryer Chimichangas
Can I use a different protein besides chicken for the chimichangas?
Absolutely! You can substitute chicken with ground beef, pork, turkey, or tofu. Ensure the protein is well-seasoned and cooked before assembling the chimichanga.
How do I prevent my tortillas from tearing when folding?

To avoid tearing, ensure your tortillas are fresh and warm them slightly before filling them. Using a damp paper towel to microwave them or warming them in a skillet, or medium heat, can make them more pliable.
How many chimichangas can I cook at once in the air fryer?

This largely depends on the size of your air fryer. It's crucial not to overcrowd the basket to ensure even cooking. Generally, 2-3 chimichangas can be cooked simultaneously for most standard-sized air fryers.
Can I prepare the chimichangas in advance and store them for later?

Yes, you can assemble the chimichangas and store them, in an airtight container, in the refrigerator for a day in advance. When ready, you can pop them in the air fryer. This makes for an efficient meal prep!
I'm looking for a vegan chimichanga. What can I use as filling?

You can replace the chicken with tofu, tempeh, or a mix of beans and vegetables for a vegan version. Use vegan cheese and ensure other ingredients, like refried beans, are vegan-friendly.
My chimichanga is cooked on the outside but cold inside. What did I do wrong?

This might occur if the filling was too cold when placed in the air fryer or if the chimichanga was overstuffed. Next time, ensure your filling is at room temperature and avoid overstuffing.
How do I reheat leftover chimichangas?

The air fryer is great for reheating as it retains the crispiness. Heat at 350°F (175°C) for about 3-4 minutes or until warmed through.
How to make low carb Chicken Chimicnags in air fryer
Replace the flour tortilla with a mission carb balance tortilla for a low-carb easy meal.
More Air Fryer Recipes
Don't Forget To Pin: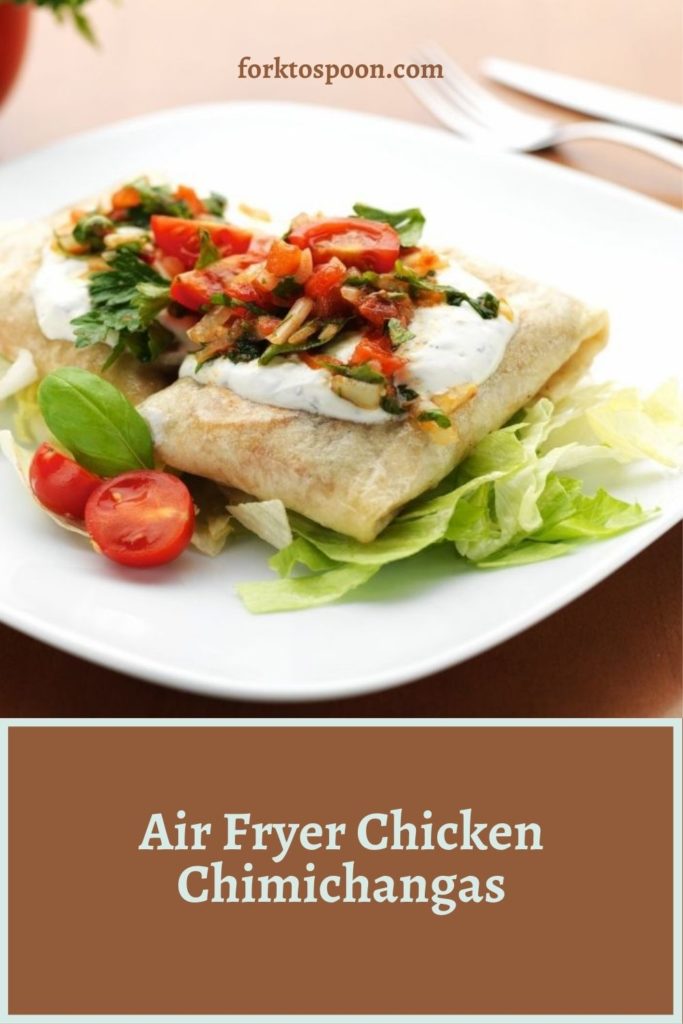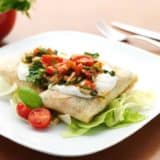 Air Fryer Chicken Chimichangas
Description
This is everyone's favorite meal at my house, I have been making it for years, and today I tried it in the air fryer. It was oh, so good. My husband actually said, to me, this is really, really good, and had about 4. My kids also loved them; they added their toppings, which will be a great get-together when we invite their friends over.
Ingredients
2

cups

shredded cooked chicken

1/2

cup

refried beans or rice

1/2

cup

salsa

1

teaspoon

cumin

1

teaspoon

chili powder

1

cup

shredded Cheddar cheese

2

tablespoons

melted butter

flour or corn tortillas

Optional: salsa

,

sour cream, guacamole, diced tomatoes, shredded cheese, etc.
Instructions
Start by adding the shredded chicken into a large mixing bowl.

Then add the refried beans or rice and salsa.

Mix in the spices and shredded cheese.

Mix well.

Add about 1/2 cup of filling to the center of the tortilla.

Roll up the chimichangas, continue making the chimichangas until you use up all of the fillings.

Brush with the melted butter. Set them into the air fryer for 4 minutes at 400 degrees F. After 4 minutes, flip the chimichangas and air fry for another 3 minutes.

Plate, serve, and enjoy!
Equipment
Air Fryer

Cooking Spray

Parchment Paper,

optional
Nutrition
Serving:
1
Serving
Calories:
295
kcal
Carbohydrates:
3
g
Protein:
25
g
Fat:
20
g
Saturated Fat:
10
g
Polyunsaturated Fat:
2
g
Monounsaturated Fat:
5
g
Trans Fat:
0.2
g
Cholesterol:
96
mg
Sodium:
505
mg
Potassium:
286
mg
Fiber:
1
g
Sugar:
1
g
Vitamin A:
797
IU
Vitamin C:
1
mg
Calcium:
225
mg
Iron:
1
mg