Traeger Smoked Cream Cheese — Are you ready to take your cream cheese game to the next level? If so, grab a Traeger grill, and let's get smokin'!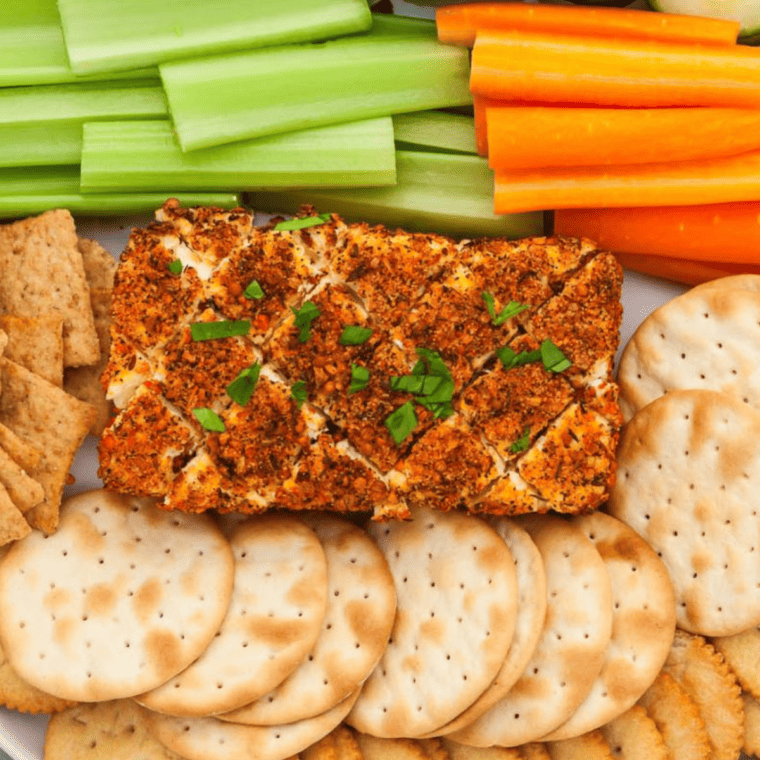 This delectable smoked cream cheese dish is incredibly easy to make and yields mouth-watering results. Not only does this recipe add some amazing flavor to an already delicious spread, but it also adds fun and dimension with its unique presentation.
Are you ready for your taste buds to tingle as they experience the divine taste of smoked cream cheese? Then, pull up a seat, follow along, and have some smokey goodness in no time!
Can You Smoke Cheese On A Traeger?
Yes, you can smoke cheese on a Traeger! Smoking cheese imparts a deep, smoky flavor that can elevate even the simplest cheeses, making them gourmet delicacies. With its precise temperature control and pellet-fueled mechanism, a Traeger is an excellent tool for this culinary adventure.
Smoked Cream Cheese On Traeger
Attention all food aficionados! We're diving deep into the world of smoked flavors, bringing you an indulgence bound to excite your taste buds. Imagine the velvety texture of cream cheese, enriched with the deep, woody undertones that only a Traeger can impart.
Yes, we're talking about the delectable Smoked Cream Cheese! This culinary masterpiece is not just a dish but an experience. Whether spreading it on a bagel, using it in a dip, or just sneaking a bite now and then, this smoked sensation is about to become your new obsession. Ready to elevate your cream cheese game? Let's embark on this smoky journey together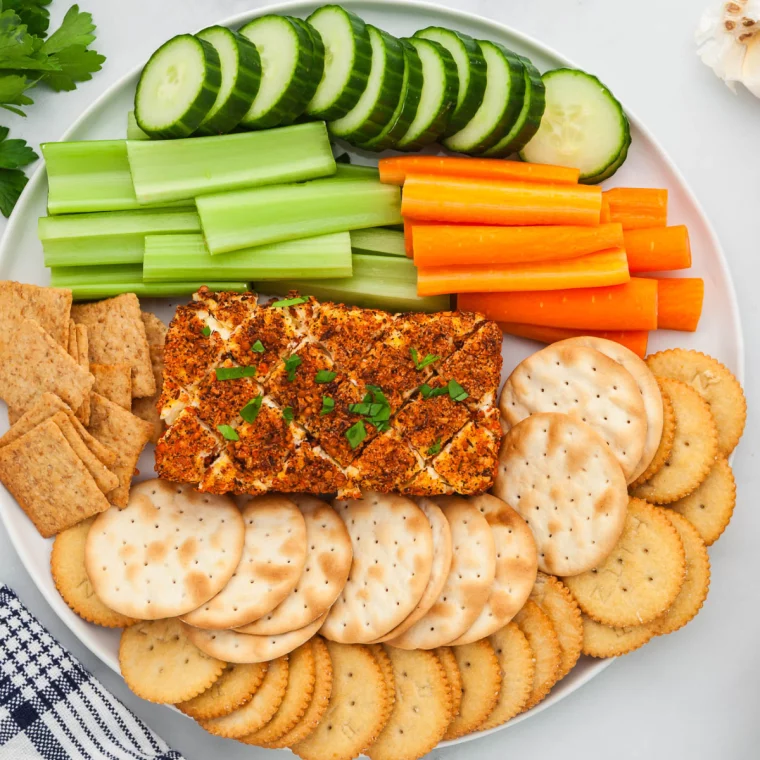 Ingredients Needed For Traeger Smoked Cream Cheese
Are you looking for that perfect smoked cream cheese recipe? Have you ever heard of the Traeger Grill and smoke-cooking method? Whether you're a beginner in the kitchen or an experienced home chef, this smoking technique produces mouthwatering dishes.
With simple ingredients like cream cheese, butter, garlic powder, onion powder, and seasonings, it's easy to make a delicious spread everyone will love on their favorite crackers or veggies.
Below, we'll look at all the essentials for cooking up some crowd-pleasing Traeger Smoked Cream Cheese!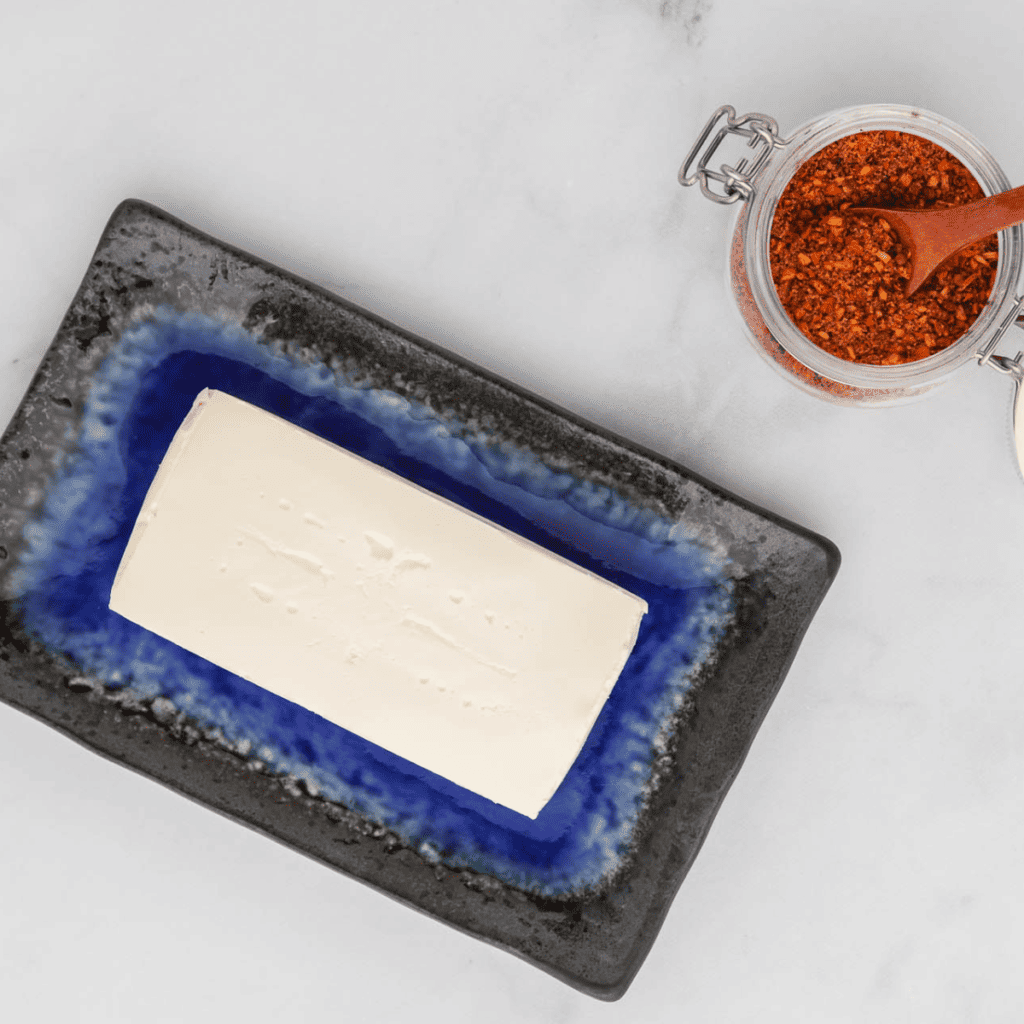 Remember the step-by-step directions and detailed ingredient list are below in teh printable recipe card at the bottom fo the post, as well as the nutritional information.
Cream Cheese Blocks: This is your main star. Always opt for full-fat cream cheese, which offers the best texture and flavor.
Your choice of seasoning: Depending on the desired flavor, you can use anything from simple salt and pepper to more complex rubs or seasonings. A popular choice is the "Everything Bagel" seasoning.
Olive Oil or Melted Butter: A light brush on top before smoking adds richness and helps the seasonings adhere better.
Wood Pellets: For smoking on the Traeger, a blend of apple or cherry wood pellets imparts a subtle, sweet smokiness that pairs exceptionally well with the cream cheese.
How To Smoke Cream Cheese On Traeger
Are you looking for a recipe that combines the smoky aroma and flavor of grilling with some creamy cheese-y goodness? Look no further than this recipe for smoking cream cheese on Traeger. With just a few ingredients and steps, you can make this classic appetizer that everyone will love.
This is the perfect way to impress friends and family at your next backyard gathering or barbecue event without slaving away in the kitchen – so read on for all the tips and tricks here!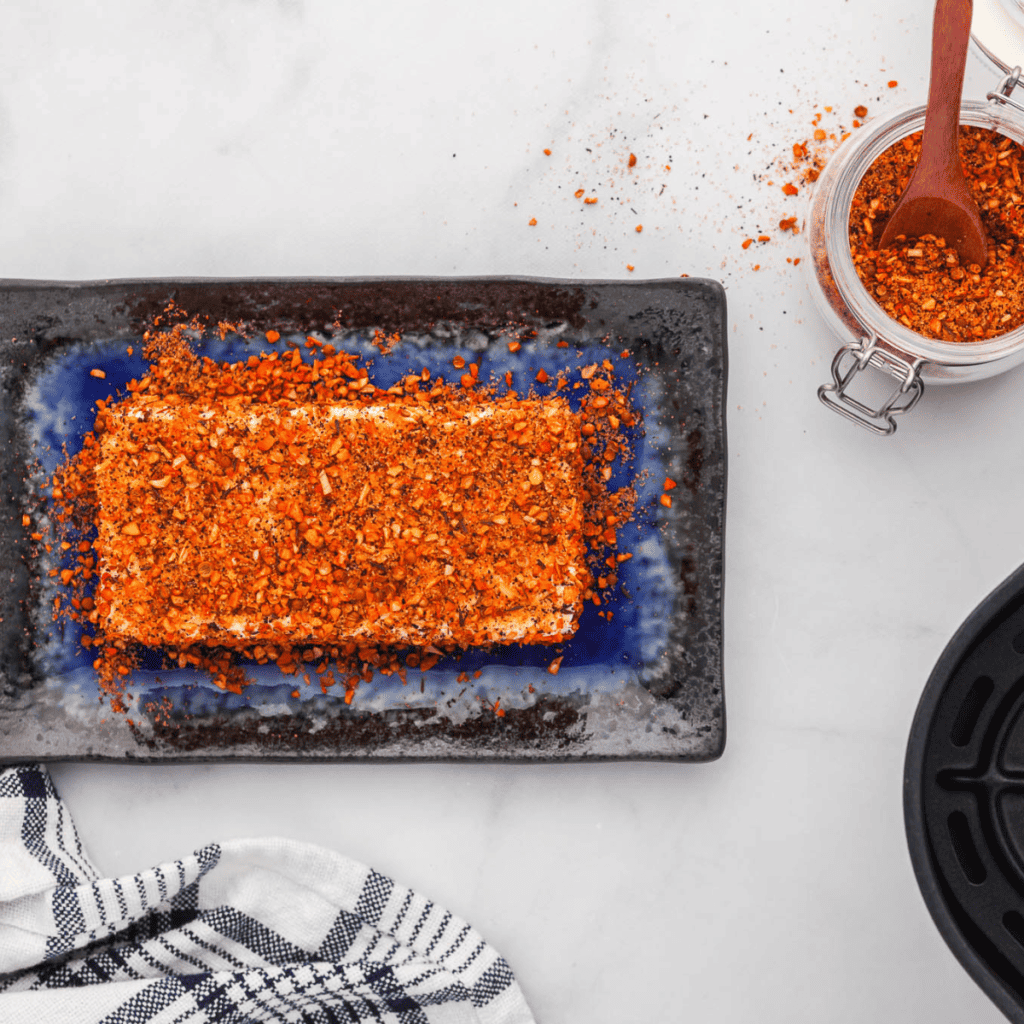 Preparation:
Begin by taking your cream cheese out of the refrigerator and allowing it to sit at room temperature for about 30 minutes. This helps in achieving an even smoke throughout the block.
While the cream cheese softens, preheat your Traeger grill. Set the temperature to 225°F and let it heat up with the lid closed for about 10-15 minutes.
Seasoning (Optional):
For added flavor, season the top surface of the cream cheese. You can sprinkle on some herbs, spices, or even a rub of your choice. Popular options include everything bagel seasoning, garlic powder, or herbs like dill.
Set Up Your Traeger for Indirect Cooking:
Make sure you're using fruit wood pellets, like apple or cherry, for a milder, sweeter smoke flavor.
Place a tray of water inside the grill. This creates humidity inside the Traeger, which prevents the cream cheese from drying out during the smoking process.
Place the Cream Cheese on the Grill:
Lay down a piece of parchment paper or aluminum foil on the grill grates and place your cream cheese blocks on top. This prevents the cream cheese from sticking and makes for easier cleanup.
Smoke the Cream Cheese:
Close the grill lid and smoke the cream cheese for 1-2 hours. Check occasionally to see if it has developed a light golden hue on the exterior.
Check for Doneness:
The cream cheese should be soft to the touch with a slightly firmer, smoky exterior. The color should have transformed into a beautiful light golden shade.
Serving:
Once smoked to perfection, remove the cream cheese from the Traeger and allow it to cool for a few minutes.
Transfer to a serving plate and pair with crackers, bread, or fresh veggies. Alternatively, use it as a spread or incorporate it into different dishes for a smoky twist.
Enjoy!
Relish the unique smoky flavor of the cream cheese, elevated by the distinct wood-fired taste that only a Traeger can impart.
Pro Tips For Smoked Cream Cheese Traeger
Master the Art of Smoking Cream Cheese on a Traeger with These Pro Tips 🔥
Choose a Full-Fat Version: Always opt for full-fat cream cheese. The richer content can withstand the smoking process better, leading to a creamy, melt-in-the-mouth texture.
Prep the Cream Cheese: Allow your cream cheese to sit at room temperature for about 30 minutes prior to smoking. This ensures even smoking throughout.
Flavor Infusion: Consider embedding herbs or seasonings into the cream cheese for an added layer of flavor. From fresh dill to crushed garlic, the possibilities are endless!
Use Fruit Wood Pellets: For a subtle and slightly sweet smoke flavor, use fruit wood pellets like apple or cherry. These complement the creamy texture of the cheese without overpowering it.
Low and Slow: Maintain a low temperature of around 225°F. Smoke the cream cheese for 1-2 hours. The low heat ensures the cheese softens and absorbs the smoky flavor without melting away.
Water Pan: Place a pan of water inside the Traeger during smoking. This helps maintain moisture, preventing the cream cheese from drying out.
Check for a Golden Hue: The perfect smoked cream cheese will have a light golden exterior while retaining its soft, creamy interior. Keep an eye on the color transformation!
Serving Suggestions: Once smoked, give it some time to cool down. Serve with crackers, fresh veggies, or a spread on grilled bread. The smoky flavor paired with the creaminess is a match made in culinary heaven!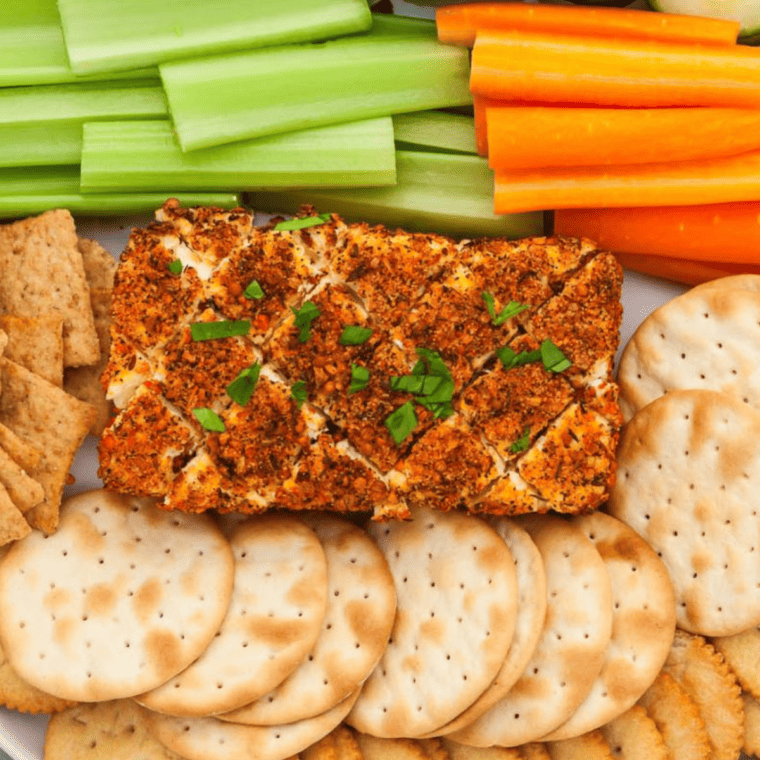 Frequently Asked Questions About Smoking Cheese On Traeger
Do I need to use a specific type of wood pellet for smoking cheese?
While you can use any type of wood pellet, it's recommended to use fruit wood pellets such as apple, cherry, or peach for a milder, sweeter smoke flavor. They complement the taste of the cheese without overpowering it.
How long does smoked cream cheese last in the refrigerator?
Smoked cream cheese can be stored in the refrigerator for up to a week. Ensure it's wrapped tightly in plastic wrap or stored in an airtight container to maintain freshness.
Can I smoke other types of cheese on my Traeger?
Absolutely! While cream cheese is popular, you can also smoke harder cheeses like cheddar, gouda, or mozzarella. However, the smoking times may vary based on the type and size of the cheese.
Is there a risk of the cheese melting while smoking?
If smoked at the recommended temperature (225°F or lower), most cheeses won't melt but will soften. Ensure you keep a consistent temperature and check your cheese periodically.
Can I add flavors or seasonings to my smoked cream cheese?
Yes, you can enhance your smoked cream cheese by adding herbs, spices, or seasonings before smoking. Popular additions include garlic powder, herbs like dill, or even a sprinkle of crushed red pepper for some heat.
Why is my smoked cheese bitter?
A bitter taste can arise from over-smoking or using wood pellets that produce a stronger, more intense smoke. Remember, cheese easily absorbs flavors, so it's better to aim for a lighter smoke.
Do I have to let the cheese sit before smoking?
Allowing the cheese to sit at room temperature for about 30 minutes before smoking can help achieve a more even smoke throughout the block. It's not a necessary step, but it can enhance the end result.
What dishes can I make using smoked cream cheese?
Smoked cream cheese is versatile. It can be used as a spread on bread, mixed into pasta dishes, dolloped onto baked potatoes, or even used in creamy sauces for an added smoky flavor.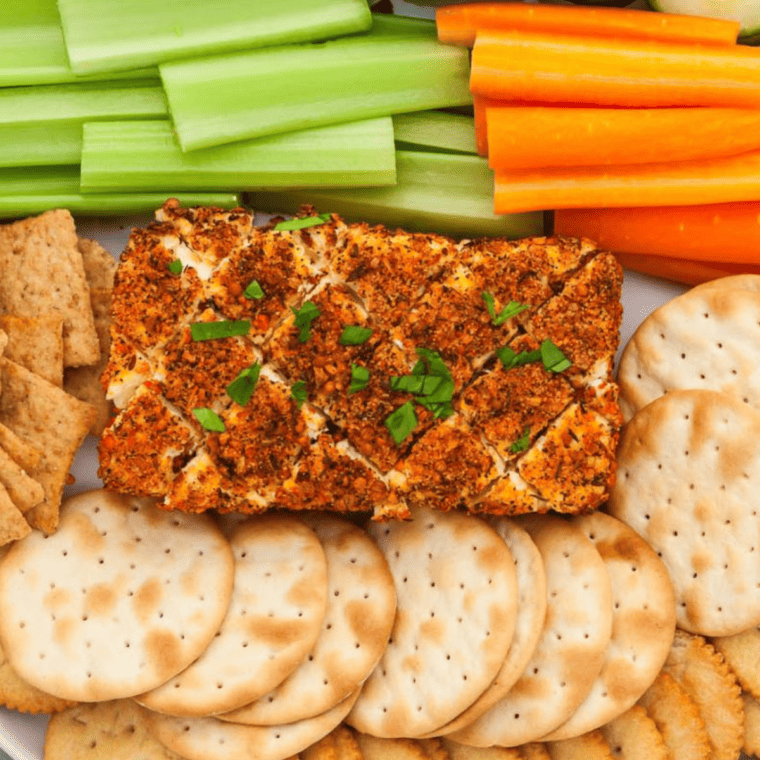 More Grilling Recipes
Smoking cream cheese on a Traeger brings a delightful twist to a classic favorite, elevating its flavor profile with that signature smoky touch.
The process is not only simple but also incredibly rewarding, giving you a gourmet experience right in your backyard.
Whether you choose to spread it on a cracker, incorporate it into your favorite dishes, or simply enjoy it as a standalone treat, Traeger smoked cream cheese promises a flavor-packed experience that is sure to impress your taste buds and your guests. Dive into the world of smoked delicacies and let your culinary creativity run wild!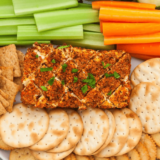 Traeger Smoked Cream Cheese
Description
Enjoy the luxurious smokiness of this Traeger specialty on its own or as a base for other delectable dishes!
Ingredients
1

block

cream cheese

,

8 ounces of cream cheese

Your choice of seasoning or rub

Olive oil or melted butter for brushing

,

optional
Instructions
Preheat Traeger: Set your Traeger grill to the smoke setting and let it warm up.

Prepare Cream Cheese: Remove the cream cheese from its packaging and place it on a piece of parchment paper or aluminum foil.

Season: Lightly brush the cream cheese with olive oil or melted butter (if using). Generously sprinkle your chosen seasoning or rub on all sides of the cream cheese.

Smoke: Once the Traeger is up to temperature, place the seasoned cream cheese directly on the grill grates. Smoke for 2-3 hours, or until it reaches your desired level of smokiness.

Serve & Enjoy: Remove the smoked cream cheese from the grill and let it cool slightly. Serve with crackers, bread, or use in your favorite dishes.
Notes
Pro Tips:
Opt for a rub that complements the smoky flavor, such as a blend of garlic powder, onion powder, and herbs.
For a spicier kick, consider adding a sprinkle of chili flakes or using a spicy rub.
The smoked cream cheese can be refrigerated and stored for up to a week.
Nutrition
Serving:
1
Serving
Calories:
0.4
kcal
Carbohydrates:
0.01
g
Protein:
0.01
g
Fat:
0.04
g
Saturated Fat:
0.03
g
Polyunsaturated Fat:
0.001
g
Monounsaturated Fat:
0.01
g
Cholesterol:
0.1
mg
Sodium:
0.4
mg
Potassium:
0.2
mg
Sugar:
0.01
g
Vitamin A:
2
IU
Calcium:
0.1
mg