Making your own jam is easier than you think, and with an Instant Pot, it's even easier! This recipe for the strawberry jam only takes about 15 minutes to make, and it's so delicious. You'll love having this homemade jam on hand to top toast, waffles, or pancakes. Plus, it makes a great gift for friends and family. Give it a try today!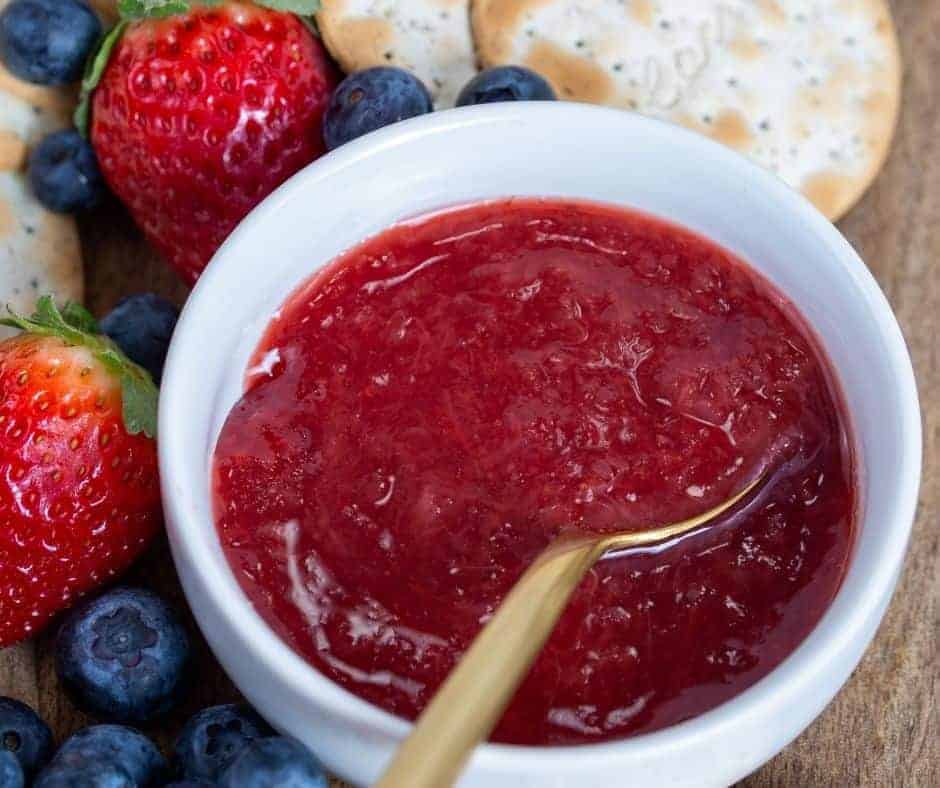 Instant Pot Strawberry Jam is amazing, and my son can not get enough of it. I have been making homemade jams for him for years, and the Instant Pot makes it so much easier, and within a few minutes, you can have a great big batch of homemade Strawberry jam.
This amazing Instant Pot Strawberry Jam only uses 4 ingredients but creates a blue-ribbon-worthy jam. Making homemade jam has never been so easy, and you gotta love the Instant Pot for making this all possible.
Before the Instant Pot, I always made homemade jam; being from New Hampshire, we had an orchard down the street from our house. The kids' favorite activity would be berry picking. And if you have ever been with kids, they love to pick, so I had to come up with something to do with all of the berries. Jam would can beautiful for those long New Hampshire winters.
Can You Make Strawberry Jam In The Instant Pot
Instant pots are all the rage these days and for good reason! They can do just about anything, including make strawberry jam. If you're curious about how to make your own strawberry jam in the Instant Pot, keep reading. I'll walk you through the process step by step. Plus, I've included a few recipes that you can use as inspiration. Let's get started!
Why You will Love Instant Pot Strawberry Jam
Instant Pot Strawberry Jam is an easy and delicious way to enjoy the taste of summer all year long! This recipe is simple to follow and only requires a few ingredients. You will love how quickly this jam comes together in your Instant Pot! It makes a great gift for friends and family, or simply keep it all to yourself – we won't tell. 🙂
The Best Strawberry Jam Made In The Instant Pot
Can you believe that strawberry season is almost over? It seems like just yesterday I was picking strawberries at the farmer's market. But, never fear, because you can still make delicious strawberry jam using frozen strawberries! In this blog post, I'll show you how to make the best strawberry jam in the Instant Pot. So get your Instant Pot out and let's get started!
Ingredients Needed For Instant Pot Strawberry Jam
This recipe can be made with either fresh or frozen strawberries; today, I used frozen since they are currently out of season. But, it will work perfectly with fresh strawberries.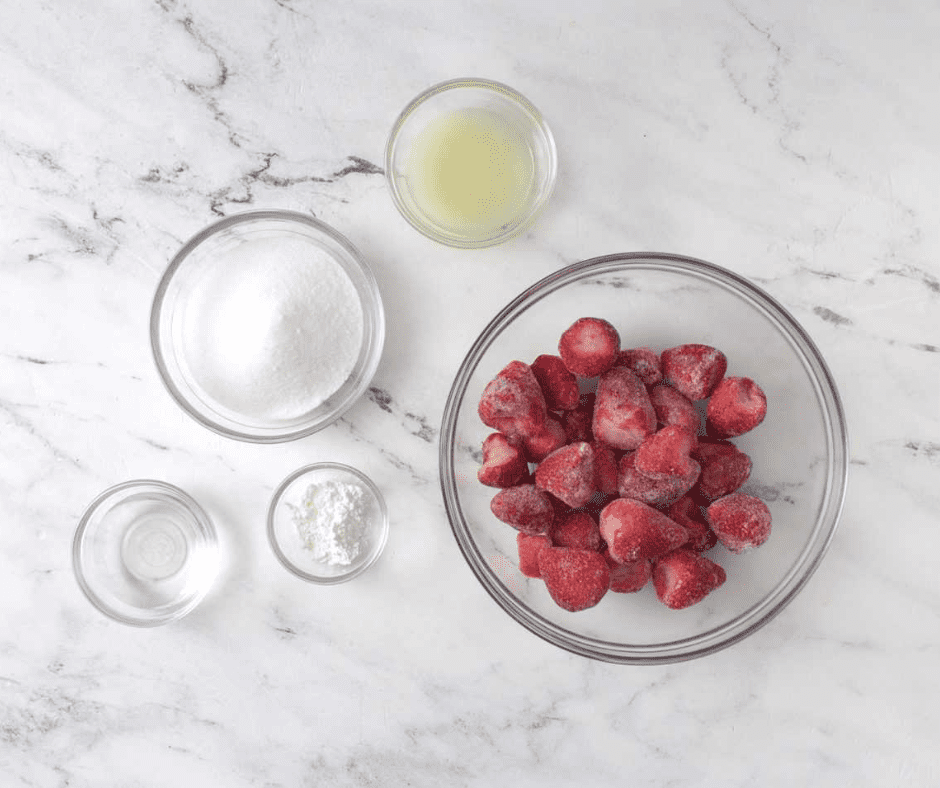 Strawberries: Use fresh or frozen strawberries:
Granulated Sugar: If you want to make a low-carb or keto-friendly jam, you can use Monkfruit Sweetener.
Lemon Juice: The lemon juice will help thicken the jam
Cornstarch Slurry: This will help thicken up your jam!
How To Make Strawberry Jam From Scratch In The Instant Pot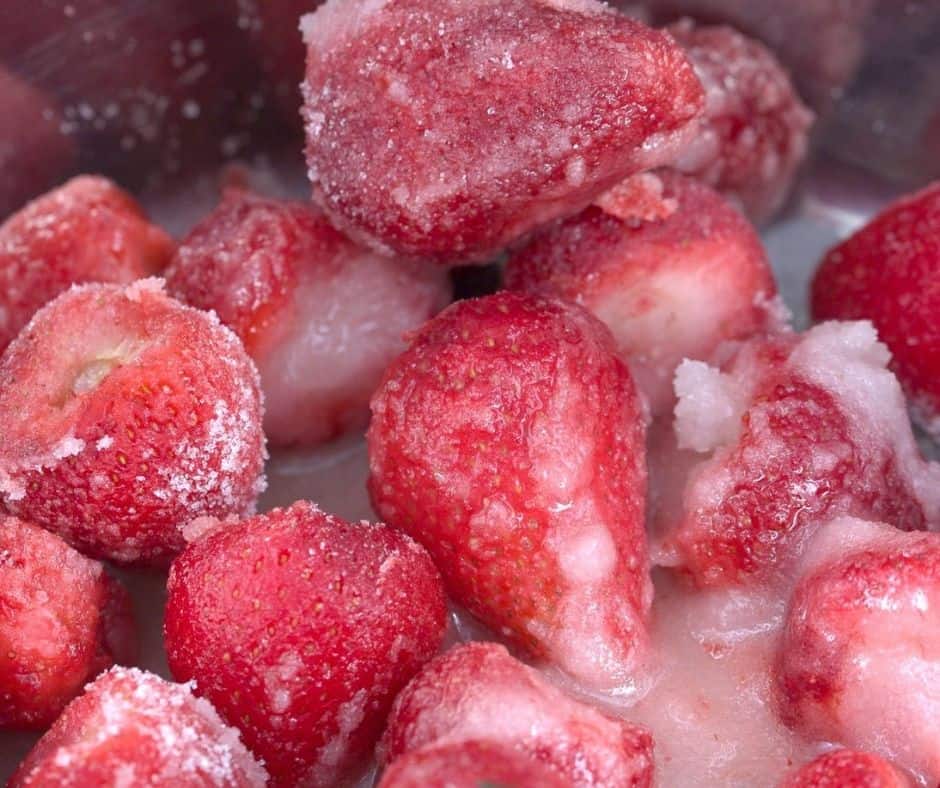 Add the strawberries (either fresh or frozen) to the Instant Pot bowl, then add the lemon and sugar, and mix well.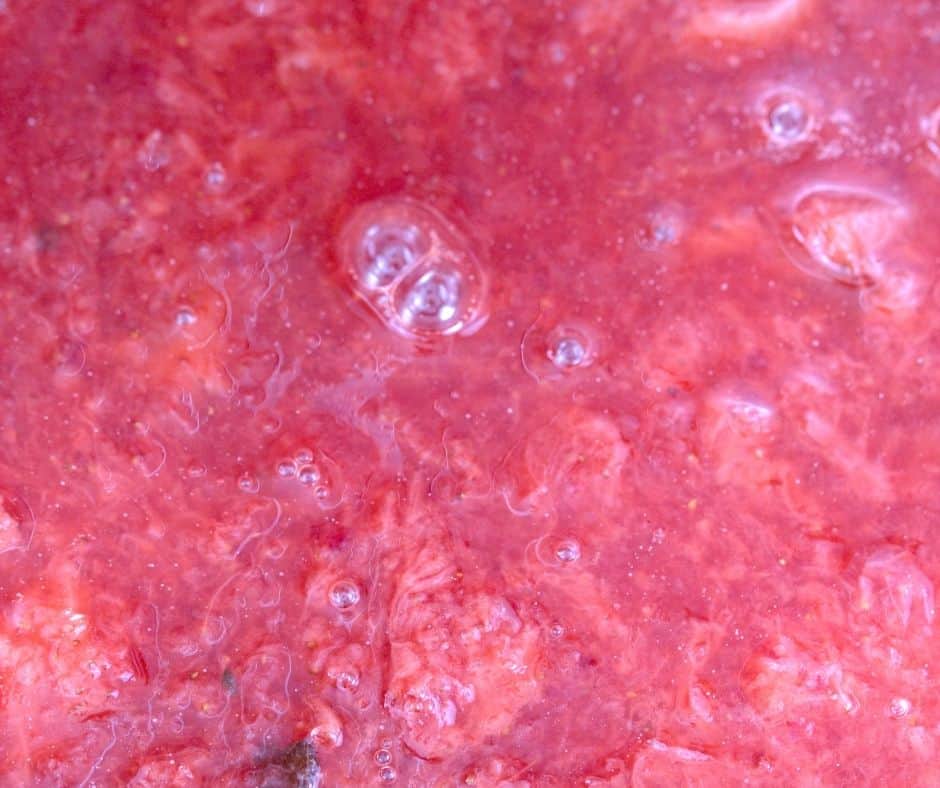 Set your manual high pressure to 3 minutes, with the vent sealed. Let it naturally release. Mix in the cornstarch and water.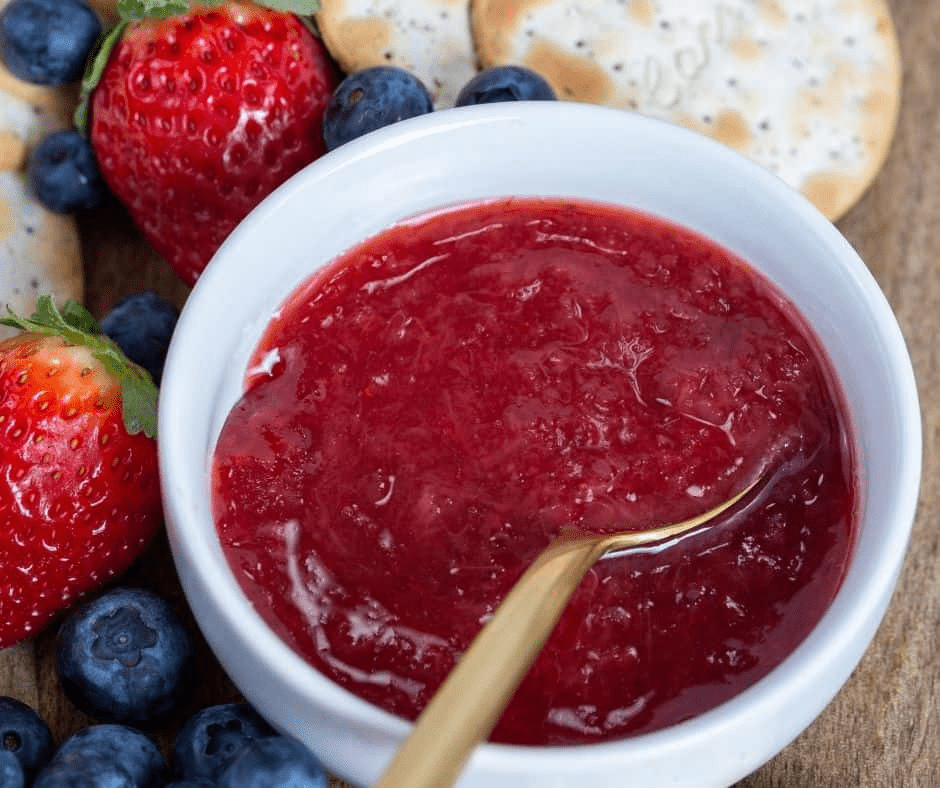 Frequently Asked Questions:
Can I Use Fresh or Frozen Strawberries?
This recipe will work with either frozen or fresh strawberries. The cooking time will stay the same.
Using Frozen Strawberries: If your frozen strawberries are whole frozen strawberries, you may have to blend at the end, but I find that if you mix it well after the strawberries are done, pressure cook. They literally melt away, so there is no need for any more mixing or using an immersion blender.
Using Other Fruits: This recipe will work the same with any berries, I have switched the strawberries out for blueberries, raspberries, and blackberries, and the recipe will be the same. One of my favorite recipes for Instant Pot Jam is actually the frozen mixed berry medley. It has a great flavor and is truly delicious.
Can I Double The Recipe?
This recipe will work perfectly with any size. I have doubled and tripled the number of berries and made a wonderful batch of jam.
The cooking time will remain the same. There is no need to increase the time; the berries will come out perfect, using the same time.
How To Make Instant Pot Strawberry Jam Sugar-Free
This is very common for anyone who reads my website and is on a diabetic diet. I have not made this recipe, but readers have told me that they have reduced the sugar and have replaced the granulated sugar with a sugar substitute.
Depending on your diet, the other option would be to substitute the sugar for honey, which is a great natural substitute.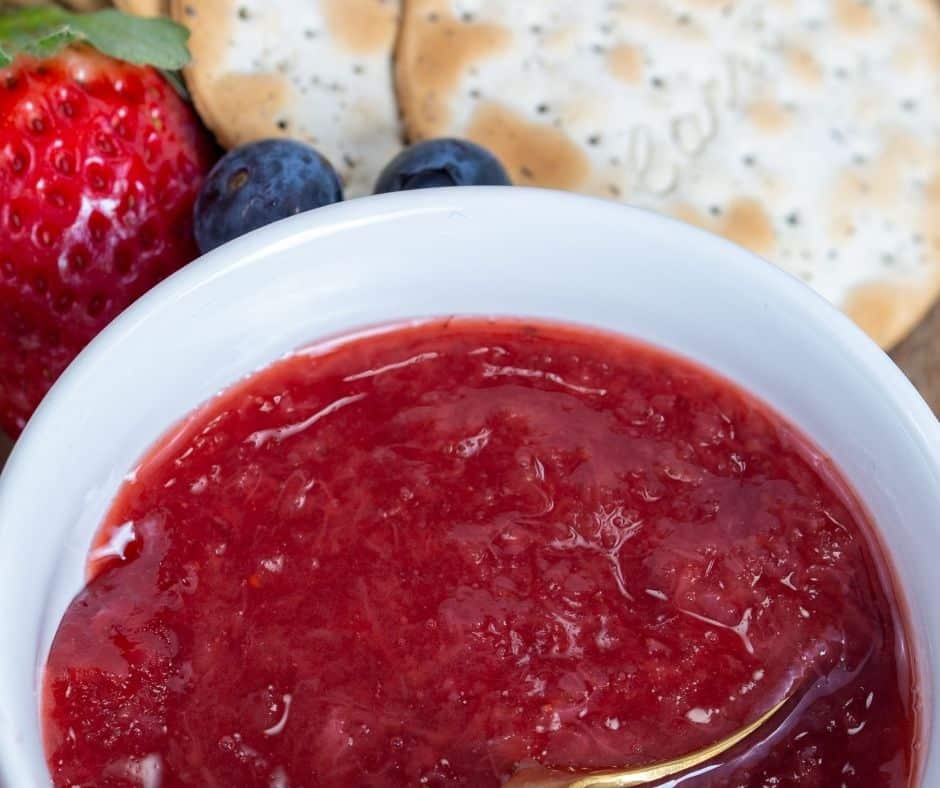 How To Can Jam Using The Instapot
Since the USDA has come out and has started the Instant Pot is not safe for home canning because this recipe is so easy to make. I usually only make a batch at a time.
If you would like to can it, I would suggest using a regular canning method, as the Instant Pot is not safe to can.
But this jam will stay perfectly fine in the refrigerator for about 2 to 3 weeks. Just keep it in a sealed jar. This jam also does amazingly well in the freezer, so make a huge batch when it's strawberry season, and it will freeze for about a year.
How To Thicken The Strawberry Jam
I wanted to point out that this jam will not be as thick as the regular jam you purchase. Since we do not use any pectin in the jam, I thickened it with a cornstarch slurry. It will harden somewhat as the jam is refrigerated.
But if you want to make it with pectin, follow the directions on the pectin label.
How To Use Strawberry Jam
Spread it over your morning toast, bagel, or English Muffin
A great ice cream topping
A great topping on pancakes, waffles
Stir it into yogurt or custard
Homemade Air Fryer Strawberry Jam Donuts
Cake Fillings or Cheesecake Topping
Don't Forget To Pin: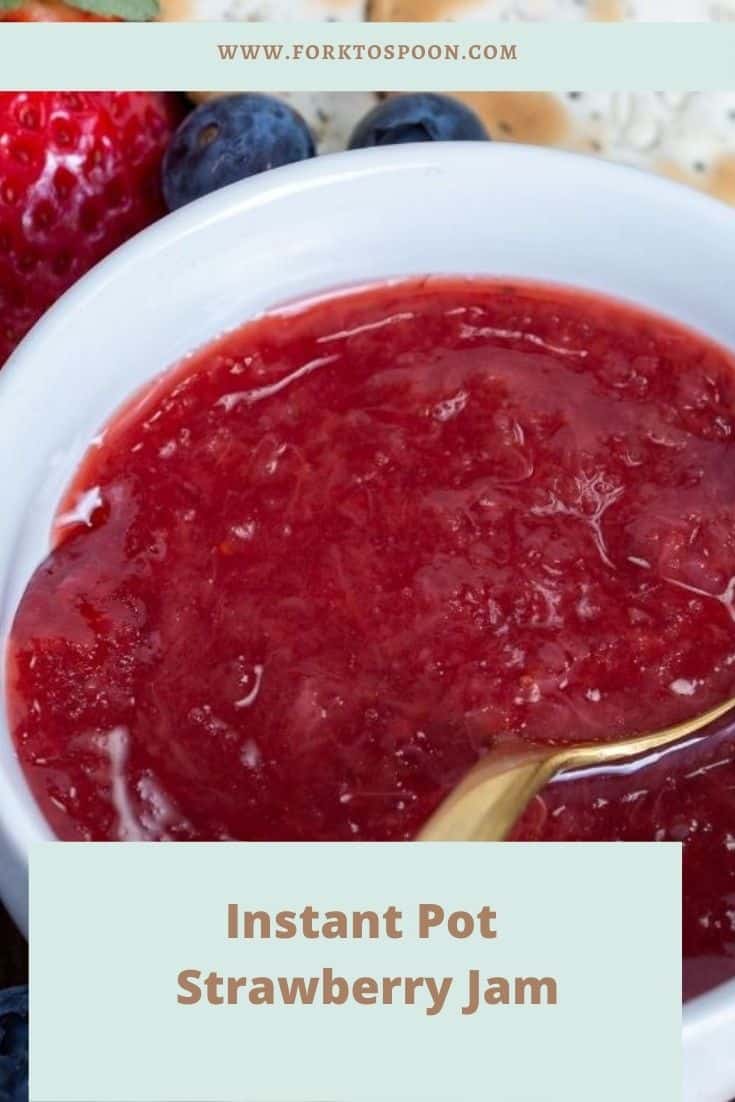 Instant Pot Strawberry Jam
Believe it or not, you can make strawberry jam in your Instant Pot! This easy recipe is perfect for cooks of all levels, and the end result is a delicious spread that you can enjoy on toast, bagels, or even straight from the jar. Ready to get started? Keep reading for all the details.
Course:
Breakfast, Brunch, Dessert
Keyword:
Instant Pot Strawberry Jam
Ingredients
3

cups

frozen strawberries

or fresh

3/4

cup

granulated sugar

2

tablespoons

lemon juice
Cornstarch Slurry:
1

tablespoon

cornstarch

1

tablespoon

water
Instructions
Add your strawberries to the Instant Pot, then add the sugar and lemon juice. Mix well.

Set your manual high pressure to 3 minutes, with the vent sealed

Let it naturally release.

Mix in the cornstarch and water.

Let sit and stir. When it cools down, pour it into an airtight container.
Recipe Video
Nutrition Facts
Instant Pot Strawberry Jam
Amount Per Serving (1 g)
Calories 1965
Calories from Fat 9
% Daily Value*
Fat 1g2%
Polyunsaturated Fat 0.01g
Sodium 3mg0%
Potassium 34mg1%
Carbohydrates 465g155%
Protein 9g18%
Vitamin A 2IU0%
Vitamin C 12mg15%
Calcium 184mg18%
Iron 3mg17%
* Percent Daily Values are based on a 2000 calorie diet.