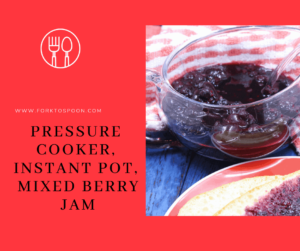 My son Jason is completely spoiled, when we were living in Vermont, I splurged and bought this really fancy breadmaker, you know, moving to Vermont, I was going to be all natural and make everything from scratch, LOL. But, I did buy this amazing breadmaker, that not only made homemade bread, cakes and bread it also did an amazing job making JAMS, yes, my breadmaker made jam.
As the appliances in our house change, I soon adapted all of my jam recipes to my Instant Pot, at first, I was not adventurous, I stayed with the strawberry, raspberry and blueberry jams, which are easy enough for anyone to make. Now, that I am more confident in using my Instant Pot (Pressure Cooker) I am branching out, especially with all of this nice produce in season.
My kids love jam on their toast, they go wonderfully on muffins and scones as well. And, believe me, if you think they are hard to make, you couldn't be more wrong. My 84 aunt, who shall remain nameless made it in about 10 minutes, she was so happy, she called to tell me. So, I hope that you will take a chance and venture out to make your own jams and jellies.  They will also help you cut down on sugar, so if you are on a diabetic or KETO diet, this is the place for you.
This recipe is so simple and easy, that you will be amazed that you haven't done this your whole life and the best part is that you don't need to watch it while it's cooking in the Instant Pot.  I am not sure about canning this, as I have never attempted, but I'm sure you can find some canning expert on this, that can help you, make sure it's safe. I know that there is an issue sometimes with sugar content and cornstarch, so be careful.
This usually makes two mason jars for me, and since we eat it through the week, it usually lasts about 2 weeks. It's really up to you. the recipe can be doubled or even tripled. I do not use pectin, as I do try to give my kids fewer chemicals, but it does come out thinner, so if you want it thicker, just add the pectin, found in your canning supply store or aisle, follow the directions on the bottle.
Kitchen Items Used:
J.A. Henckels 6-Inch High Carbon Stainless Steel Chef's Kitchen Knife
Stainless Steel Measuring Cups, 5 Piece Set
Hudson Essentials Stainless Steel Measuring Cups Set-6 Piece Stackable Set with Spout
Anchor Glass Measuring Set–This is one of the handiest tools in the Kitchen 
Italian Olive Wood Spatula (I LOVE THis for my IP)
OXO Good Grips 12 Inch Stainless-Steel Locking Tongs
Silicone Pot Holders, made just for the IP (If you don't have a pair, get a pair, because they prevent burns)
Don't Forget to Pin: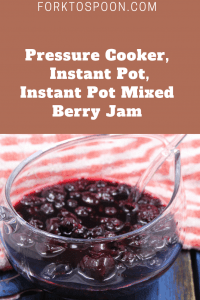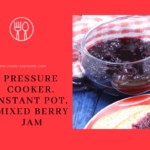 Pressure Cooker, Instant Pot, Instant Pot Mixed Berry Jam
Ingredients
32

ounces

frozen mixed berries

1

cup

sugar

2

tablespoons

lemon juice

3

tablespoons

cornstarch

1 1/2

tablespoons

water
Instructions
Start by adding the berries, sugar and lemon juice to the Instant Pot. (Don't worry about the non-liquid, remember the berries are frozen, the water will melt as the Instant Pot heats up)

Add your lid to your Instant Pot, and make sure that the vent is in the sealing position.

Set the time for 1 minute, allow for a natural release. After the time is up.

Use an immersion blender to blend the jam into a smooth consistency.

Then make the cornstarch slurry by mixing the cornstarch and water in a small cup, and then pour it in, this will help your jam firm up.

Push the saute button, and allow for the jam and the cornstarch slurry to heat up, which will help firm up your jam.