Instant Pot Homemade Ghee — The Instant Pot Homemade Ghee is a delicious, healthy cooking staple. It's also an excellent natural source of fat to use for high-temperature frying and sautéing. You'll love the flavor!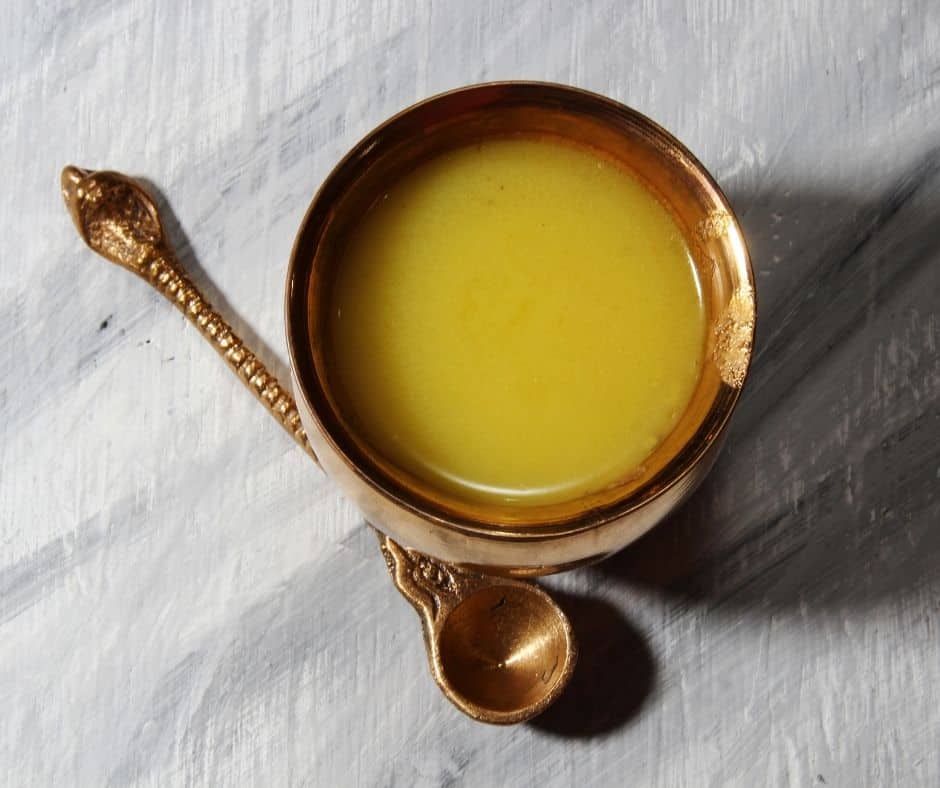 This stuff is so amazing! I went to Whole Foods over the weekend to purchase some, and it was pretty expensive. So, I came home and made my own. In less than 10 minutes, you can have a batch of Instant Pot Homemade Ghee!
This recipe is perfect if you are following a low-carb, KETO, Whole30, or Paleo lifestyle.
If you have never made ghee before, the Ninja Foodi or instant pot is the perfect place to make it!
Easy and delicious!
Then use you can use it as a butter or oil replacement. Since it has a high smoking point, you can also use it for air frying!
What Is Ghee?
Ghee is a form of clarified butter, which means that all the milk solids have been removed. It's made by simmering butter until it separates into three layers: water, milk solids, and fat. The water evaporates first, and then the milk solids sink to the bottom. Once they're skimmed off with a spoon or spatula, you're left with pure golden-yellow ghee on top, ready for use in cooking or as an ingredient in other dishes! Ghee has a higher smoke point than regular butter, so it stays clear when heated up – perfect for frying eggs without getting too browned on the outside before being cooked through on the inside! Now you know what ghee is!
Why homemade ghee?
Truthfully, it's so easy and economical to make, and this is a perfect way to make a whole batch and save a lot of money in the meantime.
Store-bought ghee can be found at Amazon, for anywhere from 15 dollars, to $25 since all you need is butter and a pressure cooker. It's too easy and cheap not to make!
Why Make Ghee In The Instant Pot?
Cooks have discovered that making ghee in the Instant Pot is a great way to get rich, buttery flavor without all of the dairy fat. Ghee is made by boiling butter until the milk solids separate and then simmering it until the water evaporates, leaving behind pure butterfat. This process can be done in about 20 minutes in the Instant Pot, compared to an hour or more on the stovetop. Plus, because the Instant Pot is a closed system, there's no need to constantly stir the ghee or watch it closely to make sure it doesn't burn. So why not give this easy cooking method a try? You might just love it!
Ingredients Needed For Instant Pot Ghee
Unsalted Butter, Kerrygold Irish Butter
How To Make Instant Pot Homemade Ghee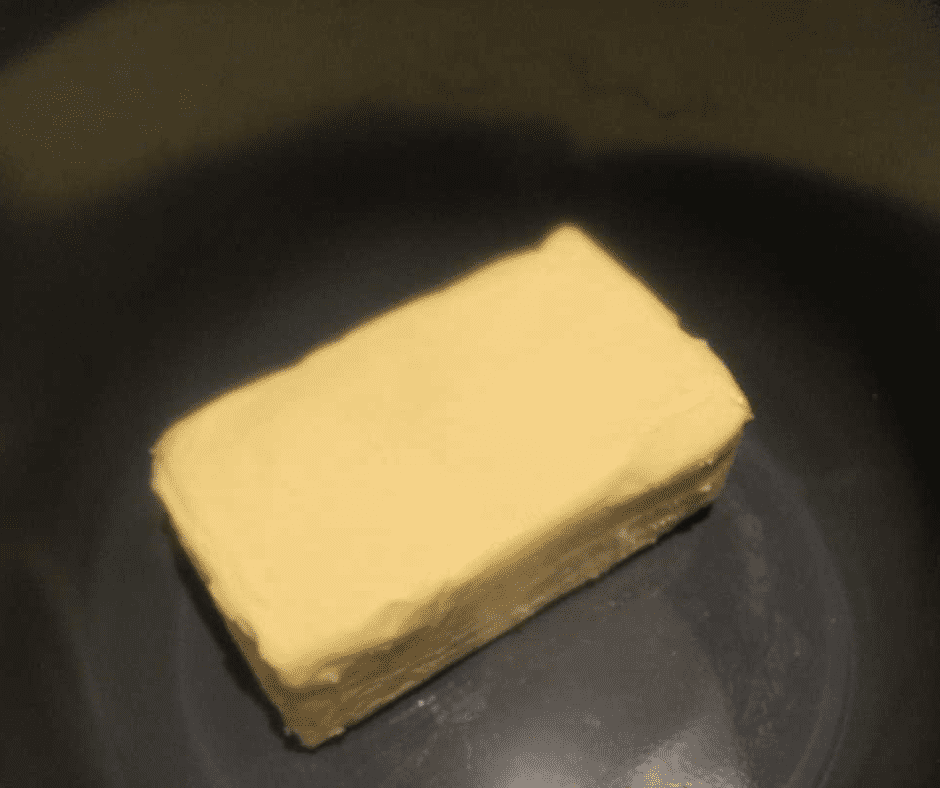 Add your butter to the Instant Pot Bowl.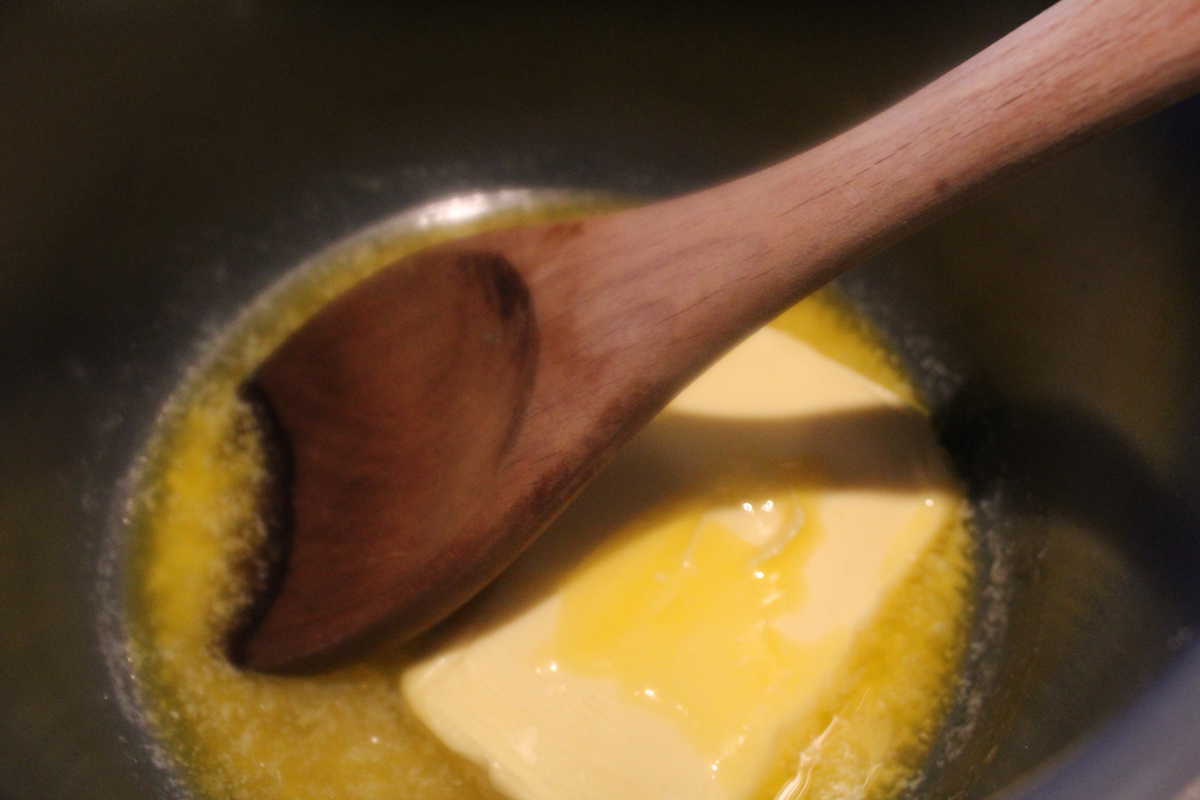 Saute the butter, and keep on stirring, it will start to froth, keep on stirring until it turns almost brown. But remember to stir. Otherwise, it will burn,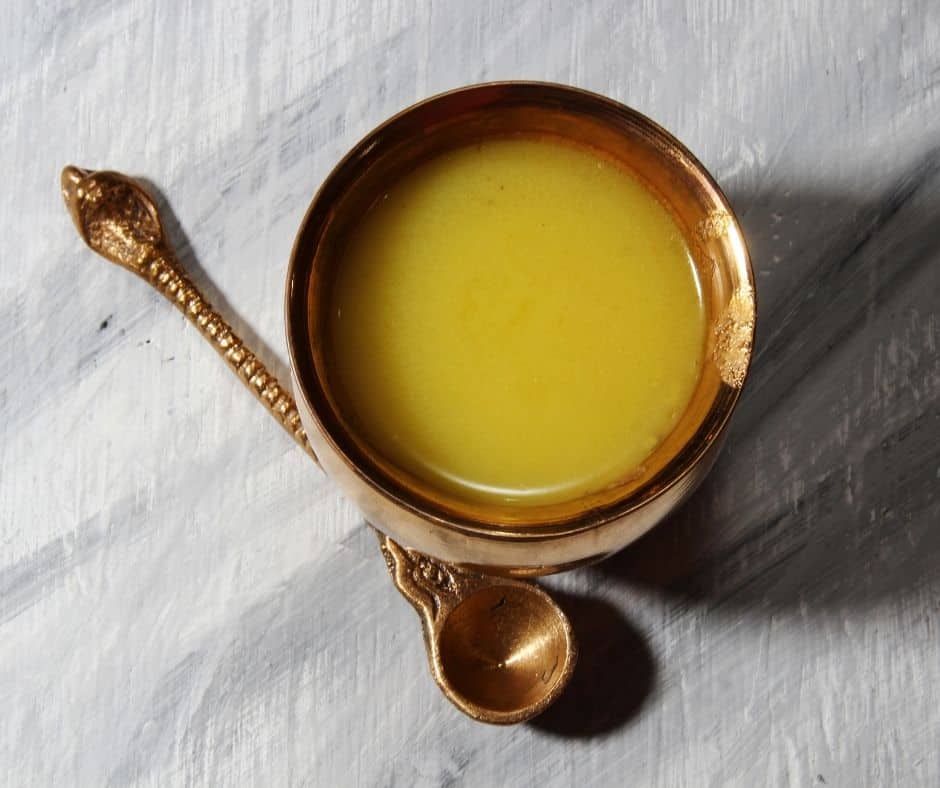 How to store homemade ghee?
Ghee can be used for all of your cooking needs and can last in an airtight container at room temperature for 4 to 6 or more without spoiling. You can also refrigerator ghee for about a year. 
Use a mason jar (clean and dry) to store your ghee. Which will make it easier to use. 
What to do with the milk solids collected in the strainer?
Discard anything left in the strainer. 
Is my ghee burnt?
Ghee can turn out looking much darker than you might expect. This is because as it cools and starts to solidify, the color will get lighter over time! So don't panic if your ghee looks dark.
MORE INSTANT POT RECIPES:
DON'T FORGET TO PIN: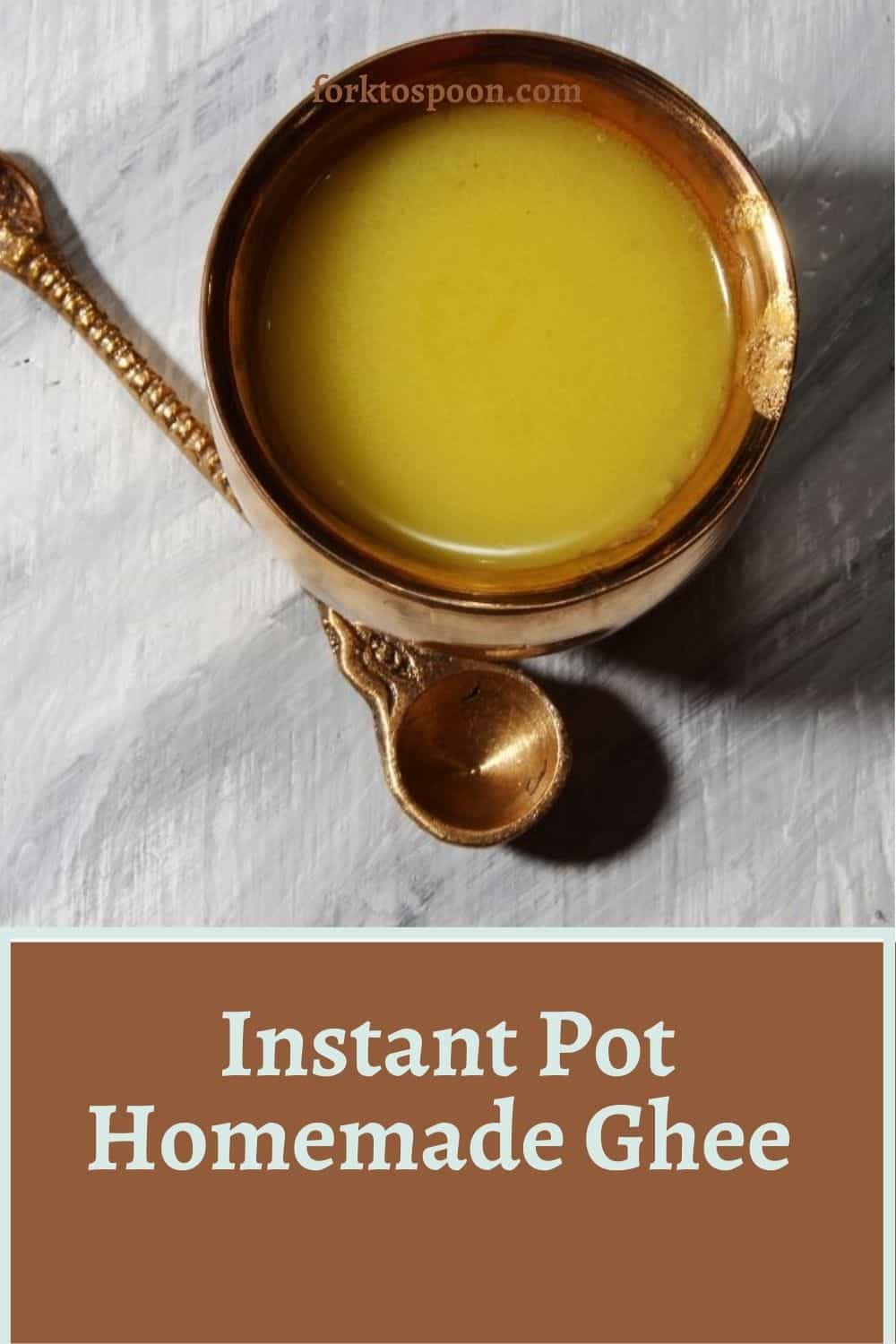 Yield: 4 Servings
Instant Pot Homemade Ghee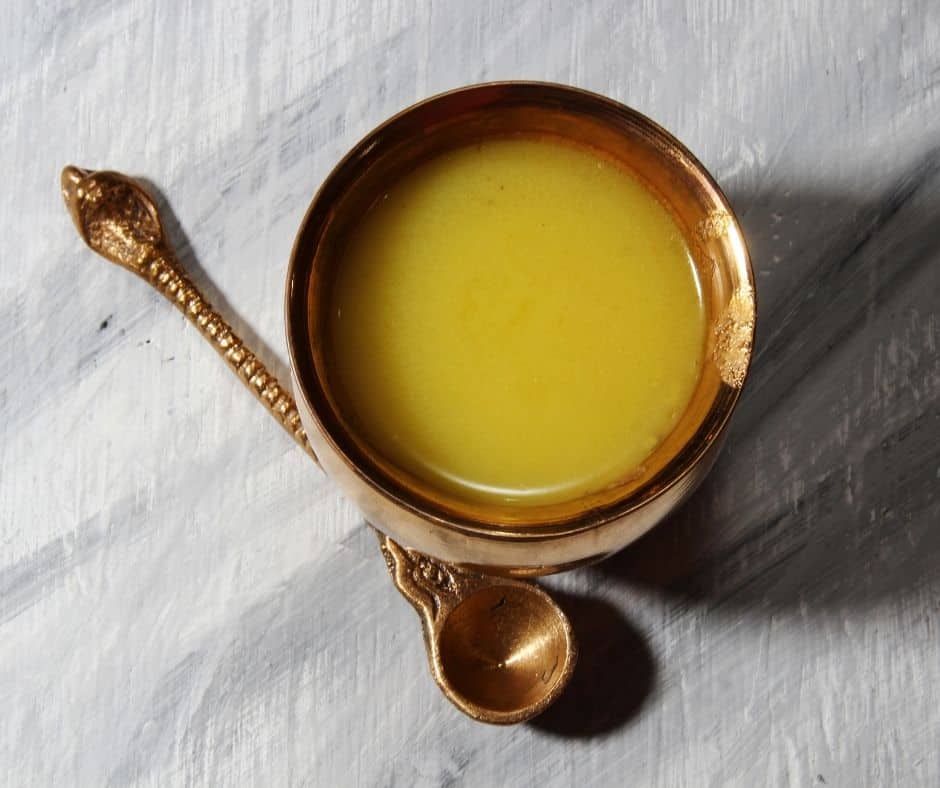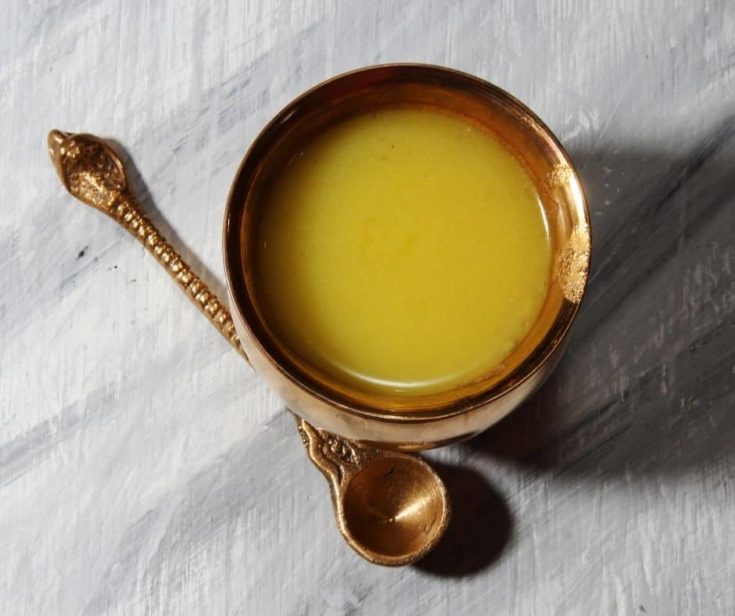 Instant Pot Homemade Ghee -- The Instant Pot Homemade Ghee is a delicious, healthy cooking staple. It's also an excellent natural source of fat to use for high-temperature frying and sautéing. You'll love the flavor!
Ingredients
1 package of Kerry Gold Butter
Instructions
Add the butter to the Instant Pot.
Then press the saute' button until it's melted, continue to saute until the liquid starts to brown, then immediately remove from heat.
Then immediately strain the ghee using a cheesecloth.
Then place it in a glass mason jar, and leave it on the counter until it cools.
Then add the lid.
You can either refrigerate this or store it in a cabinet until ready to use.
Nutrition Information:
Yield:
4
Serving Size:
1
Amount Per Serving:
Calories:

25
Total Fat:

3g
Saturated Fat:

2g
Trans Fat:

0g
Unsaturated Fat:

1g
Cholesterol:

8mg
Sodium:

23mg
Carbohydrates:

0g
Fiber:

0g
Sugar:

0g
Protein:

0g
ForkToSpoon.com occasionally offers nutritional information for recipes contained on this site. This information is provided as a courtesy and is an estimate only. This information comes from online calculators. Although we try to attempt to provide accurate nutritional information, these figures are only estimates.