Instant Pot Cream Of Butternut Squash Soup- If you have been looking for a GREAT pressure cooker recipe for butternut squash, look no further.
This will soon be one of your family's fall favorite recipes!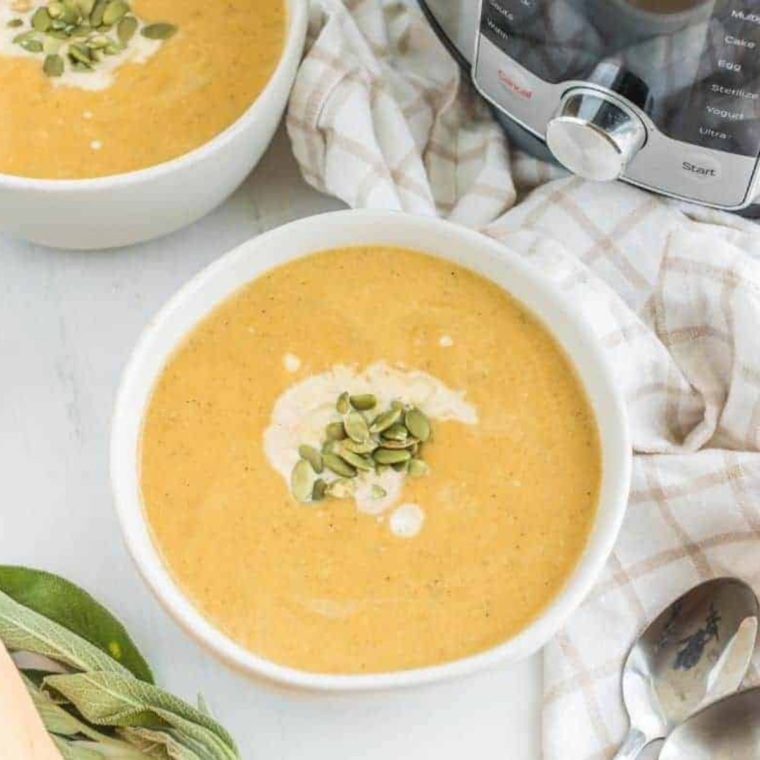 Instant Pot Cream of Butternut Squash Soup– This is a unique and flavorful soup, filled with lots and lots of flavor and healthy. It's the perfect lunch or dinner on any fall or winter day.
There is nothing like a creamy and delicious soup, especially as the weather starts to turn, and once school starts, I always think it's soup season.
Is there anything better than soup in the Instant Pot? I am spoiled. I love a great batch of soup, but I genuinely do not like standing near the pot, stirring and stirring. So, the instant Pot is so perfect for me!
If you are looking for even more Instant Pot Soup Recipes, some of my favorites are INSTANT POT BROCCOLI AND CHEDDAR CHEESE SOUP, INSTANT POT HOMEMADE TOMATO SOUP, HOW TO MAKE VEGETABLE BROTH IN THE INSTANT POT and INSTANT POT CHICKEN AND GNOCCHI SOUP (OLIVE GARDEN COPYCAT).
The Best Pressure Cooker Butternut Squash Soup Recipe
Creating the Best Pressure Cooker Butternut Squash Soup is a delightful way to enjoy a warm, comforting, and flavorful meal. Here's a recipe perfect for soup season and the ultimate comfort food that brings out the best in this autumn favorite.
This Pressure Cooker Butternut Squash Soup is easy, quick to prepare, and brimming with comforting flavors and creamy texture. It's a perfect dish for chilly evenings or a festive autumn meal. Enjoy the rich and smooth taste with each spoonful!
What Is Cream of Butternut Squash Soup?
Cream of Butternut Squash Soup is a creamy and delicious soup made with a base of butternut squash. The creamy part of the soup comes when you use an immersion blender and blend it with milk or heavy cream.
Since butternut squash is a rich and thick vegetable, it makes for a fantastic soup base when boiled down.
You can add spices, but Butternut Squash goes well with ground cinnamon, nutmeg, and ground cumin.
Why You'll Love This Instant Pot Butternut Squash Soup Recipe
Meal Prep! This is an excellent soup for soup weather, and it freezes well without much prep work!
Creamy! It's a great butternut squash soup that is so good!
Fast! With a pressure cooker, Instant Pot, or Ninja Foodi, you can make butternut squash soup in minutes!
Easy! This is one of the most easy butternut squash soup recipes!
Ingredients Needed For Instant Pot Butternut Squash Soup
​🍲🍂 Embrace fall flavors with a warm and comforting bowl of Instant Pot Butternut Squash Soup! As the leaves change color and the air gets a little crisper, there's nothing quite like this seasonal favorite's creamy, savory goodness to warm you up from the inside out.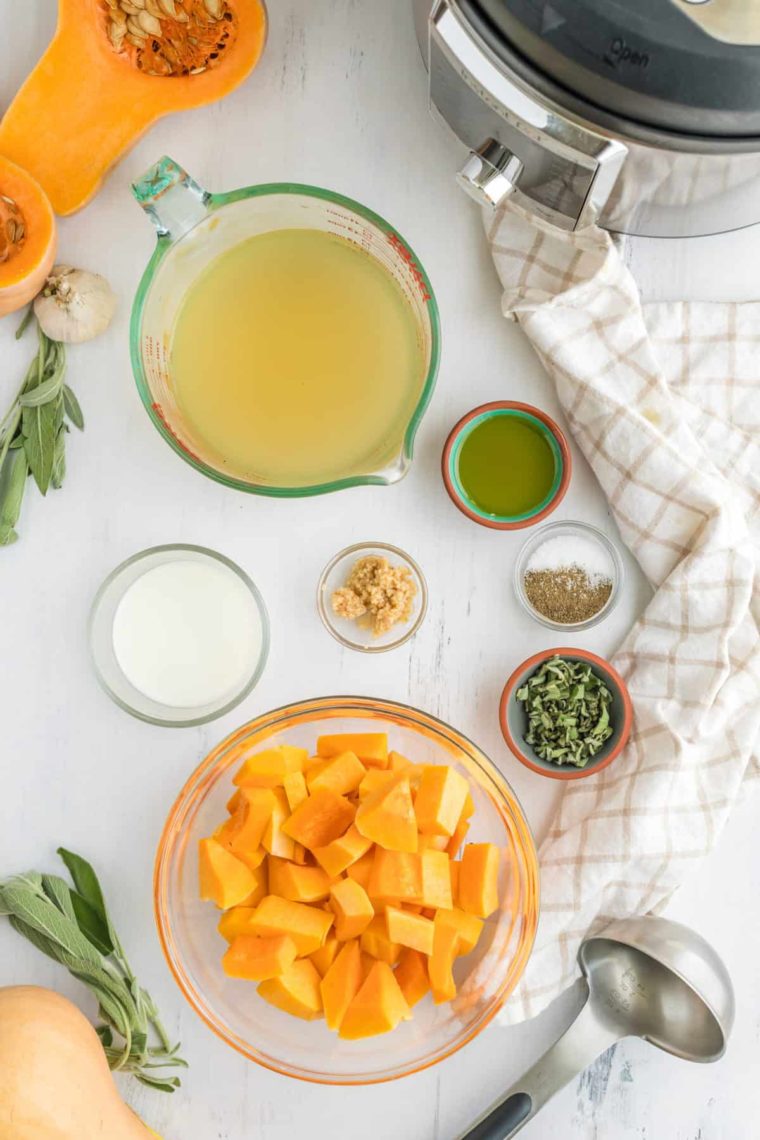 ​​Remember the step-by-step directions and detailed ingredient list are below, in the printable recipe card at the bottom of the post, as well as the nutritional information.
Butternut Squash, Peeled, Seeded, and Chopped: The dish's star, butternut squash, offers a sweet, nutty flavor and creamy texture when cooked. It's a rich source of vitamins and fiber. Check your local grocery store or Trader Joe's for pre-cut butternut squash for a perfect time-saving trick.
Olive Oil: Olive oil is used to sauté the aromatics, adding a subtle richness and helping to release their flavors.
Salt: Salt enhances the overall flavor of the soup, balancing the sweetness of the squash and bringing out the best in the other ingredients.
Black Pepper: Pepper adds mild heat and complexity, complementing the sweet and earthy notes of the squash and herbs.
Minced Garlic: Garlic lends a pungent aroma and depth of flavor, essential for creating a well-rounded, savory soup.
Minced Sage: Sage brings a warm, aromatic quality to the soup, pairing beautifully with the sweetness of the squash.
Chicken Broth or Stock: Chicken broth or stock forms the liquid base of the soup, adding richness and depth. For a vegetarian option, vegetable broth or vegetable stock can be used.
Milk: Milk adds creaminess to the soup, smoothing out the flavors and textures. For a more decadent soup, cream can be used instead.
Optional Garnishes:

Crunchy Pumpkin Seeds: These add a pleasant crunch and nutty flavor, enhancing the texture contrast in the soup.
Greek Yogurt: A dollop of Greek yogurt introduces a tangy creaminess, refreshingly contrasting the soup's sweetness.
Heavy Cream: Drizzling heavy cream adds a luxurious richness and smoothness to the soup, making it even more indulgent.
Each ingredient in this butternut squash soup is crucial in creating a harmonious blend of flavors and textures, resulting in a comforting and satisfying dish perfect for autumn.
How To Make Instant Pot Butternut Soup
​Making Butternut Squash Soup in an Instant Pot is straightforward and efficient, resulting in a delicious, comforting dish. Here's how you can make it: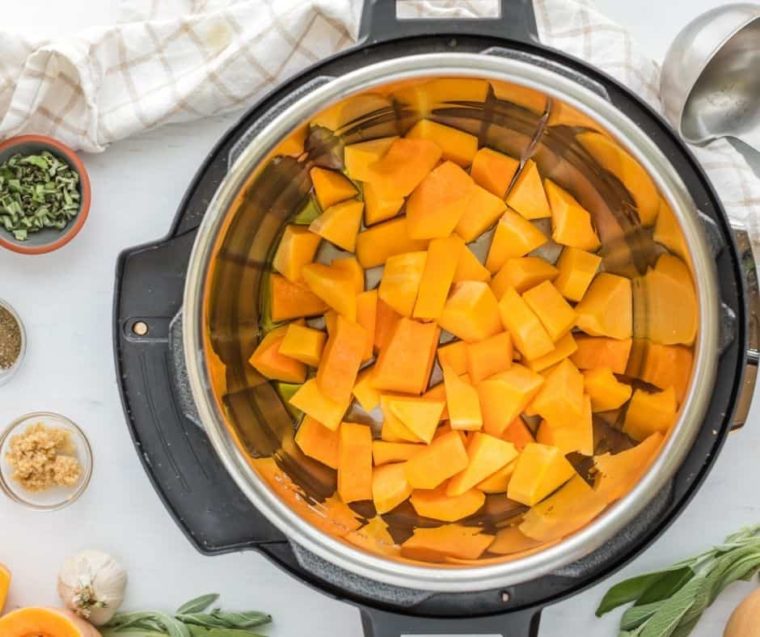 Peel the squash with a vegetable peeler, place your peeled squash onto a cutting board, and cut your whole butternut squash with a sharp knife into 1-inch pieces. Then turn on the saute function add then add your oil.
Once the oil is heated, add the cut-up (already peeled and seeded) butternut squash and saute for about 10 minutes.
Add the chicken broth, milk, and spices, and mix well. Add the lid and set the manual high pressure. Set cook time for 10 minutes; let the pressure naturally release when the time is up.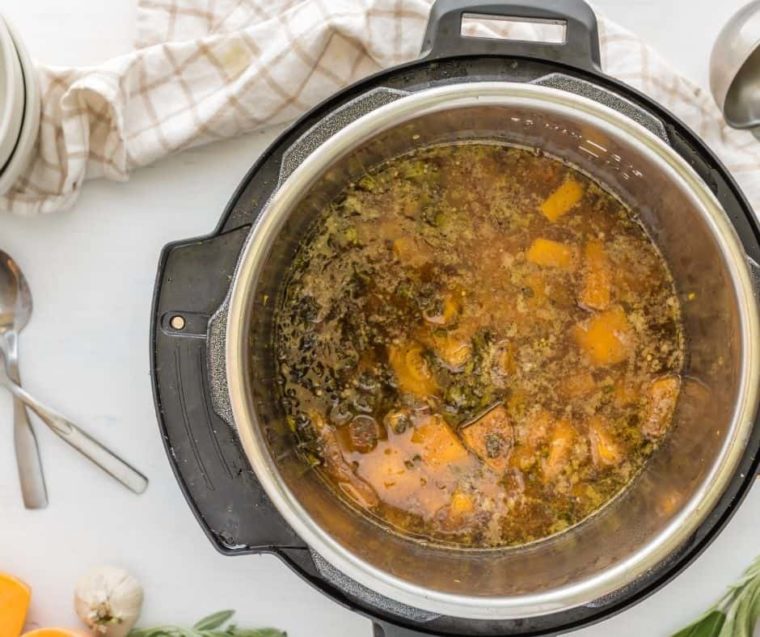 You will get squash puree When all the pressure has been released. Use an immersion or regular blender to make a smooth and creamy soup.
I garnished my soup with a fresh sage leave (incredible flavor together) and a few roasted pumpkin seeds. It's a great secret ingredient!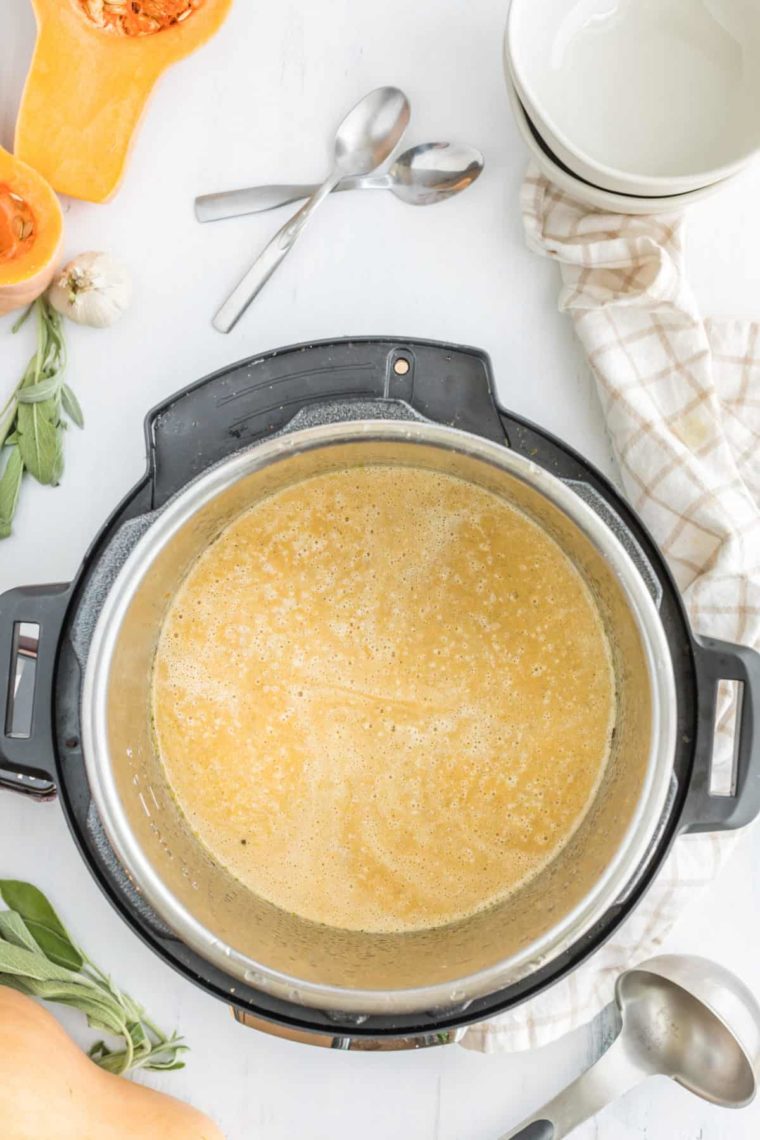 Recipe Variations
Experimenting with recipe variations can bring delightful new dimensions to your Instant Pot Cream of Butternut Squash Soup. Here are some creative ideas:
Apple and Ginger Butternut Squash Soup: Add a chopped apple and a tablespoon of grated fresh ginger for a sweet and spicy twist. The apple adds a subtle sweetness, while the ginger gives it a warming zing.
Curried Butternut Squash Soup: Stir in a tablespoon of curry powder for an Indian-inspired flavor. You can add full fat coconut milk instead of regular milk for richness and a hint of tropical flavor.
Roasted Garlic and Butternut Squash Soup: Roast a head of garlic in the oven and squeeze the soft cloves into the soup. This adds a deep, caramelized garlic flavor that pairs beautifully with the squash.
Spicy Chipotle Butternut Squash Soup: Add a minced chipotle pepper in adobo sauce for a smoky and spicy kick. This variation is excellent for those who enjoy a bit of heat.
Creamy Maple Butternut Squash Soup: Incorporate a few tablespoons of pure maple syrup for a natural, earthy sweetness. This pairs exceptionally well with the nutty flavor of the squash.
Bacon and Sage Butternut Squash Soup: Cook some bacon until crisp, crumble it, and add it to the soup with fresh sage. The bacon adds a savory, smoky flavor that complements the soup's creaminess.
Thai-Style Butternut Squash Soup: Add lemongrass, ginger, and a splash of lime juice for a Thai-inspired version. Finish the soup with coconut milk for creaminess and a handful of cilantro for freshness.
Butternut Squash and Carrot Soup: Mix in chopped carrots with the squash for an extra dose of sweetness and a vibrant color. Blend in some cream cheese, and add additional salt for added flavor.
Parmesan and Thyme Butternut Squash Soup: Stir in grated Parmesan cheese and fresh thyme leaves for a rich and herby flavor profile.
Vegan Butternut Squash Soup: Use vegetable broth instead of chicken broth and swap the milk for a plant-based alternative. Add nutritional yeast for a cheesy flavor without the dairy.
Each of these variations adds a unique twist to the classic Cream of Butternut Squash Soup, allowing you to experiment with flavors and textures to suit your palate.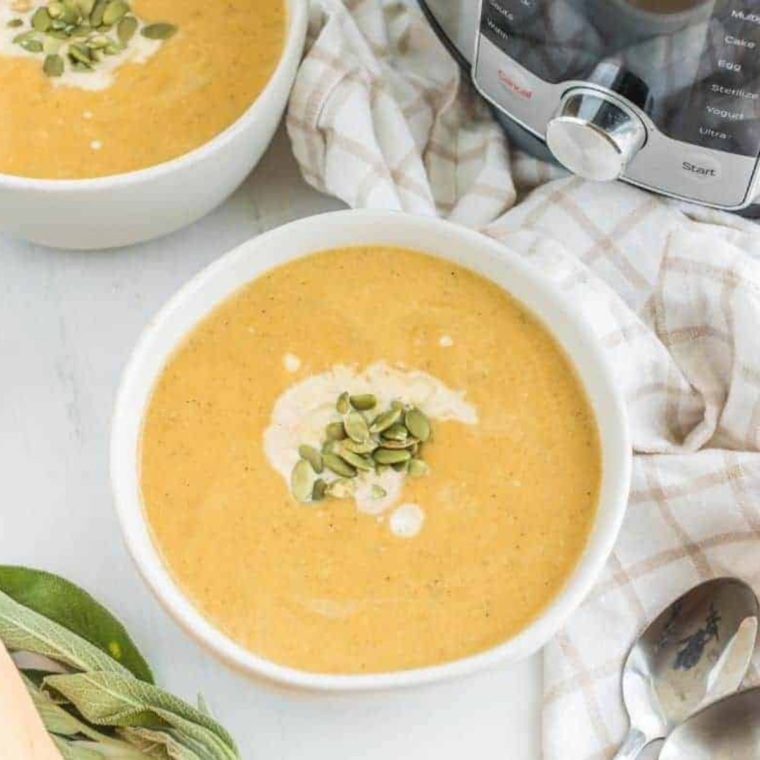 Pro tips for delicious creamy instant pot butternut squash soup​
Creating a delicious Instant Pot Cream of Butternut Squash Soup is enjoyable and rewarding. Here are some pro tips to elevate your soup:
Roasting the Squash: For an added depth of flavor, consider roasting the butternut squash before adding it to the Instant Pot. Roasting caramelizes the natural sugars in the squash, enhancing its sweetness and flavor.
Sautéing Aromatics: Begin by sautéing onions or leeks, garlic, and any other aromatics in the Instant Pot on the sauté setting before adding the squash. This step builds a flavor foundation for the soup.
Use Good Quality Broth: The broth significantly influences the soup's flavor. Use a high-quality chicken or vegetable broth. Homemade broth, if available, can elevate the taste.
Layering Flavors: Don't shy away from herbs and spices. Sage, thyme, nutmeg, and cinnamon all complement butternut squash beautifully.
Creaminess without Cream: For a lighter version, you can achieve creaminess without heavy cream. Blending in a boiled potato or using coconut milk are great alternatives.
Natural Pressure Release: Allow the Instant Pot to release pressure naturally after cooking. This ensures the squash is thoroughly cooked and flavors are well-infused. A quick release will not allow all of the flavors to blend.
Blending to Perfection: Use an immersion blender for ease and convenience. It allows you to blend the soup directly in the pot to your desired consistency, smooth or slightly chunky.
Adjust Consistency: If the soup is too thick, add more broth to thin it to your liking. If it's too thin, let it simmer on the sauté setting to reduce and thicken.
Season at the End: Adjust the seasoning with salt and pepper after blending. Sometimes, the flavors concentrate during cooking and blending, so it's best to do a final taste test and adjust.
Garnishes Matter: Garnishes can add texture and enhance flavor. Consider toppings like roasted pumpkin seeds, a swirl of cream, fresh herbs, or croutons.
Storing and Reheating: This soup stores well in the fridge and tastes even better the next day as the flavors meld. Reheat gently, adding a bit of broth if the soup has thickened in the fridge.
Experiment with Flavors: Don't be afraid to experiment with different ingredients and spices. Adding apples, pears, or ginger can introduce new flavor profiles to the soup.
These tips will help you craft a Butternut Squash Soup that's delicious and comforting and showcases your culinary skills with the Instant Pot.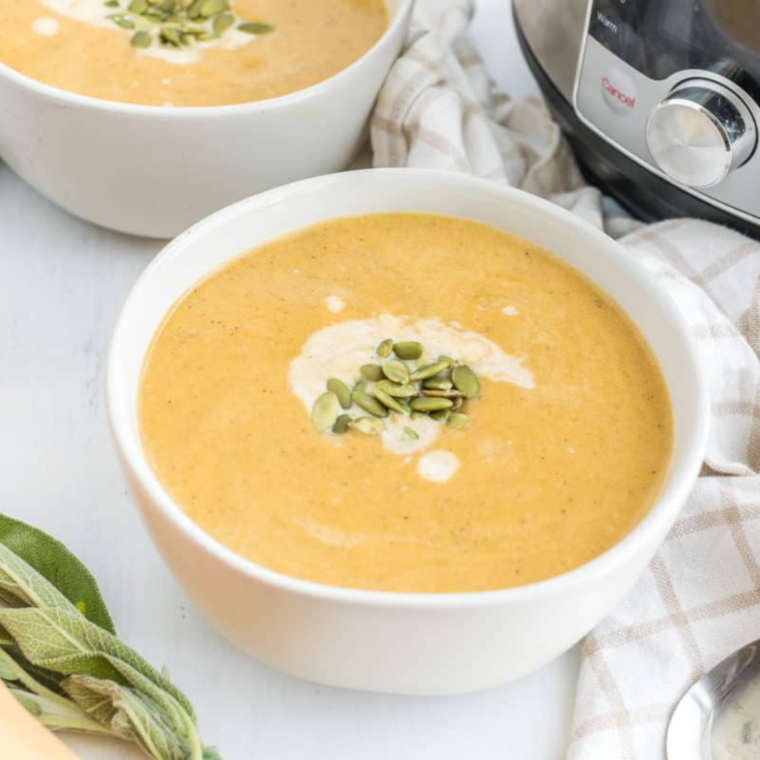 Faq's
Can I use frozen butternut squash? Frozen butternut squash can be used and shouldn't be thawed first. It may require a slight adjustment in cooking time, but the Instant Pot is quite forgiving in this aspect.
How can I make the soup creamier? Add heavy cream, coconut milk, or a boiled and blended potato to the soup for a creamier texture. Blending the soup thoroughly also contributes to a creamier consistency.
What if I don't have an immersion blender? If you don't have an immersion blender, you can carefully transfer the soup to a stand mixer or regular blender. Make sure to blend in batches and not fill the blender too full to avoid spills or burns.
Can I make this soup vegan? Absolutely. Use vegetable broth and a plant-based milk or cream substitute instead of chicken broth. Also, ensure any toppings like cream or yogurt are plant-based.
How do I store and reheat leftovers? Store leftover soup in an airtight container in the refrigerator for up to 3-4 days. Reheat on the stovetop or microwave, adding a little broth or water if the soup has thickened.
Can I freeze this soup? Yes, this soup freezes well. Cool it completely and store it in freezer-safe containers. It can be frozen for up to 3 months. Thaw in the refrigerator before reheating.
What spices go well with butternut squash soup? Classic spices include nutmeg, cinnamon, cumin, and sage. They all complement the natural sweetness of the squash.
How can I thicken the soup if it's too thin? If the soup is too thin, simmer it on the sauté setting in the Instant Pot for a few minutes to reduce and thicken.
Can I add other vegetables to this soup? Yes, carrots, sweet potatoes, and apples are great additions that blend well with the flavor profile of butternut squash.
Is it necessary to peel the squash? Yes, peeling the squash is recommended, as the skin can be tough and doesn't blend smoothly.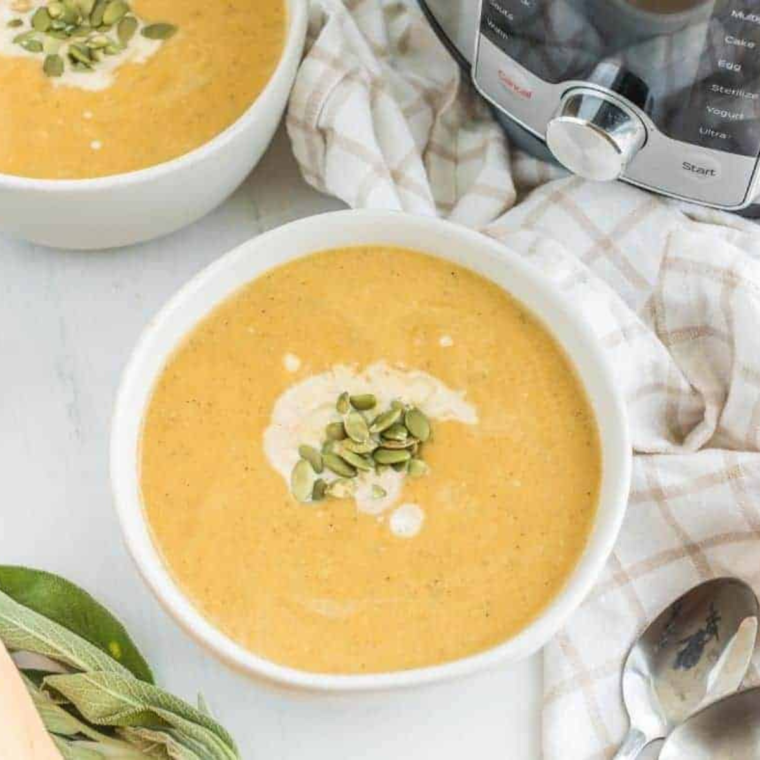 More Instant Pot Recipes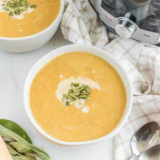 Instant Pot Cream of Butternut Squash Soup
Description
Instant Pot Cream of Butternut Squash Soup– This is an amazing and flavorful soup, filled with lots and lots of flavor, and it's healthy. It's the perfect lunch or dinner on any fall or winter day.
Ingredients
1

large

butternut squash

,

peeled, seeded, and chopped

2

tablespoons

olive oil

1

teaspoon

Kosher salt

1

teaspoon

black pepper

2

teaspoons

garlic

,

minced

1

tablespoon

sage

,

minced

2

cups

chicken broth

,

or chicken stock

1/4

cup

whole milk

,

or heavy cream
Optional: Garnish with pumpkin seeds, Greek yogurt, heavy cream
Instructions
Start by adding your olive oil to your Instant Pot, then press the saute button.

When the oil is hot, add your butternut squash, and saute it until it's golden brown, t) for about 4 to 7 minutes.

Then add the chicken broth, spices, and milk, mix well.

Set the manual high pressure for 15 minutes.

When the timer is up, let it naturally release.

When all of the pressure has been released, you will get squash puree. Use an immersion blender to make it a very smooth soup.

Ladle into bowls.

Plate, serve, and enjoy!
Equipment
Instant Pot Pressure Cooker,

or Ninja Foodi Pressure Cooker
Nutrition
Serving:
1
Serving
Calories:
112
kcal
Carbohydrates:
16
g
Protein:
2
g
Fat:
5
g
Saturated Fat:
1
g
Polyunsaturated Fat:
1
g
Monounsaturated Fat:
4
g
Cholesterol:
3
mg
Sodium:
687
mg
Potassium:
482
mg
Fiber:
3
g
Sugar:
4
g
Vitamin A:
13307
IU
Vitamin C:
27
mg
Calcium:
86
mg
Iron:
1
mg