Air Fryer Copycat Burger Recipes — Making burgers at home is always a favorite, but the mess and extra time it usually takes can be overwhelming. Luckily, air fryers are here to make Gourmet-style burgers come much faster with minimal mess!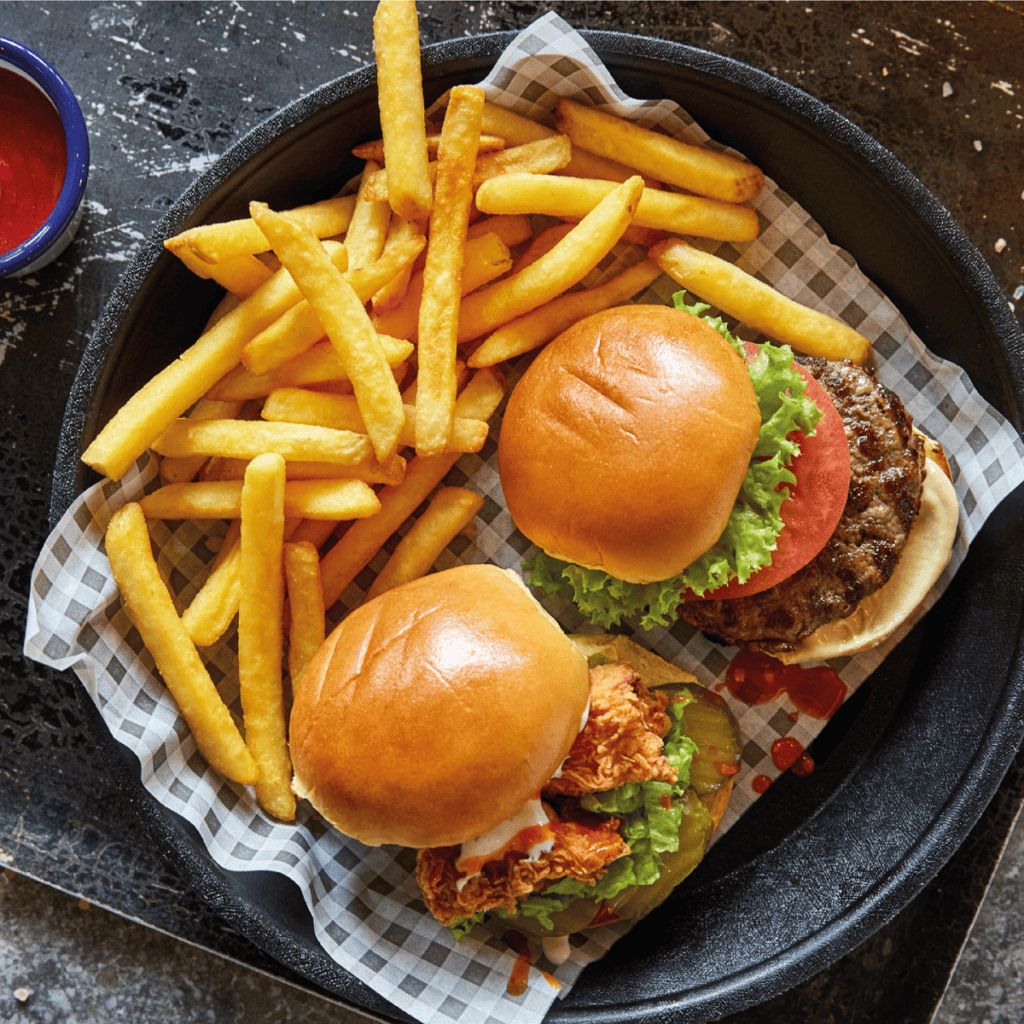 Below, will show how easy it is to create air fryer copycat burger recipes that taste just like popular restaurant favorites. So, look no further if you're looking for something that tastes like In-N-Out Double-Double or a Big Mac! With these simple steps, you'll have delicious gourmet burgers without ever having to leave the house.
🍔 Craving the Perfect Burger? Try These Copycat Burger Recipes in the Air Fryer!
Get ready to take your burger game to new heights with these incredible copycat burger recipes cooked to perfection in the air fryer. With a juicy burger, mouthwatering toppings, and irresistible flavors, these burgers will transport you to your favorite burger joint right in the comfort of your home.
Imagine sinking your teeth into a tender and flavorful burger topped with melted cheese, crispy bacon, fresh lettuce, and tangy sauce—all prepared with a healthier twist using the air fryer. The air fryer's innovative cooking technology ensures that your burgers come out perfectly cooked, with a deliciously crispy exterior and juicy interior.
Whether you're a fan of classic fast-food burgers or crave gourmet creations, these copycat burger recipes will satisfy your taste buds. From iconic favorites like the Big Mac, a Chicken Burger From Chick-Fil-A, or a double burger from McDonald's, to specialty burgers found at popular restaurants, you'll find various options to recreate in your kitchen.
The beauty of these air fryer copycat burger recipes is their incredible taste and convenience. The air fryer provides a quick and efficient way to cook your burgers, requiring less oil and producing less mess than traditional frying methods.
So, fire up your air fryer, gather your ingredients, and get ready to enjoy restaurant-quality burgers without ever leaving your home. From the perfectly seasoned patties to the mouthwatering toppings, these copycat burger recipes will have you savoring every bite. Get creative with your favorite condiments, cheeses, and toppings to customize your burgers just how you like them.
Stay tuned for the recipes and prepare to embark on a burger adventure like no other. Get ready to impress your friends and family with these mouthwatering copycat burgers cooked to perfection in the air fryer. Let the aroma of sizzling patties fill your kitchen, and get ready for a burger experience you won't soon forget! 🍔🔥✨
The Best Air Fryer Copycat Burger Recipes
Air Fryer Zucchini Burgers: If you love an easy weeknight dinner and a great veggie burger, this recipe is for you! Looking for a healthier alternative to the traditional beef burger? These air fryer zucchini burgers are perfect for you! This is an excellent alternative to a classic hamburger made with fresh ingredients.
​Premade Hamburger Patties In Air Fryer: A smile recipe, and you only need to pick up these premade burgers from your local grocery store. Easy and delicious, serve wtih your favorite toppings, and top of each patty with a slice of cheese!
​Air Fryer Taco Burgers: If you love the ultimate burger, this is a traditional twist from a west coaster! Transfer your hamburger buns into a simple recipe with ground beef and a large skillet! This is an excellent alternative to traditional ground beef patties. Drizzle with some of my special sauce!
​Air Fryer Bison Burger: Are you searching for a healthier and tasty alternative to beef burgers? Look no further than air fryer bison burgers! Made with lean, grass-fed ground bison, these flavorful patties are packed with protein and lower in calories and fat. You'll be surprised by how juicy and delicious they can be when cooked in an air fryer! Read on for instructions and tips on how to master the perfect crispy and flavor-filled bison burger – from texture to toppings.
Air Fryer Oktoberfest Burger — Looking for a delicious way to celebrate Oktoberfest? Check out this air fryer Oktoberfest burger! It's made with ground sirloin, onion, and special seasonings, then topped with Swiss cheese and sauerkraut. Plus, it's cooked in just minutes using your air fryer. So easy and tasty!
​Looking for a delicious and easy-to-follow way to cook Frozen Bubba Burgers In Air Fryer? Well, you've come to the right place! Today we will show you how to make these delicious burgers in your air fryer. They turn out perfectly cooked every time, and they're so good that you'll never want to eat a regular burger again. Let's get started!
​Do you love black bean burgers but hate the hassle of making them? Well, your days of waiting for a Black Bean Burger to hit your local restaurant's menu are over! You can easily make this delicious and nutritious vegan burger at home with an air fryer. Plus, it's freezer-friendly, so you can always have one on hand when the mood strikes. Ready to get started? Let's go!
​Do you love Smashburgers? They are one of my favorite fast-food burgers. Something about that perfectly cooked beef patty, topped with mushrooms, Swiss cheese, and delicious truffle mayonnaise, makes my mouth water. In this blog post, I will show you how to use an air fryer to make your own Smashburger-style burger at home. You will not believe how easy it is! Let's get started!
​Nothing is better than an air-fried burger; today, I made a simple Air Fryer Mushroom and Swiss Burger. Absolutely delish and a family favorite.
​Air Fryer Portobello Mushroom Burgers — If you're looking for a healthy alternative to the traditional burger, look no further than these Air Fryer Portobello Mushroom Burgers. These burgers are simple and easy to make and only take 15 minutes! With just a few ingredients, you can have delicious vegetarian burgers that taste like they came from your favorite restaurant. Make sure to follow the steps closely so that your mushrooms come out crispy on the outside but tender on the inside!
Today, lunch for my kids was Air Fryer Bourbon BBQ Burgers, so good and easy with the air fryer's help.