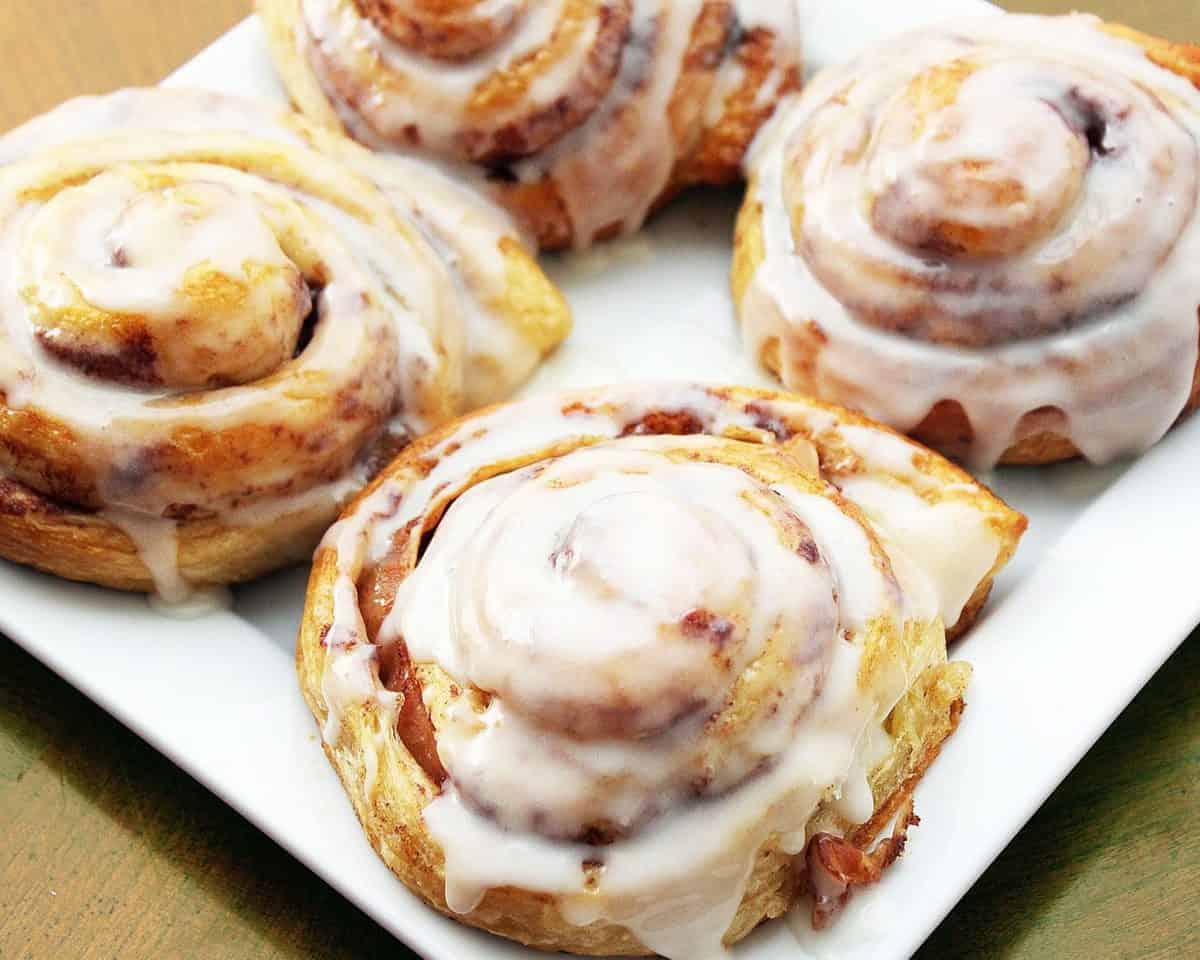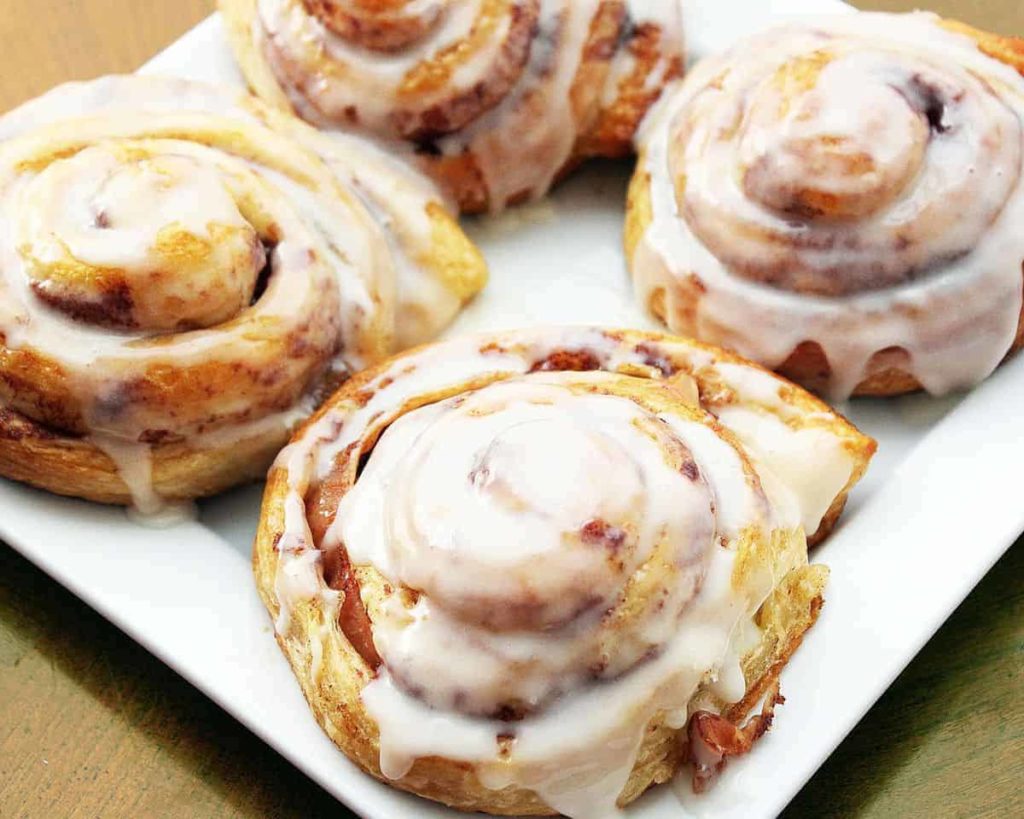 Air Fryer Cinnamon Rolls are an easy and delicious way to jumpstart the morning. You take store-bought cinnamon rolls and cook them in your air fryer! No need to turn the oven on and heat your home. Your air fryer will transform your breakfast in a tasty way.
This was my first recipe in my air fryer. It was such an important part of my air fryer journey; I included it in my cookbook. Why do you ask? Why would anyone include it? I mean, it's just canned cinnamon rolls.
No, that's not the point. The point is that EVERYONE can start with it, it's relatively inexpensive, and usually, everyone loves them. Today, I am sharing with you some hints for my Air Fryer, Pillsbury Cinnamon Rolls.
Air Fryer Cinnamon Rolls
Everyone has eaten these, and you all know that it comes in a tube. At the end of the tube, there is a frosting, today I took lots of pictures, and I wanted to share them with you because I honestly believe that if you can do this recipe, you can make ANYTHING in the air fryer, so let's start with Air Fryer Cinnamon Rolls.
Ingredients–
Tube of cinnamon rolls
DIRECTIONS FOR AIR FRYER CINNAMON ROLLS
Start by removing the cinnamon rolls from the package. Then set them in an air fryer basket that has been sprayed with olive oil. Now, set the temperature for 4 minutes at 330 degrees F. (Note: Mine were done, but depending on the air fryer, you will need 1-2 minutes more. So, open your air fryer, are they done? Take them out (carefully, remember they are hot) if they are not baked, add a minute)
Depending on which air fryer you own, you may have to flip them. See the basket; my air fryer has holes, which means the airflow from underneath, meaning there is no flipping required.
But I want you to master this recipe because it does two things for you, It teaches you how to use the air fryer, and two once you figure out how to make them, you will have the confidence to move to something harder… Of course, I iced them; my kids love all things sweet.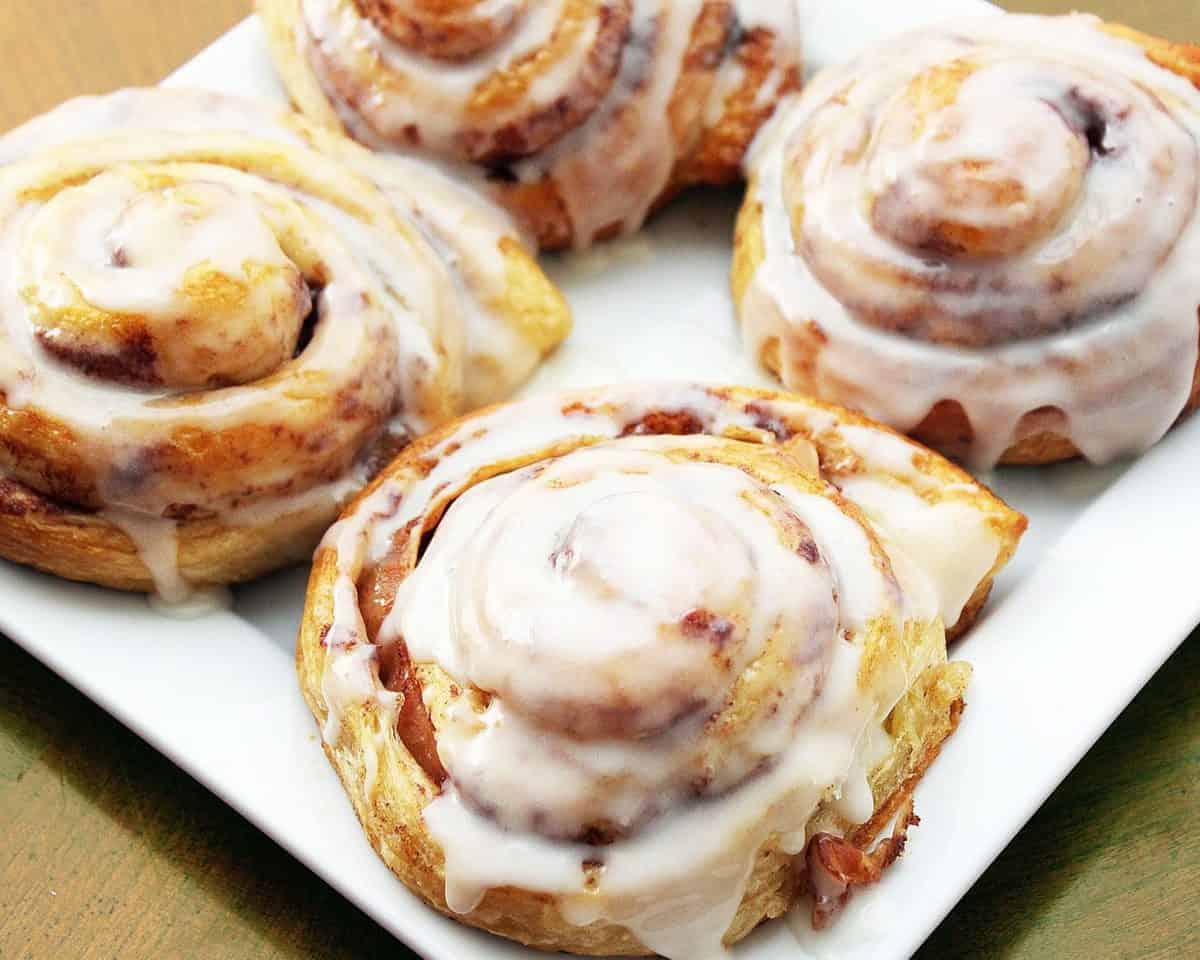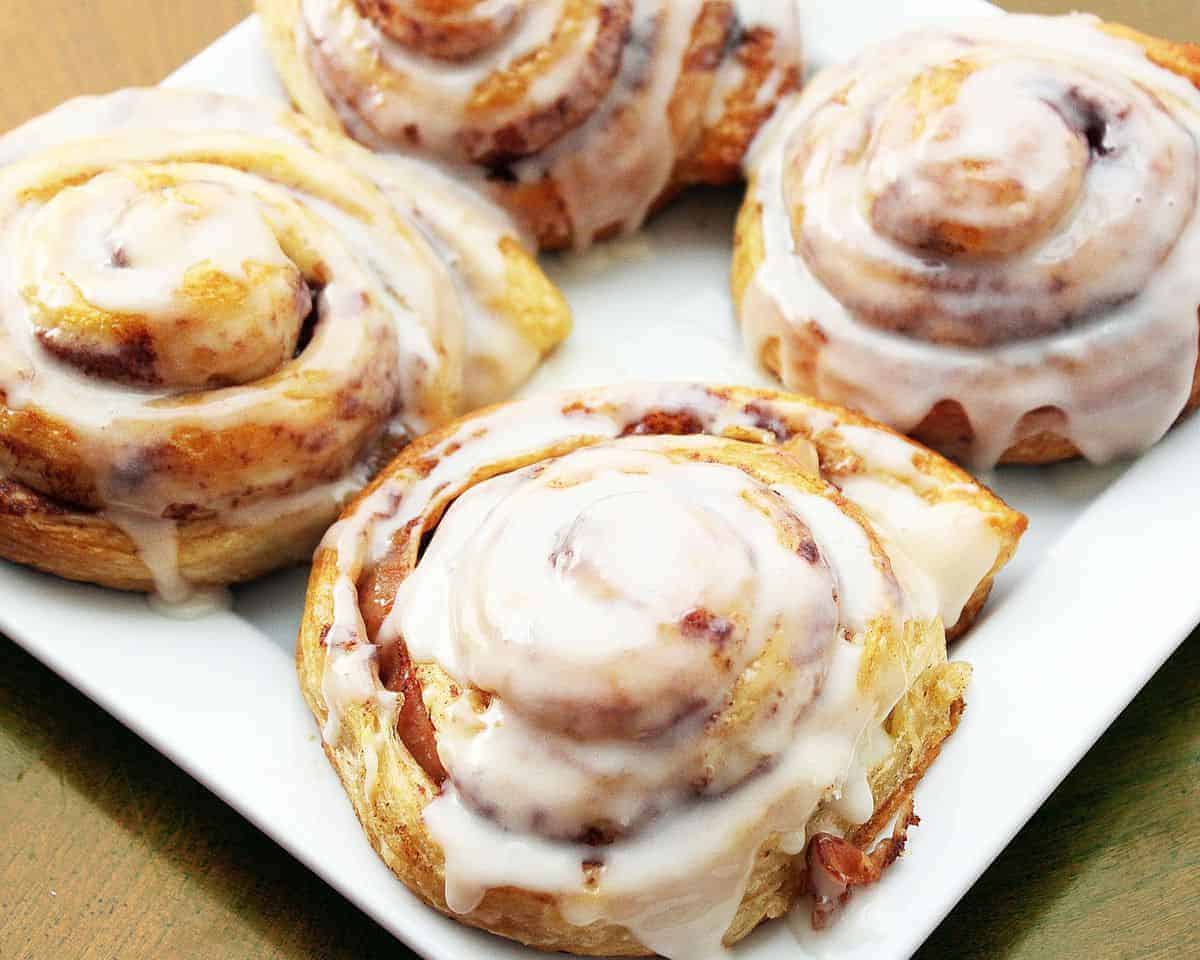 Common Questions When Making Air Fryer Cinnamon Rolls
Best Brand of Cinnamon Rolls to Buy?
Honestly, you are more than welcome to buy any brand of cinnamon rolls you enjoy. You will need to watch the rolls as they cook, as different brands will adjust how fast or slow they cook.
Most are very similar in cooking time, but you always want to watch, so you don't burn your rolls.
Why Make Them In Air Fryer Vs. The Oven?
You might be thinking why to e cinnamon rolls in an air fryer instead of the oven. Cooking your rolls in the air fryer allows a faster cook time with no preheating of the oven. Just place the rolls in, and cook. No waiting 10 minutes for the oven to reach the proper internal temperature.
Can I Use Aluminum foil in the air fryer?
Aluminum foil can be used in the air fryer. The biggest thing is if you put it on the tray or basket, you have to make holes, so the air circulates. If you black the holes, it will not cook the way you need it to.
You can place aluminum on the bottom of your air fryer to catch any drippings if you want. This will make for easier cleanup.
Storing Leftover Cinnamon Rolls
If you have leftover cinnamon rolls, you can store them in an airtight container and place them in the fridge or at room temperature on the counter. If you have a cream cheese-based glaze, then it will need to be stored in the fridge.
Want More Breakfast Options
Starbucks Copycat Cheese Danishes | Here is an air fryer recipe you want to give a try. This is a copycat recipe that is full of creamy cream cheese filling in a tasty danish roll.
Toasted Coconut Bagels | Change up your morning with these easy and delicious coconut bagels. Serve with a slab of cream cheese or even butter!
Instant Pot Strawberry and Cream Oatmeal | I love oatmeal, and this strawberry and cream recipe is such a good one. Fruity flavor, hearty oats make a perfect pair.
SOME HELPFUL PRODUCTS USED WHILE MAKING AIR FRYER, PILLSBURY CINNAMON ROLLS (AFFILIATE LINK INCLUDED)
Disclosure: Some of the links below are affiliate links. At no cost to you, I will earn a commission if you click through and make a purchase.
Do Not Forget To Pin, Air Fryer Canned Pillsbury Cinnamon Rolls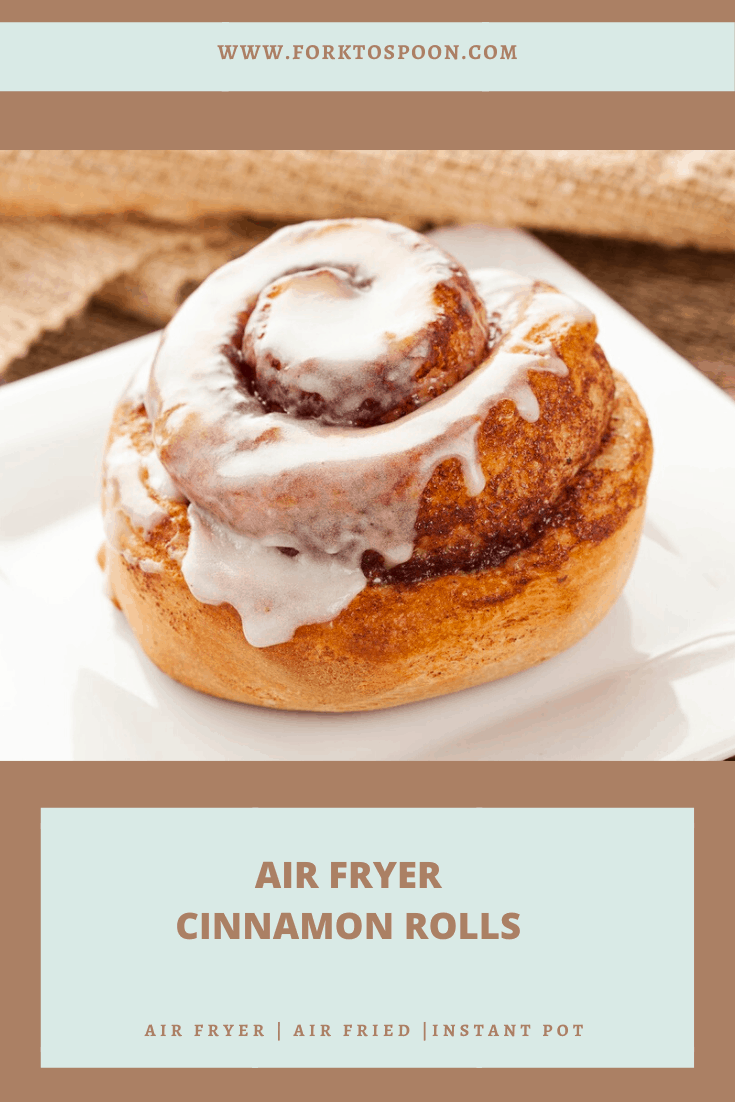 Print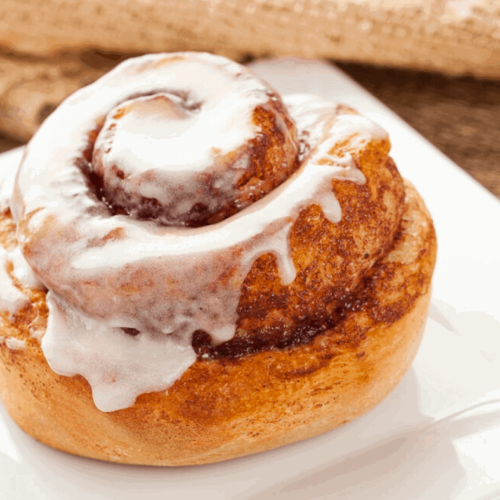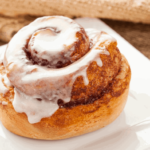 Air Fryer Canned Pillsbury Rolls
Author:

ForkToSpoon.com

Prep Time:

5

Cook Time:

7

Total Time:

12

Yield:

4

servings

1

x

Category:

Baked Goods

Method:

Air Fryer

Cuisine:

American
---
Description
This is one of my go-to breakfasts, especially now that the kids are home. They are easy to make and really make you appreciate your air fryer. In the time that you preheat your oven, the air fryer canned Pillsbury Cinnamon Rolls are already done! Talk about efficiency.
---
1

Can of Pillsbury Cinnamon Rolls (Obviously, other varieties work)
---
Instructions
Place the unbaked Cinnamon Rolls into your Air Fryer, set the temperature at 330 degrees. Cook for 4-7 minutes. 
Use the frosting provide to frost the cinnamon rolls.
Plate, serve, and enjoy!
---
Keywords: air fryer cinnamon rolls