Air Fryer Apple Cider Donuts —Indulge in the warm and comforting fall flavors with these homemade Air Fryer Apple Cider Donuts. These delectable treats are easy to make and perfectly spiced, making them a must-try for any autumn gathering or cozy morning at home.
Autumn is in the air, which means one thing – apple picking and apple cider donuts! These delicious little morsels are the perfect way to celebrate the season, and they're surprisingly easy to make with an air fryer. So gather your ingredients and get cooking!
These melt in your mouth apple cider donut are the perfect treat for serving up with your favorite fall beverage, Pumpkin Spice Latte.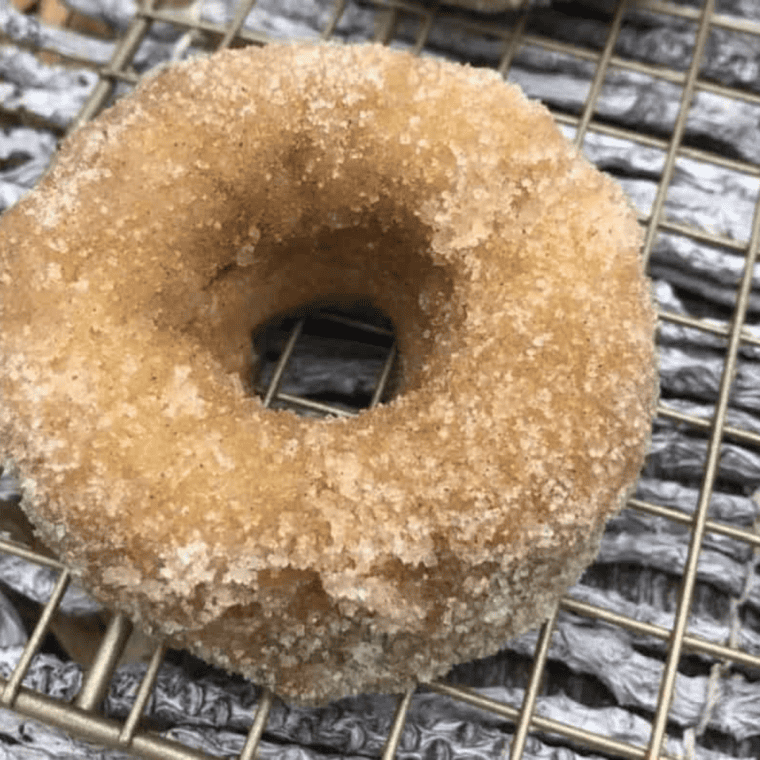 What Are Apple Cider Donuts?
Apple cider donuts are a beloved autumnal treat made from a flavorful blend of apple cider, cinnamon, and nutmeg. These cake-like donuts are typically fried and then coated in a cinnamon-sugar mixture, resulting in a deliciously spiced and slightly tangy sweet treat that captures the essence of fall.
Can You Bake Apple Cider Donuts In Air Fryer?
Yes, you can bake apple cider donuts in an air fryer. Baking them in an air fryer is a healthier alternative to traditional frying, and it still yields delicious results. The air fryer provides a crisp exterior while keeping the inside soft and cake-like. It's a great way to enjoy these fall treats with less oil and mess.​
Ingredients Needed For Air Fryer Apple Cider Doughnuts
These Air Fryer Apple Cider Doughnuts are a delightful autumn treat, featuring the warm flavors of apple cider, cinnamon, and nutmeg, all wrapped up in a light and fluffy doughnut. Enjoy them with a dusting of powdered sugar and a pumpkin spice latte for a perfect fall treat.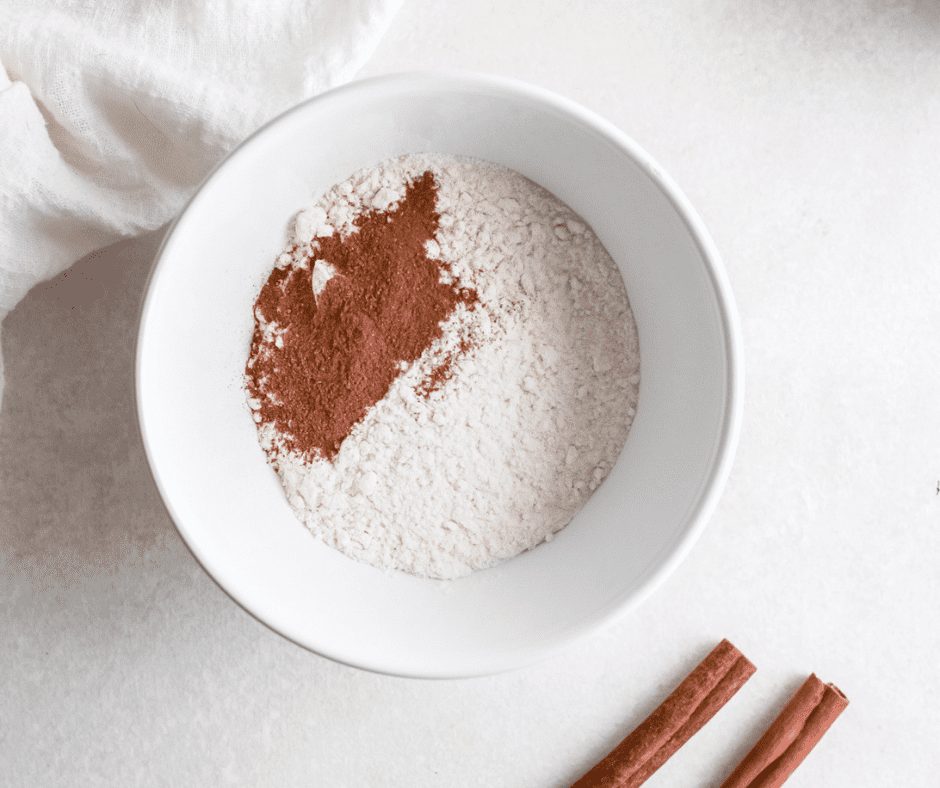 Remember the step-by-step directions and detailed ingredient list are below in the printable recipe card at the bottom of the post, as well as the nutritional information.​
Apple Cider: You'll need fresh apple cider to infuse that delightful apple flavor into your doughnuts.
All-Purpose Flour: This forms the base of the doughnut batter, providing structure and texture.
Granulated Sugar: To sweeten the doughnut batter.
Baking Powder: It makes the doughnuts rise and become fluffy.
Cinnamon: Adds warm and aromatic flavor, enhancing the apple cider taste.
Kosher Salt: Just a pinch to balance the sweetness and enhance the flavors.
Egg: Adds moisture and structure and helps bind the ingredients together.
Butter: For richness and flavor.
Vanilla Extract: Enhances the overall taste of the doughnuts.
Nutmeg: A touch of nutmeg complements the cinnamon and adds depth to the flavor.
Powdered Sugar: For dusting the doughnuts after they're cooked.
How To Cook Apple Cider Donuts In Air Fryer
Indulge in the cozy flavors of fall with our simple and delightful recipe for Air Fryer Apple Cider Doughnuts.
These homemade treats capture the essence of apple orchards and crisp autumn mornings, all made effortlessly in your trusty air fryer. Get ready to savor the taste of the season!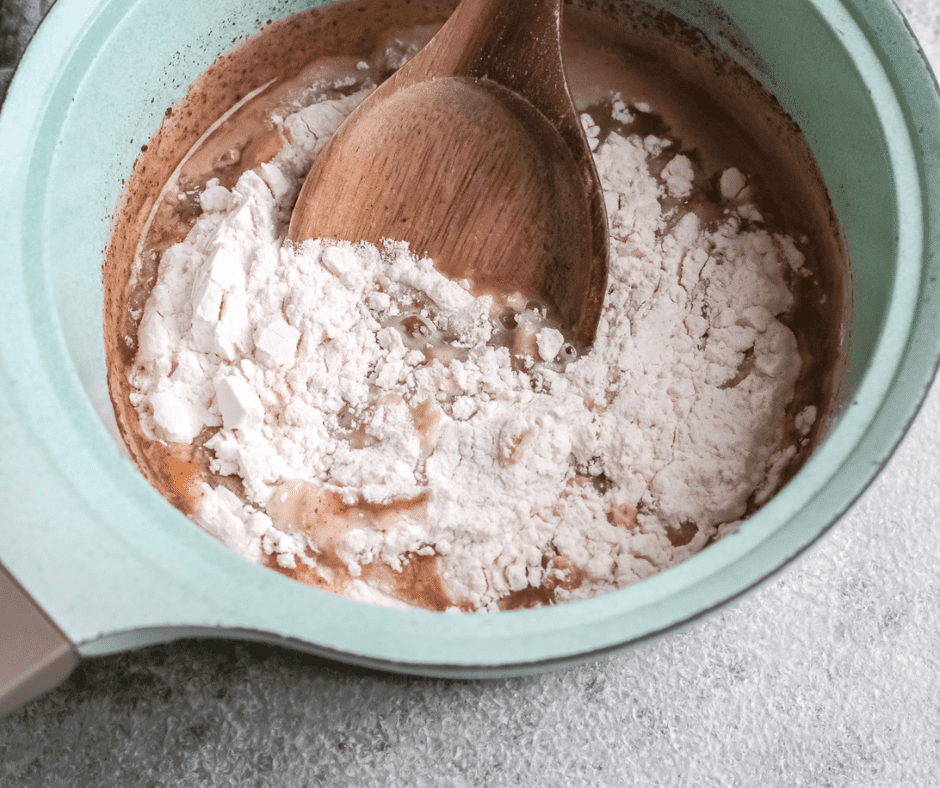 Step One: Prepare The Donut Batter
In a large mixing bowl, mix the flour, brown sugar, baking powder, baking soda, salt, and ground cinnamon.
In a small saucepan, bring your apple cider (add the cinnamon sticks) to a slow simmer, and simmer until it, is reduced by about half. (10 to 15 minutes) Let cool.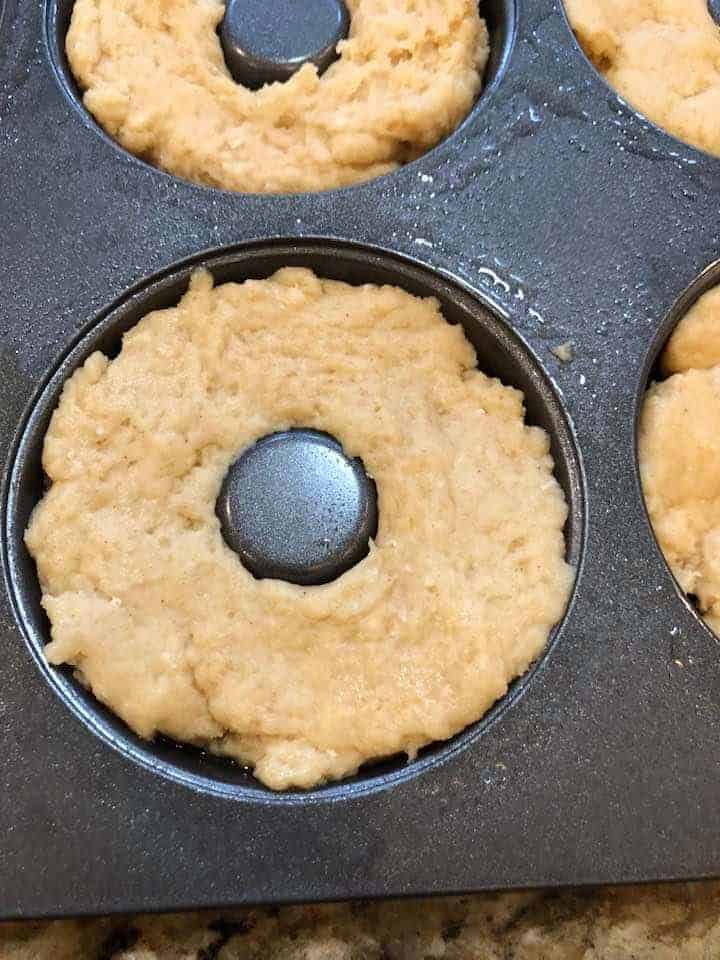 In a small mixing bowl, mix the cooled apple cider, melted butter, and eggs and mix well. Pour the wet mixture into the dry mixture. Mix until well combined.
Step Two: Add Donut Dough To The Donut Pans or Donut Mold
Spray your donut pan. Add the batter to the donut pan, filling it about 2/3 of the way full.
Step Three: Air Fry Apple Cider Donuts
Set into the air fryer for 10-12 minutes at 320 degrees F, air fryer setting., Let cool slightly. Dip the donuts into the melted butter, and then roll them around in the cinnamon-sugar mixture.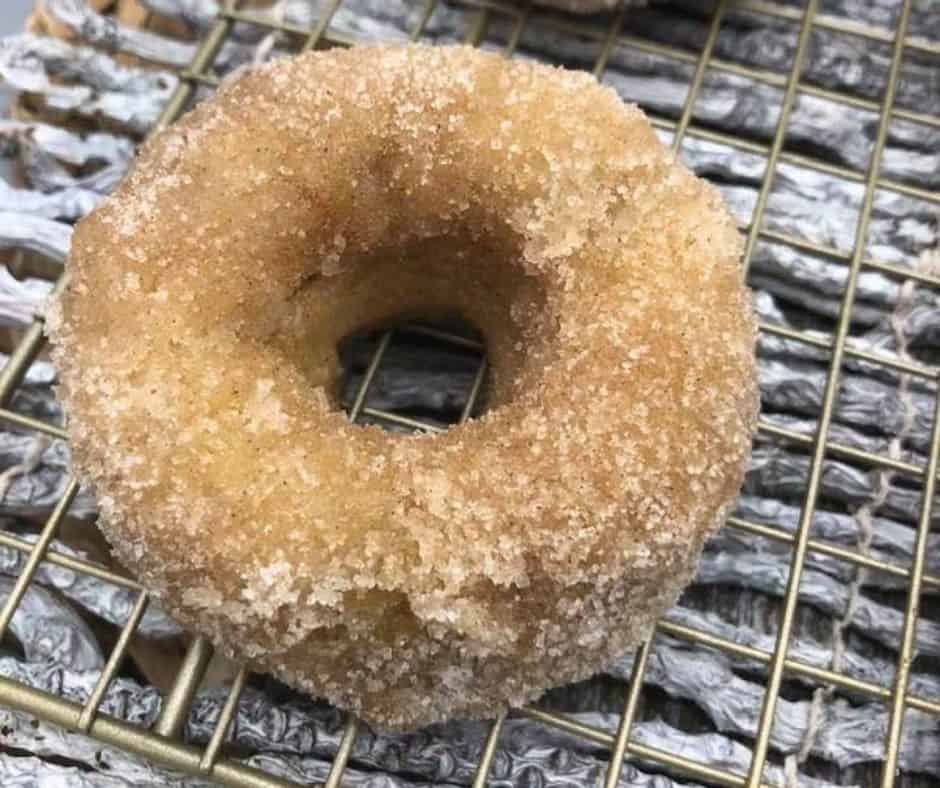 Pro Tips for Making the Perfect Air Fryer Apple Cider Doughnuts:
Parchment Paper Liners: Parchment paper liners for your air fryer basket will prevent the doughnuts from sticking and make cleanup a breeze.
Even Coating: Ensure an even coating of cinnamon sugar by brushing melted butter on the doughnuts immediately after they come out of the air fryer, then rolling them in the cinnamon sugar mixture.
Don't Overcrowd: Avoid overcrowding the air fryer basket. Cook the doughnuts in batches to ensure they have enough space to expand while cooking.
Preheat the Air Fryer: Preheating your air fryer for a couple of minutes before placing the doughnuts inside will help them cook evenly and achieve that perfect golden-brown exterior.
Check Doneness: Keep an eye on the cooking time, as it can vary depending on your specific air fryer model. The doughnuts should be lightly browned and cooked through without any raw dough in the center.
Variations: Feel free to get creative with your toppings. Besides cinnamon sugar, you can drizzle it with a simple glaze, dip it in melted chocolate, or sprinkle it with chopped nuts for added flavor and texture.
Serve Fresh: These doughnuts are best enjoyed fresh and warm, so serve them right after coating them with cinnamon sugar for the ultimate taste experience.
Now, treat yourself and your loved ones to the irresistible aroma and flavor of homemade apple cider doughnuts made effortlessly in your air fryer!
Can I make these doughnuts ahead of time and reheat them in the air fryer?
Yes, you can prepare the doughnuts ahead of time and store them in an airtight container at room temperature. When ready to enjoy, reheat them in the air fryer at 350 degrees F (175°C) for a few minutes until warmed.
Can I use store-bought apple cider for this recipe?
Yes, store-bought apple cider works perfectly for this recipe. However, the flavor can be enhanced even more if you can access fresh apple cider. Check with your local apple orchard or grocery store.
Can I use a different type of sugar for the cinnamon sugar coating?
Absolutely! While granulated sugar is commonly used, you can experiment with other sugars, like brown or powdered sugar, for a slightly different flavor and texture.
Can I make these doughnuts without an air fryer?
Yes, you can bake these doughnuts in a regular oven. Preheat the oven to 350°F (175°C) and bake them on a greased baking sheet for about 10-12 minutes or until they're cooked through and lightly browned.
How should I store any leftover doughnuts?
If you have any leftover doughnuts, store them in an airtight container at room temperature for 2-3 days. You can also freeze them for longer storage by placing them in a freezer-safe container or bag.
Can I use whole wheat flour instead of all-purpose flour for a healthier option?
Yes, you can substitute whole wheat flour, or gluten-free flour for all-purpose flour if you prefer a healthier option. Remember that the texture and flavor may differ slightly from the original recipe.
What Donut Pans Can I Use In The Air Fryer?
I believe strongly that you can make anything in the air fryer as long as you have the right pan. So, I consider all of my pans investments. If you would like to make donuts, like, me, there are really two choices that I recommend:
These will fit all air fryers as you can cut them to size. Silicone is perfectly safe to use in the air fryer, but as always, check your manufacturer's guidelines.
Disclosure: Some of the links below are affiliate links. At no cost, I will earn a commission if you click through and make a purchase.
For larger air fryers, I highly suggest these. They are easy to fill and easy to air fry.
More Air Fryer Recipes
Don't Forget To Pin!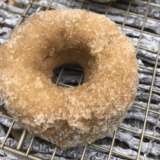 Air Fryer Apple Cider Donuts
Description
There is nothing better in the fall than a plate of Air Fryer Apple Cider Donuts. They are amazingly awesome all time of year, but once the farm stands start selling fresh apple cider, I am thinking about all things apples.
Ingredients
1 1/2

cup

apple cider

2

cinnamon sticks

1 3/4

cup

all-purpose flour

1/3

cup

brown sugar

1

teaspoon

baking powder

1

teaspoon

baking soda

1/2

teaspoon

salt

2

teaspoons

ground cinnamon

3

tablespoons

melted butter

1

large

egg
Coating:
2

tablespoons

melted butter

1/2

cup

granulated sugar

2

teaspoons

ground cinnamon
Instructions
In a large mixing bowl, mix the flour, brown sugar, baking powder, baking soda, salt, and ground cinnamon.

In a small saucepan, bring your apple cider to a slow simmer, (add the cinnamon sticks) and simmer until lit reduces by about half. (10 to 15 minutes) Let cool.

In a small mixing bowl, mix the cooled apple cider, melted butter, and eggs, mix well.

Pour the wet mixture into the dry mixture.

Add the batter to the donut pan, filling about 2/3 way full.

Set into the air fryer for 10-12 minutes at 320 degrees F, air fryer setting.

Dip the donut into the melted butter, and then roll them around in the cinnamon-sugar mixture
Equipment
Air Fryer

Donut Pan

Cooking Spray

Parchment Paper
Nutrition
Serving:
1
Serving
Calories:
224
kcal
Carbohydrates:
39
g
Protein:
3
g
Fat:
6
g
Saturated Fat:
4
g
Polyunsaturated Fat:
0.4
g
Monounsaturated Fat:
2
g
Trans Fat:
0.2
g
Cholesterol:
34
mg
Sodium:
324
mg
Potassium:
84
mg
Fiber:
1
g
Sugar:
21
g
Vitamin A:
207
IU
Vitamin C:
0.4
mg
Calcium:
55
mg
Iron:
1
mg