Air Fryer Jalapeno Poppers wrapped in crispy bacon and stuffed with seasoned cream cheese. Bite into one of these stuffed jalapeno peppers, and they will ooze with incredible cheesy goodness! These are delicious appetizers you can serve for game day or just as favorite snacks for the entire family!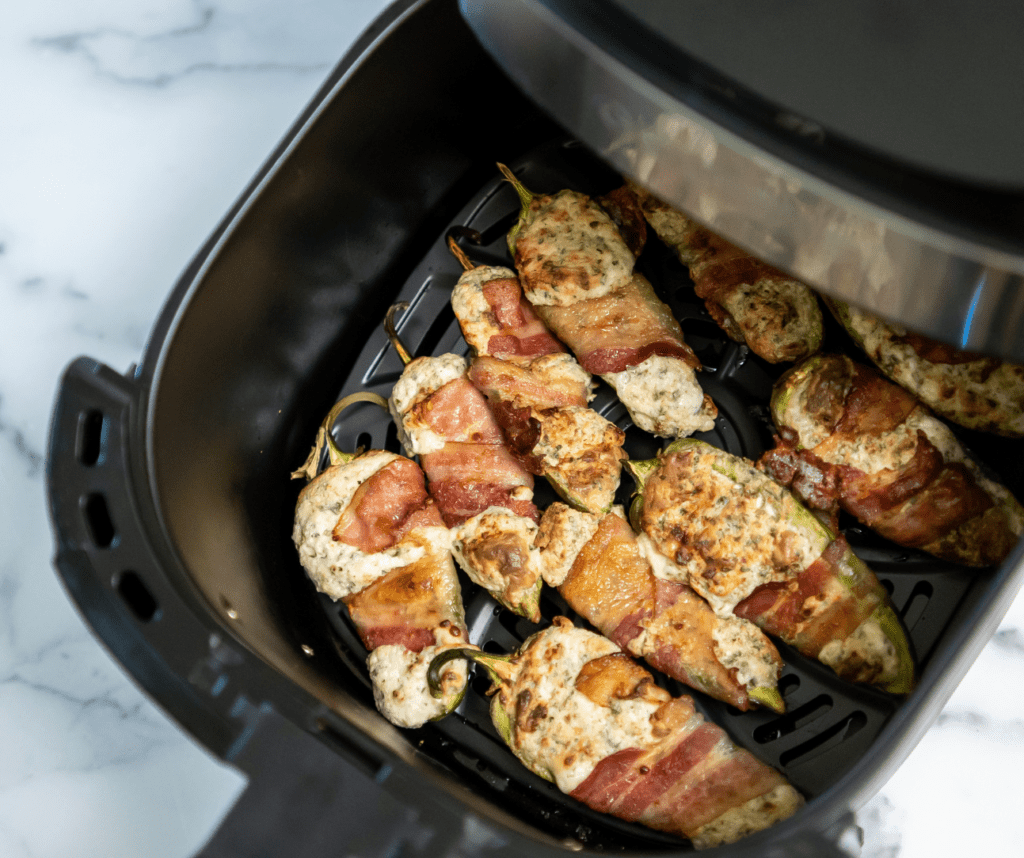 Air Fryer Bacon Wrapped Stuffed Jalapenos
These Air Fryer Jalapeno Poppers are a great appetizer or snack. They're easy to make, and they taste delicious!
These bacon wrapped stuffed jalapenos are excellent for tailgating, parties, and fun game nights! Plus, using your air fryer is a game changer. If you've been looking for a recipe for homemade jalapeno poppers in your new air fryer, this is one of the best recipes — it's amazing!
Can you ever really have too many recipes for bacon-wrapped anything? Some of my favorite recipes include bacon!
You will also love my AIR FRYER BACON WRAPPED PEACHES, AIR FRYER BACON BOMBS, and AIR FRYER BACON AND CRAB ROLLS. They are all INSANELY delicious!
What Are Air Fryer Jalapeno Poppers?
Are you looking for a delicious, party-ready snack that practically everyone will love? If so, look no further than these bacon wrapped cream cheese jalapenos.
These bite-sized treats are loaded with cheesy goodness and just the right amount of kick to leave your taste buds tingling. Not only are they tasty, but they also make an excellent appetizer or side dish so that you can please any crowd!
Whether you enjoy them on game day or between meals, they promise to tantalize your senses without requiring hours in the kitchen. The best way to cook up these spicy peppers is by using the air fryer, which is much healthier than deep frying. Plus, they can be prepared in less time!
Why You'll Love Bacon Wrapped Stuffed Jalapenos
Quick and easy with very little prep work!
Ideal for entertaining
Can be customized
Great any time of year
Common ingredients
Low-carb and keto-friendly
Cheesy stuffing
Best spicy appetizer
Ingredients Needed For Air Fryer Jalapeno Poppers
No matter your party's theme, we've got the ultimate appetizer for you! Bacon wrapped stuffed jalapenos are an easy, crowd-pleasing snack that everyone will be talking about long after the gathering.
Created from just a few simple ingredients and packing a flavorful punch, these bite-sized treats combine smoky bacon with cheesy jalapeno peppers to create something downright delicious!
This handy guide explains why bacon wrapped cream cheese jalapenos should become your go-to snack, whether served as a great option for your dinner or as part of a spread at a game day bash.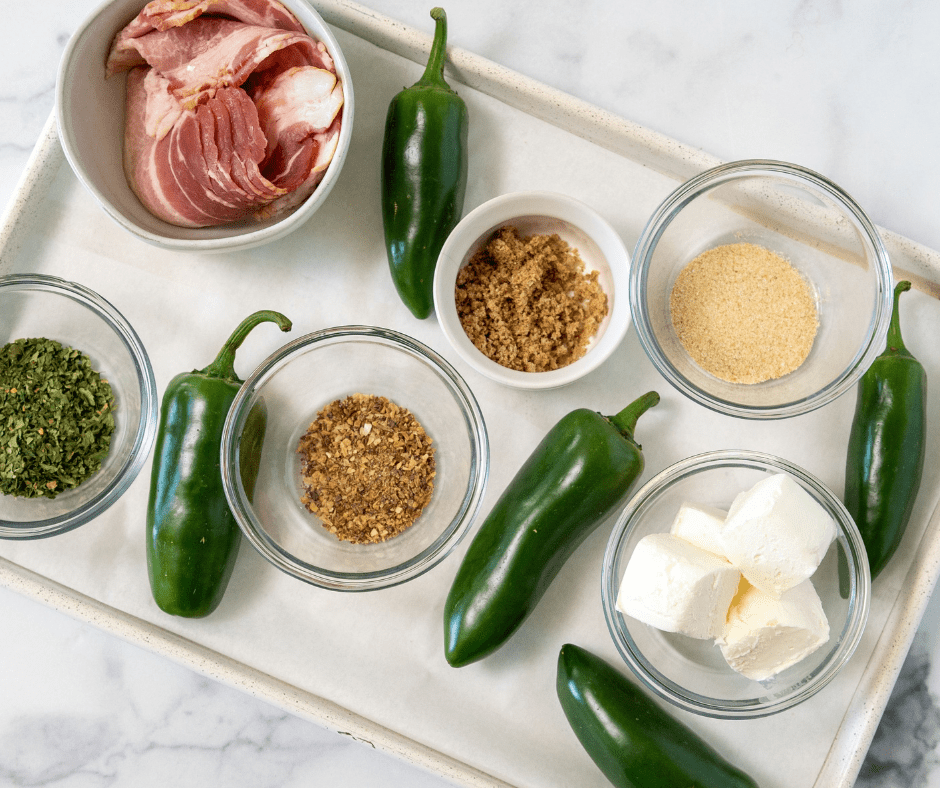 Remember, the full instructions and the full list of ingredients are below in the printable recipe card.
Jalapeno Peppers: Fresh jalapeno peppers are the best thing for this recipe!
Cream Cheese: Use softened cream cheese, or swap for goat cheese or feta cheese.
Breadcrumbs: You can also use panko bread crumbs. To make them low-carb and keto-friendly, use crushed pork rinds.
Bacon: Use thick-cut bacon
Seasonings and Spices: Garlic Powder, Onion Powder, Parsley Salt, and Black Pepper
Serve with buffalo sauce, hot sauce, or sliced green onions.
How To Make Perfect Stuffed Jalapeno Peppers in the Air Fryer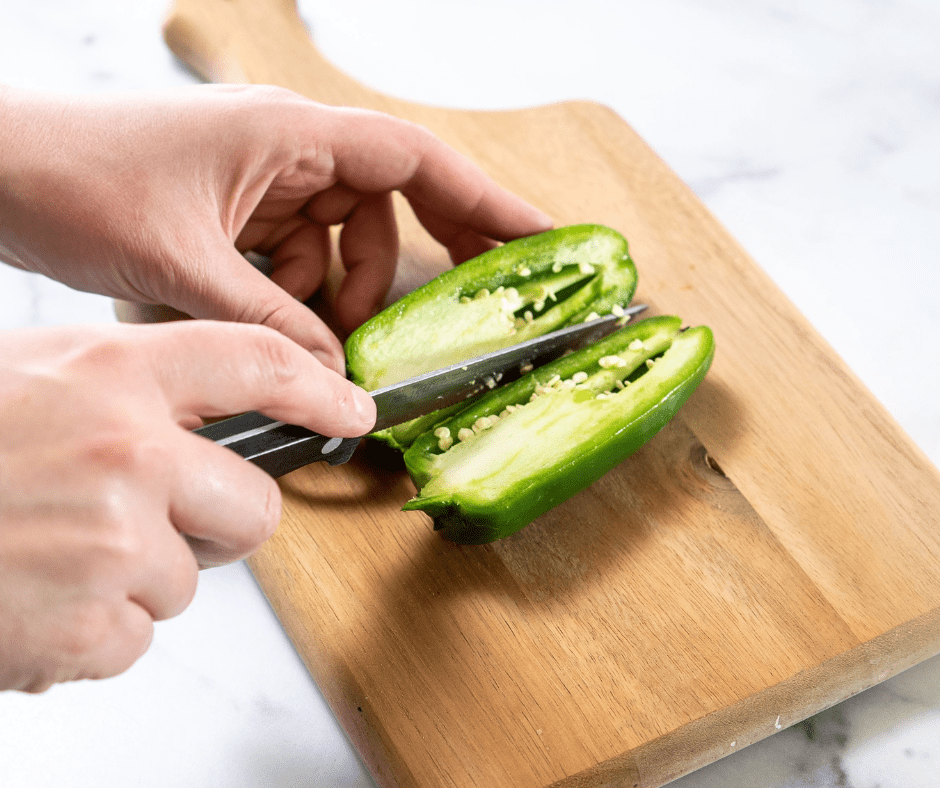 Step 1: Prep the peppers and cream cheese filling
Slice each jalapeno pepper in half and scoop out the seeds and membranes. You might want to wear gloves for this part!
Then, mix cream cheese, garlic powder, onion powder, and parsley in a small bowl. Pour in the breadcrumbs. Mix well.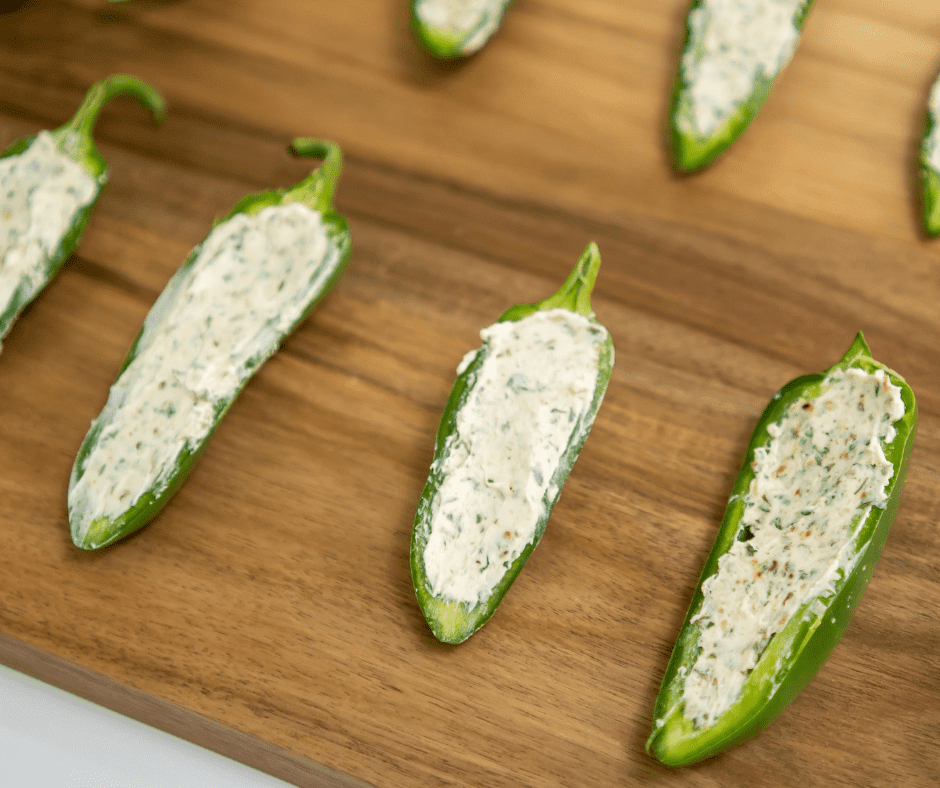 Step 2: Add filling to jalapenos
Add the cream cheese mixture to the jalapeno peppers. Wrap the bacon slice around it.
NOTE: I found out that after doing a few, wrap it horizontally around the pepper. If you are having a hard time making the bacon stay in the air fryer, use a toothpick.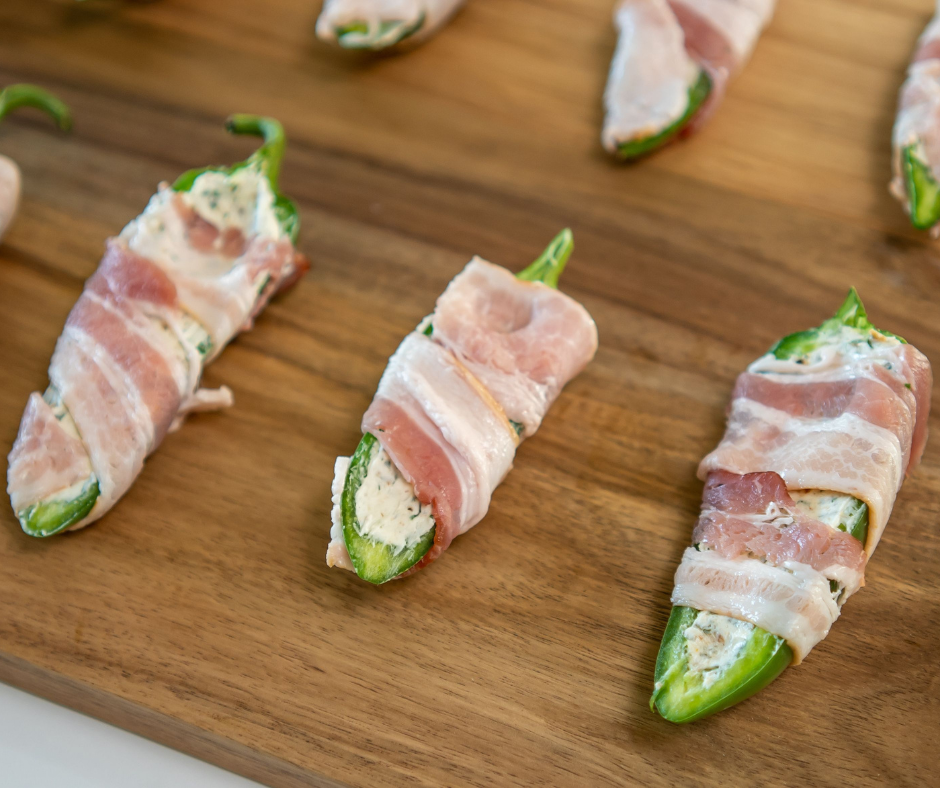 Step 3: Air Fry stuffed jalapeno poppers
Preheat the air fryer for 3 to 5 minutes at 370 degrees F. Add the jalapeno peppers in a single layer in the air fryer basket; set the cooking time for 5-8 minutes at 370 degrees F.
Check and cook for 2-3 more minutes if needed or until you reach desired crispiness. If you want to add sharp cheddar cheese on top, it's a great way to add even more cheese flavor!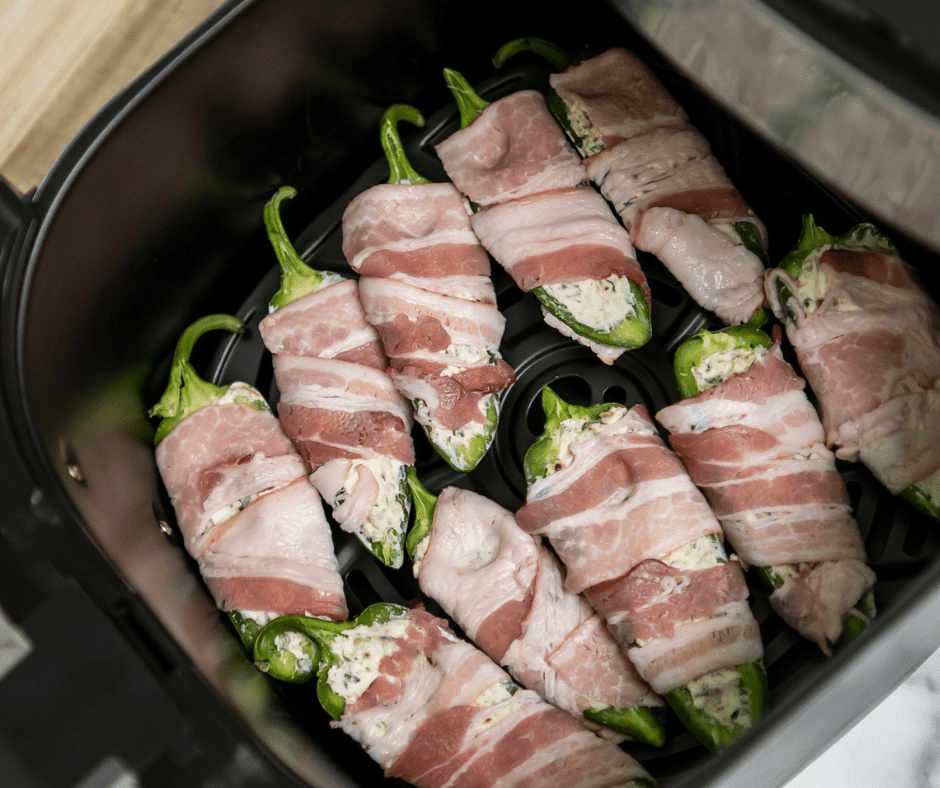 Pro Tips For Air Fryer Jalapeno Poppers Recipe
Cutting The Jalapeño Poppers: When making these spicy jalapenos, you can choose to leave the stem on or off. I prepared it both ways, and I prefer to leave the stem on because it gives your guests something to hold while they are eating it.
Use a small spoon to remove all the seeds: If you want an extra kick, leave some seeds in. Or prepare them both ways, so your guests have a choice of extra spicy or not.
Cream Cheese: Room-temperature cream cheese works best. I usually leave the cream cheese on the counter for about 30 minutes before preparing these.
Spicy Jalapenos: Use any spices that work for you. Today, I used classic onion powder, garlic powder, and parsley, but you can easily change that for your favorites. Fresh garlic works well here; you can also add some jalapeno juice.
Jalapeno Poppers: It's easiest to make bacon-wrapped cream cheese jalapenos with half slices. Otherwise, it won't cook evenly.
Do not overcrowd the stuffed jalapeno peppers. You need to leave some space in the basket to allow the air to circulate properly.
Cook Time: The cook time will vary based on the air fryer you are using — remove when golden brown. Different brands will cook at different rates, so always watch the poppers as they cook up.
Storage And Reheating for this Jalapeno Poppers Air Fryer Recipe:
Make-Ahead: Bacon-wrapped cream cheese jalapenos are easy to make ahead of time. Assemble them as directed, then cover tightly with plastic wrap or place them into an airtight container before refrigerating them overnight. Then, make this jalapeno poppers air fryer recipe as directed.
Freezing: This jalapeno poppers air fryer recipe is freezer friendly too! Make them as directed, place them on a baking sheet, and pop them into the freezer until frozen solid. Then you can store them in a freezer bag or a freezer-safe container. You can air fry them from frozen, but you will need to add a few more minutes to the cooking time.
Reheating: Leftovers (if any) reheat pretty well in the microwave or air fryer the next day. Spray the bacon-wrapped stuffed jalapenos with cooking spray or brush on some olive oil. Then, heat until warmed through for best results.
What Model Of Air Fryer Do I Need To Make Stuffed Jalapeno Peppers?
These bacon-wrapped cream cheese jalapenos will work with any air fryer you own. I have made them in my Instant Pot Vortex, Instant Pot Crisp Lid, Instant Vortex, Ninja Foodi, and Cosori.
You may have to work in batches depending on the size of your air fryer.
Should I Put Parchment Paper in the Air Fryer?
You don't have to! I typically place my bacon wrapped cream cheese jalapenos directly into the air fryer basket without any parchment paper, foil, or extra oil. I get crispy results every time!
How Do I Prevent Jalapeno Juice From Burning Me?
I would strongly recommend investing in a pair of gloves (affiliate link) because you DO NOT want to get the seeds or oils in your eye or on your face, especially if you are making these with any children.
How To Cut Jalapeno in Half
If you have never worked with Jalapeno Peppers before, you'll be happy to know that they are very easy to cut and use in dishes. With minimal effort and minimal prep, you can have a batch of jalapeño peppers, which make for a tasty snack without a lot of oil.
The key is to use a sharp knife. For these air fryer jalapeno poppers, you can leave the stems on or cut them off. Then, slice the jalapeño halves before removing the seeds. The easiest way is to use a spoon to remove the membranes and the seeds.
After you use a spoon to remove the membranes and seeds, you can use a paper towel to remove some of the jalapeño juice.
Can These Bacon Wrapped Cream Cheese Jalapenos Be Made In The Oven?
If you want to use your oven for cooking these jalapeno peppers, place the jalapeno peppers into a preheated 400 degree F oven, and bake for 10 to 12 minutes.
Easy Air Fryer Recipes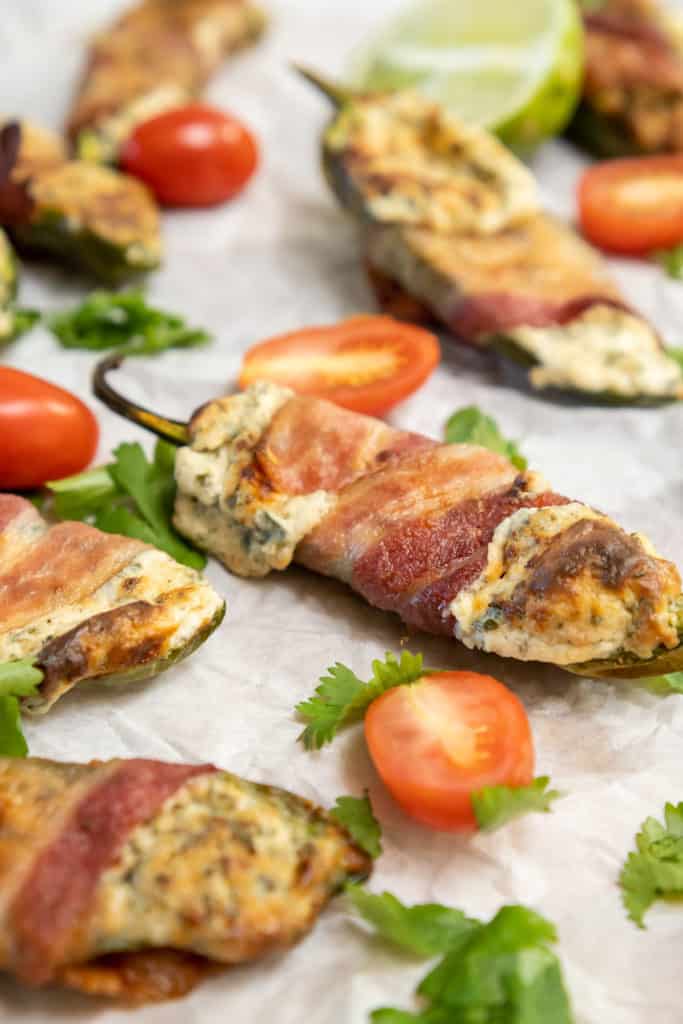 This is one of my favorite easy recipes for a great and easy appetizer. If you love jalapeno peppers, you will love this recipe — plus, it's topped off with a slice of bacon! What could be better?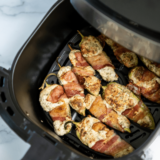 Air Fryer Jalapeno Poppers
Description
Air Fryer Jalapeno Poppers wrapped in crispy bacon and stuffed with seasoned cream cheese. Bite into one of these stuffed jalapeno peppers and they will ooze with incredible cheesy goodness!
Ingredients
5

large

jalapeno peppers, halved and deseeded

4

ounces

cream cheese (room temperature)

2

teaspoons

dried parsley

1

teaspoon

onion powder

1

teaspoon

garlic powder

,

1

1/8

cup

breadcrumbs

5

slices

bacon, cut in half
Instructions
In a small bowl, mix together the cream cheese, 1/2 of the breadcrumbs, and spices.

Then using a spoon, scoop the mixture into the peppers, filling right before the edge.

Then wrap a piece of bacon around the jalapeno pepper (this is where gloves come in really handy and safe)

Preheat your air fryer for 3 to 5 minutes at 370 degrees F.

Cook in an air fryer at 370 degrees F for 6-8 minutes, At that point, depending on your wattage, you might need an additional 2 minutes.

Plate and serve, and enjoy!
Nutrition
Serving:
1
g
Calories:
89
kcal
Carbohydrates:
4
g
Protein:
2
g
Fat:
8
g
Saturated Fat:
4
g
Polyunsaturated Fat:
0.4
g
Monounsaturated Fat:
2
g
Cholesterol:
20
mg
Sodium:
78
mg
Potassium:
68
mg
Fiber:
1
g
Sugar:
1
g
Vitamin A:
380
IU
Vitamin C:
14
mg
Calcium:
26
mg
Iron:
0.2
mg
Don't Forget To Pin: