Air Fryer Jalapeno Poppers — 🌶️🍴 Spice up your appetizer game with our irresistible Air Fryer Jalapeño Poppers!
These little bites of heaven are the perfect combination of heat and flavor, making them an absolute crowd-pleaser. Each jalapeño is stuffed with a creamy, cheesy filling and then wrapped in a crispy, golden-brown coating, all achieved with the magic of air frying.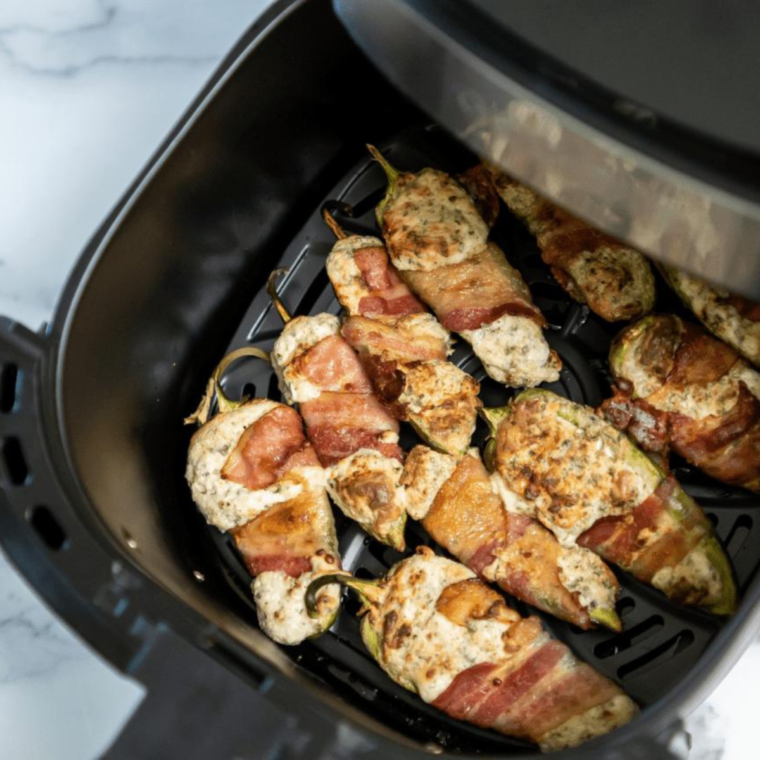 Gone are the days of deep-frying; our Air Fryer Jalapeno Poppers offer a healthier alternative without sacrificing the crunch and flavor you love. The air fryer ensures these poppers are perfectly cooked, with a deliciously crispy exterior and a gooey, melted interior. Whether hosting a party, preparing for game day, or just in the mood for a spicy treat, these jalapeño poppers will surely hit the spot.
So, let's get ready to turn up the heat and delight your taste buds with this simple yet tantalizing recipe. Stay tuned for easy-to-follow instructions to guide you to making the best Air Fryer Jalapeño Poppers you've ever tasted!
You will also love my AIR FRYER BACON WRAPPED PEACHES, AIR FRYER BACON BOMBS, and AIR FRYER BACON AND CRAB ROLLS. They are all INSANELY delicious!
Ingredients Needed For Air Fryer Jalapeno Poppers Recipe
Dive into the spicy and savory world of Air Fryer Jalapeño Poppers, a perfect blend of heat, creaminess, and crunch. This recipe transforms simple ingredients into an irresistible appetizer that's sure to be a hit at any gathering.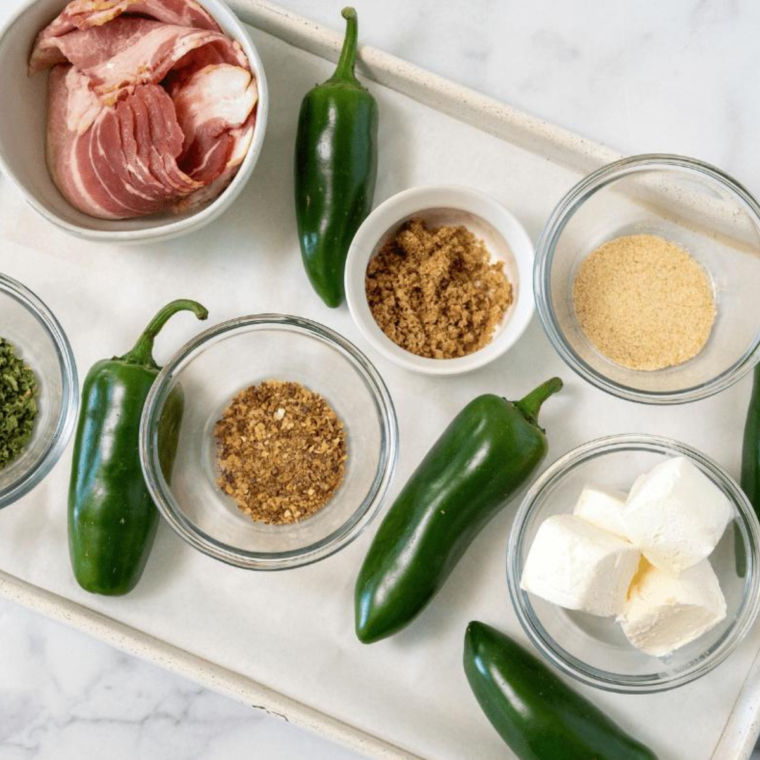 ​​Remember the step-by-step directions, full instructions, and full list of ingredients are below, in the printable recipe card at the bottom of this post, as well as the nutritional information.​
Jalapeños: The star of the dish, jalapeños, provides a moderate heat level and a fresh, green flavor perfectly balanced by the creamy filling.
Cream Cheese: This adds a smooth, rich base to the filling, tempering the heat of the jalapeños with its creamy texture and mild taste.
Shredded Cheddar Cheese: Cheddar cheese brings a sharp and tangy flavor to the filling, complementing the cream cheese and adding depth.
Garlic Powder: A pinch of garlic powder infuses the cheese filling with a subtle, aromatic warmth, enhancing the overall flavor profile.
Paprika: Paprika offers a hint of sweetness and color, adding a subtle complexity to the cheesy filling.
Panko Bread Crumbs: These Japanese-style bread crumbs provide a light, crispy coating that contrasts beautifully with the soft filling, ensuring a delightful crunch in every bite.
Cooking Spray: A light spray of cooking oil on the poppers helps achieve that golden, crispy exterior in the air fryer without deep frying.
Each ingredient in this Air Fryer Jalapeno Poppers recipe plays a crucial role in creating a balance of flavors and textures, making these poppers a must-try appetizer for any occasion.
How To Make Homemade Jalapeno Poppers In Air Fryer
Making homemade Jalapeño Poppers in an air fryer is a simple and delicious way to enjoy a classic appetizer with a healthier twist. Here's how you can make them:
Prepare the Jalapeños: Slice the jalapeños in half lengthwise and remove the seeds and membranes. If you want less heat, ensure you remove all the seeds.
Make the Cream Cheese Filling: Mix cream cheese, shredded cheddar cheese, garlic powder, paprika, and a pinch of salt until well combined.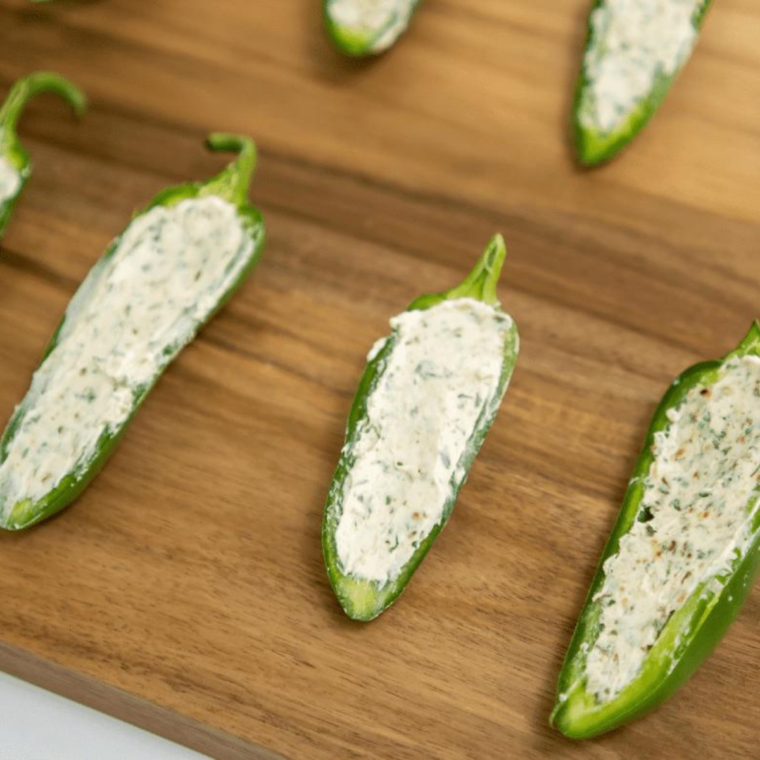 Stuff the Jalapeños: Fill each jalapeño half with the cheese mixture, spreading it evenly. Wrap each halved jalapeno peppers with a slice of bacon.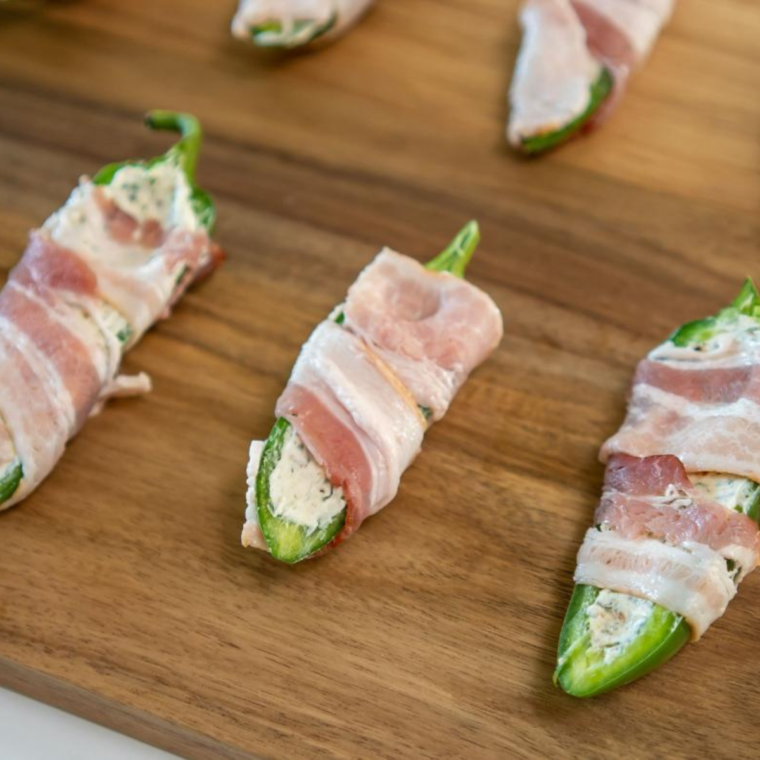 Preheat the Air Fryer: Preheat your air fryer to 370 degrees F (190°C). This step is crucial for achieving a crispy texture.
Air Fry the Poppers: Lightly spray the air fryer basket with cooking spray. Place the stuffed pepper in the basket in a single layer, leaving space between them for air circulation.
Spray the tops of the poppers lightly with cooking spray. Set cook time for 8-10 minutes or until the poppers are golden brown and crispy. You may need to turn them halfway through cooking.
Serving: Carefully remove the jalapeño poppers from the air fryer. Let them cool for a few minutes, as they will be very hot. Serve warm as is or with your favorite dipping sauce.
Enjoy your homemade Air Fryer Jalapeño Poppers! They're the perfect combination of spicy, creamy, and crunchy – ideal for snacking, parties, or as a delicious appetizer.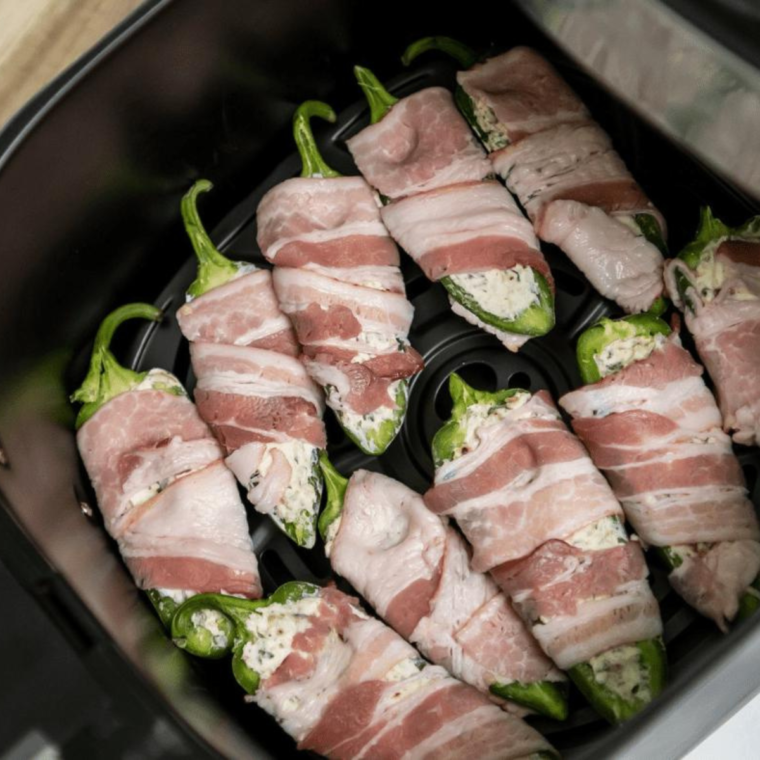 Recipe Variations
Experimenting with recipe variations for Air Fryer Jalapeño Poppers can add an exciting twist to this classic appetizer. Here are some creative ideas to try:
Air Fryer Bacon-Wrapped Poppers: One of the most popular is bacon jalapeño poppers. For added flavor and texture, wrap each stuffed jalapeño with a strip of thick-cut bacon before air frying. The bacon adds a smoky, savory element.
Buffalo Chicken Poppers: Mix shredded cooked chicken with buffalo sauce into the cream cheese filling for a spicy kick and a nod to buffalo chicken wings.
Vegetarian Poppers: Replace the cheese with a vegan cheese alternative and add finely chopped vegetables like bell peppers or mushrooms to the filling for a vegetarian version.
Crab Stuffed Poppers: Add some cooked, finely shredded crab meat to the cream cheese mixture for a seafood twist on the classic popper.
Tex-Mex Poppers: Mix in taco seasoning, a small amount of salsa, and a blend of cheddar and Monterey Jack cheeses into the cream cheese for a Tex-Mex flair.
Sweet and Spicy Poppers: Add a spoonful of pineapple or mango salsa and 1 tablespoon of jalapeño juice to the cheese filling for a sweet and spicy combination.
Three-Cheese Poppers: Combine cream cheese, shredded cheddar, onion powder, and mozzarella or Parmesan for a more complex cheese flavor.
Greek Style Poppers: Mix feta cheese, spinach, and a bit of dill into the filling for a Mediterranean-inspired variation.
BBQ Poppers: Brush the stuffed poppers with your favorite BBQ sauce before air frying for a tangy and sweet finish.
Italian Poppers: Add chopped sun-dried tomatoes, basil, and mozzarella to the cream cheese filling for an Italian twist.
Each variation has a unique flavor and can be tailored to different tastes and occasions. Feel free to get creative and experiment with different fillings and toppings to discover your favorite version of Air Fryer Jalapeño Poppers!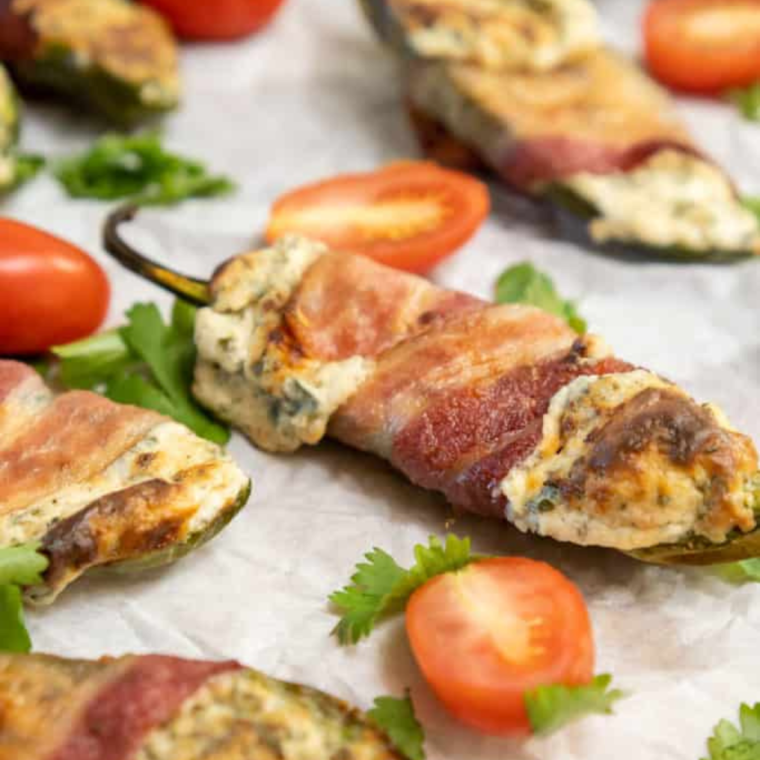 Pro Tips
Creating the perfect Air Fryer Jalapeño Poppers involves a few tricks and techniques to ensure they turn out delicious every time. Here are some pro tips:
Picking the Right Jalapeños: Choose jalapeños that are firm and bright green. The size should be consistent for even cooking. Larger jalapeños are more straightforward to stuff and handle.
Handling Jalapeños Safely: Wear plastic gloves or a paper towel while cutting and deseeding the jalapeños to avoid irritation from the capsaicin. Avoid touching your face or eyes during the process.
Removing Seeds and Membranes: For less heat, thoroughly remove the seeds and white membranes inside the jalapeños. These parts contain the most heat.
Cream Cheese Consistency: Allow the cream cheese to soften at room temperature before mixing. This makes combining other ingredients and stuff into the jalapeños easier.
Ensure Even Coating: When breading the poppers, ensure they are evenly coated with egg and breadcrumbs. This ensures a uniform crispy texture when air-fried.
Preheat the Air Fryer: Preheating the air fryer ensures the poppers start cooking immediately and helps achieve a crispy exterior.
Avoid Overcrowding: Depending on your air fryer basket size, you may need to cook in batches if necessary. Overcrowding the air fryer basket will prevent the poppers from cooking evenly and can affect how crispy they get.
Spray with Oil: Lightly spraying the poppers with oil before air frying will enhance the crispiness of the breadcrumb coating.
Monitor Cooking Time: Keep an eye on the poppers as they cook. Cooking times may vary based on the air fryer model and the size of the poppers.
Let Them Cool: Jalapeño poppers will be extremely hot inside when they first come out of the air fryer. Let them cool for a few minutes before serving to avoid burnt tongues.
Serving Suggestions: Serve with ranch dressing, sliced green onions, sour cream, or a creamy cilantro dip to balance the heat and add another layer of flavor.
Following these tips, you can create mouth-watering Air Fryer Jalapeño Poppers that are the perfect blend of spicy, creamy, and crunchy. They will surely be a hit at any gathering and make great snacks!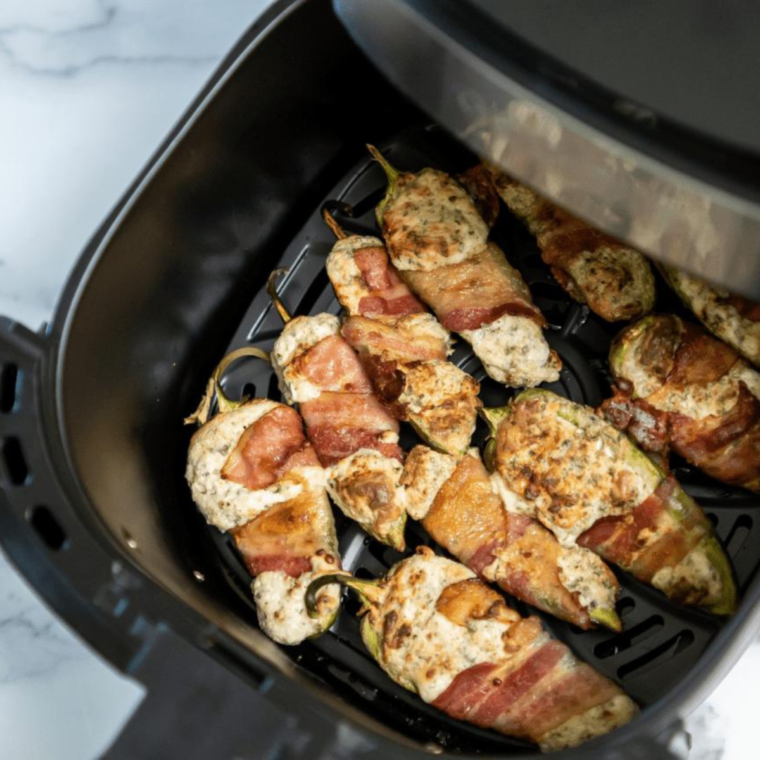 ​Faq's
How do I prevent the cheese from oozing out during cooking? Make sure the jalapeños are adequately sealed after stuffing. Also, letting the cheese mixture firm up in the fridge before stuffing can help. Breading the poppers also acts as a barrier.
Can I make these poppers in advance? Yes, you can assemble the jalapeño poppers and store them in the refrigerator on a parchment-lined baking sheet or in an airtight container for a few hours before cooking. You can also freeze them before air frying for longer storage.
How long should I cook jalapeño poppers in the air fryer? The cooking time usually ranges from 7 to 10 minutes at 375°F (190°C), but it can vary depending on the size of the poppers and the air fryer model.
Can I use different types of cheese? Absolutely. While Philadelphia cream cheese is standard, you can mix in sharp cheddar, Monterey Jack, mozzarella, or even pepper jack for different flavors.
What if I don't have panko breadcrumbs? Regular breadcrumbs will work, though they won't be as crispy as panko. You can use almond flour or crushed pork rinds for a low carb option.
How do I make these poppers less spicy? Removing all the seeds and white membranes from the jalapeños will reduce the heat significantly. Choose larger jalapeños as they tend to be milder.
Are Air Fryer Jalapeño Poppers gluten-free? They can be made gluten-free by using gluten-free breadcrumbs or a gluten-free flour alternative for the breading.
What dipping sauces go well with these poppers? Ranch dressing, blue cheese sauce, or a sour cream-based dip are popular choices that complement the spicy flavor of the poppers.
Can I reheat leftover jalapeño poppers? Yes, you can reheat them in the air fryer for a few minutes to crisp them back up. They are best when fresh, though.
How do I avoid making a mess in my air fryer? Placing a piece of parchment paper or foil at the bottom of the air fryer basket can help catch any cheese that might ooze out, making cleanup easier.
Easy Air Fryer Recipes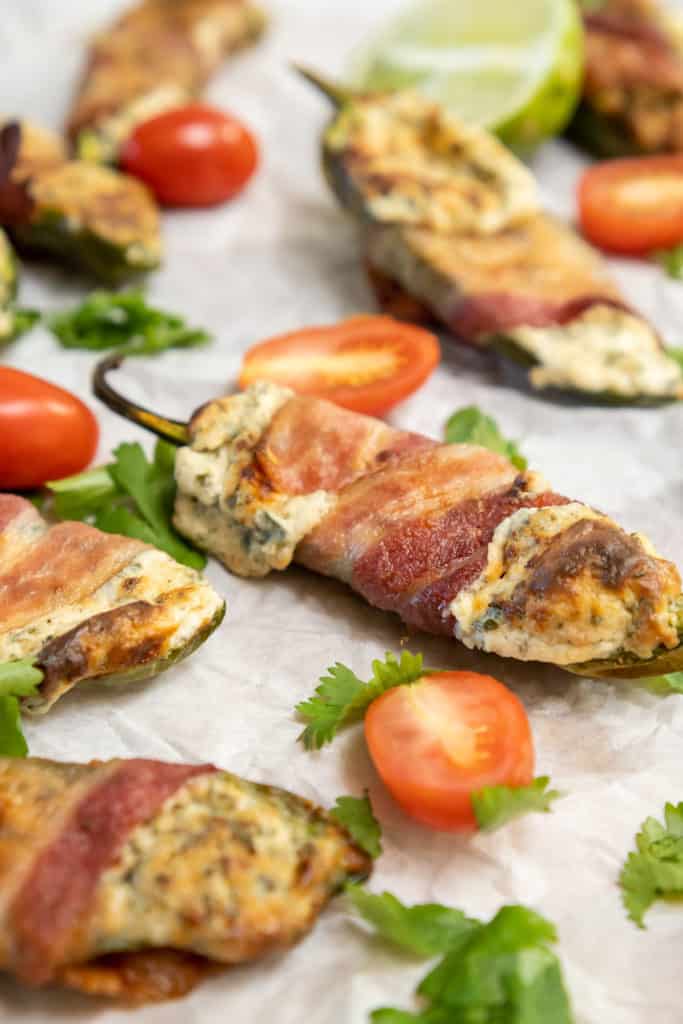 This is one of my favorite easy recipes for a great and easy appetizer. If you love jalapeno peppers, you will love this recipe — plus, it's topped off with a slice of bacon! What could be better?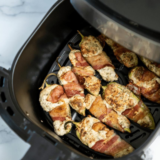 Air Fryer Jalapeno Poppers
Description
Air Fryer Jalapeno Poppers wrapped in crispy bacon and stuffed with seasoned cream cheese. Bite into one of these stuffed jalapeno peppers and they will ooze with incredible cheesy goodness!
Ingredients
5

large

jalapeno peppers, halved and deseeded

4

ounces

cream cheese (room temperature)

2

teaspoons

dried parsley

1

teaspoon

onion powder

1

teaspoon

garlic powder

,

1/8

cup

breadcrumbs

,

optional

5

slices

bacon, cut in half
Instructions
In a small bowl, mix together the cream cheese, breadcrumbs, and spices.

Then using a spoon, scoop the mixture into the peppers, filling right before the edge.

Then wrap a piece of bacon around the jalapeno pepper (this is where gloves come in really handy and safe)

Preheat your air fryer for 3 to 5 minutes at 370 degrees F.

Cook in an air fryer at 370 degrees F for 6-8 minutes, At that point, depending on your wattage, you might need an additional 2 minutes.

Plate and serve, and enjoy!
Equipment
Air Fryer

Cooking Spray

Parchment Paper
Nutrition
Serving:
1
Serving
Calories:
89
kcal
Carbohydrates:
4
g
Protein:
2
g
Fat:
8
g
Saturated Fat:
4
g
Polyunsaturated Fat:
0.4
g
Monounsaturated Fat:
2
g
Cholesterol:
20
mg
Sodium:
78
mg
Potassium:
68
mg
Fiber:
1
g
Sugar:
1
g
Vitamin A:
380
IU
Vitamin C:
14
mg
Calcium:
26
mg
Iron:
0.2
mg
Don't Forget To Pin: