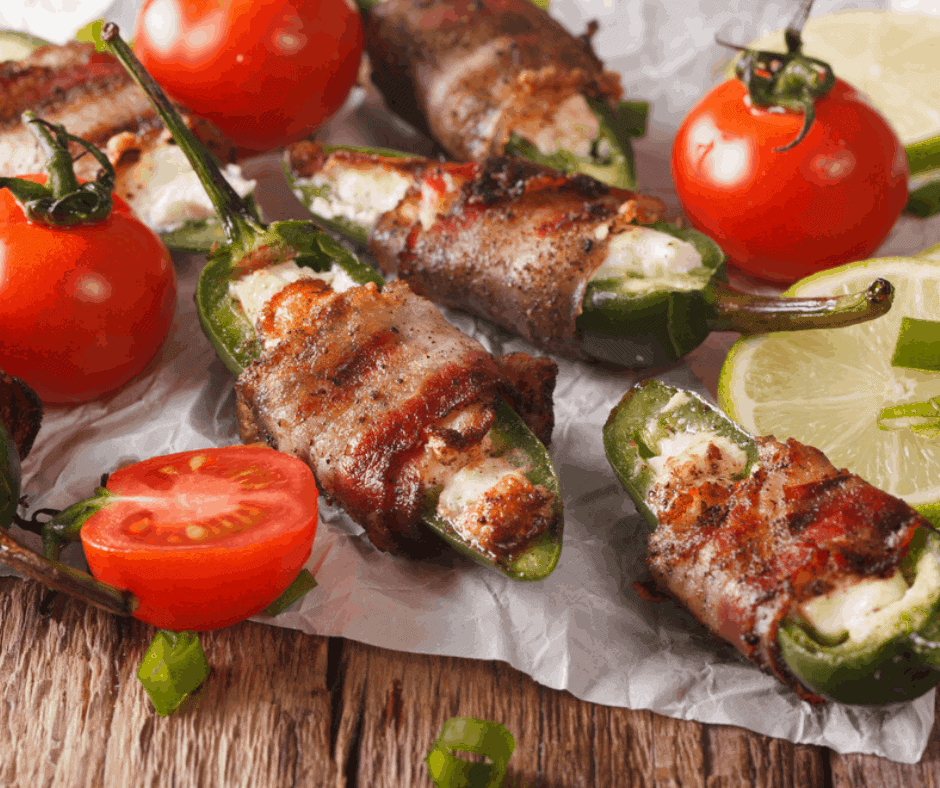 Fall in my family is all about sports, and with sports come appetizers, they go hand in hand in my family. These are such a fun and easy recipe, for Air Fryer Bacon-Wrapped Stuffed Jalapenos With Cream Cheese.
One of my family's favorite appetizers is bacon-wrapped anything. So, today I went with classic bacon-wrapped stuffed jalapeno peppers, also known as poppers.
This recipe will work with any air fryer that you own, I used the same recipe in my Instant Pot Vortex, Instant Pot Crisp Lid, Ninja Foodi, and Cosori, depending on the air fryer you own, you will just need to cook in batches.
These were amazing. I actually added the bacon on, since my little one, is a HUGE bacon lover. This was the perfect afternoon snack, I would love to tell you that my husband really enjoyed them, but, truthfully,  they were gone, before he got home. I did promise to make them again this weekend.
You only need a few ingredients, one thing, I would strongly recommend that you invest in a pair of gloves, (affiliate link) because you DO NOT want to get the seeds or oils in your eye, or on your face, especially if you are making these with any children.
If you have never worked with Jalapeno Peppers before let me tell you. They are very easy to cut and use in dishes.
The key is to use a sharp knife. Then you cut the stem off the pepper. Then for this recipe, you need to cut it in half.
What you probably don't know is that most of the heat of the pepper comes from the seeds. So depending on how hot you want the end dish, remove some or all of the seeds.
HOW TO MAKE AIR FRYER BACON-WRAPPED STUFFED JALAPENOS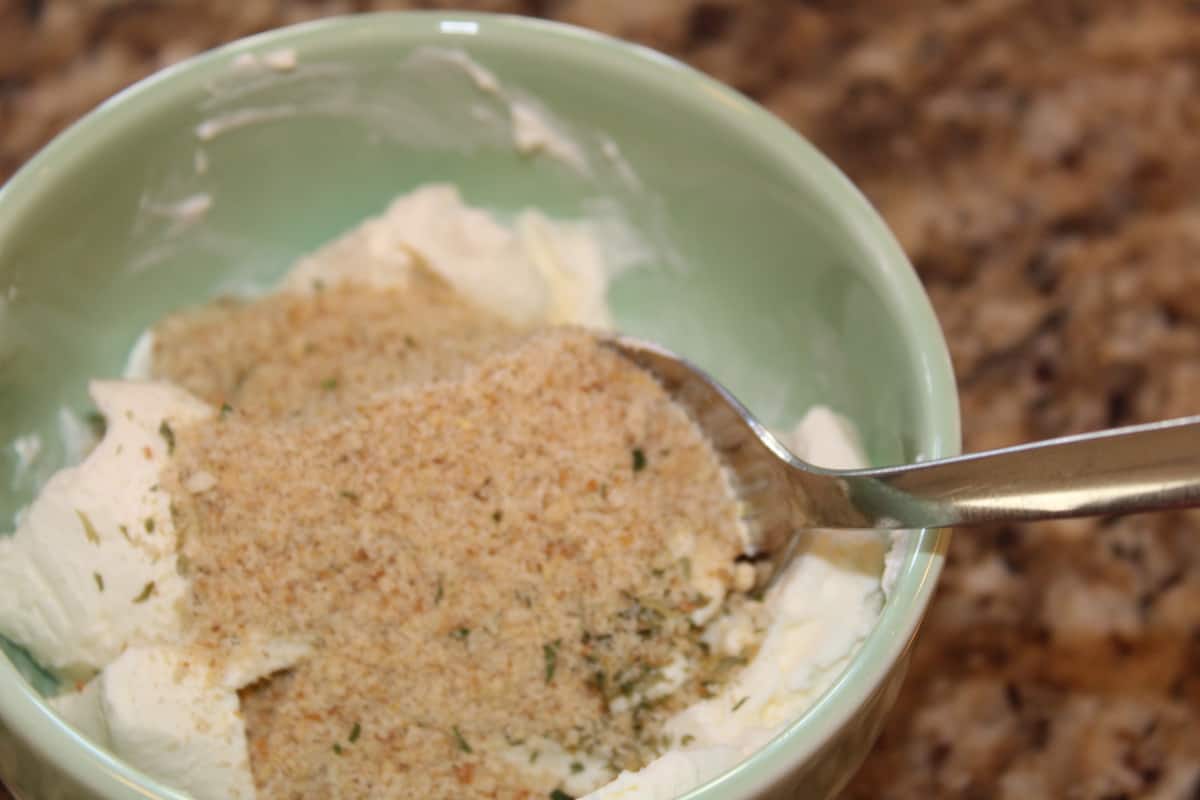 Mix in the breadcrumbs. Mix well.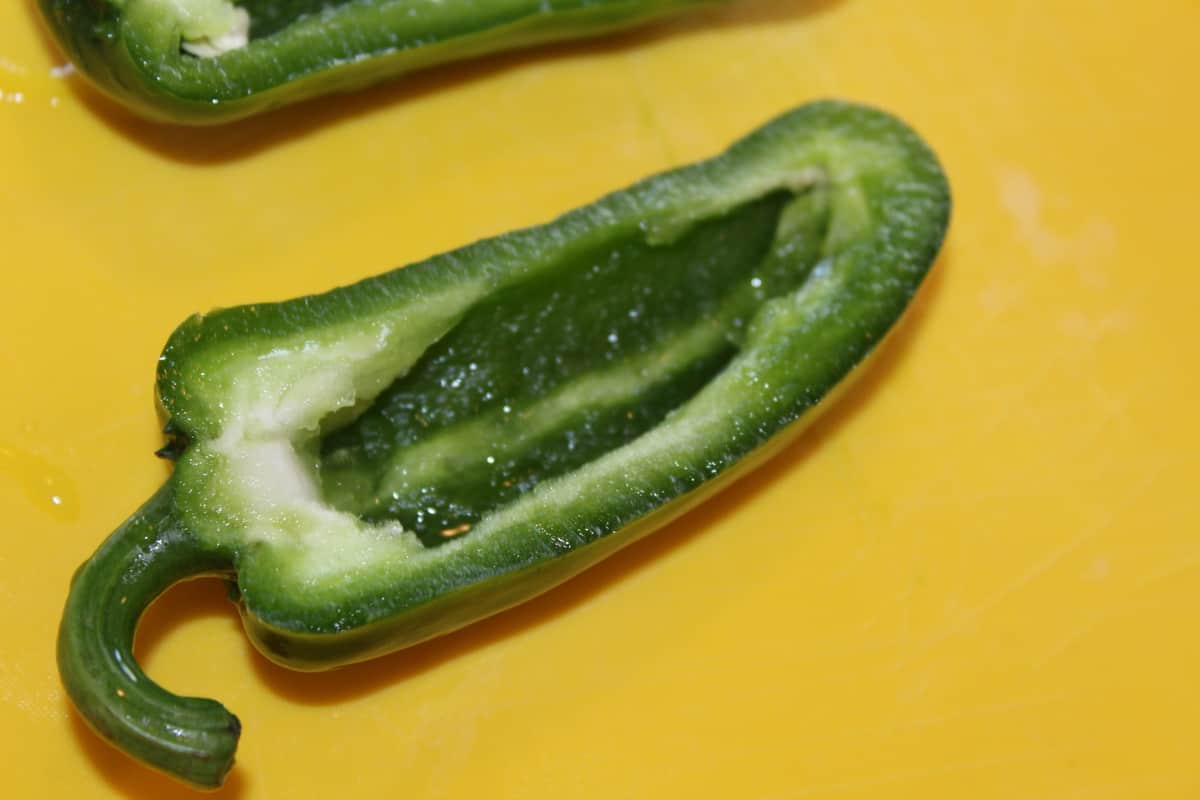 Scoop out the jalapeno pepper, be careful, not to touch anything. Before you wash your hands.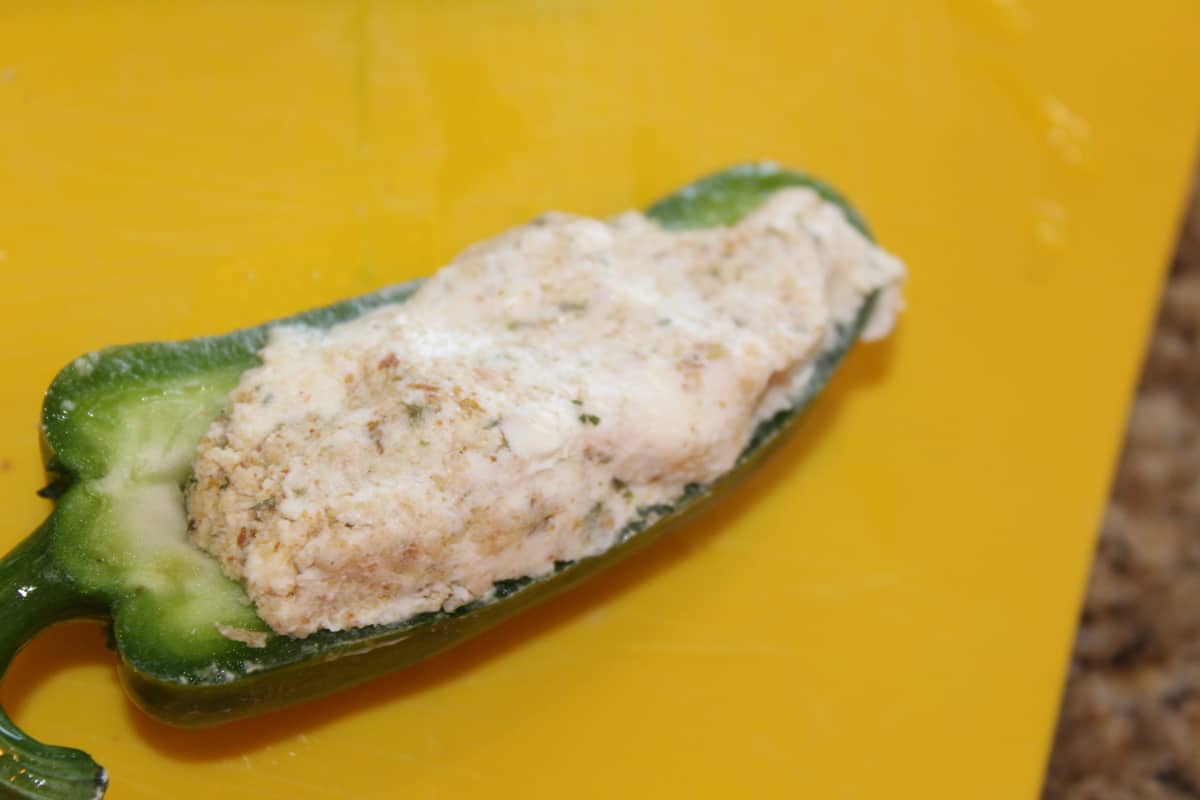 Fill the mixture into the jalapeno pepper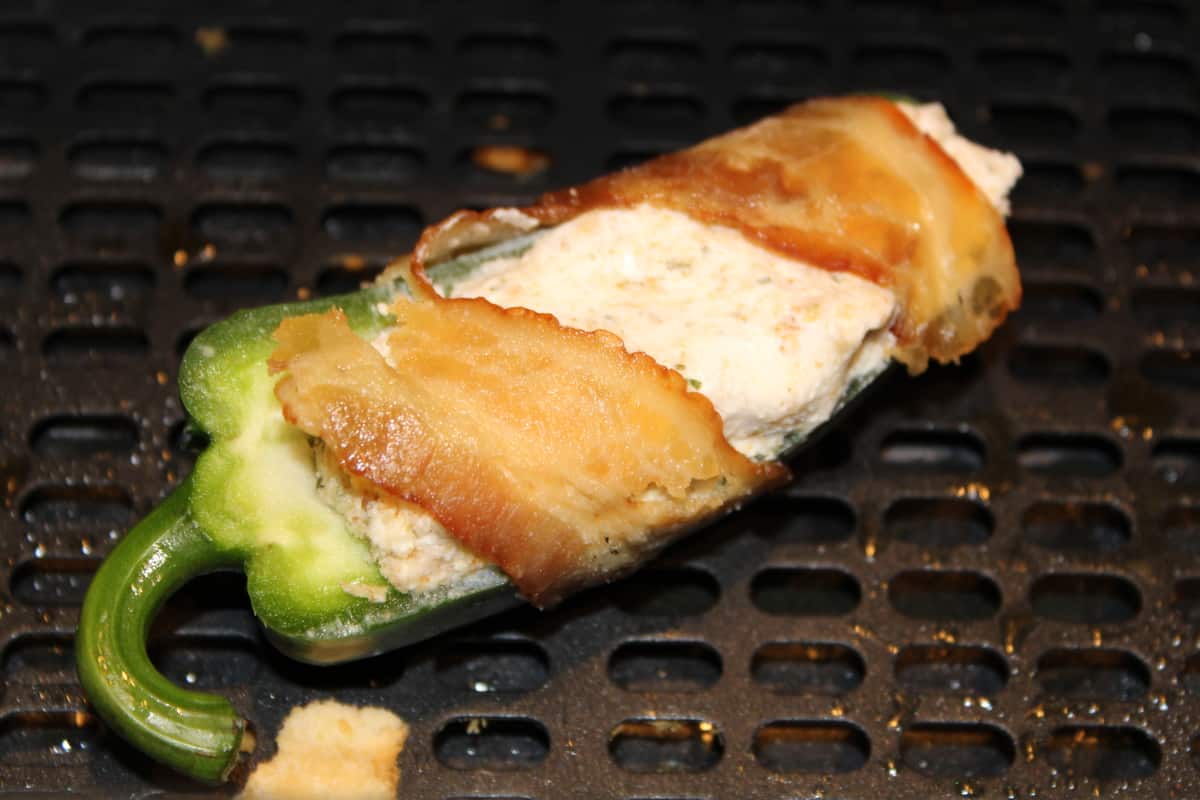 Wrap the bacon around it. I found out that after doing a few, just wrap it horizontally around the pepper. If you are having a hard time making the bacon stay put in the air fryer, simply use a toothpick.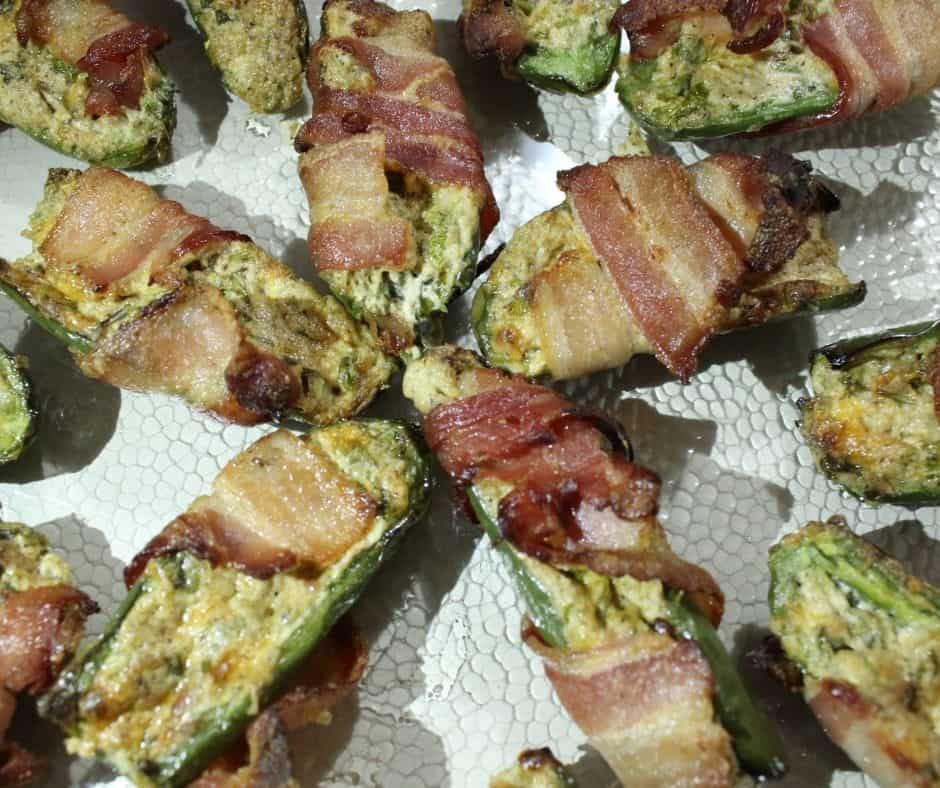 Tips For Preparing The Air Fryer Bacon Wrapped Jalapeno Peppers–
For cutting the jalapeno peppers, you can either leave the stem on or off. I prepared it both ways, and I prefer to leave the stem on, since it gives your guests something to hold, while they are eating it.
Cut your jalapeno pepper, horizontally, as previously mentioned it's best to invest in a pair of disposable gloves since the seeds and oil can really sting.
To remove all of the seeds, use a small spoon, if you want an extra kick, simply leave some seeds in. Or prepare them both ways, so your guests have a choice of extra spicy or not.
Tips For Making the Stuffed Jalapeno Peppers (Poppers)
Room temperature cream cheese works best. I usually leave the cream cheese on the counter for about 30 minutes, before preparing these.
Use any variety of spices that work with you, Today, I used classic onion powder, garlic powder, and parsley, but you can easily change that out, for your favorites.
I try to fill the jalapeno peppers slightly under the edge, since the filling with expand as it cooks, and overfilling them, will cause a mess in your air fryer.
Most poppers will only call for about 1/2 a strip of bacon, so cut the bacon in half.
Do not crowd your poppers, they need to get the air circulating around them to crisp up.
Here are some other great appetizers, for the air fryer,
Don't Forget To Pin, Air Fryer Bacon-Wrapped Stuffed Jalapenos With Cream Cheese —
Print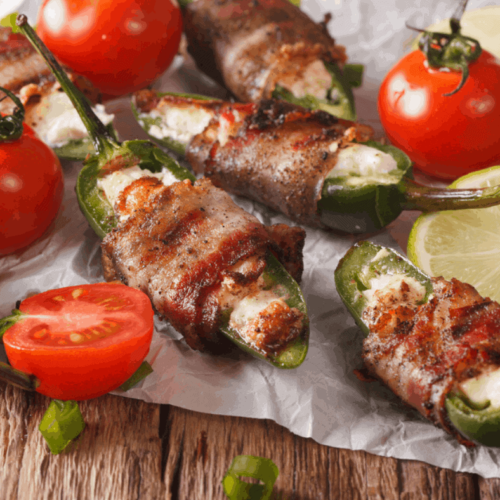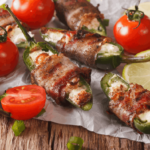 Air Fryer-Jalapeno Peppers
Author:

ForkToSpoon.com

Prep Time:

10

Cook Time:

8

Total Time:

18

Yield:

10

servings

1

x

Category:

Appetizer

Method:

Air Fryer

Cuisine:

Mexican, American
---
Description
This is such an easy appetizer, my kids love them, they are great for parties and get togethers.
---
5

jalapeno peppers, halved and deseeded

4 oz

of cream cheese (room temperature works best)

2 teaspoons

of dried parsley

1 teaspoon

onion powder

1 teaspoon

garlic powder

1/8 cup

of breadcrumbs

5

slices of bacon (cut in half)
---
Instructions
In a small bowl, mix together the cream cheese, 1/2 of the breadcrumbs, and spices.
Mix well.
Then using a spoon, scoop the mixture into the peppers, filling right before the edge.
Then wrap a piece of bacon around the jalapeno pepper (this is where gloves come in really handy and safe)
Preheat your air fryer for 3 to 5 minutes at 370 degrees F.
Cook in an air fryer at 370 degrees F for 6-8 minutes, mine were done, at that point, depending on your wattage, you might need an additional -2 minutes.
Plate and serve, and enjoy!
---
Keywords: air fryer bacon wrapped stuffed jalapenos air fryer frozen stuffed jalapenos bacon wrapped jalapeno popper air fryer frozen jalapeno popper air fryer air fryer jalapeno coins roast jalapenos in air fryer air fried bacon wrapped jalapenos with cream cheese air fried jalapeno bottle caps