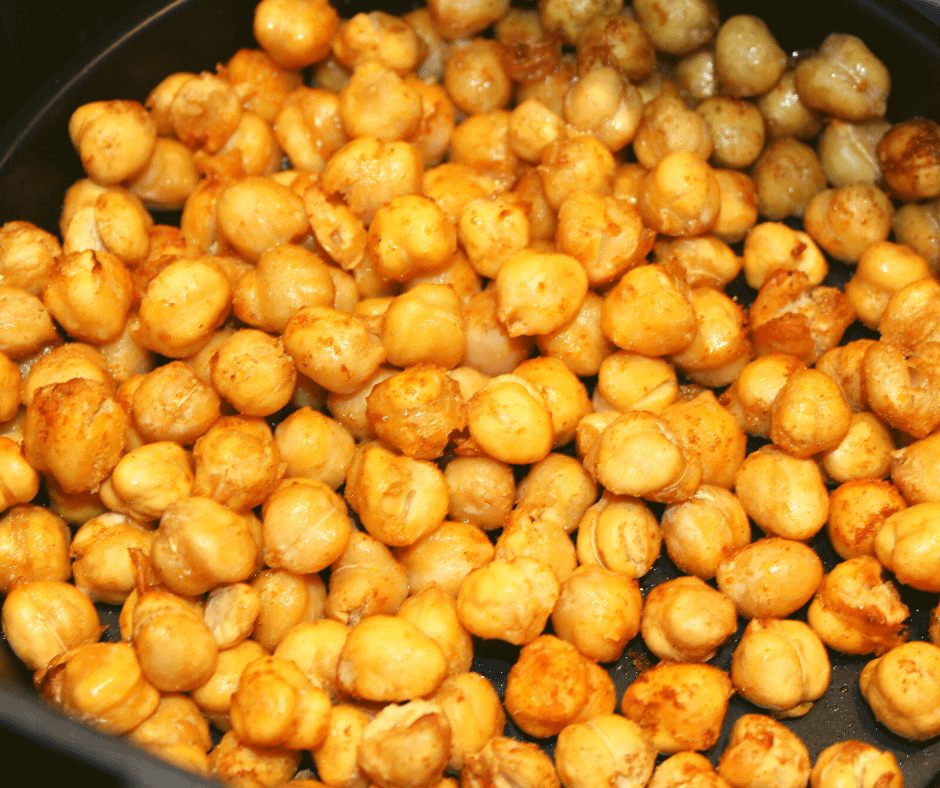 Roasted chickpeas, everyone loves them, but if you went to purchase them in the store, they would cost you over $5 a bag. So, today I bring you my Air Fryer Spiced Chickpea recipe, which could not be any easier. Today, I bring you my version of Air Fryer Extra Crispy Spiced Chickpeas.
The cans of chickpeas are usually on sale for 50 cents at my local grocery store. Once you roast them, season them, they become a great healthy snack.
They are probably one of the healthiest and delicious snacks that you can make in your air fryer. They take little time, and they are vegan and gluten-free; this way, everyone can enjoy them!
If you are looking for even more Air Fryer Chickpeas recipes, some of my favorites are AIR FRYER, KOREAN BBQ ROASTED CHICKPEAS, AIR FRYER, EASY SESAME SEED ROASTED CHICKPEAS, AIR FRYER, KOREAN BBQ ROASTED CHICKPEAS and AIR FRYER, HONEY ROASTED CHICKPEAS.
Air Fryer Crispy Chickpeas
Once you have a batch, you will never go back to buying store-bought gain; they are so easy to make; here are some other reasons why you will love them,
Ultra Crispy Snack
They are so easy to make
They cook up so fast.
Healthy, gluten-free, and delicious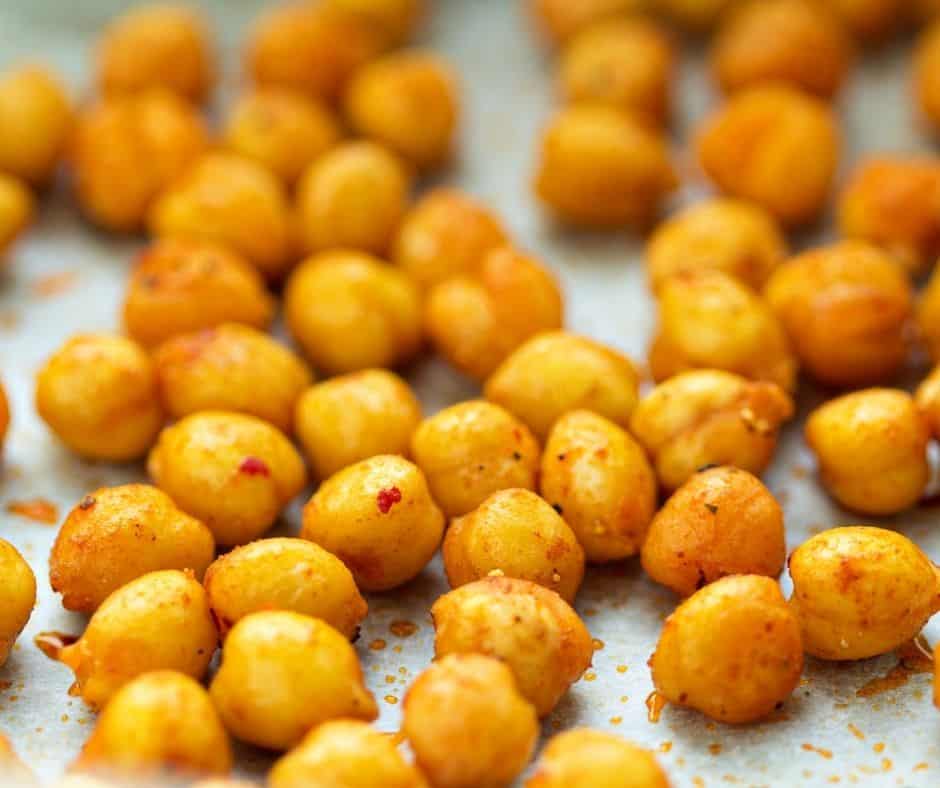 Tips for Roasting Chickpeas in the Air Fryer, Especially if you want to get the best Air Fryer Extra Crispy Spiced Chickpeas-
Drain the chickpeas, well. The drier the chickpeas are, before you start to air fry them, the better they come out. I drain mine, then place them on a kitchen towel for about 20 minutes, and then proceed with the recipe.
You need enough olive oil to coat the chickpeas. If you don't use enough oil, you will never get your chickpeas crispy or crunchy.  I use my hands to mix them. Do I need more olive oil? I add it, so look at your chickpeas, are they coated in olive oil? If you are in doubt, add a tablespoon or two more.
Add some extra seasonings. As you finish air frying your chickpeas, add some extra seasoning. I always add additional salt. I think it brings out the roasted flavor of the air fryer chickpeas.
Eat them right after you air fry them. They taste better, and the chickpeas will not stay crispy for long.
Some Other Of My Favorite Air Fryer Chickpea Recipes–
Ingredients for Spicy Air Fryer Chickpeas-
Canned chickpeas
Olive oil
Paprika
ground cumin
Salt
How To Make Air Fryer Crispy Chickpeas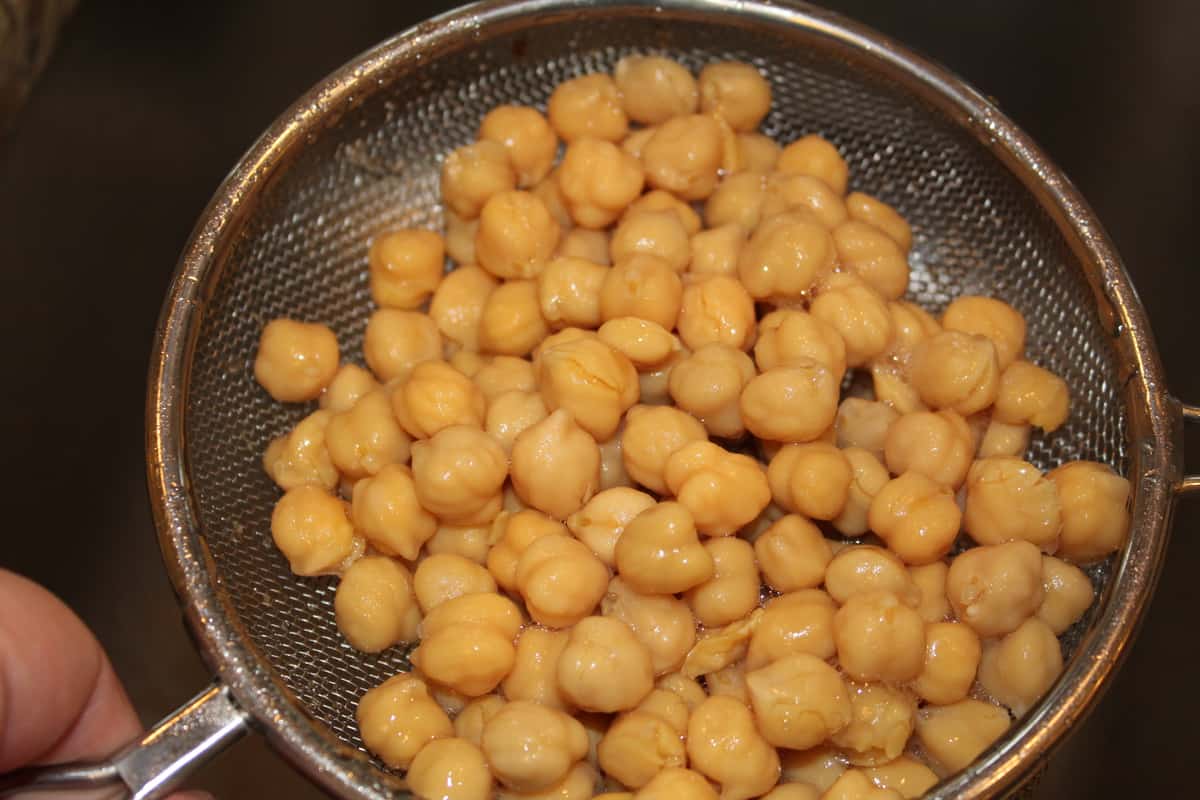 Start by draining and rinsing your chickpeas. Then use a kitchen towel, and lay them on, for about 20 minutes. You are trying to dry them as much as possible.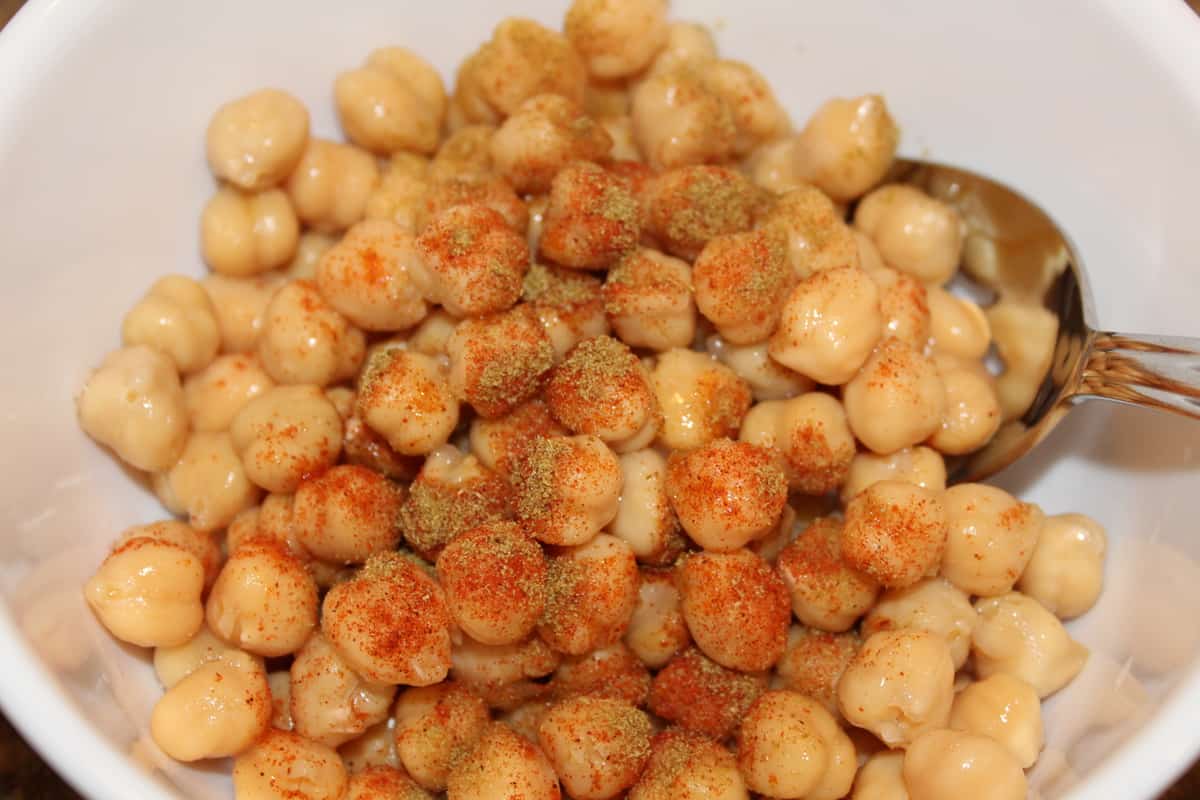 Then mix in the olive oil and spices. Check, are all of the chickpeas covered with olive oil. If not, add more.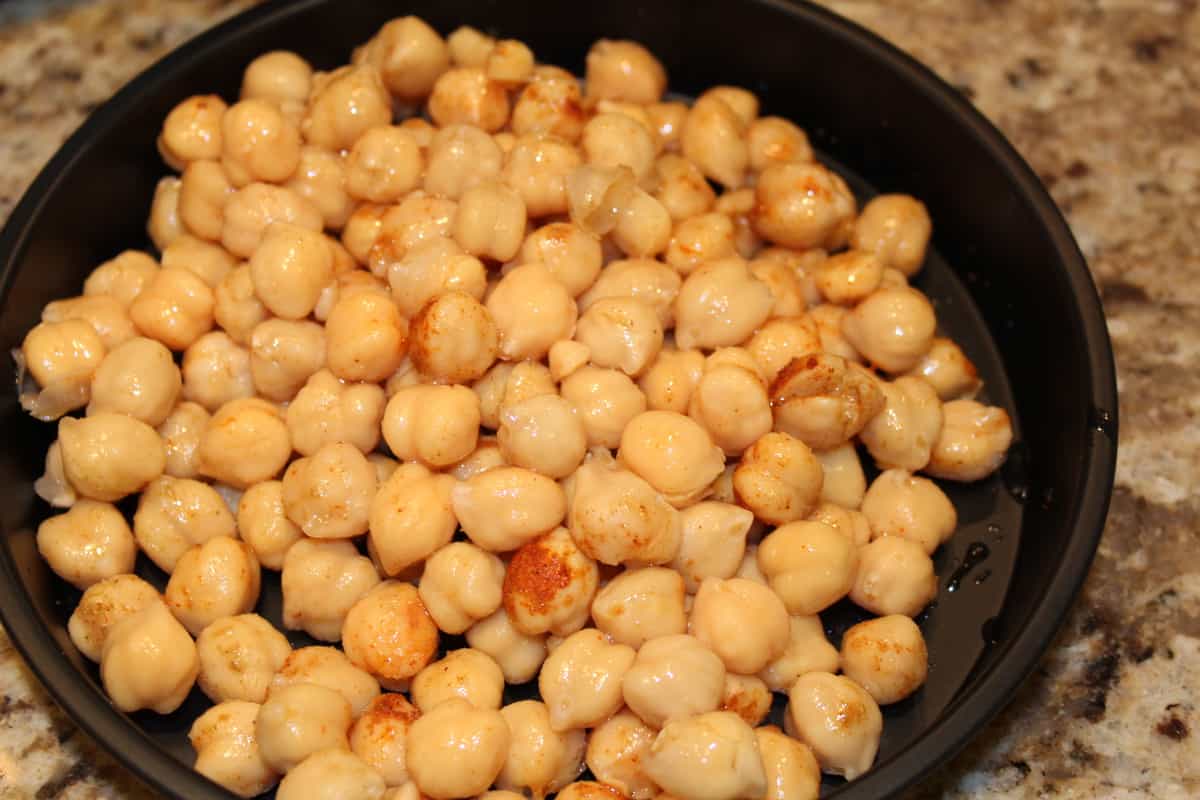 Transfer to an air fryer-safe pan. (Usually, if it's oven safe, it's air fryer safe)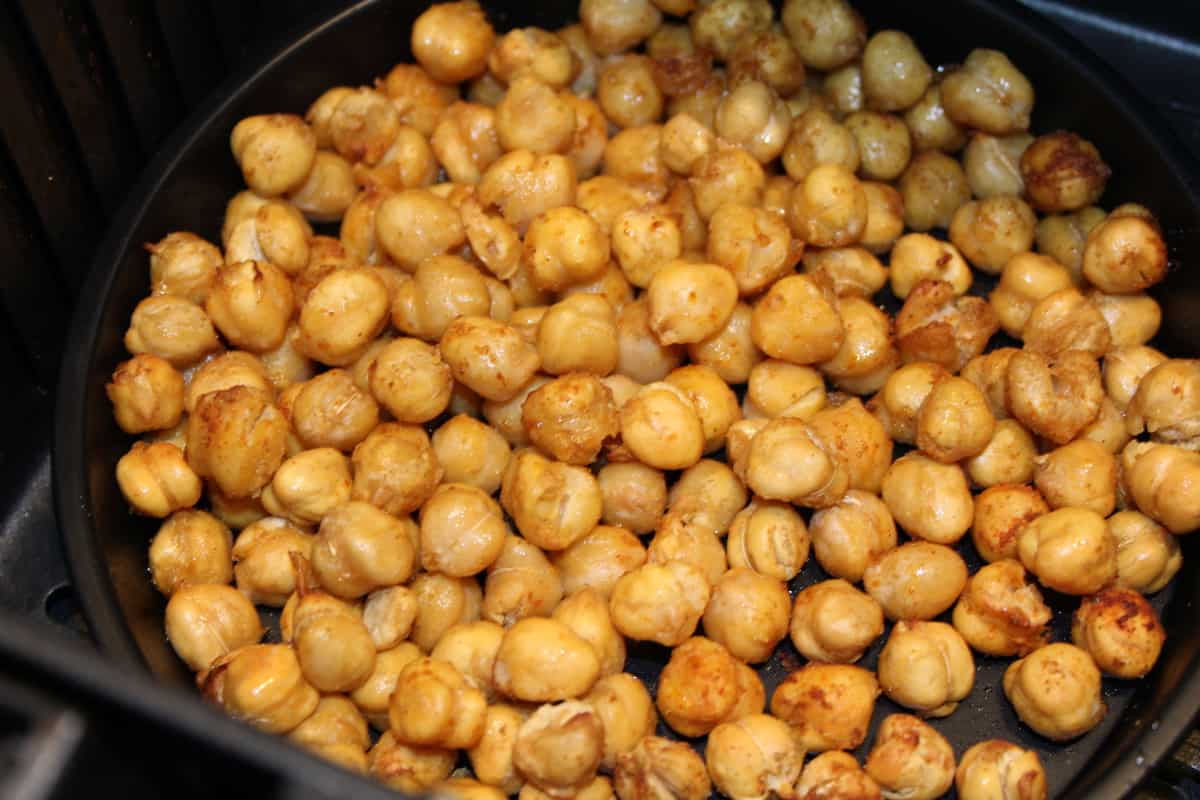 Some Common Questions Asked About Making Air Fryer Crispy Chickpeas
How Do You Keep Them Crispy After You Make Them?
Truthfully they are not going to be crunchy for long; I find that if you place them into an airtight container or ziplock bag, they will get a bit soggy.
The best thing is to put them in an open jar or container, as the air will help them stay crispy.
They are best eaten within a day or two after roasting them.
Can You Double The Batch?
Yes, the main objective for doubling or even tripling the batch is that you do not want to have so many chickpeas in the basket or tray that the hot air does not go around the chickpeas.
Remember, an air fryer works by circulating hot air around the food, perfectly crisping it up. Overcrowding ends up hurting your food, as it will never get perfectly cooked.
Can I Change The Seasoning?
Yes, the seasoning is anything you like; I have so many recipes on my website for different seasonings.
Try some great air fryer garlic & herb chickpeas; they are my son's favorite!
How Long Do These Chickpeas Last?
They can last for as long as a week; however, they start to lose their crispiness after bout 1-2 days.
So for best results, eat within 1 or 2 days.
How Can I Serve Air Fryer Chickpeas?
You can serve them as a snack, as they are (healthy alternate for a snack treat for the family and the kids)
But you can also serve them on top of a salad for extra crispness.
Some of the Tools Used in This Chickpeas Recipe, affiliate links included–
The Everything you Need Air Fryer Accessory Kit
More Air Fryer Recipes-
Air Fryer-Perfectly Done, Heavenly French Toast
Copycat-Air Fryer, Mexican Pizza (Taco Bell Copycat Recipe)
Air Fryer, Roasted Leg of Lamb With Garlic and Rosemary
Air Fryer Buffalo Cauliflower from Raw or Frozen!
Print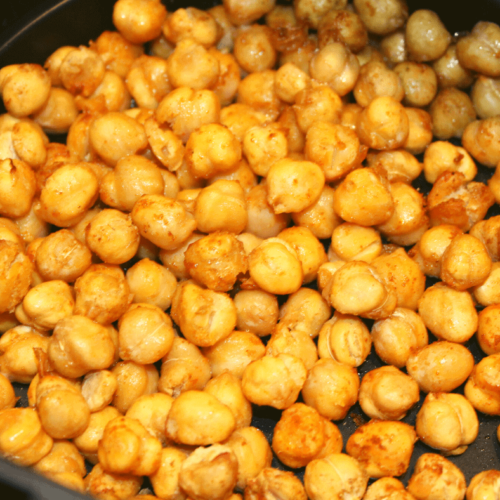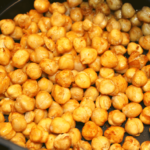 Air Fryer, Extra Crispy Spiced Chickpeas
Author:

ForkToSpoon.com

Prep Time:

10

Cook Time:

10

Total Time:

20

Yield:

2

servings

1

x

Category:

Appetizer

Method:

Air Fyrer

Cuisine:

American
---
Description
This is such an easy recipe to make, spiced chickpeas.
---
1

can (15 oz. chickpeas drained and rinsed

1 tablespoon

of olive oil

1 teaspoon

of paprika

1/2 teaspoon

of ground cumin

1 teaspoon

of salt
---
Instructions
Preheat your air fryer to 390 degrees F.
Then in a small bowl mix together the chickpeas, olive oil, paprika, cumin, and salt.
Mix well, so that all of them are covered.
Then place the chickpeas in an air fryer safe pan and air fry for about 8 to 10 minutes, shaking the basket halfway through cooking.
Remove from the air fryer pan, and place in a bowl.
Optional: Dash some extra salt on it.
---
Keywords: air fryer chickpeas no oil air fryer chickpeas ranch air fryer parmesan chickpeas air fryer chickpeas weight watchers air fryer chickpeas salt and vinegar chickpea fries air fryer air fryer black beans air fryer recipes